Article Table Of Contents   
(Skip to section)
Rebel Yell!
Mississippi is a truly glorious state. A place of historical relevance, high religious identity, deep cultural roots, and perhaps, the most passionate college football fans outside of Alabama.
Just kidding. Mississippi wins that, too. In all seriousness, if you're looking for a beautiful place with some of the most polite and friendly people in the country, the Magnolia State would be hard to beat.
So, where are the best places to live in Mississippi? Instead of asking opinion or putting out polls, we decided the one way to determine the best to live was to look at science and data. And that's what we did here. That means, no arguing about the results, because they are unbiased.
You can't argue with science, can you? Especially when we looked to the Census and FBI data to run our analysis — the ninth time we've done so for Mississippi.
After analyzing the 63 most populous cities, we came up with this list, sorry Jackson.
The 10 Best Places To Live In Mississippi For 2022
Like we said earlier, naming the best places in Mississippi sounds silly, since many of the places here would rank really high in other states. But if you're analyzing places in Mississippi with the best economic situations, where there's high crime and there's not a lot to do, this is an accurate list.
What city is the best place to live in Mississippi for 2022? Well according to the US Census and FBI data we crunched, Brandon is the best place to live in Mississippi if you care about low unemployment, low crime, and a high quality of life.
What's interesting is how low Waveland ranked in our worst place to live in Mississippi study, considering that most other Gulf Coast cities ranked so high.
If you're looking for something more national, check out the best states in America or the best places to live in America.
For more Mississippi reading, check out:
The 10 Best Places To Live In Mississippi For 2022
From Jackson's northern suburbs we move to the east to reach Brandon, a city of 24,088. Brandon has all the big city amenities while retaining its small-town charm. That's the sort of atmosphere that delights people from every generation, which is part of the reason why Brandon topped both our lists of the best family cities and the best places to retire in Mississippi. The new Brandon Amphitheatre is always putting on shows that draw massive crowds, while you can visit restaurants, a farmer's market, and a 60-acre safari park with some 30 exotic animals at the McClain Lodge.
As for the statistical side of things, Brandon ticks all the boxes. The city enjoys the 12th lowest unemployment rate and lowest poverty rate in Mississippi at 4.1% and 3.3% respectively. When people are flush, they don't have much cause to commit crimes and that plays out in Brandon, where the crime rate is about 65% below the national average and ranks as the 2nd lowest statewide. Even if you do get banged up somehow in Brandon, you won't be swamped with medical bills, because 94.2% of folks have health insurance, the 3rd highest rate in Mississippi.
Homes in Brandon go for a median price of $202,500, while a typical rental will set you back about $981/month. In any case, with such low unemployment and a median income that ranks as the 2nd highest in the state at $80,924/year, you should have no trouble getting the bills paid (and then some) in Brandon.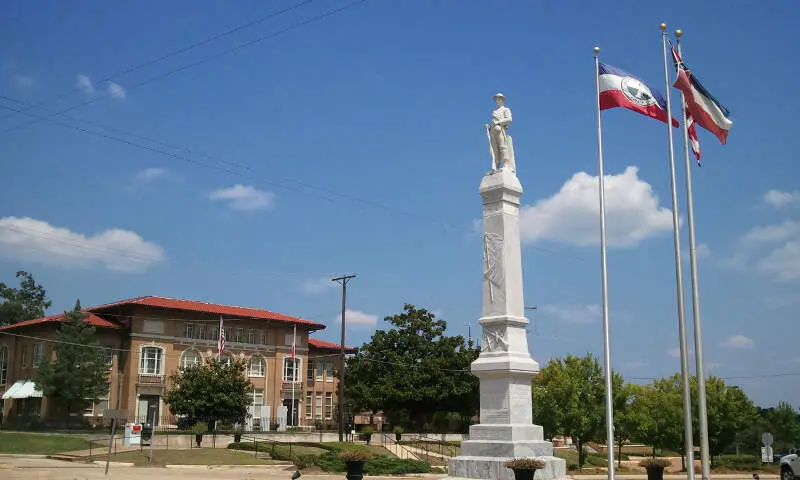 We're kicking off our tour of the best places to live in Mississippi with Madison, which has held onto the HomeSnacks gold medal for the second year running. Situated just 20 minutes north of Jackson, Madison is a quickly-growing city, and it's not hard to see why. In no time flat, you can find yourself wandering Jackson's Fondren District, a hub of artistic expression and the cultural heart of Mississippi.
GreatSchools gave Madison's public schools an 8.5/10 average rating with both high schools receiving College Success Awards and the city has the lowest high school dropout rate in Mississippi. Adults here love to learn as well, as evidenced by about two-thirds of the population having a bachelor's degree, and a further 25% having a master's degree or higher to boot.
When it comes to making an economy that works for everyone, Madison knows its business. It is Mississippi's richest city, after all. Unemployment is at a rock-bottom 2.4%, while the poverty rate is the 2nd lowest in the state at 4.4%. Not to mention that Madison has the highest rate of citizens with health insurance statewide at 97.4%.
A by-product of having an awesome city that everyone wants to live in is that it tends to drive prices up. The overall cost of living in Madison is about 25% higher than your average place in Mississippi, with housing costs coming in more than twice as high. Rent in Madison will set you back about $1,566/month, nearly twice the median rent in Mississippi. More than 90% of residents choose to buy, though, and Madison's homes are the 1st priciest statewide at $271,100. On the plus side, Madison also has the highest median household income in the state at $119,855/year. All that cash keeps people pretty calm, seeing as Madison's crime rate is about 60% lower than the national average.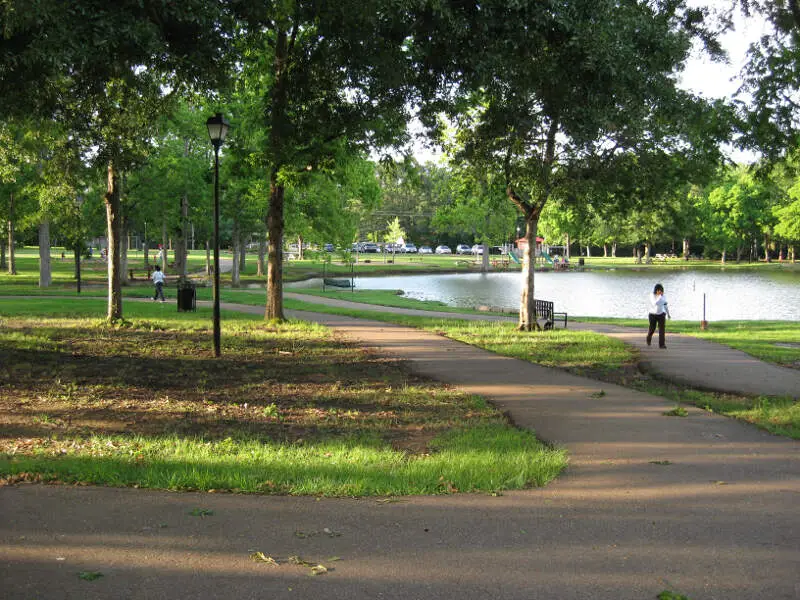 Located just between Jackson and Madison, Ridgeland comes in as the 3rd best place in Mississippi for 2022. Ridgeland is positioned on the Natchez Trace Parkway, a 444-mile recreational road that runs through three states. It makes for quite the scenic drive, but the more adventurous will probably be eager to get out on bikes or hike to a secluded camping spot along the parkway. Even if you're not that ambitious, Ridgeland Bike Trail and its offshoots provide a fun and healthy way to get around town. As Ridgeland's tourism page puts it, "there's an undeniable vitality and energy here that makes it hard to sit still."
Part of that energy might be attributed to Ridgeland's young median age of just 34. Don't let that youth fool you, though, because Ridgeland also has the know-how to make a successful city that puts its residents first. Unemployment and poverty rates both rank near the best in Mississippi, while property values continue to rise. Possibly owing to young people being less likely to settle down, more than half of Ridgeland's population rents, and the median price on a rental here is $1,054/month. If you do decide to make Ridgeland your permanent home, know that a typical home goes for around $195,700, the 7th costliest in Mississippi.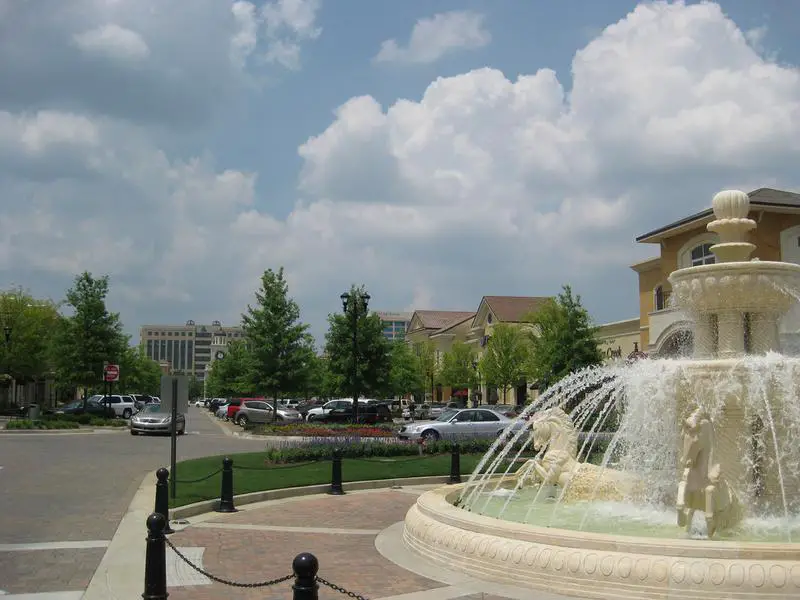 Long Beach is a small town on the Gulf Of Mexico about 75 miles east of New Orleans. This town of about 15,829 ranks as the 4th best place to live in Mississippi for 2022. And whoa does it deserve its spot on this list.
Long Beach ranked well across all of our criteria without standing out in any particular area. The cost of living is better than most places on this list and the crime rate is lower than the Mississippi average. Long Beach Industrial Park is a central part of the local economy and a big source of local jobs. The University Of Southern Mississippi also has a campus in town and is a great source of things to do on the weekend.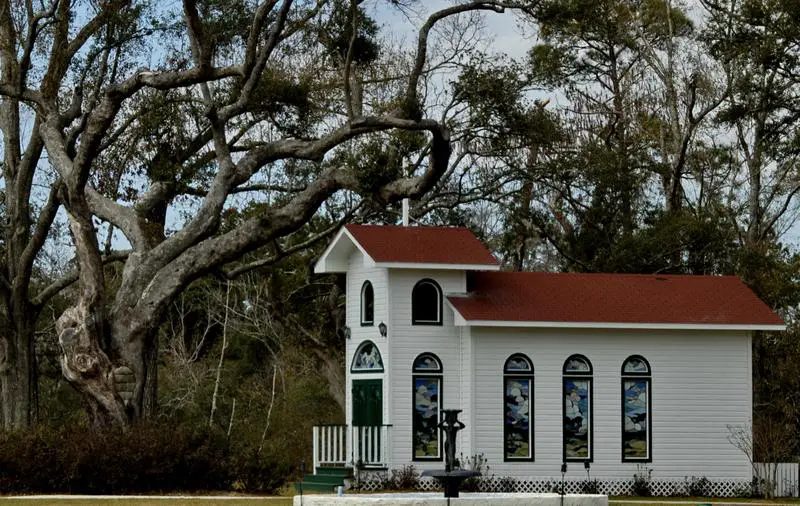 Situated on the Tennessee state line, Olive Branch offers an ideal escape from neighboring Memphis. Thanks to an exodus of middle-class families from Memphis, Olive Branch's population has spiked by around 15% in the last decade. It's not hard to see what draws people; an awesome City Park with all the amenities you want, the craft beer-lovers heaven, Mississippi Ale House, and city events like movies on the lawn of Wesson House, the anchor of the Old Towne area of Olive Branch.
Homes in Olive Branch go for around $188,800 and property taxes are under $1,000/year for most residents. The median household income in Olive Branch grew by more than 5% in the last year up to $78,939/year, making the city's residents the 3rd best-paid populace in Mississippi. The poverty rate ranks as the 9th lowest statewide at 7.7%. And if unwelcome medical surprises come up, Olive Branch has you covered, seeing as the city has the 7th highest rate of health insurance in the state.
As for those moving with a family, Olive Branch has some top-notch schools; GreatSchools awarded a perfect 10/10 to an elementary, middle, and high school in the district, but even if you're not in the right area to send your child to one of those, the average rating here is still 9/10.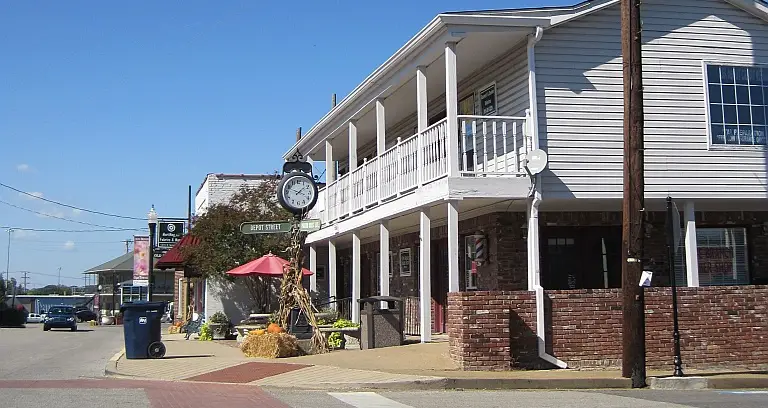 Conveniently situated between New Orleans and Gulfport, Diamondhead comes in as Mississippi's 6th best place to call home.
Diamondhead isn't just one of the richest spots in the state; it's also one of Mississppi's most affordable places to live. That's not just because Diamondhead has an overall cost of living 4% lower than the national average. It's also because residents earn a median household income of $64,041 and pay a median home price of $179,200.
Living in Diamondhead grants you easy access to some of the most premier golfing Mississippi has to offer. And don't worry if you pull a muscle golfing because Diamondhead has the 2nd highest rate of residents with health insurance in Mississippi. It's not just some who succeed while others fall by the wayside in Diamondhead either, considering the city has the 4th lowest poverty rate in the state.
Ultimately, Diamondhead lives up to its Motto that it's "where living is easy."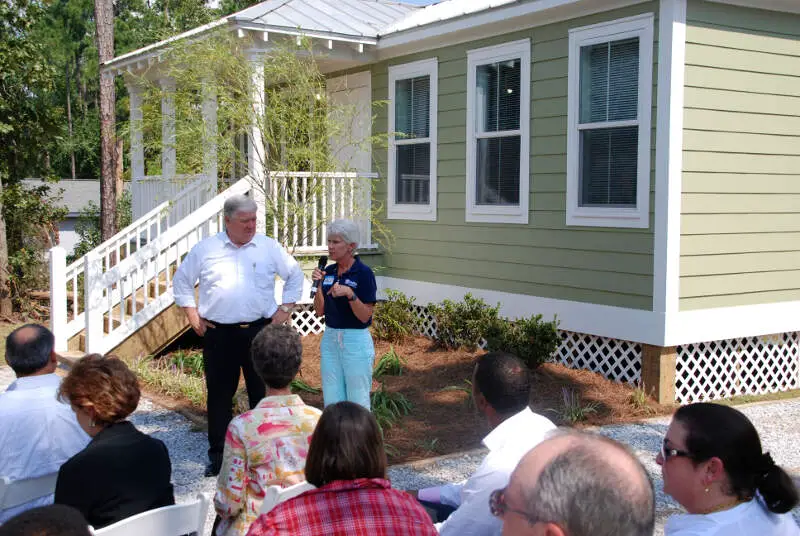 Source: Public domain
We conclude our tour of the best places to live in Mississippi for 2022 with Hernando, a city of 16,206 located about a half-hour south of Memphis, Tennessee. Here you'll find several bike trails both inside and outside the city. More adventurous cyclists can even make their way to Arkabutla Lake; heck, if you can manage to bring your fishing rod along, you could even enjoy a spot renowned for some of the best bass and crappie fishing in the southeast. If your ride tuckers you out, there are three pristine beaches for swimming, picnicking, or just plain chilling. In Hernando itself, you'll find the action at historic Courthouse Square and the surrounding areas.
It's fair to say that Hernando is booming economically. Folks here enjoy the 5th highest median household income in Mississippi at $68,377/year. A typical Hernando home goes for $216,200, the 3rd highest statewide. And it's not like the 1% are laughing it up while their neighbors struggle to get by here, either. Hernando has the 6th lowest poverty rate and 5th lowest unemployment rate in the state at 6.9% and 2.5% respectively. And tax dollars find their way to the right places, as evidenced by the 9/10 GreatSchools average rating given to public schools in Hernando.
Word to the wise, though; Hernando's population has grown by nearly 20% since 2010, making it one of Mississippi's fastest-growing cities. Property values have also gone up during this time, so the sooner you make the move, the better.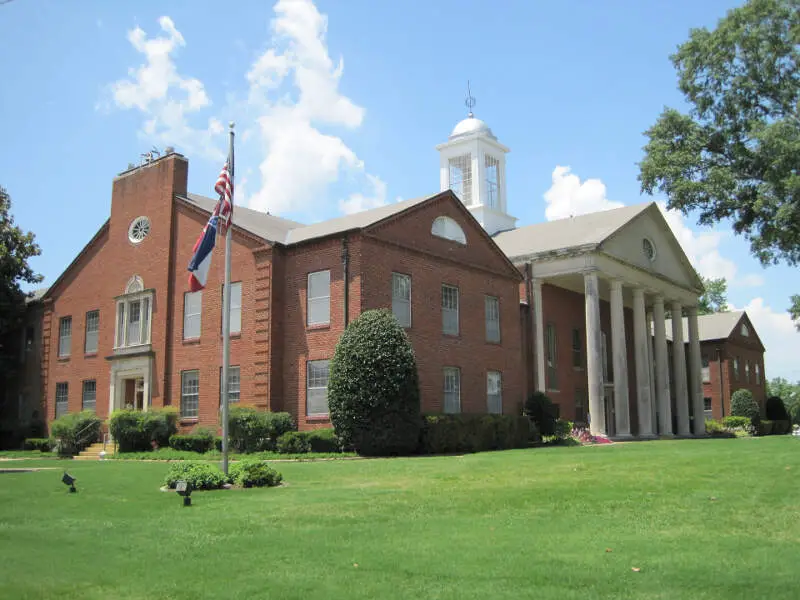 Situated just west of Jackson, Clinton comes in as the 8th best place to live in Mississippi. Home to Mississippi College, Clinton is a vibrant young community that has the essentials down pat and then some. Main Street Clinton is constantly putting on family-friendly events, the antique district is alive and well, and bike tours of Olde Town Clinton are a treat for anyone interested in history or just getting out into all the natural splendor the city has to offer.
If the political affiliation of your neighbors is important to you, know that Clinton ranks among Mississippi's most liberal cities. It's also one of the most diverse places in Mississippi, so you'd better believe Clinton is a cultural melting pot. You don't need to worry about criminal activity in Clinton, because the violent crime rate here ranks as the 3rd lowest statewide. It's also quite easy to score your dream job in Clinton because the unemployment rate is just 4.3%.
As for cost of living, Clinton is about 8% cheaper than the national average, even though housing is 40% more expensive than the statewide average. A typical Clinton home sells for $177,500 and renting will set you back around $1,004/month.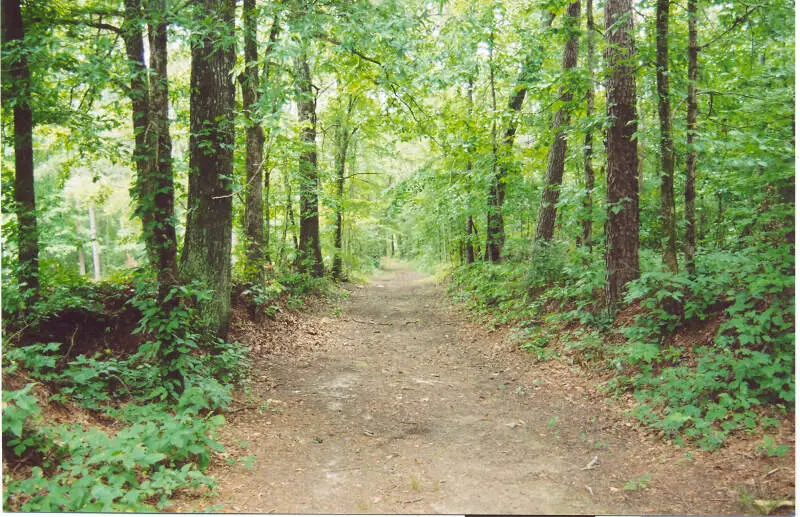 Source: Public domain
We're taking our first foray out of the greater Jackson area to reach our 9th best Mississippi city, Ocean Springs. As a city on the Gulf Coast, Ocean Springs was hit hard by Hurricane Katrina, but the spirit of community and volunteerism here has seen the city recover in a tremendous fashion. From the oak-lined avenues on Main Street to the soft sand of Front Beach, there's something for everyone in Ocean Springs. The Gulf Islands National Seashore draws visitors year-round, along with the Walter Anderson Museum of Art in the heart of town, while locals appreciate the breadth of locally-grown food available at the Fresh Market. Not to mention the wide variety of art, music, and food festivals that Ocean Springs hosts throughout the year. Home to more than 150 independent shops and galleries, it's no wonder Ocean Springs made the cut for 10 happiest seaside towns on Coastal Living's list.
Ocean Springs is the oldest city we'll be covering here, with a median age of 42. That doesn't mean folks here don't know how to take care of the next generation, though. On the contrary, GreatSchools gave Ocean Springs's schools an average rating of 8/10 and the city has the 4th lowest high school dropout rate in Mississippi. If you want to give Ocean Springs a try without committing to a mortgage, rent will cost around $1,005/month. If you fall in love with the city instantaneously and decide to buy yourself a home, expect prices in the range of $173,100. The median household income in Ocean Springs is $60,859/year, and both property values and income have risen by more than 3% in the last year.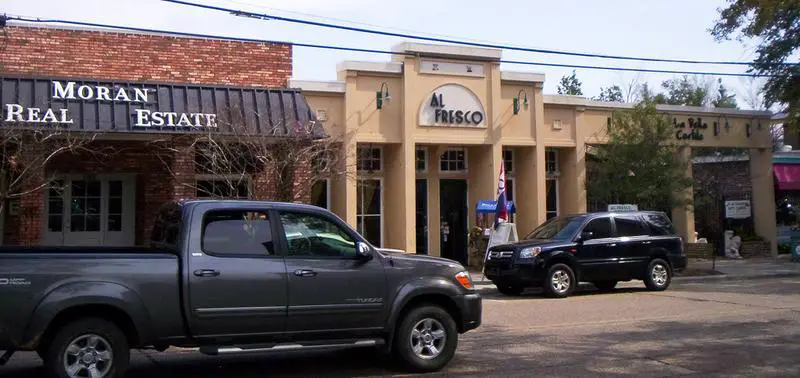 Byram, Mississippi, lies along I-55 as you drive southwest out of Jackson, both the state's biggest city and its capital. But if you simply pass the town by, you're missing out. More than just a convenient highway stopover, Byram rates as one of the best places to live in the state.
Byram is exceptionally affordable. The cost of living in the area sits at about 90% the national average. This keeps home prices down as well. The median home value in town sits at a reasonable $142,300.
The area supports a healthy economy. Residents enjoy the state's 6th highest level of median income, with a figure of $67,318. The unemployment rate is a healthy 1.8%, the 2nd best pace in Mississippi.
Looking for something to do in Byram? You could take the 15-minute drive to downtown Jackson. Or, if you're looking for a little historical charm, check out Byram Bridge, a pedestrian bridge originally built in 1905 that spans the Pearl River.
Mapping The Best And Worst Places To Live in Mississippi
The Pressing Question: Size
Before we even started to collect data, we had to answer a tough question: Is it fair to pit Jackson with a population of 163,778 against places with a population of 18?
We firmly decided no, that just isn't fair.
So to create our ranking, we broke places to live into three tiers:
Cities — Populations over 5,000
Towns — Populations between 1,000 and 5,000
Small Towns — Populations below 1,000
This left us with 63 cities, 129 towns, and 141 small towns.
We then decided, no matter how much anyone loves their town, the best cities to live in Mississippi have more of everything and therefore you need to have over 5,000 people to truly be 'the best'.
Now we also realize that city living might not be your cup of tea, so we ran the following analysis on towns and then again for small towns.
You can see those two top tens at the bottom of the post.
Methodology: How We Calculated The Best Cities To Live In Mississippi
Now that we had our set of cities, it was time to rank them.
We ranked each place in Mississippi across a number of criteria from one to 63, with one being the best.
We then took the average rank across all criteria, with the city posting the lowest overall score being crowned the winner of the title "Best Place To Live In Mississippi".
The criteria we looked at were:
Median Home Values
Median Income
Population Density (Higher better)
Unemployment Rate
Commute Time
Crime
Education Levels
Health Insurance Coverage
Poverty rates
Sources of criteria include the New Census Data and FBI Crime Data. You can download the data here.
After the dust settled, what was the best place to live in Mississippi? That would be Brandon.
If your city or town isn't among the top 10, jump down to the bottom of the post to see a detailed chart of the best places in Mississippi.
Otherwise, buckle up for a ride down good living lane with Brandon at the end of the cul-de-sac.

Summary: The Best Places When It Comes To Living In Mississippi
If you're looking at areas in Mississippi with the best economic situations, where there's lower than average crime, and a lot to do, this is an accurate list.
Brandon made a strong showing to take in the overall number one spot for the best place to live in Mississippi for 2022.
Best Towns To Live In Mississippi
Saltillo (Pop. 4,988)
Hide-A-Way Lake (Pop. 1,883)
New Hope (Pop. 3,393)
Beechwood (Pop. 4,365)
Tunica (Pop. 1,249)
Lynchburg (Pop. 2,197)
Florence (Pop. 4,313)
Bridgetown (Pop. 2,045)
Tunica Resorts (Pop. 1,839)
Guntown (Pop. 2,509)
Best Small Towns To Live In Mississippi
Lyon (Pop. 322)
Henderson Point (Pop. 144)
Sumner (Pop. 313)
New Hamilton (Pop. 523)
Louin (Pop. 381)
Kossuth (Pop. 237)
Sylvarena (Pop. 100)
Falkner (Pop. 627)
Sebastopol (Pop. 317)
Sandersville (Pop. 850)
If you're curious enough, here are the worst places to live in Mississippi according to the data:
Columbia (Pop. 5,940)
Forest (Pop. 5,569)
West Point (Pop. 10,517)
For more Mississippi reading, check out:
Where Are The Best Places To Live In Mississippi?
| Rank | City | Population |
| --- | --- | --- |
| 1 | Brandon | 24,088 |
| 2 | Madison | 25,650 |
| 3 | Ridgeland | 24,194 |
| 4 | Long Beach | 15,829 |
| 5 | Olive Branch | 38,270 |
| 6 | Diamondhead | 8,076 |
| 7 | Hernando | 16,206 |
| 8 | Clinton | 24,797 |
| 9 | Ocean Springs | 17,756 |
| 10 | Byram | 11,519 |
| 11 | Petal | 10,624 |
| 12 | Southaven | 55,026 |
| 13 | Oxford | 27,662 |
| 14 | Bay St. Louis | 13,539 |
| 15 | Flowood | 9,213 |
| 16 | Waveland | 6,352 |
| 17 | Tupelo | 38,251 |
| 18 | Pearl | 26,462 |
| 19 | Saltillo | 5,026 |
| 20 | Starkville | 25,495 |
| 21 | Horn Lake | 27,234 |
| 22 | Richland | 7,203 |
| 23 | Batesville | 7,200 |
| 24 | Biloxi | 46,042 |
| 25 | Pass Christian | 6,079 |
| 26 | Booneville | 8,539 |
| 27 | D'iberville | 13,766 |
| 28 | Senatobia | 7,759 |
| 29 | Pontotoc | 6,070 |
| 30 | Mccomb | 12,788 |
| 31 | Gautier | 18,436 |
| 32 | New Albany | 8,723 |
| 33 | Greenwood | 13,826 |
| 34 | Picayune | 11,016 |
| 35 | Cleveland | 11,363 |
| 36 | Jackson | 163,778 |
| 37 | Amory | 6,873 |
| 38 | Pascagoula | 21,732 |
| 39 | Kosciusko | 6,778 |
| 40 | Columbus | 23,853 |
| 41 | Philadelphia | 7,137 |
| 42 | Meridian | 37,252 |
| 43 | Ripley | 5,268 |
| 44 | Gulfport | 71,660 |
| 45 | Indianola | 9,258 |
| 46 | Laurel | 18,403 |
| 47 | Grenada | 12,349 |
| 48 | Aberdeen | 5,302 |
| 49 | Moss Point | 13,396 |
| 50 | Canton | 11,943 |
| 51 | Greenville | 29,854 |
| 52 | Hattiesburg | 46,010 |
| 53 | Brookhaven | 12,045 |
| 54 | Clarksdale | 15,342 |
| 55 | Leakesville | 5,443 |
| 56 | Holly Springs | 7,727 |
| 57 | Louisville | 6,063 |
| 58 | Corinth | 14,544 |
| 59 | Natchez | 14,854 |
| 60 | Vicksburg | 22,045 |
| 61 | Columbia | 5,940 |
| 62 | Forest | 5,569 |
| 63 | West Point | 10,517 |
Editor's Note: We updated this article for 2022. This is our ninth time ranking the best places to live in Mississippi.