How We Determined The Most Diverse College Campuses In Delaware For 2020
In order to run the only assessment on college diversity undertaken, we simply had to aggregate and then sort data on the racial profiles of each college and university in Delaware.
We're lucky, since the U.S. Department of Education releases diversity studies every year. (The USDE has all sorts of other statistics on its annual College Scorecard as well.)
Here's what we looked at specifically in terms of the racial breakdown by percentage at each institution:
White
Black
Hispanic
Asian
American Indian
Pacific Islanders
Two Or More
For most colleges, a significant portion of the student body was listed as "Unknown Race". We removed that from the calculation and only focused on the known races of students from the College Scorecard data.
We then calculated an HHI-score for each of the 6 schools based on the available data -- a statistical representation of diversity. The lower the score, the more diverse the campus.
Simple!
So it looks like if you want to get the most diverse student experience, you need to contact admissions at Wesley College or Goldey-Beacom College.
Location: Dover, DE
# Of Undergraduates: 1,513
Diversity Index (HHI): 3,819

Wesley College may refer to:
Wesley College, University of Sydney, New South Wales, Australia
Wesley Theological College, South Australia, Australia
Wesley College (Victoria), Australia
Wesley College (Western Australia)
Wesley College (Belize)
Wesley College (Manitoba), Canada
Wesley College of Education (Ashanti), Ghana
Wesley College (Dublin), Ireland
Wesley College (Auckland), New Zealand
Wesley College, Colombo, Sri Lanka
Wesley College (Bristol), UK
Wesley College (Sheffield), UK
Wesley College (Delaware), U.S.
Wesley College (Mississippi), U.S.
Location: Wilmington, DE
# Of Undergraduates: 1,162
Diversity Index (HHI): 3,956

Goldey-Beacom College is a private college in Pike Creek Valley, Delaware. Its setting is suburban with the campus size of 24 acres. It utilizes a semester-based academic calendar and the college is authorized to award certificates/diplomas, associate, baccalaureate and master's degrees. It has a community with a global perspective, with alumni from 65 nations and 28 states of the United States.
Location: New Castle, DE
# Of Undergraduates: 3,927
Diversity Index (HHI): 4,717

Wilmington University is a private, non-profit, doctoral research institution with its main campus located in New Castle, Delaware, United States.
Location: Wilmington, DE
# Of Undergraduates: 194
Diversity Index (HHI): 5,363

Widener University Delaware Law School and Widener University Commonwealth Law School are Widener University's two, ABA-accredited law schools, which had been the two campuses of Widener University School of Law. The latter, unified school had been founded in 1971 as "The Delaware Law School" and operated on one of Widener's campuses, in Wilmington, Delaware. In 1989, the law school expanded to another Widener campus, in Harrisburg, Pennsylvania, and became the Widener University School of Law. On July 1, 2015, the two campuses were separated into two distinct law schools that operate independently of each other, but remain part of the university. Each law school has its own dean.
Location: Dover, DE
# Of Undergraduates: 2,855
Diversity Index (HHI): 6,060

Delaware State University, is a historically black, public university in Dover, Delaware. DSU also has two satellite campuses, one in Wilmington and one in Georgetown. The university encompasses six colleges and a diverse population of undergraduate and advanced-degree students.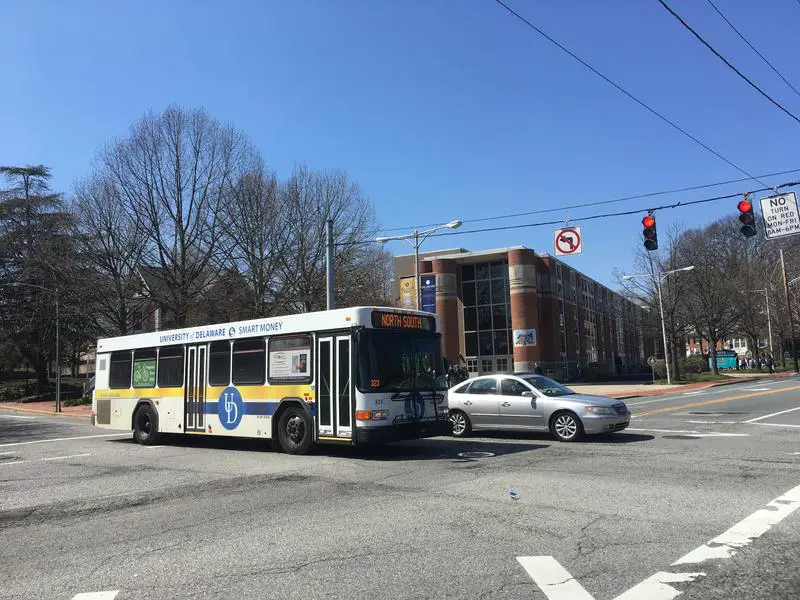 Location: Newark, DE
# Of Undergraduates: 16,110
Diversity Index (HHI): 6,190

The University of Delaware is a public research university located in Newark, Delaware. University of Delaware is the largest university in Delaware. UD currently offers more than 135 undergraduate degrees. At the graduate level, it offers 67 doctoral, 142 master's degree programs, 14 dual degrees, 15 interdisciplinary programs, 12 on-line programs, and 28 certificate programs across its seven colleges and more than 82 research centers and institutes. UD is one of the top 100 institutions for federal obligations in science and engineering and interdisciplinary initiatives in energy science and policy, the environment, and in human health. The main campus is in Newark, with satellite campuses in Dover, Wilmington, Lewes, and Georgetown. It is considered a large institution with approximately 18,500 undergraduate and 4,500 graduate students. UD is a privately governed university which receives public funding for being a land-grant, sea-grant, space-grant and urban-grant state-supported research institution.
There You Have It -- The Most Racially Diverse Colleges In The
If you're looking at universities in Delaware with the most diverse student bodies, this is an accurate list. Below is a complete list of every college and university in Delaware with their diversity index score.
Hopefully, this is helpful for you as you weigh in on all factors while you decide on which institution to attend.
For more reading on colleges around Delaware, check out: