How We Determined The Most Diverse College Campuses In Washington For 2020
In order to run the only assessment on college diversity undertaken, we simply had to aggregate and then sort data on the racial profiles of each college and university in Washington.
We're lucky, since the U.S. Department of Education releases diversity studies every year. (The USDE has all sorts of other statistics on its annual College Scorecard as well.)
Here's what we looked at specifically in terms of the racial breakdown by percentage at each institution:
White
Black
Hispanic
Asian
American Indian
Pacific Islanders
Two Or More
For most colleges, a significant portion of the student body was listed as "Unknown Race". We removed that from the calculation and only focused on the known races of students from the College Scorecard data.
We then calculated an HHI-score for each of the 24 schools based on the available data -- a statistical representation of diversity. The lower the score, the more diverse the campus.
Simple!
So it looks like if you want to get the most diverse student experience, you need to contact admissions at Trinity Lutheran College or University of Washington-Tacoma Campus.
Trinity Lutheran College may refer to:
Trinity Lutheran College, Ashmore, Queensland, Australia
Trinity Lutheran College, Everett, Washington, USA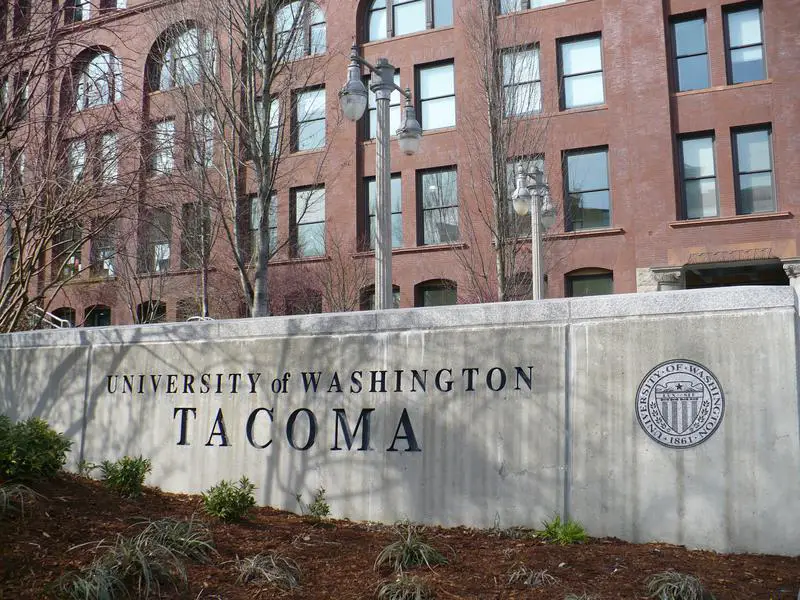 The University of Washington Tacoma is a four-year undergraduate, graduate, and post-graduate campus of the University of Washington. It is located in downtown Tacoma, Washington. Students can choose majors in business, education, nursing, computer science, information technology, criminal justice, social work, environmental science, urban studies and interdisciplinary arts and sciences. Classes are offered day and evening, for full or part-time students. The institution is governed by the University of Washington Board of Regents.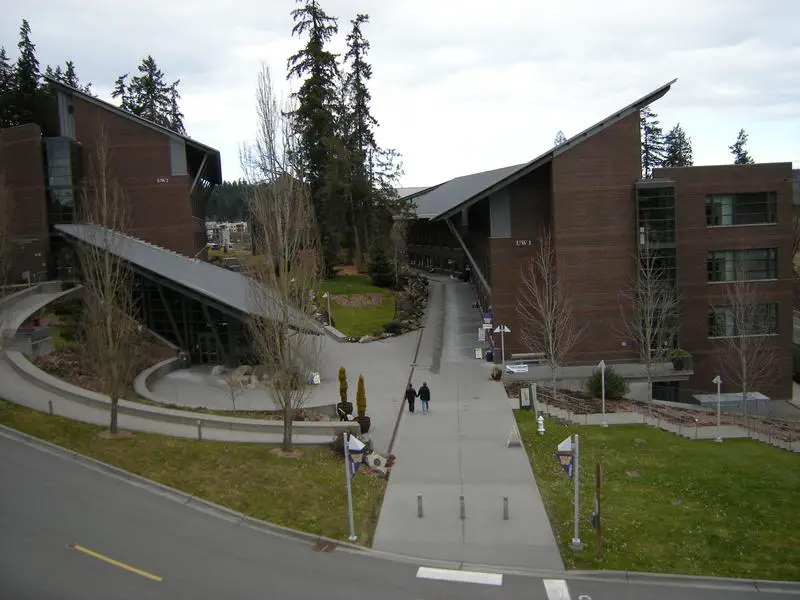 The University of Washington Bothell is a four-year undergraduate and graduate campus in northeast King County, one of the three campuses of the public University of Washington. The campus was established in 1990. UW Bothell shares a campus with Cascadia College. UW Bothell is the largest branch campus in the state and the fastest growing four-year university in the state of Washington. In 2014 and 2015, Money Magazine ranked UW Bothell as the best university in Washington state in terms of value and quality. In the same study, UW Bothell ranked 10th nationally among public universities and 36th overall.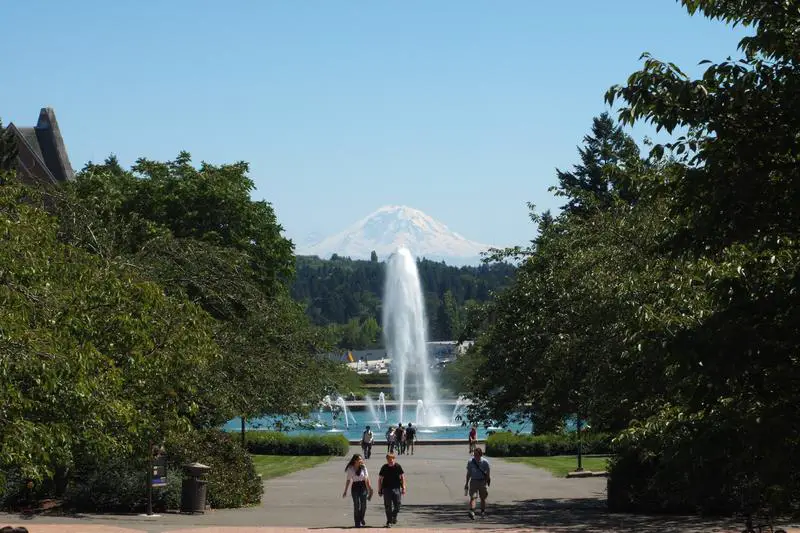 The University of Washington is a public research university in Seattle, Washington.
Founded in 1861, Washington was first established in downtown Seattle approximately a decade after the city's founding to aid its economic development. Today, the university's 703-acre main Seattle campus is situated in the University District above the Montlake Cut, within the urban Puget Sound region of the Pacific Northwest. The university has two additional campuses in Tacoma and Bothell. Overall, UW encompasses over 500 buildings and over 20 million gross square footage of space, including one of the largest library systems in the world with over 26 university libraries, as well as the UW Tower, lecture halls, art centers, museums, laboratories, stadiums, and conference centers. The university offers bachelor's, master's and doctoral degrees through 140 departments in various colleges and schools, sees about 46,000 in total student enrollment every year, and functions on a quarter system.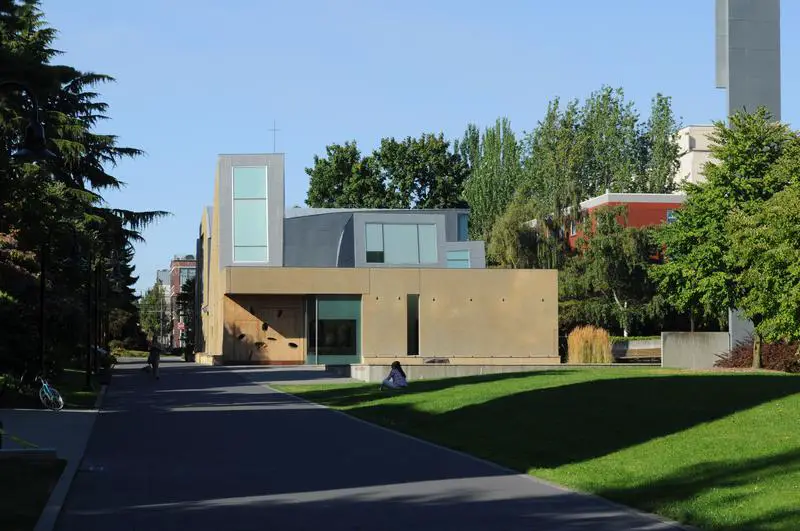 Seattle University is a Jesuit Catholic university in the northwestern United States, located in the First Hill neighborhood of Seattle, Washington.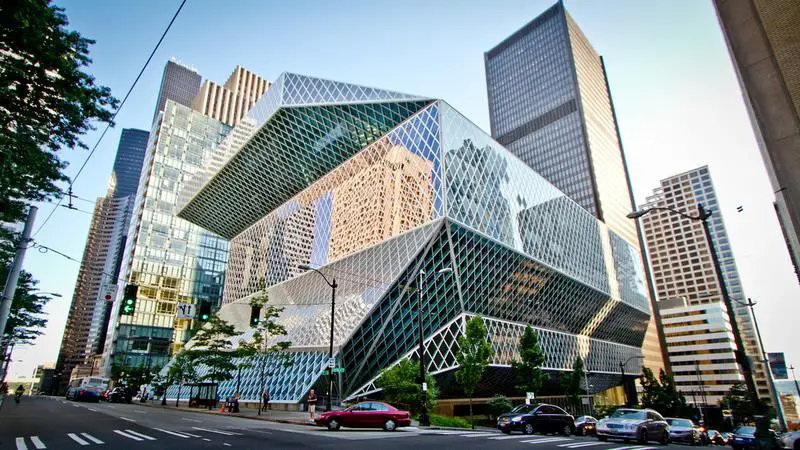 City University of Seattle, also known as CityU, is a private not-for-profit institution of higher learning based in Seattle, Washington. In 2016-17, CityU enrolled 6,755 students worldwide. The university consists of the School of Management, Albright School of Education, School of Arts and Sciences, School of Applied Leadership, the Technology Institute, and Washington Academy of Languages. CityU of Seattle offers campus education around the world and online education. CityU is part of the National University System, a private nonprofit university system.

Saint Martin's University is a coeducational, Catholic, liberal arts university in the United States. Located in Lacey, Washington, it was founded in 1895 as an all-boys boarding school by monks of the Benedictine Order. Saint Martin's began offering college-level courses in 1900 and became a degree-granting institution in 1940. The college became coeducational in 1965. In 2005, it changed its name from Saint Martin's College to Saint Martin's University. The school motto is \"Think with heart.\" With a 12:1 student-to-teacher ratio and a minority student population of 45%, the college has a reputation for diversity and small class sizes. It has a functioning Benedictine monastery on school grounds, and some members of the monastic community also serve as professors. The tuition for 2013-2014 is $31,688 although many students benefit from financial aid packages.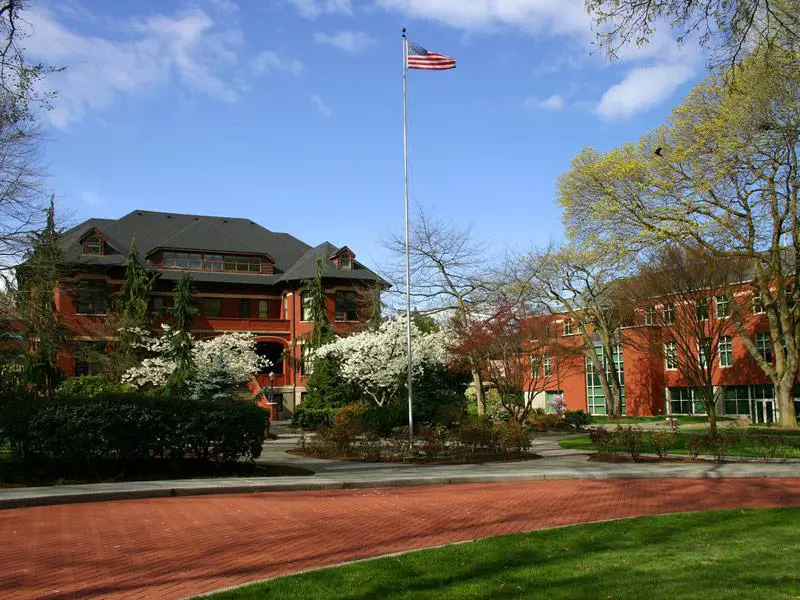 Seattle Pacific University is a private liberal arts university in Seattle, Washington, founded in 1891 in conjunction with the Oregon and Washington Conference of the Free Methodist Church as the Seattle Seminary. It became the Seattle Seminary and College in 1913, adopting the name Seattle Pacific College in 1915, and took its present moniker in 1977. Seattle Pacific University is a member of the Christian College Consortium.

Central Washington University, or CWU, is a regional, comprehensive public university located on a 380-acre campus in Ellensburg in the US state of Washington. Founded in 1891, the university consists of three chief divisions include the Office of the President, Business and Financial Affairs, and Academic and Student Life. Within ASL are four colleges: the College of Arts and Humanities, the College of Business, the College of Education and Professional Studies, and College of the Sciences.
Heritage University is a private university in Toppenish, Washington, on the Yakama Indian Reservation. It offers associate, bachelor's, and master's degrees.
There You Have It -- The Most Racially Diverse Colleges In The
If you're looking at universities in Washington with the most diverse student bodies, this is an accurate list. Below is a complete list of every college and university in Washington with their diversity index score.
Hopefully, this is helpful for you as you weigh in on all factors while you decide on which institution to attend.
For more reading on colleges around Washington, check out: