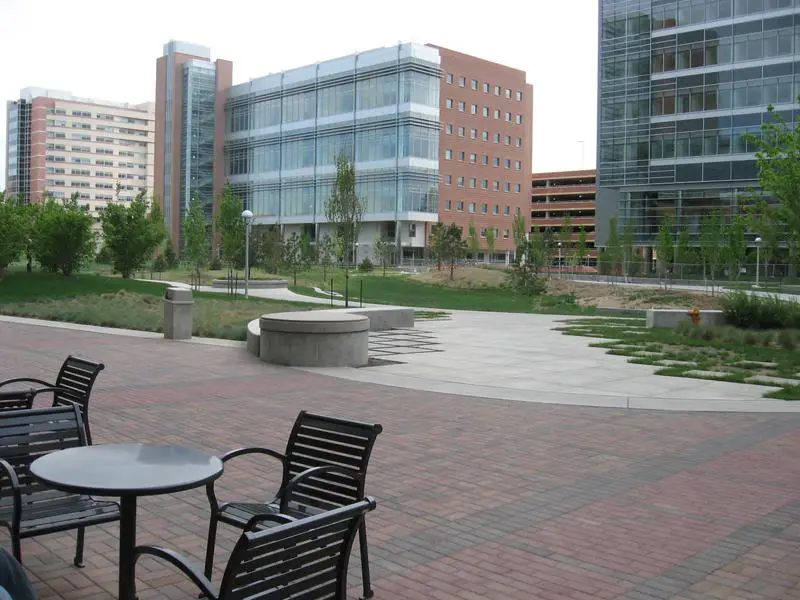 University of Colorado Denver/Anschutz Medical Campus
The University of Colorado Anschutz Medical Campus is the campus containing the University of Colorado's health sciences-related schools and colleges, such as the University of Colorado School of Medicine, the CU School of Pharmacy, the CU College of Nursing, the University of Colorado School of Dentistry, and the Colorado School of Public Health, as well as the graduate school for various fields in the biological and biomedical sciences. Official branding guidelines require the short hand "CU Anschutz", instead of the commonly misused "CU AMC".The campus is located on a portion of the former Fitzsimons Army Medical Center. After the base was decommissioned in 1999, the campus became known as the Fitzsimons Medical Campus, or simply "Fitzsimons." The name of the portion of Fitzsimons that houses the university facilities was changed to its current name in 2006 after the Anschutz family donated $91 million to construct the Anschutz Centers for Advanced Medicine, which include the Anschutz Outpatient and Cancer Pavilions, and the Anschutz Inpatient Pavilion, all located on the campus. The remainder of the former base is now called the Fitzsimons Life Science District and includes a 184-acre (0.74 km2) Colorado Science and Technology Park, the Children's Hospital, the future Veterans Affairs hospital, and a residential/retail town center known as 21 Fitzsimons.
Out-of-state Tuition
$23,704
Enjoy The Snack?