How We Determined The Safest College Campuses In Arkansas For 2020
In order to rank the safest colleges in Arkansas, we simply had to look at the number of crimes that are committed on every campus in Arkansas in the last reporting year available.
In this case, we were able to obtain crime statistics from the US Department of Education Campus Safety And Security, which includes reported crimes that happened on each campus for every year, and on many detailed categories.
For our report, we looked at the most recent year available, which is the 2019 academic year. We created the following categories:
Sexual Assaults Per Student (Rape, Statutory Rape, and Fondling)
Violent Crimes Per Student (Murder, Negligent Homicide, Aggravated Assault, and Robbery)
Property Crimes Per Student (Burgarlry, Car Theft, and Arson)
This data collection is required by the Jeanne Clery Disclosure of Campus Security Policy and Campus Crime Statistics Act and the Higher Education Opportunity Act.
Our universe of colleges were limited to predominantly BA and BS conferring institutions with over 500 students and at least 1 reported crime.
We then ranked each of the 17 schools from safest to dangerous for each of the three criteria with 1 being the safest. Finally, we averaged the three scores together into a safety score with the lowest being the safest.
The colleges with the least number of crimes per student were deemed the safest colleges, and those with the most crimes and arrests per student are the most dangerous.
So it looks like if you want to get the safest school experience (not safety school!), you need to contact admissions at John Brown University or University of Arkansas at Little Rock.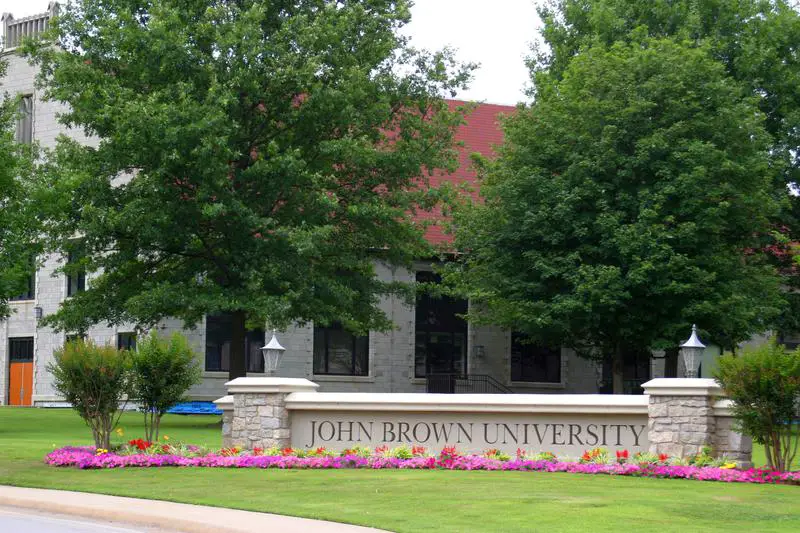 John Brown University is a private, interdenominational, Christian liberal arts college in Siloam Springs, Arkansas. Founded in 1919, JBU enrolls more than 2,500 students from 41 states and 50 countries in its traditional undergraduate, graduate, online and concurrent education programs.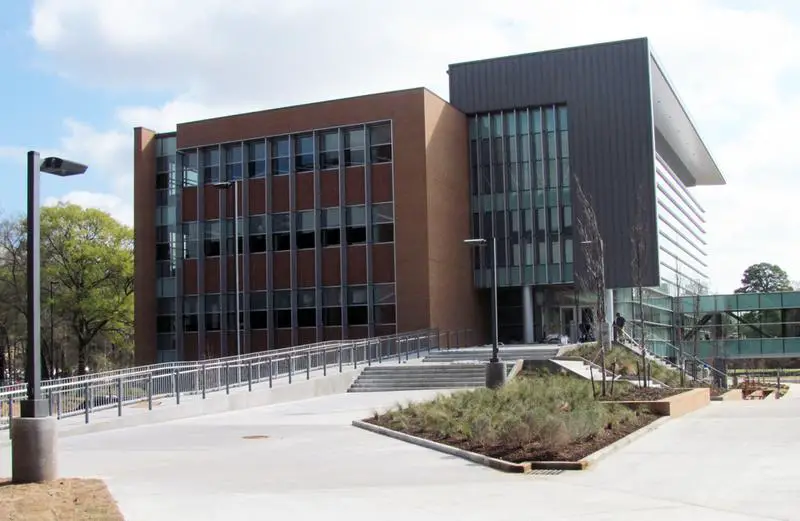 The University of Arkansas at Little Rock (UA Little Rock, formerly UALR) is a metropolitan public research university located in Little Rock, Arkansas, United States. Established as Little Rock Junior College by the Little Rock School District in 1927, the institution became a private four-year university under the name Little Rock University in 1957. It returned to public status in 1969 when it merged with the University of Arkansas System under its present name.
Located on 250 acres, the UALR campus encompasses more than 56 buildings, including the Center for Nanotechnology Integrative Sciences, the Emerging Analytics Center, and the Sequoyah Research Center, and the Ottenheimer Library Additionally, UALR houses special learning facilities that include a learning resource center, art galleries, KUAR public radio station, University Television, cyber café, speech and hearing clinic, and a campus-wide wireless network.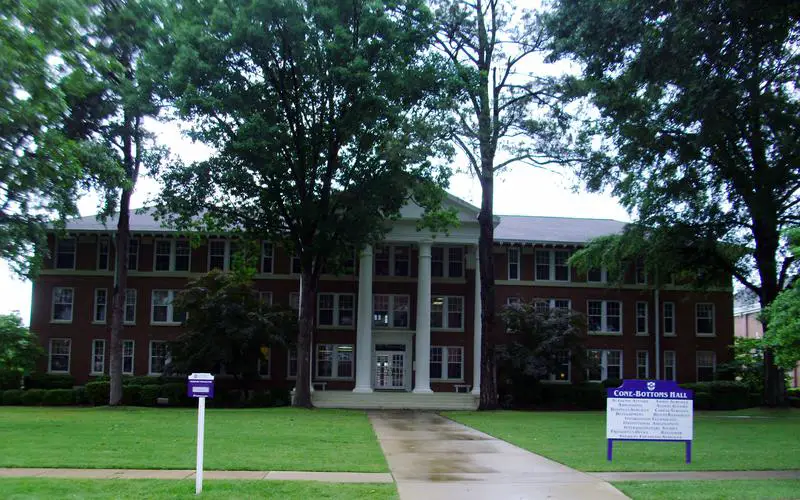 Ouachita Baptist University is a private, liberal arts, undergraduate college located in Arkadelphia, Arkansas, United States which is about 65 miles southwest of Little Rock. The university's name is taken from the Ouachita River, which forms the eastern campus boundary. It is affiliated with the Arkansas Baptist State Convention. The student body is approximately 45% male and 55% female.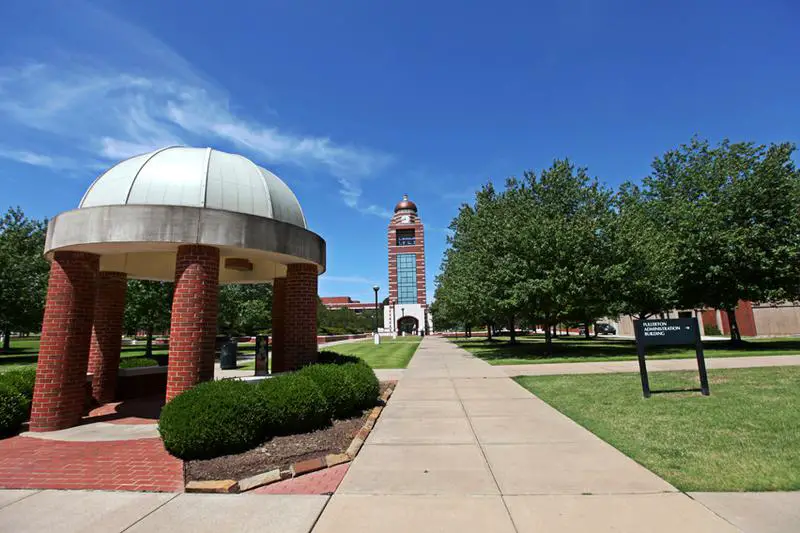 The University of Arkansas-Fort Smith is a public, co-educational, four-year university located in Fort Smith, Arkansas, United States, It is one of 13 campuses that constitute the University of Arkansas System. UAFS is the sixth-largest four-year university in Arkansas, with a fall 2017 enrollment of approximately 6,637 students. The university offers in-state tuition rates not only to Arkansas residents, but also those from Louisiana, Mississippi, Missouri, Oklahoma, Tennessee, and Texas.
Williams Baptist University is a private, coeducational university located in the Lawrence County, Arkansas community of Walnut Ridge. Founded in 1941, this institution began its life as a two-year school. It began granting bachelor's degrees in 1984 and masters degrees in 2017. The name of the school was changed in 1991 from Southern Baptist College to Williams Baptist College in honor of its founder and first president, Dr. H. E. Williams. In 2018, its name was changed to Williams Baptist University. The current president of the institution is Dr. Stan Norman, who took office in April of 2018.
Williams has been accredited since 1963 through the Higher Learning Commission.The college is owned and operated by the Arkansas Baptist State Convention, which is affiliated with the Southern Baptist Convention. Previous presidents include Dr. H.E. Williams (1941–1973), Dr. D. Jack Nicholas (1973–1991), Dr. Jimmy Millikin (1991–1993), Dr. Gary Huckabay (1993–1995), Dr. Jerol B. Swaim (1995–2012), and Dr. Thomas O. Jones (2012-2017).
Harding University is a private liberal arts university with its main campus in Searcy, Arkansas and other campuses around the world. It is the largest private university in the state of Arkansas. Harding is one of several institutions of higher learning associated with the Churches of Christ.
Philander Smith College is a private historically black college, four-year undergraduate liberal arts institution, located in Little Rock, Arkansas. Philander Smith College is affiliated with the United Methodist Church and is a founding member of the United Negro College Fund. Philander Smith College is accredited by the North Central Association of Colleges and Schools. The Mission of Philander Smith College is, \"To graduate academically accomplished students who are grounded as advocates for social justice, determined to change the world for the better.\"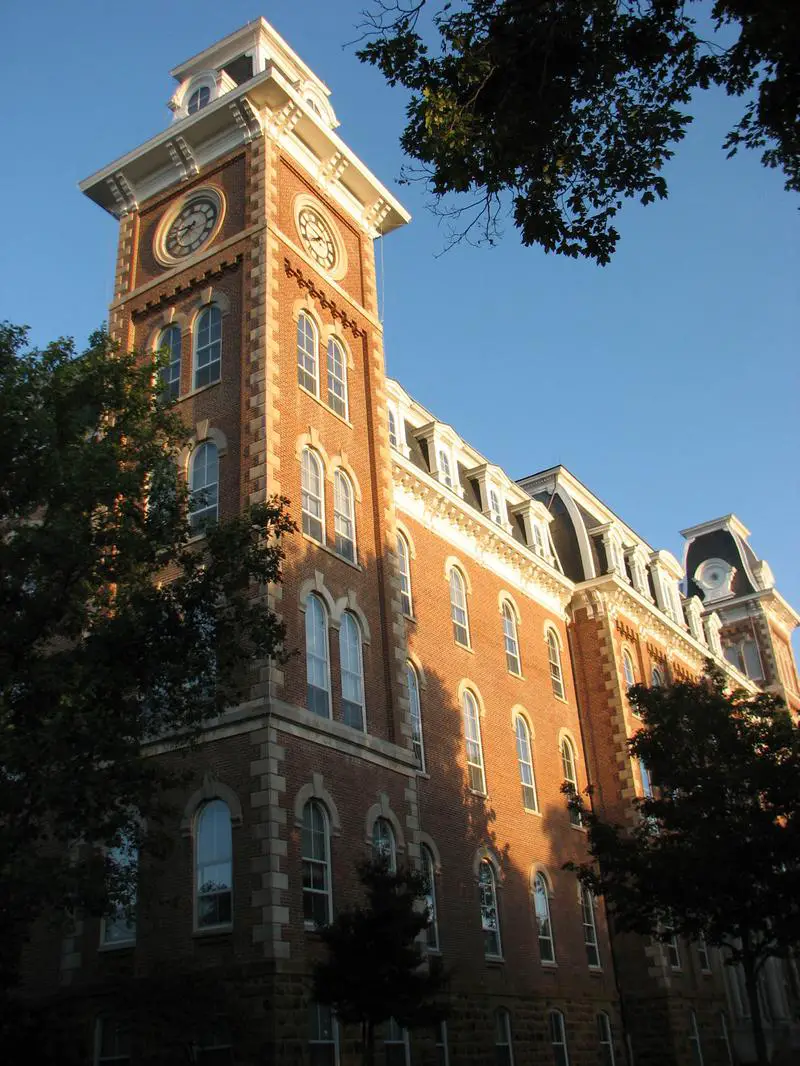 The University of Arkansas is a public land-grant, doctoral research university located in Fayetteville, Arkansas. It is the flagship campus of the University of Arkansas System and the largest, best-known university in the state. More than 27,500 students are enrolled in over 200 undergraduate, graduate, and professional programs. It is classified by the Carnegie Foundation as a research university with the highest level of research activity. Founded as Arkansas Industrial University in 1871, its present name was adopted in 1899 and classes were first held on January 22, 1872. It is noted for its strong architecture, agriculture, business, communication disorders, creative writing, history, law, and Middle Eastern studies programs.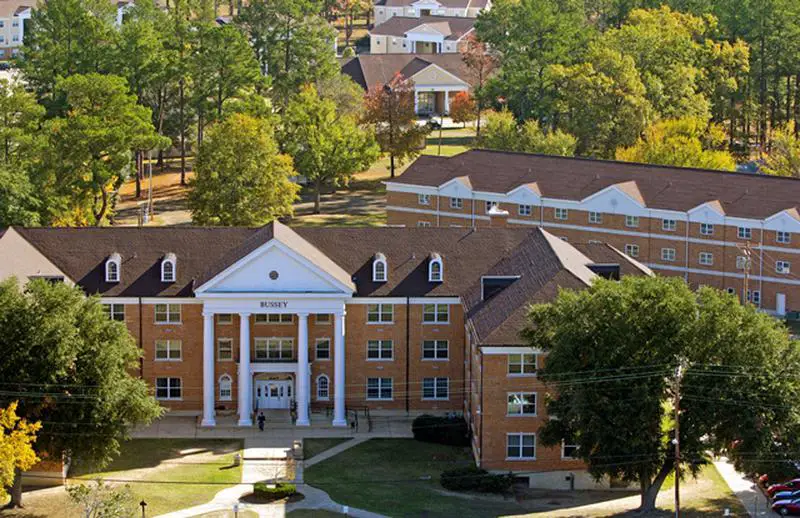 Southern Arkansas University is a public four-year institution located in Magnolia, Arkansas, in Columbia County, Arkansas, situated less than 20 miles north of the Louisiana state line.
Maintaining a 17-1 student to instructor ratio, Southern Arkansas University offers programs that are unique for the region, including Game and Animation Design with a computer science concentration, or an arts and design focus. The University also provides an engineering program, the only of its kind in the southern half of the state.
There You Have It -- The Safest Colleges In The
If you're looking at an undeniably effective and thorough way to measure how safe (and dangerous) each college campus is in Arkansas, we've done a good job of portraying the data in a straightforward manner.
Additionally, we'd like to add that while the data never lies, we did choose certain criteria over others - meaning had we chosen to include other crime numbers, or measured the data in a different way, the list would have been different.
However, we'd think you'd agree that this is an effective way to measure campus safety, as we aggregated most of the largest categories for you. We encourage you to visit the National Center for Education Statistics and make your own conclusions if you so wish.
For more reading on colleges around Arkansas, check out: