How We Determined The Safest College Campuses In Delaware For 2020
In order to rank the safest colleges in Delaware, we simply had to look at the number of crimes that are committed on every campus in Delaware in the last reporting year available.
In this case, we were able to obtain crime statistics from the US Department of Education Campus Safety And Security, which includes reported crimes that happened on each campus for every year, and on many detailed categories.
For our report, we looked at the most recent year available, which is the 2019 academic year. We created the following categories:
Sexual Assaults Per Student (Rape, Statutory Rape, and Fondling)
Violent Crimes Per Student (Murder, Negligent Homicide, Aggravated Assault, and Robbery)
Property Crimes Per Student (Burgarlry, Car Theft, and Arson)
This data collection is required by the Jeanne Clery Disclosure of Campus Security Policy and Campus Crime Statistics Act and the Higher Education Opportunity Act.
Our universe of colleges were limited to predominantly BA and BS conferring institutions with over 500 students and at least 1 reported crime.
We then ranked each of the 3 schools from safest to dangerous for each of the three criteria with 1 being the safest. Finally, we averaged the three scores together into a safety score with the lowest being the safest.
The colleges with the least number of crimes per student were deemed the safest colleges, and those with the most crimes and arrests per student are the most dangerous.
So it looks like if you want to get the safest school experience (not safety school!), you need to contact admissions at Wesley College or University of Delaware.
Location: Dover, DE
# Of Undergraduates: 1,513
Violent Crime Per Capita: 0.0
Property Crime Per Capita: 0.002
Sexual Assault Per Capita: 0.0

Wesley College may refer to:
Wesley College, University of Sydney, New South Wales, Australia
Wesley Theological College, South Australia, Australia
Wesley College (Victoria), Australia
Wesley College (Western Australia)
Wesley College (Belize)
Wesley College (Manitoba), Canada
Wesley College of Education (Ashanti), Ghana
Wesley College (Dublin), Ireland
Wesley College (Auckland), New Zealand
Wesley College, Colombo, Sri Lanka
Wesley College (Bristol), UK
Wesley College (Sheffield), UK
Wesley College (Delaware), U.S.
Wesley College (Mississippi), U.S.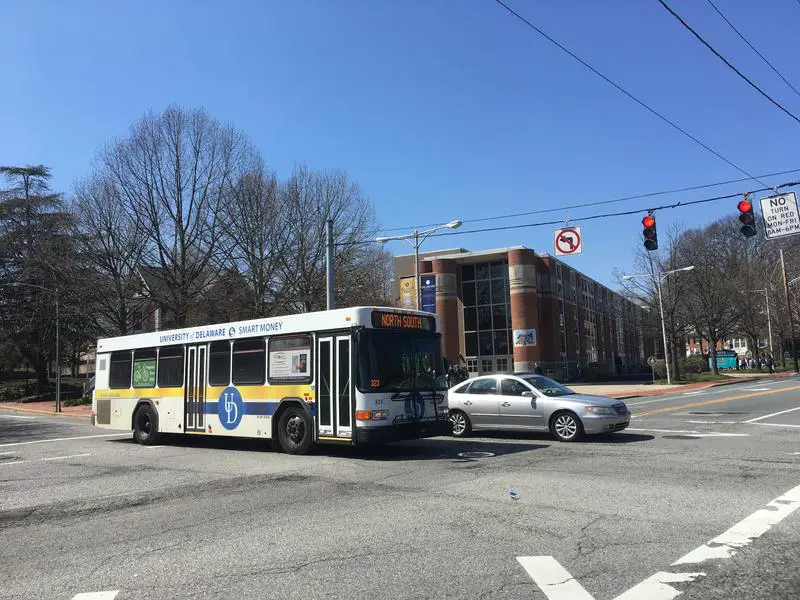 Location: Newark, DE
# Of Undergraduates: 16,110
Violent Crime Per Capita: 0.0003
Property Crime Per Capita: 0.0004
Sexual Assault Per Capita: 0.0003

The University of Delaware is a public research university located in Newark, Delaware. University of Delaware is the largest university in Delaware. UD currently offers more than 135 undergraduate degrees. At the graduate level, it offers 67 doctoral, 142 master's degree programs, 14 dual degrees, 15 interdisciplinary programs, 12 on-line programs, and 28 certificate programs across its seven colleges and more than 82 research centers and institutes. UD is one of the top 100 institutions for federal obligations in science and engineering and interdisciplinary initiatives in energy science and policy, the environment, and in human health. The main campus is in Newark, with satellite campuses in Dover, Wilmington, Lewes, and Georgetown. It is considered a large institution with approximately 18,500 undergraduate and 4,500 graduate students. UD is a privately governed university which receives public funding for being a land-grant, sea-grant, space-grant and urban-grant state-supported research institution.
Location: Dover, DE
# Of Undergraduates: 2,855
Violent Crime Per Capita: 0.0016
Property Crime Per Capita: 0.0037
Sexual Assault Per Capita: 0.0028

Delaware State University, is a historically black, public university in Dover, Delaware. DSU also has two satellite campuses, one in Wilmington and one in Georgetown. The university encompasses six colleges and a diverse population of undergraduate and advanced-degree students.
There You Have It -- The Safest Colleges In The
If you're looking at an undeniably effective and thorough way to measure how safe (and dangerous) each college campus is in Delaware, we've done a good job of portraying the data in a straightforward manner.
Additionally, we'd like to add that while the data never lies, we did choose certain criteria over others - meaning had we chosen to include other crime numbers, or measured the data in a different way, the list would have been different.
However, we'd think you'd agree that this is an effective way to measure campus safety, as we aggregated most of the largest categories for you. We encourage you to visit the National Center for Education Statistics and make your own conclusions if you so wish.
For more reading on colleges around Delaware, check out: