How We Determined The Safest College Campuses In Missouri For 2020
In order to rank the safest colleges in Missouri, we simply had to look at the number of crimes that are committed on every campus in Missouri in the last reporting year available.
In this case, we were able to obtain crime statistics from the US Department of Education Campus Safety And Security, which includes reported crimes that happened on each campus for every year, and on many detailed categories.
For our report, we looked at the most recent year available, which is the 2019 academic year. We created the following categories:
Sexual Assaults Per Student (Rape, Statutory Rape, and Fondling)
Violent Crimes Per Student (Murder, Negligent Homicide, Aggravated Assault, and Robbery)
Property Crimes Per Student (Burgarlry, Car Theft, and Arson)
This data collection is required by the Jeanne Clery Disclosure of Campus Security Policy and Campus Crime Statistics Act and the Higher Education Opportunity Act.
Our universe of colleges were limited to predominantly BA and BS conferring institutions with over 500 students and at least 1 reported crime.
We then ranked each of the 34 schools from safest to dangerous for each of the three criteria with 1 being the safest. Finally, we averaged the three scores together into a safety score with the lowest being the safest.
The colleges with the least number of crimes per student were deemed the safest colleges, and those with the most crimes and arrests per student are the most dangerous.
So it looks like if you want to get the safest school experience (not safety school!), you need to contact admissions at Maryville University of Saint Louis or Central Methodist University-College of Liberal Arts and Sciences.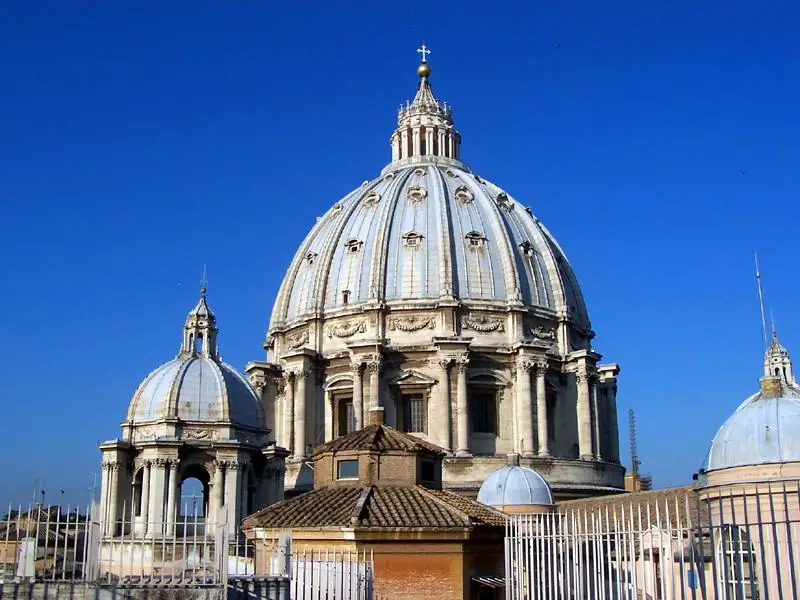 Maryville University of St. Louis is a private, coeducational university located in the city of Town and Country, a suburb of St. Louis in west St. Louis County, Missouri, United States. It was founded in 1872. Maryville University offers more than 90 degrees at the undergraduate, master's and doctoral levels to students from 50 states and 47 countries.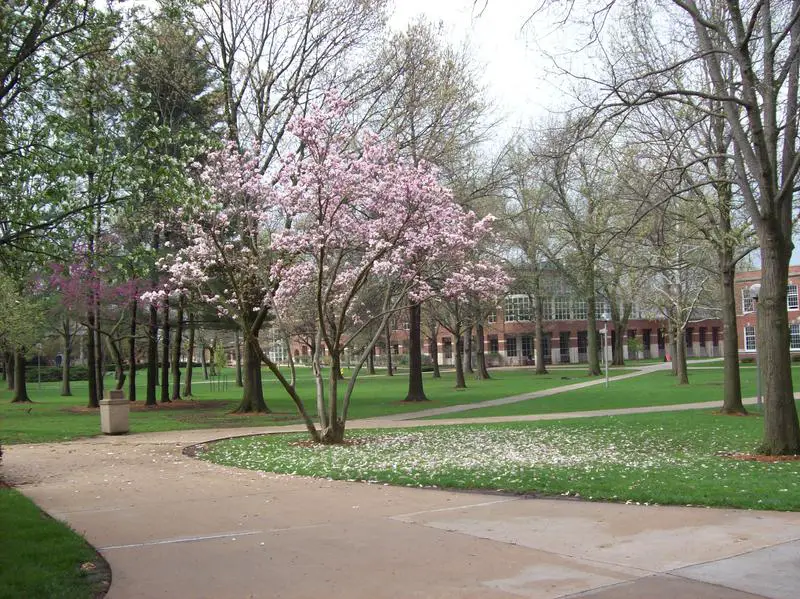 Truman State University is a public liberal arts and sciences university located in Kirksville, Missouri, United States. It is a member of the Council of Public Liberal Arts Colleges. It had 6,379 enrolled students in the fall of 2015, with 6,039 undergraduate and 340 postgraduate students, pursuing degrees in 48 undergraduate, and eight graduate programs. The university is named after U.S. President Harry Truman, the only president born in Missouri. Until 1996, the school was known as Northeast Missouri State University, but the Board of Trustees voted to change the school's name to better reflect its statewide mission. Truman State is the only public institution in Missouri that is officially designated to pursue highly selective admissions standards.
Missouri Baptist University is a private evangelical Christian, liberal arts institution university located in western St. Louis County in Creve Coeur Missouri. The University offers programs of study leading to professional certificates, undergraduate degrees, and graduate degrees. There are currently 12 MBU locations including its regional learning centers throughout the St. Louis region and Illinois in addition to a 68-acre West St. Louis County campus as well as degrees offered completely online for the working adult. In 2018, MBU launched its School of Nursing. MBU was recently named the 7th top university for inspiration by peers, which was published in The Wall Street Journal and Times Higher Education's top U.S. college rankings lists for 2018.

Webster University is an American non-profit private university with its main campus in Webster Groves, Missouri.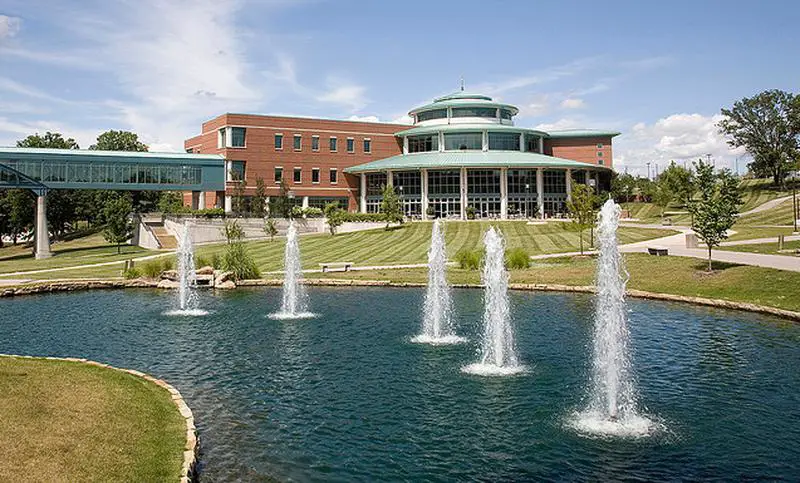 The University of Missouri-St. Louis is public research university located outside St. Louis, Missouri, United States. Established in 1963, it is one of four universities in the University of Missouri System and its newest. UMSL's campus is located on the former grounds of the Bellerive Country Club in St. Louis County, with an address in St. Louis city. The campus stretches into the municipalities of Bellerive, Bel-Nor and Normandy. Additional facilities are located at the former site of Marillac College and at Grand Center, both in St. Louis city.
Southwest Baptist University is a private institute of higher education affiliated with the Missouri Baptist Convention, which is part of the Southern Baptist Convention. In 2017, there was a total enrollment of 3,592 students attending at one of SBU's four Missouri campuses, located in the towns of Bolivar, Mountain View, Salem and Springfield.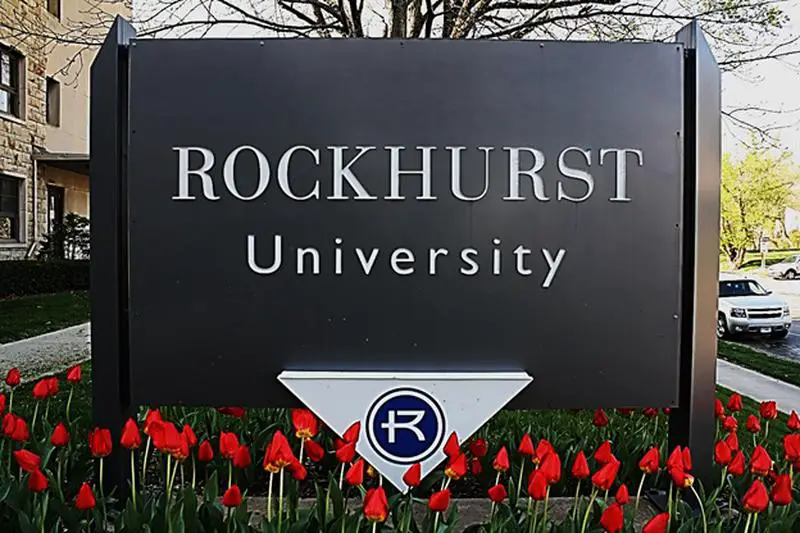 Rockhurst University is a private, nonprofit, coeducational Jesuit university located in Kansas City, Missouri. Founded in 1910 as Rockhurst College, the school is one of 28 member institutions of the Association of Jesuit Colleges and Universities. Rockhurst University is accredited by the Higher Learning Commission, and the Helzberg School of Management recently gained accreditation by the Association to Advance Collegiate Schools of Business. Rockhurst was ranked as number 19 in the 2012 U.S. News & World Report rankings of the Best Universities- Masters Midwest category, and Rockhurst has consistently appeared in the top fifteen universities in this category. In August 2009, Forbes magazine and the Center for College Affordability & Productivity published its annual college rankings list of America's Best Colleges. In 2018, of the more than 4,000 collegiate institutions in the United States, Forbes and the CCAP ranked Rockhurst University No. 203 in the nation and No. 37 in the Midwest.
Baptist Bible College is the name of two schools in the United States:
Baptist Bible College & Seminary, Clarks Summit, Pennsylvania (The school changed its name to Summit University on April 20, 2015 and later to Clarks Summit University)
Baptist Bible College (Springfield, Missouri) (a branch campus once existed in Massachusetts, now called Boston Baptist College)Baptist Bible College may also refer to:
Free Will Baptist Bible College, Nashville, Tennessee
Heartland Baptist Bible College, Oklahoma City, Oklahoma
Maranatha Baptist Bible College, Watertown, Wisconsin
Northland Baptist Bible College, Dunbar, Wisconsin
Pillsbury Baptist Bible College, Owatonna, Minnesota
Drury University, formerly Drury College and originally Springfield College, is a private liberal arts college in Springfield, Missouri. The university enrolls about 1,600 undergraduates, 450 graduate students in six master's programs, and 3,160 students in the College of Continuing Professional Studies.
There You Have It -- The Safest Colleges In The
If you're looking at an undeniably effective and thorough way to measure how safe (and dangerous) each college campus is in Missouri, we've done a good job of portraying the data in a straightforward manner.
Additionally, we'd like to add that while the data never lies, we did choose certain criteria over others - meaning had we chosen to include other crime numbers, or measured the data in a different way, the list would have been different.
However, we'd think you'd agree that this is an effective way to measure campus safety, as we aggregated most of the largest categories for you. We encourage you to visit the National Center for Education Statistics and make your own conclusions if you so wish.
For more reading on colleges around Missouri, check out: