How We Determined The Safest College Campuses In New Hampshire For 2020
In order to rank the safest colleges in New Hampshire, we simply had to look at the number of crimes that are committed on every campus in New Hampshire in the last reporting year available.
In this case, we were able to obtain crime statistics from the US Department of Education Campus Safety And Security, which includes reported crimes that happened on each campus for every year, and on many detailed categories.
For our report, we looked at the most recent year available, which is the 2019 academic year. We created the following categories:
Sexual Assaults Per Student (Rape, Statutory Rape, and Fondling)
Violent Crimes Per Student (Murder, Negligent Homicide, Aggravated Assault, and Robbery)
Property Crimes Per Student (Burgarlry, Car Theft, and Arson)
This data collection is required by the Jeanne Clery Disclosure of Campus Security Policy and Campus Crime Statistics Act and the Higher Education Opportunity Act.
Our universe of colleges were limited to predominantly BA and BS conferring institutions with over 500 students and at least 1 reported crime.
We then ranked each of the 10 schools from safest to dangerous for each of the three criteria with 1 being the safest. Finally, we averaged the three scores together into a safety score with the lowest being the safest.
The colleges with the least number of crimes per student were deemed the safest colleges, and those with the most crimes and arrests per student are the most dangerous.
So it looks like if you want to get the safest school experience (not safety school!), you need to contact admissions at Rivier University or Southern New Hampshire University.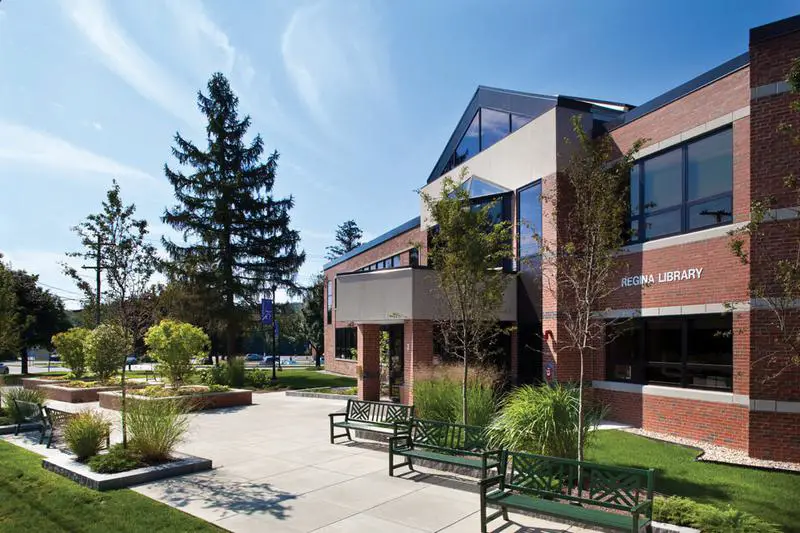 Rivier University, formerly Rivier College, is a private Catholic liberal arts university located in Nashua, New Hampshire.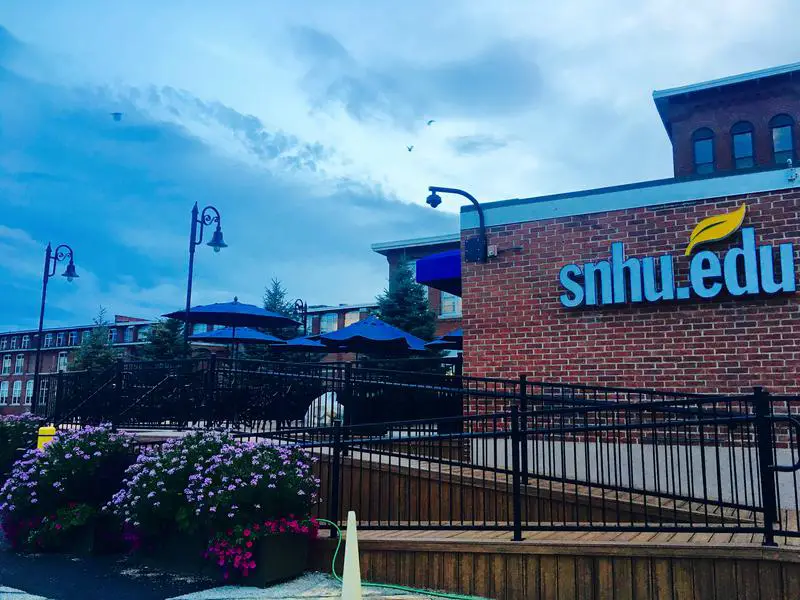 Southern New Hampshire University is a private, nonprofit, coeducational, and nonsectarian university situated between Manchester and Hooksett, New Hampshire, in the United States. The university is accredited by the Commission on Institutions of Higher Education of the New England Association of Schools and Colleges, along with national accreditations for some hospitality, health, education and business degrees. SNHU is best known for its online programs, which have made it one of the country's fastest-growing universities.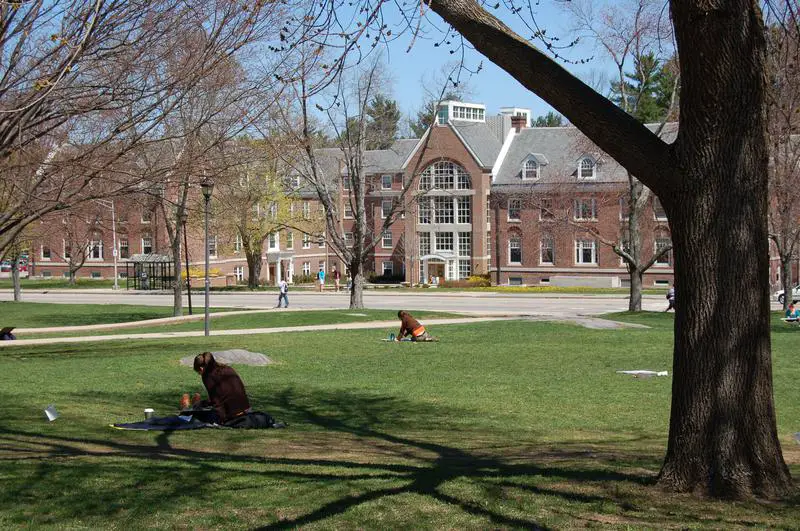 The University of New Hampshire is a public research university in the University System of New Hampshire, in the United States. The university's Durham campus, comprising six colleges, is located in the Seacoast region of the state. A seventh college, the University of New Hampshire at Manchester, occupies the university's campus in Manchester, the state's largest city. The University of New Hampshire School of Law, known as the Franklin Pierce Law Center until 2010, is located in Concord, the state's capital.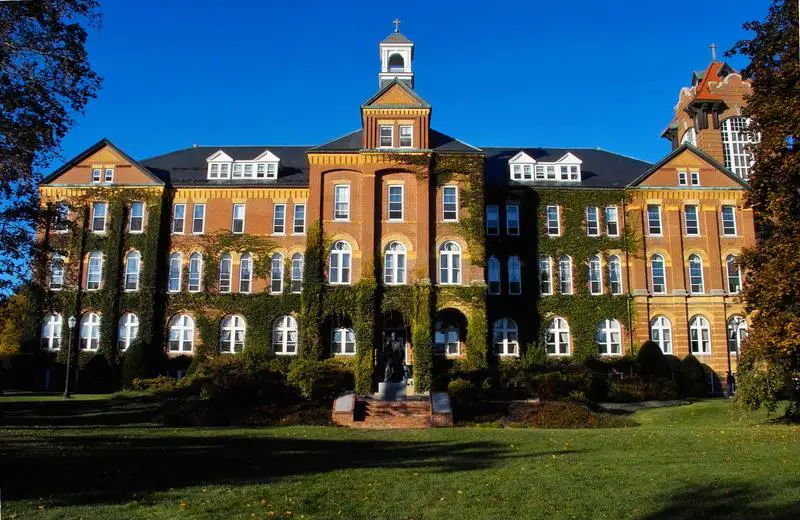 Saint Anselm College is a nationally ranked, Catholic, Benedictine, liberal arts college in Goffstown, New Hampshire, United States. Founded in 1889 by Abbot Hilary Pfrngle, O.S.B. of Saint Mary's Abbey in Newark, New Jersey, at the request of Bishop Denis Mary Bradley of Manchester, New Hampshire, it is the third-oldest Catholic college in New England. Named for Saint Anselm of Canterbury, the college continues to have a fully functioning and independent Benedictine abbey attached to it, Saint Anselm Abbey. As of 2017, its enrollment is approximately 2,000.
Plymouth State University (PSU), formerly Plymouth State College, is a coeducational, residential university located in Plymouth, New Hampshire, United States, with an enrollment of approximately 4,200 undergraduate students and 2,100 graduate students. The school was founded as Plymouth Normal School in 1871. Since that time it has evolved to a teachers college, a state college, and finally to a state university in 2003. PSU is part of the University System of New Hampshire.
It was founded as a teachers' college, and it still retains a teaching program/major to this day. Since that time, however, it has diversified its academic profile, adding many new majors and fields of study. The school has become known in recent years for its meteorology program (Judd Gregg Meteorology Institute), and is also strong in business, visual and performing arts, interdisciplinary studies, and psychology. Also, new majors such as criminal justice and nursing have been added and other programs have increased their stature, especially the natural sciences with the creation of The Center for the Environment.
Plymouth State is one of 311 institutions of higher learning nationwide included on the Carnegie Foundation Community Engagement Classification. According to Carnegie, PSU was honored for "excellent alignment of mission, culture, leadership, resources, and practices that support dynamic and noteworthy community engagement." Community service has long been a mainstay of the Plymouth State experience. The university's motto, Ut prosim (That I may serve), underscores the values upon which the Plymouth State University mission is built. During the 2009–10 academic year, PSU students contributed approximately 220,000 hours to service.
The campus has grown substantially in recent years with the addition of the PSU Ice Arena and Welcome Center, the Museum of the White Mountains, Enterprise Center at Plymouth, and ALLWell North, a 107,600 square foot academic and athletics facility that includes a 200-meter indoor track. Langdon Woods was one of the first collegiate residence halls in the U.S. to gain "Gold" certification by the Leadership in Energy and Environmental Design (LEED) Green Building Rating System, the nationally accepted benchmark for the design, construction, and operation of high performance green buildings. Robert Frost, America's Poet Laureate, lived and taught at Plymouth from 1911 to 1912. The university's campus newspaper, The Clock, was the first college newspaper in the nation to have a Sudoku puzzle.
Plymouth State gained national attention in 1985 when Sports Illustrated featured PSU student and football player Joe Dudek as their favorite to win the Heisman Trophy. Dudek, a running back for the Panthers, earned the attention for breaking Walter Payton's mark for career touchdowns.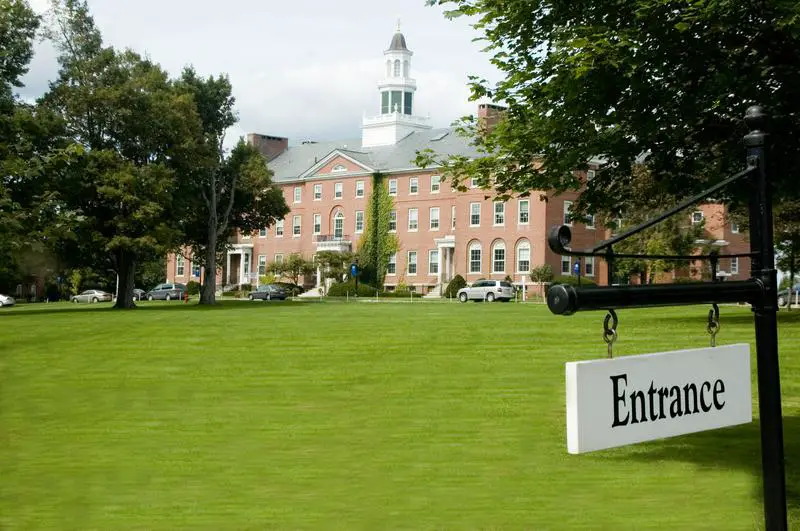 Colby-Sawyer College is a private baccalaureate college in New London, in the Lake Sunapee region of New Hampshire. It was founded as a coeducational academy in 1837 and sits on a 200-acre campus.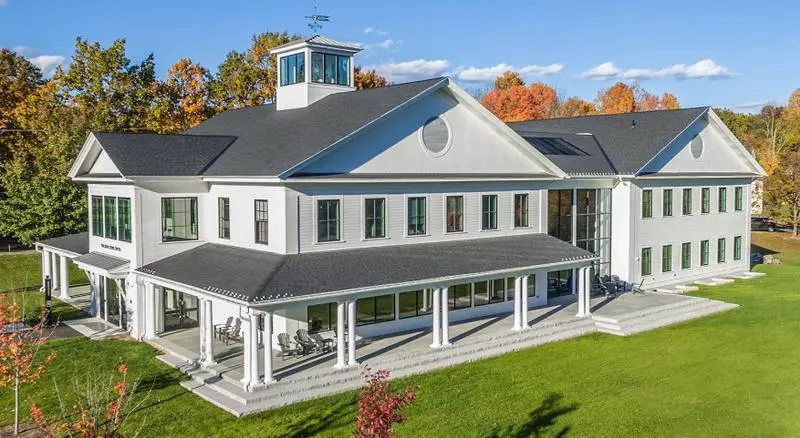 New England College is a private, non-profit college located in the town of Henniker, New Hampshire, United States, enrolling approximately 2,700 undergraduate and graduate students. The college is regionally accredited by the New England Association of Schools and Colleges.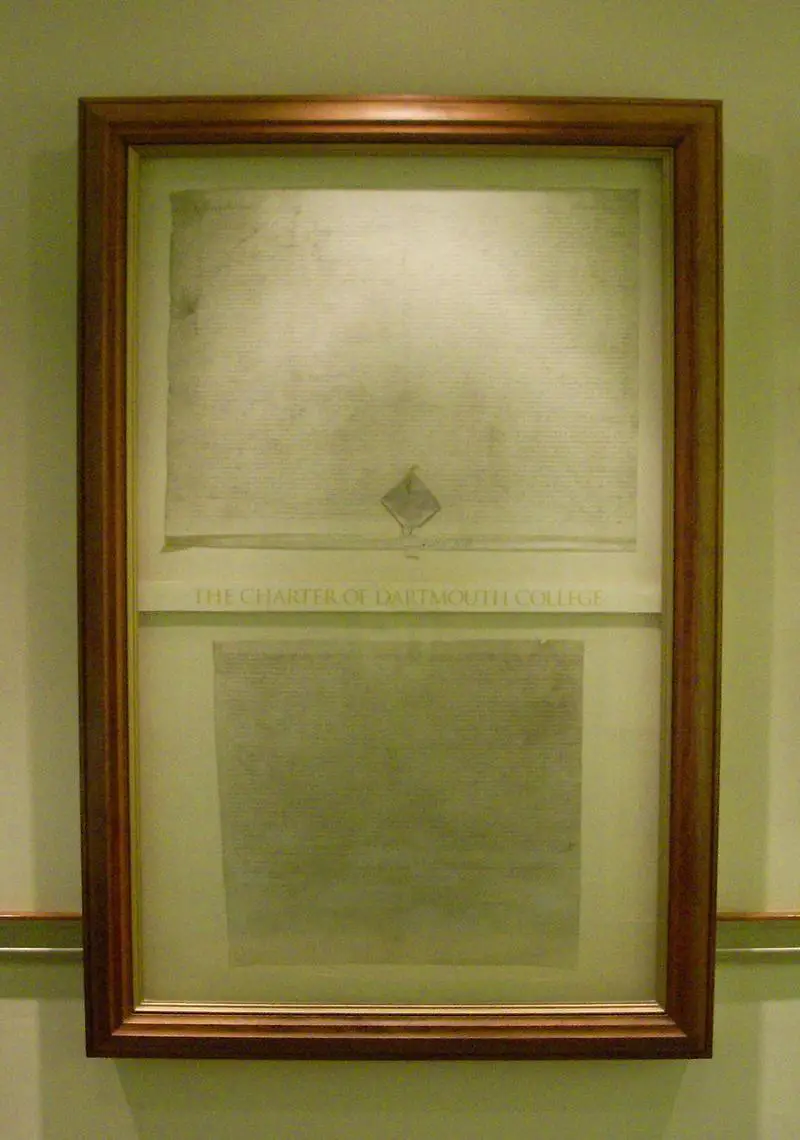 Dartmouth College is a private Ivy League research university in Hanover, New Hampshire, United States. Established in 1769 by Eleazar Wheelock, it is the ninth-oldest institution of higher education in the United States and one of the nine colonial colleges chartered before the American Revolution. Although founded as a school to educate Native Americans in Christian theology and the English way of life, Dartmouth primarily trained Congregationalist ministers throughout its early history before it gradually secularized, emerging at the turn of the 20th century from relative obscurity into national prominence.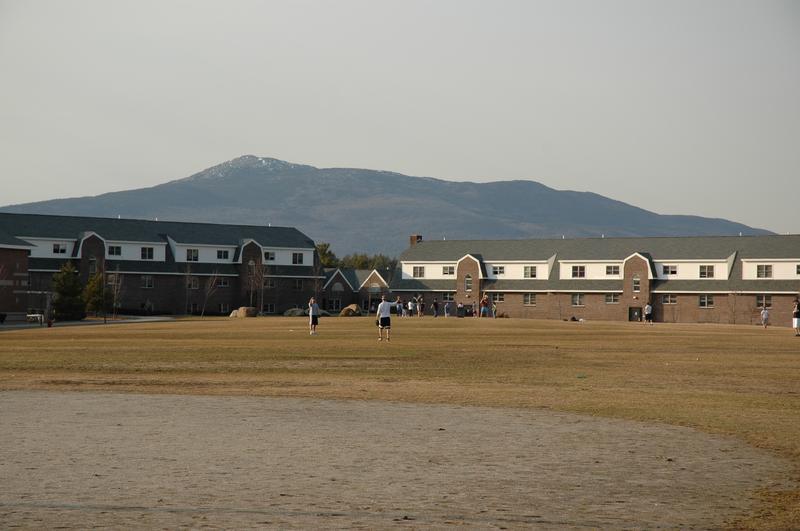 Franklin Pierce University is a small, private, non-profit, regionally accredited university in rural Rindge, New Hampshire, in the United States. It was founded as Franklin Pierce College in 1962, combining a liberal arts foundation with coursework for professional preparation.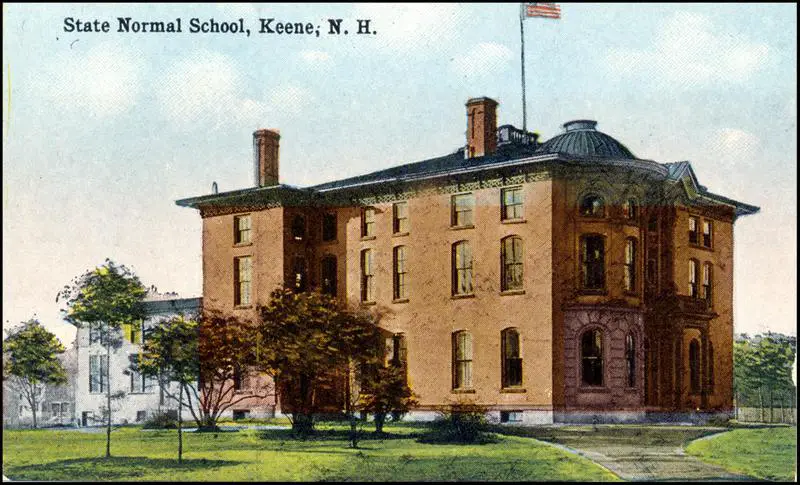 Keene State College is a liberal arts college in Keene, New Hampshire. It is a member of the University System of New Hampshire and of the Council of Public Liberal Arts Colleges.
Founded in 1909 as a teacher's college (originally, Keene Normal School; later, Keene Teachers College), Keene State College has around 4,300 students as of 2017.
There You Have It -- The Safest Colleges In The
If you're looking at an undeniably effective and thorough way to measure how safe (and dangerous) each college campus is in New Hampshire, we've done a good job of portraying the data in a straightforward manner.
Additionally, we'd like to add that while the data never lies, we did choose certain criteria over others - meaning had we chosen to include other crime numbers, or measured the data in a different way, the list would have been different.
However, we'd think you'd agree that this is an effective way to measure campus safety, as we aggregated most of the largest categories for you. We encourage you to visit the National Center for Education Statistics and make your own conclusions if you so wish.
For more reading on colleges around New Hampshire, check out: