How We Determined The Safest College Campuses In Oregon For 2020
In order to rank the safest colleges in Oregon, we simply had to look at the number of crimes that are committed on every campus in Oregon in the last reporting year available.
In this case, we were able to obtain crime statistics from the US Department of Education Campus Safety And Security, which includes reported crimes that happened on each campus for every year, and on many detailed categories.
For our report, we looked at the most recent year available, which is the 2019 academic year. We created the following categories:
Sexual Assaults Per Student (Rape, Statutory Rape, and Fondling)
Violent Crimes Per Student (Murder, Negligent Homicide, Aggravated Assault, and Robbery)
Property Crimes Per Student (Burgarlry, Car Theft, and Arson)
This data collection is required by the Jeanne Clery Disclosure of Campus Security Policy and Campus Crime Statistics Act and the Higher Education Opportunity Act.
Our universe of colleges were limited to predominantly BA and BS conferring institutions with over 500 students and at least 1 reported crime.
We then ranked each of the 19 schools from safest to dangerous for each of the three criteria with 1 being the safest. Finally, we averaged the three scores together into a safety score with the lowest being the safest.
The colleges with the least number of crimes per student were deemed the safest colleges, and those with the most crimes and arrests per student are the most dangerous.
So it looks like if you want to get the safest school experience (not safety school!), you need to contact admissions at Eastern Oregon University or Oregon Institute of Technology.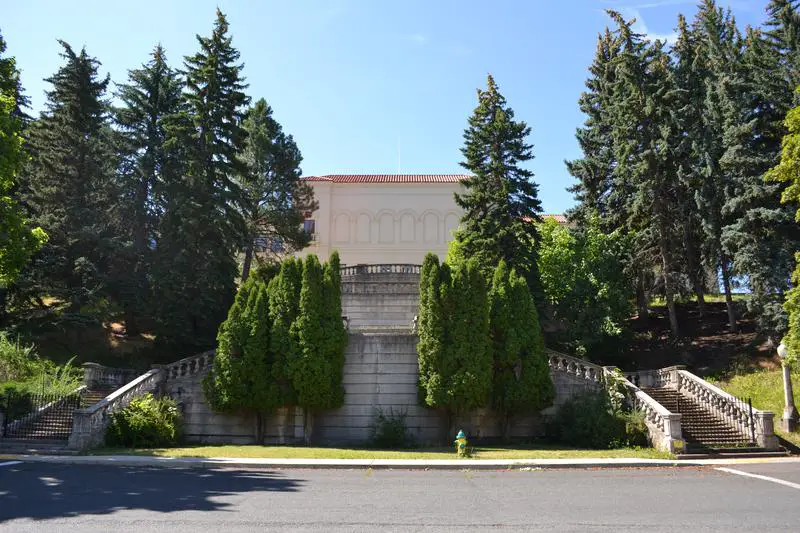 Eastern Oregon University is a public university in La Grande, Oregon. It is one of seven state-funded, four-year universities of higher education in the state. The university offers bachelor's and master's degrees. Most students obtain a B.S. degree, which requires one quarter of science, whereas a B.A. degree requires two years of a foreign language. In 2016, the University also began work to introduce a Bachelor of Applied Science degree with a vocational bent.
The Oregon Institute of Technology or Oregon Tech is the only public polytechnic university established in the Northwestern United States. Oregon Tech has a residential campus in Klamath Falls, Oregon and an urban campus in Wilsonville, Oregon with sites in Salem, La Grande, and Seattle, as well as online degree offerings. Oregon Tech provides a total of 32 degree programs in engineering, health technologies, management, communication, psychology and applied sciences with a total of 37 majors. Oregon Tech is known for hands-on education across all majors. Almost all students complete externships, co-ops, or other hands on training inside and outside the classroom.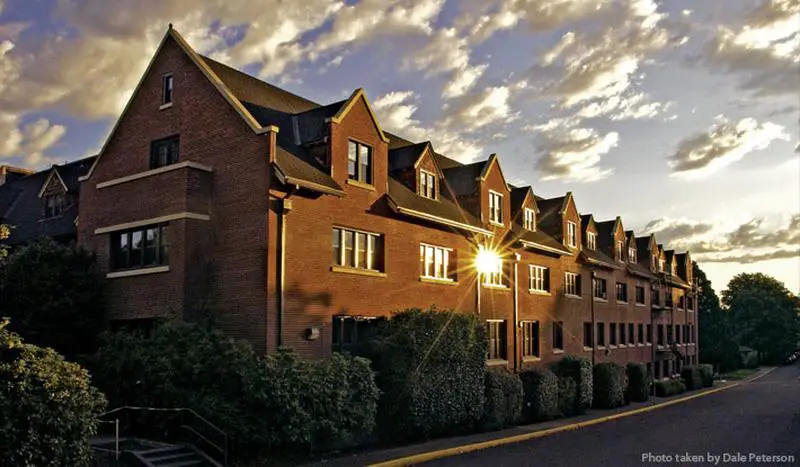 Western Oregon University is a public university located in Monmouth, Oregon, United States. It was originally established in 1856 by Oregon pioneers as Monmouth University. Subsequent names include Oregon Normal School, Oregon College of Education, and Western Oregon State College. Western Oregon University incorporates both the College of Education and the College of Liberal Arts and Sciences. Enrollment is approximately 6,000 students.
Multnomah University is a non-denominational Christian university in Portland, Oregon, United States. Multnomah consists of a college, graduate school, seminary and Degree Completion Program, and the university offers bachelor's, master's and doctorate degrees in a wide range of fields.
George Fox University is a Christian university of liberal arts and sciences and professional studies in Newberg, Oregon. Founded as a school for Quakers in 1885, the private school has more than 3,900 students combined between its main campus in Newberg and its centers in Portland, Salem and Redmond. Graduate studies include psychology, social work, business, education, counseling, physical therapy and seminary. The 108-acre main campus is located near downtown Newberg, near the junction of Oregon Route 99W and Oregon Route 219. George Fox competes athletically at the NCAA Division III level in the Northwest Conference as the Bruins. The school colors are navy blue and old gold.
Corban University is a private, independent college in Salem, Oregon. The school of about 1,200 students offers undergraduate work in biblical studies, liberal arts, and professional studies, and graduate work in business, ministry, education and counseling. Corban is a member of the Council for Christian Colleges and Universities, and athletically is a member of the National Association of Intercollegiate Athletics, competing in the Cascade Collegiate Conference.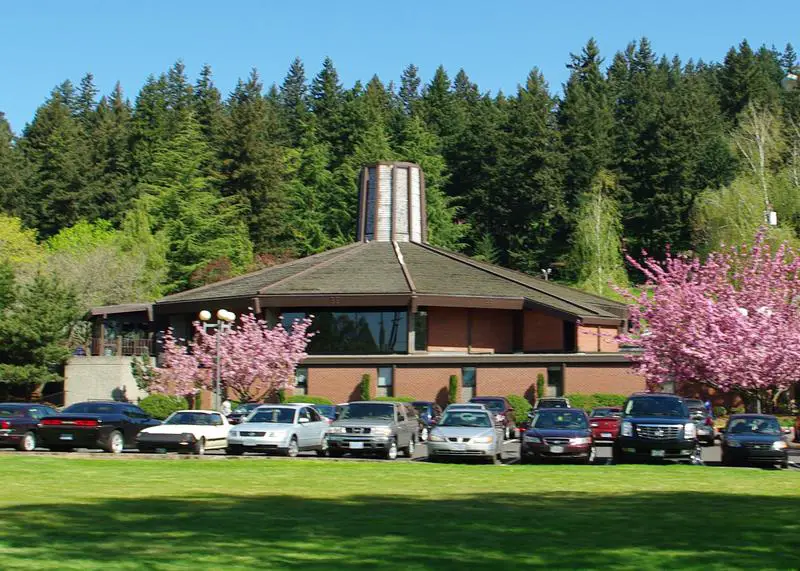 Warner Pacific University is an urban, Christian liberal arts university located in Southeast Portland, Oregon, United States. Founded in 1937, the university is accredited by the Northwest Commission on Colleges and Universities. A private university, it is affiliated with the Church of God.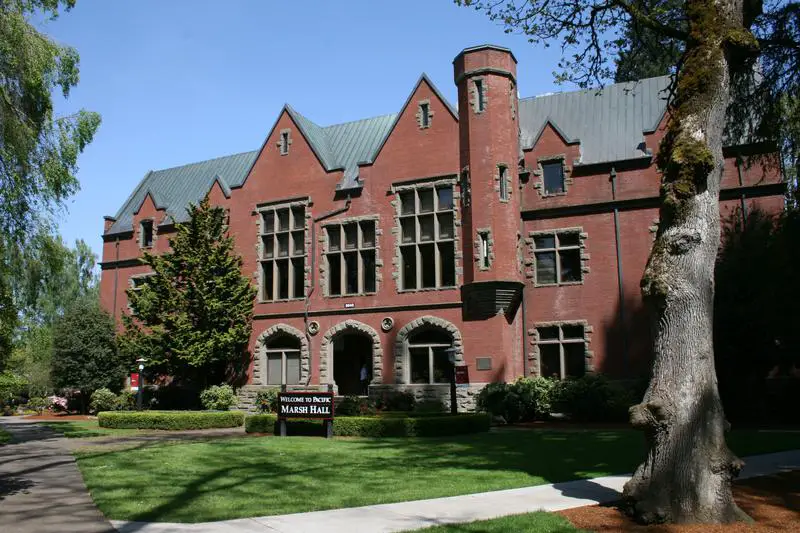 Pacific University is a private, non-profit, coeducational university, based in Forest Grove, Oregon, United States. Founded in 1849 as the Tualatin Academy, the university's original Forest Grove campus is 23 miles west of Portland, while the university maintains three other campuses in the cities of Eugene, Hillsboro, and Woodburn.
Southern Oregon University is a public liberal arts college located in Ashland, Oregon, United States. Founded in 1926, it was formerly known as Southern Oregon College and Southern Oregon State College. It offers programs in business, economics, criminology, natural sciences, including environmental science, Shakespearean studies and theatre arts programs. It is headquarters for Jefferson Public Radio and public access station Rogue Valley Television. Southern Oregon University is a member of the Council of Public Liberal Arts Colleges.
There You Have It -- The Safest Colleges In The
If you're looking at an undeniably effective and thorough way to measure how safe (and dangerous) each college campus is in Oregon, we've done a good job of portraying the data in a straightforward manner.
Additionally, we'd like to add that while the data never lies, we did choose certain criteria over others - meaning had we chosen to include other crime numbers, or measured the data in a different way, the list would have been different.
However, we'd think you'd agree that this is an effective way to measure campus safety, as we aggregated most of the largest categories for you. We encourage you to visit the National Center for Education Statistics and make your own conclusions if you so wish.
For more reading on colleges around Oregon, check out: