If you ask any foreigner about America, you will find that they likely know of at least three states: New York, California, and Florida. Obviously, New York is the Big Apple and California has the company Apple, so why is Florida so famous?
The great weather and Disney, of course. You can also spend an afternoon exploring the Everglades and a night in one of Miami's top clubs. Who wouldn't want to live in the Sunshine State– a place where summer reigns supreme and you have a theme park where magic is alive year-round. Everything reminds you of those summer vacation days back in grade school.
No wonder Florida is known as a retirement state. Everyone knows that Florida has something special so why not spend your retirement someplace beautiful. But Florida doesn't just have the weather, the beaches, and Disney World going for it. It also has one massive asset, which is its affordability. Florida is cheap. This southern state has got it all and it won't leave you penniless.
So where are the most affordable places in Florida? Will you be able to live near the beach without paying massive amounts in rent? Will you end up living in swamps? The answer: no. Curious which cities made the cut — read on.
The 10 Most Affordable Places To Live In Florida
What is the cheapest place to live in Florida? Live Oak has done it again, placing first in the top ten cheapest cities to live in Florida. A great place to live in the Sunshine State if you like paddling over lakes.
If you want to live near Georgia, but not in it, then you've got Fort Meade, Live Oak, and Macclenny. If you are looking for that beachside oasis, check out Perry, Florida. No matter where you end up with these top 10, you know you will have one thing: a bank that isn't broke.
Want to learn how we created this top ten list? Read on to learn more about our methodology and how these cities are so cheap.
And if you already knew these places were cheap, check out some more reading about Florida and the cheapest places in the country:
The 10 Cheapest Places To Live In Florida For 2021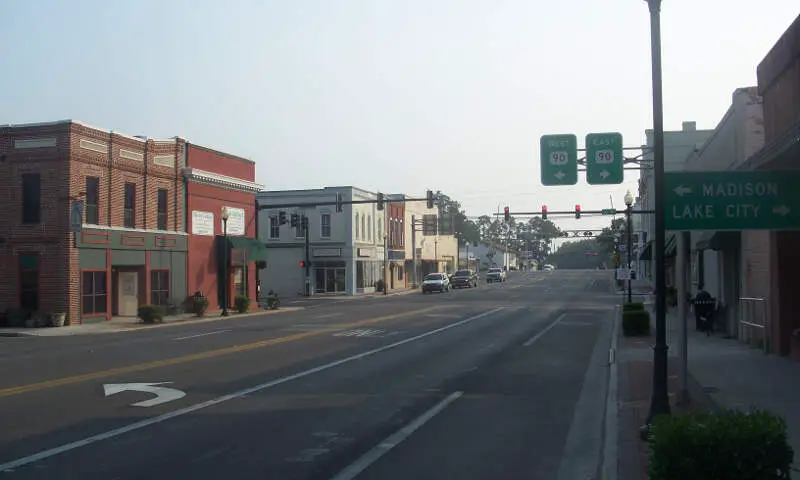 Where Alligator HWY 90 meets Alligator HWY 129 is our most affordable city in Florida for 2021, Live Oak. Located in northern Florida, agriculture, timber, and technology have been keeping the economy in this little Suwannee County city moving in right direction.
The median income, here, is close to $47,859 with average home prices up around $110,600. So it's no surprise that Live Oak scored off our charts in terms of snackability. They are the eighth most affordable city when we looked at home price to income ratio. Affordability = happiness. We get why your city's motto is "A Caring Community".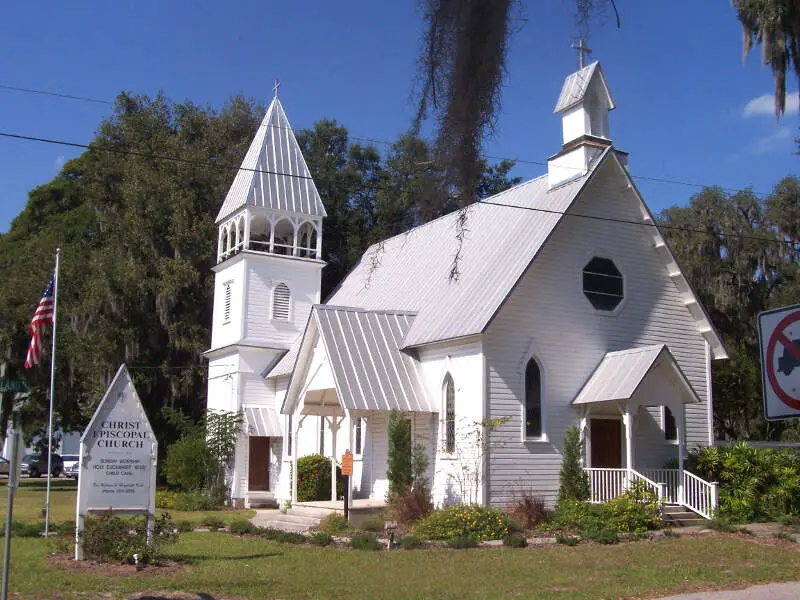 Source: Public domain
Located in Central Florida just East of Tampa, Fort Meade is the Sunshine State's second most affordable city for 2021.
This little city in Polk County crushed our HomeSnack's snackabiliy scale by earning an 8.5/10 for affordability. This first place could not have been accomplished without their blue ribbon for most affordable city in terms of home price to income ratio. And it couldn't have happened without great jobs and a strong economy.
Word on the street is Fort Meade is popular with kayakers, canoers, and people who love legos. We think those activities are a great way to wind down after a long day of working to pay for Fort Meade's low cost of living.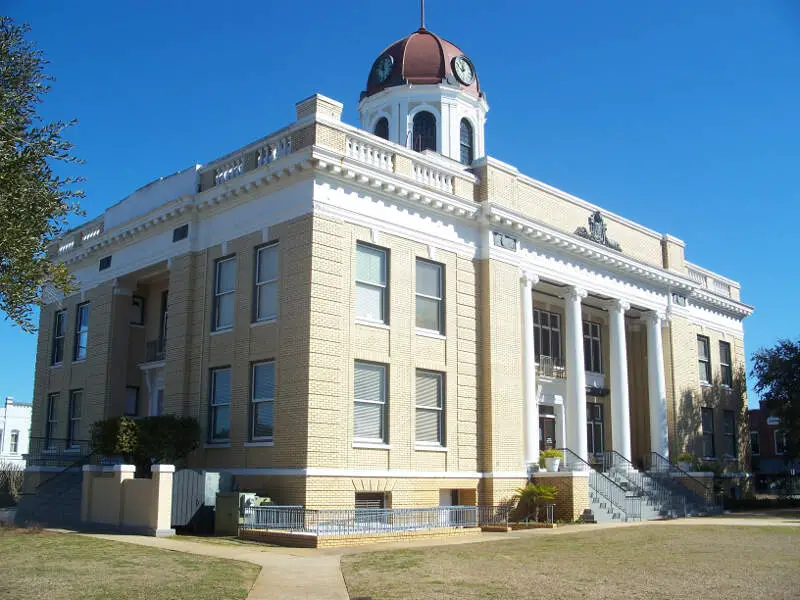 For a city to be truly hip, it needs to be affordable.
Once a tobacco manufacturing hub, Quincy scored a 7/10 for affordability and a 9/10 for diversity. We think that makes Quincy truly hip; and thus, affordable. More importantly, this little city in Gadsden County is our third most affordable city in Florida for 2021.
Coca Cola also made a lot of Quincy residents wealthy. Do we think that has something to do with why the city is so great and so affordable? Probably. Either way, Quincy, you are 'The Heart of Florida's Future.'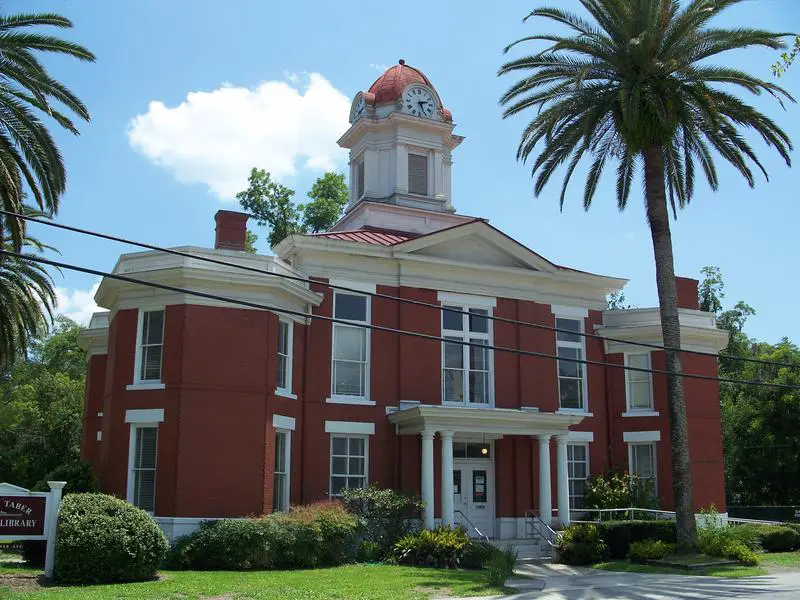 Macclenny, Florida is an ideal destination when you're trying find that affordable big town feel. This is definitely one of the reasons it is our fourth most affordable city in Florida for 2021. Nicknamed the 'Babymaker,' this city must be affordable, right.
All baby making aside, this little city in Baker County is great place to live. And while you're deciding what home to buy, Macclenny has great deals when it comes to renting. They are the ninth cheapest place to rent based on income to rent ratio. So pack up the family camper and get-a-movin', because Macclenny's great deals won't last long.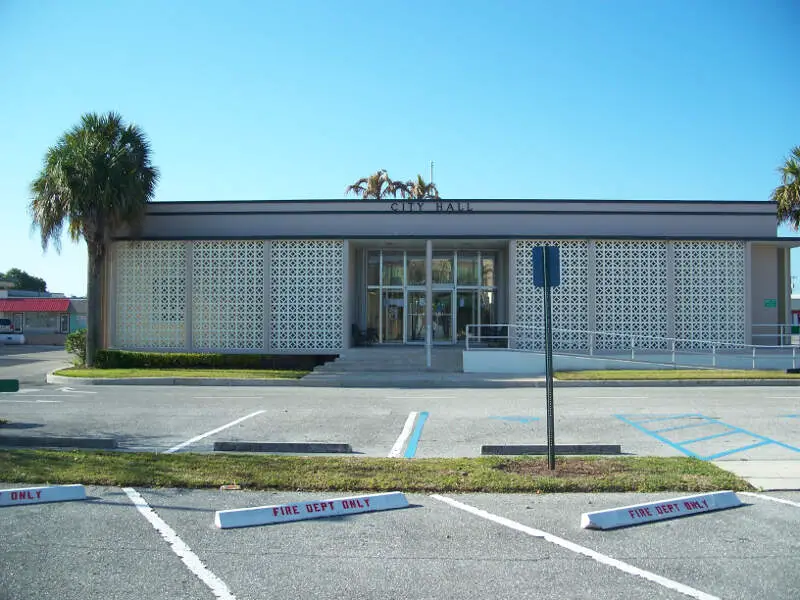 Florida may have the tenth highest rent prices in America, but you wouldn't know it living in Clewiston. The median rent in Clewiston is $752, which is less than half the statewide average. You can use your extra cash to go on a safari in the Everglades, or save the money and just chill on Lake Okeechobee
Buying is slightly less attractive in Clewiston, where the median home price is $112,600. With residents earning a median income of $41,759, Clewiston has the 14th lowest home price to income ratio in the state.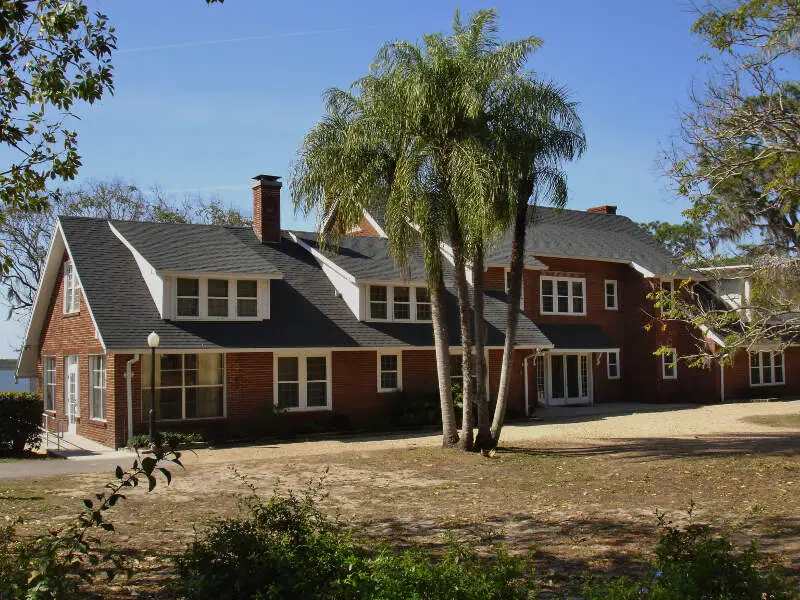 Situated right in between Tampa and Orlando, Lake Alfred ranks as the sixth most affordable city in Florida for 2021.
Folks in Lake Alfred have an eye for value, as evidenced by the multiple antiques shops around. Lake Alfred also has one of the nicest parks in the area at the Mackay Gardens and Lakeside Preserve.
Unemployment is fairly low in Lake Alfred at 4.75%, and the overall crime rate is about 75% below the national average. It's good knowing you don't have to trade security for affordability here.
Homes in Lake Alfred sell for a median price of $142,700, and the median household income is $51,563. Low housing costs are part of the reason Lake Alfred has such a low overall cost of living, but everything — from groceries to utilities to healthcare — is cheaper here than the national average.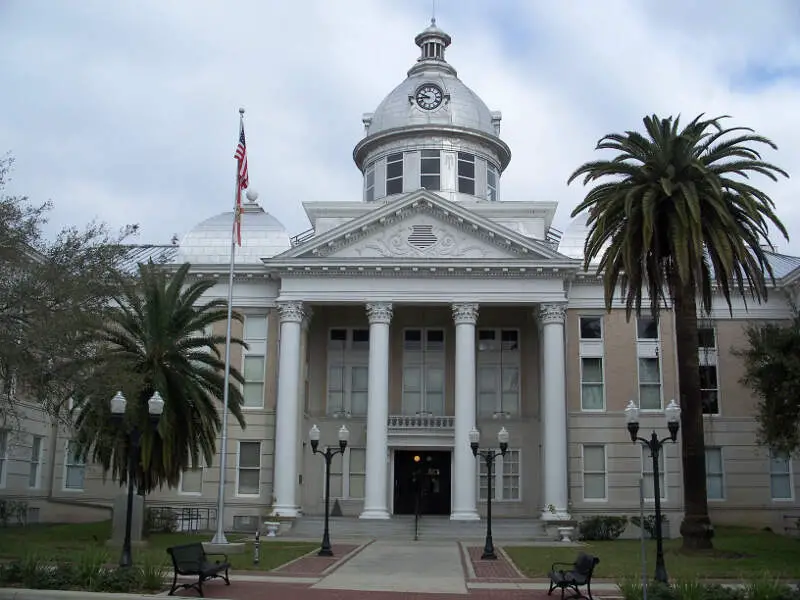 Bartown is located a stone's throw from Lake Hancock, just East of Tampa. The "City of Oaks and Azaleas" is our seventh most affordable in citrus-land. Bartow's overall snackability score was strong enough to keep them in the top five for 2021. Not surprising considering they are ninth most affordable in terms of home price to income. They scored an overall 8/10 for affordability.
Bartow must be something right in terms of affordability. The city is projected to double by 2030.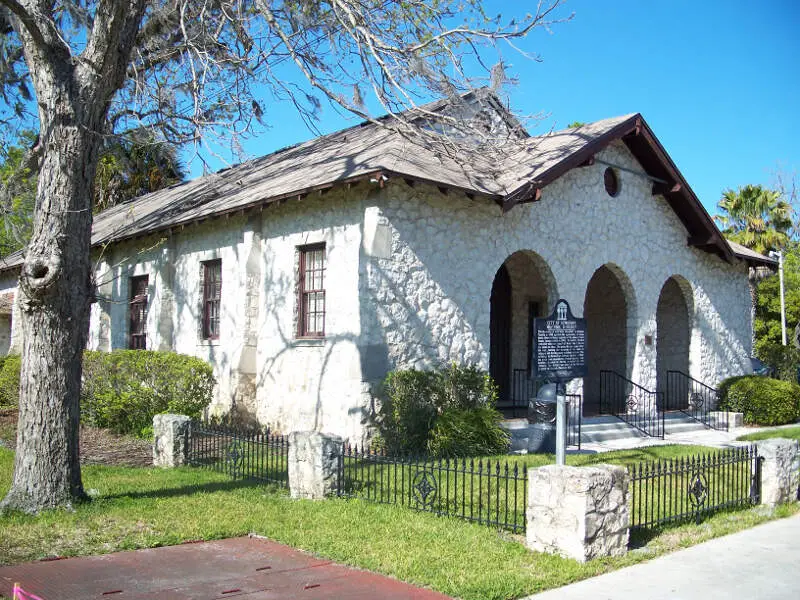 You don't have to live on ramen noodles and the McDonald's dollar menu to live in our eighth most affordable city in Florida for 2021: Newberry. This city in Alachua County is our 15th most affordable city in terms of home prices in line with median income. Once an old phosphate mining city, Newberry has since turned to commodity based agriculture to support their economy.
So if your looking to dump your job to run off and start a watermelon farm in the Florida sticks, Newberry is the spot.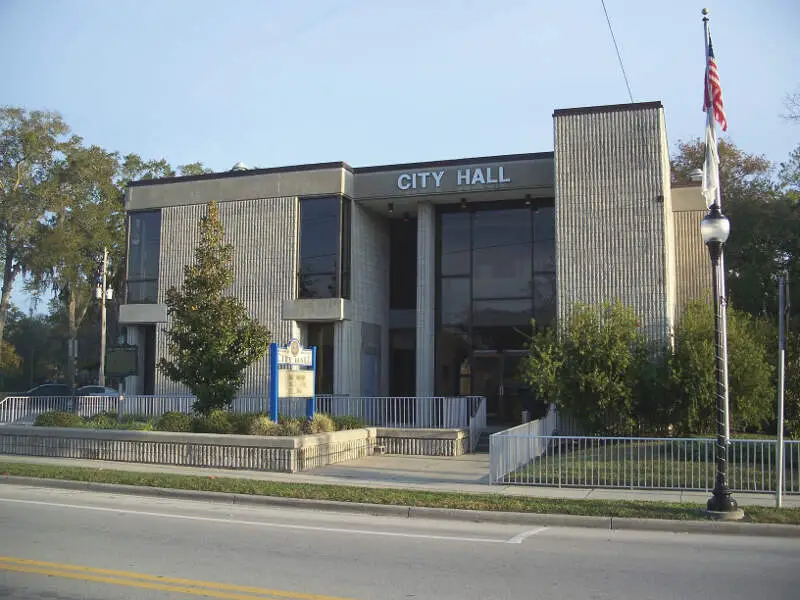 Located 80 miles southwest of Jacksonville, High Springs is the ninth cheapest city in Florida. High Springs really stands out in terms of its income to rent ratio, with residents earning a median income of $57,132 and paying a median rent of $745. It's about equally affordable if you're buying, with a median home price of $167,800. Home to a state park and multiple swimming springs, you don't have to pay a dime to have a good time in High Springs.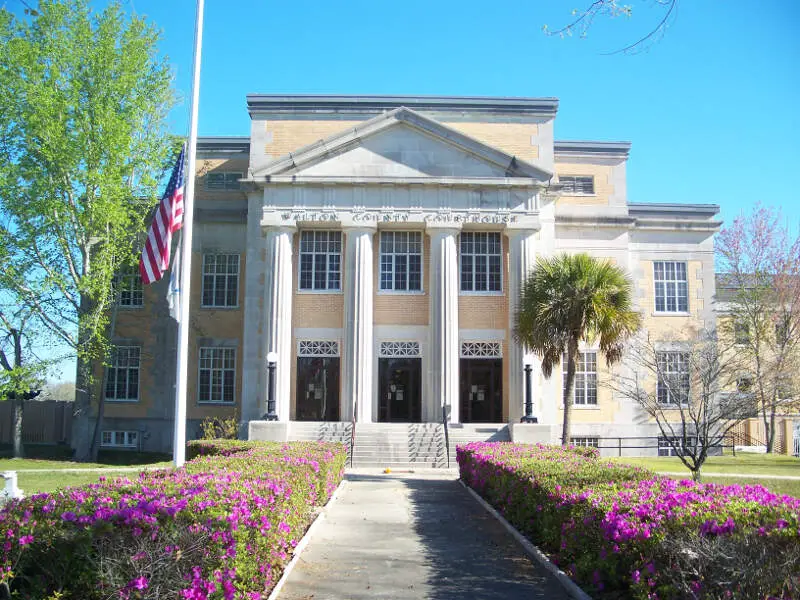 Located in the Florida Panhandle along I-10, DeFuniak Springs is Florida's tenth cheapest place to call home. DeFuniak Springs has a little something for everyone — from the Chautauqua Vineyards & Winery, to the gorgeous buildings of the Historic District to the quaint mom-n-pop shops like the Little Big Store.
Not to mention that mountain climbers have their work cut out for them here: the highest point in Florida is at DeFuniak Springs' Britton Hill, a 345-foot peak that ranks as the lowest "high point" in the US.
Rent in DeFuniak Springs goes for a measly $746. For those looking to buy a home here, the median price is around $121,700. The median household income in DeFuniak Springs is $41,964, but the best part is that property value, income, and the number of employees here have all gone up by over 10% each in the past year.
Keep your eye on DeFuniak Springs because it's got a winning combination of trends going for it.
How We Determined The Most Affordable Places To Live In The Sunshine State For 2021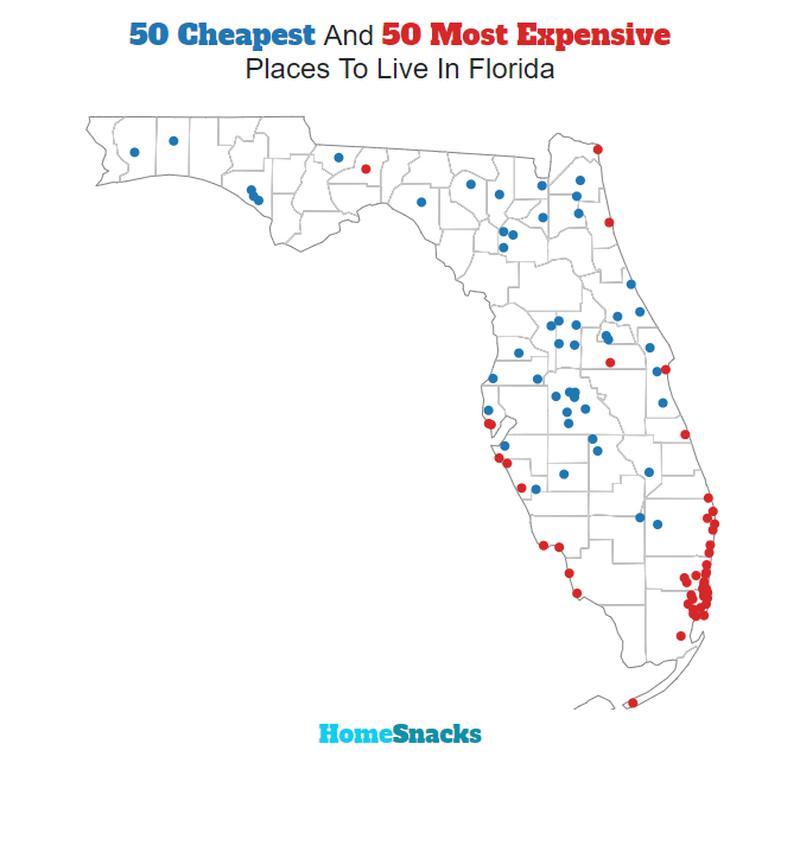 The two most important things to think about when it comes to being able to afford if you can live comes down to:
How much do money do I make?
How much do I have spend to live there?
You need to understand your costs in the context of how much money you make.
For example, if the median household earns $100,000 and spends $40,000 on housing it's actually cheaper to live there than a place with a median income of $50,000 and housing costs of $21,000. You might spend more on housing, but you have more money overall to play with.
With that example in mind, we derived several statistics from the latest Census American Community Survey 2015-2019 around incomes and costs. They are:
Median Home Price / Median Income (lower is better)
Median Income / Median Rent (Higher is better)
Median Home Price
We added simply median home price because high home prices generally correlate with higher expenses for all costs related to homes (heating, electricity, etc).
You can then compare these metrics in each of the places in Florida to figure out which is the least expensive.
What you are left with is a "Cost of Living Index" by taking the average rank of each of these metrics for each city.
So we used that cost of living index in order to rank all of the 220 places in Florida that have more than 5,000 people.
The place with the lowest cost of living in Florida according to the data is Live Oak. You can download the data here.

There You Have It Mr. Or Mrs. Florida Cheapskate
If you're looking at the cost of living numbers in Florida, this is an accurate list of the most affordable places to live in Florida for 2021.
Here's a look at the most expensive cities in Florida according to the data:
Surfside
Key West
West Miami
For more Florida reading, check out:
The Most Affordable Places To Live In Florida
Editor's Note: We updated this article for 2021. This is our seventh time ranking the cheapest places to live in Florida.