Swipe left for slideshow. Article continues below.
You might think your town is old, but it probably isn't the oldest in the country.
That is unless you live in St. Augustine, FL. Which looks pretty good for being 454 years old.
That's older than America for those playing at home.
So that got us thinking, what is the oldest city in Hawaii? And how old is that when you put it into perspective of St. Augustine or American Independence in 1776?
Because even if your Hawaii city or town is old, it isn't really all that old in the grand scheme of things. For example, the Pyramids in Egypt were built around 2600 BC, a cool 4100 years before St. Augustine.
And now that we have you thinking about how the time line of your existence is really kind of unimpressive on the timeline of history, let's drop right into the analysis.
These are the 10 oldest cities and towns in the Aloha State according to their 'date of foundation':
For being 115 years old, Hilo doesn't look a day over 40. And the newest city in Hawaii? That would be Lihue — a brand spanking 113 years old.
Read on for a look at the oldest places in Hawaii or feel free to check out the best places to live in Hawaii or the safest.
How We Determined When A City Was Founded In Hawaii… Or Is It Settled?
Surprisingly, there's not a definitive data set that contains the dates of incorporation or settlement for cities in America. Put differently, there's no official data set from the Census that contains when every place in America was founded.
So what did we do instead?
Use the internet's version of official government data — Wikipedia of course!
For the majority of cities in Hawaii, Wikipedia offers data on some kind of 'date of foundation' in the infobox. Unfortunately, because it's Wikipedia and not a sprawling government bureaucracy, that can take the form of any of the following nomenclature (plus others):
Founded
Settled
Incorporated
Approved
Chartered
And then even more stuff — for example Atlanta has a 'Terminus' date, whatever that is.
If no 'date of foundation' was found in the infobox, we looked to the general text in the History section of the city for 'Founded in XXXX'.
All in all, we were able to collect data on 12 out of 53 in Hawaii with over 5,000 people. That's good for a 22.6% completion rate.
We then ranked them from oldest to newest with Hilo turning out to be the matriarch of Hawaii at the ripe old age of 115.
Here's a look at the top ten and a snippet of their history from Wikipedia.
1. Hilo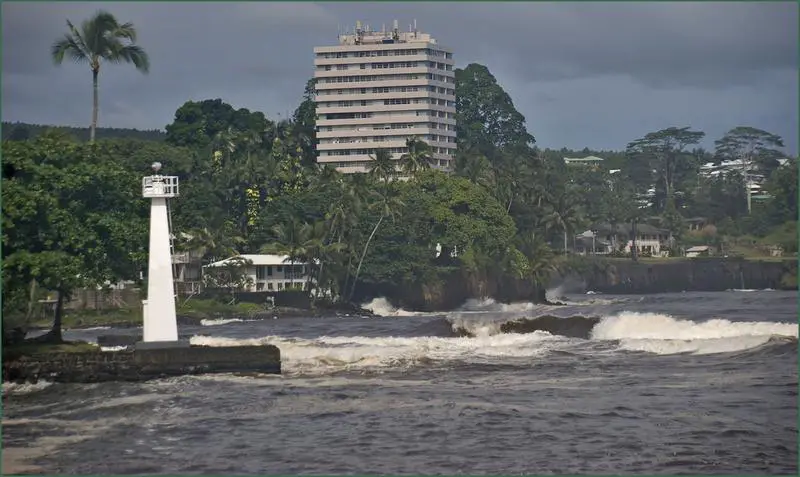 Population: 45,703
Founded: 1903
Age: 115
Around 1100 AD, the first Hilo inhabitants arrived, bringing with them Polynesian knowledge and traditions. Although archaeological evidence is scant, oral history has many references to people living in Hilo, along the Wailuku and Wailoa rivers during the time of ancient Hawaii. Oral history also gives the meaning of Hilo as 'to twist'.
2. Wailuku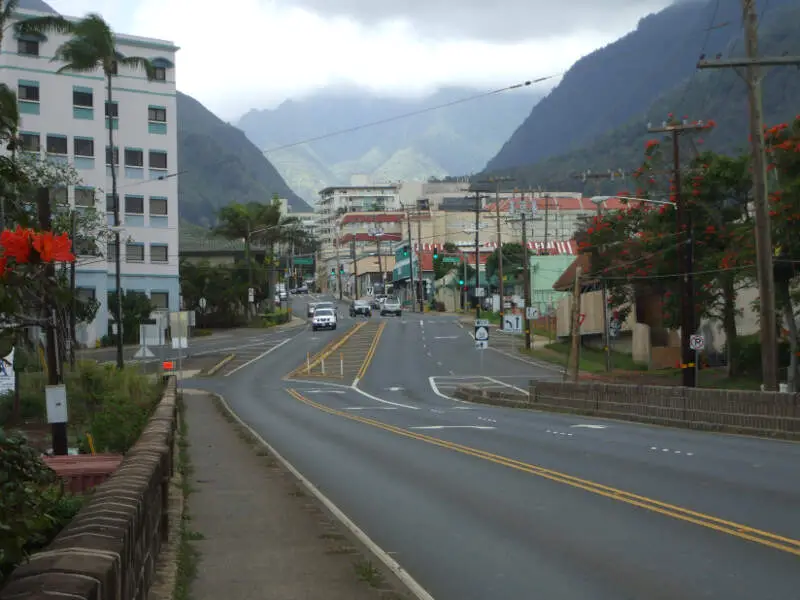 Population: 16,995
Founded: 1904
Age: 114
Home to Maui's most famous Hawaiian rulers, site of Kamehameha's decisive 1790 victory at Iao Valley, location of the 19th century Mission Station and birthplace of the mighty sugar industry, Wailuku illustrates the powerful influences which shaped the town, the island and the state.
3. Lahaina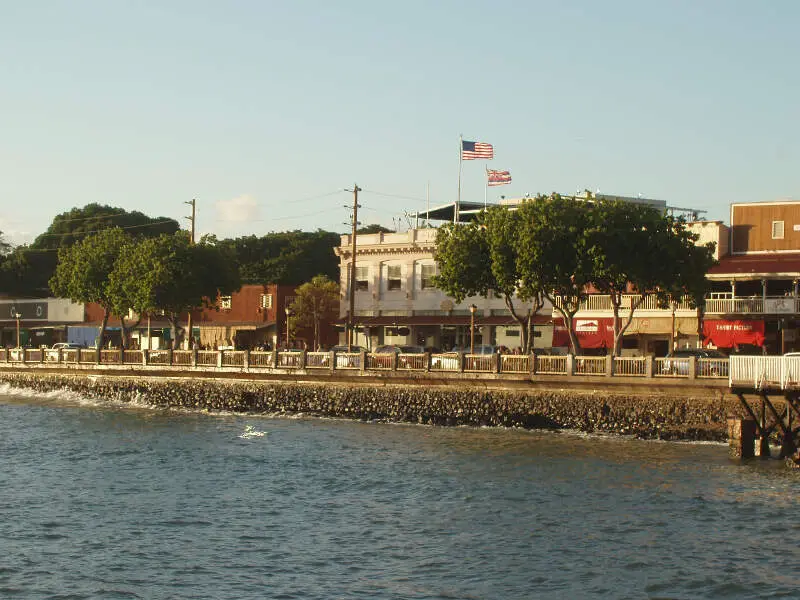 Source: Public domain
Population: 13,223
Founded: 1904
Age: 114
In antiquity Lahaina was the royal capital of Maui Loa, alii nui of the island of Maui, after he ceded the royal seat of Hana to the ruler of Hawaii Island. In Lahaina, the focus of activity is along Front Street, which dates back to the 1820s. It is lined with stores and restaurants and often packed with tourists. The Banyan Court Park features an exceptionally large banyan tree (Ficus benghalensis) planted by William Owen Smith on April 24, 1873, to commemorate the 50th anniversary of the arrival of Christian missionaries. It is also the site of the reconstructed ruins of Lahaina Fort, originally built in 1832. It is the largest Banyan Tree in the United States.
4. Laie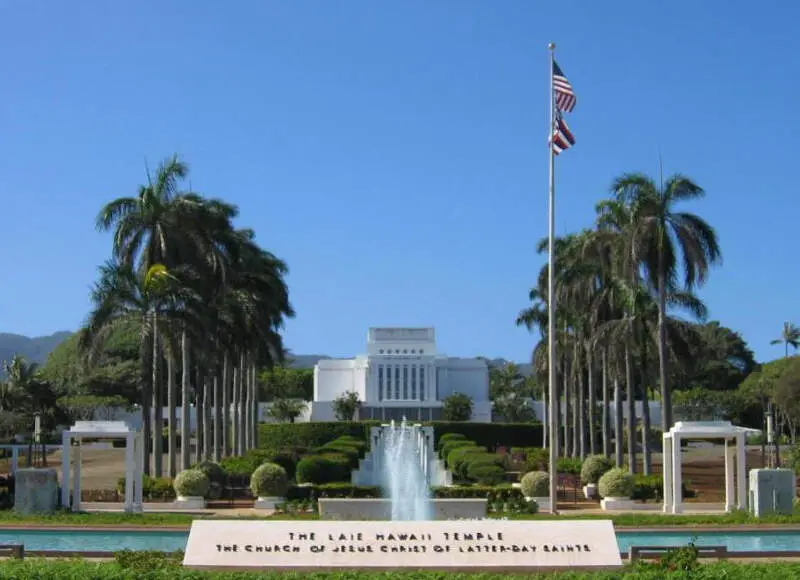 Source: Public domain
Population: 6,168
Founded: 1904
Age: 114
Historically, Laie was a puuhonua, a sanctuary for fugitives. While a fugitive was in the pu'uhonua, it was unlawful for that fugitive's pursuers to harm him or her. During wartime, spears with white flags attached were set up at each end of the city of refuge. If warriors attempted to pursue fugitives into the puuhonua, they would be killed by sanctuary priests. Fugitives seeking sanctuary in a city of refuge were not forced to permanently live within the confines of its walls. Instead, they were given two choices. In some cases, after a certain length of time (ranging from a couple of weeks to several years), fugitives could enter the service of the priests and assist in the daily affairs of the puuhonua. A second option was that after a certain length of time the fugitives would be free to leave and re-enter the world unmolested. Traditional cities of refuge were abolished in 1819.
5. Pearl City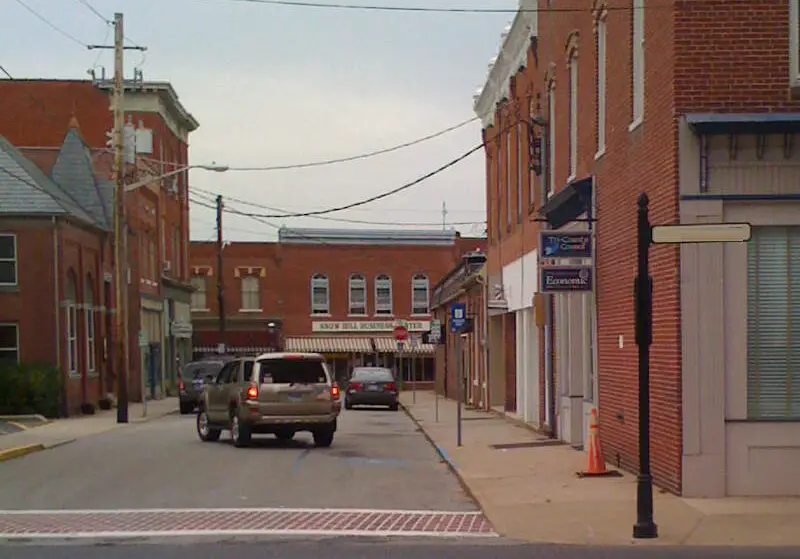 Source: Public Domain
Population: 46,259
Founded: 1905
Age: 113
Early-day Pearl City had an array of rice paddies and fields that were plowed with water buffalo that would haul a two-wheeled cart. In the early 1880s, Pearl City was the final stop for Benjamin Dillingham's Oahu Railway, a mud wagon driven by a four-horse team. Lots for an as-yet-to-exist 'Pearl City' went on sale in 1889, after completion of the actual rail line. Near the outskirts of Pearl City, the Remond Grove, an area where people could be entertained with piano, banjo, trumpet, and saxophone performances, was a popular entertainment spot in the early 1900s.
6. Mililani Town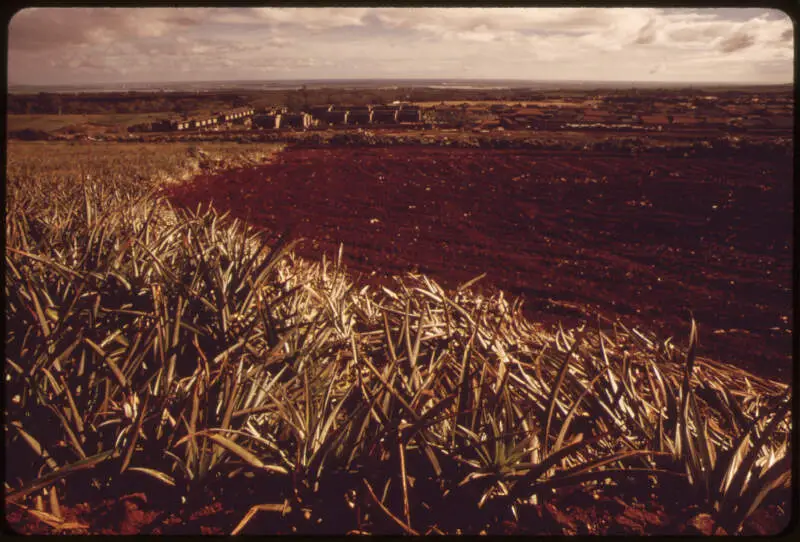 Source: Public domain
Population: 28,343
Founded: 1905
Age: 113
Mililani sits on former plantation fields owned by Castle & Cooke, which began planning for its development in the early 1960s under its Oceanic Properties subsidiary. Castle & Cooke's plan was to make Mililani Town a satellite city by using a prestigious group of planners and architects to satisfy Oahu's great pent-up demand for housing with a sensitively designed, affordable new community of a type unique in Hawaii. Architect and developer Al Boeke, who would later create the planned community of Sea Ranch, California, was the development director of Mililani. The first homes in Mililani went on sale on June 3, 1968.
7. Mililani Mauka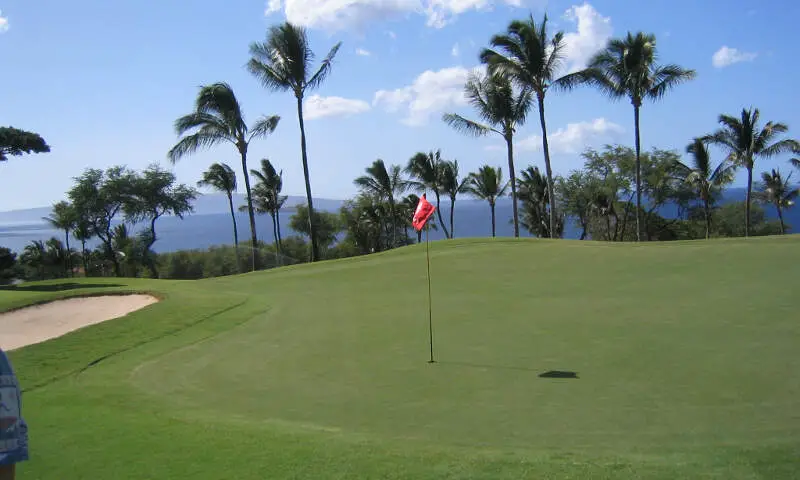 Source: Public domain
Population: 20,393
Founded: 1905
Age: 113
Mililani Mauka is a planned community adjacent to Mililani Town, both situated about 10 miles (16 km) northwest of the center of Honolulu. Ground was broken for Mililani Mauka on April 6, 1990, east of Interstate H-2 from Mililani Town. The first homeowners moved into Mauka in 1992. The community is the future site of the Oahu Arts Center.
8. Kapolei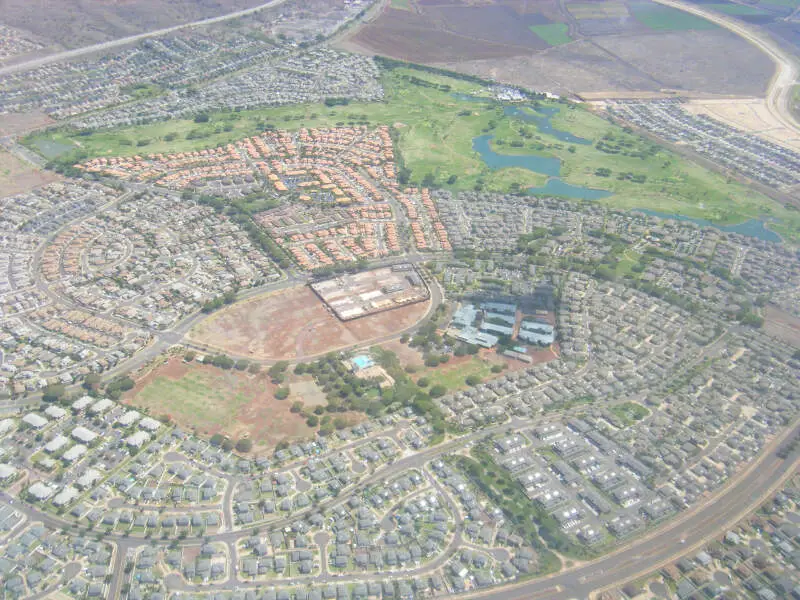 Population: 21,086
Founded: 1905
Age: 113
In 1955 the Kapolei master plan was drafted and revised 3 different times beginning in 1974. In 1977 the new General Provision Plan adopted the Oahu General Plan which dubbed Kapolei 'second urban center' (SUC) on the island of Oahu. In 1986 the Ewa Master Plan was revised to include the SUC and the initial residential construction in the Kapolei area began in the late 1980s with commercial developments springing up shortly thereafter. Nearly two decades later, in 2006 the Kapolei area had more than 800 companies, agencies, and organizations making up approximately 25,000 jobs. As of the 2010 census, the Kapolei CDP had a population of 15,186 people.
9. Wahiawa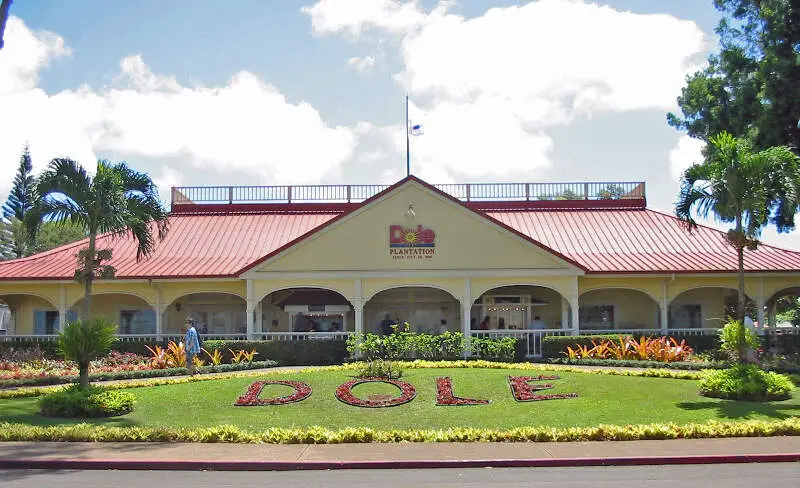 Population: 17,555
Founded: 1905
Age: 113
10. Kaneohe Station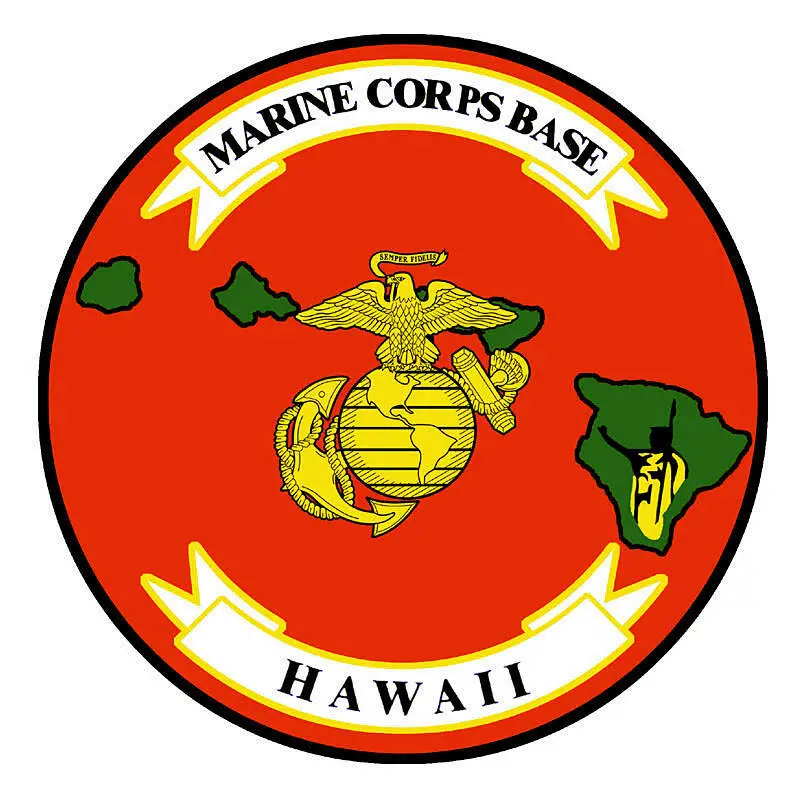 Source: Public domain
Population: 11,198
Founded: 1905
Age: 113
In 1918, President Woodrow Wilson designated 322 acres (1.30 km2) of land on Mokapu Peninsula for the military. The Kuwaahoe Military Reservation, became known later, in 1942 as Fort Hase. In 1941, Army artillery units moved into the area. In 1939, the Navy constructed a small seaplane base and upon its completion, Naval Air Station Kaneohe Bay's role was expanded to include the administration of the Kaneohe Bay Naval Defense Sea Area.
Oh How Time Flies For The Oldest Towns And Cities In Hawaii
So there you have it, a look at some of the oldest places to live in Hawaii. If we missed your city's 'date of foundation', let us know in the comments. Or feel free to take a look at the table of the oldest places in Hawaii.
And now, let's raise our glasses, to the next 100 years of existence for these cities and towns in the Aloha State.
And for those wondering, here are the newest additions to Hawaii:
Lihue (Founded in 1905)
Kapaa (Founded in 1905)
Kaneohe Station (Founded in 1905)
Detailed List Of The Oldest Cities In Hawaii
| City | Rank | Age |
| --- | --- | --- |
| Hilo | 1 | 115 |
| Wailuku | 2 | 114 |
| Lahaina | 3 | 114 |
| Laie | 4 | 114 |
| Pearl City | 5 | 113 |
| Mililani Town | 6 | 113 |
| Mililani Mauka | 7 | 113 |
| Kapolei | 8 | 113 |
| Wahiawa | 9 | 113 |
| Kaneohe Station | 10 | 113 |
| Kapaa | 11 | 113 |
| Lihue | 12 | 113 |