Swipe left for slideshow. Article continues below.
You might think your town is old, but it probably isn't the oldest in the country.
That is unless you live in St. Augustine, FL. Which looks pretty good for being 454 years old.
That's older than America for those playing at home.
So that got us thinking, what is the oldest city in Indiana? And how old is that when you put it into perspective of St. Augustine or American Independence in 1776?
Because even if your Indiana city or town is old, it isn't really all that old in the grand scheme of things. For example, the Pyramids in Egypt were built around 2600 BC, a cool 4100 years before St. Augustine.
And now that we have you thinking about how the time line of your existence is really kind of unimpressive on the timeline of history, let's drop right into the analysis.
These are the 10 oldest cities and towns in the Hoosier State according to their 'date of foundation':
For being 230 years old, Mount Vernon doesn't look a day over 40. And the newest city in Indiana? That would be Gary — a brand spanking 12 years old.
Read on for a look at the oldest places in Indiana or feel free to check out the best places to live in Indiana or the safest.
How We Determined When A City Was Founded In Indiana… Or Is It Settled?
Surprisingly, there's not a definitive data set that contains the dates of incorporation or settlement for cities in America. Put differently, there's no official data set from the Census that contains when every place in America was founded.
So what did we do instead?
Use the internet's version of official government data — Wikipedia of course!
For the majority of cities in Indiana, Wikipedia offers data on some kind of 'date of foundation' in the infobox. Unfortunately, because it's Wikipedia and not a sprawling government bureaucracy, that can take the form of any of the following nomenclature (plus others):
Founded
Settled
Incorporated
Approved
Chartered
And then even more stuff — for example Atlanta has a 'Terminus' date, whatever that is.
If no 'date of foundation' was found in the infobox, we looked to the general text in the History section of the city for 'Founded in XXXX'.
All in all, we were able to collect data on 117 out of 128 in Indiana with over 5,000 people. That's good for a 91.4% completion rate.
We then ranked them from oldest to newest with Mount Vernon turning out to be the matriarch of Indiana at the ripe old age of 230.
Here's a look at the top ten and a snippet of their history from Wikipedia.
1. Mount Vernon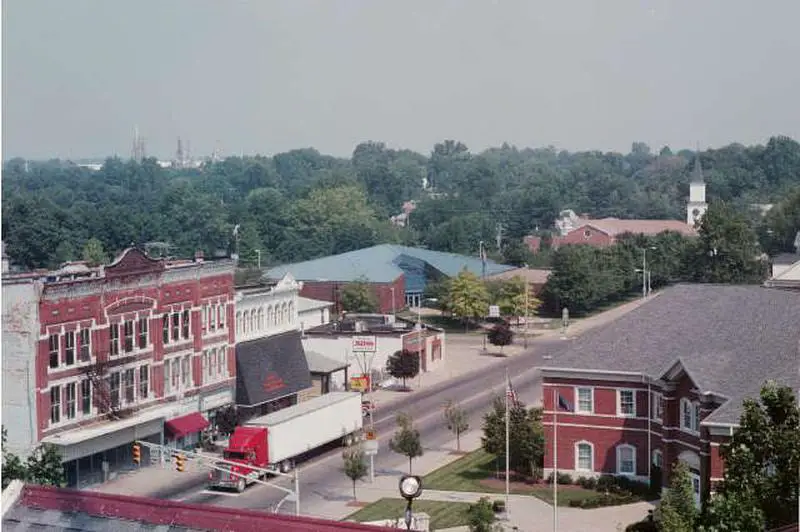 Source: Public domain
Population: 6,548
Founded: 1788
Age: 230
Mount Vernon is the county seat and largest city in Posey County, named for General Thomas Posey, Governor of the Indiana Territory, who had the distinction of growing up next door to George Washington at the original Mount Vernon, and who was widely rumoured to be Washington's illegitimate son. The rumors were dismissed by Posey's biographer, John Thornton Posey.
2. Indianapolis

Source: Public domain
Population: 853,431
Founded: 1821
Age: 197
The name Indianapolis is derived from the state's name, Indiana (meaning 'Land of the Indians', or simply 'Indian Land'), and polis, the Greek word for city. Jeremiah Sullivan, justice of the Indiana Supreme Court, is credited with coining the name. Other names considered were Concord, Suwarrow, and Tecumseh.
In 1816, the year Indiana gained statehood, the U.S. Congress donated four sections of federal land to establish a permanent seat of state government. Two years later, under the Treaty of St. Mary's (1818), the Delaware relinquished title to their tribal lands in central Indiana, agreeing to leave the area by 1821. This tract of land, which was called the New Purchase, included the site selected for the new state capital in 1820.
3. Fort Wayne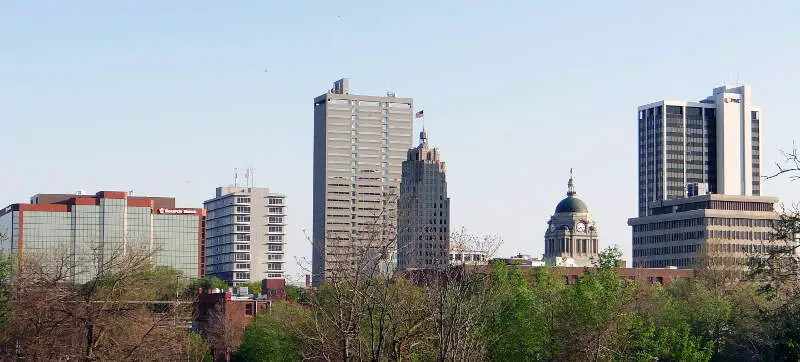 Source: Public domain
Population: 262,450
Founded: 1829
Age: 189
This area at the confluence of rivers was long occupied by successive cultures of indigenous peoples. The Miami tribe established its settlement of Kekionga at the confluence of the Maumee, St. Joseph, and St. Marys rivers. It was the capital of the Miami nation and related Algonquian tribes.[a]
In 1696, Comte de Frontenac appointed Jean Baptiste Bissot, Sieur de Vincennes as commander of the outpost. The French built Fort Miami in 1697 as part of a group of forts and trading posts built between Quebec and St. Louis. In 1721, a few years after Bissot's death, Fort Miami was replaced by Fort St. Philippe des Miamis. The first census in 1744 recorded a population of approximately 40 Frenchmen and 1,000 Miami.
4. Valparaiso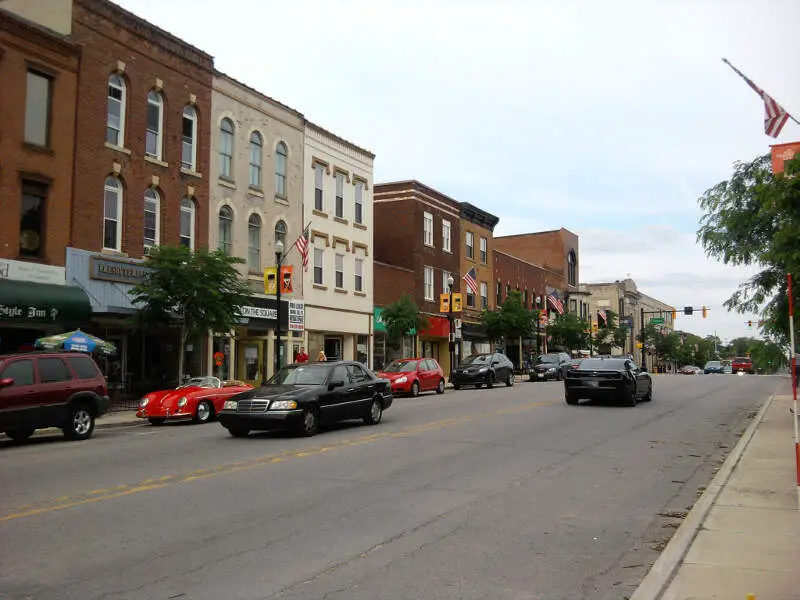 Population: 32,501
Founded: 1836
Age: 182
The site of present-day Valparaiso was included in the purchase of land from the Potawatomi people by the U.S. Government in October 1832. Chiqua's town or Chipuaw was located a mile east of the current Courthouse along the Sauk Trail. Chiqua's town existed from at or before 1830 until after 1832. The location is just north of the railroad crossing on State Route 2 and County Road 400 North.
5. Munster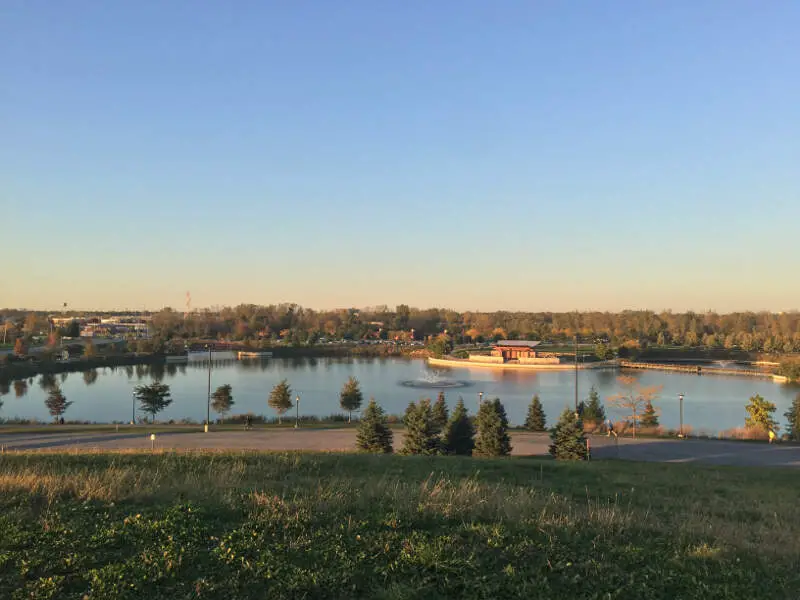 Population: 23,005
Founded: 1850
Age: 168
The Ibach House and Stallbohm Barn-Kaske House are listed in the National Register of Historic Places.
6. Rochester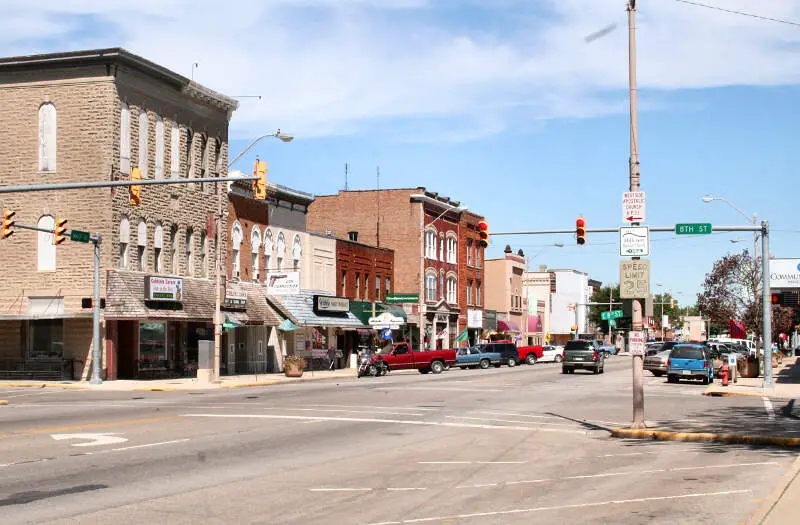 Population: 6,059
Founded: 1853
Age: 165
Rochester was laid out in 1835. The founder Alexander Chamberlain named it for his former hometown of Rochester, New York. The Rochester post office was established in 1836.
7. Muncie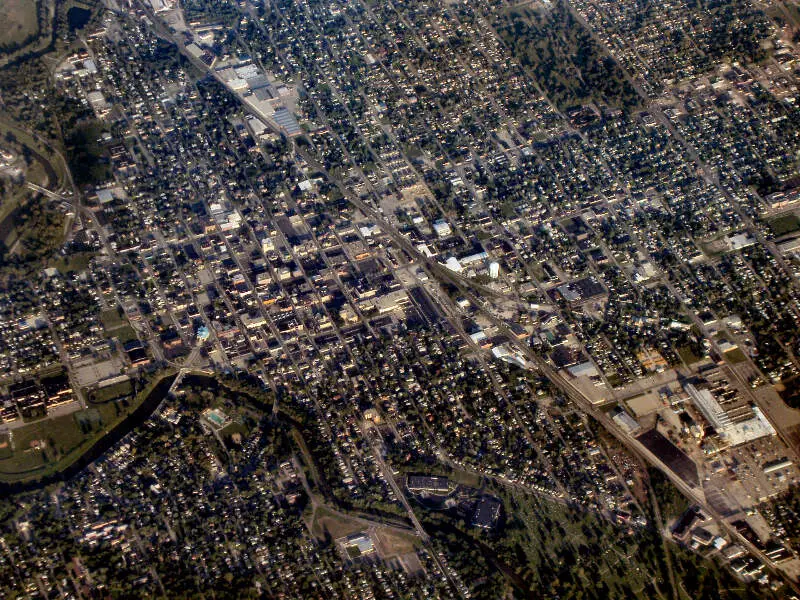 Source: Public domain
Population: 69,237
Founded: 1854
Age: 164
The area was first settled in the 1790s by the Lenape (Delaware) people, who migrated west from their tribal lands in the Mid-Atlantic region (all of New Jersey, southeastern New York, eastern Pennsylvania, and northern Delaware) to new lands in present-day Ohio and eastern Indiana. The Lenape founded several towns along the White River, including Munsee Town, near the site of present-day Muncie.
Contrary to popular legend, the city's early name of Munsee Town is derived from the 'Munsee' clan of Lenape people, the white settlers' name for a group of Native Americans whose village was once situated along the White River. There is no evidence that a mythological Chief Munsee ever existed. ('Munsee' means a member of or one of their languages.[citation needed])
8. Tell City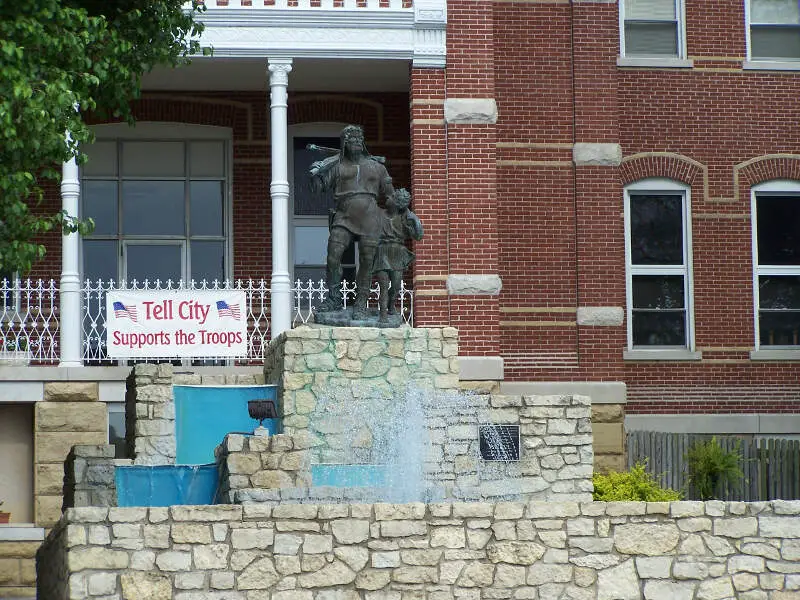 Source: Public domain
Population: 7,295
Founded: 1858
Age: 160
Tell City traces its 150+ year old roots to a meeting in Cincinnati, Ohio, in November 1856. A group of Swiss-German immigrants met there to organize a society known as the 'Swiss Colonization Society.' Its purpose was to obtain affordable homesteads for mechanics, shopkeepers, factory workers and small farmers in a location where all could live in harmony.
9. Rensselaer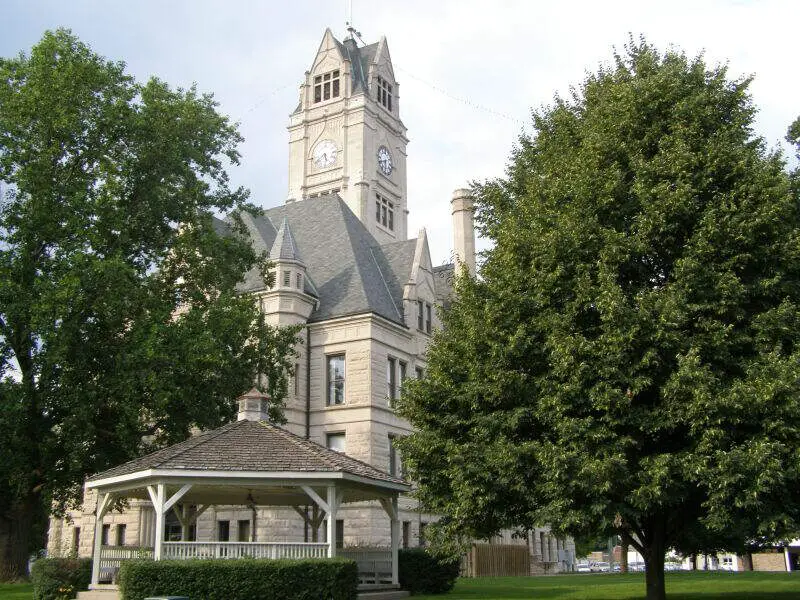 Population: 5,631
Founded: 1858
Age: 160
This settlement, first platted on June 12, 1839, was originally named Newton and was established at the rapids of the Iroquois River. By 1844, it had been renamed to Rensselaer after James Van Rensselaer, a merchant from Utica, New York, who came to the area after his business failed in the Panic of 1837. He took over the land from Joseph D. Yeoman, who had established a farm some years earlier and had begun to plan the village.
10. Hammond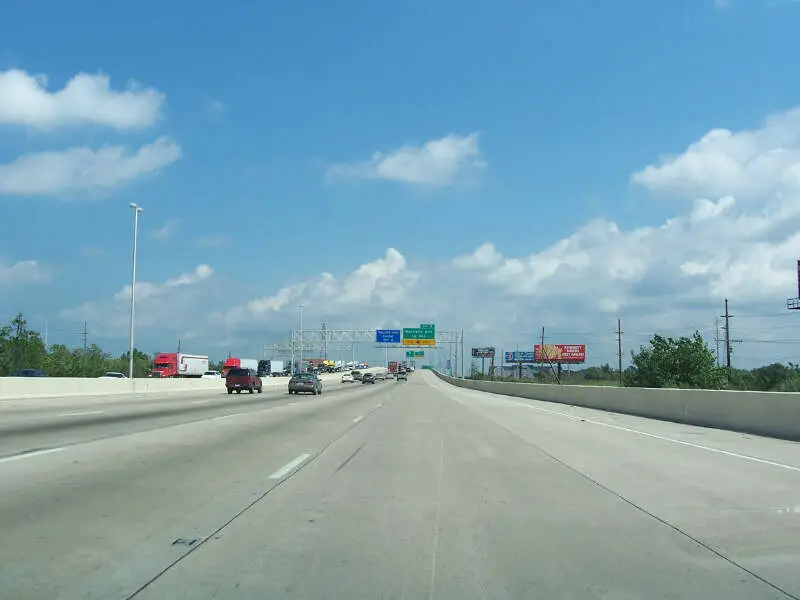 Population: 77,827
Founded: 1883
Age: 135
The first permanent residents arrived around 1847 to settle on land between the Grand and Little Calumet rivers, on the south end of Lake Michigan. Those first residents were German farmers newly arrived from Europe looking for land and opportunity. Before that time, the area was a crossroad for Indian tribes, explorers, stagecoach lines and supply lines to the West. Convenient location and abundant fresh water from Lake Michigan led to the beginning of Hammond's industrialization in 1869 with the George H. Hammond Company meat-packing plant following merchants and farmers to the area. Hammond was incorporated on April 21, 1884, and was named after the Detroit butcher. Hammond is one of the oldest cities in Lake County, with Crown Point being the oldest, established in 1834. According to the Encyclopedia of Chicago, George Henry Hammond, a pioneer in the use of refrigerated railcars for the transport of fresh meat, first used this method with his small packing company in Detroit, Michigan. In 1868, Hammond received a patent for a refrigerator car design. In the early 1870s, he built a new plant in northern Indiana along the tracks of the Michigan Central Railroad. By 1873, the George H. Hammond Co. was selling $1 million worth of meat a year; by 1875, sales were nearly $2 million. The company's large packing house in Hammond—the town had taken the name of its most powerful resident—rivaled those located at the Union Stock Yard in Chicago. By the middle of the 1880s, when it built a new plant in Omaha, Nebraska, Hammond was slaughtering over 100,000 cattle a year and owned a fleet of 800 refrigerator cars. After Hammond died in 1886, the company became less important and no longer challenged the giant Chicago packers, who acquired Hammond at the turn of the century and merged it into their National Packing Co.
On June 22, 1918, the Hammond circus train wreck occurred about 5.5 miles (8.9 km) east of the city, killing 86 and injuring 127 persons.
Oh How Time Flies For The Oldest Towns And Cities In Indiana
So there you have it, a look at some of the oldest places to live in Indiana. If we missed your city's 'date of foundation', let us know in the comments. Or feel free to take a look at the table of the oldest places in Indiana.
And now, let's raise our glasses, to the next 100 years of existence for these cities and towns in the Hoosier State.
And for those wondering, here are the newest additions to Indiana:
Gary (Founded in 2006)
Beech Grove (Founded in 2006)
St. John (Founded in 2006)
Detailed List Of The Oldest Cities In Indiana
| City | Rank | Age |
| --- | --- | --- |
| Mount Vernon | 1 | 230 |
| Indianapolis | 2 | 197 |
| Fort Wayne | 3 | 189 |
| Valparaiso | 4 | 182 |
| Munster | 5 | 168 |
| Rochester | 6 | 165 |
| Muncie | 7 | 164 |
| Tell City | 8 | 160 |
| Rensselaer | 9 | 160 |
| Hammond | 10 | 135 |
| Hobart | 11 | 129 |
| Franklin | 12 | 114 |
| Brownsburg | 13 | 114 |
| Jasper | 14 | 114 |
| Clarksville | 15 | 114 |
| Shelbyville | 16 | 114 |
| Vincennes | 17 | 114 |
| Logansport | 18 | 114 |
| New Castle | 19 | 114 |
| Connersville | 20 | 114 |
| Greencastle | 21 | 114 |
| Madison | 22 | 114 |
| Washington | 23 | 114 |
| Martinsville | 24 | 114 |
| Mooresville | 25 | 114 |
| Danville | 26 | 114 |
| Princeton | 27 | 114 |
| Charlestown | 28 | 114 |
| Nappanee | 29 | 114 |
| Rushville | 30 | 114 |
| Salem | 31 | 114 |
| Boonville | 32 | 114 |
| Greensburg | 33 | 114 |
| Marion | 34 | 114 |
| Fishers | 35 | 114 |
| Elkhart | 36 | 114 |
| Anderson | 37 | 114 |
| Columbus | 38 | 114 |
| Jeffersonville | 39 | 114 |
| Noblesville | 40 | 114 |
| New Albany | 41 | 114 |
| Bloomington | 42 | 114 |
| Greenwood | 43 | 114 |
| Evansville | 44 | 114 |
| New Whiteland | 45 | 113 |
| Westville | 46 | 113 |
| North Vernon | 47 | 113 |
| Monticello | 48 | 113 |
| Kokomo | 49 | 113 |
| Linton | 50 | 113 |
| Bargersville | 51 | 113 |
| Tipton | 52 | 113 |
| Elwood | 53 | 113 |
| Winona Lake | 54 | 113 |
| Angola | 55 | 113 |
| Sellersburg | 56 | 113 |
| Columbia City | 57 | 113 |
| Decatur | 58 | 113 |
| Brazil | 59 | 113 |
| Terre Haute | 60 | 113 |
| Scottsburg | 61 | 113 |
| Garrett | 62 | 113 |
| Lafayette | 63 | 113 |
| Ellettsville | 64 | 113 |
| Lowell | 65 | 113 |
| Huntingburg | 66 | 113 |
| North Manchester | 67 | 113 |
| Portland | 68 | 113 |
| Bright | 69 | 113 |
| Dunlap | 70 | 113 |
| Carmel | 71 | 113 |
| Hartford City | 72 | 113 |
| South Bend | 73 | 113 |
| Gas City | 74 | 113 |
| Mccordsville | 75 | 113 |
| Cumberland | 76 | 113 |
| Batesville | 77 | 113 |
| Schererville | 78 | 113 |
| Bluffton | 79 | 113 |
| Dyer | 80 | 113 |
| Frankfort | 81 | 113 |
| Griffith | 82 | 113 |
| Richmond | 83 | 113 |
| Merrillville | 84 | 113 |
| Westfield | 85 | 113 |
| Seymour | 86 | 113 |
| Goshen | 87 | 113 |
| Greenfield | 88 | 113 |
| Michigan City | 89 | 113 |
| La Porte | 90 | 113 |
| Granger | 91 | 113 |
| Plainfield | 92 | 113 |
| East Chicago | 93 | 113 |
| Zionsville | 94 | 113 |
| Crawfordsville | 95 | 113 |
| Crown Point | 96 | 113 |
| Lebanon | 97 | 113 |
| Avon | 98 | 113 |
| Kendallville | 99 | 113 |
| Mishawaka | 100 | 113 |