Swipe left for slideshow. Article continues below.
You might think your town is old, but it probably isn't the oldest in the country.
That is unless you live in St. Augustine, FL. Which looks pretty good for being 454 years old.
That's older than America for those playing at home.
So that got us thinking, what is the oldest city in Kentucky? And how old is that when you put it into perspective of St. Augustine or American Independence in 1776?
Because even if your Kentucky city or town is old, it isn't really all that old in the grand scheme of things. For example, the Pyramids in Egypt were built around 2600 BC, a cool 4100 years before St. Augustine.
And now that we have you thinking about how the time line of your existence is really kind of unimpressive on the timeline of history, let's drop right into the analysis.
These are the 10 oldest cities and towns in the Bluegrass State according to their 'date of foundation':
For being 244 years old, Harrodsburg doesn't look a day over 40. And the newest city in Kentucky? That would be Fort Mitchell — a brand spanking 8 years old.
Read on for a look at the oldest places in Kentucky or feel free to check out the best places to live in Kentucky or the safest.
How We Determined When A City Was Founded In Kentucky… Or Is It Settled?
Surprisingly, there's not a definitive data set that contains the dates of incorporation or settlement for cities in America. Put differently, there's no official data set from the Census that contains when every place in America was founded.
So what did we do instead?
Use the internet's version of official government data — Wikipedia of course!
For the majority of cities in Kentucky, Wikipedia offers data on some kind of 'date of foundation' in the infobox. Unfortunately, because it's Wikipedia and not a sprawling government bureaucracy, that can take the form of any of the following nomenclature (plus others):
Founded
Settled
Incorporated
Approved
Chartered
And then even more stuff — for example Atlanta has a 'Terminus' date, whatever that is.
If no 'date of foundation' was found in the infobox, we looked to the general text in the History section of the city for 'Founded in XXXX'.
All in all, we were able to collect data on 73 out of 85 in Kentucky with over 5,000 people. That's good for a 85.9% completion rate.
We then ranked them from oldest to newest with Harrodsburg turning out to be the matriarch of Kentucky at the ripe old age of 244.
Here's a look at the top ten and a snippet of their history from Wikipedia.
1. Harrodsburg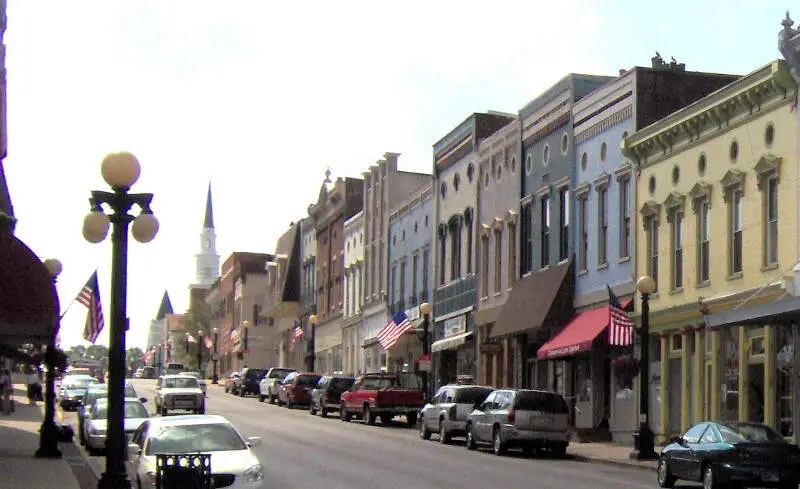 Population: 8,351
Founded: 1774
Age: 244
Harrodstown (sometimes Harrod's Town) was laid out and founded by its namesake James Harrod on June 16, 1774. Amid Dunmore's War, the settlement was abandoned later the same year as a result of Native American[which?] attacks, but it was resettled a year later in 1775. Fear of attacks from the Native Americans during the American Revolutionary War left it one of only three settlements in Kentucky after 1777, along with Logan's Fort and Boonesborough. Also known as Oldtown, Harrodstown was the first seat of Virginia's Kentucky (1776), Lincoln (1780), and Mercer (1785) counties upon their formations. It remains the seat of Mercer County in Kentucky.
2. Bardstown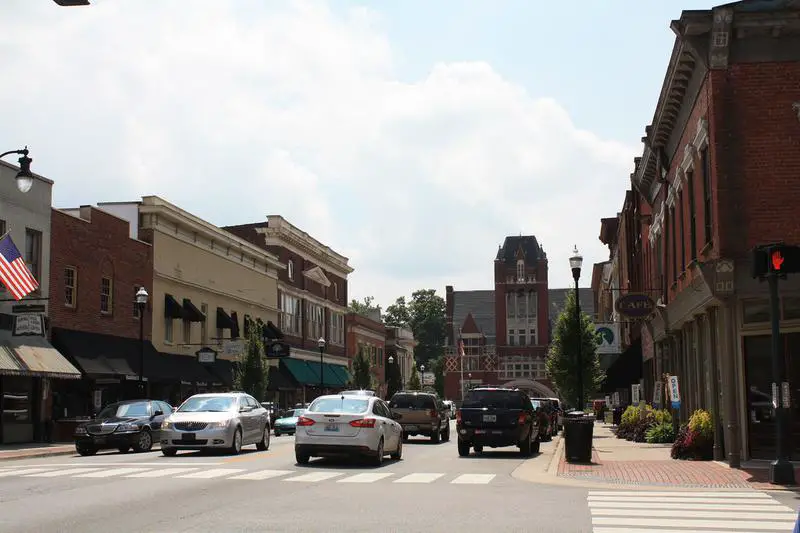 Population: 13,034
Founded: 1780
Age: 238
First settled by European Americans in 1780, Bardstown is the second oldest city in Kentucky. Named county seat of the newly created Nelson County, Virginia (now Kentucky) in 1784, the town was formally established in 1788. It was incorporated by the state assembly in 1838.
3. Ashland

Source: Public domain
Population: 21,035
Founded: 1786
Age: 232
Ashland dates back to the migration of the Poage family from the Shenandoah Valley via the Cumberland Gap in 1786. They erected a homestead along the Ohio River and named it Poage's Landing. Also called Poage Settlement, the community that developed around it remained an extended-family affair until the mid-19th century. In 1854, the city name was changed to Ashland, after Henry Clay's Lexington estate and to reflect the city's growing industrial base. The city's early industrial growth was a result of the Ohio Valley's pig iron industry and, particularly, the 1854 charter of the Kentucky Iron, Coal, and Manufacturing Company by the Kentucky General Assembly. The city was formally incorporated by the General Assembly two years later in 1856. Major industrial employers in the first half of the 20th Century included Armco, Ashland Oil and Refining Company, the C&O Railroad, Allied Chemical & Dye Company's Semet Solvay, and Mansbach Steel.
4. Versailles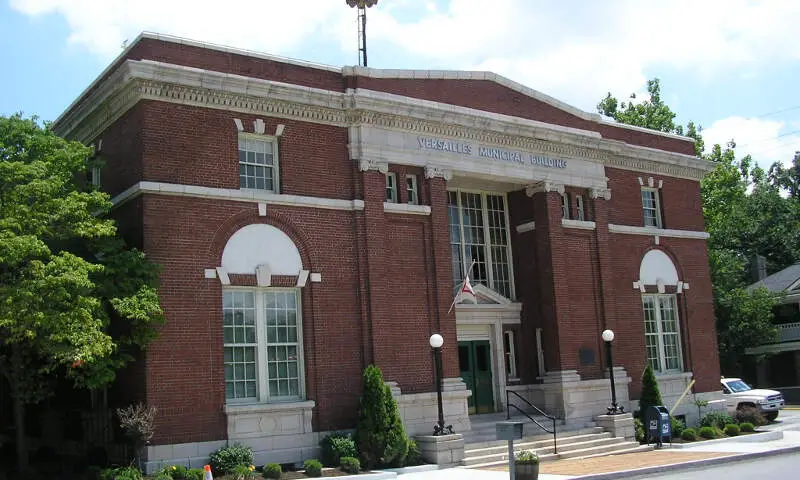 Population: 9,132
Founded: 1792
Age: 226
Versailles was founded on June 23, 1792, on 80 acres (320,000 m2) of land owned by Hezekiah Briscoe, at the time only a child. His guardian, Major Marquis Calmes, named the town after Versailles, France, in honor of General Lafayette, a family friend. In the Bluegrass Region of Kentucky, which became known for its thoroughbred horses and other livestock, the city was officially incorporated on February 13, 1837. It was briefly occupied during the American Civil War by both Confederate and Union forces.
5. Williamsburg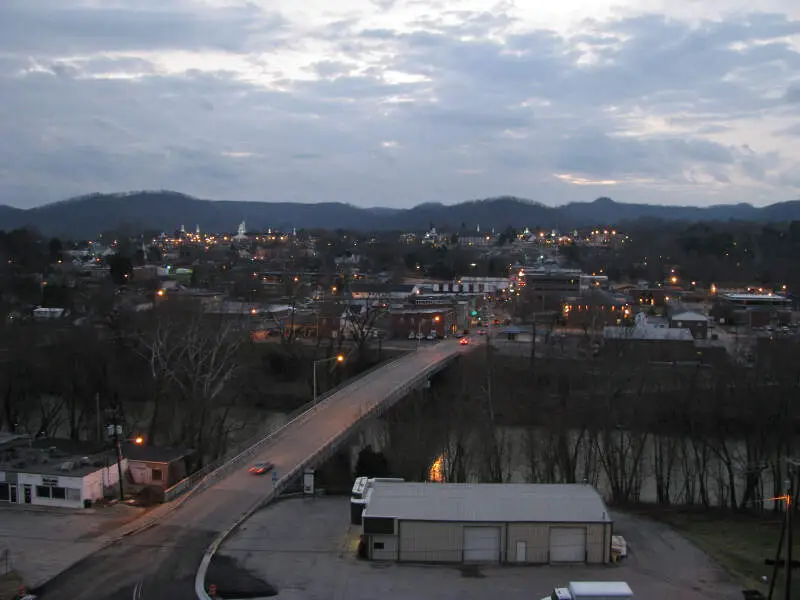 Source: Public domain
Population: 5,261
Founded: 1819
Age: 199
Williamsburg was first known as the Spring Ford after a nearby ford crossing the Cumberland River. On 19 April 1818 the first meeting of the Whitley County Court was held at Samuel Cox's own home. This first court appointed local officials as well as constables to work with the county militia. The town was then known simply as Whitley Courthouse. This name would be changed in 1882 to Williamsburgh, and later changed in 1890 to its current Williamsburg.
6. Princeton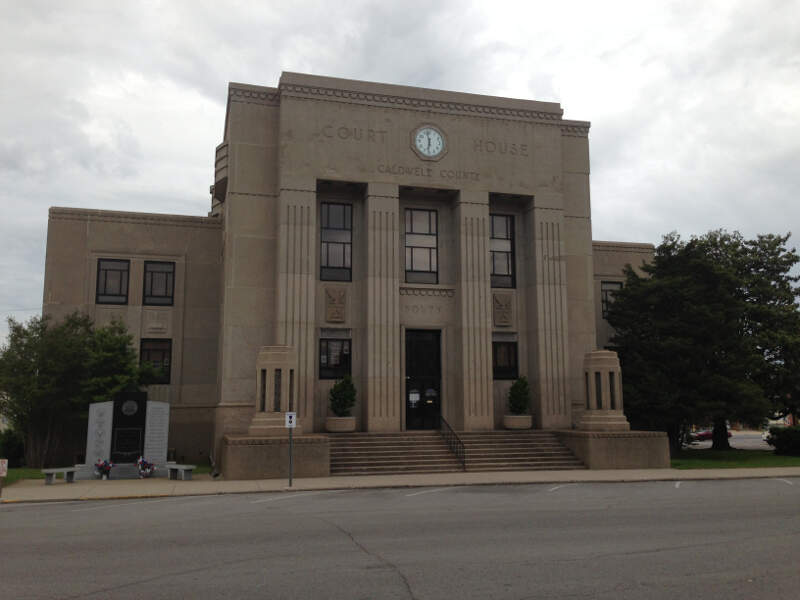 Population: 6,173
Founded: 1820
Age: 198
The community at the head of Eddy Creek was first called Eddy Grove for the creek's source at a large whirling spring. 1,700 acres (690 ha) of surrounding land was granted to the Virginian William Prince for his service during the American Revolution. He settled there in what was then Livingston County in 1799 and erected Shandy Hall, a brick home and tavern. Prince's heirs and another local landowner named Thomas Frazier granted 40 acres (16 ha) around Eddy Grove and Prince's Place towards the establishment of a new town in 1817, provided the courthouse of the newly formed Caldwell County was relocated there from Eddyville. The county court accepted the proposal in July and named the new community Princetown, which shortened to Princeton by the time of the Eddy Grove.
7. Franklin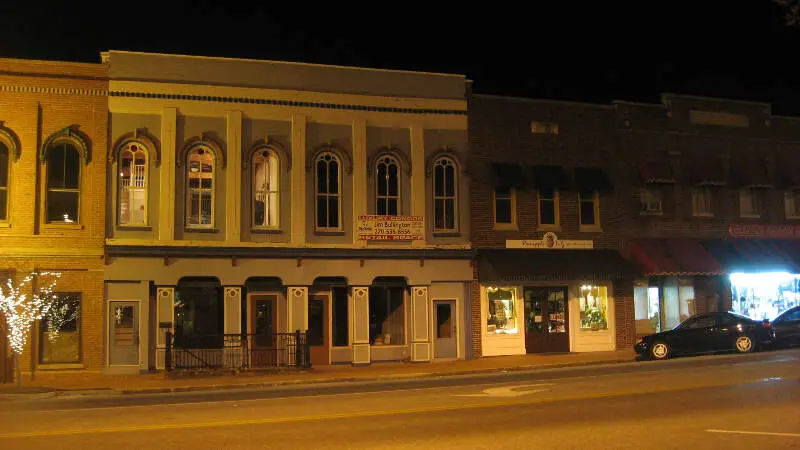 Source: Public domain
Population: 8,675
Founded: 1820
Age: 198
Franklin was formally incorporated by the state assembly on November 2, 1820, on a 62-acre (250,000 m2) tract of land. This tract was purchased from William Hudspeth and was named for Benjamin Franklin. The post office was established on September 29, 1822, with Robert W. Simpson as postmaster.
8. Central City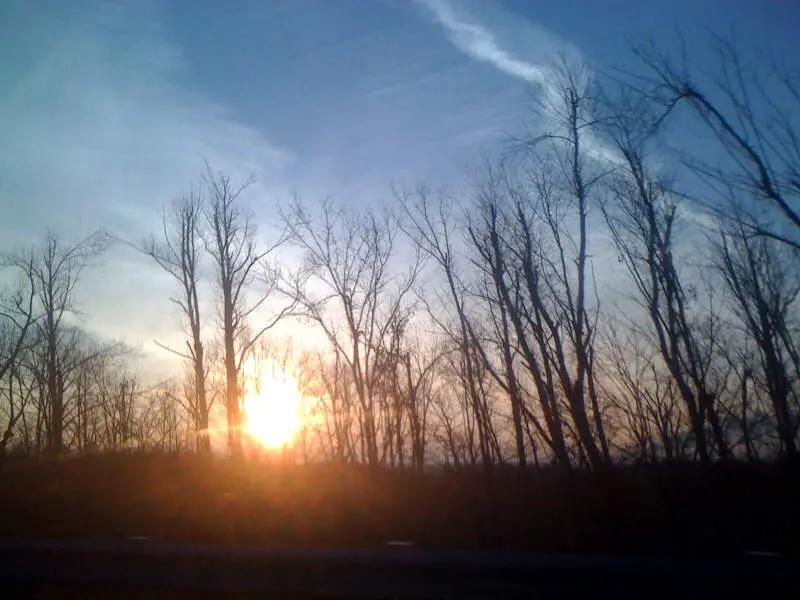 Population: 5,841
Founded: 1826
Age: 192
The site of present-day Central City was originally known as Morehead's Horse Mill after local resident Charles S. Morehead's steam-powered gristmill. A larger community began to develop after the 1870 advent of the Elizabethtown and Paducah Railroad. A post office was constructed the next year in 1871 and called Owensboro Junction after the projected 1872 completion of the Owensboro and Russellville Railroad. By 1873, the settlement was large enough to be incorporated by the state legislature as Stroud City, after local landowner John Stroud.
9. Frankfort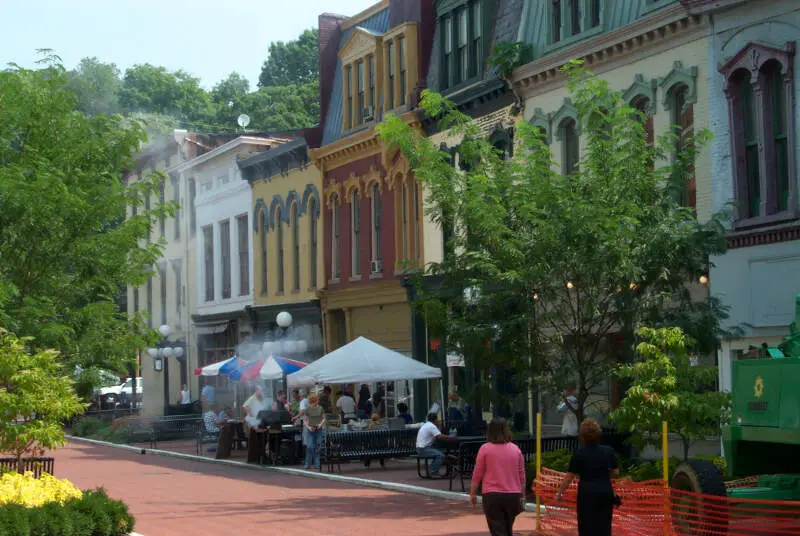 Source: Public domain
Population: 27,453
Founded: 1835
Age: 183
The town of Frankfort likely received its name from an event that took place in the 1780s. American Indians attacked a group of early European-American pioneers from Bryan Station, who were making salt at a ford in the Kentucky River. Pioneer Stephen Frank was killed, and the settlers thereafter called the crossing 'Frank's Ford.' This name was later elided to Frankfort.
10. London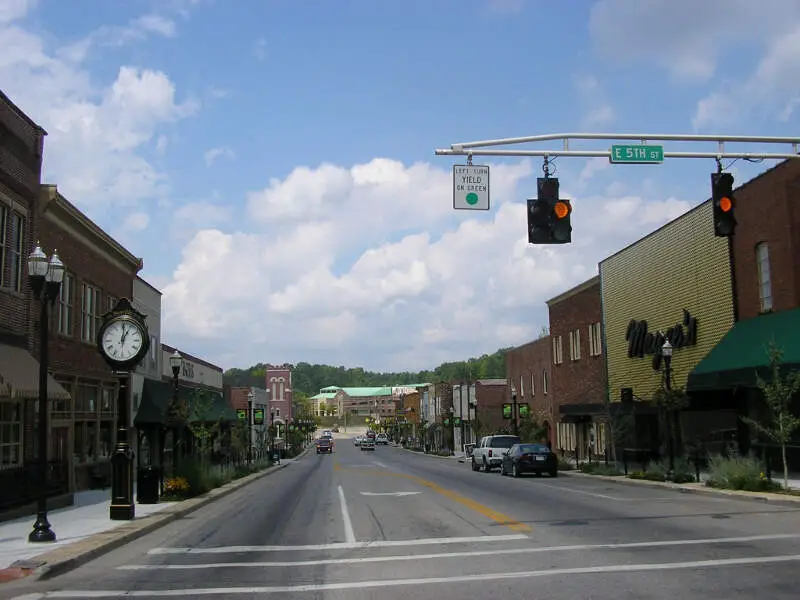 Population: 8,000
Founded: 1836
Age: 182
Upon the establishment of Laurel County in 1825, a vote was held to provide for the new area's seat of government. The land offered by John and Jarvis Jackson was selected, along with their suggested name of London, honoring their English heritage. The town was founded the next year; its post office established in 1831; and its city rights granted in 1836.
Oh How Time Flies For The Oldest Towns And Cities In Kentucky
So there you have it, a look at some of the oldest places to live in Kentucky. If we missed your city's 'date of foundation', let us know in the comments. Or feel free to take a look at the table of the oldest places in Kentucky.
And now, let's raise our glasses, to the next 100 years of existence for these cities and towns in the Bluegrass State.
And for those wondering, here are the newest additions to Kentucky:
Fort Mitchell (Founded in 2010)
Hillview (Founded in 2010)
Paducah (Founded in 2010)
Detailed List Of The Oldest Cities In Kentucky
| City | Rank | Age |
| --- | --- | --- |
| Harrodsburg | 1 | 244 |
| Bardstown | 2 | 238 |
| Ashland | 3 | 232 |
| Versailles | 4 | 226 |
| Williamsburg | 5 | 199 |
| Princeton | 6 | 198 |
| Franklin | 7 | 198 |
| Central City | 8 | 192 |
| Frankfort | 9 | 183 |
| London | 10 | 182 |
| Nicholasville | 11 | 181 |
| La Grange | 12 | 178 |
| Murray | 13 | 174 |
| Florence | 14 | 158 |
| Fort Thomas | 15 | 151 |
| Hazard | 16 | 134 |
| Middlesborough | 17 | 128 |
| Elsmere | 18 | 122 |
| Georgetown | 19 | 114 |
| Alexandria | 20 | 114 |
| Hopkinsville | 21 | 114 |
| Richmond | 22 | 114 |
| Covington | 23 | 114 |
| Middletown | 24 | 114 |
| Pikeville | 25 | 114 |
| Paris | 26 | 114 |
| Mount Sterling | 27 | 114 |
| Cold Spring | 28 | 114 |
| Monticello | 29 | 114 |
| Lexington | 30 | 114 |
| Bellevue | 31 | 114 |
| Union | 32 | 114 |
| Douglass Hills | 33 | 114 |
| Lebanon | 34 | 114 |
| Russellville | 35 | 114 |
| Elizabethtown | 36 | 114 |
| Louisville | 37 | 114 |
| Lawrenceburg | 38 | 114 |
| Shelbyville | 39 | 114 |
| Mayfield | 40 | 114 |
| Jeffersontown | 41 | 114 |
| Glasgow | 42 | 114 |
| Burlington | 43 | 114 |
| Newport | 44 | 114 |
| Mount Washington | 45 | 114 |
| Danville | 46 | 114 |
| Shepherdsville | 47 | 114 |
| Somerset | 48 | 114 |
| Campbellsville | 49 | 114 |
| Madisonville | 50 | 114 |
| Henderson | 51 | 114 |
| Fort Wright | 52 | 113 |
| St. Matthews | 53 | 113 |
| Hebron | 54 | 113 |
| Shively | 55 | 113 |
| Wilmore | 56 | 113 |
| Independence | 57 | 113 |
| Bowling Green | 58 | 113 |
| Taylor Mill | 59 | 113 |
| Berea | 60 | 113 |
| Highland Heights | 61 | 113 |
| Corbin | 62 | 113 |
| Flatwoods | 63 | 113 |
| Oak Grove | 64 | 113 |
| Morehead | 65 | 113 |
| Owensboro | 66 | 113 |
| Radcliff | 67 | 113 |
| Fort Knox | 68 | 113 |
| Francisville | 69 | 113 |
| Leitchfield | 70 | 113 |
| Paducah | 71 | 113 |
| Hillview | 72 | 44 |
| Fort Mitchell | 73 | 8 |