Swipe left for slideshow. Article continues below.
You might think your town is old, but it probably isn't the oldest in the country.
That is unless you live in St. Augustine, FL. Which looks pretty good for being 454 years old.
That's older than America for those playing at home.
So that got us thinking, what is the oldest city in Louisiana? And how old is that when you put it into perspective of St. Augustine or American Independence in 1776?
Because even if your Louisiana city or town is old, it isn't really all that old in the grand scheme of things. For example, the Pyramids in Egypt were built around 2600 BC, a cool 4100 years before St. Augustine.
And now that we have you thinking about how the time line of your existence is really kind of unimpressive on the timeline of history, let's drop right into the analysis.
These are the 10 oldest cities and towns in the Pelican State according to their 'date of foundation':
For being 201 years old, Baton Rouge doesn't look a day over 40. And the newest city in Louisiana? That would be Bogalusa — a brand spanking 4 years old.
Read on for a look at the oldest places in Louisiana or feel free to check out the best places to live in Louisiana or the safest.
How We Determined When A City Was Founded In Louisiana… Or Is It Settled?
Surprisingly, there's not a definitive data set that contains the dates of incorporation or settlement for cities in America. Put differently, there's no official data set from the Census that contains when every place in America was founded.
So what did we do instead?
Use the internet's version of official government data — Wikipedia of course!
For the majority of cities in Louisiana, Wikipedia offers data on some kind of 'date of foundation' in the infobox. Unfortunately, because it's Wikipedia and not a sprawling government bureaucracy, that can take the form of any of the following nomenclature (plus others):
Founded
Settled
Incorporated
Approved
Chartered
And then even more stuff — for example Atlanta has a 'Terminus' date, whatever that is.
If no 'date of foundation' was found in the infobox, we looked to the general text in the History section of the city for 'Founded in XXXX'.
All in all, we were able to collect data on 62 out of 112 in Louisiana with over 5,000 people. That's good for a 55.4% completion rate.
We then ranked them from oldest to newest with Baton Rouge turning out to be the matriarch of Louisiana at the ripe old age of 201.
Here's a look at the top ten and a snippet of their history from Wikipedia.
1. Baton Rouge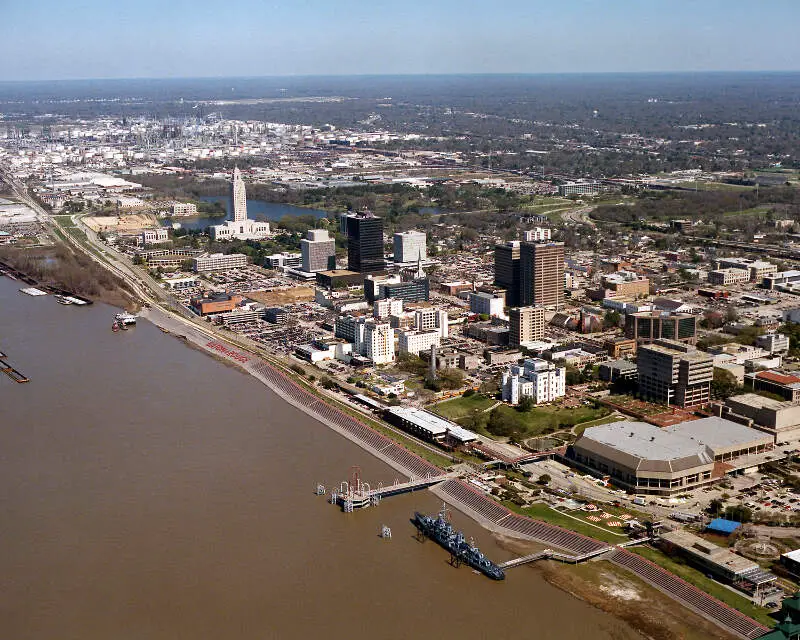 Source: Public domain
Population: 227,549
Founded: 1817
Age: 201
Human habitation in the Baton Rouge area has been dated to 12000 – 6500 BC, based on evidence found along the Mississippi, Comite, and Amite rivers. Earthwork mounds were built by hunter-gatherer societies in the Middle Archaic period, from roughly the 4th millennium BC. The Proto-Muskogean language divided into its descendant languages by about 1000 BC; a cultural boundary between either side of Mobile Bay and the Black Warrior River began to appear between about 1200 BC and 500 BC, a period called the Middle 'Gulf Formational Stage'. The Eastern Muskogean language began to diversify internally in the first half of the 1st millennium AD.
The early Muskogean societies were the bearers of the Mississippian culture, which formed around AD 800 and extended in a vast network across the Mississippi and Ohio valleys, with numerous chiefdoms in the Southeast as well. By the time the Spanish made their first forays inland from the shores of the Gulf of Mexico in the early 16th century, by some evidence many political centers of the Mississippians were already in decline, or abandoned. At the time, the region appeared to be occupied by a collection of moderately-sized native chiefdoms interspersed with autonomous villages and tribal groups. There is, however, also evidence that these societies were thriving at the time of the first Spanish contact, and that later Spanish expeditions encountered the aftermath of the diseases spread unknowingly by the first expedition.
2. Natchitoches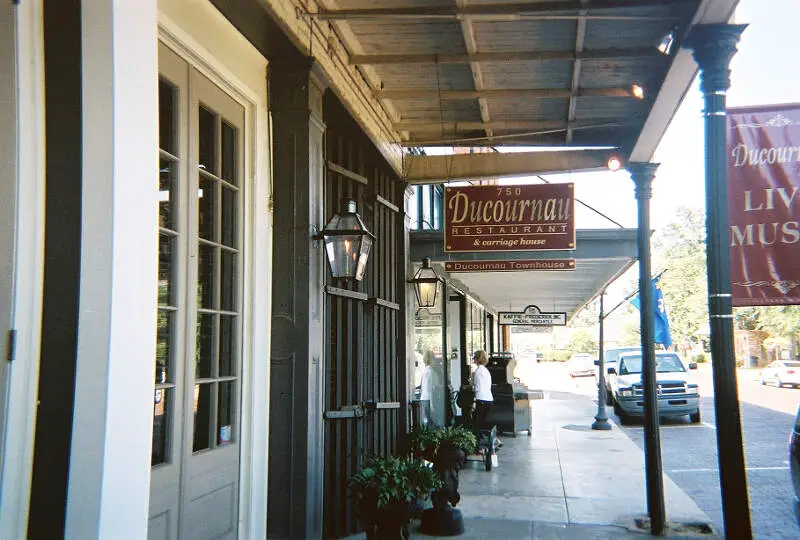 Source: Public domain
Population: 18,176
Founded: 1819
Age: 199
Natchitoches was established in 1714 by Louis Juchereau de St. Denis. It is the oldest permanent settlement within the borders of the 1803 Louisiana Purchase. Natchitoches was founded as a French outpost on the Red River for trade with Spanish-controlled Mexico; French traders settled there as early as 1699. The post was established near a village of Natchitoches Indians, after whom the city was named.
3. Lafayette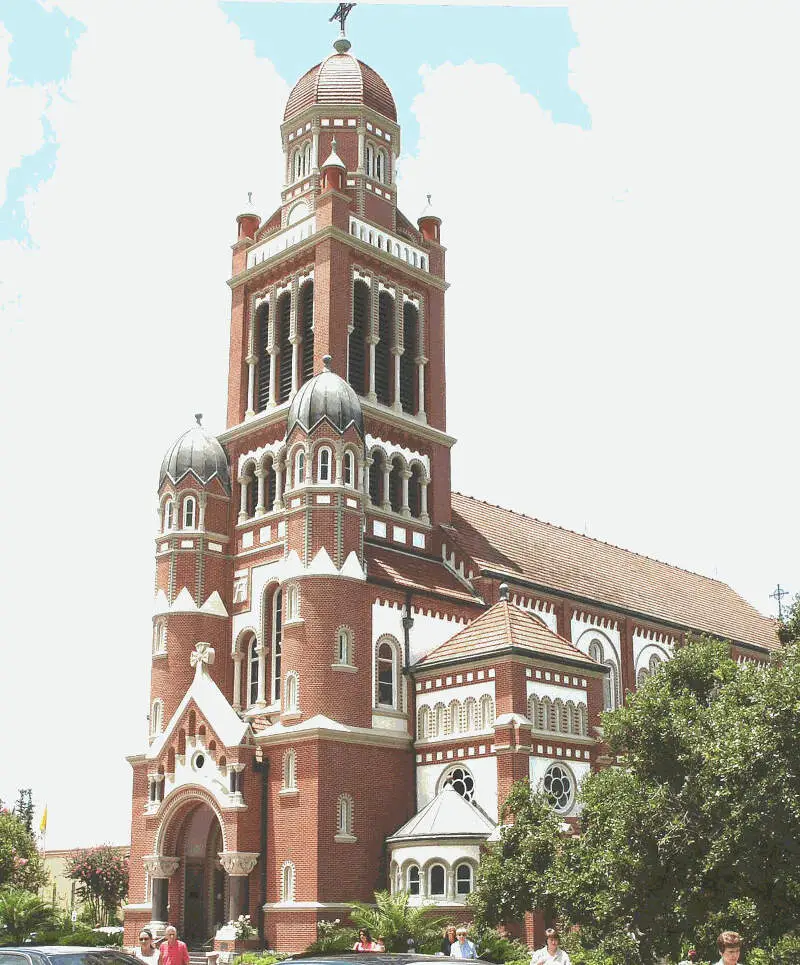 Source: Public domain
Population: 126,476
Founded: 1821
Age: 197
Lafayette is located at 30°13N 92°2W / 30.217°N 92.033°W / 30.217; -92.033 (30.2139, 92.0294) and has an elevation of 36 feet (11.0 m). According to the United States Census Bureau, the city has a total area of 49.2 square miles (127 km2), of which 49.1 square miles (127 km2) is land and 0.1 square miles (0.26 km2) (0.19%) is water.
Lafayette is located on the West Gulf Coastal Plain. What is now Lafayette was part of the seabed during the earlier Quaternary Period. During this time, the Mississippi River cut a 325-foot-deep (99 m) valley between what is now Lafayette and Baton Rouge. This valley was filled and is now the Atchafalaya Basin. Lafayette is located on the western rim of this valley.
4. Shreveport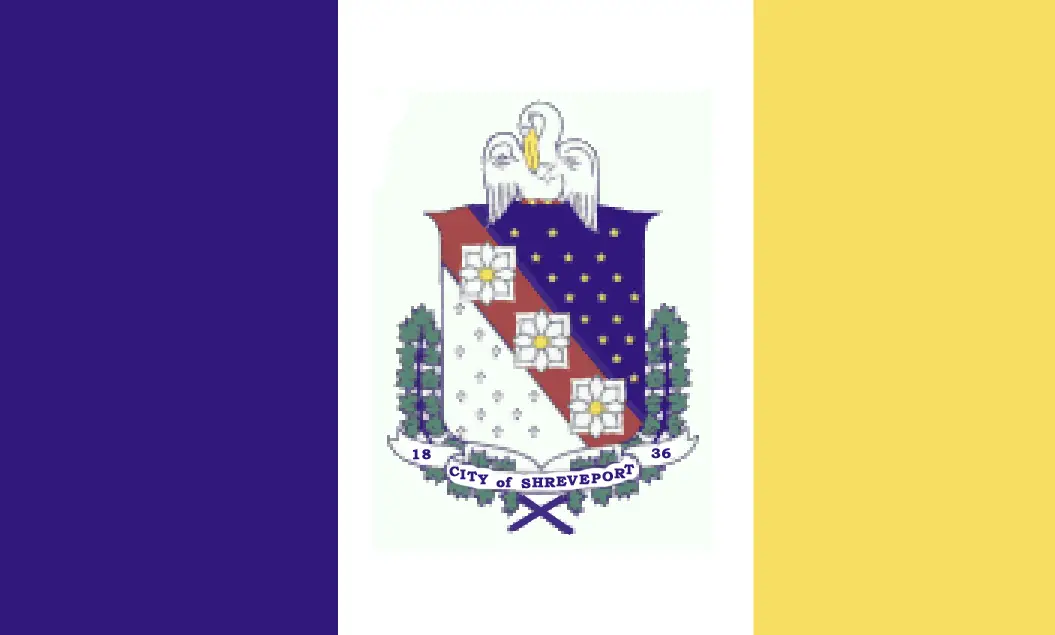 Source: Public domain
Population: 196,217
Founded: 1839
Age: 179
Shreveport was established to launch a town at the meeting point of the Red River and the Texas Trail. The Red River was cleared and made newly navigable by Captain Henry Miller Shreve, who led the United States Army Corps of Engineers effort to clear the Red River. A 180-mile-long (290 km) natural log jam, the Great Raft, had previously obstructed passage to shipping. Shreve used a specially modified riverboat, the Heliopolis, to remove the log jam. The company and the village of Shreve Town were named in Shreve's honor.
Shreve Town was originally contained within the boundaries of a section of land sold to the company in 1835 by the indigenous Caddo Indians. In 1838 Caddo Parish was created from the large Natchitoches Parish, and Shreve Town became its parish seat. On March 20, 1839, the town was incorporated as Shreveport. Originally, the town consisted of 64 city blocks, created by eight streets running west from the Red River and eight streets running south from Cross Bayou, one of its tributaries.
5. Kenner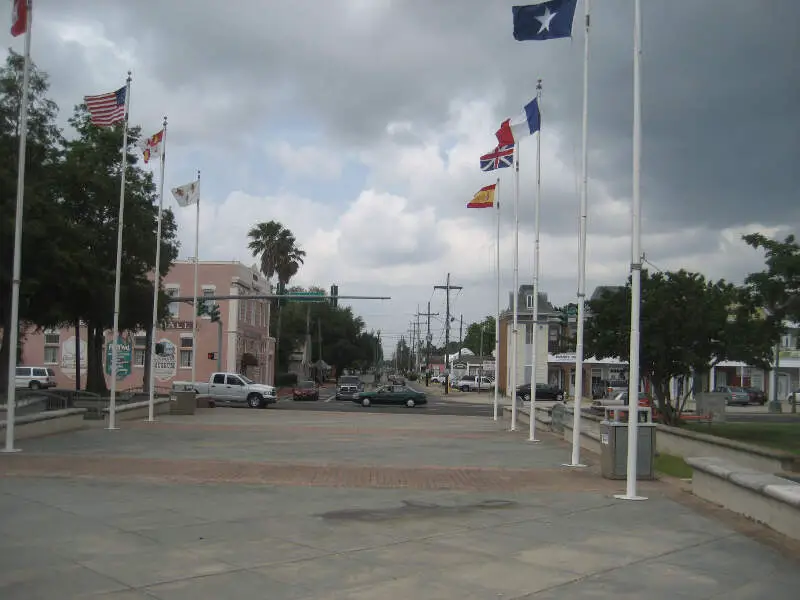 Population: 67,253
Founded: 1855
Age: 163
Originally inhabited by the Tchoupitoulas Indians, the area along the Mississippi River was the first land in the New Orleans Metropolitan Area on which Europeans set foot. René-Robert Cavelier, Sieur de La Salle landed there in 1682. In 1855, Kenner was founded by Minor Kenner on land that consisted of three plantation properties that had been purchased by the Kenner family. At the time, all land north of what is now Airline Highway was swampland.
6. Lake Charles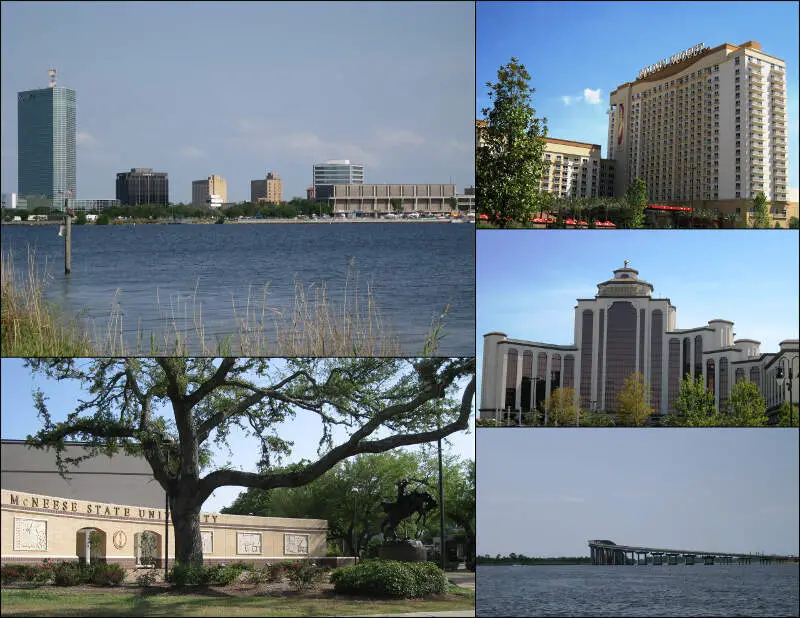 Population: 75,194
Founded: 1861
Age: 157
On March 7, 1861, Lake Charles was officially incorporated as the town of Charleston, Louisiana. Lake Charles was originally founded by merchant and tradesmen Marco Eliche (or Marco de Élitxe) as an outpost – a Sephardic Jewish trader of either Basque-Spanish or Venetian-Italian origins. He had arrived to Louisiana after hitchhiking and was invited onto a Spanish vessel due to his determination and loyalty to volunteer and work freely for the Spanish Empire. Long before incorporation and even before the Louisiana Purchase, other names for Lake Charles were known as Porte du Lafitte (Port of Jean Lafitte) or Rivière Lafitte (River Lafitte/Lafitte's River); among many other names now lost. Eliche had also founded other outposts and towns in Louisiana prior; most notably (Marksville) – which is honorarily named after him. There are also urban tales he had planned to name the settlement Nouveau Cadix (New Cádiz)', after the city in Spain – but this is uncertain.
The town was later named Charleston in honor of French King Charlemagne, and for Louisiana's then-abundant Roman Catholic heritage. Six years after the town was incorporated, dissatisfaction over the name Charleston arose; on March 16, 1867, Charleston was renamed and incorporated as the City of Lake Charles. In 1910, a fire, known as the 'Great Fire of 1910', devastated much of the city.
7. Jennings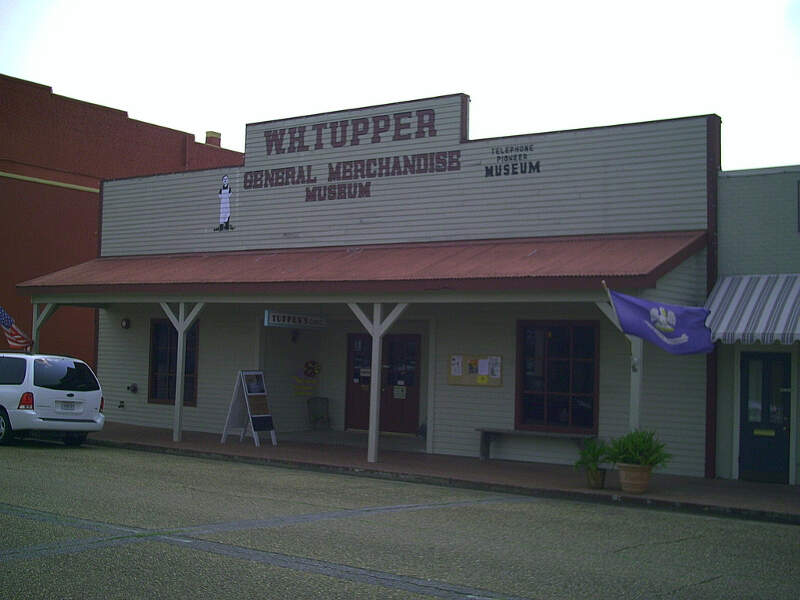 Population: 10,084
Founded: 1888
Age: 130
Jennings McComb, for whom the town was named, was an Irish contractor of the Southern Pacific Railroad. He built the Jennings depot on a divide peculiar to southwest Louisiana. This became the center of new development based on the railroad. The first settler was recorded as A. D. McFarlain, who came in 1881 from St. Mary Parish and opened a store. McFarlain also became the first rice grower, postmaster, brick maker, and builder in the community. Prospering with Jennings' growth, McFarlain was considered one of the town's prominent businessmen and civic leaders.
8. Eunice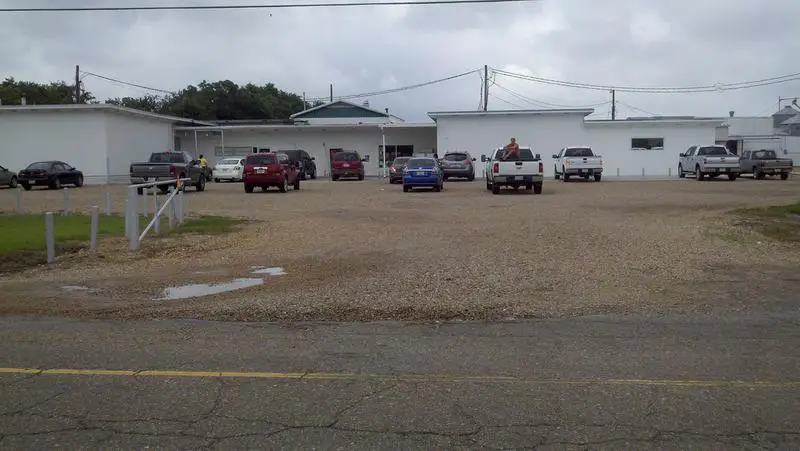 Population: 10,305
Founded: 1895
Age: 123
One-time lawman and pioneer land developer C.C. Duson is credited with founding Eunice, which was named for his second wife, Eunice Pharr Duson. He and his brother, W.W. Duson, had already founded Crowley, Louisiana in 1887, and now he looked to the north of the parish for future development. Duson bought 160 acres (0.65 km2) of land from Willie Humble of Prairie Faquetaïque and mapped out a town site, laid out in lots 50-by-140 feet, 12 lots to the block. Next, he persuaded the Southern Pacific Railroad to extend a branch line from Crowley to his new town. Then he began what he and his brother had learned how to do as well as anyone: promote land sales. It was chartered as a village on September 12, 1894, and incorporated as a town on June 4, 1895.
9. Covington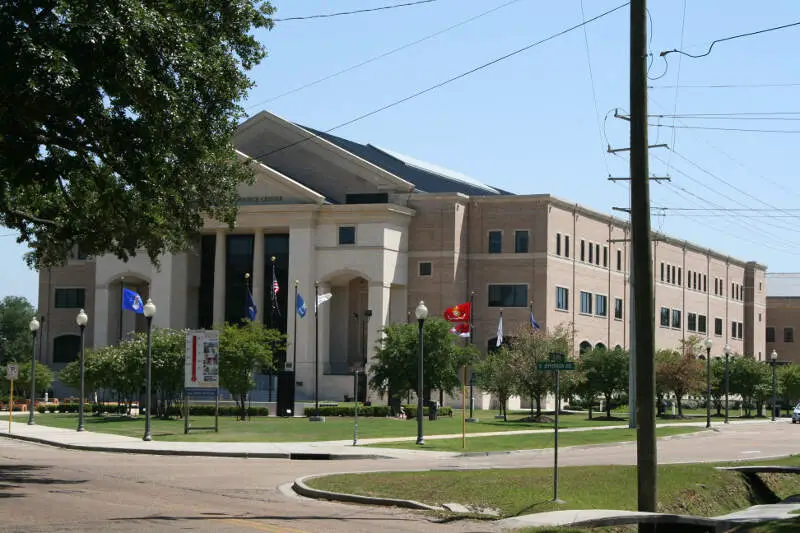 Population: 9,925
Founded: 1904
Age: 114
The earliest known settlement by Europeans in the area was in 1800 by Jacques Drieux, during the British West Florida period.
10. St. Rose

Population: 8,123
Founded: 1904
Age: 114
The LaBranche Plantation Dependency House is located in St. Rose. It is a surviving building of the LaBranche Plantation. The main house was the plantation home built by the Zweig family in 1792. The plantation was based on the cultivation and processing of sugar cane and was dependent on slave labor. The big house was destroyed during the Civil War. One of the few buildings left on the property after the Civil War was the dependency house, also called a garconnière (French for bachelor quarters). The property also has a preserved slave quarters building.
Oh How Time Flies For The Oldest Towns And Cities In Louisiana
So there you have it, a look at some of the oldest places to live in Louisiana. If we missed your city's 'date of foundation', let us know in the comments. Or feel free to take a look at the table of the oldest places in Louisiana.
And now, let's raise our glasses, to the next 100 years of existence for these cities and towns in the Pelican State.
And for those wondering, here are the newest additions to Louisiana:
Bogalusa (Founded in 2014)
St. Gabriel (Founded in 2014)
Grambling (Founded in 2014)
Detailed List Of The Oldest Cities In Louisiana
| City | Rank | Age |
| --- | --- | --- |
| Baton Rouge | 1 | 201 |
| Natchitoches | 2 | 199 |
| Lafayette | 3 | 197 |
| Shreveport | 4 | 179 |
| Kenner | 5 | 163 |
| Lake Charles | 6 | 157 |
| Jennings | 7 | 130 |
| Eunice | 8 | 123 |
| Covington | 9 | 114 |
| St. Rose | 10 | 114 |
| Breaux Bridge | 11 | 114 |
| Galliano | 12 | 114 |
| River Ridge | 13 | 114 |
| Franklin | 14 | 114 |
| Ville Platte | 15 | 114 |
| Ponchatoula | 16 | 114 |
| Zachary | 17 | 114 |
| Opelousas | 18 | 114 |
| Westwego | 19 | 114 |
| Carencro | 20 | 114 |
| New Orleans | 21 | 114 |
| Hammond | 22 | 114 |
| Metairie | 23 | 114 |
| Springhill | 24 | 114 |
| Jeanerette | 25 | 114 |
| Plaquemine | 26 | 114 |
| Marksville | 27 | 114 |
| Alexandria | 28 | 114 |
| New Iberia | 29 | 114 |
| Walker | 30 | 114 |
| Chalmette | 31 | 114 |
| St. Martinville | 32 | 113 |
| Scott | 33 | 113 |
| Harahan | 34 | 113 |
| Waggaman | 35 | 113 |
| Bridge City | 36 | 113 |
| Violet | 37 | 113 |
| Meraux | 38 | 113 |
| Mandeville | 39 | 113 |
| Gonzales | 40 | 113 |
| Bossier City | 41 | 113 |
| Monroe | 42 | 113 |
| Houma | 43 | 113 |
| Marrero | 44 | 113 |
| Central | 45 | 113 |
| Slidell | 46 | 113 |
| Ruston | 47 | 113 |
| Sulphur | 48 | 113 |
| Gretna | 49 | 113 |
| Broussard | 50 | 113 |
| Thibodaux | 51 | 113 |
| Baker | 52 | 113 |
| Belle Chasse | 53 | 113 |
| Crowley | 54 | 113 |
| Minden | 55 | 113 |
| Abbeville | 56 | 113 |
| Port Allen | 57 | 113 |
| Destrehan | 58 | 113 |
| Deridder | 59 | 113 |
| Grambling | 60 | 113 |
| St. Gabriel | 61 | 24 |
| Bogalusa | 62 | 4 |