Swipe left for slideshow. Article continues below.
You might think your town is old, but it probably isn't the oldest in the country.
That is unless you live in St. Augustine, FL. Which looks pretty good for being 454 years old.
That's older than America for those playing at home.
So that got us thinking, what is the oldest city in Maine? And how old is that when you put it into perspective of St. Augustine or American Independence in 1776?
Because even if your Maine city or town is old, it isn't really all that old in the grand scheme of things. For example, the Pyramids in Egypt were built around 2600 BC, a cool 4100 years before St. Augustine.
And now that we have you thinking about how the time line of your existence is really kind of unimpressive on the timeline of history, let's drop right into the analysis.
These are the 10 oldest cities and towns in the Pine Tree State according to their 'date of foundation':
For being 365 years old, Biddeford doesn't look a day over 40. And the newest city in Maine? That would be Brunswick — a brand spanking 114 years old.
Read on for a look at the oldest places in Maine or feel free to check out the best places to live in Maine or the safest.
How We Determined When A City Was Founded In Maine… Or Is It Settled?
Surprisingly, there's not a definitive data set that contains the dates of incorporation or settlement for cities in America. Put differently, there's no official data set from the Census that contains when every place in America was founded.
So what did we do instead?
Use the internet's version of official government data — Wikipedia of course!
For the majority of cities in Maine, Wikipedia offers data on some kind of 'date of foundation' in the infobox. Unfortunately, because it's Wikipedia and not a sprawling government bureaucracy, that can take the form of any of the following nomenclature (plus others):
Founded
Settled
Incorporated
Approved
Chartered
And then even more stuff — for example Atlanta has a 'Terminus' date, whatever that is.
If no 'date of foundation' was found in the infobox, we looked to the general text in the History section of the city for 'Founded in XXXX'.
All in all, we were able to collect data on 29 out of 30 in Maine with over 5,000 people. That's good for a 96.7% completion rate.
We then ranked them from oldest to newest with Biddeford turning out to be the matriarch of Maine at the ripe old age of 365.
Here's a look at the top ten and a snippet of their history from Wikipedia.
1. Biddeford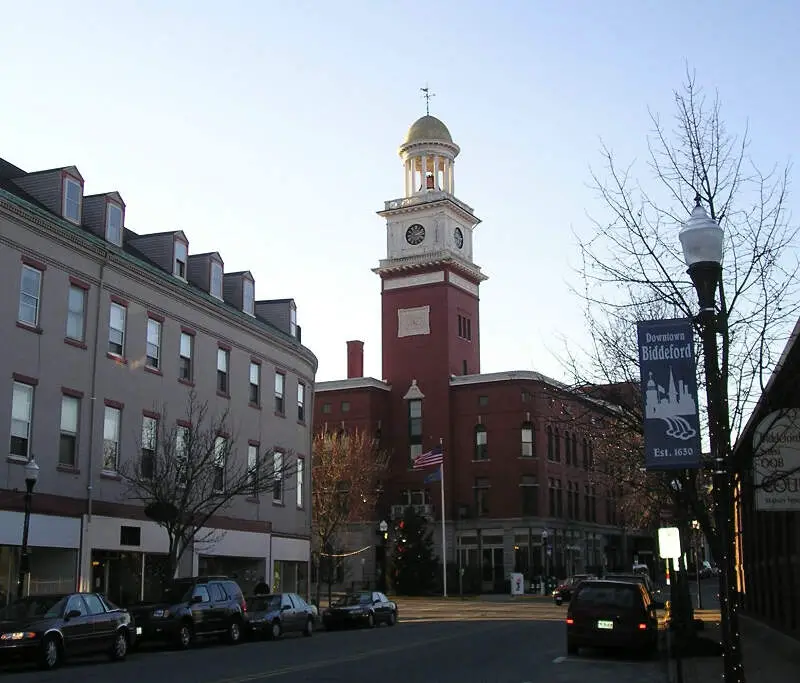 Population: 21,413
Founded: 1653
Age: 365
Abenaki Indians, whose main village was upriver at Pequawket (now Fryeburg), once hunted and fished in the area. The first European to settle at Biddeford was physician Richard Vines in the winter of 1616-17 at Winter Harbor, as he called Biddeford Pool. This 1616 landing by a European predates the Mayflower landing in Plymouth, Massachusetts, (located 100 miles to the south) by approximately four years, a fact that is overlooked in much of New England lore. In 1630, the Plymouth Company granted the land south of the River Swanckadocke to Dr. Vines and John Oldham. In 1653, the town included both sides of the river, and was incorporated by the Massachusetts General Court as Saco.
2. Scarborough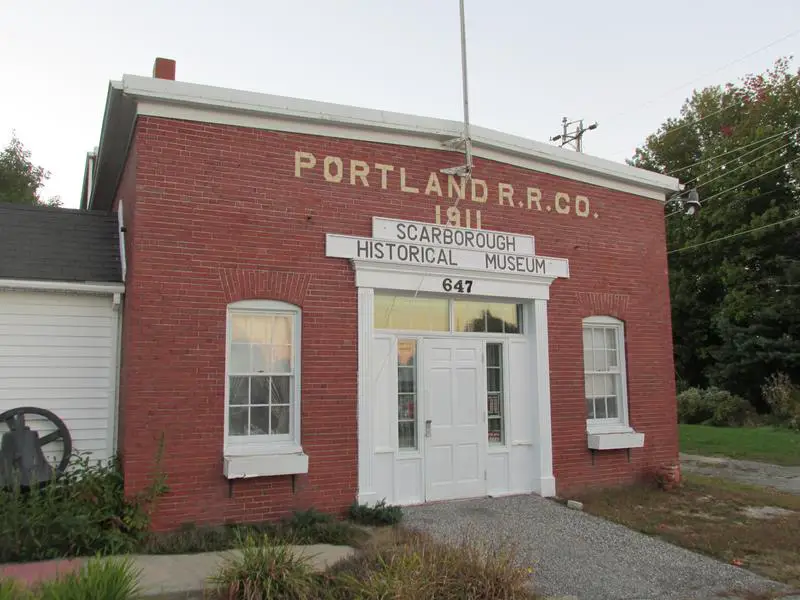 Population: 4,876
Founded: 1658
Age: 360
In about 1630, John Stratton opened a trading post on Stratton Island in Saco Bay off Scarborough's shore. In 1631, the Plymouth Council for New England granted the 'Black Point Patent' to Captain Thomas Cammock, nephew of the Earl of Warwick. Cammock built a house and began residence in 1635 on the 1,500-acre (6.1 km2) tract of land, which extended from the Spurwink River to Black Point – today this area is known as Prouts Neck. However, he then sold his holdings and moved to the West Indies. Nevertheless, settlements developed at Black Point, Blue Point (i.e., Pine Point), Dunstan (i.e., West Scarborough) and Stratton Island. By 1650, there were fifty homes. The town offered excellent fishing and farming. On July 14, 1658, the Massachusetts General Court incorporated them all as Scarborough, named for Scarborough in Yorkshire, England.
3. Saco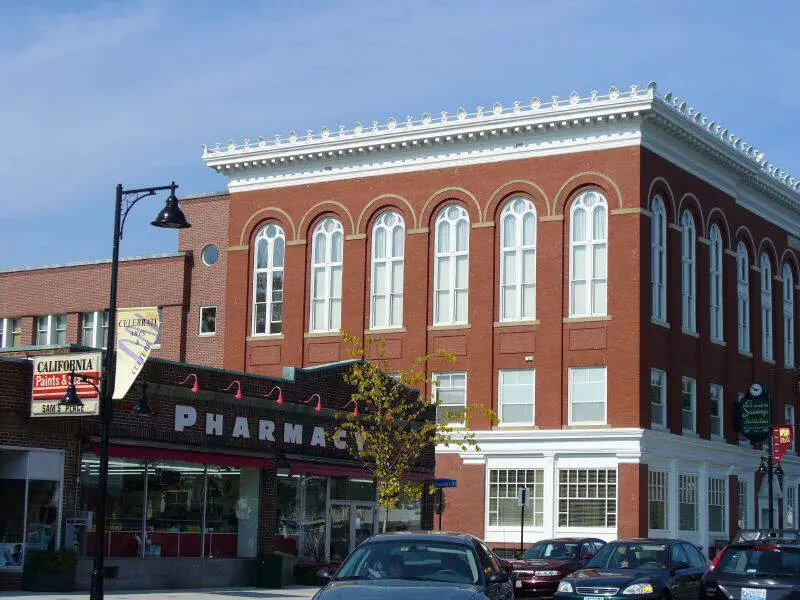 Population: 19,127
Founded: 1762
Age: 256
This was territory of the Abenaki tribe whose fortified village was located up the Sokokis Trail at Pequawket (now Fryeburg). In July 1607, 500 wariors lead by sakmow (Grand Chief) of the Mi'kmaq First Nations Henri Membertou was revenge for murder and similar acts of hostility. The group raided on the Armouchiquois town, Chouacoet, present-day Saco, killing 20 of their braves, including two of their leaders, Onmechin and Marchin.
4. Gorham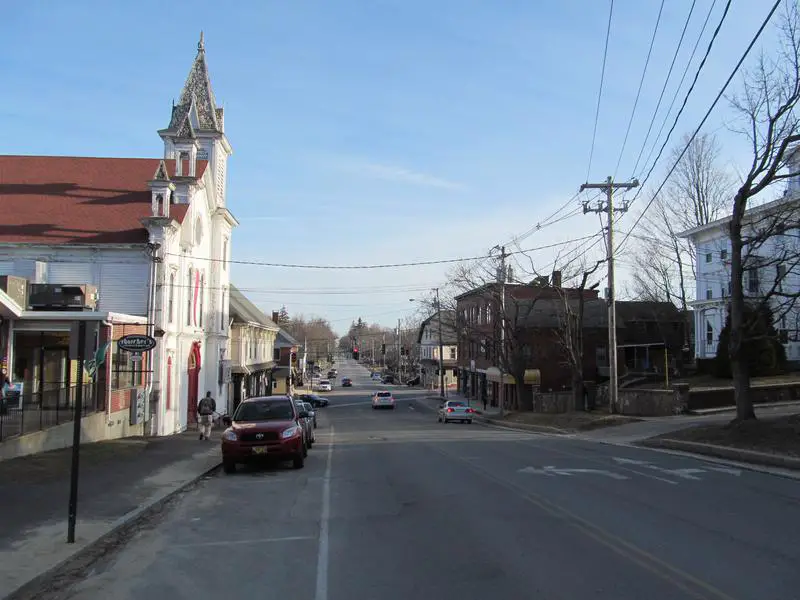 Population: 6,607
Founded: 1764
Age: 254
First called Narragansett Number 7 was one of seven townships granted by the Massachusetts General Court to soldiers (or their heirs) who had fought in the Narragansett War of 1675, also called King Philip's War. The land was first settled in 1736 by Captain John Phinney and his family, followed in 1738 by Hugh McLellan and Daniel Mosher. By 1743, the first sawmill was established by John Gorham at Little River. Without window-glass, the first dwellings were constructed of logs chinked with moss and clay.
5. Topsham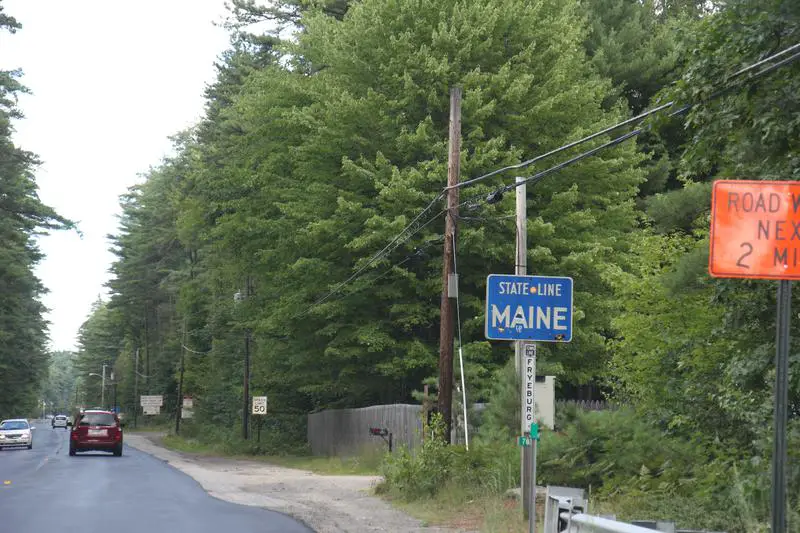 Population: 6,463
Founded: 1764
Age: 254
Called Sawacook, the area was territory of the Pejepscot Abenaki Indians, a subtribe of the Anasagunticooks (now Androscoggins), who controlled the Androscoggin River. They lived and fished at Pejepscot Falls. But a plague, probably smallpox brought by Europeans, decimated the tribe's population in 1615–1616. On June 16, 1632, the area was granted by the Plymouth Council to Thomas Purchase and George Way, later acquired by Richard Wharton and then, in 1714, by the Pejepscot Company.
6. Winslow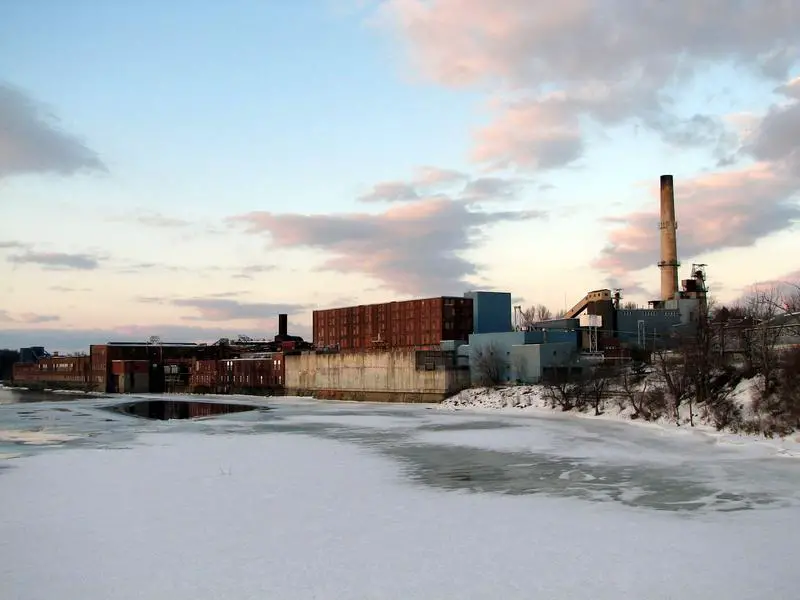 Population: 7,608
Founded: 1771
Age: 247
Winslow was originally an Indian settlement named Taconock. During King William's War, Major Benjamin Church led his third expedition east from Boston in 1692. During this expedition he and 450 troops raided the native villages at both Penobscot (Castine, Maine) and present-day Winslow.
7. Belfast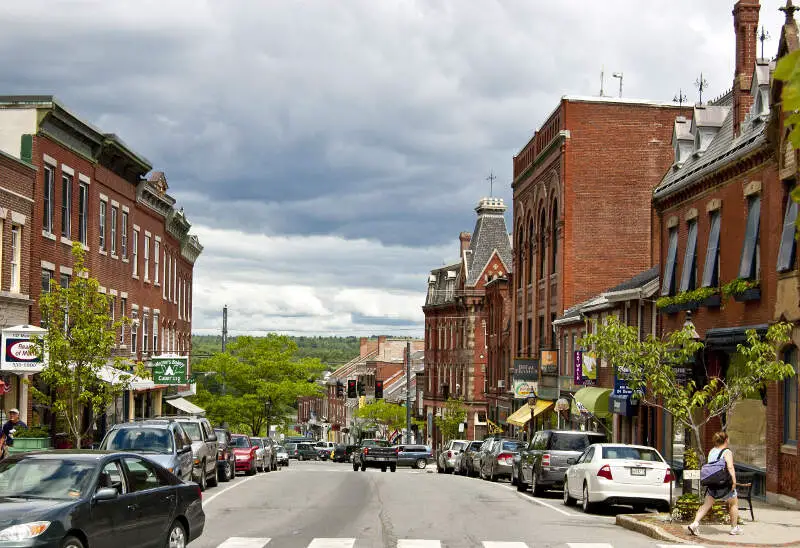 Population: 6,680
Founded: 1773
Age: 245
The area was once territory of the Penobscot tribe of Abenaki Native Americans, which each summer visited the seashore to hunt for fish, shellfish and seafowl. In 1630, it became part of the Muscongus Patent, which granted rights for English trading posts with the Native Americans, especially for the lucrative fur trade. About 1720, General Samuel Waldo of Boston bought the Muscongus Patent, which had evolved into outright ownership of the land, and was thereafter known as the Waldo Patent.
8. Bath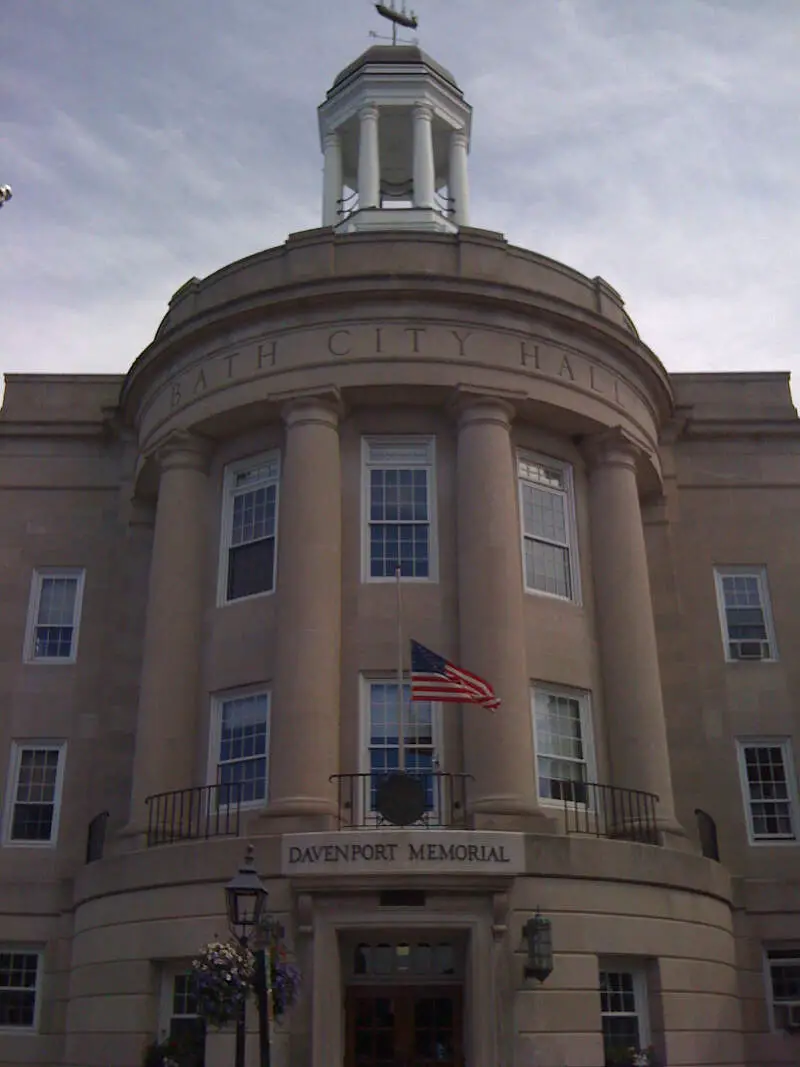 Population: 8,314
Founded: 1781
Age: 237
Abenaki Indians called the area Sagadahoc, meaning 'mouth of big river.' It was a reference to the Kennebec River, which Samuel de Champlain explored in 1605. Popham Colony was established in 1607 downstream, together with Fort St George. The settlement failed due to harsh weather and lack of leadership, but the colonists built the New World's first oceangoing vessel constructed by English shipwrights, the Virginia of Sagadahoc. It provided passage back to England. Most of Bath, Maine, was settled by travelers from Bath, England.
9. Portland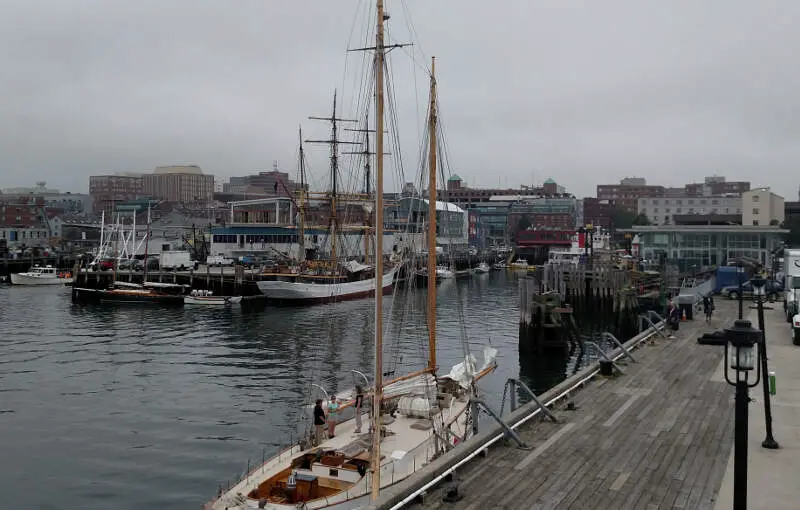 Population: 66,715
Founded: 1786
Age: 232
Native Americans originally called the Portland peninsula Machigonne ('Great Neck'). Portland, Maine, was named for the English Isle of Portland, and the city of Portland, Oregon, was in turn named for Portland, Maine. The first European settler was Capt. Christopher Levett, an English naval captain granted 6,000 acres (2,400 ha) in 1623 to found a settlement in Casco Bay. A member of the Council for New England and agent for Ferdinando Gorges, Levett built a stone house where he left a company of ten men, then returned to England and wrote a book about his voyage to drum up support for the settlement. The settlement failed, and the fate of Levett's colonists is unknown. The explorer sailed from England to the Massachusetts Bay Colony to meet John Winthrop in 1630, but never returned to Maine. Fort Levett in the harbor is named for him.
10. Bangor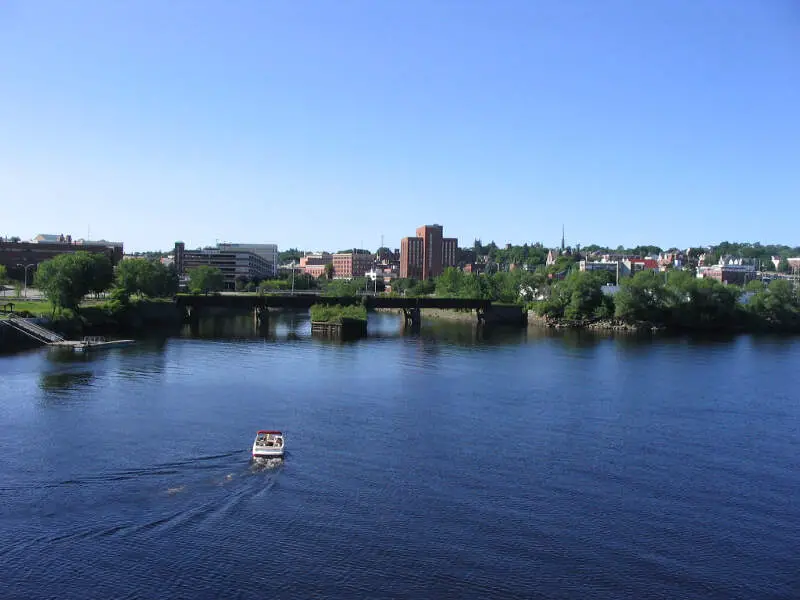 Source: Public domain
Population: 32,237
Founded: 1791
Age: 227
The Penobscot have inhabited the area around present-day Bangor for at least 11,000 years and still occupy tribal land on the nearby Penobscot Indian Island Reservation. They practiced some agriculture, but less than peoples in southern New England where the climate is milder, and subsisted on what they could hunt and gather. Contact with Europeans was not uncommon during the 1500s because the fur trade was lucrative and the Penobscot were willing to trade pelts for European goods. The site was visited by Portuguese explorer Estêvão Gomes in 1524 and by Samuel de Champlain in 1605. The Society of Jesus established a mission on Penobscot Bay in 1609, which was then part of the French colony of Acadia, and the valley remained contested between France and the Kingdom of Great Britain into the 1750s, making it one of the last regions to become part of New England.
Oh How Time Flies For The Oldest Towns And Cities In Maine
So there you have it, a look at some of the oldest places to live in Maine. If we missed your city's 'date of foundation', let us know in the comments. Or feel free to take a look at the table of the oldest places in Maine.
And now, let's raise our glasses, to the next 100 years of existence for these cities and towns in the Pine Tree State.
And for those wondering, here are the newest additions to Maine:
Brunswick (Founded in 1904)
Westbrook (Founded in 1904)
South Portland (Founded in 1904)
Detailed List Of The Oldest Cities In Maine
| City | Rank | Age |
| --- | --- | --- |
| Biddeford | 1 | 365 |
| Scarborough | 2 | 360 |
| Saco | 3 | 256 |
| Gorham | 4 | 254 |
| Topsham | 5 | 254 |
| Winslow | 6 | 247 |
| Belfast | 7 | 245 |
| Bath | 8 | 237 |
| Portland | 9 | 232 |
| Bangor | 10 | 227 |
| Lewiston | 11 | 223 |
| Augusta | 12 | 221 |
| Ellsworth | 13 | 218 |
| Waterville | 14 | 216 |
| Gardiner | 15 | 215 |
| Orono | 16 | 212 |
| Brewer | 17 | 206 |
| Kennebunk | 18 | 198 |
| Skowhegan | 19 | 195 |
| Old Town | 20 | 178 |
| Auburn | 21 | 176 |
| Rockland | 22 | 170 |
| Yarmouth | 23 | 169 |
| Caribou | 24 | 159 |
| Presque Isle | 25 | 159 |
| Old Orchard Beach | 26 | 135 |
| South Portland | 27 | 123 |
| Westbrook | 28 | 114 |
| Brunswick | 29 | 114 |