Swipe left for slideshow. Article continues below.
You might think your town is old, but it probably isn't the oldest in the country.
That is unless you live in St. Augustine, FL. Which looks pretty good for being 454 years old.
That's older than America for those playing at home.
So that got us thinking, what is the oldest city in Missouri? And how old is that when you put it into perspective of St. Augustine or American Independence in 1776?
Because even if your Missouri city or town is old, it isn't really all that old in the grand scheme of things. For example, the Pyramids in Egypt were built around 2600 BC, a cool 4100 years before St. Augustine.
And now that we have you thinking about how the time line of your existence is really kind of unimpressive on the timeline of history, let's drop right into the analysis.
These are the 10 oldest cities and towns in the Show Me State according to their 'date of foundation':
For being 189 years old, Liberty doesn't look a day over 40. And the newest city in Missouri? That would be Grandview — a brand spanking 6 years old.
Read on for a look at the oldest places in Missouri or feel free to check out the best places to live in Missouri or the safest.
How We Determined When A City Was Founded In Missouri… Or Is It Settled?
Surprisingly, there's not a definitive data set that contains the dates of incorporation or settlement for cities in America. Put differently, there's no official data set from the Census that contains when every place in America was founded.
So what did we do instead?
Use the internet's version of official government data — Wikipedia of course!
For the majority of cities in Missouri, Wikipedia offers data on some kind of 'date of foundation' in the infobox. Unfortunately, because it's Wikipedia and not a sprawling government bureaucracy, that can take the form of any of the following nomenclature (plus others):
Founded
Settled
Incorporated
Approved
Chartered
And then even more stuff — for example Atlanta has a 'Terminus' date, whatever that is.
If no 'date of foundation' was found in the infobox, we looked to the general text in the History section of the city for 'Founded in XXXX'.
All in all, we were able to collect data on 110 out of 140 in Missouri with over 5,000 people. That's good for a 78.6% completion rate.
We then ranked them from oldest to newest with Liberty turning out to be the matriarch of Missouri at the ripe old age of 189.
Here's a look at the top ten and a snippet of their history from Wikipedia.
1. Liberty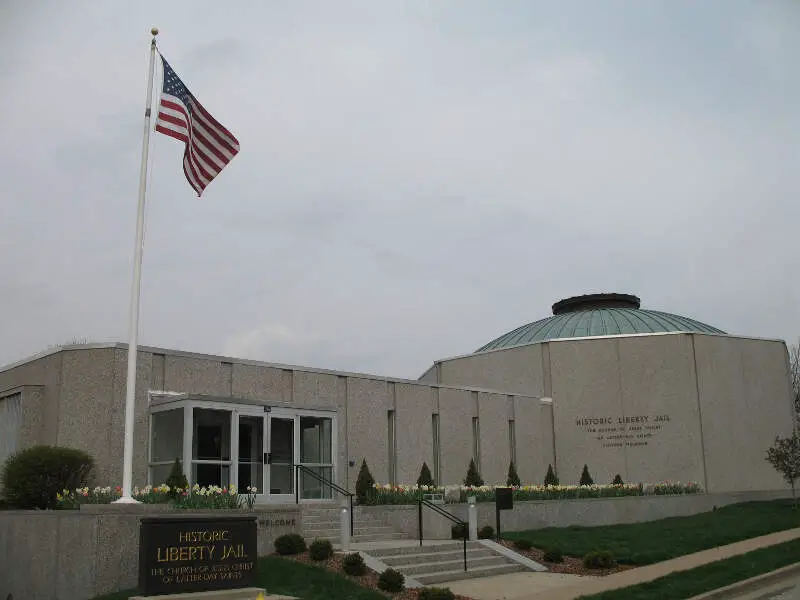 Population: 30,602
Founded: 1829
Age: 189
Liberty was settled in 1822, and shortly later became the county seat of Clay County. The city was named for the American concept of liberty.
2. Neosho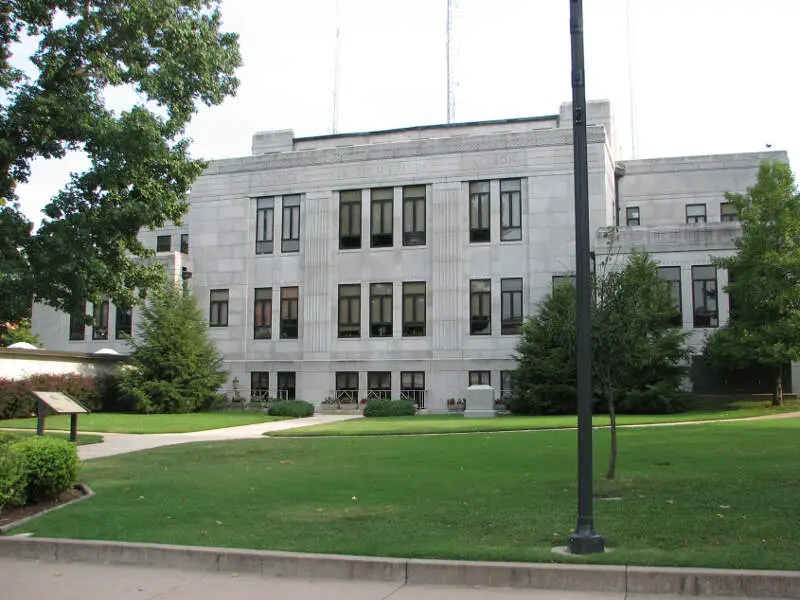 Source: Public domain
Population: 11,983
Founded: 1847
Age: 171
Starting in the late 1820s, settlers of English, Scottish, German, Welsh, and Scots-Irish ancestry began moving into the area. The first of these settlers was Lunsford Oliver, who arrived from Tennessee in 1829 and located near Shoal Creek, giving his name to Oliver's Prairie. His nearest neighbors were in Springfield, sixty miles to the east. In 1831 he was joined by Nathaniel Turner, John Smith, Joseph Ross, Campbell Pure, Blake Wilson, Levi Lee, Carmac Ratcliffe, and George McInturf. McInturf built a corn mill, the first mill of any kind in the region. Soon afterward came Mathew H. Ritchie, who founded the town of Newtonia near Oliver's Prairie, and John W. McCord, who settled near Walbridge Spring with Levie Lee and founded the town Neosho twelve miles (19 km) to the west. In these years the region was called 'Six Bulls', a colloquialization of 'six boils', referring to the large streams that flowed through the area – Shoal Creek, Center Creek, Indian Creek, Spring River and North Fork.
3. Kansas City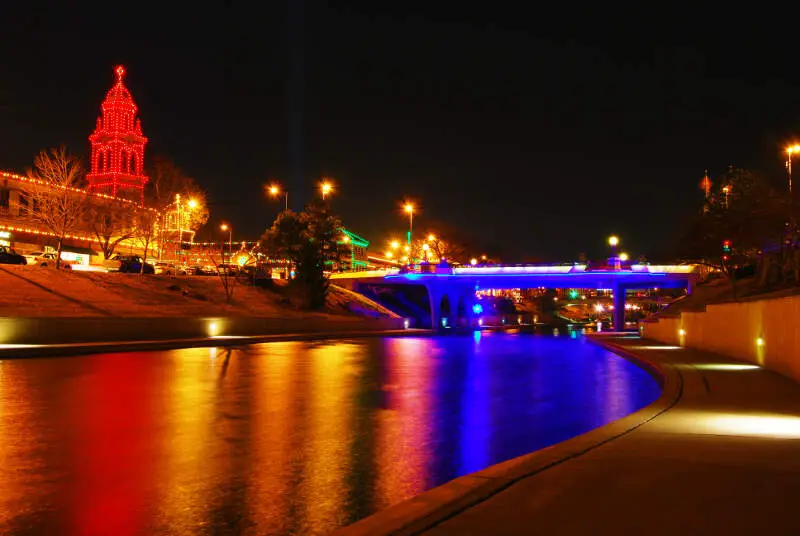 Population: 476,974
Founded: 1850
Age: 168
Kansas City, Missouri was officially incorporated as a town on June 1, 1850, and as a city on March 28, 1853. The territory straddling the border between Missouri and Kansas at the confluence of the Kansas and Missouri rivers was considered a good place to build settlements.
The Antioch Christian Church, Dr. James Compton House, and Woodneath are listed on the National Register of Historic Places.
4. Mexico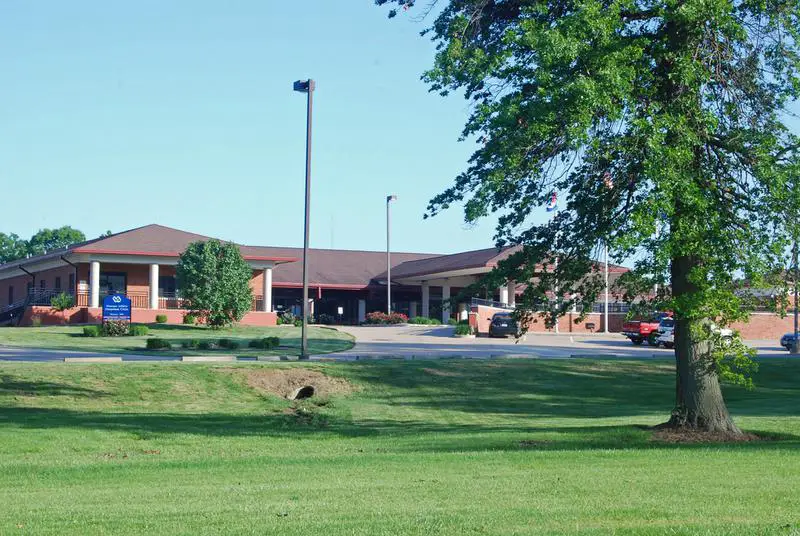 Population: 11,528
Founded: 1855
Age: 163
Mexico was laid out as 'New Mexico' in 1836 and was a major stop for settlers heading to the Republic of Texas (thus the name 'New Mexico'), and it became the county seat under its present name in 1837. The word 'New' was dropped out after the Mexican War that saw Texas become a part of the United States.
5. Fulton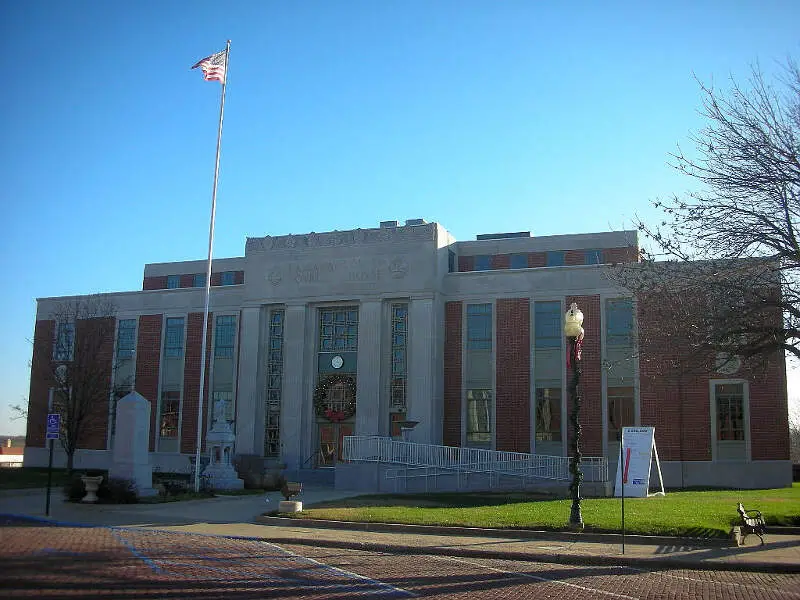 Population: 12,807
Founded: 1859
Age: 159
The first settlement in the county was 1808 at Cote Sans Dessein along the Missouri River. Early leaders considered the territory between Wainwright and Tebbetts for the first Missouri state capital. Callaway County was organized in 1830 and was named after Captain James Callaway, who was killed by Indians. Elizabeth became the first county seat. Many of the villages and towns in the county today represent places where railroad stations existed in early years.
6. Kirkwood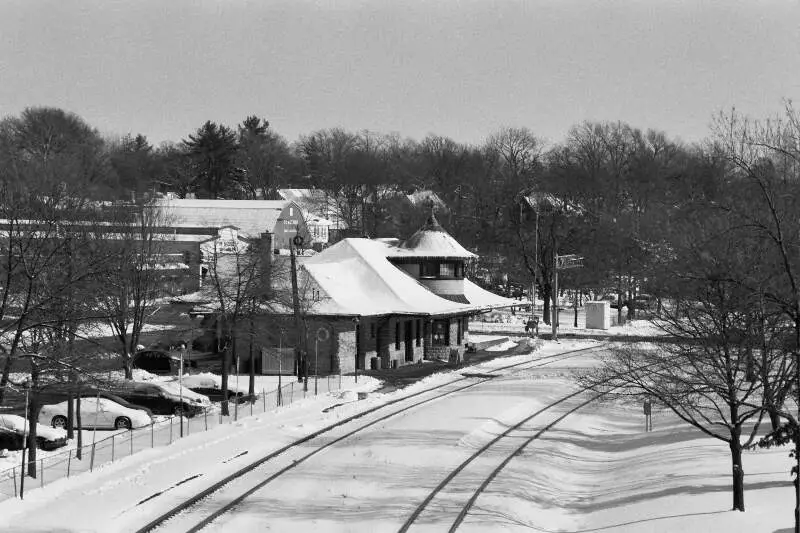 Population: 27,659
Founded: 1865
Age: 153
Plans for a new community close to St. Louis began following the St. Louis Fire (1849) and the 1849 cholera outbreak that killed a tenth of the residents of downtown St. Louis. Kirkwood was the first suburban municipality built outside of the St. Louis City boundaries.
7. Arnold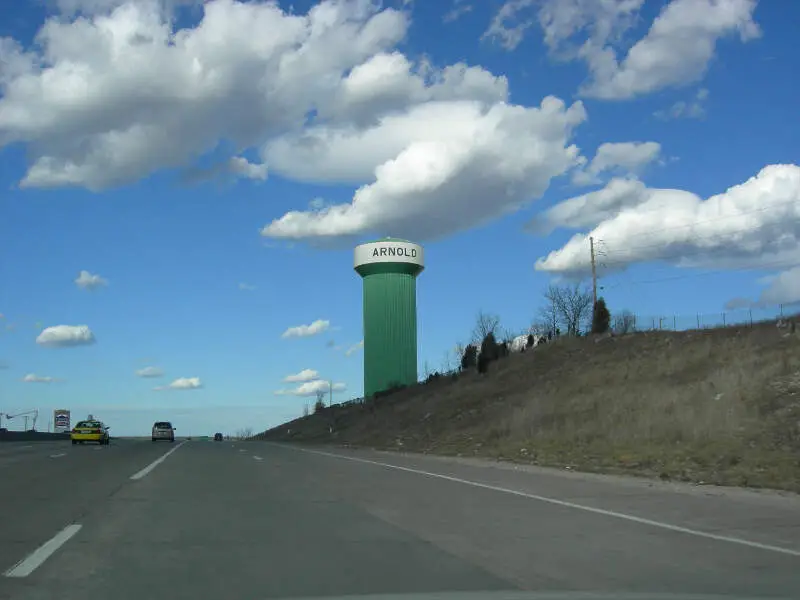 Source: Public domain
Population: 21,102
Founded: 1902
Age: 116
The first European settler in Arnold was Jean Baptiste Gamache, who operated a ferry boat across the Meramec River in exchange for 1050 arpents of land granted by the King of Spain. This ferry was on the King's Trace or El Camino Real, from St. Louis, Missouri, to Ste. Genevieve, Missouri.
8. Washington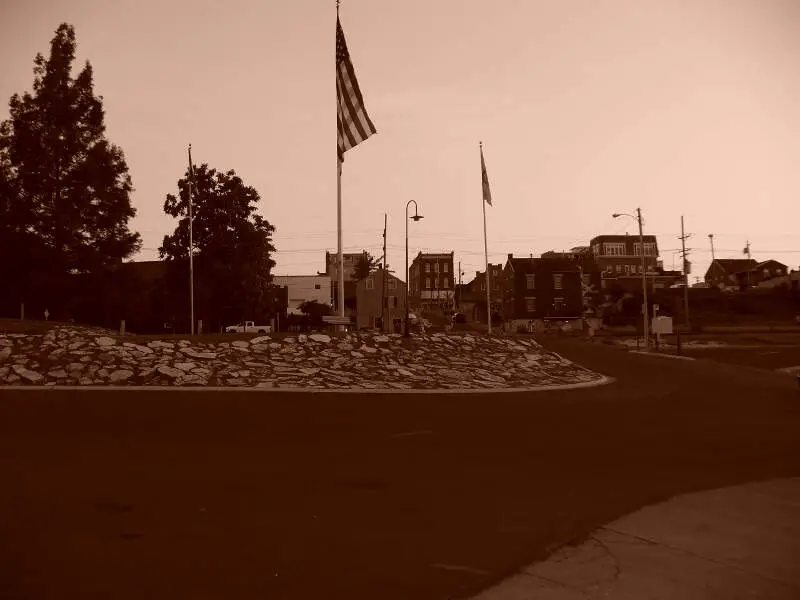 Source: Public domain
Population: 13,963
Founded: 1904
Age: 114
Named after George Washington after it came under American control, the town was first settled during the rule of the Spanish Empire. It was originally called St. John Meyer's Settlement and was the site of the Spanish log fort, San Juan del Misuri (1796–1803).
9. Jackson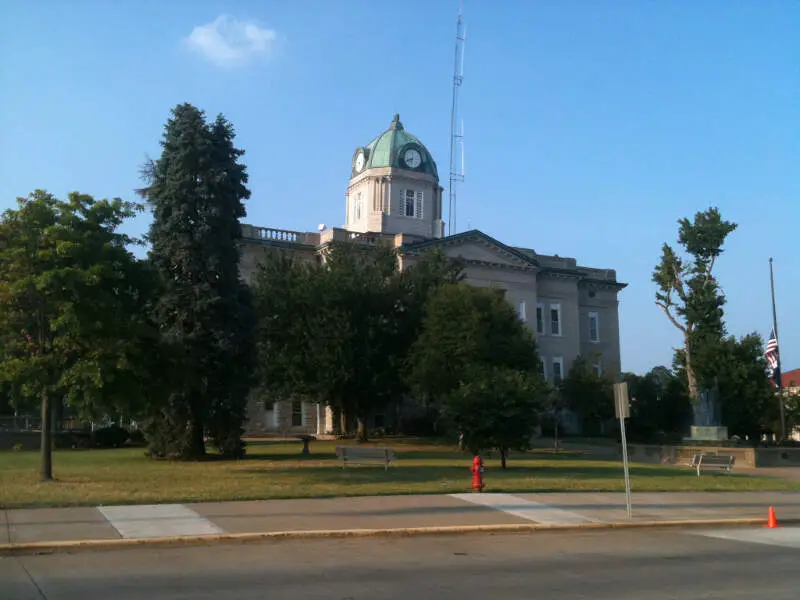 Source: Public domain
Population: 14,690
Founded: 1904
Age: 114
In 1813, Cape Girardeau County succeeded Cape Girardeau District, and the Court of Common Pleas and the Court of General Quarter-Sessions of the Peace in Cape Girardeau were superseded by the Court of Common Pleas, leading to a new seat of justice. The seat of the county and the courts were at first held on the plantation of Thomas Bull about one and one-half mile south of present-day Jackson. Land was then purchased along Hubble Creek for the county seat in 1814.
10. Overland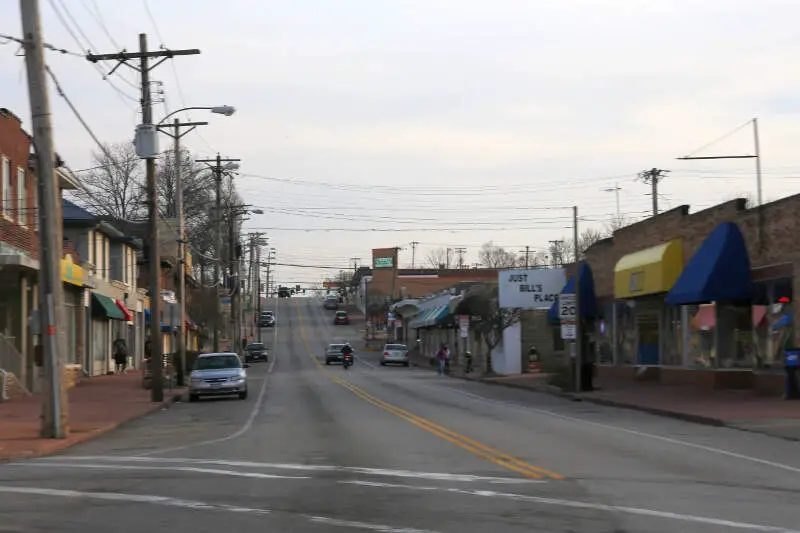 Population: 15,901
Founded: 1904
Age: 114
The area south of the King's Road to Saint Charles was first settled in the early 1820s, when travelers westward from St. Louis would stop overnight at what became known as 'The Overland Park'. Daniel Boone, noted frontiersman, constructed a single room cabin here, near the current location of Lake Sherwood and Wyland Elementary School. A historic marker on Wabaday Avenue shows the exact spot.
Oh How Time Flies For The Oldest Towns And Cities In Missouri
So there you have it, a look at some of the oldest places to live in Missouri. If we missed your city's 'date of foundation', let us know in the comments. Or feel free to take a look at the table of the oldest places in Missouri.
And now, let's raise our glasses, to the next 100 years of existence for these cities and towns in the Show Me State.
And for those wondering, here are the newest additions to Missouri:
Grandview (Founded in 2012)
O'Fallon (Founded in 2012)
Dardenne Prairie (Founded in 2012)
Detailed List Of The Oldest Cities In Missouri
| City | Rank | Age |
| --- | --- | --- |
| Liberty | 1 | 189 |
| Neosho | 2 | 171 |
| Kansas City | 3 | 168 |
| Mexico | 4 | 163 |
| Fulton | 5 | 159 |
| Kirkwood | 6 | 153 |
| Arnold | 7 | 116 |
| Washington | 8 | 114 |
| Jackson | 9 | 114 |
| Overland | 10 | 114 |
| Affton | 11 | 114 |
| Poplar Bluff | 12 | 114 |
| Farmington | 13 | 114 |
| Spanish Lake | 14 | 114 |
| Brentwood | 15 | 114 |
| Troy | 16 | 114 |
| Bonne Terre | 17 | 114 |
| Bridgeton | 18 | 114 |
| Smithville | 19 | 114 |
| Boonville | 20 | 114 |
| Union | 21 | 114 |
| Cape Girardeau | 22 | 114 |
| St. Louis | 23 | 114 |
| Florissant | 24 | 114 |
| Raytown | 25 | 114 |
| Bowling Green | 26 | 114 |
| Independence | 27 | 114 |
| Columbia | 28 | 114 |
| Jefferson City | 29 | 114 |
| Greenwood | 30 | 113 |
| Clinton | 31 | 113 |
| Berkeley | 32 | 113 |
| Macon | 33 | 113 |
| Ellisville | 34 | 113 |
| Shrewsbury | 35 | 113 |
| Monett | 36 | 113 |
| Harrisonville | 37 | 113 |
| Cameron | 38 | 113 |
| Eureka | 39 | 113 |
| Kennett | 40 | 113 |
| Waynesville | 41 | 113 |
| Bolivar | 42 | 113 |
| Kearney | 43 | 113 |
| Murphy | 44 | 113 |
| Weldon Spring | 45 | 113 |
| Barnhart | 46 | 113 |
| Pacific | 47 | 113 |
| De Soto | 48 | 113 |
| Sullivan | 49 | 113 |
| Valley Park | 50 | 113 |
| Parkville | 51 | 113 |
| Marshfield | 52 | 113 |
| Battlefield | 53 | 113 |
| Park Hills | 54 | 113 |
| Carl Junction | 55 | 113 |
| Warrenton | 56 | 113 |
| Richmond | 57 | 113 |
| Pleasant Hill | 58 | 113 |
| Perryville | 59 | 113 |
| Pevely | 60 | 113 |
| Nevada | 61 | 113 |
| Ladue | 62 | 113 |
| Glendale | 63 | 113 |
| Dexter | 64 | 113 |
| Savannah | 65 | 113 |
| Branson | 66 | 113 |
| Warrensburg | 67 | 113 |
| Raymore | 68 | 113 |
| Nixa | 69 | 113 |
| Ferguson | 70 | 113 |
| Sedalia | 71 | 113 |
| Webster Groves | 72 | 113 |
| Belton | 73 | 113 |
| Hazelwood | 74 | 113 |
| Gladstone | 75 | 113 |
| Wentzville | 76 | 113 |
| University City | 77 | 113 |
| Chesterfield | 78 | 113 |
| Joplin | 79 | 113 |
| Blue Springs | 80 | 113 |
| St. Peters | 81 | 113 |
| St. Joseph | 82 | 113 |
| Springfield | 83 | 113 |
| Webb City | 84 | 113 |
| Ozark | 85 | 113 |
| Rolla | 86 | 113 |
| Kirksville | 87 | 113 |
| Excelsior Springs | 88 | 113 |
| Festus | 89 | 113 |
| Maryville | 90 | 113 |
| West Plains | 91 | 113 |
| Odessa | 92 | 113 |
| St. Ann | 93 | 113 |
| Marshall | 94 | 113 |
| Hannibal | 95 | 113 |
| Moberly | 96 | 113 |
| Grain Valley | 97 | 113 |
| Carthage | 98 | 113 |
| Lebanon | 99 | 113 |
| Lake St. Louis | 100 | 113 |