Swipe left for slideshow. Article continues below.
You might think your town is old, but it probably isn't the oldest in the country.
That is unless you live in St. Augustine, FL. Which looks pretty good for being 454 years old.
That's older than America for those playing at home.
So that got us thinking, what is the oldest city in New Hampshire? And how old is that when you put it into perspective of St. Augustine or American Independence in 1776?
Because even if your New Hampshire city or town is old, it isn't really all that old in the grand scheme of things. For example, the Pyramids in Egypt were built around 2600 BC, a cool 4100 years before St. Augustine.
And now that we have you thinking about how the time line of your existence is really kind of unimpressive on the timeline of history, let's drop right into the analysis.
These are the 10 oldest cities and towns in the Granite State according to their 'date of foundation':
For being 380 years old, Exeter doesn't look a day over 40. And the newest city in New Hampshire? That would be Pinardville — a brand spanking 113 years old.
Read on for a look at the oldest places in New Hampshire or feel free to check out the best places to live in New Hampshire or the safest.
How We Determined When A City Was Founded In New Hampshire… Or Is It Settled?
Surprisingly, there's not a definitive data set that contains the dates of incorporation or settlement for cities in America. Put differently, there's no official data set from the Census that contains when every place in America was founded.
So what did we do instead?
Use the internet's version of official government data — Wikipedia of course!
For the majority of cities in New Hampshire, Wikipedia offers data on some kind of 'date of foundation' in the infobox. Unfortunately, because it's Wikipedia and not a sprawling government bureaucracy, that can take the form of any of the following nomenclature (plus others):
Founded
Settled
Incorporated
Approved
Chartered
And then even more stuff — for example Atlanta has a 'Terminus' date, whatever that is.
If no 'date of foundation' was found in the infobox, we looked to the general text in the History section of the city for 'Founded in XXXX'.
All in all, we were able to collect data on 22 out of 25 in New Hampshire with over 5,000 people. That's good for a 88.0% completion rate.
We then ranked them from oldest to newest with Exeter turning out to be the matriarch of New Hampshire at the ripe old age of 380.
Here's a look at the top ten and a snippet of their history from Wikipedia.
1. Exeter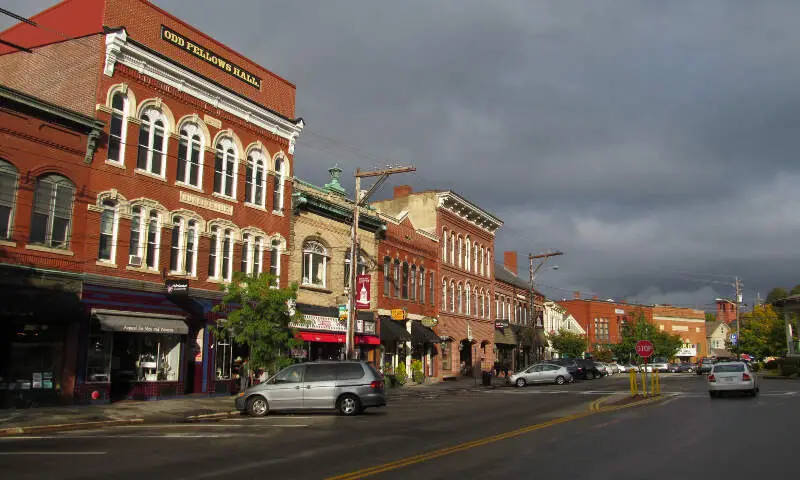 Population: 9,130
Founded: 1638
Age: 380
The area was once the domain of the Squamscott Native Americans, a sub-tribe of the Pennacook nation, which fished at the falls where the Exeter River becomes the tidal Squamscott, the site around which the future town of Exeter would grow. On April 3, 1638, the Reverend John Wheelwright and others purchased the land from Wehanownowit, the sagamore. Wheelwright had been exiled by the Massachusetts Bay Colony, a puritan theocracy, for sharing the dissident religious views of his sister-in-law, Anne Hutchinson. The minister took with him about 175 individuals to found the town he named after Exeter in Devon, England. Local government was linked with Massachusetts until New Hampshire became a separate colony in 1679, but counties weren't introduced until 1769.
2. Hampton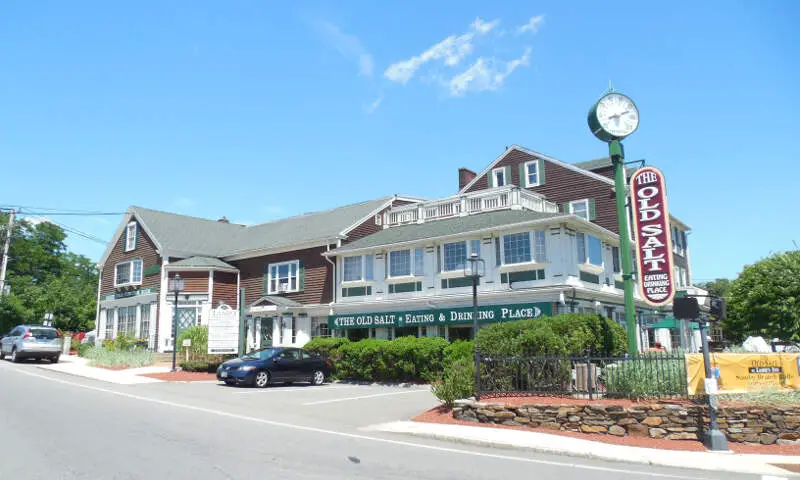 Population: 9,429
Founded: 1638
Age: 380
First called the 'Plantation of Winnacunnet', Hampton was one of four original New Hampshire townships chartered by the General Court of Massachusetts, which then held authority over the colony. Winnacunnet is an Algonquian Abenaki word meaning 'pleasant pines' and is the name of the town's high school, serving students from Hampton and the surrounding towns of Seabrook, North Hampton, and Hampton Falls.
3. Somersworth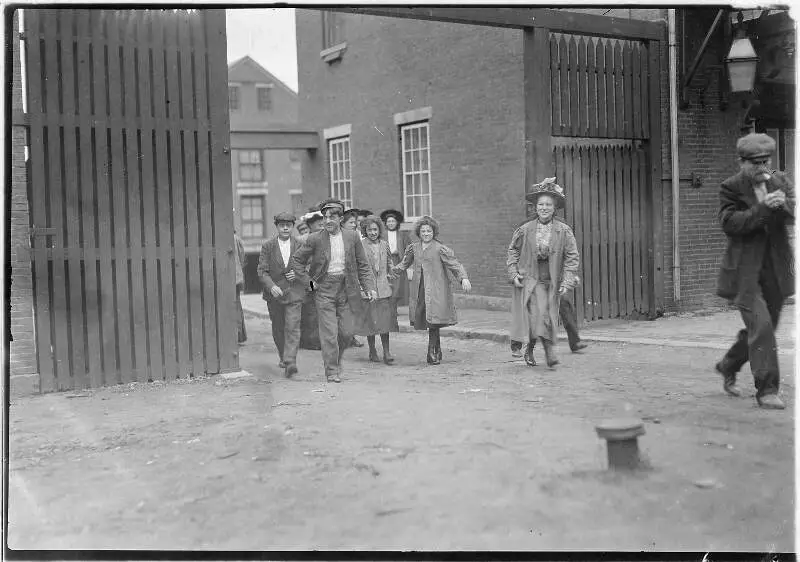 Source: Public domain
Population: 11,797
Founded: 1700
Age: 318
Somersworth, originally called 'Sligo' after Sligo in Ireland, was settled before 1700 as a part of Dover. It was organized in 1729 as the parish of 'Summersworth', meaning 'summer town', because during that season the ministers would preach here. It was set off and incorporated in 1754 by colonial governor Benning Wentworth, and until 1849 included Rollinsford. A clerical error at incorporation contracted the name to 'Somersworth'. It would be incorporated as a city in 1893, before which it was also known as 'Great Falls'.
4. Manchester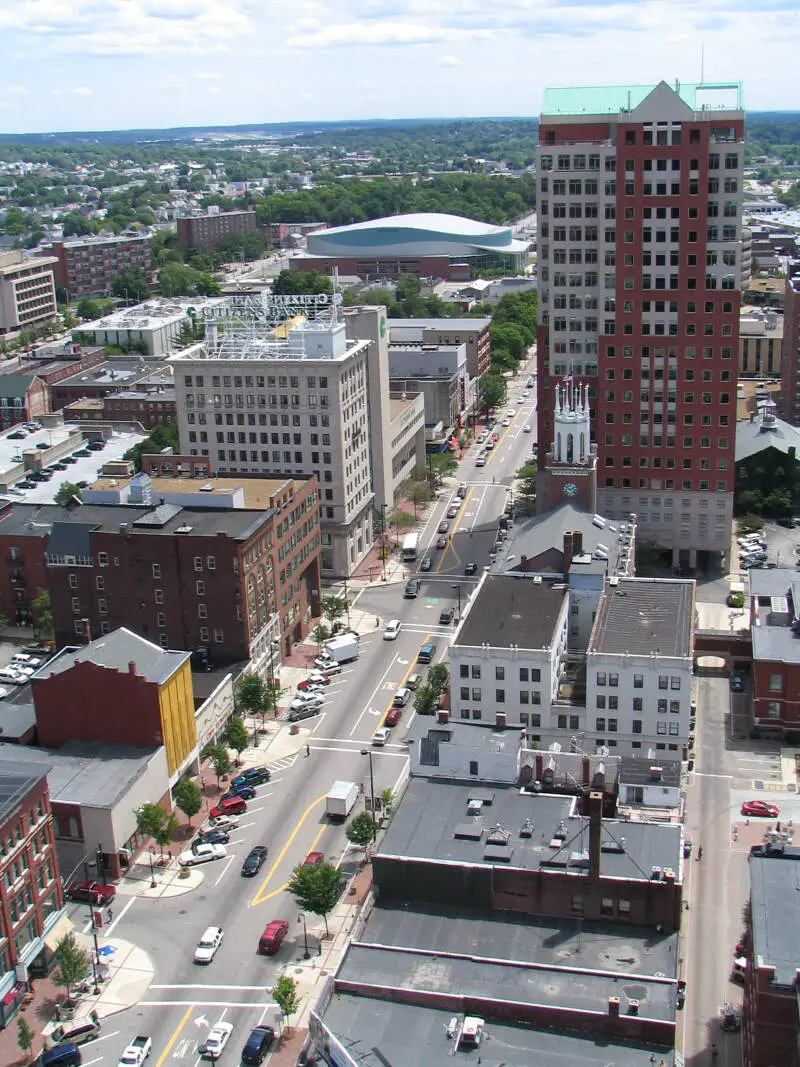 Source: Public domain
Population: 110,601
Founded: 1904
Age: 114
Pennacook Indians called it Namaoskeag, meaning 'good fishing place'—a reference to the Amoskeag Falls in the Merrimack River. In 1722, John Goffe III settled beside Cohas Brook, later building a dam and sawmill at what was dubbed Old Harry's Town. It was granted by Massachusetts in 1727 as Tyngstown to veterans of Queen Anne's War who served in 1703 under Captain William Tyng. But at New Hampshire's 1741 separation from Massachusetts, the grant was ruled invalid and substituted with Wilton, Maine, so Governor Benning Wentworth rechartered the town in 1751 as 'Derryfield'. The rechartered name lives on in Derryfield Park and Derryfield Country Club, both on the east side of contemporary Manchester, and in the Derryfield School.
In 1807, Samuel Blodget opened a canal and lock system to allow vessels passage around the falls. He envisioned here a great industrial center, 'the Manchester of America', like the Industrial Revolution's Manchester in England, the first industrialized city in the world. In 1809, Benjamin Prichard and others built a cotton spinning mill operated by water power on the western bank of the Merrimack. Following Blodgett's suggestion, Derryfield was renamed Manchester in 1810, the year the mill was incorporated as the Amoskeag Cotton & Woolen Manufacturing Company. It would be purchased in 1825 by entrepreneurs from Massachusetts, expanded to 3 mills in 1826, and then incorporated in 1831 as the Amoskeag Manufacturing Company.
5. Hudson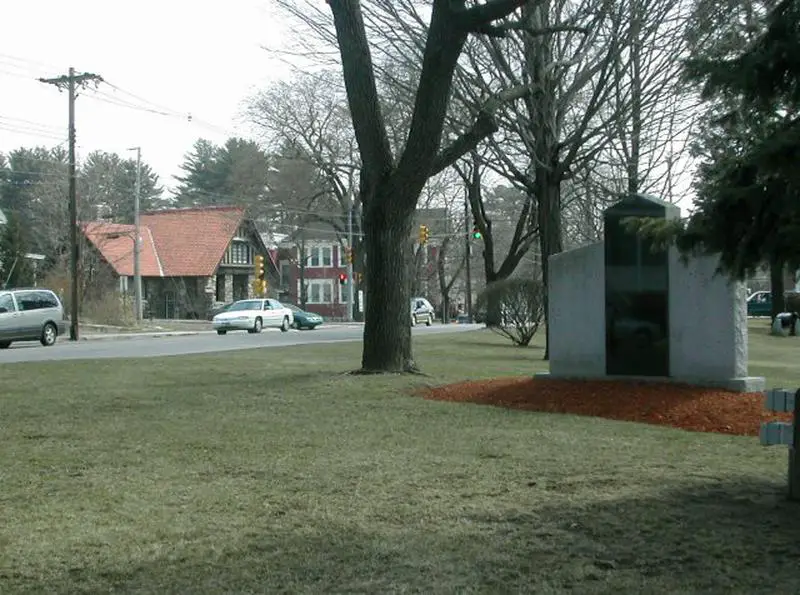 Population: 7,665
Founded: 1904
Age: 114
Hudson began as part of the Dunstable Land Grant that encompassed the current city of Nashua, New Hampshire, and the towns of Dunstable and Pepperell, Massachusetts, as well as parts of other nearby towns on both sides of the border. In 1732, all of Dunstable east of the Merrimack River became the town of Nottingham, Massachusetts. Nine years later, the northern boundary of Massachusetts was finally officially established, and the New Hampshire portion of Nottingham became Nottingham West, to avoid confusion with Nottingham, New Hampshire, to the northeast.
6. Franklin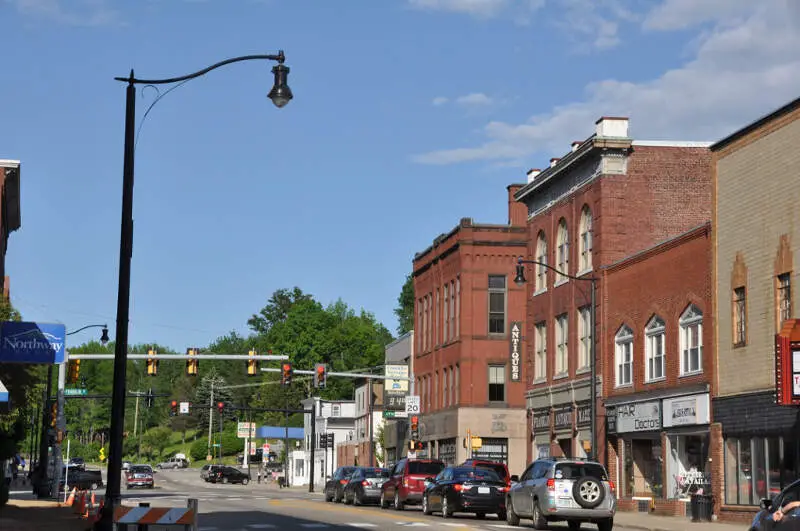 Population: 8,491
Founded: 1904
Age: 114
Situated at the confluence of the Pemigewasset and Winnipesaukee rivers that form the Merrimack River, the town was settled by Anglo-European colonists in 1764 and originally known as Pemigewasset Village. It was taken from portions of Salisbury, Andover, Sanbornton and Northfield. The name Franklin was adopted in 1820 in honor of statesman and founding father Benjamin Franklin. Water power from the falls helped it develop as a mill town. It would incorporate as a town in 1828, and then as a city in 1895.
7. Hanover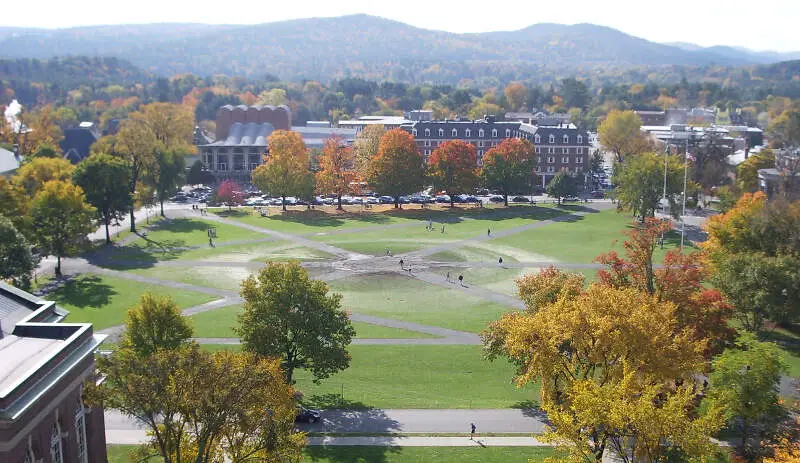 Source: Public domain
Population: 8,495
Founded: 1904
Age: 114
Hanover was chartered by Governor Benning Wentworth on July 4, 1761, and in 1765–1766 its first European inhabitants arrived, the majority from Connecticut. Although the surface is uneven, the town developed into an agricultural community. Dartmouth College was established in 1769 beside the Common at a village called 'the Plain'—an extensive and level tract of land a mile (1.6 kilometers) from the Connecticut River, and about 150 feet (46 m) above it.
8. Milford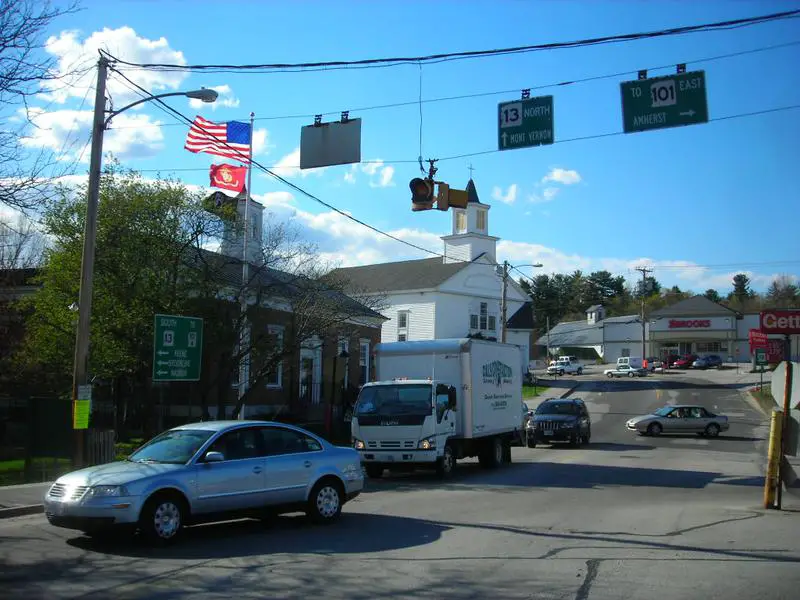 Population: 9,323
Founded: 1904
Age: 114
Milford separated from neighboring Amherst in 1794. Like most towns named Milford in the United States, its name comes from the fact that it grew around a mill built on a ford—in this case on the Souhegan River.
9. Durham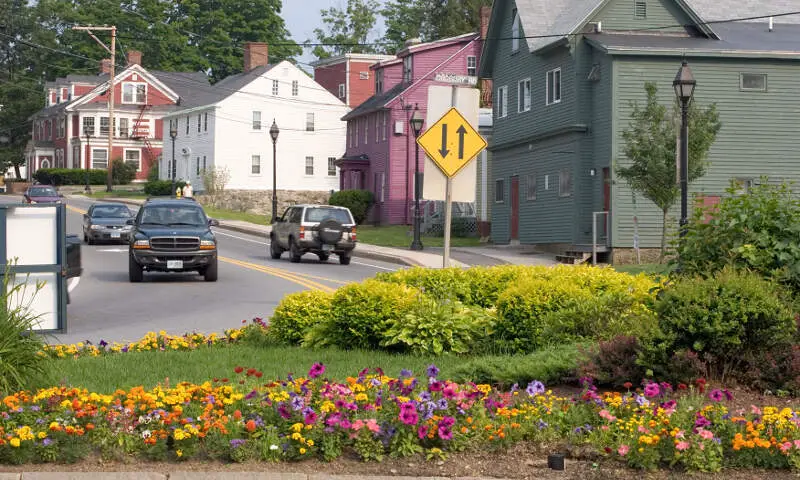 Population: 10,753
Founded: 1904
Age: 114
Situated beside Great Bay at the mouth of the Oyster River, Durham was originally called 'Oyster River Plantation'. It was settled in 1635 by pioneers who traveled up the Piscataqua River and across Little Bay to settle at the falls of the Oyster River.
10. Londonderry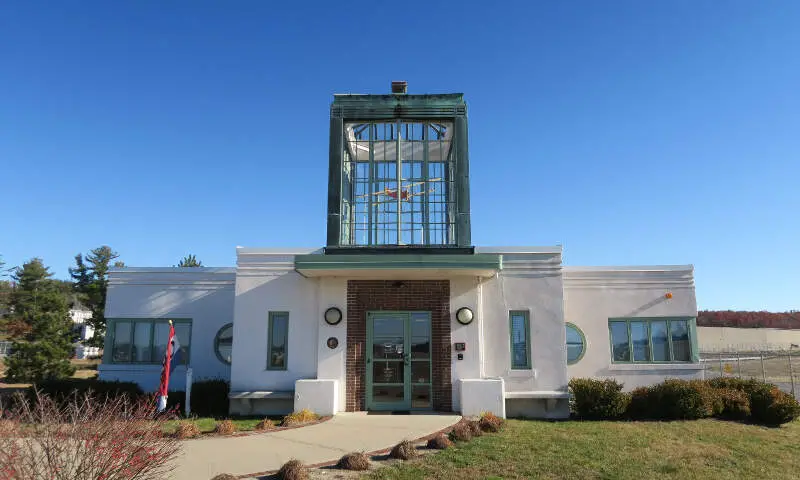 Population: 11,313
Founded: 1904
Age: 114
Londonderry lies in an area that was first known as 'Nutfield' because of the dense woods with nut trees. The town was settled in 1718 by Scots-Irish settlers, many of whom had left their homes in Londonderry in the Province of Ulster in the north of Ireland, and arrived in Boston in 1718 to start a new life without religious wars and persecution. In 1722, the town was chartered and given the name 'Londonderry'.
Oh How Time Flies For The Oldest Towns And Cities In New Hampshire
So there you have it, a look at some of the oldest places to live in New Hampshire. If we missed your city's 'date of foundation', let us know in the comments. Or feel free to take a look at the table of the oldest places in New Hampshire.
And now, let's raise our glasses, to the next 100 years of existence for these cities and towns in the Granite State.
And for those wondering, here are the newest additions to New Hampshire:
Pinardville (Founded in 1905)
Laconia (Founded in 1905)
Newmarket (Founded in 1905)
Detailed List Of The Oldest Cities In New Hampshire
| City | Rank | Age |
| --- | --- | --- |
| Exeter | 1 | 380 |
| Hampton | 2 | 380 |
| Somersworth | 3 | 318 |
| Manchester | 4 | 114 |
| Hudson | 5 | 114 |
| Franklin | 6 | 114 |
| Hanover | 7 | 114 |
| Milford | 8 | 114 |
| Durham | 9 | 114 |
| Londonderry | 10 | 114 |
| Claremont | 11 | 114 |
| Lebanon | 12 | 114 |
| Portsmouth | 13 | 114 |
| Derry | 14 | 114 |
| Keene | 15 | 114 |
| Rochester | 16 | 114 |
| Dover | 17 | 114 |
| Concord | 18 | 114 |
| Nashua | 19 | 114 |
| Newmarket | 20 | 114 |
| Laconia | 21 | 113 |
| Pinardville | 22 | 113 |