Swipe left for slideshow. Article continues below.
You might think your town is old, but it probably isn't the oldest in the country.
That is unless you live in St. Augustine, FL. Which looks pretty good for being 454 years old.
That's older than America for those playing at home.
So that got us thinking, what is the oldest city in New Jersey? And how old is that when you put it into perspective of St. Augustine or American Independence in 1776?
Because even if your New Jersey city or town is old, it isn't really all that old in the grand scheme of things. For example, the Pyramids in Egypt were built around 2600 BC, a cool 4100 years before St. Augustine.
And now that we have you thinking about how the time line of your existence is really kind of unimpressive on the timeline of history, let's drop right into the analysis.
These are the 10 oldest cities and towns in the Garden State according to their 'date of foundation':
For being 391 years old, Gloucester City doesn't look a day over 40. And the newest city in New Jersey? That would be Barrington — a brand spanking 1 years old.
Read on for a look at the oldest places in New Jersey or feel free to check out the best places to live in New Jersey or the safest.
How We Determined When A City Was Founded In New Jersey… Or Is It Settled?
Surprisingly, there's not a definitive data set that contains the dates of incorporation or settlement for cities in America. Put differently, there's no official data set from the Census that contains when every place in America was founded.
So what did we do instead?
Use the internet's version of official government data — Wikipedia of course!
For the majority of cities in New Jersey, Wikipedia offers data on some kind of 'date of foundation' in the infobox. Unfortunately, because it's Wikipedia and not a sprawling government bureaucracy, that can take the form of any of the following nomenclature (plus others):
Founded
Settled
Incorporated
Approved
Chartered
And then even more stuff — for example Atlanta has a 'Terminus' date, whatever that is.
If no 'date of foundation' was found in the infobox, we looked to the general text in the History section of the city for 'Founded in XXXX'.
All in all, we were able to collect data on 175 out of 250 in New Jersey with over 5,000 people. That's good for a 70.0% completion rate.
We then ranked them from oldest to newest with Gloucester City turning out to be the matriarch of New Jersey at the ripe old age of 391.
Here's a look at the top ten and a snippet of their history from Wikipedia.
1. Gloucester City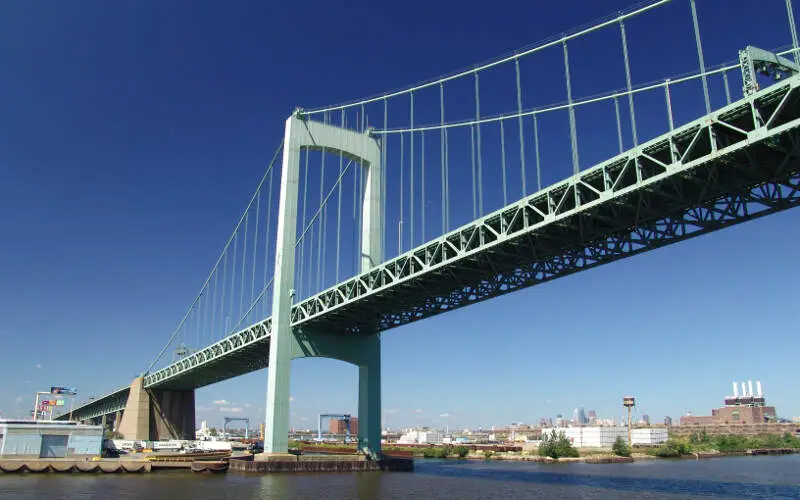 Population: 11,333
Founded: 1627
Age: 391
The name Fort Nassau was used by the Dutch in the 17th century for several fortifications, mostly trading stations, named for the House of Orange-Nassau. The one built in the 1620s at today's Gloucester City was for trade, mostly in beaver pelts, with the indigenous population of Susquehannock and Lenape. The region along the Delaware River and its bay was called the Zuyd Rivier and marked the southern flank of the province of New Netherland.
2. Hackensack
Population: 44,673
Founded: 1665
Age: 353
The first inhabitants of the area were the Lenni Lenape, an Algonquian people (later known as the Delaware Indians) who lived along the valley of what they called the Achinigeu-hach, or 'Ackingsah-sack', meaning stony ground (today the Hackensack River). A representation of Chief Oratam of the Achkinhenhcky appears on the Hackensack municipal seal. The most common explanation is that the city was named for the Native American tribe, though other sources attribute it to a Native American word variously translated as meaning 'hook mouth', 'stream that unites with another on low ground', 'on low ground' or 'land of the big snake', while another version described as 'more colorful than probable' attributes the name to an inn called the 'Hock and Sack'.
3. Woodbridge

Population: 18,836
Founded: 1669
Age: 349
The Township of Woodbridge is the oldest original township in New Jersey and was granted a royal charter on June 1, 1669, by King Charles II of England. It was reincorporated on October 31, 1693. Woodbridge Township was incorporated by the Township Act of 1798 of the New Jersey Legislature on February 21, 1798, as part of the initial group of 104 townships incorporated in the state under the Township Act. Portions of the township were taken to form Rahway (April 19, 1858), Raritan Township (March 17, 1870, now Edison Township) and Roosevelt (April 11, 1906, now Carteret). The township is named after Reverend John W. Woodbridge (1613–1696) of Newbury, Massachusetts, who settled in the future township in 1664.
4. Newark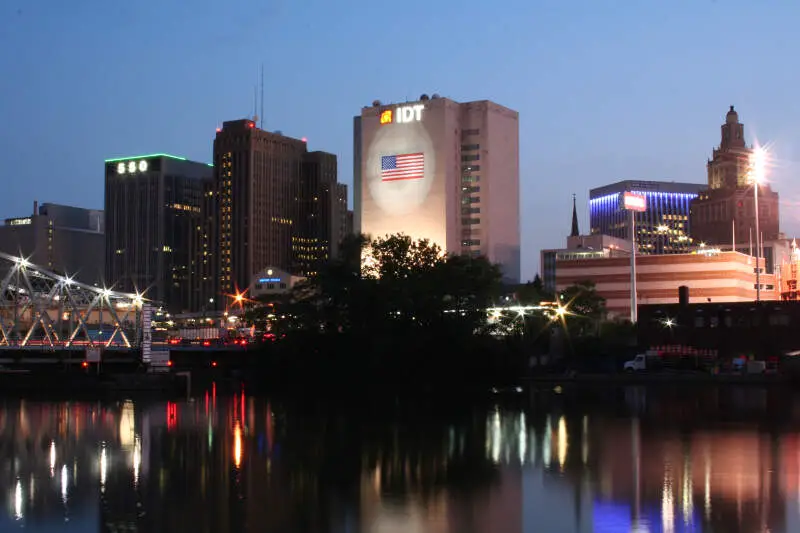 Population: 282,803
Founded: 1693
Age: 325
Newark was settled in 1666 by Connecticut Puritans led by Robert Treat from the New Haven Colony. It was conceived as a theocratic assembly of the faithful, though this did not last for long as new settlers came with different ideas. On October 31, 1693, it was organized as a New Jersey township based on the Newark Tract, which was first purchased on July 11, 1667. Newark was granted a Royal charter on April 27, 1713. It was incorporated on February 21, 1798 by the New Jersey Legislature's Township Act of 1798, as one of New Jersey's initial group of 104 townships. During its time as a township, portions were taken to form Springfield Township (April 14, 1794), Caldwell Township (February 16, 1798; now known as Fairfield Township), Orange Township (November 27, 1806), Bloomfield Township (March 23, 1812) and Clinton Township (April 14, 1834, remainder reabsorbed by Newark on March 5, 1902). Newark was reincorporated as a city on April 11, 1836, replacing Newark Township, based on the results of a referendum passed on March 18, 1836. The previously independent Vailsburg borough was annexed by Newark on January 1, 1905. In 1926, South Orange Township changed its name to Maplewood. As a result of this, a portion of Maplewood known as Ivy Hill was re-annexed to Newark's Vailsburg.
The name of the city is thought to derive from Newark-on-Trent, England, because of the influence of the original pastor, Abraham Pierson, who came from Yorkshire but may have ministered in Newark, Nottinghamshire. But Pierson is also supposed to have said that the community reflecting the new task at hand should be named 'New Ark' for 'New Ark of the Covenant and some of the colonists saw it as 'New-Work', the settlers' new work with God. Whatever the origins, the name was shortened to Newark, although references to the name 'New Ark' are found in preserved letters written by historical figures such as David Ogden in his claim for compensation, and James McHenry, as late as 1787.
5. Trenton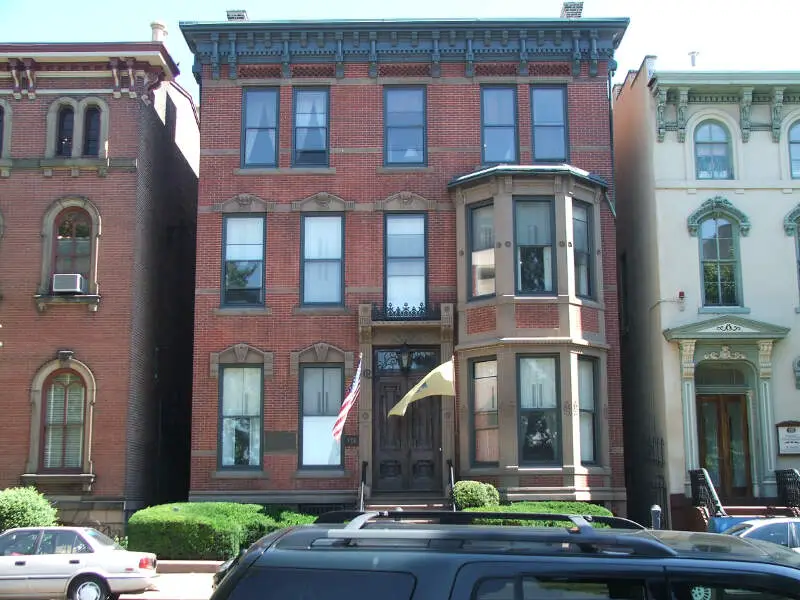 Source: Public domain
Population: 84,867
Founded: 1719
Age: 299
The first settlement which would become Trenton was established by Quakers in 1679, in the region then called the Falls of the Delaware, led by Mahlon Stacy from Handsworth, Sheffield, England. Quakers were being persecuted in England at this time and North America provided an opportunity to exercise their religious freedom.
By 1719, the town adopted the name 'Trent-towne', after William Trent, one of its leading landholders who purchased much of the surrounding land from Stacy's family. This name later was shortened to 'Trenton'.
6. Millville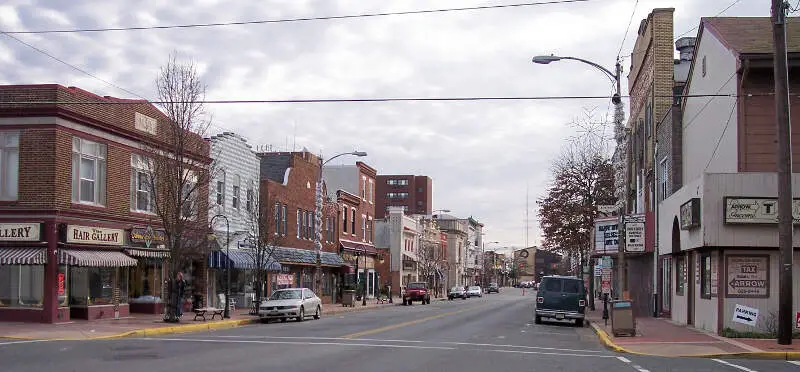 Population: 28,235
Founded: 1720
Age: 298
Known as 'Shingle Landing' in its earliest days, a sawmill was believed to have existed at Leaming's Mill at around 1720. The area also had a public road, a boat landing, and a bridge-like structure.
7. New Brunswick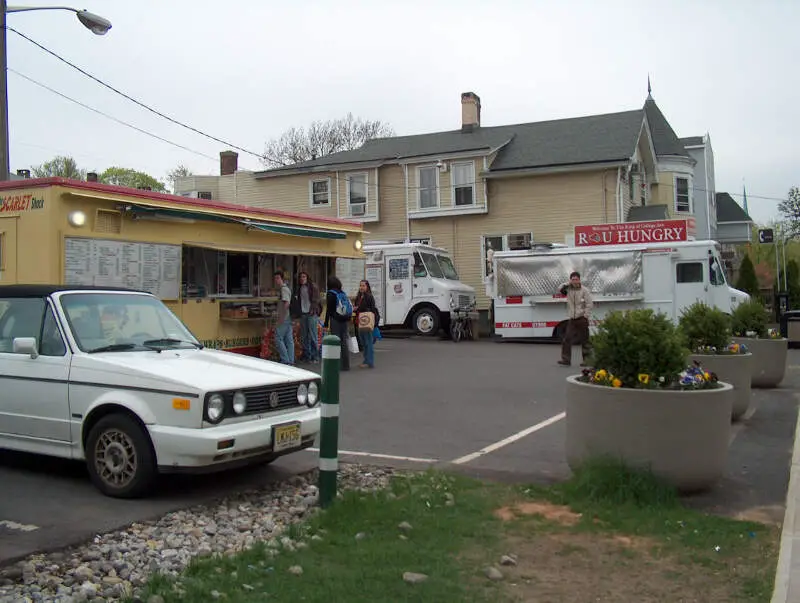 Population: 56,792
Founded: 1730
Age: 288
The area around present-day New Brunswick was first inhabited by the Lenape Native Americans. The first European settlement at the site of New Brunswick was made in 1681. The settlement here was called Prigmore's Swamp (1681–1697), then known as Inian's Ferry (1691–1714). In 1714, the settlement was given the name New Brunswick, after the city of Braunschweig (called Brunswick in the Low German language), in state of Lower Saxony, in Germany. Braunschweig was an influential and powerful city in the Hanseatic League, later in the Holy Roman Empire, and was an administrative seat for the Duchy (and later Principality) of Hanover. Shortly after the first settlement of New Brunswick in colonial New Jersey, George, Duke of Brunswick-Lüneburg, and Elector of Hanover, of the House of Hanover (also known as the House of Brunswick), became King George I of Great Britain (1660–1727). Alternatively, the city gets its name from King George II of Great Britain, the Duke of Brunswick-Lüneburg.
8. Williamstown

Population: 15,191
Founded: 1737
Age: 281
Before settlement in 1737, Williamstown was inhabited by the Lenni-Lenape tribe of Native Americans, from whom the town derived its original name, 'Squankum.' The name (Lenape for 'place where evil spirits dwell') was changed to Williamstown when the town's first post office was established, due to postal regulations that prohibited two towns from having the same name and there was an older Squankum located 60 miles northeast. It is generally thought that 'evil spirits' referred to the abundance of mosquitoes in the area, a by-product of the low-lying swamps that characterized the area during that time period. In the early eighteenth century, Richard Penn sold what eventually became Williamstown to his grandson, John Williams, who divided and resold the land in lots to settlers and for whom the town was eventually renamed. The town was officially incorporated as Monroe Township in March 1859, with Williamstown as meeting place to vote and have town discussions. A municipal court was established in the Township of Monroe, in accordance with the provisions of Chapter 264 of the Laws of 1948. The first school was built in 1750 and stood where the Washington Hotel now stands. The local schools operated on a pay-as-you-go basis until the 1850s and were predominantly church-run. The area built its first high school in 1958.
9. Burlington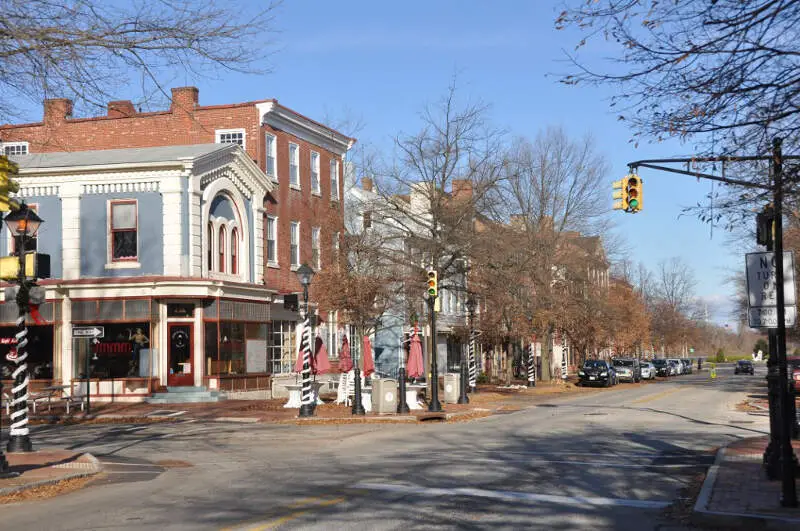 Population: 9,835
Founded: 1784
Age: 234
The council of West Jersey Proprietors purchased roughly 30 miles (48 km) of riverfront land in 1676 from the Lenape Native Americans. Burlington was founded on part of that land by English settlers (primarily Quakers) in 1677, and served as the capital of the province until 1702, when West Jersey and East Jersey were combined into a single Crown Colony.
10. Perth Amboy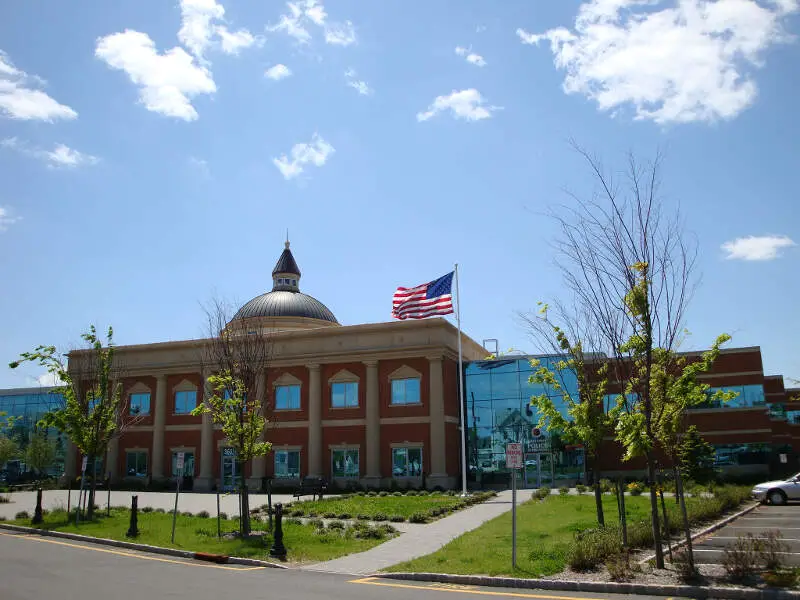 Population: 52,563
Founded: 1784
Age: 234
The Lenape Native Americans called the point on which the city is built 'Ompoge' meaning 'level ground'. When settled in 1684 the new city was dubbed New Perth in honor of James Drummond, Earl of Perth, one of the associates of a company of Scottish proprietaries. The Algonquian language name persisted, corrupted to Ambo, or Point Amboy, and eventually a combination of the native and colonial names emerged, also appearing in South Amboy.
Oh How Time Flies For The Oldest Towns And Cities In New Jersey
So there you have it, a look at some of the oldest places to live in New Jersey. If we missed your city's 'date of foundation', let us know in the comments. Or feel free to take a look at the table of the oldest places in New Jersey.
And now, let's raise our glasses, to the next 100 years of existence for these cities and towns in the Garden State.
And for those wondering, here are the newest additions to New Jersey:
Barrington (Founded in 2017)
Keansburg (Founded in 2017)
Clifton (Founded in 2017)
Detailed List Of The Oldest Cities In New Jersey
| City | Rank | Age |
| --- | --- | --- |
| Gloucester City | 1 | 391 |
| Hackensack | 2 | 353 |
| Woodbridge | 3 | 349 |
| Newark | 4 | 325 |
| Trenton | 5 | 299 |
| Millville | 6 | 298 |
| New Brunswick | 7 | 288 |
| Williamstown | 8 | 281 |
| Burlington | 9 | 234 |
| Perth Amboy | 10 | 234 |
| Paterson | 11 | 227 |
| Carneys Point | 12 | 220 |
| Toms River | 13 | 220 |
| South Amboy | 14 | 220 |
| Westfield | 15 | 220 |
| Pennsville | 16 | 220 |
| Camden | 17 | 190 |
| Jersey City | 18 | 180 |
| Harrison | 19 | 178 |
| Hoboken | 20 | 169 |
| Atlantic City | 21 | 164 |
| Woodbury | 22 | 164 |
| Elizabeth | 23 | 163 |
| Clayton | 24 | 160 |
| Rahway | 25 | 160 |
| Guttenberg | 26 | 159 |
| Bayonne | 27 | 157 |
| Phillipsburg | 28 | 157 |
| East Orange | 29 | 155 |
| Somerville | 30 | 155 |
| Newton | 31 | 154 |
| Bridgeton | 32 | 153 |
| Hammonton | 33 | 152 |
| Long Branch | 34 | 151 |
| Kearny | 35 | 151 |
| Raritan | 36 | 150 |
| Washington | 37 | 150 |
| Old Bridge | 38 | 149 |
| Summit | 39 | 149 |
| Plainfield | 40 | 149 |
| Dover | 41 | 149 |
| Red Bank | 42 | 148 |
| Absecon | 43 | 146 |
| Passaic | 44 | 145 |
| Asbury Park | 45 | 144 |
| Haddonfield | 46 | 143 |
| Sayreville | 47 | 142 |
| Glassboro | 48 | 140 |
| Rutherford | 49 | 137 |
| Ocean City | 50 | 134 |
| Belmar | 51 | 133 |
| North Plainfield | 52 | 133 |
| Margate City | 53 | 133 |
| Somers Point | 54 | 132 |
| Manasquan | 55 | 131 |
| Dunellen | 56 | 131 |
| Jamesburg | 57 | 131 |
| Collingswood | 58 | 130 |
| East Rutherford | 59 | 129 |
| Madison | 60 | 129 |
| Linwood | 61 | 129 |
| Pleasantville | 62 | 129 |
| Brigantine | 63 | 128 |
| Mount Arlington | 64 | 128 |
| Bound Brook | 65 | 127 |
| Ridgefield Park | 66 | 126 |
| Caldwell | 67 | 126 |
| Ridgefield | 68 | 126 |
| Lakewood | 69 | 126 |
| Bergenfield | 70 | 124 |
| Little Ferry | 71 | 124 |
| Ridgewood | 72 | 124 |
| Allendale | 73 | 124 |
| Park Ridge | 74 | 124 |
| Lodi | 75 | 124 |
| Leonia | 76 | 124 |
| Midland Park | 77 | 124 |
| Palmyra | 78 | 124 |
| Cresskill | 79 | 124 |
| Bogota | 80 | 124 |
| Upper Saddle River | 81 | 124 |
| Montvale | 82 | 124 |
| Oradell | 83 | 124 |
| Maywood | 84 | 124 |
| River Edge | 85 | 124 |
| Westwood | 86 | 124 |
| Wood-Ridge | 87 | 124 |
| Roselle | 88 | 124 |
| Woodcliff Lake | 89 | 124 |
| Old Tappan | 90 | 124 |
| Tenafly | 91 | 124 |
| Carlstadt | 92 | 124 |
| Wallington | 93 | 124 |
| Edgewater | 94 | 124 |
| Glen Rock | 95 | 124 |
| Hasbrouck Heights | 96 | 124 |
| Dumont | 97 | 124 |
| Rockaway | 98 | 124 |
| Wharton | 99 | 123 |
| Pompton Lakes | 100 | 123 |