Swipe left for slideshow. Article continues below.
You might think your town is old, but it probably isn't the oldest in the country.
That is unless you live in St. Augustine, FL. Which looks pretty good for being 454 years old.
That's older than America for those playing at home.
So that got us thinking, what is the oldest city in New York? And how old is that when you put it into perspective of St. Augustine or American Independence in 1776?
Because even if your New York city or town is old, it isn't really all that old in the grand scheme of things. For example, the Pyramids in Egypt were built around 2600 BC, a cool 4100 years before St. Augustine.
And now that we have you thinking about how the time line of your existence is really kind of unimpressive on the timeline of history, let's drop right into the analysis.
These are the 10 oldest cities and towns in the Empire State according to their 'date of foundation':
For being 372 years old, Yonkers doesn't look a day over 40. And the newest city in New York? That would be Mastic Beach — a brand spanking 8 years old.
Read on for a look at the oldest places in New York or feel free to check out the best places to live in New York or the safest.
How We Determined When A City Was Founded In New York… Or Is It Settled?
Surprisingly, there's not a definitive data set that contains the dates of incorporation or settlement for cities in America. Put differently, there's no official data set from the Census that contains when every place in America was founded.
So what did we do instead?
Use the internet's version of official government data — Wikipedia of course!
For the majority of cities in New York, Wikipedia offers data on some kind of 'date of foundation' in the infobox. Unfortunately, because it's Wikipedia and not a sprawling government bureaucracy, that can take the form of any of the following nomenclature (plus others):
Founded
Settled
Incorporated
Approved
Chartered
And then even more stuff — for example Atlanta has a 'Terminus' date, whatever that is.
If no 'date of foundation' was found in the infobox, we looked to the general text in the History section of the city for 'Founded in XXXX'.
All in all, we were able to collect data on 214 out of 345 in New York with over 5,000 people. That's good for a 62.0% completion rate.
We then ranked them from oldest to newest with Yonkers turning out to be the matriarch of New York at the ripe old age of 372.
Here's a look at the top ten and a snippet of their history from Wikipedia.
1. Yonkers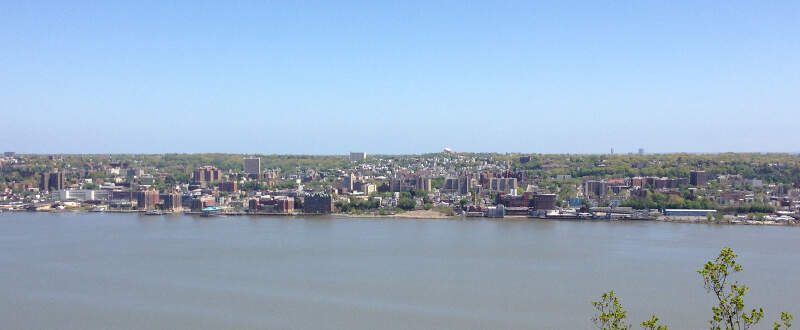 Population: 200,999
Founded: 1646
Age: 372
The land on which the city is built was once part of a 24,000-acre (97-square-kilometer) land grant called Colen Donck that ran from the current Manhattan-Bronx border at Marble Hill northwards for 12 miles (19 km), and from the Hudson River eastwards to the Bronx River. This grant was purchased in July 1645 by Adriaen van der Donck, the first lawyer in North America. Van der Donck was known locally as the Jonkheer or Jonker (etymologically, 'young gentleman,' derivation of old Dutch jong (young) and heer ('lord'); in effect, 'Esquire'), a word from which the name 'Yonkers' is directly derived. Van der Donck built a saw mill near where the Nepperhan Creek met the Hudson; the Nepperhan is now also known as the Saw Mill River. Van der Donck was killed in the Peach War. His wife, Mary Doughty, was taken captive and ransomed later.
Near the site of van der Donck's mill is Philipse Manor Hall, a Colonial-era manor house which today serves as a museum and archive, offering many glimpses into life before the American Revolution. The original structure (later enlarged) was built around 1682 by Frederick Philipse and his wife Margaret Hardenbroeck. Frederick was a wealthy Dutchman who by the time of his death had amassed an enormous estate, which encompassed the entire modern City of Yonkers, as well as several other Hudson River towns. Philipse's great-grandson, Frederick Philipse III, was a prominent Loyalist during the American Revolution, who, because of his political leanings, was forced to flee to England. All the lands that belonged to the Philipse family were confiscated and sold.
2. Scarsdale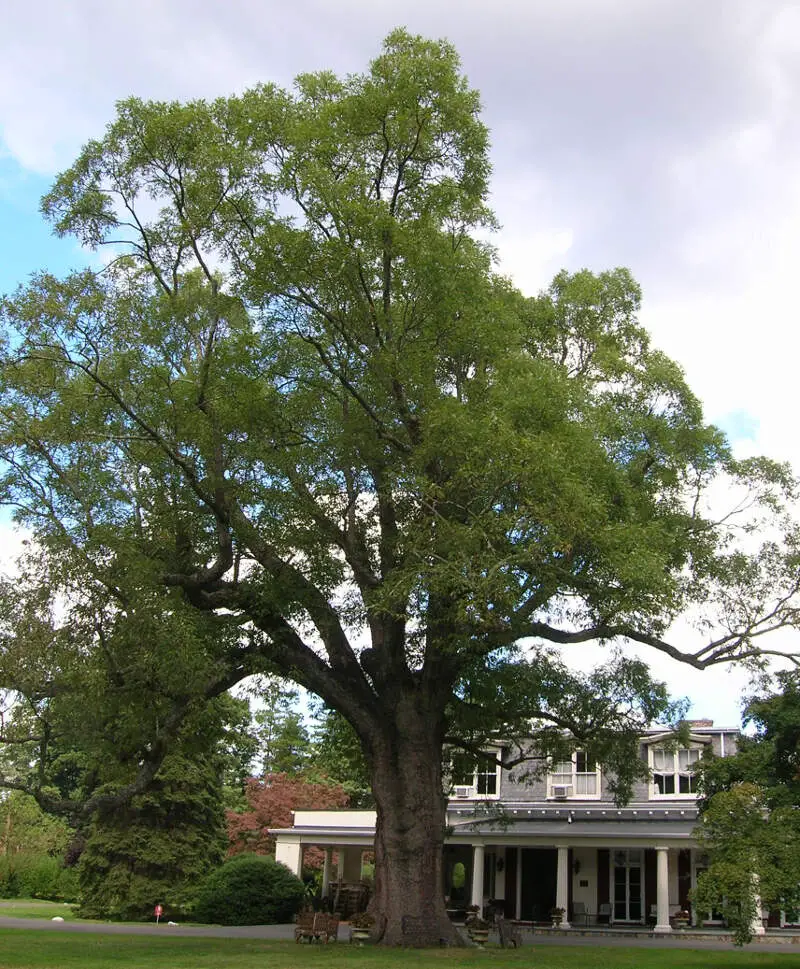 Population: 17,856
Founded: 1701
Age: 317
Caleb Heathcote purchased the land that would become Scarsdale at the end of the 17th century and, on March 21, 1701, had it elevated to a royal manor. He named the lands after his ancestral home in Derbyshire, England. The first local census of 1712 counted twelve inhabitants, including seven African slaves. When Caleb died in 1721, his daughters inherited the property. The estate was broken up in 1774, and the town was officially founded on March 7, 1788.
3. Saratoga Springs
Population: 27,682
Founded: 1776
Age: 242
The picturesque area was occupied by the Algonquian-speaking Mahican Indians before they were pushed out by European settlement, both Dutch and British colonists. They eventually moved east and became allied with other remnant peoples and became known as the Stockbridge Indians, as they settled near Stockbridge, Massachusetts.
4. Utica

Population: 61,114
Founded: 1798
Age: 220
Utica was established on the site of Old Fort Schuyler, built by English colonists for defense in 1758 during the French and Indian War, the North American front of the Seven Years' War against France. Prior to construction of the fort, the Mohawk, Onondaga and Oneida tribes had occupied this area south of the Great Lakes region as early as 4000 BC. The Mohawk were the largest and most powerful tribe in the eastern part of the Mohawk Valley. Colonists had a longstanding fur trade with them, in exchange for firearms and rum. The tribe's dominating presence in the region prevented the Province of New York from expanding past the middle of the Mohawk Valley until after the American Revolutionary War, when the Iroquois were forced to cede their lands as allies of the defeated British.
5. Floral Park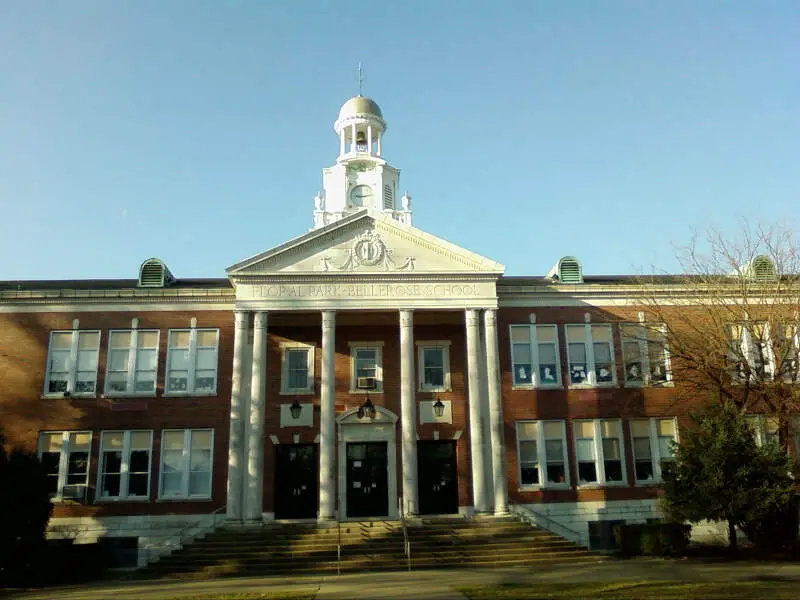 Population: 16,269
Founded: 1800
Age: 218
The area that is now Floral Park once marked the western edge of the great Hempstead Plains, and by some reports was initially known as Plainfield. Farms and tiny villages dominated the area through the 1870s when the development of the Long Island Rail Road Hempstead Branch and Jericho Turnpike cut through the area. Hinsdale had more than two dozen flower farms after the Civil War. The present-day village of Floral Park was once called East Hinsdale.
6. New Hyde Park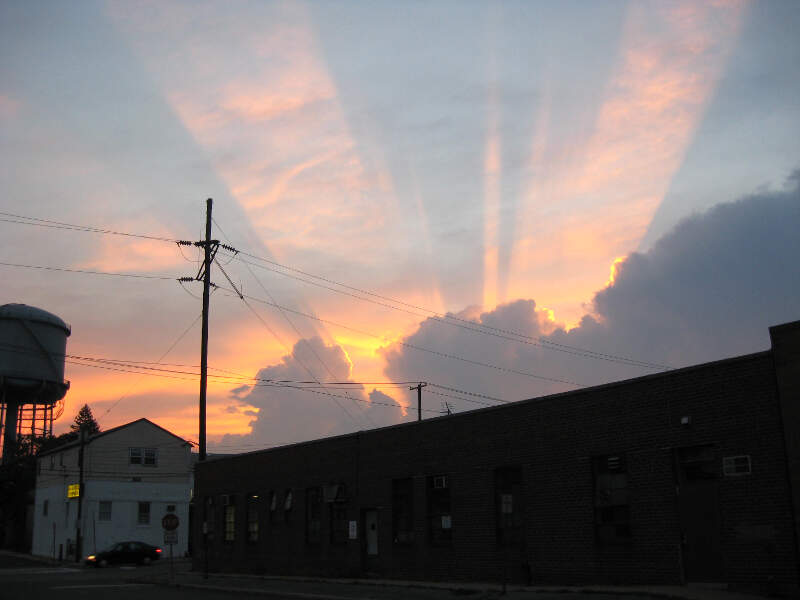 Source: Public domain
Population: 9,906
Founded: 1800
Age: 218
Thomas Dongan, the fourth royal governor of New York, was granted an 800-acre parcel of land in 1683 that included New Hyde Park. It was known as 'Dongan's Farm.' Dongan built a mansion on what is now Lakeville Road. In 1691 Dongan fled to New England and then Ireland, as King James II and his Catholic forces failed to regain power in England and Ireland.
7. Johnstown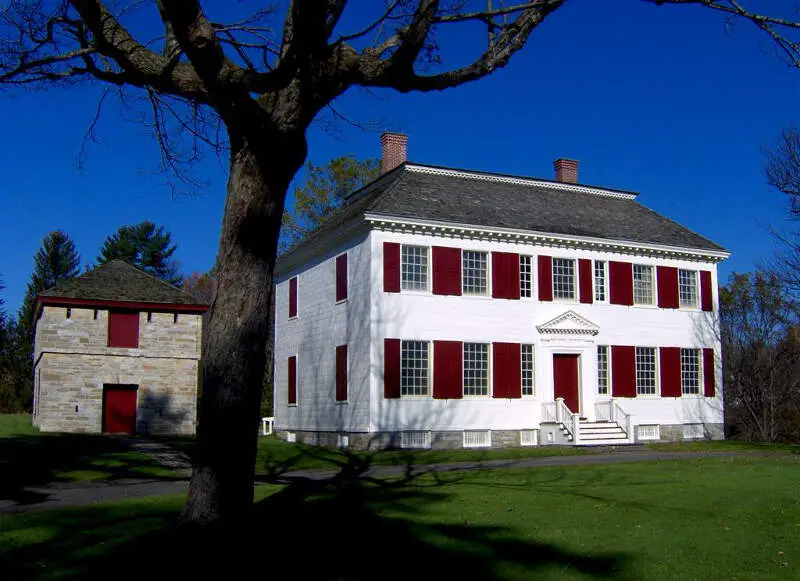 Population: 8,358
Founded: 1803
Age: 215
Johnstown, originally 'John's Town', was founded in 1762 by Sir William Johnson, a Baronet who named it after his son John Johnson. William Johnson came to the British colony of New York from Ireland in 1732. He was a trader who learned American Indian languages and culture, forming close relationships with many Native American leaders. He was appointed as the Superintendent of Indian Affairs, as well as a major general in the British forces during the French and Indian War (Seven Years' War). His alliances with the Iroquois were significant to the war.
8. Hudson Falls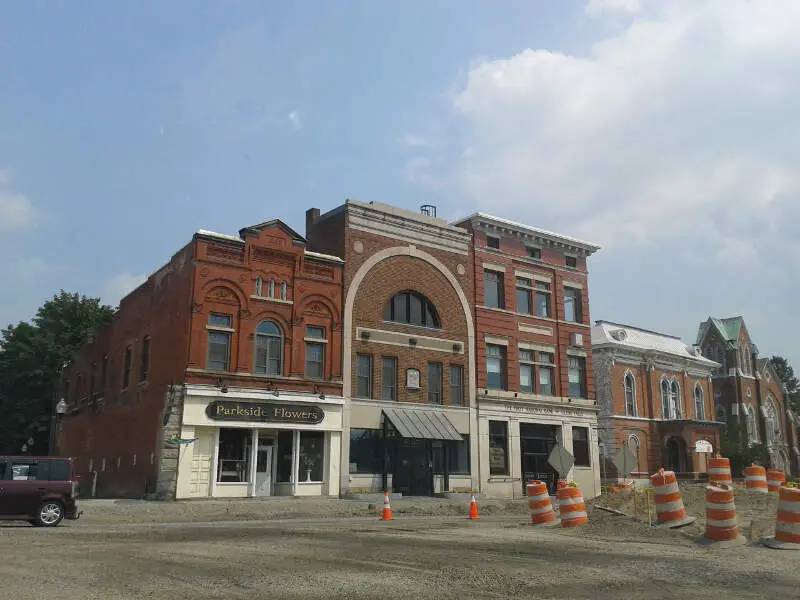 Population: 7,174
Founded: 1810
Age: 208
In 1764, Albert Baker built Kingsbury's first sawmill near what is known today as Baker's Falls. As early as 1792, the area of Kingsbury near Baker's Falls was referred to as Sandy Hill. In 1810, the hamlet incorporated as a village, keeping the name Sandy Hill. Its boundaries expanded to their current limits in the 1840s. In 1910, the village's name was changed to Hudson Falls.
9. Auburn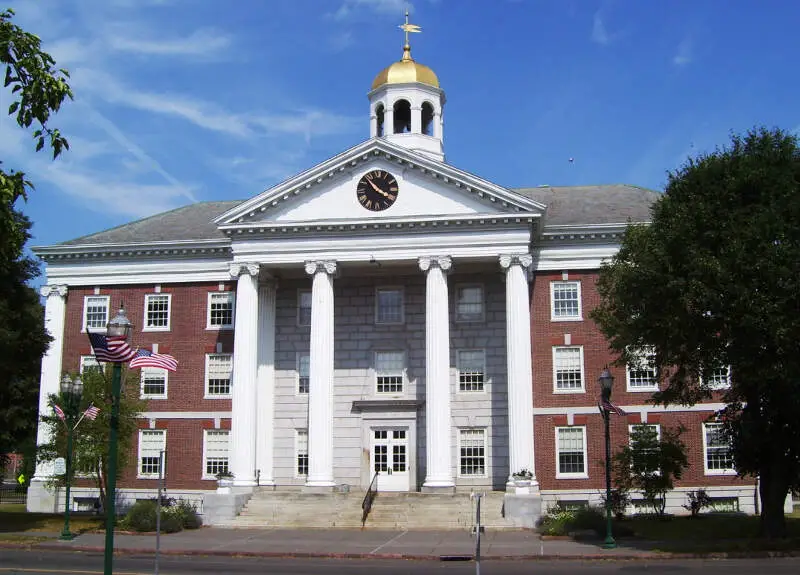 Population: 26,962
Founded: 1815
Age: 203
The region around Auburn had been Haudenosaunee territory for centuries before European contact and historical records.
10. Plattsburgh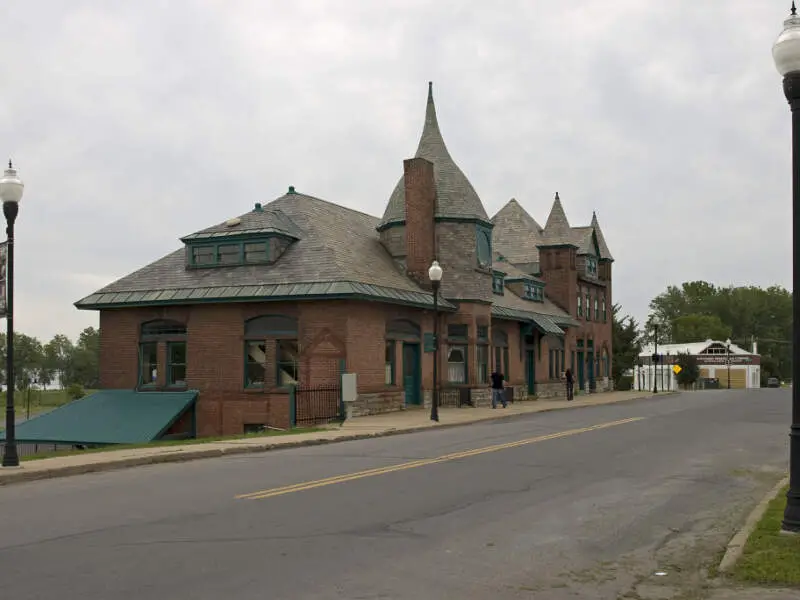 Population: 19,734
Founded: 1815
Age: 203
Beginning with Samuel de Champlain's expedition into the Lake Champlain valley in 1609, the Plattsburgh region began to come under the French influence and later passed under English and finally American control. The early French contact and its closeness to Quebec made this an historically French area. Located in the extended fur trade network in the Montreal hinterland, the Plattsburgh area was the realm of the coureur des bois, who served the larger trading hub in Montreal.
Oh How Time Flies For The Oldest Towns And Cities In New York
So there you have it, a look at some of the oldest places to live in New York. If we missed your city's 'date of foundation', let us know in the comments. Or feel free to take a look at the table of the oldest places in New York.
And now, let's raise our glasses, to the next 100 years of existence for these cities and towns in the Empire State.
And for those wondering, here are the newest additions to New York:
Mastic Beach (Founded in 2010)
Spring Valley (Founded in 2010)
Westmere (Founded in 2010)
Detailed List Of The Oldest Cities In New York
| City | Rank | Age |
| --- | --- | --- |
| Yonkers | 1 | 372 |
| Scarsdale | 2 | 317 |
| Saratoga Springs | 3 | 242 |
| Utica | 4 | 220 |
| Floral Park | 5 | 218 |
| New Hyde Park | 6 | 218 |
| Johnstown | 7 | 215 |
| Hudson Falls | 8 | 208 |
| Auburn | 9 | 203 |
| Plattsburgh | 10 | 203 |
| Peekskill | 11 | 202 |
| Rochester | 12 | 201 |
| Syracuse | 13 | 193 |
| Waterloo | 14 | 189 |
| Seneca Falls | 15 | 189 |
| Binghamton | 16 | 184 |
| Glens Falls | 17 | 179 |
| Newark | 18 | 165 |
| Stony Point | 19 | 153 |
| Nyack | 20 | 135 |
| Briarcliff Manor | 21 | 128 |
| Pleasantville | 22 | 121 |
| Ogdensburg | 23 | 116 |
| Canandaigua | 24 | 114 |
| Middle Island | 25 | 114 |
| Sleepy Hollow | 26 | 114 |
| Albertson | 27 | 114 |
| Potsdam | 28 | 114 |
| Fredonia | 29 | 114 |
| Hamburg | 30 | 114 |
| Williamsville | 31 | 114 |
| Amityville | 32 | 114 |
| Rensselaer | 33 | 114 |
| Inwood | 34 | 114 |
| Suffern | 35 | 114 |
| Blauvelt | 36 | 114 |
| Corning | 37 | 114 |
| Gates | 38 | 114 |
| Massena | 39 | 114 |
| Mount Kisco | 40 | 114 |
| Ballston Spa | 41 | 114 |
| Babylon | 42 | 114 |
| Dunkirk | 43 | 114 |
| Mount Sinai | 44 | 114 |
| Hampton Bays | 45 | 114 |
| Ridge | 46 | 114 |
| Stony Brook | 47 | 114 |
| Jericho | 48 | 114 |
| Olean | 49 | 114 |
| Setauket-East Setauket | 50 | 114 |
| Airmont | 51 | 114 |
| New Windsor | 52 | 114 |
| Goshen | 53 | 114 |
| Malone | 54 | 114 |
| Washingtonville | 55 | 114 |
| Medina | 56 | 114 |
| Larchmont | 57 | 114 |
| East Aurora | 58 | 114 |
| Oyster Bay | 59 | 114 |
| Yaphank | 60 | 114 |
| Bath | 61 | 114 |
| Solvay | 62 | 114 |
| Monticello | 63 | 114 |
| Horseheads | 64 | 114 |
| Orange Lake | 65 | 114 |
| Canton | 66 | 114 |
| Walden | 67 | 114 |
| Warwick | 68 | 114 |
| Port Jervis | 69 | 114 |
| Southport | 70 | 114 |
| Pelham | 71 | 114 |
| New Paltz | 72 | 114 |
| Saranac Lake | 73 | 114 |
| Big Flats | 74 | 114 |
| Herkimer | 75 | 114 |
| Northport | 76 | 114 |
| Beacon | 77 | 114 |
| Oakdale | 78 | 114 |
| Scotia | 79 | 114 |
| Old Bethpage | 80 | 114 |
| Ilion | 81 | 114 |
| Manhasset | 82 | 114 |
| Port Jefferson Station | 83 | 114 |
| Hornell | 84 | 114 |
| Norwich | 85 | 114 |
| New York | 86 | 114 |
| Haverstraw | 87 | 114 |
| Plainview | 88 | 114 |
| Troy | 89 | 114 |
| Wantagh | 90 | 114 |
| Valley Stream | 91 | 114 |
| Mamaroneck | 92 | 114 |
| East Northport | 93 | 114 |
| North Bellmore | 94 | 114 |
| East Meadow | 95 | 114 |
| Elmont | 96 | 114 |
| Eastchester | 97 | 114 |
| New City | 98 | 114 |
| Selden | 99 | 114 |
| Hauppauge | 100 | 114 |