Swipe left for slideshow. Article continues below.
You might think your town is old, but it probably isn't the oldest in the country.
That is unless you live in St. Augustine, FL. Which looks pretty good for being 454 years old.
That's older than America for those playing at home.
So that got us thinking, what is the oldest city in Rhode Island? And how old is that when you put it into perspective of St. Augustine or American Independence in 1776?
Because even if your Rhode Island city or town is old, it isn't really all that old in the grand scheme of things. For example, the Pyramids in Egypt were built around 2600 BC, a cool 4100 years before St. Augustine.
And now that we have you thinking about how the time line of your existence is really kind of unimpressive on the timeline of history, let's drop right into the analysis.
These are the 10 oldest cities and towns in the Ocean State according to their 'date of foundation':
For being 114 years old, Providence doesn't look a day over 40. And the newest city in Rhode Island? That would be Valley Falls — a brand spanking 113 years old.
Read on for a look at the oldest places in Rhode Island or feel free to check out the best places to live in Rhode Island or the safest.
How We Determined When A City Was Founded In Rhode Island… Or Is It Settled?
Surprisingly, there's not a definitive data set that contains the dates of incorporation or settlement for cities in America. Put differently, there's no official data set from the Census that contains when every place in America was founded.
So what did we do instead?
Use the internet's version of official government data — Wikipedia of course!
For the majority of cities in Rhode Island, Wikipedia offers data on some kind of 'date of foundation' in the infobox. Unfortunately, because it's Wikipedia and not a sprawling government bureaucracy, that can take the form of any of the following nomenclature (plus others):
Founded
Settled
Incorporated
Approved
Chartered
And then even more stuff — for example Atlanta has a 'Terminus' date, whatever that is.
If no 'date of foundation' was found in the infobox, we looked to the general text in the History section of the city for 'Founded in XXXX'.
All in all, we were able to collect data on 12 out of 16 in Rhode Island with over 5,000 people. That's good for a 75.0% completion rate.
We then ranked them from oldest to newest with Providence turning out to be the matriarch of Rhode Island at the ripe old age of 114.
Here's a look at the top ten and a snippet of their history from Wikipedia.
1. Providence
Population: 179,509
Founded: 1904
Age: 114
The area that is now Providence was first settled in June 1636 by Roger Williams and was one of the original Thirteen Colonies of the United States. Williams and his company felt compelled to withdraw from Massachusetts Bay Colony. Providence quickly became a refuge for persecuted religious dissenters, as Williams himself had been exiled from Massachusetts.
Providence residents were among the first Patriots to spill blood in the leadup to the American Revolution during the Gaspée Affair of 1772. Rhode Island was the first of the thirteen colonies to renounce its allegiance to the British Crown on May 4, 1776. It was also the last of the thirteen colonies to ratify the United States Constitution on May 29, 1790, once assurances were made that a Bill of Rights would become part of the Constitution.
2. Warwick

Source: Public domain
Population: 81,218
Founded: 1904
Age: 114
3. Cranston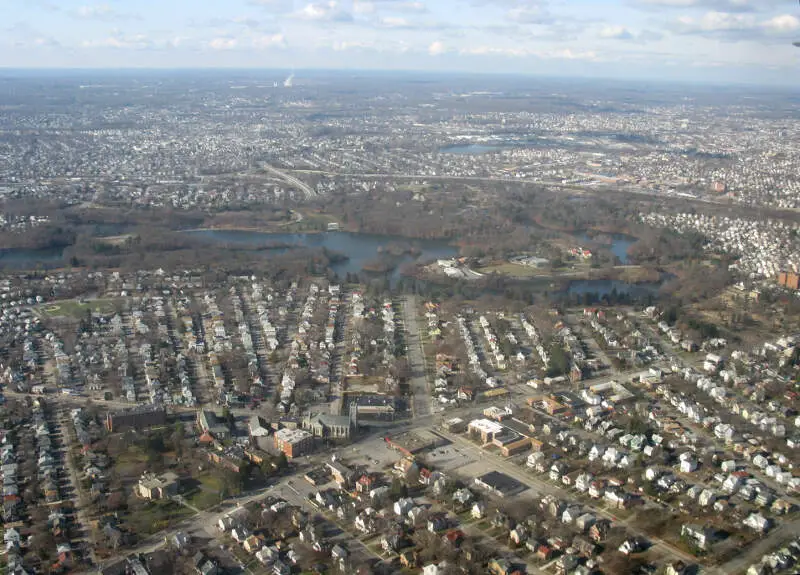 Population: 80,979
Founded: 1904
Age: 114
Much of the land was purchased by Roger Williams from the Narragansett Indians in 1638 as part of the Pawtuxet Purchase, and the first settler in the area was William Arnold, who was followed shortly by William Harris, William Carpenter and Zachariah Rhodes. Stephen Arnold, a brother-in-law of Rhodes and William Arnold, built a gristmill on the Pawtuxet falls and laid out the 'Arnold Road' (modern-day 'Broad Street') connecting it to the Pequot Trail leading to Connecticut. Arnold's son, Benedict Arnold, became the first Governor of Rhode Island under the charter of 1663. After area residents were unable to agree upon a name for a new town for decades, the Town of Cranston was eventually created by the General Assembly in 1754 from a portion of Providence north of the Pawtuxet River. Historians debate whether the town was named after Governor Samuel Cranston, the longest-serving Rhode Island governor or his grandson, Thomas Cranston, who was serving as Speaker of the Rhode Island House of Representatives at the time that the town was created. In the early 1770s town meetings were held at the taverns of Caleb Arnold and Nehemiah Knight where Cranstonians voted in favor of a resolution opposing the British Parliament's Coercive Acts, and the town heavily supported the Patriot cause during the Revolutionary War. After losing much of its territory to neighboring towns and the city of Providence over the nineteenth century, Cranston itself became a city on 10 March 1910.
Cranston is located at 41°46N 71°27W / 41.767°N 71.450°W / 41.767; -71.450 (41.7732, -71.4533).
4. Newport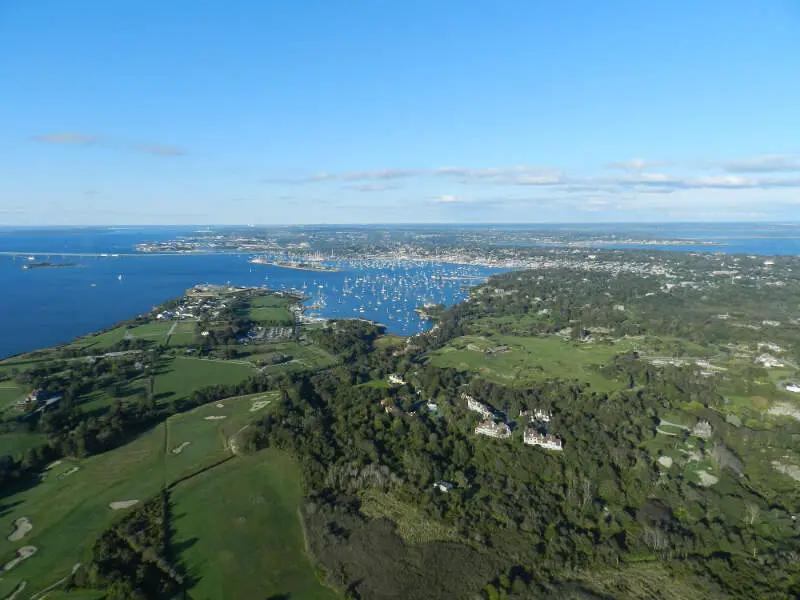 Population: 24,745
Founded: 1904
Age: 114
Newport was founded in 1639 on Aquidneck Island, which was called Rhode Island at the time. Its eight founders and first officers were Nicholas Easton, William Coddington, John Clarke, John Coggeshall, William Brenton, Jeremy Clark, Thomas Hazard, and Henry Bull. Many of these people had been part of the settlement at Portsmouth, along with Anne Hutchinson and her followers. They separated within a year of that settlement, however, and Coddington and others began the settlement of Newport on the southern side of the island.
5. Central Falls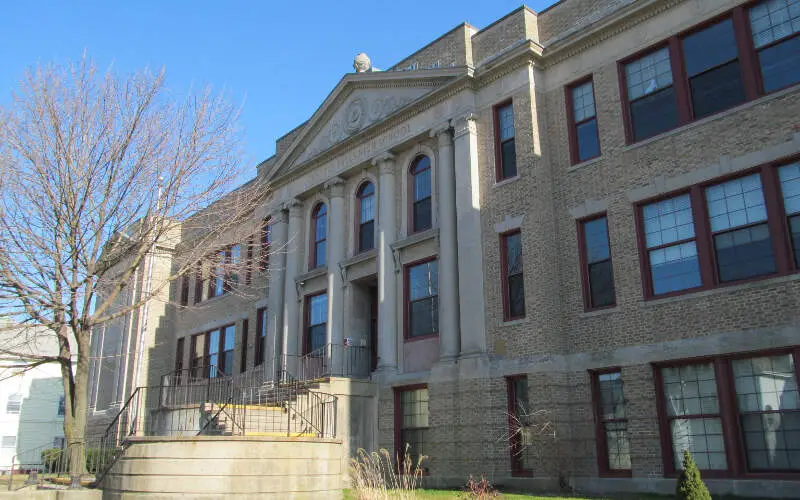 Population: 19,395
Founded: 1904
Age: 114
Prior to the arrival of Europeans the area was home to Nipmuc, Wampanoag and Narragansett peoples.
6. Westerly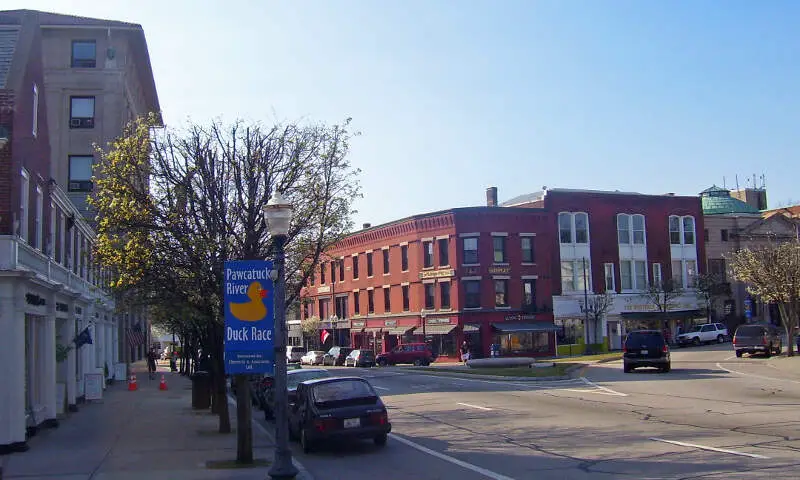 Population: 17,323
Founded: 1904
Age: 114
Westerly's primary industries today are textiles and tourism, but the town was historically famous for its granite, quarried in at least two locations in Westerly: in Bradford and in Potter Hill.
7. Tiverton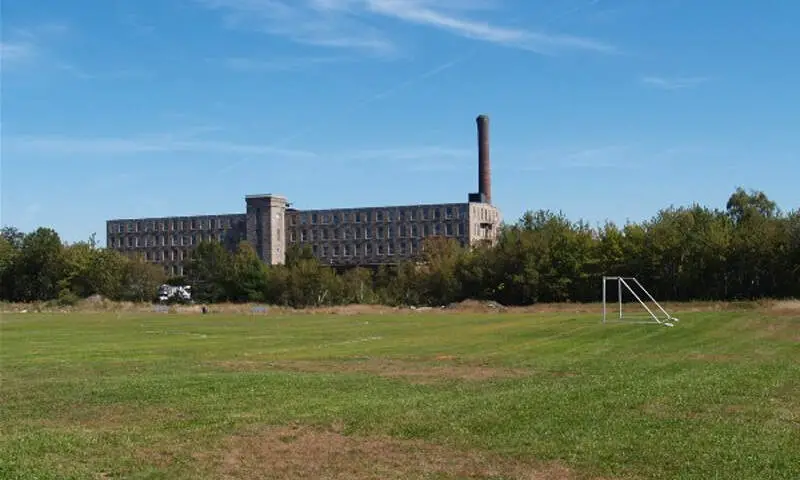 Source: Public domain
Population: 7,727
Founded: 1904
Age: 114
Tiverton was incorporated by English colonists in 1694 as part of the Province of Massachusetts Bay. In 1746, in the final settlement of a long colonial boundary dispute between Rhode Island and Massachusetts, Tiverton was annexed to Rhode Island by Royal Decree (together with its fellow towns along the eastern shore of Narragansett Bay, Barrington, Bristol and Little Compton, and the town of Cumberland, to the north of Providence). Tiverton was incorporated as a town of Rhode Island in 1747. Until that year, Tiverton also controlled the area of East Freetown, Massachusetts, as an outpost. The boundary settlement of 1746 had put East Freetown in Massachusetts, and in 1747 it was purchased by Freetown.
8. Kingston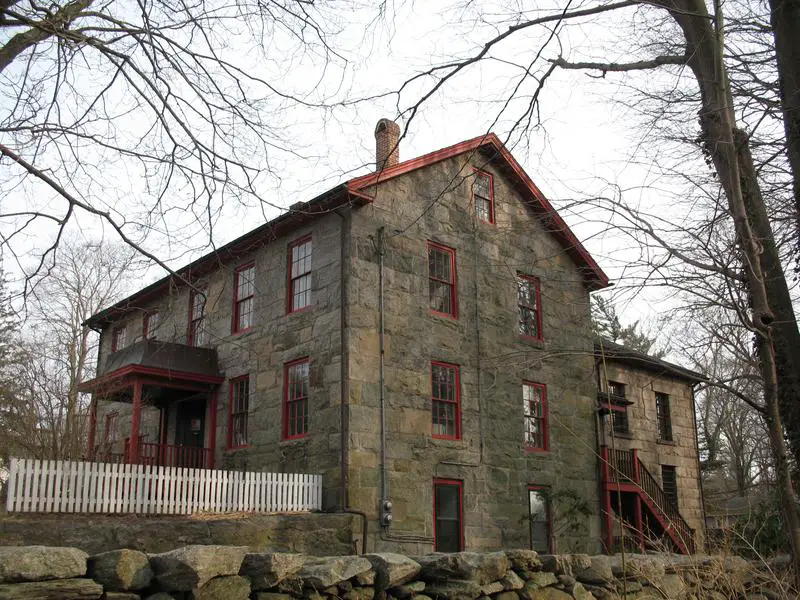 Population: 6,983
Founded: 1904
Age: 114
The village was originally called Little Rest, but was renamed Kingston in 1826. It was the county seat for Washington County (formerly Kings County) from 1752 until 1894, when a new courthouse was built in nearby West Kingston. West Kingston is also the site of the historic Kingston Railroad Station which opened in June, 1875. The station is served by Amtrak on its Northeast Corridor.
9. Pawtucket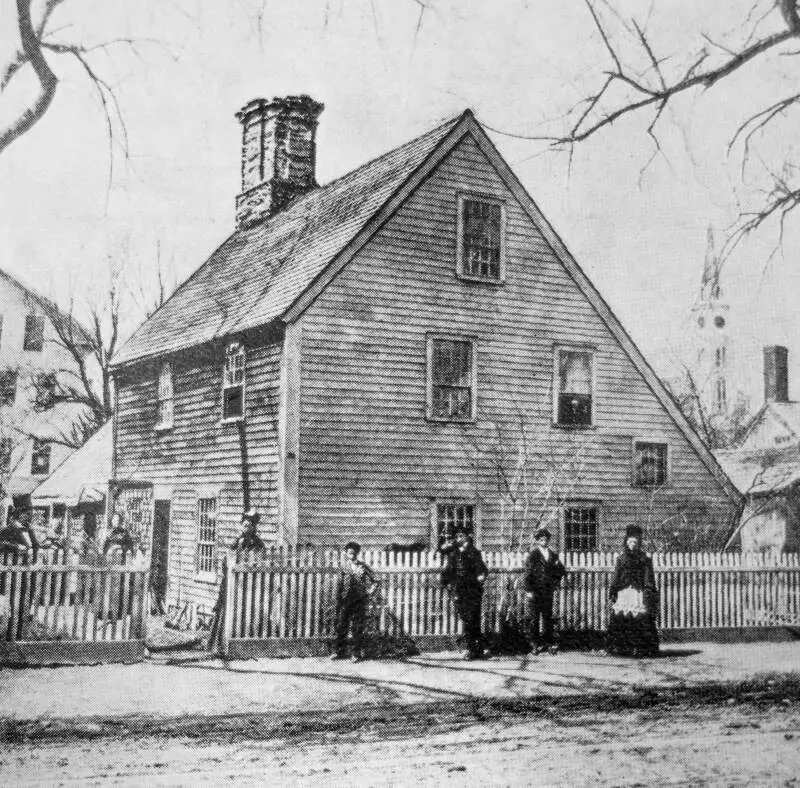 Source: Public domain
Population: 71,770
Founded: 1905
Age: 113
The Pawtucket region was said to have been one of the most populous places in New England prior to the arrival of European settlers. Native Americans would gather here to take advantage of the salmon and smaller fish which gathered at the falls. The first European settler here was Joseph Jenckes, who came to the region from Lynn, Massachusetts. He purchased about 60 acres near Pawtucket Falls in 1671. He established a sawmill and forge. These, along with the entire town, were later destroyed during King Philip's War.
Other settlers followed Jencks, and by 1775 the area was home to manufacturers of muskets, linseed oil, potash, and ship building. Also around this time Oziel Wilkinson and his family set up an iron forge making anchors, nails, screws, farm implements, and even canons.
10. East Providence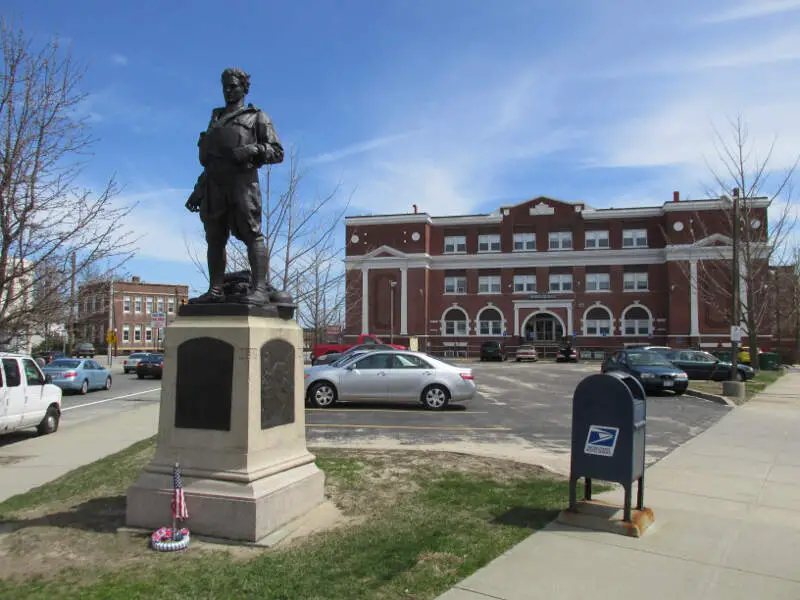 Population: 47,425
Founded: 1905
Age: 113
In 1641, the Plymouth Colony purchased from the Indians a large tract of land which today includes the northern half of East Providence (from Watchemoket to Rumford), Rehoboth, Massachusetts, Seekonk, Massachusetts, and part of Pawtucket. Four years later, John Brown of Plymouth bought a considerably smaller piece of land from the Indians, which today comprises the southern part of East Providence (Riverside), Barrington, and a small part of Swansea. Finally, in 1661, Plymouth completed the 'North Purchase' from which Attleboro, North Attleboro, and Cumberland were later formed. Over the whole the authorities gave the name 'Rehoboth'. The center of this large settlement, which is sometimes referred to as 'Old Rehoboth', is within the borders of modern East Providence. In 1812, the western half of Old Rehoboth was set off as a separate township called Seekonk, Massachusetts. Old Rehoboth's town center now became the heart of Old Seekonk. Finally, in 1862, the western part of Old Seekonk was ceded to Rhode Island and incorporated as East Providence.
Oh How Time Flies For The Oldest Towns And Cities In Rhode Island
So there you have it, a look at some of the oldest places to live in Rhode Island. If we missed your city's 'date of foundation', let us know in the comments. Or feel free to take a look at the table of the oldest places in Rhode Island.
And now, let's raise our glasses, to the next 100 years of existence for these cities and towns in the Ocean State.
And for those wondering, here are the newest additions to Rhode Island:
Valley Falls (Founded in 1905)
Woonsocket (Founded in 1905)
East Providence (Founded in 1905)
Detailed List Of The Oldest Cities In Rhode Island
| City | Rank | Age |
| --- | --- | --- |
| Providence | 1 | 114 |
| Warwick | 2 | 114 |
| Cranston | 3 | 114 |
| Newport | 4 | 114 |
| Central Falls | 5 | 114 |
| Westerly | 6 | 114 |
| Tiverton | 7 | 114 |
| Kingston | 8 | 114 |
| Pawtucket | 9 | 113 |
| East Providence | 10 | 113 |
| Woonsocket | 11 | 113 |
| Valley Falls | 12 | 113 |