Swipe left for slideshow. Article continues below.
You might think your town is old, but it probably isn't the oldest in the country.
That is unless you live in St. Augustine, FL. Which looks pretty good for being 454 years old.
That's older than America for those playing at home.
So that got us thinking, what is the oldest city in Tennessee? And how old is that when you put it into perspective of St. Augustine or American Independence in 1776?
Because even if your Tennessee city or town is old, it isn't really all that old in the grand scheme of things. For example, the Pyramids in Egypt were built around 2600 BC, a cool 4100 years before St. Augustine.
And now that we have you thinking about how the time line of your existence is really kind of unimpressive on the timeline of history, let's drop right into the analysis.
These are the 10 oldest cities and towns in the Volunteer State according to their 'date of foundation':
For being 238 years old, Pigeon Forge doesn't look a day over 40. And the newest city in Tennessee? That would be Crossville — a brand spanking 113 years old.
Read on for a look at the oldest places in Tennessee or feel free to check out the best places to live in Tennessee or the safest.
How We Determined When A City Was Founded In Tennessee… Or Is It Settled?
Surprisingly, there's not a definitive data set that contains the dates of incorporation or settlement for cities in America. Put differently, there's no official data set from the Census that contains when every place in America was founded.
So what did we do instead?
Use the internet's version of official government data — Wikipedia of course!
For the majority of cities in Tennessee, Wikipedia offers data on some kind of 'date of foundation' in the infobox. Unfortunately, because it's Wikipedia and not a sprawling government bureaucracy, that can take the form of any of the following nomenclature (plus others):
Founded
Settled
Incorporated
Approved
Chartered
And then even more stuff — for example Atlanta has a 'Terminus' date, whatever that is.
If no 'date of foundation' was found in the infobox, we looked to the general text in the History section of the city for 'Founded in XXXX'.
All in all, we were able to collect data on 85 out of 106 in Tennessee with over 5,000 people. That's good for a 80.2% completion rate.
We then ranked them from oldest to newest with Pigeon Forge turning out to be the matriarch of Tennessee at the ripe old age of 238.
Here's a look at the top ten and a snippet of their history from Wikipedia.
1. Pigeon Forge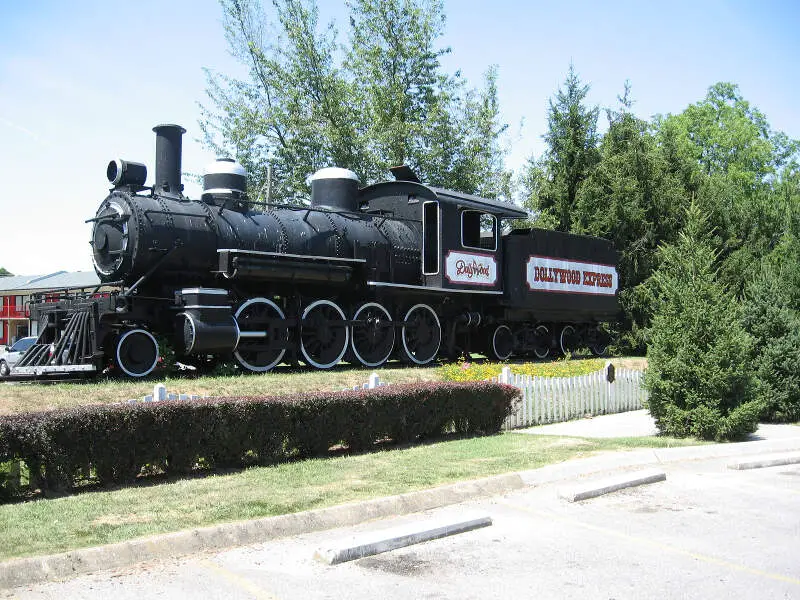 Population: 6,147
Founded: 1780
Age: 238
The name 'Pigeon Forge' comes from an iron forge built by Isaac Love (1783–1854) sometime around 1820. The name of this forge referred to its location along the Little Pigeon River, in the vicinity of what is now the Old Mill. The name of the river comes from the flocks of passenger pigeons that frequented its banks at the time of the first Euro-American settlers' arrival.
2. Erwin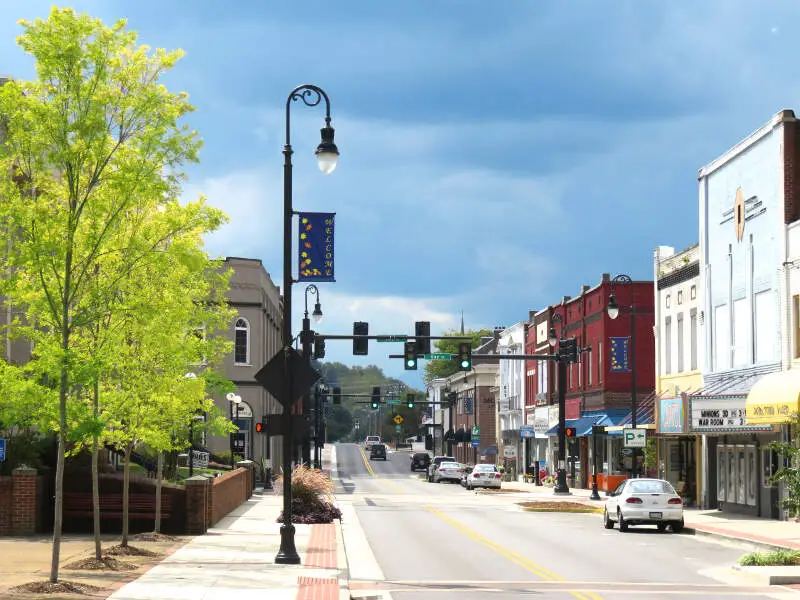 Population: 5,921
Founded: 1780
Age: 238
The town of Erwin received its name by a mail mishap. On December 5, 1879, the name of the town was Ervin, in honor of D.J.N. Ervin, who had donated 15 acres (61,000 m2) of land for the county seat. A typo made by post office officials caused the name to be recorded as Erwin. The mistake was never corrected.
3. Morristown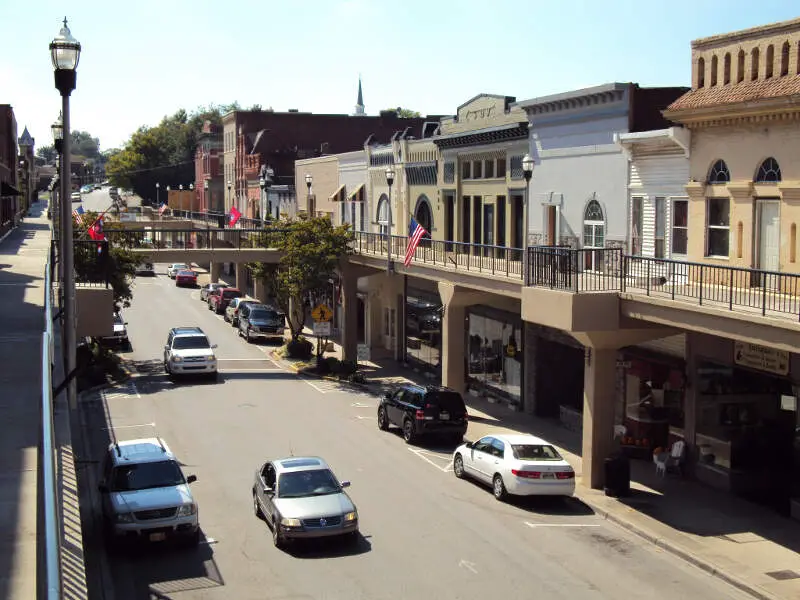 Population: 29,446
Founded: 1787
Age: 231
The first European settler of what eventually became Morristown was farmer Gideon Morris. It is recorded in Goodspeed's 'History of Tennessee' that Gideon, along with an unspecified number of his siblings, arrived in the area of present-day Morristown from the Watauga Settlement, a short-lived semi-autonomous settlement located in northeast Tennessee that was originally leased from the resident Cherokee tribes during the 1770s.
4. Loudon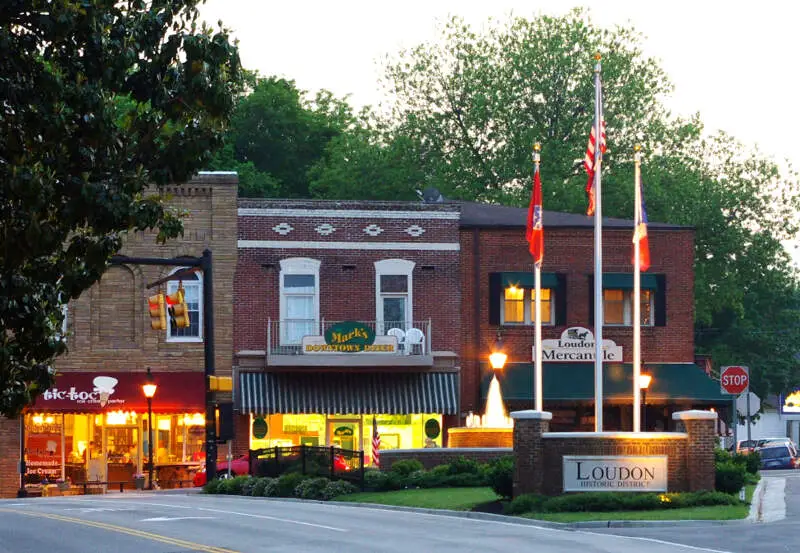 Population: 5,697
Founded: 1790
Age: 228
5. Gallatin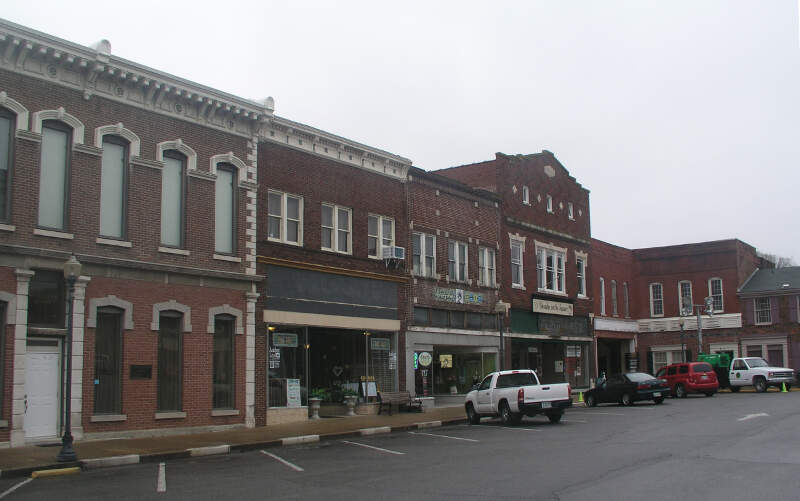 Population: 34,495
Founded: 1802
Age: 216
Gallatin was established in 1802 as the permanent county seat of Sumner County, Tennessee, in what is called the Middle Tennessee region. The town was named after Albert Gallatin, Secretary of Treasury to presidents Thomas Jefferson and James Madison. Andrew Jackson became one of the first to purchase a lot when the town was surveyed and platted in 1803. The town was built around a traditional plan of an open square.[citation needed] Jackson founded the first general store in Gallatin.
6. Mcminnville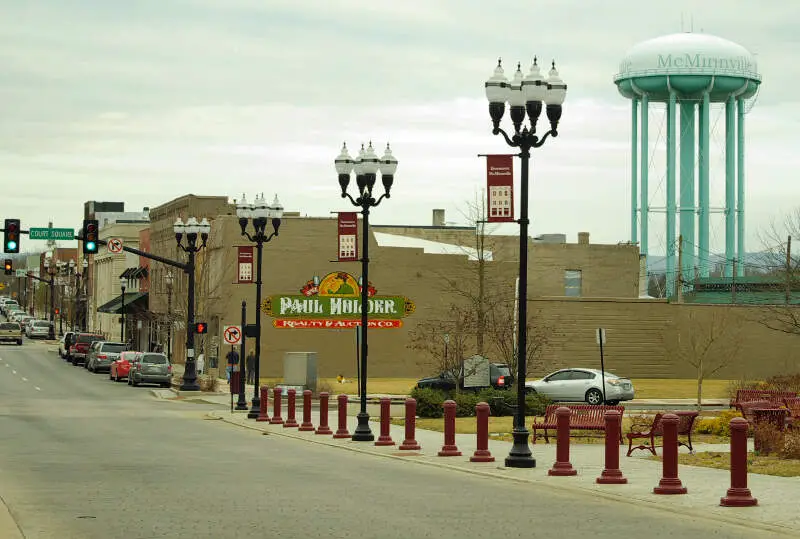 Population: 13,591
Founded: 1810
Age: 208
7. Memphis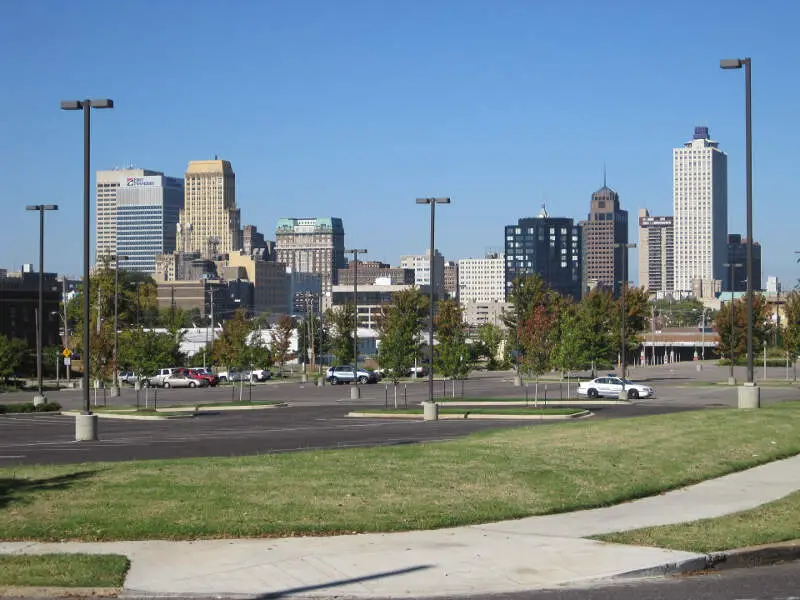 Population: 654,723
Founded: 1819
Age: 199
Occupying a substantial bluff rising from the Mississippi River, the site of Memphis has been a natural location for human settlement by varying cultures over thousands of years. The area was known to be settled in the first millennium AD. by people of the Mississippian Culture, who had a network of communities throughout the Mississippi River Valley and its tributaries and built large earthwork ceremonial and burial mounds as expressions of their complex culture. The historic Chickasaw Indian tribe, believed to be their descendants, later occupied the site.
French explorers led by René-Robert Cavelier, Sieur de La Salle and Spanish explorer Hernando de Soto encountered the Chickasaw tribe in that area in the 16th century.
8. Dayton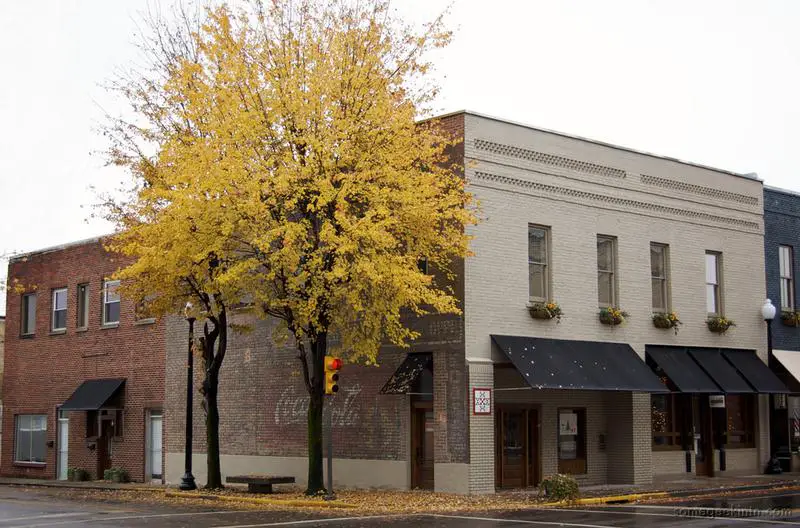 Population: 7,341
Founded: 1820
Age: 198
The community was originally settled circa 1820 as Smith's Crossroads. In 1877, the town was renamed Dayton, after Dayton, Ohio. The town was incorporated in 1903. Early industry included manufacture of pig iron.
9. Savannah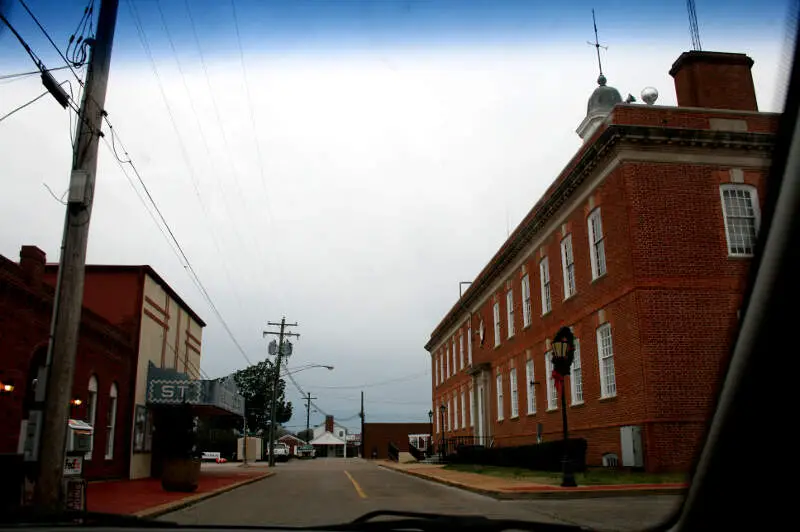 Population: 6,977
Founded: 1820
Age: 198
The city's original name was Rudd's Ferry, named for James Rudd, an early settler who established a ferry at the site in the early 1820s. Rudd's Ferry was later purchased by a wealthy landowner, David Robinson. The city was renamed 'Savannah' after Savannah, Georgia, the hometown of Rudd's wife, Elizabeth.
10. Portland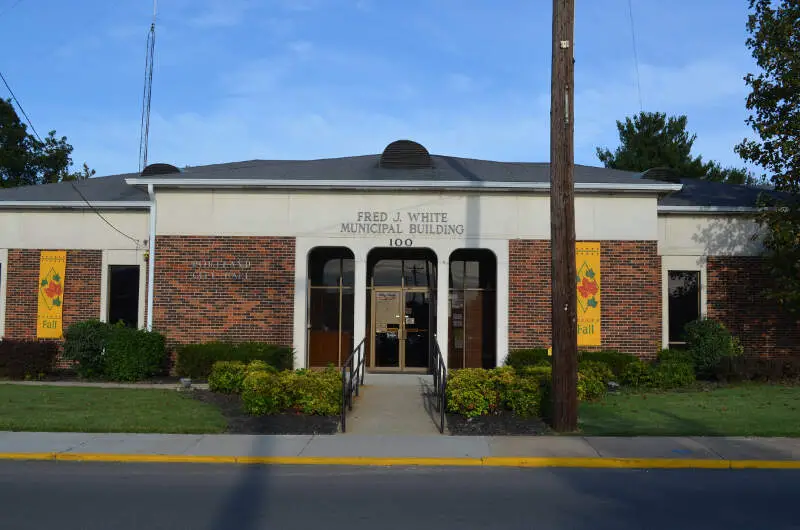 Population: 12,258
Founded: 1840
Age: 178
Portland is located on the Highland Rim in extreme northern Middle Tennessee. This region has always been known for excellent agricultural soils, a spectacular wildlife environment and an enjoyable climate.
Oh How Time Flies For The Oldest Towns And Cities In Tennessee
So there you have it, a look at some of the oldest places to live in Tennessee. If we missed your city's 'date of foundation', let us know in the comments. Or feel free to take a look at the table of the oldest places in Tennessee.
And now, let's raise our glasses, to the next 100 years of existence for these cities and towns in the Volunteer State.
And for those wondering, here are the newest additions to Tennessee:
Crossville (Founded in 1905)
Collegedale (Founded in 1905)
Cleveland (Founded in 1905)
Detailed List Of The Oldest Cities In Tennessee
| City | Rank | Age |
| --- | --- | --- |
| Pigeon Forge | 1 | 238 |
| Erwin | 2 | 238 |
| Morristown | 3 | 231 |
| Loudon | 4 | 228 |
| Gallatin | 5 | 216 |
| Mcminnville | 6 | 208 |
| Memphis | 7 | 199 |
| Dayton | 8 | 198 |
| Savannah | 9 | 198 |
| Portland | 10 | 178 |
| Sweetwater | 11 | 168 |
| Tullahoma | 12 | 166 |
| Hartsville/Trousdale County | 13 | 148 |
| Brentwood | 14 | 115 |
| Athens | 15 | 114 |
| Clinton | 16 | 114 |
| Seymour | 17 | 114 |
| Lawrenceburg | 18 | 114 |
| Manchester | 19 | 114 |
| Paris | 20 | 114 |
| Jefferson City | 21 | 114 |
| Lenoir City | 22 | 114 |
| Winchester | 23 | 114 |
| Elizabethton | 24 | 114 |
| Lexington | 25 | 114 |
| Pulaski | 26 | 114 |
| Green Hill | 27 | 114 |
| Fayetteville | 28 | 114 |
| Nolensville | 29 | 114 |
| Kingston | 30 | 114 |
| Jonesborough | 31 | 114 |
| Brownsville | 32 | 114 |
| Greeneville | 33 | 114 |
| Sparta | 34 | 114 |
| Maryville | 35 | 114 |
| Columbia | 36 | 114 |
| Germantown | 37 | 114 |
| Franklin | 38 | 114 |
| Murfreesboro | 39 | 114 |
| Clarksville | 40 | 114 |
| Spring Hill | 41 | 114 |
| Lebanon | 42 | 114 |
| Jackson | 43 | 114 |
| Sevierville | 44 | 114 |
| Kingsport | 45 | 114 |
| Nashville | 46 | 114 |
| Farragut | 47 | 114 |
| Shelbyville | 48 | 114 |
| Dyersburg | 49 | 114 |
| Knoxville | 50 | 114 |
| Hendersonville | 51 | 114 |
| Goodlettsville | 52 | 113 |
| La Follette | 53 | 113 |
| Bartlett | 54 | 113 |
| Tellico Village | 55 | 113 |
| Church Hill | 56 | 113 |
| Harrison | 57 | 113 |
| Harriman | 58 | 113 |
| Chattanooga | 59 | 113 |
| Rockwood | 60 | 113 |
| Mount Carmel | 61 | 113 |
| Johnson City | 62 | 113 |
| Collierville | 63 | 113 |
| Humboldt | 64 | 113 |
| Milan | 65 | 113 |
| Soddy-Daisy | 66 | 113 |
| Bristol | 67 | 113 |
| Red Bank | 68 | 113 |
| Lewisburg | 69 | 113 |
| Dunlap | 70 | 113 |
| Millington | 71 | 113 |
| White House | 72 | 113 |
| Union City | 73 | 113 |
| Smyrna | 74 | 113 |
| Oak Ridge | 75 | 113 |
| Mount Juliet | 76 | 113 |
| Cookeville | 77 | 113 |
| Alcoa | 78 | 113 |
| La Vergne | 79 | 113 |
| Atoka | 80 | 113 |
| Fairview | 81 | 113 |
| Ripley | 82 | 113 |
| Cleveland | 83 | 113 |
| Collegedale | 84 | 113 |
| Crossville | 85 | 113 |