Swipe left for slideshow. Article continues below.
You might think your town is old, but it probably isn't the oldest in the country.
That is unless you live in St. Augustine, FL. Which looks pretty good for being 454 years old.
That's older than America for those playing at home.
So that got us thinking, what is the oldest city in Utah? And how old is that when you put it into perspective of St. Augustine or American Independence in 1776?
Because even if your Utah city or town is old, it isn't really all that old in the grand scheme of things. For example, the Pyramids in Egypt were built around 2600 BC, a cool 4100 years before St. Augustine.
And now that we have you thinking about how the time line of your existence is really kind of unimpressive on the timeline of history, let's drop right into the analysis.
These are the 10 oldest cities and towns in the Beehive State according to their 'date of foundation':
For being 171 years old, Bountiful doesn't look a day over 40. And the newest city in Utah? That would be Millcreek — a brand spanking 2 years old.
Read on for a look at the oldest places in Utah or feel free to check out the best places to live in Utah or the safest.
How We Determined When A City Was Founded In Utah… Or Is It Settled?
Surprisingly, there's not a definitive data set that contains the dates of incorporation or settlement for cities in America. Put differently, there's no official data set from the Census that contains when every place in America was founded.
So what did we do instead?
Use the internet's version of official government data — Wikipedia of course!
For the majority of cities in Utah, Wikipedia offers data on some kind of 'date of foundation' in the infobox. Unfortunately, because it's Wikipedia and not a sprawling government bureaucracy, that can take the form of any of the following nomenclature (plus others):
Founded
Settled
Incorporated
Approved
Chartered
And then even more stuff — for example Atlanta has a 'Terminus' date, whatever that is.
If no 'date of foundation' was found in the infobox, we looked to the general text in the History section of the city for 'Founded in XXXX'.
All in all, we were able to collect data on 87 out of 91 in Utah with over 5,000 people. That's good for a 95.6% completion rate.
We then ranked them from oldest to newest with Bountiful turning out to be the matriarch of Utah at the ripe old age of 171.
Here's a look at the top ten and a snippet of their history from Wikipedia.
1. Bountiful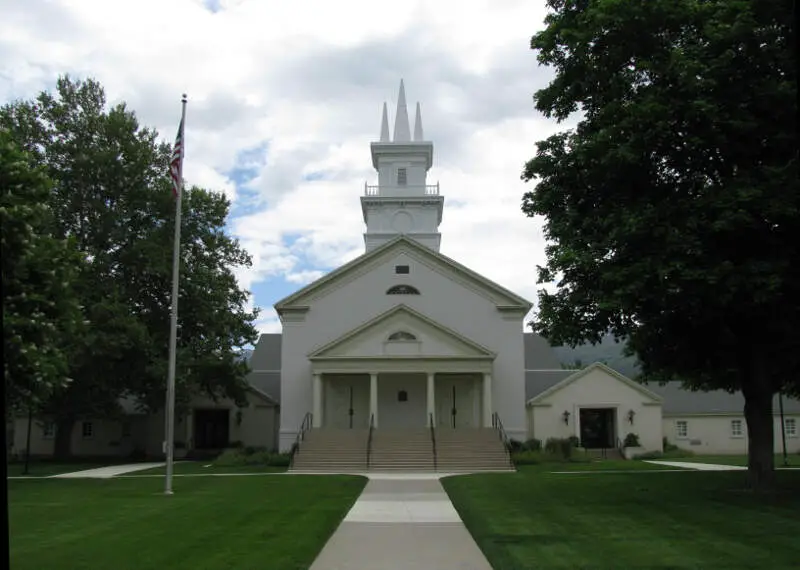 Source: Public domain
Population: 43,568
Founded: 1847
Age: 171
Bountiful was settled on September 27, 1847, by Perrigrine Sessions and his family. It was Utah's second settlement after Salt Lake City. It was known as both Sessions Settlement and North Canyon Ward before being named Bountiful in 1855. This city was so named both because of the city's reputation as a garden place and because 'Bountiful' is the name of a city in the Book of Mormon (Alma 52:9). Most of the settlers, and also most of the present inhabitants, are members of The Church of Jesus Christ of Latter-day Saints (LDS). The Bountiful Utah Temple was dedicated in 1995 by the LDS Church. A tabernacle of The Church of Jesus Christ of Latter-day Saints is also located in Bountiful.
2. Provo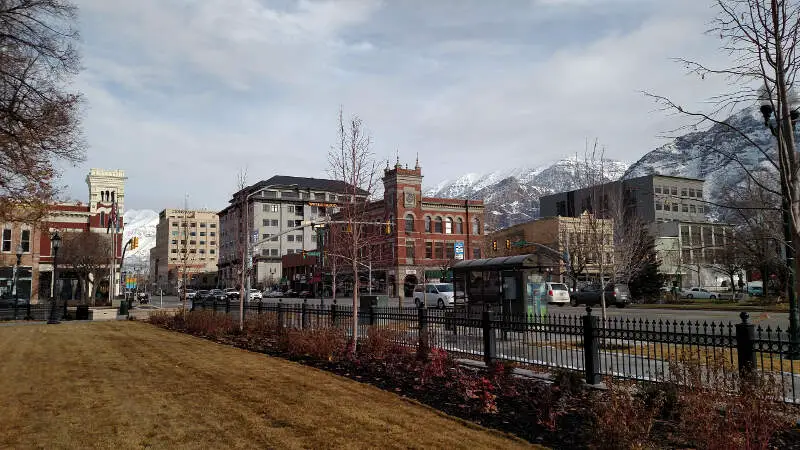 Population: 116,199
Founded: 1850
Age: 168
The area was originally called Timpanogots (meaning 'rocky') and was inhabited by the Timpanogos (meaning 'fish eaters'). It was the largest and most settled area in modern-day Utah. The ample food from the Provo River made the Timpanogos a peaceful people. The area also served as the traditional meeting place for the Ute and Shoshone tribes and as a spot to worship their creator.
Father Silvestre Velez de Escalante, a Spanish Franciscan missionary-explorer, is considered the first European explorer to have visited the area, in 1776. He was guided by two Timpanogos Utes, whom he called Silvestre and Joaquin. Escalante chronicled this first European exploration across the Great Basin desert. The Europeans did not build a permanent settlement, but traded with the Timpanogos whom they called Lagunas (lake people) or Come Pescado (fish eaters).
3. Springville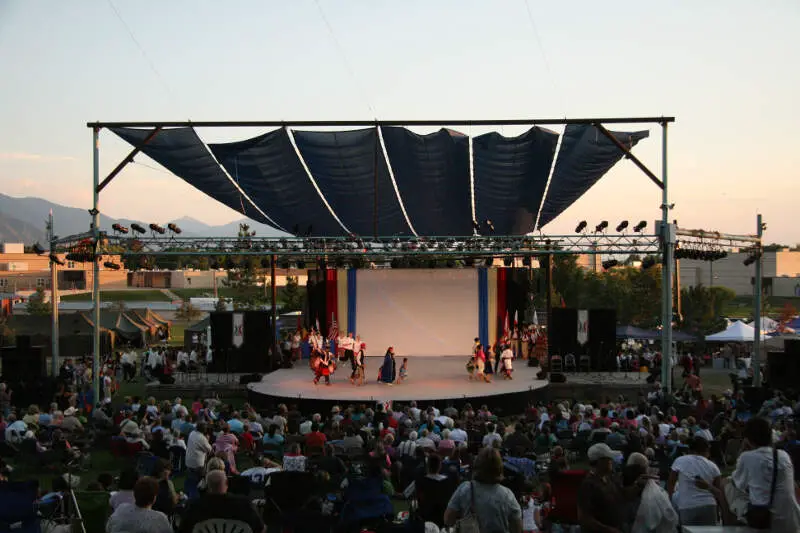 Population: 32,319
Founded: 1850
Age: 168
Springville was first explored in 1776 by Father Silvestre Vélez de Escalante, a Franciscan padre. What became Springville lay along the wagon route called the Mormon Road that Mormon pioneers and 49ers traveled through southern Utah, northern Arizona, southern Nevada and Southern California. From 1855, each winter trains of freight wagons traveled on this road across the deserts between Los Angeles and Salt Lake City until the late 1860s when the railroad arrived in Utah. Springville was originally settled in 1850 by eight pioneer families who crossed the plains to Salt Lake Valley from the East and were subsequently directed by Brigham Young to settle 50 miles (80 km) further south. Incorporated in February 1853, the city was first called Hobble Creek by the early pioneers, because their horses were often hobbled (by loosely tying their front feet together) and left along the stream to graze in the lush grass. If the horses wandered into the creek, the hobbles came off in the water. Thus, the settlement earned its original name. Later, as the town grew, the name was changed to Springville, after the Fort Springville. Fort Springville was named such because of the many freshwater springs in the area, particularly near the fort. The original name was not completely lost, however, as the canyon stream (and associated canyons), a local elementary school, and city owned golf course have retained the name Hobble Creek.
4. Layton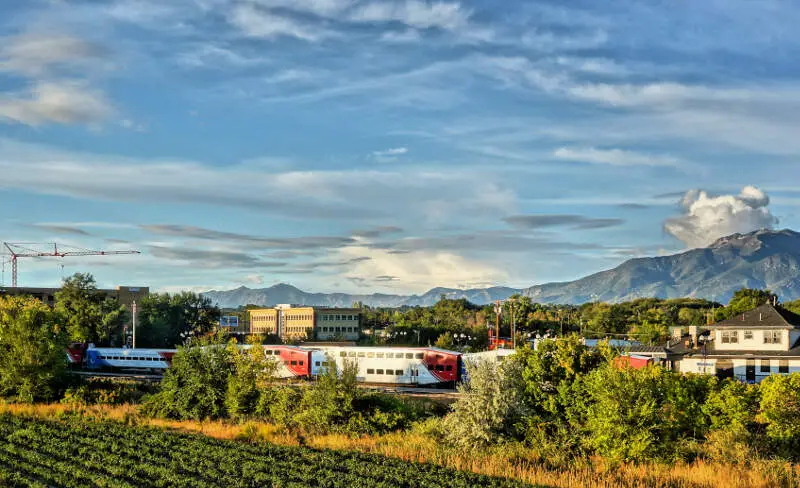 Population: 73,963
Founded: 1850
Age: 168
Layton was settled in the 1850s as an outgrowth of Kaysville, and is named after Christopher Layton, a Mormon colonizer and leader. It was included in the boundaries when Kaysville was incorporated as a city in 1868, but by the 1880s many Layton residents wanted to separate from the city. They challenged Kaysville's authority to tax their property, claiming they received no municipal services. This dispute reached the United States Supreme Court in 1894 as the case of Linford v. Ellison, which was decided in favor of the Layton property owners. The separatist movement finally succeeded in 1902, when Layton became an independent unincorporated area. After further growth it was made an incorporated town in 1920.
The town's population increased slowly; up until 1940 it was about 600. The creation of Hill Air Force Base to the north in 1940, followed shortly by the United States' entry into World War II, led to a dramatic population increase. War workers streamed into the area; the 1950 census counted 3,456 people. Layton became a city, transformed from a farming town to a residential community. Growth slowed after the war, but Layton continued to develop as a suburban bedroom community, as those not employed at the Air Force base began commuting to the Salt Lake City or Ogden areas. The city continued to expand geographically, annexing surrounding parcels of land, including the adjacent town of Laytona and city of East Layton. In 1985, Layton passed Bountiful to become the most populous city in Davis County.
5. Ogden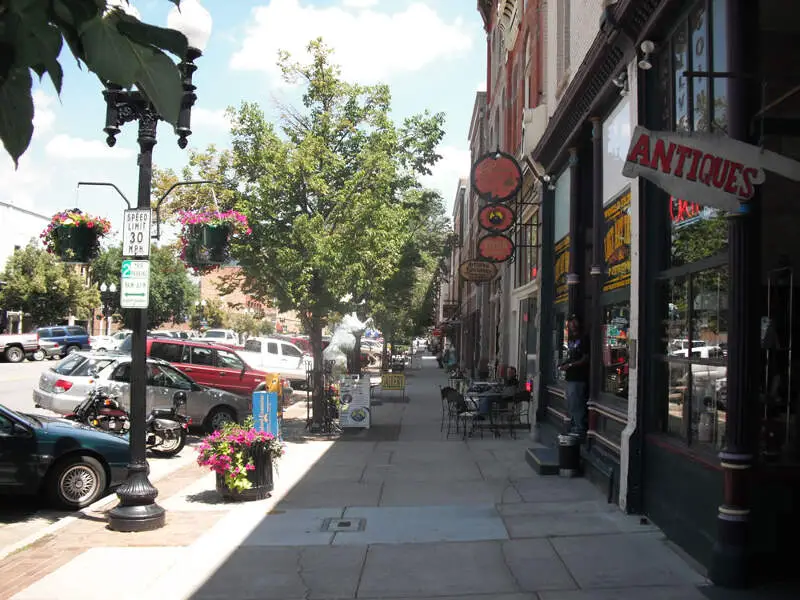 Source: Public domain
Population: 85,497
Founded: 1851
Age: 167
Originally named Fort Buenaventura, the city of Ogden was the first permanent settlement by people of European descent in the region that is now Utah. It was established by the trapper Miles Goodyear in 1846 about a mile west of where downtown Ogden is currently located. In November 1847 all of the land now comprising Weber County together with some livestock and Fort Buenaventura was purchased by Captain James Brown for $3,000. The land was conveyed to Captain Brown in a Mexican Land Grant, this area being at that time a part of Mexico.[citation needed] The settlement was then called Brownsville, after Captain James Brown, but was later named Ogden for a brigade leader of the Hudson's Bay Company, Peter Skene Ogden, who had trapped in the Weber Valley a generation earlier. There is some confusion in which 'Ogden' was the first to set foot in the Utah city. Peter's older brother Samuel Ogden traveled though the western United States on an exploration trip in 1818. The site of the original Fort Buenaventura is now a Weber County park.
Ogden is the closest sizable city to the Golden Spike location at Promontory Summit, Utah, where the First Transcontinental Railroad was joined in 1869. Ogden was known as a major passenger railroad junction owing to its location along major east–west and north–south routes, prompting the local chamber of commerce to adopt the motto, 'You can't get anywhere without coming to Ogden.' Railroad passengers traveling west to San Francisco from the eastern United States typically passed through Ogden (and not through the larger Salt Lake City to the south). Ogden, however, is no longer served by Amtrak, the national passenger rail system, and passengers desiring to travel from Ogden by rail must travel via FrontRunner commuter rail to Salt Lake City and Provo.
6. Enoch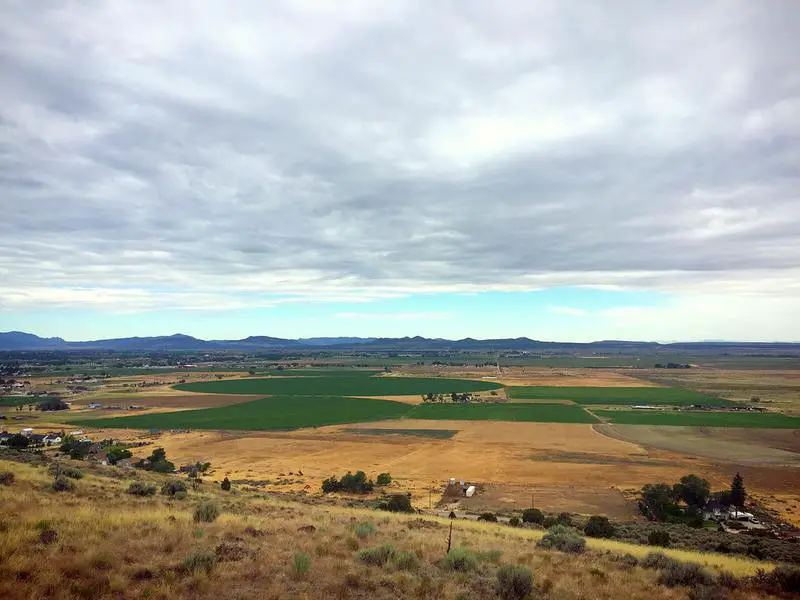 Population: 6,331
Founded: 1851
Age: 167
Enoch was founded by Joel H. Johnson. It was originally known as Johnson's Springs and Fort Johnson.
7. Cedar City

Population: 30,232
Founded: 1851
Age: 167
The presence of prehistoric people in the Cedar City area is revealed by rock art found in Parowan Gap to the north and Fremont sites dated to A.D. 1000 and 1300. Ancestors of the present-day southern Paiute Indians met the Dominguez–Escalante Expedition in this area in 1776. Fifty years later, in 1826, mountain man and fur trader Jedediah Smith traveled through the area exploring a route from Utah to California.
8. Farmington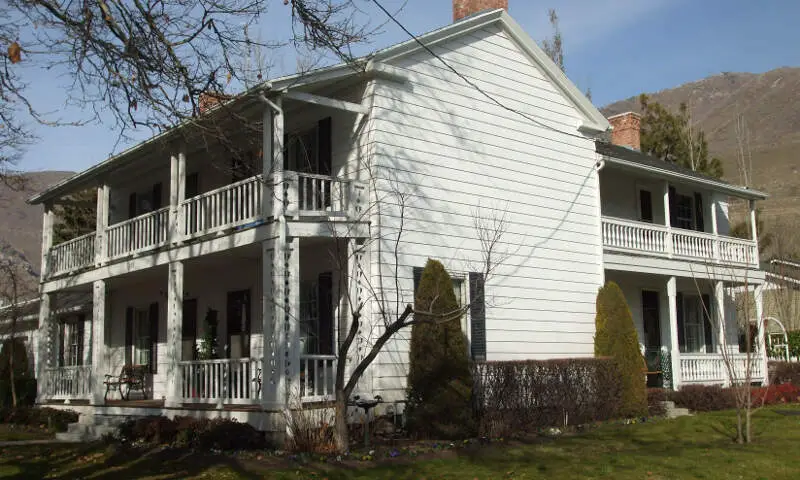 Population: 22,616
Founded: 1852
Age: 166
The region that is now Farmington was settled in 1847 by the Haight family, a Mormon pioneer family, that established a farm and an inn. Five more pioneering families migrated to this region in the autumn of 1849.:20 The region developed into an undefined community originally called North Cottonwood Settlement.:21–22 In 1852, the territorial legislature picked North Cottonwood as the county seat and officially named it Farmington.:24 Following orders from Daniel H. Wells and Brigham Young, Farmington residents built a wall around the city in 1853 under the direction of Major Thomas S. Smith. This walled townsite became known as 'the Fort'.:26–29 Early church meetings were held in a log school and then an adobe structure. The county courthouse was used for religious meetings from 1855 to 1863. The city's ward moved back to the schoolhouse and the first meetinghouse was dedicated in January 1864.:33 By the early 1860s, the town of Farmington stretched for six miles between Centerville and Kaysville.:29
9. Lehi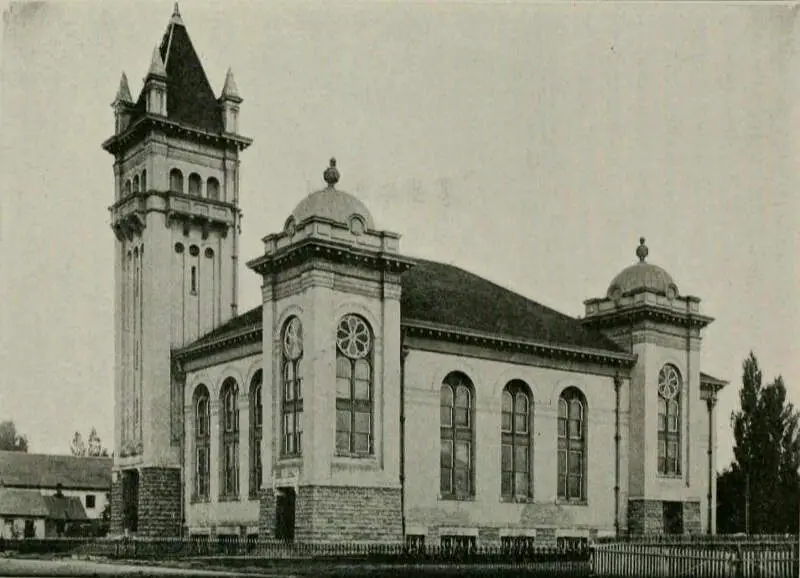 Source: Public domain
Population: 58,351
Founded: 1852
Age: 166
A group of Mormon pioneers settled the area now known as Lehi in the fall of 1850, at a place called Dry Creek, in the northernmost part of Utah Valley. It was renamed Evansville in 1851, after David Evans, a local bishop in The Church of Jesus Christ of Latter-day Saints. Other historical names include Sulphur Springs and Snow's Springs.
10. American Fork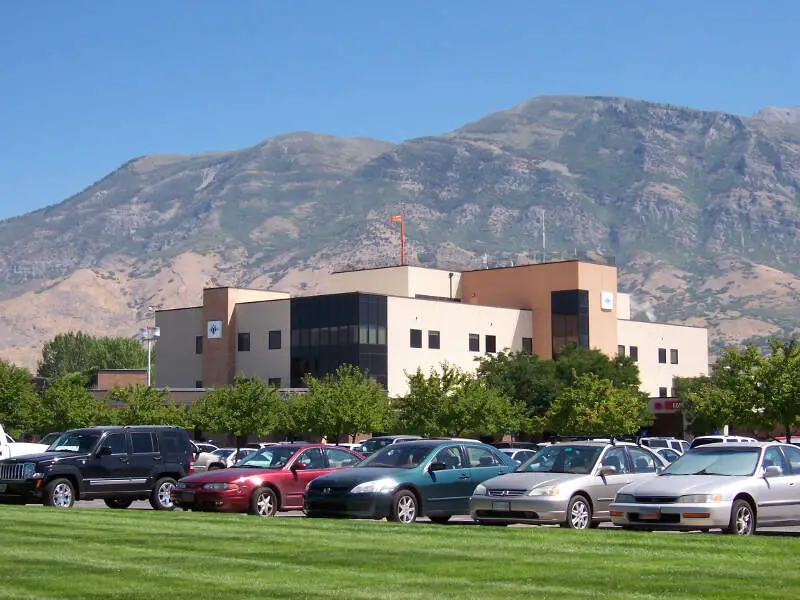 Population: 28,507
Founded: 1853
Age: 165
The area around Utah Lake was used as a seasonal hunting and fishing ground by the Ute Indians. American Fork was settled in 1850 by Mormon pioneers, and incorporated as Lake City in 1852. The first settlers were Arza Adams, followed by Stephen Chipman (grandfather of Stephen L. Chipman, a prominent citizen around the start of the 20th Century), Ira Eldredge, John Eldredge and their families.
Oh How Time Flies For The Oldest Towns And Cities In Utah
So there you have it, a look at some of the oldest places to live in Utah. If we missed your city's 'date of foundation', let us know in the comments. Or feel free to take a look at the table of the oldest places in Utah.
And now, let's raise our glasses, to the next 100 years of existence for these cities and towns in the Beehive State.
And for those wondering, here are the newest additions to Utah:
Millcreek (Founded in 2016)
Cottonwood Heights (Founded in 2016)
Saratoga Springs (Founded in 2016)
Detailed List Of The Oldest Cities In Utah
| City | Rank | Age |
| --- | --- | --- |
| Bountiful | 1 | 171 |
| Provo | 2 | 168 |
| Springville | 3 | 168 |
| Layton | 4 | 168 |
| Ogden | 5 | 167 |
| Enoch | 6 | 167 |
| Cedar City | 7 | 167 |
| Farmington | 8 | 166 |
| Lehi | 9 | 166 |
| American Fork | 10 | 165 |
| Payson | 11 | 165 |
| Spanish Fork | 12 | 163 |
| Alpine | 13 | 163 |
| Pleasant Grove | 14 | 163 |
| Providence | 15 | 159 |
| Logan | 16 | 152 |
| Highland | 17 | 148 |
| Price | 18 | 113 |
| Riverdale | 19 | 113 |
| Pleasant View | 20 | 113 |
| Tremonton | 21 | 113 |
| Salt Lake City | 22 | 113 |
| Washington Terrace | 23 | 113 |
| Bluffdale | 24 | 113 |
| North Logan | 25 | 113 |
| Grantsville | 26 | 113 |
| West Point | 27 | 113 |
| Cedar Hills | 28 | 113 |
| Santaquin | 29 | 113 |
| Mapleton | 30 | 113 |
| Park City | 31 | 113 |
| Salem | 32 | 113 |
| Hyrum | 33 | 113 |
| West Bountiful | 34 | 113 |
| Nephi | 35 | 113 |
| Fruit Heights | 36 | 113 |
| Snyderville | 37 | 113 |
| Harrisville | 38 | 113 |
| Plain City | 39 | 113 |
| Nibley | 40 | 113 |
| Farr West | 41 | 113 |
| Santa Clara | 42 | 113 |
| Roosevelt | 43 | 113 |
| Ephraim | 44 | 113 |
| South Weber | 45 | 113 |
| Vernal | 46 | 113 |
| Richfield | 47 | 113 |
| Ivins | 48 | 113 |
| Hooper | 49 | 113 |
| Smithfield | 50 | 113 |
| South Ogden | 51 | 113 |
| Woods Cross | 52 | 113 |
| West Jordan | 53 | 113 |
| Orem | 54 | 113 |
| Sandy | 55 | 113 |
| St. George | 56 | 113 |
| South Jordan | 57 | 113 |
| Taylorsville | 58 | 113 |
| Murray | 59 | 113 |
| Draper | 60 | 113 |
| Riverton | 61 | 113 |
| Roy | 62 | 113 |
| Kearns | 63 | 113 |
| Tooele | 64 | 113 |
| Holladay | 65 | 113 |
| Clearfield | 66 | 113 |
| Lindon | 67 | 113 |
| Kaysville | 68 | 113 |
| Magna | 69 | 113 |
| West Haven | 70 | 113 |
| Heber | 71 | 113 |
| Hurricane | 72 | 113 |
| Centerville | 73 | 113 |
| Moab | 74 | 113 |
| North Ogden | 75 | 113 |
| Herriman | 76 | 113 |
| Brigham City | 77 | 113 |
| Clinton | 78 | 113 |
| Washington | 79 | 113 |
| South Salt Lake | 80 | 113 |
| Syracuse | 81 | 113 |
| North Salt Lake | 82 | 113 |
| Sunset | 83 | 113 |
| Eagle Mountain | 84 | 22 |
| Saratoga Springs | 85 | 21 |
| Cottonwood Heights | 86 | 13 |
| Millcreek | 87 | 2 |