The 10 Safest Cities In America For 2022
We used data and science to determine the cities in America where everyone sleeps safe and sound.
We all want the finer things in life. Love, comfort and safety are at the top of everyone's list.
For a lot of people who live in America, safety isn't a problem, but we don't all get to live in the safest cities -- unless of course you live in Carmel.
The purpose of this post is to determine where the safest cities to live are in America. Those places where crime is usually something you hear about on Facebook, but not from your neighbor.
After analyzing 283 cities in America with a population of more than 100,000, we came up with this list of the safest cities in America for 2022:
Read on below to see how we crunched the numbers and how your city ranked. We have a long infographic to show you individual crime data for each of the safest cities.
If that's not up your alley, for more reading on safe places to live, check out:
Taking the crown as the safest city in America for 2022 is Carmel -- a classic example of everything that makes America great.
We are talking about only having a 1 in 170.4 chance of being the victim of a property crime and a 1 in 2,021 chance of being the victim of violent crime.
That's crazy safe. Compare it to St. Louis, MO or Memphis, TN -- the most dangerous city in the country -- with roughly a 1 in 30 chance of beign the victim of a property crime.
Welcome to Naperville. One heck of a safe and quiet place. The number of violent and property crimes is just about as low as you can get for a city this big - where you have a 1 in 1,300 chance of being the victim of a major crime.
Naperville is a Chicago suburb. But this ain't nothin like Chicago. Noooo. In Chicago, 1,400 people got shot last year. In Naperville, there were half as many car break-ins, last year, let alone people getting shot. In Chicago, your kids have to run home from school every day.
You can bet that if a missing dog, a little old lady, or even Kathy Griffin needed help in Naperville, someone would lend a helping hand, no matter what. That's the type of place this is.
Cary, North Carolina? Now, since I live so close, I figured I might as well investigate and see what's going on and why Cary is so safe.
Cary is quite a gem. And so safe. You have only a 1 in 1,500 chance of being the victim of a major crime when you live here. There's been 8 murders here since 2002, which is very low for a city that's nearly 200,000 in population. You have only a 1 in 93 chance of being robbed here. For comparison, in Memphis, Tennessee, America's most dangerous city, you have a 1 in 30 chance of being robbed every year. That's three times higher.
You hardly ever see a Cary police car driving around. We spotted two sitting in a vacant lot for some reason.
As you drive through Cary, it seems safe enough. The supermarket looks safe. The laundromat feels safe. So does the pottery place. The African and Caribbean Market? Safe. Walmart feels safe. Even the Park N Shop looks safe. The mall is...empty. People in Cary must be Prime members or something.
The thing about Cary that is annoying is the people here are pretty rude, snobby and self entitled. They're mostly wealthy, and come from the northeast - places like New York, Jersey, Connecticut and Massachusetts.
Draw your own conclusions.
Statistically, the number of crimes that happen in this Raleigh suburb is off the charts low. Like, nothing ever happens here but peace and quiet low. Is it boring? Perhaps. But can you leave your door unlocked at night? You betcha.
Thousand Oaks certainly has a reason to feel safe. We could make a thousand jokes about how safe Thousand Oaks is. But I will say for perspective, in nearby Los Angeles, you'd have a 1 in 131 chance of being the victim of a bad crime. Here in Thousand Oaks, your chances would be faaaar less - closer to 1 in 750.
Plus, if you lived in LA, you'd probably have bad guys for your neighbors.
Crime has been steadily falling in Thousand Oaks for the past few years, too, which puts it towards the bottom when it comes to the number of crimes that take place here. This is certainly the type of place where you can sleep well at night. However, we have to talk about what happened here in 2018 when a man went into the Borderline Bar and Grill and wiped out 12 patrons. That was in Thousand Oaks. If it wasn't for that, Thousand Oaks would be in the top 3 on our list. It was considered a truly random crime.
Welcome to Allen, Texas, the 4th safest city in America. So peaceful/ Allen is another Dallas suburb. It's basically right next door to Frisco. Here, you have a 1 in 1,200 chance of being the victim of some sort of crime. When someone gets rubbed out here, it's like a huge deal. There's only been five people wiped out here since 2002.
In Allen, neighbors support their local sports teams. People pitch in to help one another. And you can bet that residents in Allen are proud of their accomplishments. You and I have to worry about all sorts of stuff people in Allen don't. You know, like having our car stolen when we're at the club. Or, getting beat up because we talked to the wrong girl.
Seems like Allen is just the opposite of that lifestyle. If you live there, consider yourself lucky!
Welcome to Frisco, Texas. Now if you talk to Frisco residents, they'll probably tell you they should be atop this list. If you walked around here, there's no way you'd see neighborhood bullies running around. And there's practically no chance you'd get robbed by this idiot walking around at night, that's for sure.
You only have a 1 in 1,000 chance of being the victim of a terrible crime here. That's low.
Frisco is a posh, Dallas/Fort Worth suburb. Like League City, it's growing really fast - in fact it's just about the fastest growing city in the US. And somehow, despite the fact people are flocking here in droves, people have managed to remain civilized. Hmm. Imagine that, here in America. Average home prices here are about a half million. Likely, the criminals and creeps can't afford to live here, so they stay away. Are we seeing a pattern here? Fancy rich suburbs are safe? Who'd have thunk it?
Former Miss USA Courtney Gibbs is from Frisco.
Next on our list of safest places to live in America brings us to the ostentatious community of Murrieta, California. Whatever ostentatious means. It sounded like the right word.
Murrieta undoubtedly has a very bored police department. If you spent a year in Murrieta, you'd have only a 1 in 250 chance you'd be the victim of even a basic property crime. In fact, most years, there's only a handful of violent crimes reported within city limits.
Murrieta calls itself the future of California. That's quite a stretch - I grew up near here, but I will say if driving two hours to work each way each day is the future of living in California, than maybe their motto is spot on. But, Murrieta's the type of place that If you need a ride to work one day, someone will give you a lift. Heck, if your dog shows up missing, it's probably just at the neighbor's house.
Next time you see a Murrieta police officer, thank em!
The eighth safest city in America for 2019 goes to Sugar Land. Let's see why.
There were only 68 violent crimes here last year -- which is basically 0 for the average citizen. And there were only 1,277 property crimes to boot.
If you're looking for a safe place to live in America, may we present Port St. Lucie as an option.
While it doesn't sit at the very top of the chart for America, it still has an impressively low crime rate.
1,666 property crimes occurred here, which nets out to being the 6th best in America on a rate basis.
And just making it into the top ten for 2021 is Santa Clarita.
But we know they don't take this spot for granted -- Santa Clarita residents can attest that their home town deserves to be the on list.
In total, there were 291 violent crimes and 2,013 property crimes in Santa Clarita; that's really good for a place of 221,000 people and definitely something to be happy about looking forward into 2019.
Breaking Down Crime In The Safest And Most Dangerous Cities In America

How we calculated the safest cities in America
While there are surveys and public polls on what cities in a state are the safest, we didn't want to rely on speculation and opinion. Instead, we looked at the hard numbers from the FBI's most recent report of crime (Sept 2021). Specifically, we analyzed the
FBI's Uniform Crime Report
which summarizes the number of property crimes and violent crimes in each city per year. We used two criteria:
Violent crimes per capita (murders, assaults, rapes, armed robberies)
Property crimes per capita (thefts, burglaries, motor vehicle thefts)
For example, there were a total of 656 crimes committed in Carmel which had a reported population of 103,100. That means the number of crimes per capita is 0.0064 which translates into a 1 in 157 chance of being the victim of a crime.
We only looked at cities that have populations of more than 100,000 people reported to the FBI in 2020. This left us with a total of 283 of the biggest cities in America to rank.
We ranked each city for each criteria from 1 to 283 where 1 in any particular category is the safest.
Next, we averaged each places two criteria to create a Safety Index. We crowned the place with the lowest overall Safety Score "The Safest Place In America".
The safest city, based on our criteria, is Carmel. The most dangerous city in America? Memphis, where residents had a 1 in 12 chance of being the victim of a crime.
Note: This report is not an analysis of the effectiveness of local police departments, nor does it reflect the fact that people from out of town may come into a community and cause a crime. It simply looks at where crimes occurred most frequently, based on a city's population.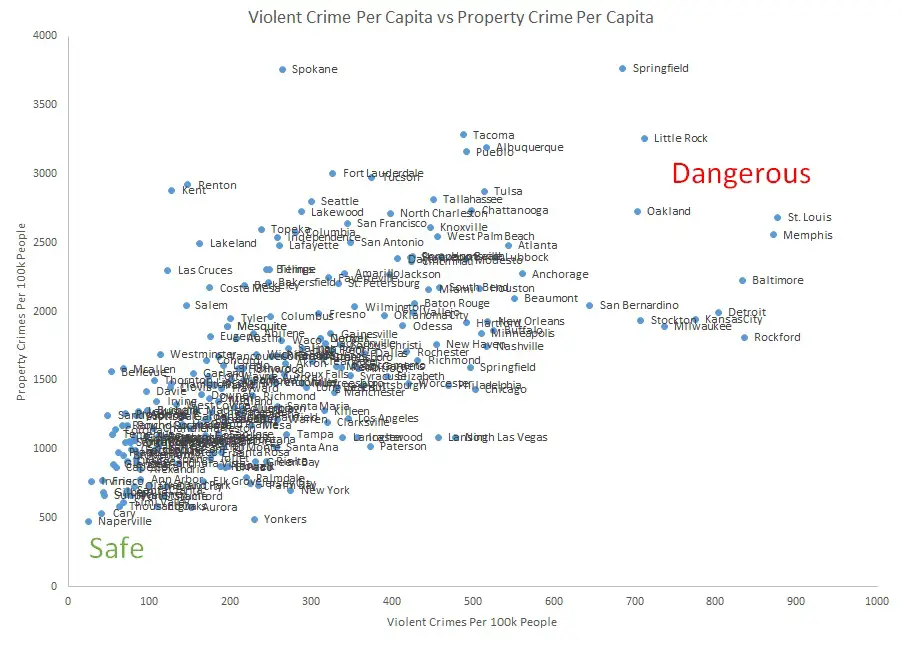 Summary: The Safest Cities In The USA
Looking at the data, you can tell that Carmel is as safe as they come, according to science and data.
But as most people would agree, almost every place here has its safe and not safe parts. So just make sure you're informed ahead of time.
Here's a look at the most dangerous cities in America according to the data:
Memphis
St. Louis
Springfield
For more reading, check out: