This article is an opinion based on facts and is meant as info-tainment. Don't freak out.
Swipe left for slideshow
Halloween is just about here, Ohio. We crunched the numbers and the data to tell you where the best and the worst places are to send your kids out to trick or treat this Saturday night.
How did we do it? It was easy. Everyone agrees that the best places to get candy are in safe areas where people are relatively wealthy, and where people are older. That's because a recent survey indicated that older people give out more candy, and are home on Halloween (instead of at a party).
So, the older the homeowner, the better the candy.
So, we got the goods on where you can get yours.
After analyzing all cities with a decent amount of people in them, we came up with this list as The 10 Best Places To Trick Or Treat In Ohio (along with their big city locations):
Bay Village (Cleveland)
Delhi Hills (Cincinnati)
Grandview Heights (Columbus)
Wyoming (Cincinnati)
Upper Arlington (Columbus)
Madeira (Cincinnati)
Lyndhurst (Cleveland)
Powell (Columbus)
Landen (Cincinnati)
Bexley(Columbus)
It looks like there are plenty of locations in all of the C's. That means there should be enough candy to go around. Read on below for the statistics.
But first, we promised we'd list the worst places to trick or treat in Ohio, based on the same data:
The Worst Places To Trick Or Treat in Ohio
Wellston
Nelsonville
Galion
Portsmouth
Trotwood (Dayton)
Mansfield
Jackson
Wilmington
Ontario
Youngstown
Almost all are nowhere near a major metro area.
What criteria did we use?
Crime
Wealth of residents
Density (more homes packed together is better)
Age (older is better)
1. Bay Village (Cleveland)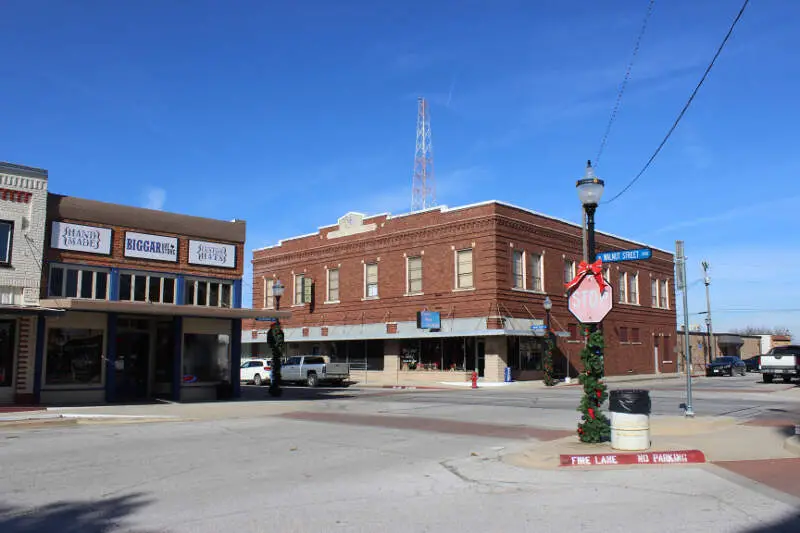 Bay Village
Population: 15,589
Crime: 12th safest
Income: $83,252
Age: 43
Homes per block: 38th most
2. Delhi Hills (Cincinnati)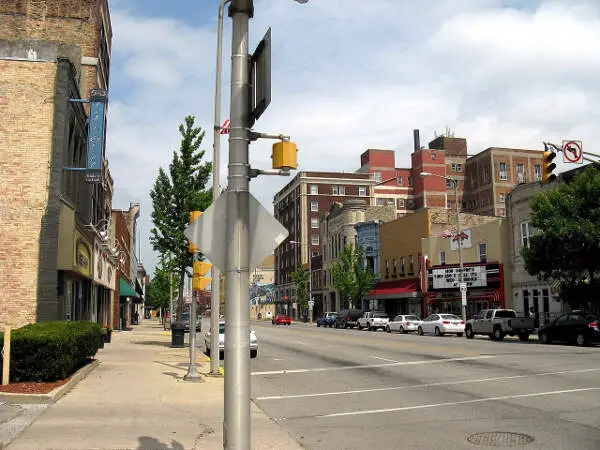 Delhi Hills.
Population: 5,118
Crime: 8th safest
Income: $85,706
Age: 37
Homes per block: 36th most
3. Grandview Heights (Columbus)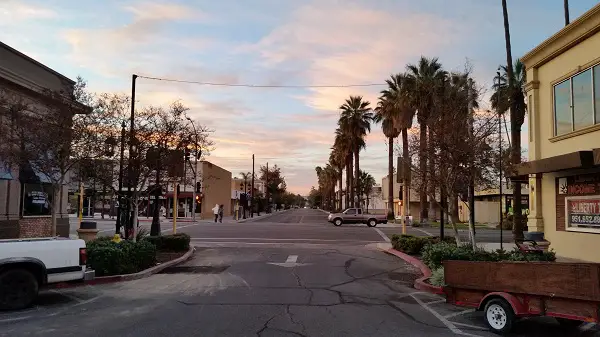 Grandview Heights
Population: 6,604
Crime: 29th safest
Income: $80,729
Age: 32
Homes per block: 14th most
4. Wyoming (Cincinnati)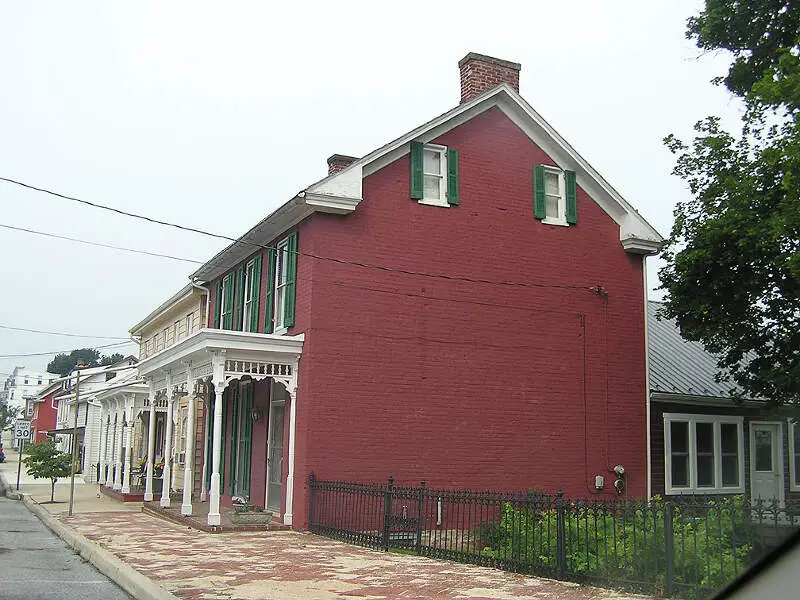 Wyoming, OH
Population: 8,386
Crime: 31st safest
Income: $95,572
Age: 40
Homes per block: 57th most
5. Upper Arlington (Columbus)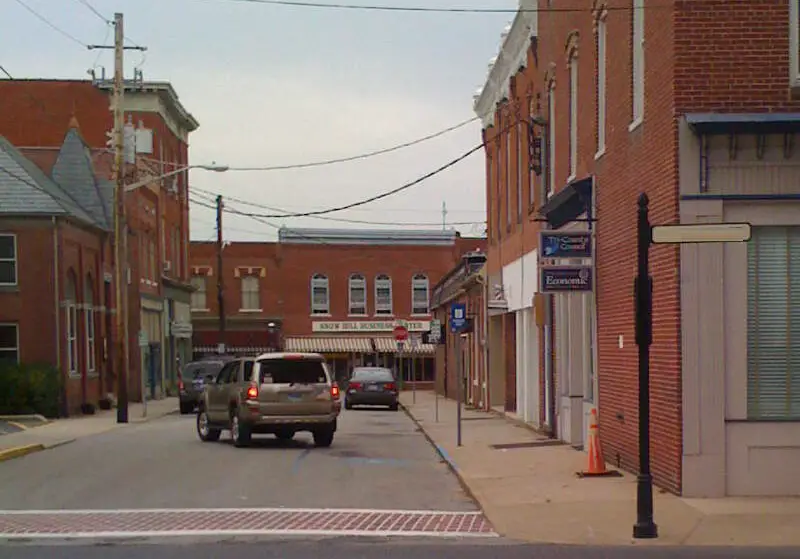 Upper Arlington.
Population: 33,488
Crime: 61st safest
Income: $95,445
Age: 43
Homes per block: 36th most
6. Madeira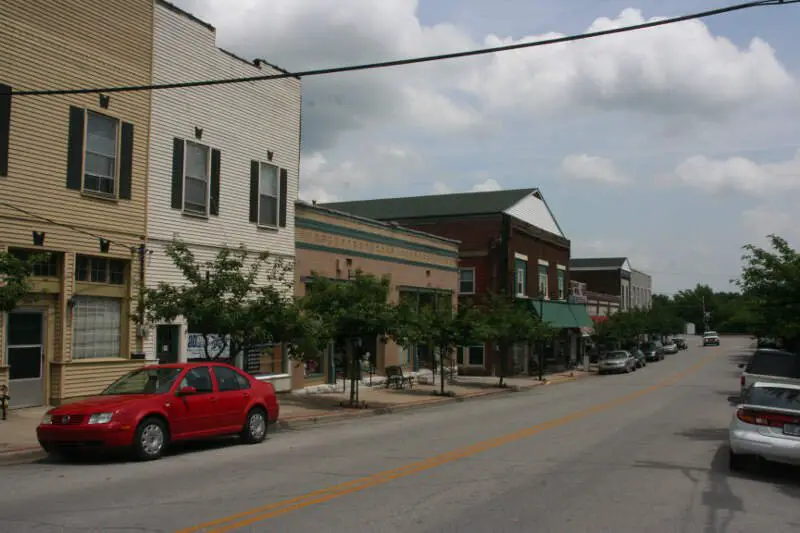 Madeira
Population: 8,713
Crime: 21st safest
Income: $87,232
Age: 43
Homes per block: 85th most
7. Lyndhurst (Cleveland)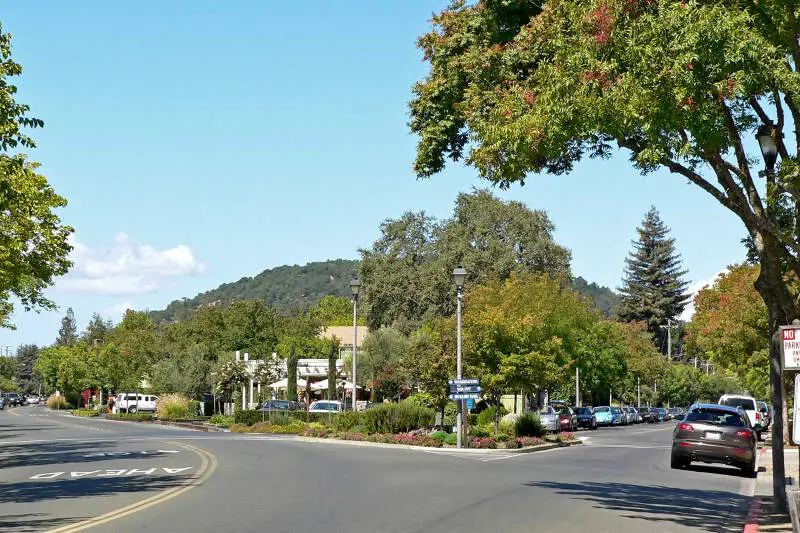 Lyndhurst
Population: 13,973
Crime: 20th safest
Income: $62,203
Age: 48
Homes per block: 47th most
8. Powell (Columbus)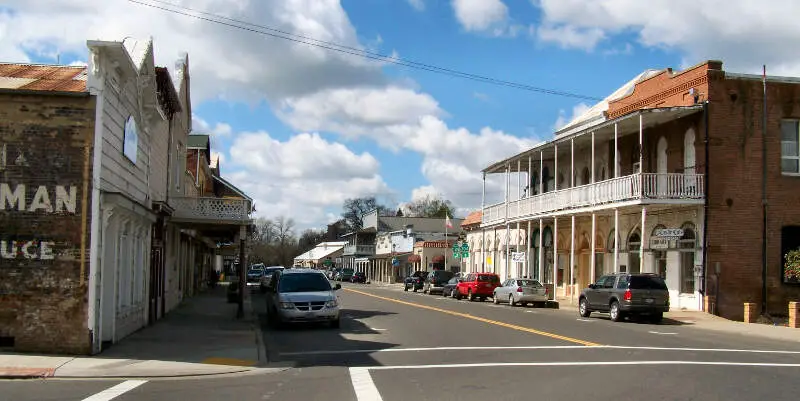 Powell
Population: 11,466
Crime: 9th safest
Income: $133,223
Age: 38
Homes per block: 107th most
9. Landen (Cincinnati)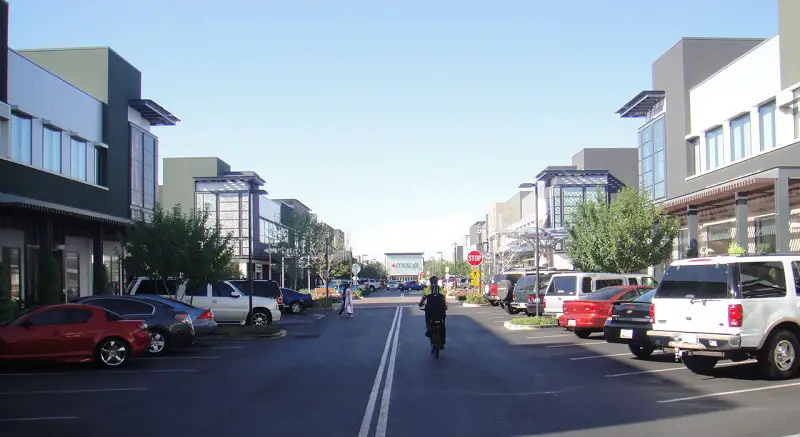 Landen
Population: 6,766
Crime: 58th safest
Income: $80,533
Age: 36
Homes per block: 40th most
10. Bexley (Columbus)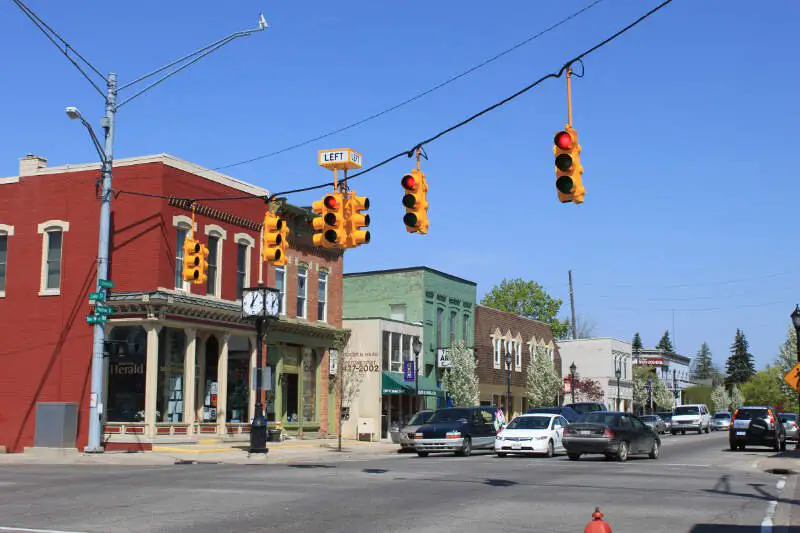 Bexley
Population: 13,228
Crime: 115th safest
Income: $94,234
Age: 37
Homes per block: 9th most
Here's a complete chart with the best places to Trick Or Treat, along with their crime rankings (the higher crime number is better):
| | | |
| --- | --- | --- |
| City | Crime | Rank |
| bay_village | 275 | 1 |
| delhi_hills | 279 | 2 |
| grandview_heights | 258 | 3 |
| wyoming | 255 | 4 |
| upper_arlington | 226 | 5 |
| madeira | 266 | 6 |
| powell | 278 | 7 |
| lyndhurst | 267 | 8 |
| landen | 228 | 9 |
| bexley | 171 | 10 |
| rocky_river | 205 | 11 |
| covedale | 268 | 12 |
| seven_hills | 286 | 13 |
| bridgetown | 246 | 14 |
| westerville | 192 | 14 |
| shaker_heights | 155 | 16 |
| deer_park | 222 | 17 |
| bellbrook | 254 | 18 |
| north_olmsted | 233 | 19 |
| olmsted_falls | 257 | 20 |
| willowick | 237 | 21 |
| springboro | 247 | 22 |
| avon_lake | 243 | 23 |
| dry_run | 284 | 24 |
| gahanna | 194 | 24 |
| mentor-on-the-lake | 236 | 26 |
| berea | 227 | 26 |
| brunswick | 224 | 26 |
| university_heights | 121 | 26 |
| highland_heights | 276 | 30 |
| montgomery | 223 | 31 |
| fairview_park | 207 | 32 |
| munroe_falls | 282 | 33 |
| forestville | 181 | 34 |
| northridge | 245 | 35 |
| monfort_heights | 259 | 36 |
| oakwood | 86 | 37 |
| sylvania | 171 | 38 |
| parma | 204 | 39 |
| northgate | 217 | 40 |
| dublin | 231 | 41 |
| westlake | 214 | 42 |
| south_euclid | 126 | 43 |
| mason | 248 | 43 |
| worthington | 150 | 43 |
| strongsville | 234 | 46 |
| kenwood | 135 | 46 |
| sheffield_lake | 209 | 48 |
| cleveland_heights | 184 | 48 |
| broadview_heights | 277 | 50 |
| canfield | 262 | 51 |
| loveland | 161 | 52 |
| mayfield_heights | 191 | 53 |
| hilliard | 168 | 53 |
| white_oak | 170 | 55 |
| mack | 285 | 56 |
| eastlake | 195 | 57 |
| pickerington | 200 | 58 |
| beckett_ridge | 197 | 59 |
| north_canton | 213 | 60 |
| hudson | 274 | 61 |
| beachwood | 156 | 62 |
| lakewood | 169 | 63 |
| solon | 260 | 64 |
| macedonia | 280 | 64 |
| finneytown | 165 | 66 |
| wickliffe | 228 | 67 |
| stow | 208 | 68 |
| cheviot | 192 | 69 |
| parma_heights | 177 | 70 |
| pepper_pike | 261 | 70 |
| new_albany | 269 | 72 |
| twinsburg | 264 | 73 |
| dent | 218 | 74 |
| brecksville | 270 | 75 |
| the_village_of_indian_hill | 263 | 76 |
| brook_park | 206 | 77 |
| willoughby | 216 | 78 |
| harrison | 195 | 78 |
| kettering | 158 | 80 |
| kirtland | 272 | 81 |
| blacklick_estates | 115 | 81 |
| centerville | 175 | 83 |
| centerville | 175 | 83 |
| trenton | 138 | 83 |
| groesbeck | 212 | 83 |
| new_philadelphia | 265 | 87 |
| wadsworth | 199 | 88 |
| avon | 250 | 89 |
| perrysburg | 182 | 90 |
| middleburg_heights | 220 | 91 |
| waterville | 253 | 92 |
| north_madison | 166 | 93 |
| north_ridgeville | 248 | 94 |
| beavercreek | 177 | 94 |
| mentor | 184 | 96 |
| aurora | 255 | 96 |
| dover | 250 | 98 |
| canal_winchester | 239 | 99 |
| reynoldsburg | 76 | 100 |
| ada | 273 | 101 |
| park_layne | 133 | 102 |
| granville | 188 | 102 |
| amelia | 104 | 104 |
| howland_center | 232 | 105 |
| streetsboro | 281 | 106 |
| amherst | 186 | 107 |
| port_clinton | 145 | 108 |
| north_royalton | 215 | 109 |
| grove_city | 108 | 110 |
| new_franklin | 271 | 111 |
| forest_park | 126 | 112 |
| apple_valley | 238 | 113 |
| grafton | 225 | 114 |
| blue_ash | 164 | 114 |
| ironton | 252 | 116 |
| cortland | 210 | 116 |
| medina | 125 | 116 |
| richmond_heights | 160 | 119 |
| independence | 230 | 120 |
| st._clairsville | 163 | 121 |
| canal_fulton | 211 | 121 |
| lebanon | 183 | 123 |
| wapakoneta | 242 | 124 |
| garfield_heights | 83 | 125 |
| summerside | 111 | 125 |
| perry_heights | 133 | 127 |
| germantown | 221 | 128 |
| lincoln_village | 96 | 129 |
| austintown | 139 | 130 |
| northbrook | 87 | 130 |
| green | 219 | 132 |
| brookville | 235 | 133 |
| delaware | 126 | 134 |
| marysville | 190 | 135 |
| clayton | 201 | 136 |
| painesville | 153 | 137 |
| fairborn | 142 | 137 |
| louisville | 187 | 139 |
| cuyahoga_falls | 151 | 139 |
| tipp_city | 198 | 141 |
| maumee | 179 | 142 |
| huron | 144 | 143 |
| maple_heights | 75 | 144 |
| englewood | 102 | 144 |
| delphos | 148 | 146 |
| north_college_hill | 46 | 146 |
| reading | 71 | 148 |
| fairfield | 82 | 149 |
| new_carlisle | 135 | 150 |
| belpre | 244 | 150 |
| kent | 153 | 150 |
| champion_heights | 239 | 153 |
| norton | 202 | 154 |
| withamsville | 66 | 155 |
| oberlin | 131 | 156 |
| riverside | 107 | 156 |
| columbus | 18 | 158 |
| pataskala | 188 | 159 |
| johnstown | 74 | 159 |
| rossford | 166 | 161 |
| orrville | 241 | 162 |
| struthers | 101 | 163 |
| ashland | 173 | 164 |
| lexington | 129 | 165 |
| new_burlington | 140 | 165 |
| salem | 203 | 167 |
| fairlawn | 69 | 167 |
| portage_lakes | 124 | 169 |
| boardman | 70 | 170 |
| athens | 180 | 171 |
| bedford_heights | 116 | 172 |
| upper_sandusky | 283 | 172 |
| miamisburg | 113 | 174 |
| elyria | 51 | 175 |
| barberton | 68 | 176 |
| mount_healthy | 39 | 176 |
| norwood | 23 | 176 |
| findlay | 83 | 179 |
| groveport | 132 | 180 |
| bedford | 73 | 181 |
| warrensville_heights | 63 | 181 |
| union | 135 | 181 |
| euclid | 28 | 184 |
| tiffin | 99 | 185 |
| chardon | 161 | 185 |
| vandalia | 149 | 187 |
| hubbard | 103 | 188 |
| st._marys | 141 | 188 |
| springdale | 32 | 190 |
| bowling_green | 123 | 191 |
| willard | 130 | 192 |
| brooklyn | 41 | 193 |
| oxford | 95 | 193 |
| tallmadge | 112 | 195 |
| wauseon | 120 | 196 |
| west_carrollton | 80 | 197 |
| martins_ferry | 78 | 198 |
| shelby | 159 | 199 |
| massillon | 152 | 199 |
| hamilton | 22 | 199 |
| columbiana | 174 | 202 |
| celina | 79 | 202 |
| rittman | 157 | 204 |
| new_lexington | 35 | 205 |
| xenia | 96 | 205 |
| willoughby_hills | 92 | 207 |
| troy | 3 | 208 |
| sharonville | 91 | 208 |
| toledo | 24 | 210 |
| marion | 47 | 211 |
| newark | 60 | 211 |
| uhrichsville | 142 | 213 |
| vermilion | 118 | 213 |
| campbell | 114 | 215 |
| norwalk | 59 | 216 |
| cincinnati | 9 | 217 |
| whitehall | 8 | 218 |
| akron | 21 | 219 |
| huber_heights | 25 | 219 |
| monroe | 49 | 221 |
| lorain | 37 | 222 |
| wheelersburg | 147 | 223 |
| east_cleveland | 5 | 224 |
| cleveland | 7 | 224 |
| defiance | 106 | 226 |
| wooster | 104 | 227 |
| bellevue | 100 | 228 |
| sidney | 43 | 229 |
| sandusky | 30 | 230 |
| fremont | 62 | 230 |
| lancaster | 40 | 232 |
| piqua | 98 | 233 |
| alliance | 57 | 234 |
| marietta | 146 | 235 |
| oregon | 92 | 236 |
| ravenna | 54 | 237 |
| niles | 42 | 238 |
| canton | 20 | 239 |
| london | 110 | 240 |
| napoleon | 88 | 241 |
| lima | 15 | 242 |
| girard | 36 | 242 |
| warren | 26 | 244 |
| chillicothe | 2 | 245 |
| circleville | 27 | 246 |
| east_liverpool | 31 | 247 |
| washington_court_house | 117 | 247 |
| springfield | 11 | 249 |
| greenville | 65 | 250 |
| dayton | 12 | 251 |
| clyde | 108 | 252 |
| mount_vernon | 48 | 253 |
| fostoria | 55 | 254 |
| milford | 38 | 254 |
| northwood | 58 | 256 |
| heath | 56 | 257 |
| ashtabula | 1 | 258 |
| kenton | 89 | 259 |
| coshocton | 85 | 260 |
| urbana | 60 | 261 |
| eaton | 77 | 262 |
| logan | 94 | 262 |
| hillsboro | 119 | 264 |
| franklin | 66 | 264 |
| zanesville | 28 | 266 |
| middletown | 12 | 267 |
| steubenville | 32 | 268 |
| bellefontaine | 44 | 269 |
| van_wert | 52 | 270 |
| bucyrus | 16 | 271 |
| conneaut | 122 | 272 |
| bryan | 64 | 273 |
| geneva | 4 | 274 |
| cambridge | 45 | 275 |
| youngstown | 10 | 276 |
| ontario | 19 | 276 |
| wilmington | 89 | 278 |
| jackson | 53 | 279 |
| mansfield | 34 | 280 |
| trotwood | 50 | 280 |
| portsmouth | 6 | 282 |
| moraine | 14 | 283 |
| galion | 17 | 284 |
| nelsonville | 80 | 285 |
| wellston | 72 | 286 |