Between the beautiful sunny weather and pristine beaches, it's no secret that life in Florida is pretty sweet. And while Florida is often billed as a retirement state, that doesn't mean it's just one massive golf course.
From the laid-back tropical vibes of the Florida Keys to the diverse dynamism of Miami, there's something for every speed in Florida. Ecotourists visit the Everglades in ever-growing numbers, and the folks with Peter Pan syndrome delight at having Disney World right in their backyard. And if you want to see where the Apollo 11 took off, the Kennedy Space Center is just one small step from Orlando.
Alright, alright, Florida's awesome, but what places are the absolute best to call home? In general, if you start off in Miami and drive north up the coast, you'll visit a sizeable chunk of cities featured on this list. Florida's Gulf Coast also has a number of representatives, all of which are south of Tampa. It's no surprise that most of this list consists of coastal and island cities, seeing as beach-living is one of Florida's big draws. But it takes more than some soft sand and crystal clear water to make a place great. It also needs to have the essentials — quality schools, safe streets, low crime, and a strong economy where no one is left out. It also helps when the cost of living is reasonable, so you won't be delayed joining Florida's other retirees.
If you're planning on moving to Florida, you may want to move quickly, because it's one of the fastest growing states in America. So wash back that Cuban sandwich with a slice of key lime pie and break out your beach chair and parasol, because we're paying a visit to the best places to live in Florida.
The 10 Best Places To Live In Florida For 2021
Where is the best place to live in Florida for 2021? After analyzing 208 places in Florida, Palm Beach came out as #1 on our list as the best place to live in Florida based on Census and FBI data.
Surprised? We're not.
Who wouldn't want to live on a beautiful mini-island surrounded by the ocean? And, it's close to Miami.
Read on to learn more about who made our top ten list, see how we crunched the numbers, or really just learn more about how epic Palm Beach is.
If you're looking for something more national, check out the best states in America or the best places to live in America.
For more Florida reading, check out:
The 10 Best Places To Live In Florida For 2021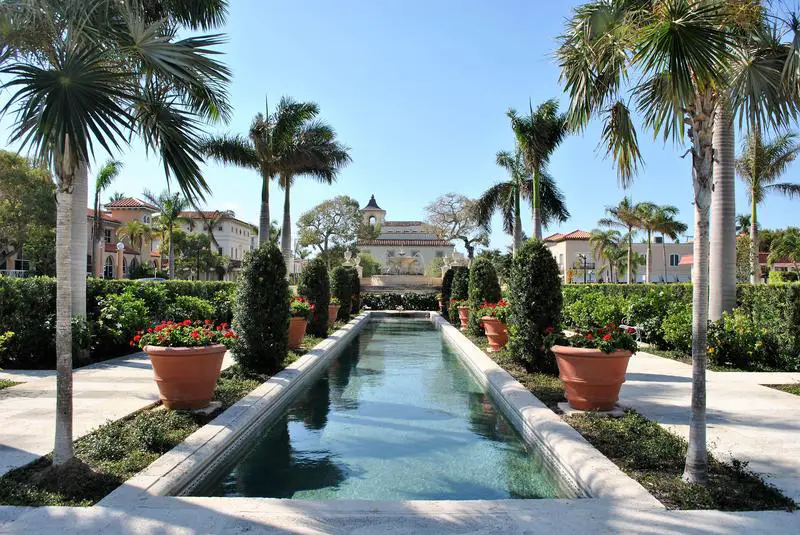 We're going to take a short drive up the coast to arrive at Palm Beach, the best place to call home in Florida. Money troubles shouldn't haunt you in Palm Beach, because the economy here is rock-solid. Palm Beach has the 10th lowest rate of unemployment and 11th lowest levels of poverty in Florida, so everyone can enjoy the island vibes here. It also has the 4th highest median household income in the state, with residents pulling in $141,348/year. That high pay is kind of necessary in a place where the homes are the 2nd priciest in the state. But with sub-20 minute commute times, at least your transportation costs will be a little lower here.
One thing to consider before you make the move to Palm Beach: with a median age of 70, this may not be the most high-paced, action-packed place to call home. Sure, it's got the 3rd highest rates of residents with health insurance statewide, but that's mostly due to the fact that greater percentages of old people tend to be insured compared to young people.
So if a ritzy, comfortable little city with shopping galore and plenty of natural beauty around sounds like just the ticket, consider Palm Beach your top choice.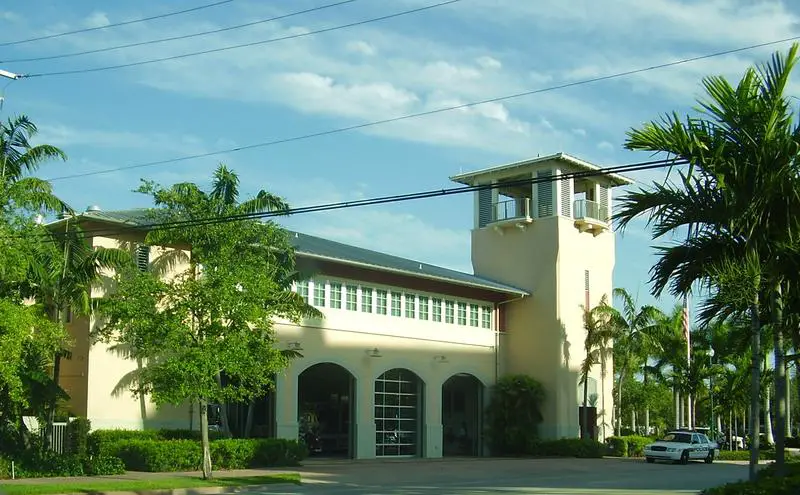 Source: Public domain
Kicking off our list is Key Biscayne, an island town located just south of Miami. In opposition to the image of Florida as a retiree-state, Key Biscayne's median age is a low 42, so it's fair to say that this is one of the hippest places you'll see on this list. Living in Key Biscayne, you also get access to all the best that Miami has to offer, without the high crime. That's because Key Biscayne has the 30th lowest crime rate in Florida, about 70% lower than the national average. Another perk of Key Biscayne over Miami is the weather; being an island, Key Biscayne has cooler summers and lower precipitation than The Magic City.
Word to the wise: you may want to have a lucrative job lined up before making the move to Key Biscayne, because the median home price here is $1,211,000, the most expensive in Florida. The good news is that the median household income in Key Biscayne is $151,310/year, the 3rd highest in the state, so residents don't have too much trouble making mortgage payments. You also may want to start reading more books if you want to fit in here, because around 35% of Key Biscayne's population has a master's degree or higher.
If you decide to settle down here, you'll probably spend a good amount of time at Bill Baggs Florida State Park on the south end or Crandon Park in the north. That way, you'll never get bored of going to the same beach every day. Key Biscayne bills itself as an "Island Paradise" and, looking at the data, we're inclined to agree!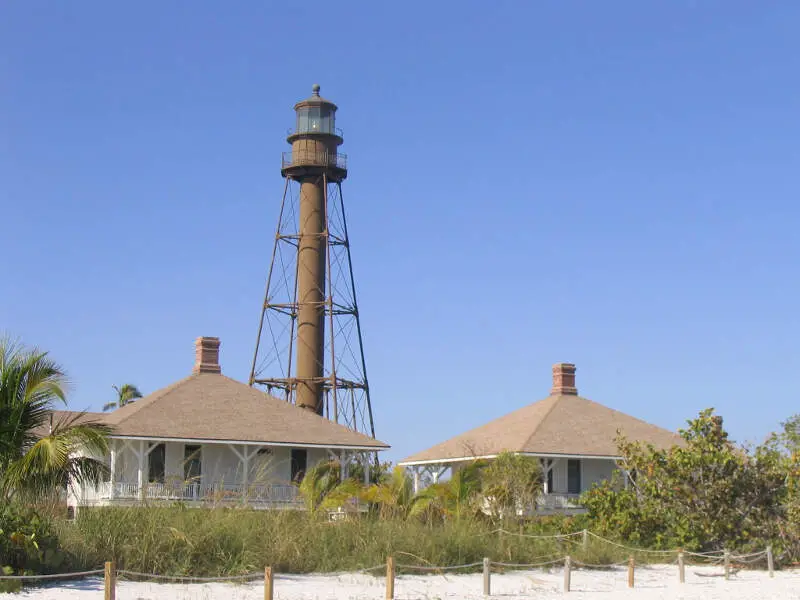 An island-city just a half hour outside of Cape Coral, Sanibel is our first representative of Florida's western coast. Sanibel is a wildly popular destination for tourists, thanks to over half the the island being made up of wildlife refuges like Ding Darling and epic beaches like Bowman's Beach. There's seriously an endless amount to do in Sanibel, so you'll be just as excited to live here after ten years as you are on day one.
Sanibel's population is super smart, with about 30% of residents having a master's degree or higher. Big degrees lead to big paychecks, as Sanibel's median household income is $108,081. And since smart people don't usually resort to crime, Sanibel has the 5th lowest rate of violent crime in Florida.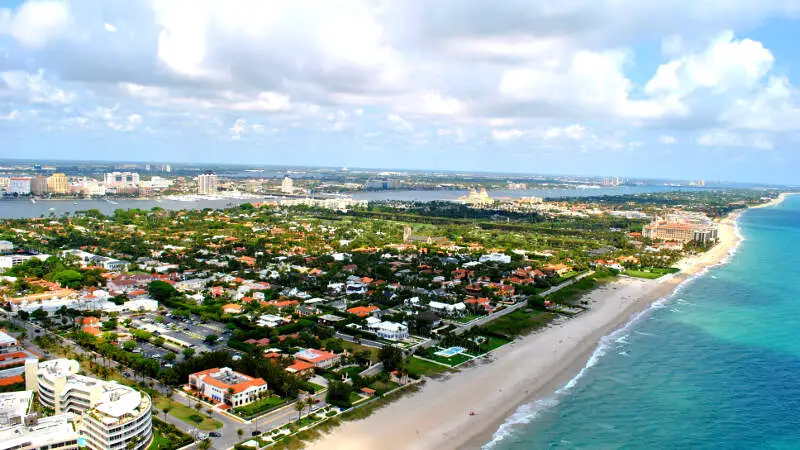 Let's take a step back from the hyper-wealthy communities and look at a place where your average Joe can make a good life for himself, North Palm Beach. North Palm Beach's median home cost of $328,100 is substantially lower than elsewhere in the top ten and combined with a median income of $72,027, this village is one of the most overall affordable places you'll see on this list.
We think North Palm Beach residents dig the fact that you can spend 25% as much on a home as in Palm Beach and still have access to awesome beaches like MacArthur Beach. And the unemployment rate in North Palm Beach is a measly 2.5%, so nobody gets left out here. One more plus is that there's no need to fear for your safety here, because North Palm Beach has the 13th lowest crime rate in Florida.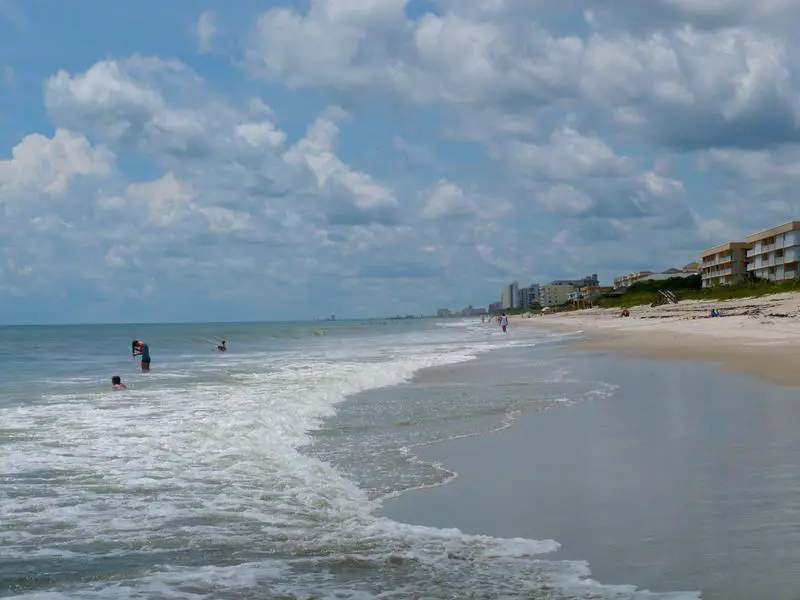 Satellite Beach is a city of 10,873 located just a short drive north from Palm Bay. Unsurprising for a city with the word "Beach" in it, Satellite Beach has several great beaches to choose from.
The median age in Satellite Beach is 44, which is quite young by Florida standards. That makes it one of the better places for young couples just starting out. Especially when you consider that the cost of living in Satellite Beach is the 100th lowest on this list. And Satellite Beach makes sure that all its residents are doing alright, because with poverty levels at a low 4.9%, this city has the 8th lowest rate of poverty in Florida.
Seeing as poverty levels generally correlate with crime rates, it's no surprise that Satellite Beach has the 6th lowest crime rate in Florida. This place really ticks all the boxes, and on a budget no less.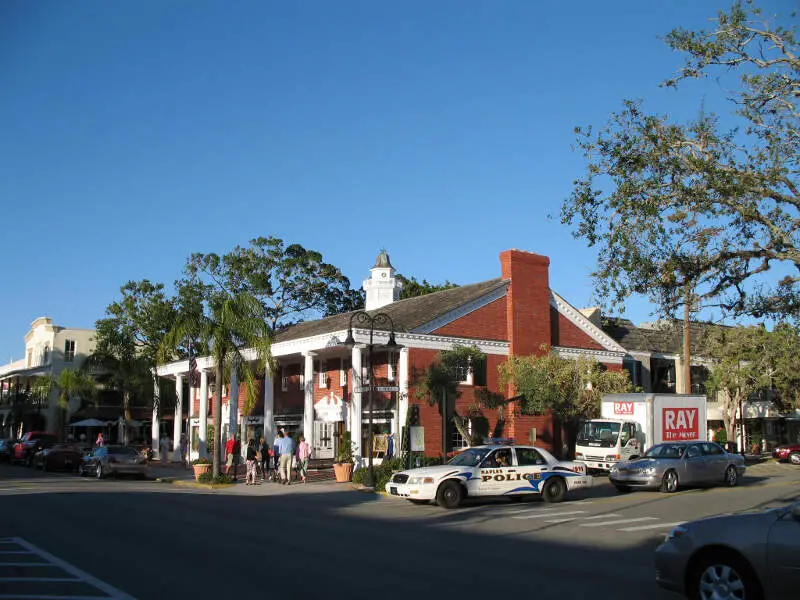 A city of 21,812 people, Naples is the 104th biggest city to make the cut for best places to live in Florida. Because of its proximity to the Everglades, Naples is a popular destination for ecotourists. Those looking for a tamer experience will prefer Naples' world-class Botanical Gardens or hanging out at the pier.
If you decide to settle down in Naples, homes here are the 3rd most expensive in the state, but you'll also get the 11th highest income statewide ($107,013/year). As for actually getting to and from work, Naples has one of the lowest commute times on this list of just 19 minutes. On top of that, GreatSchools gave Naples' public schools a 9/10 rating, so you can be confident that you're giving your children a top-notch educational experience.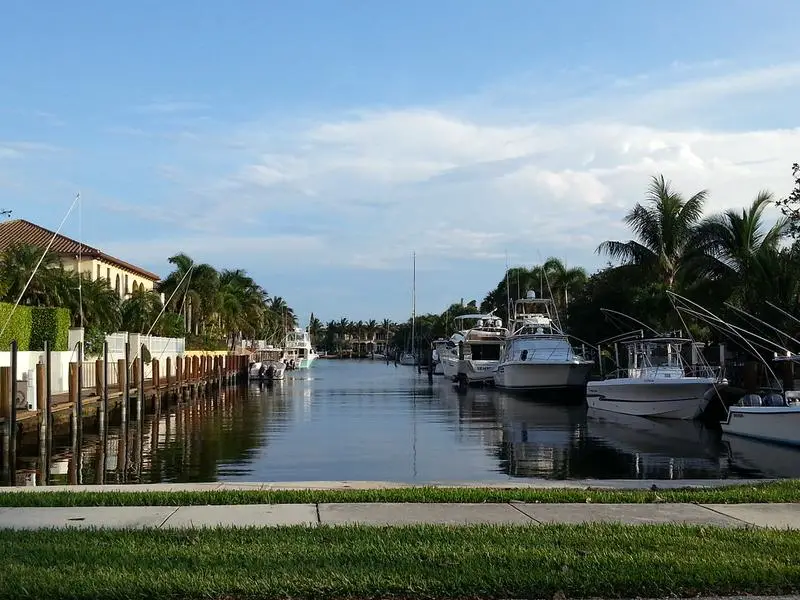 Next up on our list of best places to live in Florida is Lighthouse Point, an affluent suburb of Fort Lauderdale. Low levels of unemployment and poverty keep Lighthouse Point's economy strong in combination with a median household income of $81,445. It's also one of the most densely-populated cities to make this list, meaning it's unlikely you'll be bored here.
Lighthouse Point also scored a 9.5/10 in the education category of our SnackAbility score, so you better believe kids are getting the best possible start here. And if those kiddos do well enough in school, an ice cream cone from Frosty Point followed by some water park action at Quiet Waters Park makes for a great reward.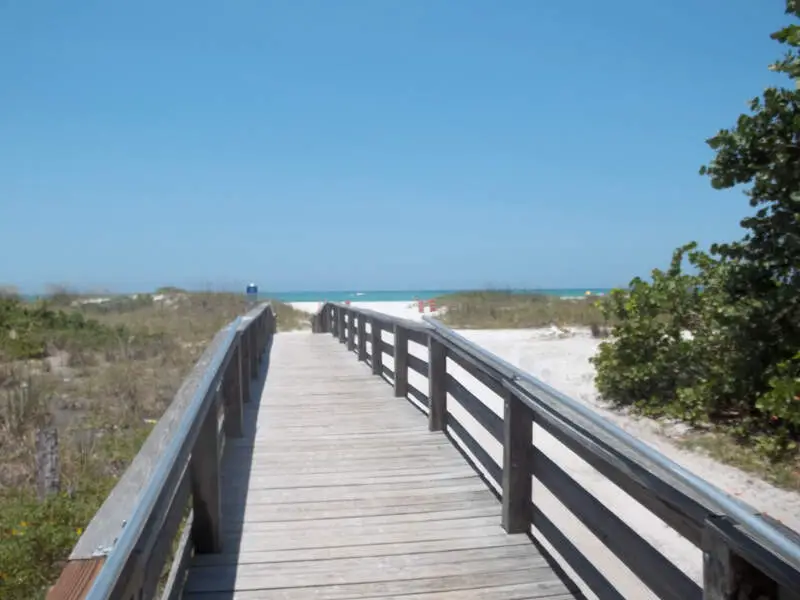 We'll wrap up our list of best places to live in Florida with Longboat Key, an island town an hour south of St. Petersburg. Longboat Key has the oldest populous on this list, with a median age of over 70. These septuagenarian residents really know their stuff though, because over 30% of the population have at least a master's degree.
That older population helps explain why Longboat Key has the highest rate of insured residents in Florida. And since old folks don't often go in for violence, Longboat Key's title as the 1st least violent place in Florida also makes sense.
Both unemployment and poverty rates in Longboat Key are among the top ten lowest statewide, so Longboat Key's economy is about as good as it gets. You can reward yourself for choosing such an awesome place to live by visiting one of many beaches Longboat Key has to offer.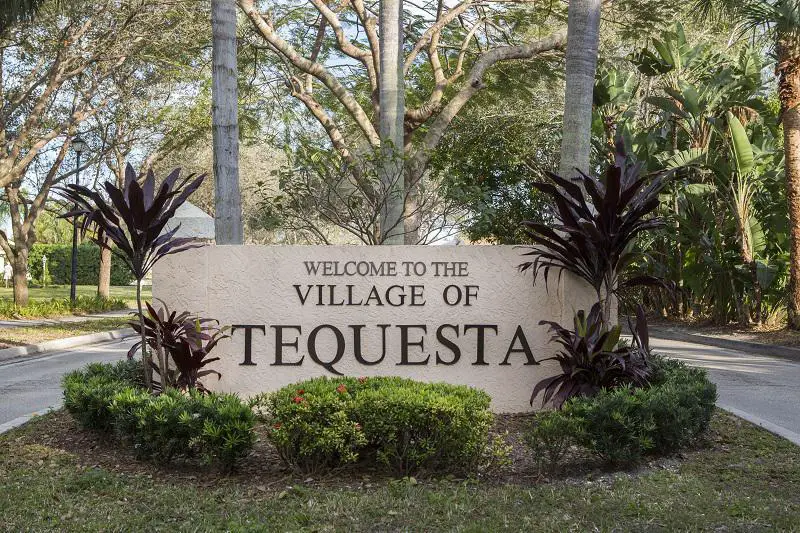 It turns out that if you want a tour of Florida's best places, all you have to is start in Miami and just keep driving north. Tequesta owes its #9 ranking to its safe streets, relatively low cost of living, top-notch schools, and excellent markets for both jobs and housing. As one of Florida's safest cities, you'll never have to worry about someone snagging your Amazon package from your porch in Tequesta.
Tequesta also has the lowest median household income on this list at $78,429, which, along with the cheaper median home price of $381,100, could be considered a good thing since the barrier of entry is slightly easier to cross here. And you better believe that Tequesta's population of 6,071 knows the importance of education, because this village has the 10th lowest rate of high school dropouts in Florida.
Tequesta is also home to Blowing Rocks Preserve, one of the best places to get a gander at sea turtles in Florida.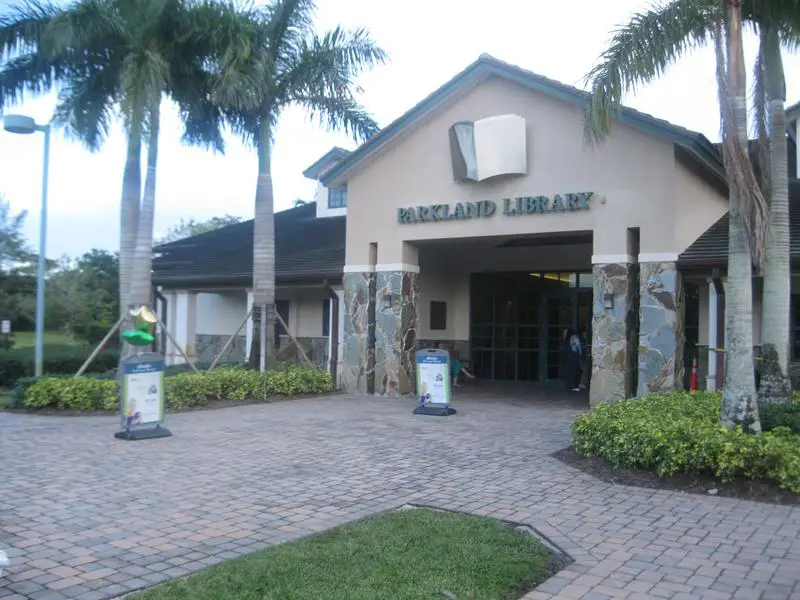 Parkland had a spotlight shone on it after the tragic events at Stonemason Douglas High School, but the community responded to the shooting in a way that displayed resilience and compassion. That's just the sort of thing you'd expect from the 10th best place to live in Florida.
In normal circumstances, Parkland is incredibly safe, with the 3rd lowest overall crime rate in Florida.
We named Parkland as one of the best places to raise a family in Florida: 50.07% of households have kids, and with the 4th lowest high school dropout rate statewide, and a GreatSchools average rating of 8.5, parents can rest assured that their kids are getting off to the best start.
Parkland also has the 6th lowest poverty rate in Florida, and the median household income of $154,844 ranks as the 2nd highest statewide. Homes in Parkland have a median price tag of $611,800.
While Miami and Fort Lauderdale are just a short drive away, there's plenty to keep you occupied within Parkland itself. Like taking an airboat tour of the Everglades. Or get your own boat and go nuts with water sports at nearby Quiet Waters Park.
Mapping The Best And Worst Places To Live in Florida
The Pressing Question: Size
Before we even started to collect data, we had to answer a tough question: Is it fair to pit Tallahassee with a population of 191,279 against places with a population of 18?
We firmly decided no, that just isn't fair.
So to create our ranking, we broke places to live into three tiers:
Cities — Populations over 5,000
Towns — Populations between 1,000 and 5,000
Small Towns — Populations below 1,000
This left us with 208 cities, 279 towns, and 126 small towns.
We then decided, no matter how much anyone loves their town, the best cities to live in Florida have more of everything and therefore you need to have over 5,000 people to truly be 'the best'.
Now we also realize that city living might not be your cup of tea, so we ran the following analysis on towns and then again for small towns.
You can see those two top tens at the bottom of the post.
How We Calculated The Best Cities To Live In Florida
Now that we had our set of cities, it was time to rank them.
We ranked each place in Florida across a number of criteria from one to 208, with one being the best.
We then took the average rank across all criteria, with the city posting the lowest overall score being crowned the winner of the title "Best Place To Live In Florida".
The criteria we looked at were:
Median Home Values
Median Income
Population Density (Higher better)
Unemployment Rate
Commute Time
Crime
Education Levels
Health Insurance Coverage
Poverty rates
Sources of criteria include the New Census Data and FBI Crime Data. You can download the data here.
After the dust settled, what was the best place to live in Florida? That would be Palm Beach.
If your city or town isn't among the top 10, jump down to the bottom of the post to see a detailed chart of the best places in Florida.
Otherwise, buckle up for a ride down good living lane with Palm Beach at the end of the cul-de-sac.

Wrapping Up The Best Places When It Comes To Living In Florida
If you're looking at areas in Florida with the best economic situations, where there's lower than average crime, and a lot to do, this is an accurate list.
Palm Beach made a strong showing to take in the overall number one spot for the best place to live in Florida for 2021.
Best Towns To Live In Florida
Highland Beach (Pop. 3,689)
Hillsboro Beach (Pop. 1,467)
Indian River Shores (Pop. 4,082)
Pine Ridge CDP (Collier (Pop. 1,833)
Vineyards (Pop. 3,925)
Lake Clarke Shores (Pop. 3,517)
South Beach (Pop. 3,325)
Harbor Bluffs (Pop. 2,931)
Melbourne Beach (Pop. 3,189)
Windermere (Pop. 3,175)
Best Small Towns To Live In Florida
Jupiter Inlet Colony (Pop. 508)
Hillsboro Pines (Pop. 510)
Lazy Lake (Pop. 34)
Gulf Stream (Pop. 660)
Sea Ranch Lakes (Pop. 663)
Golf (Pop. 213)
Manalapan (Pop. 270)
Shalimar (Pop. 792)
Belleair Shore (Pop. 81)
St. George Island (Pop. 641)
If you're curious enough, here are the worst places to live in Florida according to the data:
Opa-locka (Pop. 16,149)
Starke (Pop. 5,393)
Pahokee (Pop. 6,269)
For more Florida reading, check out:
Where Are The Best Places To Live In Florida?
| Rank | City | Population |
| --- | --- | --- |
| 1 | Palm Beach | 8,723 |
| 2 | Key Biscayne | 12,915 |
| 3 | Sanibel | 7,319 |
| 4 | North Palm Beach | 13,029 |
| 5 | Satellite Beach | 10,873 |
| 6 | Naples | 21,812 |
| 7 | Lighthouse Point | 11,195 |
| 8 | Longboat Key | 7,283 |
| 9 | Tequesta | 6,071 |
| 10 | Parkland | 31,454 |
| 11 | Marco Island | 17,834 |
| 12 | Coral Gables | 50,226 |
| 13 | Lake Mary | 16,698 |
| 14 | Safety Harbor | 17,803 |
| 15 | Lauderdale-By-The-Sea | 6,626 |
| 16 | Weston | 70,614 |
| 17 | Atlantic Beach | 13,575 |
| 18 | Niceville | 15,386 |
| 19 | Palm Beach Gardens | 56,219 |
| 20 | Boca Raton | 97,468 |
| 21 | Neptune Beach | 7,101 |
| 22 | Venice | 23,086 |
| 23 | Winter Park | 30,522 |
| 24 | Gulf Breeze | 6,546 |
| 25 | Belle Isle | 7,010 |
| 26 | Jupiter | 64,565 |
| 27 | Oviedo | 40,370 |
| 28 | Maitland | 17,765 |
| 29 | Indian Harbour Beach | 8,470 |
| 30 | St. Augustine Beach | 6,933 |
| 31 | Royal Palm Beach | 38,962 |
| 32 | Surfside | 5,725 |
| 33 | Bay Harbor Islands | 5,861 |
| 34 | St. Pete Beach | 9,587 |
| 35 | Winter Springs | 36,342 |
| 36 | Flagler Beach | 5,002 |
| 37 | Wellington | 64,396 |
| 38 | Miami Lakes | 30,864 |
| 39 | Lynn Haven | 20,948 |
| 40 | Jacksonville Beach | 23,399 |
| 41 | West Melbourne | 22,225 |
| 42 | Treasure Island | 6,889 |
| 43 | Sunny Isles Beach | 21,942 |
| 44 | Punta Gorda | 19,571 |
| 45 | Palmetto Bay | 24,333 |
| 46 | Valparaiso | 5,145 |
| 47 | Fort Myers Beach | 7,048 |
| 48 | Rockledge | 27,305 |
| 49 | Dunedin | 36,381 |
| 50 | Key West | 24,843 |
| 51 | Destin | 13,702 |
| 52 | Seminole | 18,657 |
| 53 | Miami Shores | 10,459 |
| 54 | Aventura | 37,303 |
| 55 | Southwest Ranches | 7,921 |
| 56 | Pembroke Pines | 170,072 |
| 57 | Coral Springs | 132,568 |
| 58 | Coconut Creek | 60,490 |
| 59 | Minneola | 11,559 |
| 60 | Miami Springs | 14,146 |
| 61 | Pinecrest | 19,244 |
| 62 | Cocoa Beach | 11,619 |
| 63 | Clermont | 35,209 |
| 64 | Miramar | 139,468 |
| 65 | New Smyrna Beach | 26,457 |
| 66 | Temple Terrace | 26,539 |
| 67 | Doral | 59,972 |
| 68 | West Miami | 7,788 |
| 69 | Ormond Beach | 42,545 |
| 70 | Fernandina Beach | 12,364 |
| 71 | Orange Park | 8,734 |
| 72 | Gulfport | 12,335 |
| 73 | Wilton Manors | 12,630 |
| 74 | Oldsmar | 14,657 |
| 75 | Bonita Springs | 55,902 |
| 76 | Winter Garden | 43,648 |
| 77 | Cutler Bay | 44,222 |
| 78 | Port Orange | 62,726 |
| 79 | Stuart | 16,161 |
| 80 | Sebastian | 25,107 |
| 81 | Davie | 104,399 |
| 82 | Lady Lake | 15,426 |
| 83 | Vero Beach | 16,857 |
| 84 | Fruitland Park | 7,848 |
| 85 | Cape Coral | 183,942 |
| 86 | Milton | 9,995 |
| 87 | Port St. Lucie | 189,396 |
| 88 | Longwood | 14,930 |
| 89 | Cape Canaveral | 10,377 |
| 90 | Macclenny | 6,592 |
| 91 | Altamonte Springs | 43,810 |
| 92 | Marathon | 8,702 |
| 93 | South Pasadena | 5,088 |
| 94 | St. Petersburg | 261,338 |
| 95 | Sunrise | 94,060 |
| 96 | Fort Walton Beach | 22,084 |
| 97 | North Port | 66,410 |
| 98 | Edgewater | 23,324 |
| 99 | Delray Beach | 68,217 |
| 100 | Tamarac | 65,874 |
Editor's Note: We updated this article for 2021. This is our seventh time ranking the best places to live in Florida.