Article Table Of Contents   
(Skip to section)
What do 1.9 million Nebraska residents know that we don't? Well, besides that Hastings is the home of Kool-Aid or that Omaha is home to the biggest rainforest indoor rainforest, Nebraskans know that the Cornhusker State has some of the best places to live in America.
And lucky for you, HomeSnacks has uncovered the top ten best places to live in Nebraska for 2022.
We looked at Nebraska places with 5,000 or more residents. We took into account home and rental prices, household income, education, and safety. Our conclusion, Nebraska is the land of spectacular sunsets and lush cornfields; so any place you choose to call home, will definitely be five star. Not surprising, because we can thank some of Nebraska's best places for Swanson TV Dinners and Eskimo Pies; and we can thank the other half, for higher education institutions like The University of Nebraska in Lincoln and Doane University in Crete for educating the future of Nebraska.
So, what does it take to live in Nebraska's best of the best places? We suggest a good job. And the jobs that are keeping median incomes high and Nebraska's best places to live safe and enjoyable are in the medical field and engineering. More importantly, these jobs are keeping Nebraska's unemployment rate below the national average as well as one of the safest states in the country.
We suggest you grab a Runza, head to your favorite spot on the Ogallala side of the Platte River and read on.
Picture a cool, urban, Nebraska suburb with great parks, gold star schools, and amazing people, and you will know what it's like to live in Nebraska's number one best place.
So, where is the best place to live in Nebraska for 2022? Well, according to the most recent FBI and Census data, that would be Papillion.
To see Nebraska's other best places to live, take a look below.
If you're looking for something more national, check out the best states in America or the best places to live in America.
For more Nebraska reading, check out:
The 10 Best Places To Live In Nebraska For 2022
Located just south of La Vista, Papillion comes in as the best place to live in Nebraska, after losing the #1 rank it had up until this year. Hey, there's nothing wrong with some neighborly competition. Home to the minor league Storm Chaser's Werner Park, the kid-favorite Papio Fun Park, and an absolute abundance of other regular parks, its safe to say Papillion is one of the most family-friendly spots in Nebraska.
The poverty rate in Papillion is a crazy low 4.0%, which ranks as the best in Nebraska. Unemployment sits at 2.9% and the vast majority of folks here have health insurance. But Papillion's locals aren't satisfied with just getting by; they enjoy the highest median household income in the state at $90,000/year. Which is good when homes in the area typically go for around $222,300, the most expensive in Nebraska.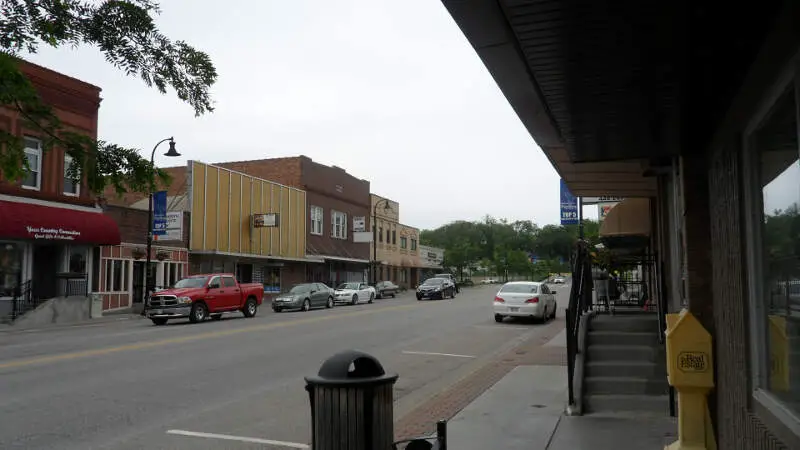 Seward is a city of 7,210 located a half hour west of Nebraska's capital, Lincoln. Seward is the home of Concordia University, which comes with the perk of having an awesome art gallery around. It's also where you'll find the World's Largest Time Capsule, which holds over 5,000 relics and is due to open in 2025. Most importantly, Seward hosts Nebraska's Fourth of July celebrations each year, which has been voted one of the best Independence Day shindigs in the country and draws upward of 40,000 visitors.
Seward has the distinction of being Nebraska's safest city, with a crime rate 60% below the national average. GreatSchools gave Seward's district an average score of 8/10 and the city's schools consistently outperform the statewide average in test scores and graduation rates by over 10%. Homes in Seward are the 6th most expensive in Nebraska at $168,300, but rent is quite reasonable at $808/month.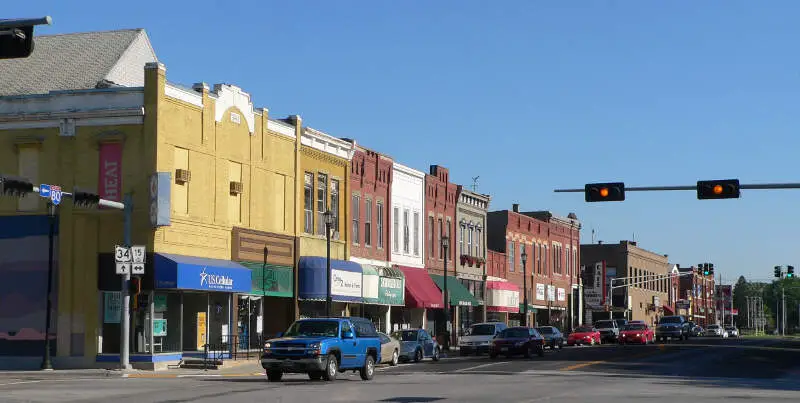 Source: Public domain
Gretna is a city in Sarpy County situated between Nebraska's two biggest cities, Omaha and Lincoln. There's plenty of family-friendly activities in Gretna, perhaps none as popular with locals as Vala's Pumpkin Patch and Apple Orchard, chock full of wholesome activities as well as the traditional pick-your-own produce fun. For those looking to hike while enjoying spectacular views of the Platte River Valley, Schramm Park is the place for you.
We just hope you're comfortable schmoozing with the 1%, because Gretna is the richest city in Nebraska. The median household income here is $69,592/year, which ranks as the 4th highest in the state, while a typical home sells for $181,200. Gretna's unemployment rate is at a crazy low 0.3% and the poverty rate here ranks as the 3rd lowest statewide at 6.5%. As a bonus, you'll have some smart neighbors in Gretna, because 45% of residents have a college degree and 15% have a master's degree or higher.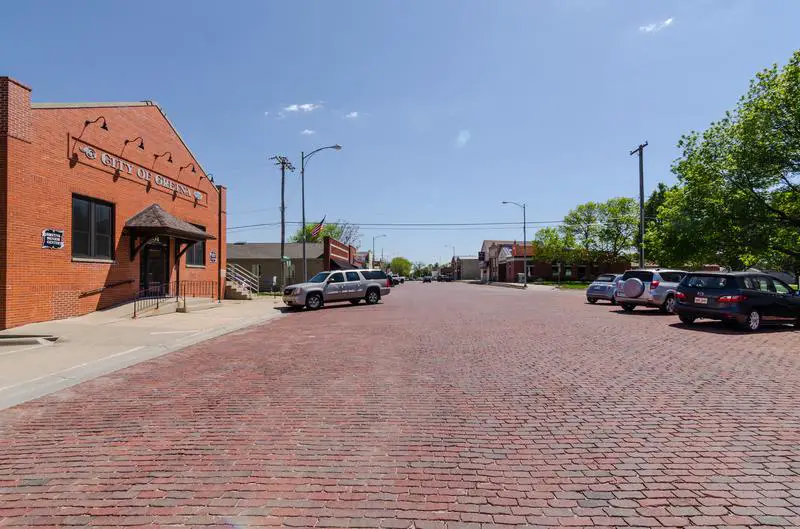 We begin our tour of the best places in Nebraska with La Vista, an Omaha suburb of 17,081. La Vista recently celebrated its 60th birthday, but it's a precocious little scamp. Home to four breweries and a distillery, it's safe to say that you won't go thirsty in La Vista. With all this action around, combined with its status as the state's most densely-populated place, it's no wonder that La Vista ranked among the best cities for singles in Nebraska.
The unemployment and poverty rates in La Vista are about half that of the Nebraska average, sitting at 3.8% and 5.4% respectively. Crime is well below the national average as well and violent crime in particular ranks as the 13th lowest in Nebraska.
A little over half of La Vista's residents own their homes, typically paying around $169,100. Rent in La Vista goes for about $1,033/month, which is the priciest you'll see on this list and about 25% higher than the statewide median. Luckily, La Vista's residents are the 3rd best-paid in the state, with a median household income of $70,184/year.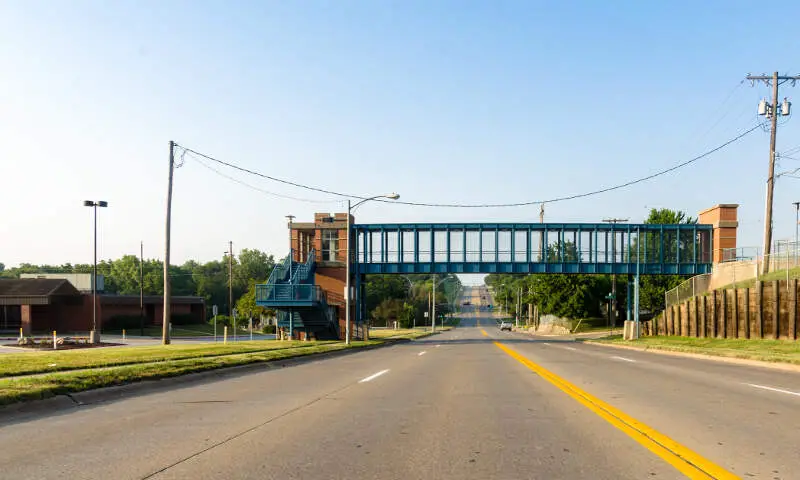 Welcome to Ralston, an Omaha suburb of 7,305 with the 2nd highest population density in Nebraska. Being just 15 minutes from downtown Omaha comes with obvious perks, but there's plenty going on in Ralston's parks, theatres, restaurants, and the city's crown jewel, the Ralston Arena. Besides hosting local sporting events, the arena offers drop-in ice hockey and public ice skating once a month for the amateurs.
Omaha's been growing in recent years and none of it's 'burbs have grown faster than Ralston, which has added over 20% to its ranks in the last decade. Household income and property values went up by 5% in just the last year, so moving to Ralston is a solid investment. The poverty rate here is the 6th lowest in Nebraska at 8.3% and folks here earn the 10th highest median household income in the state at $60,106/year. If you're the sort who likes neighbors with the same political thinking as yourself, know that Ralston ranks as Nebraska's most liberal city.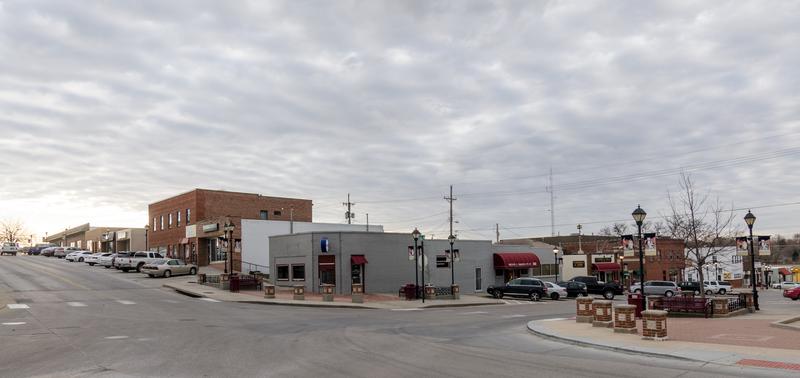 If you're looking for the best of small-town living without sacrificing easy access to the big city, you'll love Blair, a suburb located about a half-hour north of Omaha. Blair has over 150 acres of city parks and recreational facilities and residents can easily to get to nearby Fort Atkinson State Historical Park for live history tours or just a day outdoors. Safe streets and good schools are other reasons why parents are drawn to Blair's cozy little community.
Word to the wise, though: Blair ranks among Nebraska's most expensive cities, so be sure to come with some savings or a lucrative job lined up if you want to keep up here. On the bright side, besides have the 9th priciest homes in Nebraska, the cost of living in Blair is pretty much on par with the statewide average. And the median rent of $777/month is actually lower than the Nebraska median price, so if you're not settling down just this minute, don't let the "expensive" title keep you from making the move to Blair.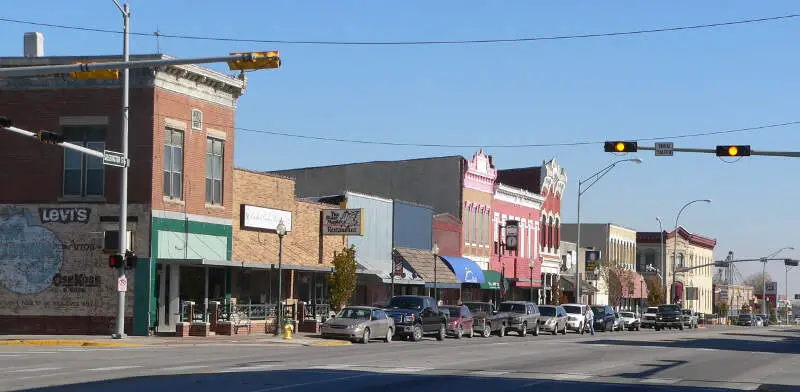 Source: Public domain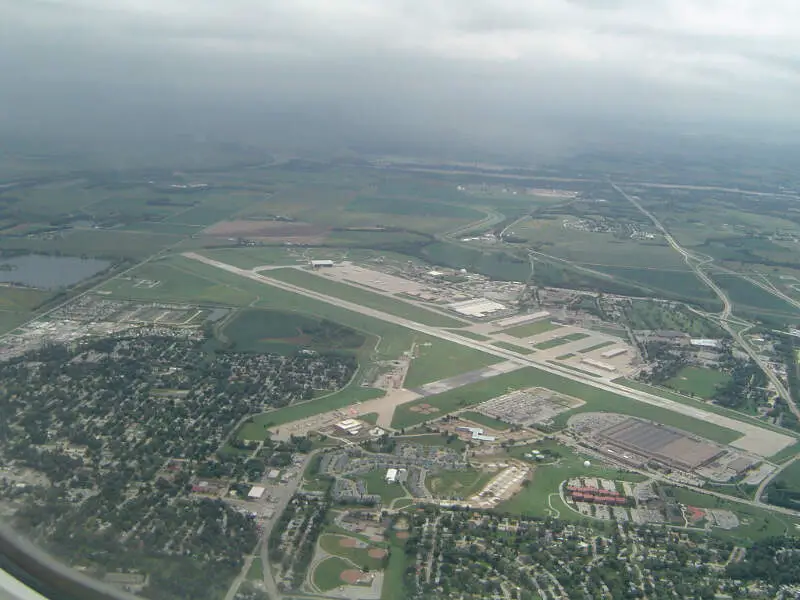 Source: Public domain
Kearney is the fifth largest city in Nebraska, as well as one of Nebraska's fastest-growing cities. It's not hard to see why people are moving to the state's 8th best place to live in droves.
The median age in Kearney is a low 32, so residents have plenty of energy to take advantage on all the great stuff on offer here. Like the Classic Car Collection for motorheads, the Museum of Nebraska Art for those who enjoy the finer things, and Cottonmill Park for fishers, joggers, and families.
Statistically, Kearney is a pretty impressive city. Residents enjoy the 10th shortest average commute times in Nebraska and the 10th lowest unemployment rate. Homes in Kearney sell for a median price of $188,800, the 2nd priciest in the state.
However, that's no problem because residents earn a median household income of $60,755. And while homes are on the expensive side, the cost of living in Kearney is otherwise right on par with the rest of the state.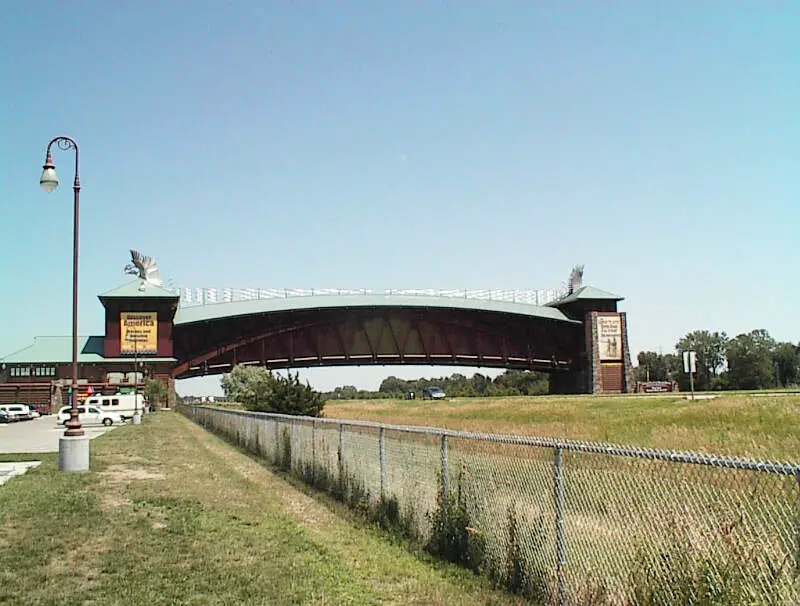 Source: Public domain
Gering, the county seat of Scotts Bluff County in the central Panhandle region of Nebraska, ranks as the 9th best place to live in the state. If you're after a stunning sunset overlooking the North Platte River Valley, you'll want to get to the top of Scotts Bluff National Monument. For those interested in the frontier days, the Legacy of the Plains Museum is a real treat. But for a community event that celebrates that legacy with food fairs, art shows, concerts, and parades, Gering's Oregon Trail Days is the affair of the year.
The brutal frontier past may have been dangerous, but these days Gering has the 12th lowest crime rate in Nebraska. The poverty rate here is the 7th lowest in the state at 8.4%. And it's not like people are just scraping by here, either, because Gering's residents also enjoy the 7th highest median household income in the state at $62,764/year.

Source: Public domain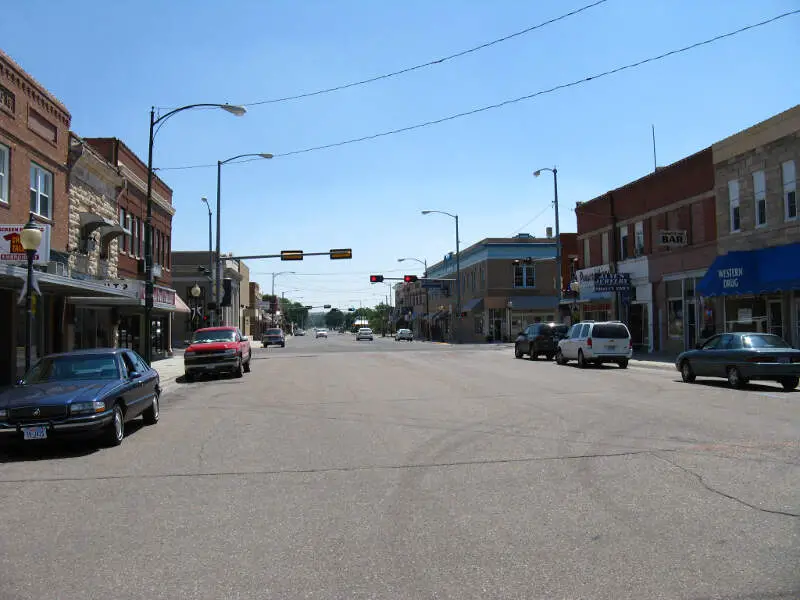 Mapping The Best And Worst Places To Live in Nebraska
The Pressing Question: Size
Before we even started to collect data, we had to answer a tough question: Is it fair to pit Lincoln with a population of 286,388 against places with a population of 18?
We firmly decided no, that just isn't fair.
So to create our ranking, we broke places to live into three tiers:
Cities — Populations over 5,000
Towns — Populations between 1,000 and 5,000
Small Towns — Populations below 1,000
This left us with 30 cities, 85 towns, and 396 small towns.
We then decided, no matter how much anyone loves their town, the best cities to live in Nebraska have more of everything and therefore you need to have over 5,000 people to truly be 'the best'.
Now we also realize that city living might not be your cup of tea, so we ran the following analysis on towns and then again for small towns.
You can see those two top tens at the bottom of the post.
Methodology: How We Calculated The Best Cities To Live In Nebraska
Now that we had our set of cities, it was time to rank them.
We ranked each place in Nebraska across a number of criteria from one to 30, with one being the best.
We then took the average rank across all criteria, with the city posting the lowest overall score being crowned the winner of the title "Best Place To Live In Nebraska".
The criteria we looked at were:
Median Home Values
Median Income
Population Density (Higher better)
Unemployment Rate
Commute Time
Crime
Education Levels
Health Insurance Coverage
Poverty rates
Sources of criteria include the New Census Data and FBI Crime Data. You can download the data here.
After the dust settled, what was the best place to live in Nebraska? That would be Papillion.
If your city or town isn't among the top 10, jump down to the bottom of the post to see a detailed chart of the best places in Nebraska.
Otherwise, buckle up for a ride down good living lane with Papillion at the end of the cul-de-sac.

Summary: The Best Places When It Comes To Living In Nebraska
If you're looking at areas in Nebraska with the best economic situations, where there's lower than average crime, and a lot to do, this is an accurate list.
Papillion made a strong showing to take in the overall number one spot for the best place to live in Nebraska for 2022.
Best Towns To Live In Nebraska
Hickman (Pop. 1,891)
Springfield (Pop. 1,516)
Waverly (Pop. 3,686)
Bennington (Pop. 1,608)
Aurora (Pop. 4,459)
Arlington (Pop. 1,322)
Sutherland (Pop. 1,490)
Battle Creek (Pop. 1,264)
Ceresco (Pop. 1,000)
Pierce (Pop. 1,963)
Best Small Towns To Live In Nebraska
Loomis (Pop. 419)
Hadar (Pop. 273)
Wann (Pop. 81)
Lakeview (Pop. 317)
Yankee Hill (Pop. 378)
Roca (Pop. 195)
Malcolm (Pop. 408)
Washington (Pop. 114)
Glenwood (Pop. 473)
Henderson (Pop. 971)
If you're curious enough, here are the worst places to live in Nebraska according to the data:
Beatrice (Pop. 12,282)
Scottsbluff (Pop. 14,660)
Crete (Pop. 7,013)
For more Nebraska reading, check out:
Where Are The Best Places To Live In Nebraska?
| Rank | City | Population |
| --- | --- | --- |
| 1 | Papillion | 24,310 |
| 2 | Seward | 7,210 |
| 3 | Gretna | 5,039 |
| 4 | La Vista | 17,081 |
| 5 | Ralston | 7,305 |
| 6 | Blair | 7,830 |
| 7 | Bellevue | 63,970 |
| 8 | Kearney | 33,783 |
| 9 | Gering | 8,179 |
| 10 | Sidney | 6,451 |
| 11 | Holdrege | 5,406 |
| 12 | Norfolk | 24,410 |
| 13 | Lincoln | 286,388 |
| 14 | Columbus | 23,291 |
| 15 | Schuyler | 6,269 |
| 16 | York | 7,810 |
| 17 | Plattsmouth | 6,453 |
| 18 | Chadron | 5,482 |
| 19 | Wayne | 5,603 |
| 20 | Omaha | 479,529 |
| 21 | Hastings | 24,878 |
| 22 | Alliance | 8,139 |
| 23 | North Platte | 23,734 |
| 24 | Fremont | 26,362 |
| 25 | Mccook | 7,555 |
| 26 | Lexington | 10,069 |
| 27 | Grand Island | 51,250 |
| 28 | Beatrice | 12,282 |
| 29 | Scottsbluff | 14,660 |
| 30 | Crete | 7,013 |
Editor's Note: We updated this article for 2022. This is our ninth time ranking the best places to live in Nebraska.