Editor's Note: We updated this article for 2021. This is our seventh time ranking the best places to live in North Carolina.
Article Table Of Contents   
(Skip to section)
Where are the best places to live in the state of North Carolina?
Some might say wherever there's a college basketball team, a NASCAR track, a sunny beach, a snowy mountain, great BBQ, or a hoppy crafted beer. When you stumble upon all, you might feel like you've won the North Carolina Lottery.
And, yes, it's possible.
The Tar Heel state takes eight hours to drive from the Outer Banks on its East Coast to the Blue Ridge Mountains on its Western border. You'll never hear a North Carolinian say that they're bored. The eight hour trek unravels the state's rich history around every Tar Heel corner. The Outer Banks has pirate lore and shipwrecks, battles were lost and won in the Piedmont's backyard, and ancient Cherokee stories continue to be told around ceremonial fires in the Blue Ridge Mountains.
Craft beer, BBQ, and NASCAR aside, North Carolina has a lot to offer and it is no surprise that the Tar Heel State is the 28th most expensive and the 9th most populous in the U.S. Currently 38% of North Carolinians are college-educated and with top colleges and universities like Duke and UNC, that percentage is sure to increase. Major metropolitan cities like Raleigh, Durham, and Charlotte are crushing the tech industry and local business is booming.
So, grab a BBQ sammie, a pint of your favorite craft beer and read on to discover how we determined the best cities in North Carolina.
The 10 Best Places To Live In North Carolina For 2021
We wish every Tar Heel city could be in the top ten: they're all deserving.
But what city is the best place to live in North Carolina for 2021? Well according to the US Census and FBI data we crunched, Davidson is the best place to live in North Carolina if you care about home values, low crime, and a high quality of life.
It's not a surprise that Davidson takes the cake. What Davidson does not have by way of mountains and beaches, it does make up for with its beautiful neighborhoods, gold star schools, and sweet Carolina BBQ.
Read on to see where to live in North Carolina that will make you feel like you have won the lottery.
If you're looking for something more national, check out the best states in America or the best places to live in America.
For more North Carolina reading, check out:
The 10 Best Places To Live In North Carolina For 2021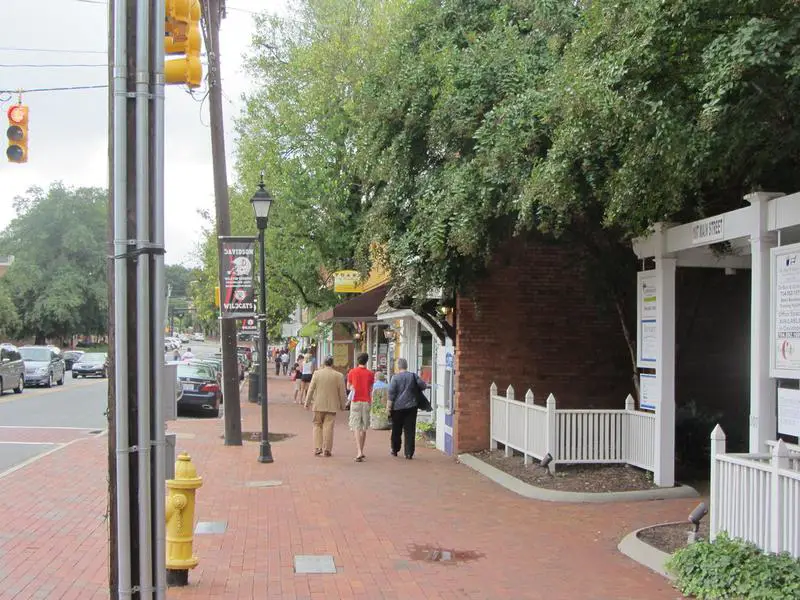 Home of the Davidson College Wildcats, Lake Norman, and great prices on real estate, the #1 best place to live in North Carolina, Davidson, is one of the Tar Heel State's best kept secrets. But, with only 12,735 full time residents, there aren't a lot of people to get the word out. But, this just adds to Davidson's appeal. That, and the fact that it's the 7th safest cities on the list.
And, if you guessed that the people who live here are pretty smart--it's a college town after all--you guessed right. Forty percent of Davidson's residents have a Bachelor's Degree and 23% have a Masters. These numbers are both well below the state and national level.
So, if you're looking for "[A] College Town. [A] Lake Town. Your Town," this city in this western pocket of the Piedmont has it all.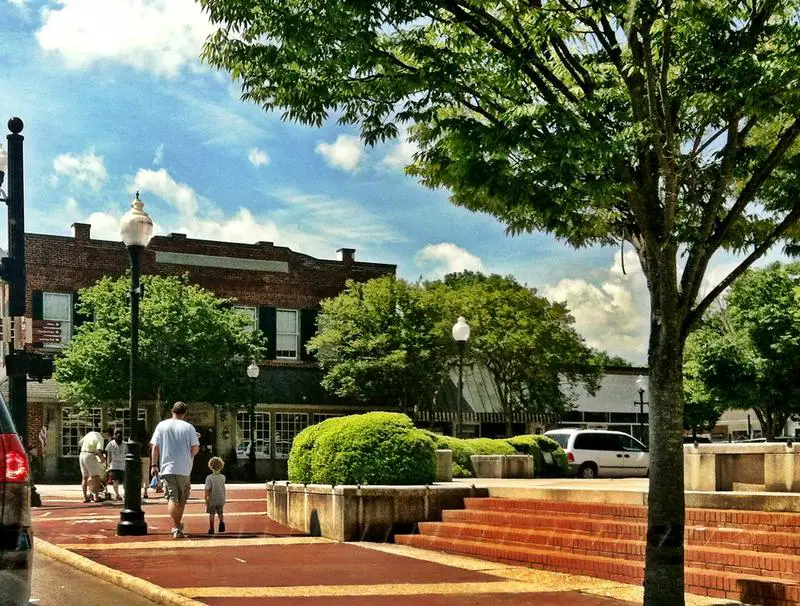 If you don't have a job in North Carolina's 2nd best place to live, Cary, you're most likely not trying very hard. The unemployment rate here is well below the national average. In fact, Cary is also one of the wealthiest cities in North Carolina, so there are probably enough butler and pool maintenance jobs available to give every single unemployed resident a job.
But what really makes Cary great is that it has one of the best school districts in the state, it's super close to Raleigh and Durham, and it has been able to maintain its small city charm in the midst of its rapid growth.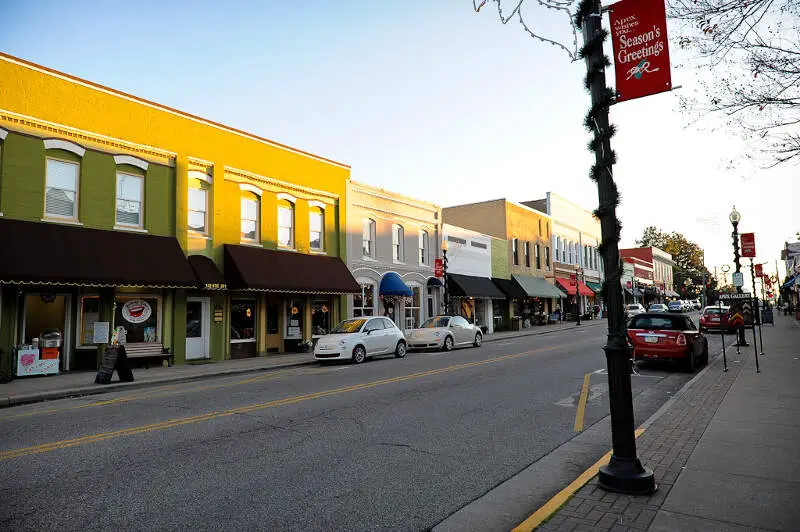 Source: Public domain
Now, if you love playing disc golf and just being outside, Apex has some of the best parks and outdoor activities. One of the best weekends in the Peak City could be spent "chasing chains" at the Apex Nature Park after your kids soccer game, only to be followed by some serious nightlife on Salem Street. So, we are not surprised that it's the 3rd best place in North Carolina.
But, that's not all that makes Apex a constant on this top ten list, you can get a home in Apex for $327,800, the unemployment rate here is below the national average, and it's close to The Triangle. It, like Cary, also boasts some of the best schools in the state.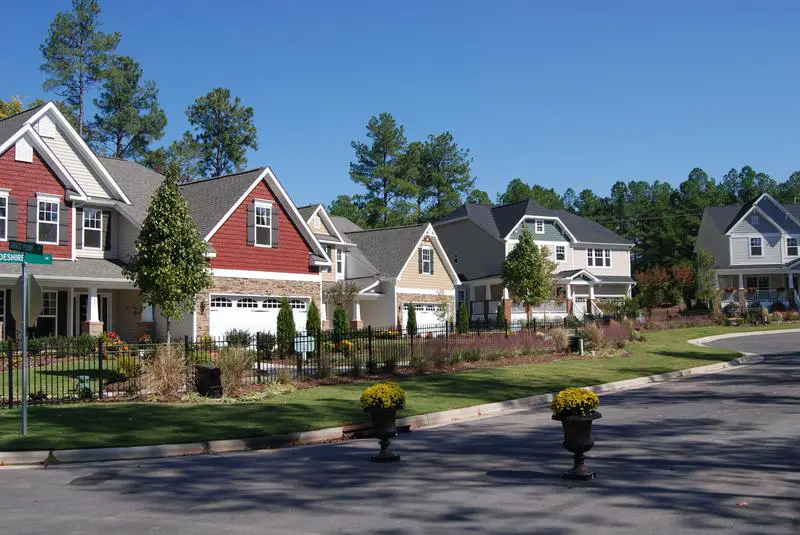 Source: Town of Morrisville
We're heading to Morrisville, a town of 26,280 situated between Raleigh and Durham, for our 4th best place to live in North Carolina.
For starters, Morrisville is family-friendly. 46.73% of Morrisville households have kids, and there's a reason for that. Most public schools are in the top 5% statewide, and the local elementary school received a National Blue Ribbon Award. Not to mention that Morrisville has the 10th lowest high school dropout rate statewide.
There are also plenty of
family-friendly activities, like the miles of trails and endless water-sports fun available at Lake Crabtree County Park. Or the RDU Observation Park for those who like watching planes land and take off. And every September brings the East Meets West Festival, a celebration of the town's cultural diversity complete with food and live music.
You don't have to worry about crime in Morrisville because the town achieved the 3rd lowest violent crime rate in North Carolina over 2019. Homes here are the 12th priciest statewide, with a median home value of $331,800.
The median household income here is $101,738. While the cost of living in Morrisville is higher than the statewide average, it's mostly due to housing -- things like groceries, utilities, and health costs are right on level or below average prices.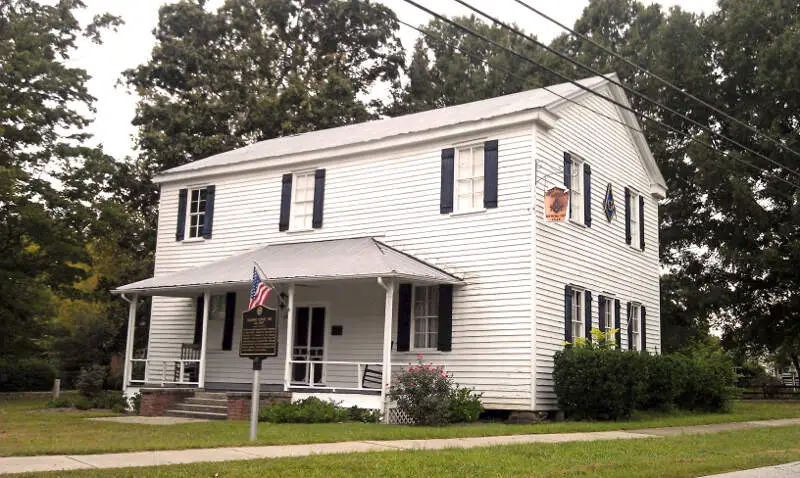 This is the first time Carolina Beach has made our top ten list of best places to live in North Carolina and we are as happy as an intracoastal clam. Matter of fact, if you haven't been to this coastal city, you're missing out. It's one of the coolest, most eclectic beach towns on North Carolina's coast.
But, all pristine beaches, safe communities, and bicycle friendly lanes aside, Carolina Beach has the 5th lowest unemployment rate on this list--well below the national average. Keep in mind, however, that most of these are second homes and that many of the people who keep this beach town in operation commute from the greater Wilmington area.
If you do decide to become a Carolina Beach local, be prepared to pay around $320,900 for a home and make sure that you have a job that pays at least $112,029/year before you make the big move.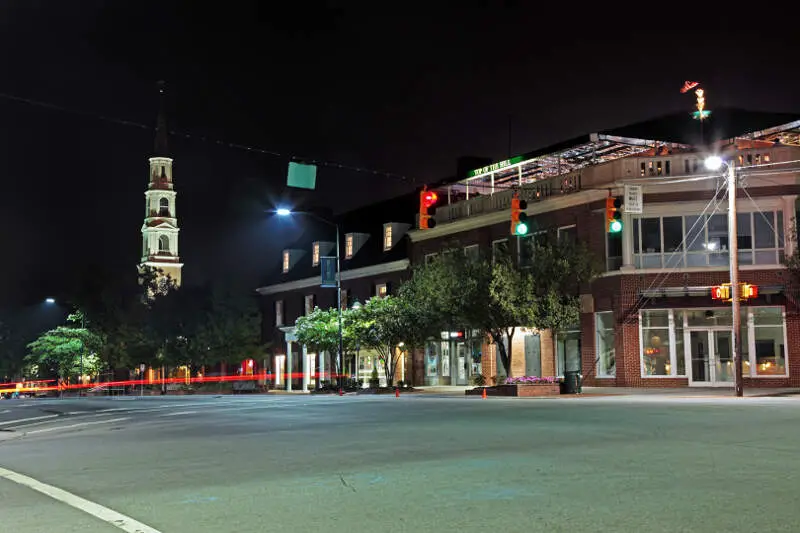 Situated just several miles southwest of Downtown Durham, Chapel Hill ranks as the 6th best place to live in North Carolina for 2021. Home to the University of North Carolina, Chapel Hill has a young median age of 25.
There's also plenty to keep you occupied in Chapel Hill -- from The Carolina Basketball Museum to the Ackland Art Museumto the Morehead Planetarium and Science Center, there's something for everyone here.
Not to mention that downtown Chapel Hill is positively hopping with fun things to do. Chapel Hill public schools also spend roughly 20% more per student than the statewide average, so you know your kids will have all the resources they need to succeed. Additionally, 77% of adults in Chapel Hill are highly educated.
And just because Chapel Hill is the 4th most densely populated spot in the Tarheel State, doesn't mean it's dangerous -- in fact, Chapel Hill has some of the safest streets around.
Home prices in Chapel Hill are the 5th most expensive in North Carolina, with a median price tag of $399,700. Residents enjoy a median household income of $73,614.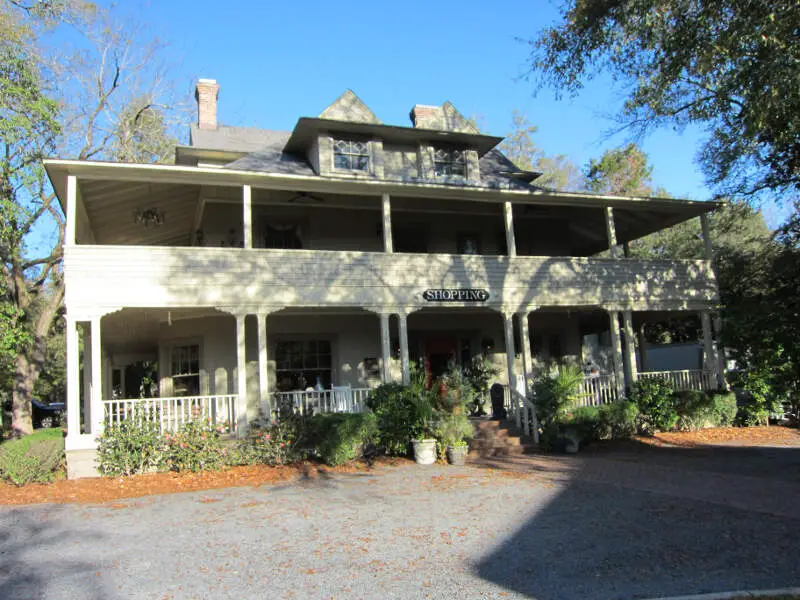 "The Home of American Golf" and the infamous Pinehurst Resort, might seem out of reach for most bank accounts, but you'll be pleasantly surprised to know that you can score a home in North Carolina's 7th best place to live, Pinehurst, for $293,100. The yin to that yang, however, is that if you don't already have a job lined up in healthcare or hospitality, you're going to need to rethink your career path if you move here. While the unemployment rate is 3.0%, there aren't a lot of options for people who don't hold a degree.
But, don't let this deter you: it's worth it. This city of 16,050 residents is one of the safest places in the Tar Heel State. So, if affordability and safety are at the top of your "must have" list, Pinehurst checks all of the boxes.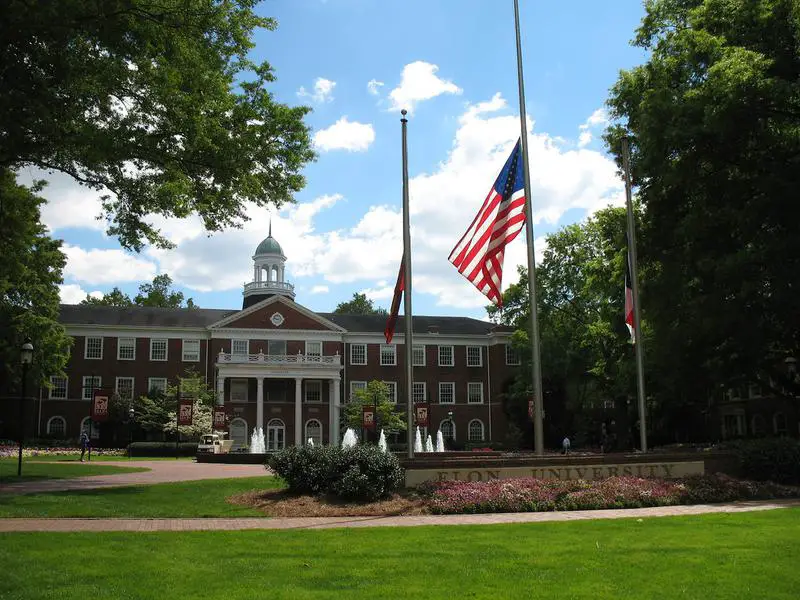 Welcome to Elon, home to Elon University and the 8th best place to live in North Carolina. With such a large student population, it's no surprise that Elon has an incredibly young median age of 22.
These kids know to make a town that works for everyone. The streets are safe, the local economy is steady, and the school system produces great results. Residents also get to enjoy the 22nd shortest average commute time in North Carolina. The median home price in Elon is $253,500 and the median income is $65,313.
Elon's overall cost of living score is about 107, compared to a national average of 100, so living here won't break the bank. And with Elon University around, you'll always have a local sports team to cheer on, whether you're going to basketball games at Schar Center or football games at Rhodes Stadium.
Greensboro is just a half-hour west of Elon, but you don't have to make the trip to get your nightlife on. The Fat Frogg is a local favorite that always has live music.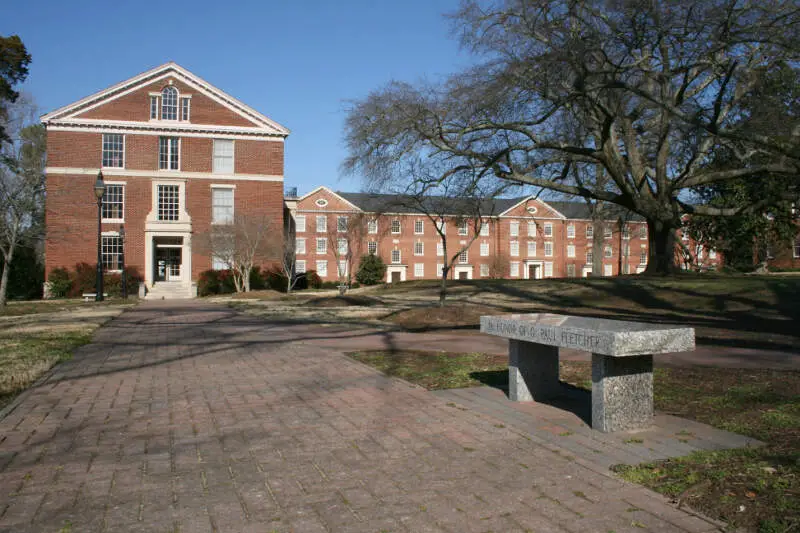 North Carolina's 9th best place to live, Wake Forest, is kind of a big deal. Located just East of Falls Lake and slightly northeast of the Raleigh, Wake Forest is the quintessential North Carolina city. Here, old oak tree lined streets protect homes with large yards and porches with white rocking chairs. However, all of this does come at a price: the cost of living in Wake Forest is well above the national average. Basically, you're going to have to make at least $92,210/year to afford the average home price of $297,300.
But, the benefits of living in Wake Forest definitely outweighs the costs.
So, if you're looking for a place with super nice people, super safe communities, and high performing schools don't wait because you might lose your spot in one of North Carolina's fastest growing cities.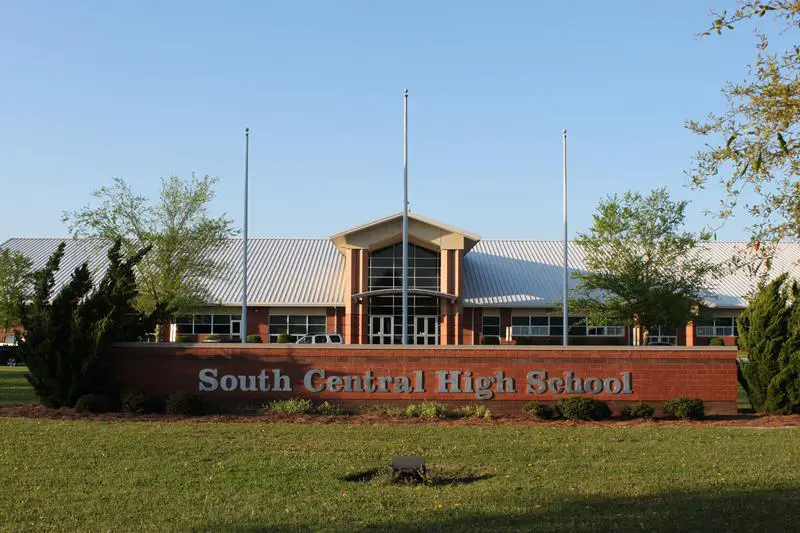 You might think because of Winterville's name that it's always winter in the Old North State's 10th best place to live, but that's not the case. Located on the eastern side of the state, it is one of the few places close to the coast to make our list. And if you know anything about this central coastal range, you know it doesn't get a lot of snow, but it does get a lot of attention for its low cost of living and large number of fun, affordable things to do. What a great combo, right? Probably why it's also one of the most afforadable places in North Carolina for 2021.
Yes, when you're not busy hanging out in your brand new home that cost only $161,300, you can spend the money you saved on putting a new pool in the back yard or trips to North Carolina's treasured Outer Banks. Sounds like a win-win to us.
Mapping The Best And Worst Places To Live in North Carolina
The Pressing Question: Size
Before we even started to collect data, we had to answer a tough question: Is it fair to pit Raleigh with a population of 464,485 against places with a population of 18?
We firmly decided no, that just isn't fair.
So to create our ranking, we broke places to live into three tiers:
Cities -- Populations over 5,000
Towns -- Populations between 1,000 and 5,000
Small Towns -- Populations below 1,000
This left us with 131 cities, 295 towns, and 250 small towns.
We then decided, no matter how much anyone loves their town, the best cities to live in North Carolina have more of everything and therefore you need to have over 5,000 people to truly be 'the best'.
Now we also realize that city living might not be your cup of tea, so we ran the following analysis on towns and then again for small towns.
You can see those two top tens at the bottom of the post.
How We Calculated The Best Cities To Live In North Carolina
Now that we had our set of cities, it was time to rank them.
We ranked each place in North Carolina across a number of criteria from one to 131, with one being the best.
We then took the average rank across all criteria, with the city posting the lowest overall score being crowned the winner of the title "Best Place To Live In North Carolina".
The criteria we looked at were:
Median Home Values
Median Income
Population Density (Higher better)
Unemployment Rate
Commute Time
Crime
Education Levels
Health Insurance Coverage
Poverty rates
Sources of criteria include the New Census Data and FBI Crime Data. You can download the data here.
After the dust settled, what was the best place to live in North Carolina? That would be Davidson.
If your city or town isn't among the top 10, jump down to the bottom of the post to see a detailed chart of the best places in North Carolina.
Otherwise, buckle up for a ride down good living lane with Davidson at the end of the cul-de-sac.

Wrapping Up The Best Places When It Comes To Living In North Carolina
If you're looking at areas in North Carolina with the best economic situations, where there's lower than average crime, and a lot to do, this is an accurate list.
Davidson made a strong showing to take in the overall number one spot for the best place to live in North Carolina for 2021.
Best Towns To Live In North Carolina
Wrightsville Beach (Pop. 2,546)
Royal Pines (Pop. 4,751)
Biltmore Forest (Pop. 1,516)
Trent Woods (Pop. 4,194)
Avery Creek (Pop. 2,716)
Fearrington Village (Pop. 2,984)
Weaverville (Pop. 3,886)
Bermuda Run (Pop. 2,556)
St. James (Pop. 4,438)
Lake Park (Pop. 3,678)
Best Small Towns To Live In North Carolina
Walnut Creek (Pop. 936)
Bald Head Island (Pop. 284)
Hatteras (Pop. 481)
Washington Park (Pop. 577)
Barker Ten Mile (Pop. 834)
Deercroft (Pop. 476)
Cedar Rock (Pop. 324)
JAARS (Pop. 508)
Alamance (Pop. 902)
Montreat (Pop. 521)
If you're curious enough, here are the worst places to live in North Carolina according to the data:
Roxboro (Pop. 8,298)
Lexington (Pop. 18,861)
Wadesboro (Pop. 5,305)
For more North Carolina reading, check out:
Where Are The Best Places To Live In North Carolina?
| Rank | City | Population |
| --- | --- | --- |
| 1 | Davidson | 12,735 |
| 2 | Cary | 166,268 |
| 3 | Apex | 51,370 |
| 4 | Morrisville | 26,280 |
| 5 | Holly Springs | 34,874 |
| 6 | Chapel Hill | 60,998 |
| 7 | Pinehurst | 16,050 |
| 8 | Elon | 11,516 |
| 9 | Wake Forest | 42,111 |
| 10 | Winterville | 9,645 |