Article Table Of Contents   
(Skip to section)
Most people think that South Carolina is just a bunch of Bible thumpers, surfers, reality TV actors, and just good 'ol southern folk that sit around and drink sweet tea all day.
The southern gents and southern bells of South Carolina, however, would beg to differ: it's a lot more. South Carolinians say it's one of the best states in the country. And we think that in order to be one of the best, they should have the best places to call home, right?
While there is a lot of waxing down those surfboards and studying those Bible verses, there are a lot of other fun facts about South Carolinians that most people probably don't know. For example, did you know that Columbia is not only the capital of South Carolina, it is also home to the University of South Carolina?
The Palmetto State is so awesome that in our stories Best States to Raise a Family and Best States in America, they did not come in last.
South Carolina's strong economy, gold star education rating, and average cost of living make its cities very desirable. So, one can imagine how difficult it was for us to narrow down the best places to live in South Carolina. We suggest you grab some of great granny's sweet tea and a basket of hush puppies and read on.
The 10 Best Places To Live In South Carolina For 2022
Yes, South Carolina is the best state for those looking for a little good 'ol fashioned fun. The energy the residents of South Carolina exude attract many people in search of a little piece of southern charm amidst a quaint backdrop. What does the perfect place to live in South Carolina look like?
More importantly what city is the best place to live in South Carolina for 2022? Well according to the US Census and FBI data we crunched, Mount Pleasant is the best place to live in South Carolina if you care about home values, low crime, and a high quality of life.
Take a look at the list below to find out the best places to live in The Palmetto State. We give you a detailed look into the top ten best places to live in South Carolina where, yes, you can have it all.
If you're looking for something more national, check out the best states in America or the best places to live in America.
For more South Carolina reading, check out:
The 10 Best Places To Live In South Carolina For 2022
Of course the word "pleasant" is in the name of South Carolina's #1 best place to live, Mount Pleasant. But, it's not only because the city has great weather and is close to the Atlantic Coast, it's more about its low crime rate, low unemployment rate, and the fact that the locals here make close to $104,772/year.
To put Mount Pleasant's safety record into perspective, you have a greater chance of a Palmetto Tree falling on you than being involved in a crime as the crime rate here is below the national level. Heck, the people here are too busy working to be naughty–Mount Pleasant's unemployment rate is the 2nd lowest in the state at 2.1%. The cost of living is a bit higher in Mount Pleasant; so, be prepared to pay a bit more for your living expenses.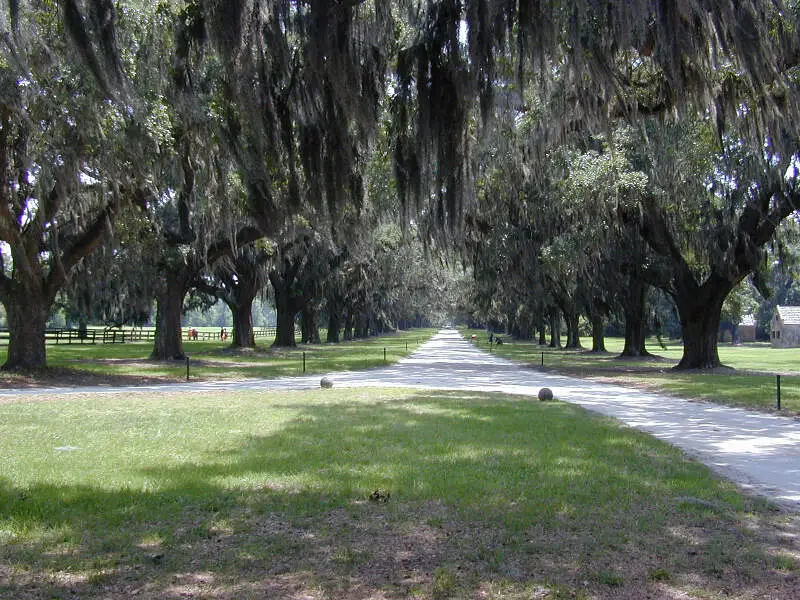 No, we have not fudged the numbers, Tega Cay's numbers are legit, they're just so good that they're hard to believe. But, believe it, and if you've ever thought about moving here, do it now because not only is Tega Cay South Carolina's 2nd best city, it is also one of the fastest growing places in the state.
Do we think this is why the median home price here is the 4th highest in the state? Absolutely: classic case of supply and demand. In terms of affordability, however, the Tega Cay's overall cost of living isn't too bad, but living expenses like groceries and health services will take a bite out of your paycheck. So, make sure you find a job that pays a combined household income of $125,847/year.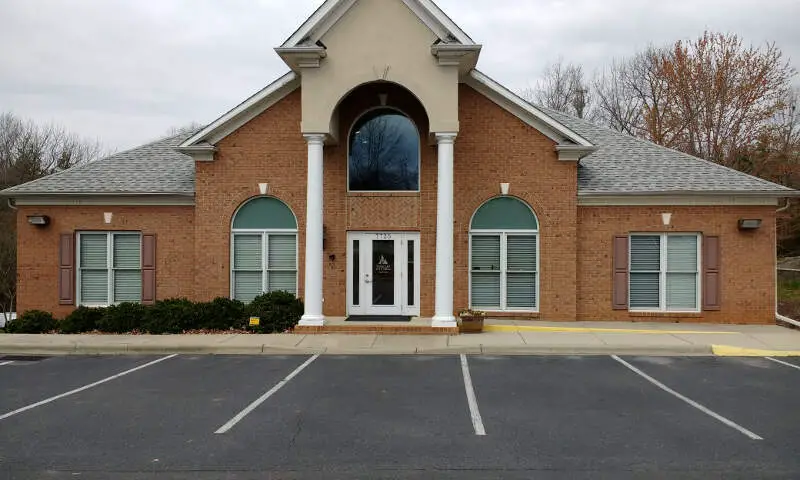 Source: Public domain
The grass is definitely greener on the side of South Carolina that houses the state's 3rd best place to live, James Island. Located just south of the Charleston Harbor where the Stono and Folly Rivers meet, James Island has managed to protect its small town feel while looking out for its 12,157 residents' bottom line.
James Island's cost of living might be slightly higher than the rest of the state, but the city's median income is $82,083/year. The median home price in James Island is the 6th highest in South Carolina at $341,000. And if you know anything about property taxes, they are based on home prices and higher property taxes generally mean better schools. Folks, James Island has some pretty great schools. In fact, the test scores and graduation rates from the Charleston 01 School District are surpassing the rest of the state.
Source: Public domain
Port Royal, South Carolina is an island town about an hour northeast of Savannah. The island life transfer nicely to being one of the best places to live in South Carolina.
As you would expect, some of the best perks of living on island close to the water have to do with the outdoors. Those perks include access to the Cypress Wetlands, the Port Royal Farmer Market, and The Sands beaches and boardwalk. And after a day on the beach you can grab dinner at Fishcamp on 11th street for some seafood or the Old Burn Tavern if turf is more to your liking.
On the numbers side of things, Port Royal really shines for its 2nd best commute times and safety – the city has the 7th lowest levels of property crime in the state. So you'll know your wallet is safe to keep on your beach towel at the beach.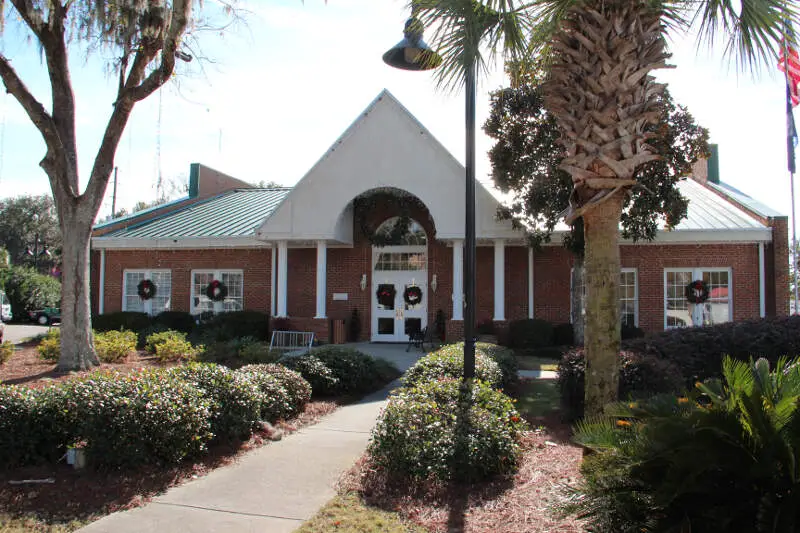 Source: Public domain
Mix a little southern charm with a little southern hospitality and you have the 5th best place to live in South Carolina, Fort Mill. Yes, this little piece of heaven from the Southeastern United States, is about as close to a perfect place as you can get. The 19,920 residents here are pretty lucky as the city's unemployment rate is the 5th lowest in the state at 2.6% and the median income is $101,699/year. This salary is super handy when it comes to paying the 8th best median home price in the state at $305,400 and the city's slightly higher cost of living.
The crime rate in Fort Mill is also super low. In fact, there were only 263 committed here last year making it one of the safest places in the state.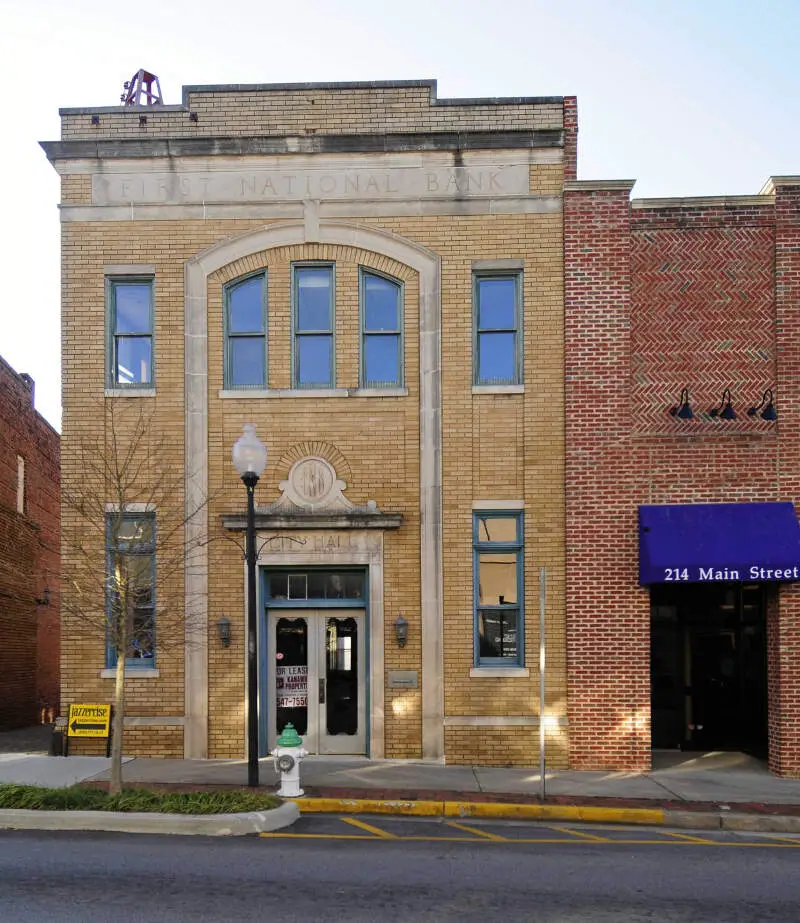 So, you're tired of paying South Carolina's rental prices and now you want to buy a home? Well, you've come to the right place. Mauldin is not only The Palmetto State's 6th best place to live, it has the 32nd lowest median home price in the state at $170,000.
With the number of people who currently live here, it's obvious that Mauldin must be pretty great. Heck, anyone who wants a job here can have one as the unemployment rate is the 26th lowest in the state at 4.8%. Not to mention, the median income here is one of the highest in South Carolina at $67,902/year. It's also super safe here; in fact, Mauldin's crime rate is below the national average with a majority of the crimes reported property related.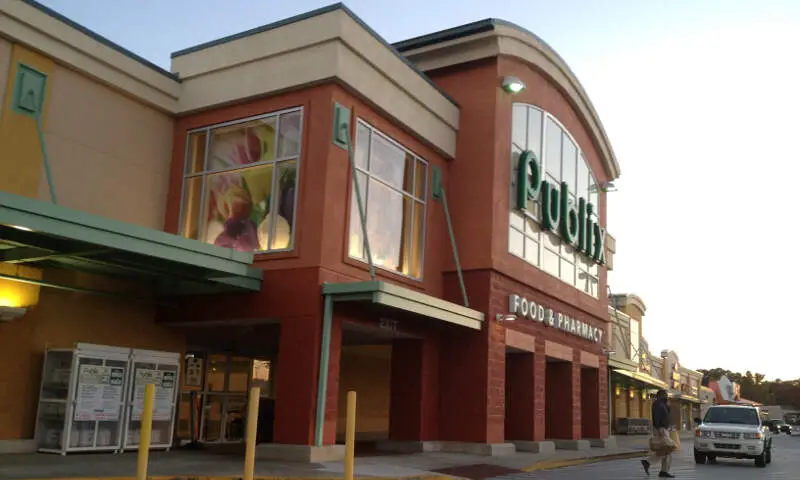 One of the fastest growing communities in South Carolina, Bluffton had just over 1,200 residents in 2000. Now? The population has swelled to 23,176. The influx of people comes as Bluffton ranks as the number 7 top place in the state to call home.
Built along the Atlantic Coast in the southern-most part of the state, Bluffton has an excellent location. It is about half hour north of Savannah, Georgia, the region's major population center. It's also about two hours south of Charleston. Want more of a resort experience? The famed Hilton Head Island sits just over the bridge.
Given these local draws, Bluffton boasts a thriving economy. It has the 5th highest median income in the state, with a figure of $85,844. The unemployment rate is similarly healthy. The local pace of 2.3% represents the 3rd best rate in South Carolina.
Schools in the area are above average, with ratings of 7/10 from Great Schools. The crime rate is almost 50% below the national average. Living in Bluffton can get expensive, with a cost of living about 10% above the U.S. standard. Home prices are also high, with a median home value of $299,700.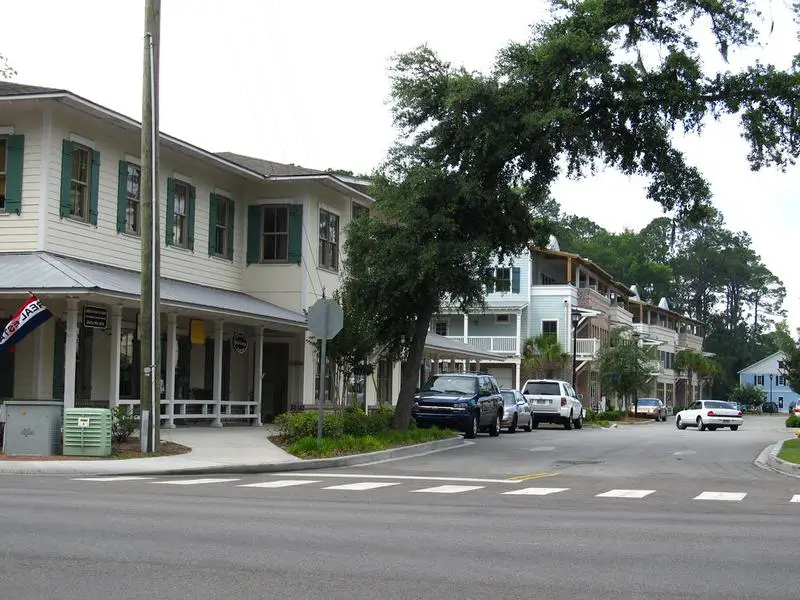 If you are looking for acres and acres of South Carolina's 8th best place to live, Forest Acres, has this and more. Yes, Forest Acres scored an 8/10 on our SnackAbility scale with an emphasis in affordability, amenities, and commute times. One of only a few places to make our list from South Carolina's interior, Forest Acres is a bedroom community of 10,300 residents just outside of Columbia. Forest Acres is not even 10 minutes from the "big city."
And it's true what they say about "all good things come in small cities." Forest Acres has the 23rd lowest median home price in the state. The overall cost of living here is lower than the national average, and if you choose to live in Forest Acres you will save on most major living expenses.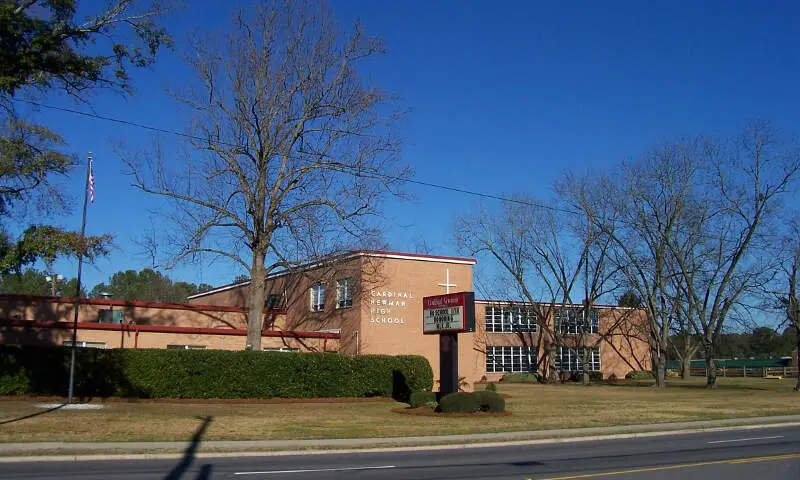 Source: Public domain
No, this is not fake news, people, the 9th best city in South Carolina, Lexington, really is super affordable and super fun.
Folks, when we pulled Lexington's housing numbers, we discovered that the median home price here is the 9th lowest in the state at $199,400. Lexington's overall cost of living follows the same trend. Not to mention, the locals here make upwards of $71,850/year making it one of the wealthiest cities in the state as well. And in terms of fun, Lexington is located on the southeast banks of Lake Murray, so you can swim, boat, and bike here until your heart's content.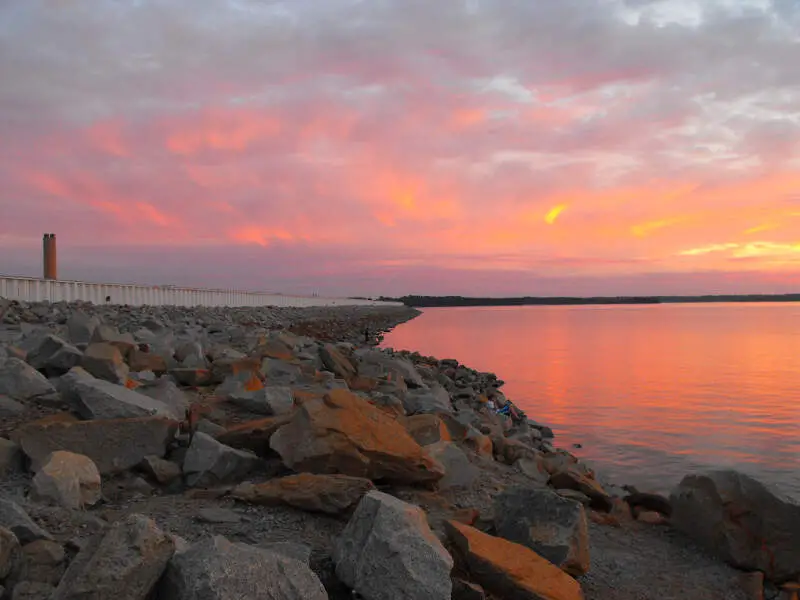 Source: Public domain
With a citywide median household income of $75,535, you'll never run out of money in the 10th best place to live in the state, Simpsonville. You can use that income for South Carolina's famous peach pie, boiled peanuts, and/or a year pass to the waterslides at Discovery Island Waterpar.
This substantial salary is important if you want to buy a home where the median home price is the 24th in the state at $188,000. It will also help with the city's overall cost of living. Simpsonville might be one of the most affordable places to live in South Carolina, but living expenses like groceries, health services, and transportation will cost you a bit more here.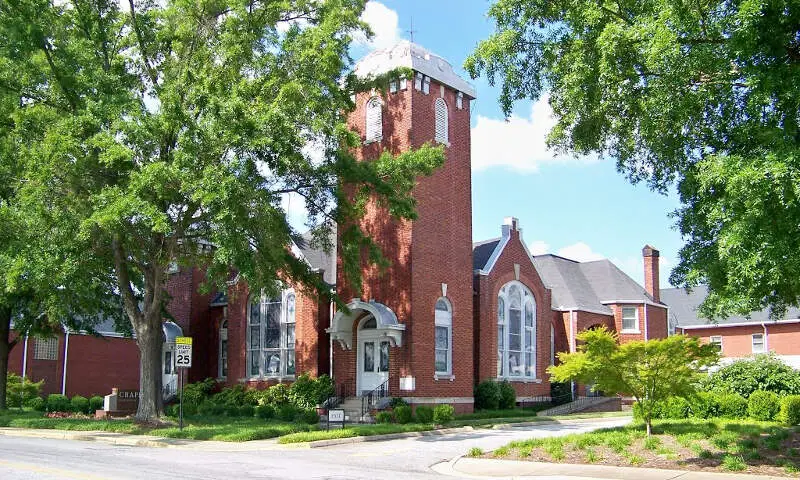 Mapping The Best And Worst Places To Live in South Carolina
The Pressing Question: Size
Before we even started to collect data, we had to answer a tough question: Is it fair to pit Columbia with a population of 134,057 against places with a population of 18?
We firmly decided no, that just isn't fair.
So to create our ranking, we broke places to live into three tiers:
Cities — Populations over 5,000
Towns — Populations between 1,000 and 5,000
Small Towns — Populations below 1,000
This left us with 64 cities, 141 towns, and 130 small towns.
We then decided, no matter how much anyone loves their town, the best cities to live in South Carolina have more of everything and therefore you need to have over 5,000 people to truly be 'the best'.
Now we also realize that city living might not be your cup of tea, so we ran the following analysis on towns and then again for small towns.
You can see those two top tens at the bottom of the post.
Methodology: How We Calculated The Best Cities To Live In South Carolina
Now that we had our set of cities, it was time to rank them.
We ranked each place in South Carolina across a number of criteria from one to 64, with one being the best.
We then took the average rank across all criteria, with the city posting the lowest overall score being crowned the winner of the title "Best Place To Live In South Carolina".
The criteria we looked at were:
Median Home Values
Median Income
Population Density (Higher better)
Unemployment Rate
Commute Time
Crime
Education Levels
Health Insurance Coverage
Poverty rates
Sources of criteria include the New Census Data and FBI Crime Data. You can download the data here.
After the dust settled, what was the best place to live in South Carolina? That would be Mount Pleasant.
If your city or town isn't among the top 10, jump down to the bottom of the post to see a detailed chart of the best places in South Carolina.
Otherwise, buckle up for a ride down good living lane with Mount Pleasant at the end of the cul-de-sac.

Summary: The Best Places When It Comes To Living In South Carolina
If you're looking at areas in South Carolina with the best economic situations, where there's lower than average crime, and a lot to do, this is an accurate list.
Mount Pleasant made a strong showing to take in the overall number one spot for the best place to live in South Carolina for 2022.
Best Towns To Live In South Carolina
Northlake (Pop. 4,086)
Pinopolis (Pop. 1,303)
Sullivan's Island (Pop. 2,049)
India Hook (Pop. 4,192)
Blythewood (Pop. 2,612)
Isle of Palms (Pop. 4,320)
Springdale (Pop. 2,740)
Pine Ridge (Pop. 2,138)
Folly Beach (Pop. 2,732)
Quinby (Pop. 1,192)
Best Small Towns To Live In South Carolina
Arcadia Lakes (Pop. 991)
Briarcliffe Acres (Pop. 407)
Pawleys Island (Pop. 67)
Boykin (Pop. 98)
Reidville (Pop. 827)
Edisto Beach (Pop. 647)
Rockville (Pop. 153)
Little Mountain (Pop. 219)
Hodges (Pop. 148)
Glendale (Pop. 161)
If you're curious enough, here are the worst places to live in South Carolina according to the data:
Union (Pop. 7,716)
Marion (Pop. 6,598)
Abbeville (Pop. 5,014)
For more South Carolina reading, check out:
Where Are The Best Places To Live In South Carolina?
| Rank | City | Population |
| --- | --- | --- |
| 1 | Mount Pleasant | 89,410 |
| 2 | Tega Cay | 10,834 |
| 3 | James Island | 12,157 |
| 4 | Port Royal | 13,265 |
| 5 | Fort Mill | 19,920 |
| 6 | Mauldin | 25,829 |
| 7 | Bluffton | 23,176 |
| 8 | Forest Acres | 10,300 |
| 9 | Lexington | 21,847 |
| 10 | Simpsonville | 23,200 |
| 11 | Charleston | 137,041 |
| 12 | Hilton Head Island | 40,000 |
| 13 | Hanahan | 25,743 |
| 14 | Clemson | 16,917 |
| 15 | Greenville | 69,648 |
| 16 | North Augusta | 23,370 |
| 17 | Beaufort | 13,417 |
| 18 | Summerville | 53,643 |
| 19 | Travelers Rest | 7,947 |
| 20 | Aiken | 31,428 |
| 21 | Moncks Corner | 11,370 |
| 22 | Greer | 32,229 |
| 23 | Hardeeville | 6,788 |
| 24 | Hollywood | 5,273 |
| 25 | Easley | 21,149 |
| 26 | Irmo | 12,397 |
| 27 | North Myrtle Beach | 16,684 |
| 28 | Goose Creek | 42,944 |
| 29 | Columbia | 134,057 |
| 30 | Florence | 38,535 |
| 31 | Central | 5,342 |
| 32 | West Columbia | 17,782 |
| 33 | Rock Hill | 74,410 |
| 34 | Cayce | 13,964 |
| 35 | Fountain Inn | 10,127 |
| 36 | Camden | 7,185 |
| 37 | Clover | 6,370 |
| 38 | Anderson | 27,387 |
| 39 | Conway | 24,747 |
| 40 | Myrtle Beach | 33,638 |
| 41 | Sumter | 39,758 |
| 42 | Seneca | 8,424 |
| 43 | Hartsville | 7,559 |
| 44 | North Charleston | 113,880 |
| 45 | Spartanburg | 37,448 |
| 46 | Dillon | 6,358 |
| 47 | Batesburg-Leesville | 5,504 |
| 48 | Laurens | 8,863 |
| 49 | Bennettsville | 7,905 |
| 50 | Walterboro | 5,417 |
| 51 | Lancaster | 9,187 |
| 52 | Newberry | 10,219 |
| 53 | York | 8,287 |
| 54 | Clinton | 8,347 |
| 55 | Georgetown | 8,884 |
| 56 | Greenwood | 23,351 |
| 57 | Gaffney | 12,733 |
| 58 | Cheraw | 5,596 |
| 59 | Chester | 5,392 |
| 60 | Darlington | 6,000 |
| 61 | Orangeburg | 12,713 |
| 62 | Union | 7,716 |
| 63 | Marion | 6,598 |
| 64 | Abbeville | 5,014 |
Editor's Note: We updated this article for 2022. This is our ninth time ranking the best places to live in South Carolina.