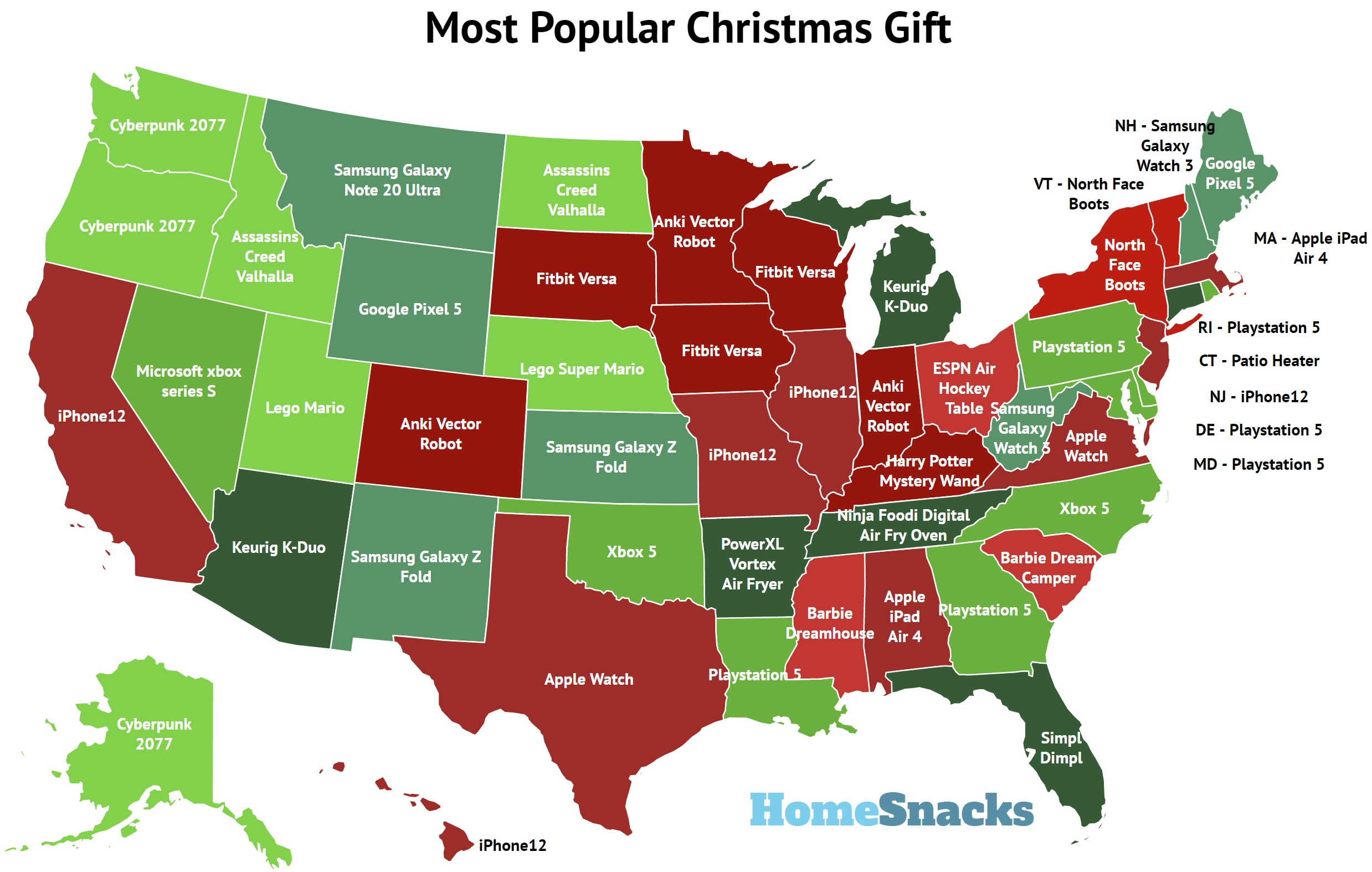 Christmas is right around the corner, and people around the country are starting to buy gifts for friends and family. More and more people are choosing to do their shopping online this year, making it easy for us to break down each state's shopping habits using Google trends.
Most Interesting Findings
Video Games, PlayStation 5, and Xbox Consoles dominate the map
Apple was the only company with a dedicated color on the map as the AppleWatch, iPhone12, and iPad are all high on people's list
New York and Vermont were the only places snobby enough to ask for clothes
Smartwatches are definitely "in" this year — either Apple, Samsung, Or Fitbit
Barbie has a special place in some southern states' hearts
How We Figured This Out
We started by perusing Google Shopping 100 to see which gifts were most popular nationwide. Then, we researched which states were searching for those gifts the most, relative to other states.
Using Google Trends, we determined what Christmas presents each state wants a disproportionate amount of. We examined over 20 high ticket items. From there, we determined what present is searched a disproportionately, high amount in each state.
For example, while a lot of the country wants electronics only Kentucky really, really wants a Harry Potter Mystery Wand — the search interest there was higher than any other state for a Harry Potter Mystery Wand
A Closer Look At Christmas Present Trends
Some trends are unsurprising – tech gifts like smartphones, tablets, and smartwatches dominated the map. Most of the country seems sold on iPhones or Samsungs, but Maine and Wyoming are too cool for all that, opting for the Google Pixel instead. New Mexico and Kansas miss the days of flip phones and are intrigued by the idea of folding their phones again with the Samsung Galaxy Z Fold.
Smartwatches are definitely "in" this year, but even neighbor states can't agree on which one is the best. Virginia thinks the Apple Watch is superior, while West Virginia is going with the Samsung version. And the upper Midwest is more concerned with the health-tracking capabilities of smartwatches, going for the Fitbit Versa instead.
Gaming gifts are also huge this year, mainly due to the release of the new Playstation and Xbox consoles, which have been popular searches throughout the country. The Pacific Northwest seems obsessed with violent video games, whether facing the dystopian future of Cyberpunk 2077 or the frozen wastes of Assassin's Creed Valhalla.
Household gifts were also quite common. Michigan and Arizona need their coffee fix from Keurig, while Connecticut yuppies are rushing to get patio heaters ready for their socially-distanced, outdoor holiday celebrations. And we're happy to see Tennessee and Arkansas staying true to their BBQ roots while moving the party indoors with air fryers (even if they can't agree on which brand is best).
Meanwhile, New York and Vermont are just trying to stay fashionable while avoiding slips on ice with North Face boots. And Florida couldn't handle the intensity of fidget spinners, so they're looking to get an even easier toy for fidgety hands, Simpl Dimpl. Apparently, Floridians like pushing buttons.
The inland states seem to be more traditional gift-givers than the coastal regions, searching for toys rather than tech. Utah and Nebraska are keeping it classic with the Super Mario Legos, while Mississippi and South Carolina can't agree on whether the Barbie Dreamhouse or Barbie Dream Camper makes for a better present. Kentucky is still hooked on Harry Potter, stocking up on mystery wands in hopes of their latent wizarding powers finally emerging in 2021.
Meanwhile, Colorado, Minnesota, and Indiana are trying to usher in the robot apocalypse by getting an Anki Vector Robot in every household. They're cute little robots that wander around your house, tell you the weather, and collect your personal data. Oh, and they purr when you pet them. What a gift!
What do you think? Let us know what state you're from and if you've heard a lot of buzz about the gift that's trending in your state. Or just use this map for inspiration if you have no clue what to get for Christmas presents this year.
Most Popular Gift By State
| State | Label |
| --- | --- |
| Alabama | Apple Ipad Air 4 |
| California | Iphone12 |
| Hawaii | Iphone12 |
| Illinois | Iphone12 |
| Massachusetts | Apple Ipad Air 4 |
| Missouri | Iphone12 |
| New Jersey | Iphone12 |
| Texas | Apple Watch |
| Virginia | Apple Watch |
| Arizona | Keurig K-Duo |
| Arkansas | Powerxl Vortex Air Fryer |
| Connecticut | Patio Heater |
| Florida | Simpl Dimpl |
| Tennessee | Ninja Foodi Digital Air Fry Oven |
| Michigan | Keurig K-Duo |
| New York | North Face Boots |
| Vermont | North Face Boots |
| Colorado | Anki Vector Robot |
| Indiana | Anki Vector Robot |
| Iowa | Fitbit Versa |
| Kentucky | Harry Potter Mystery Wand |
| Minnesota | Anki Vector Robot |
| South Dakota | Fitbit Versa |
| Wisconsin | Fitbit Versa |
| Kansas | Samsung Galaxy Z Fold |
| Maine | Google Pixel 5 |
| Montana | Samsung Galaxy Note 20 Ultra |
| New Hampshire | Samsung Galaxy Watch 3 |
| New Mexico | Samsung Galaxy Z Fold |
| West Virginia | Samsung Galaxy Watch 3 |
| Wyoming | Google Pixel 5 |
| Delaware | Playstation 5 |
| Georgia | Playstation 5 |
| Louisiana | Playstation 5 |
| Maryland | Playstation 5 |
| Nevada | Microsoft Xbox Series S |
| North Carolina | Xbox 5 |
| Oklahoma | Xbox 5 |
| Pennsylvania | Playstation 5 |
| Rhode Island | Playstation 5 |
| Mississippi | Barbie Dreamhouse |
| Ohio | Espn Air Hockey Table |
| South Carolina | Barbie Dream Camper |
| Alaska | Cyberpunk 2077 |
| Idaho | Assassins Creed Valhalla |
| Nebraska | Lego Super Mario |
| North Dakota | Assassins Creed Valhalla |
| Oregon | Cyberpunk 2077 |
| Utah | Lego Mario |
| Washington | Cyberpunk 2077 |