Editor's Note: We updated this article for 2020. This is our sixth time ranking the cheapest states in America.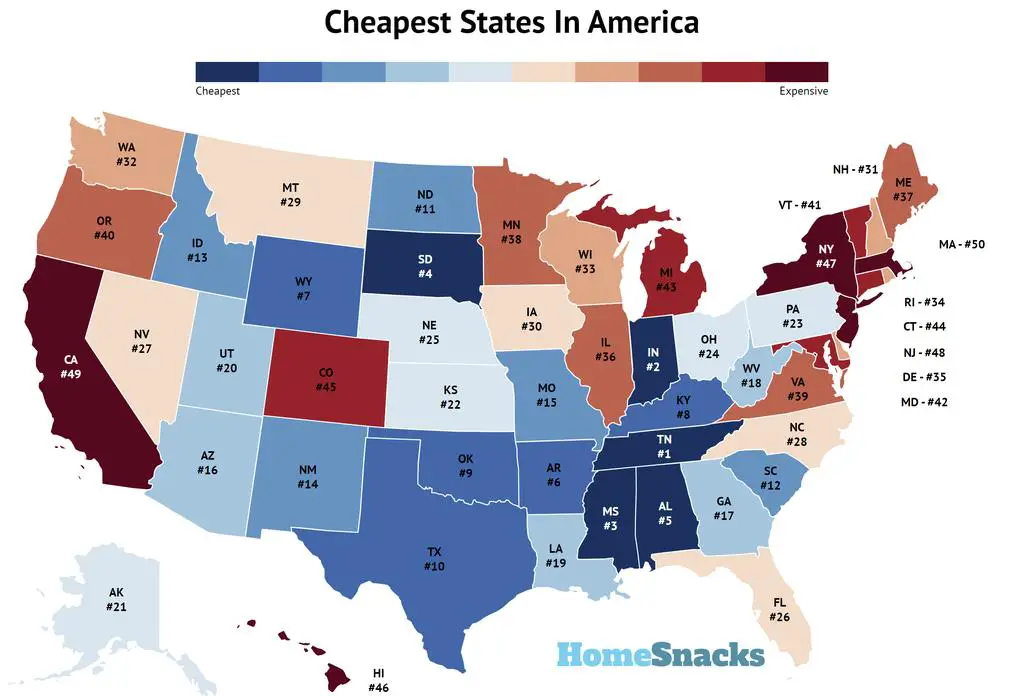 Click to enlarge
Struggling to make ends meet? Broke as a joke? That's probably because you either spend too much money or it's really expensive where you live. There are some places in the country where you can earn a lot of money and still feel poor. We're talking San Francisco or New York City — where a 2 bedroom apartment costs over $4,000 a month on average.
Well, thank god we don't have to live there. Instead, we can choose to live in some of the cheapest places in the country. Where a dollar of income goes way further than the big cities mentioned earlier. Take Mississippi, the cheapest state in the country this year according to MIT's Living Wage data.
Today, we're going to talk about the cheapest – or most affordable – places you can live in America. These places are going to be cheap for a reason. A family of 2 adults and 1 child requires $48,537 to reach a living wage in Mississippi. That's almost 30% cheaper than California where it takes $68,190 to reach a living wage.
Here are the 10 cheapest states to live in America according to MIT's living wage data for 2020:
And for those playing at home, a living wage in the San Francisco Metro clocks in at a staggering $81,795.
Read on to learn more about the cheapest states. Or check out the best states to live in or the safest states in America.
For further reading the cheapest places in the cheapest states check out the cheapest places to live in Mississippi and the cheapest places to live in California.
The 10 Cheapest States In America For 2020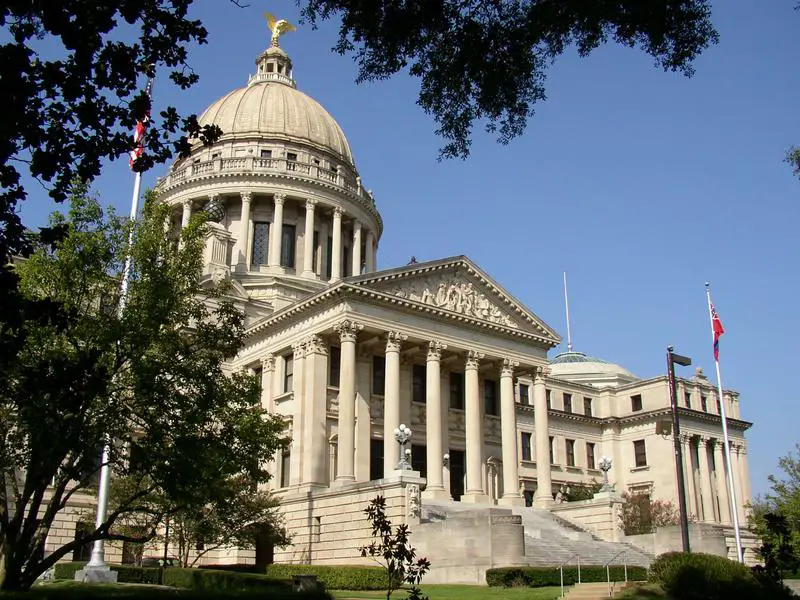 Rank Last Year: 1 (No Change)
Living Wage: $48,537
Housing: $9,009
Child Care: $2,869
More On Mississippi: Photos | Rent
Drumroll please. Our cheapest state in America is… Mississippi. Like the other cheap states, food and personal necessities are very cheap here — actually the cheapest you'll find in America. The most affordable place in the cheapest state would be Aberdeen.
Here in the Magnolia State, the cost to rent? or buy is about $795 a month. That's REALLY low. It also costs far cheaper here for food, child care, health care, and every other care you can name. And, of note, Mississippi has by far the cheapest child care costs of any other state – even $150 a month less than Arkansas! You can be daddy warbucks around here if you bring in anything over 50k.
Now, some people might say – it's Mississippi. Why would I want to live there? There's a reason it's so cheap.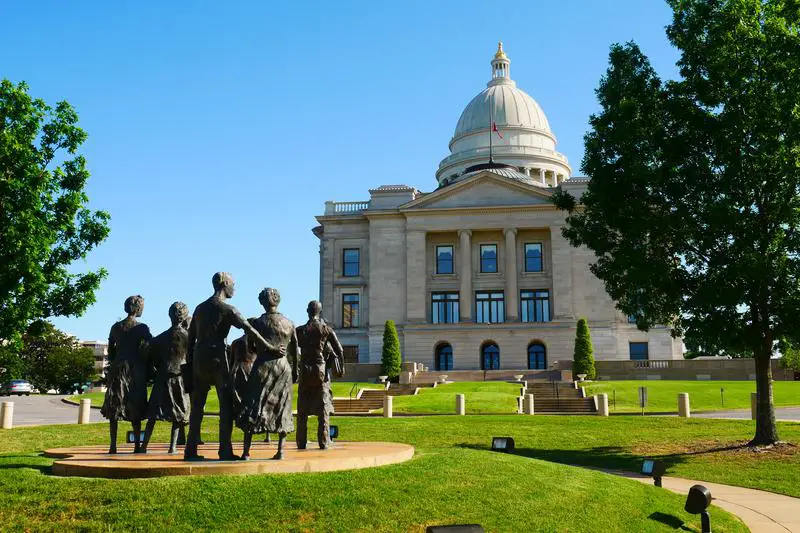 Rank Last Year: 2 (No Change)
Living Wage: $49,970
Housing: $8,584
Child Care: $4,964
More On Arkansas: Photos | Rent
It's time we check out our second cheapest state in which to live, Arkansas, giving the South a clean one-two sweep of the cheapest states to live.
Don't everyone jump up at once.
Okay, so it's Arkansas, but what did you expect? You get what you pay for here, which isn't a lot either way. Like we mentioned with Mississippi, the core necessities in Arkansas are as cheap as you can find in America.. An Arkansawian can make about $48k a year, and spends about only about 708 dollars a month on rent or mortgages. That's probably half what you spend. And that's also the lowest housing costs in America.
However, the reason it's the second cheapest place to live is people earn the second lowest salaries in America, so if you want to move here to movin on up in the world, you'd better make another plan.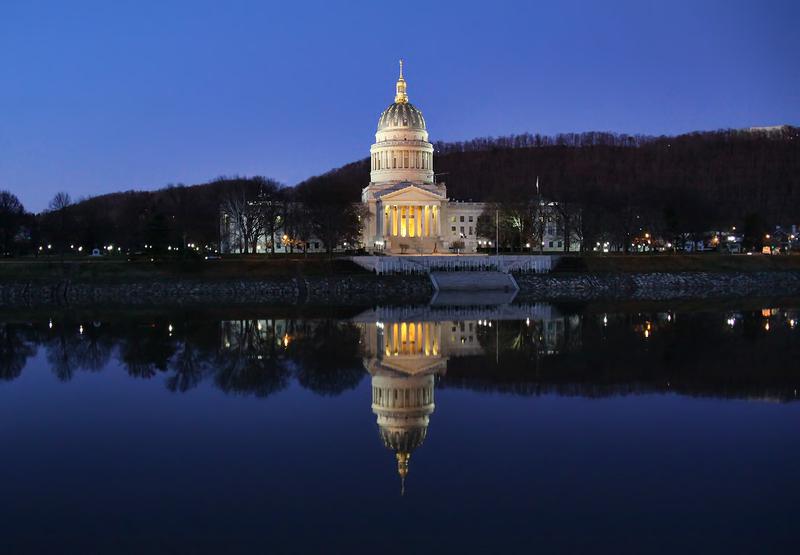 Rank Last Year: 5 (Up 2)
Living Wage: $50,068
Housing: $8,749
Child Care: $5,980
More On West Virginia: Photos | Rent
Moving on, we just got word that we're heading to West Virginia, our third cheapest state in America. While coal jobs might not be coming back soon, you might want to consider West Virginia purely for the low cost of living. Some of the most affordable places in the state include Clarksburg and Weirton.
As you might expect, it's actually really cheap to live in West Virginia. That's why so many people here live here. But, for some reason, child care costs are in the top 5 in West Virginia. Is that because there's hardly anyone around to watch the kids? Maybe they just don't need to.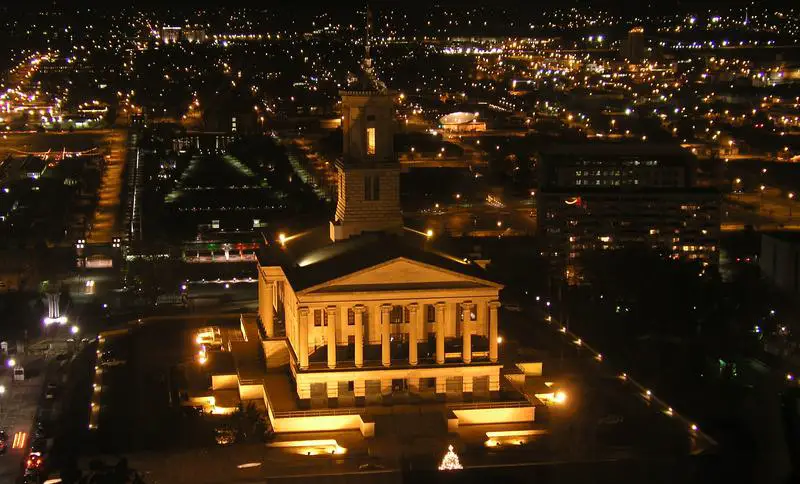 Rank Last Year: 4 (No Change)
Living Wage: $50,152
Housing: $9,723
Child Care: $5,975
More On Tennessee: Photos | Rent
Our next stop takes us to the wonderfully cheap (except Nashville) state of Tennessee. We're back to some Southern living. Taxes? Really low. Food costs? Really low. Housing costs are slightly higher than most of the other places on this list at about $810 a month, but that's still really low for most people watching this video, wishing their mortgage payment was 810 dollars.
However, it must be mentioned that Tennessee, overall, perhaps surprisingly, is one of the most dangerous states in the nation. Especially Memphis, which is one of the more dangerous big cities in America. If you move to Tennessee to start a better life and downsize, make sure you know where you're moving or we might not ever hear from you again.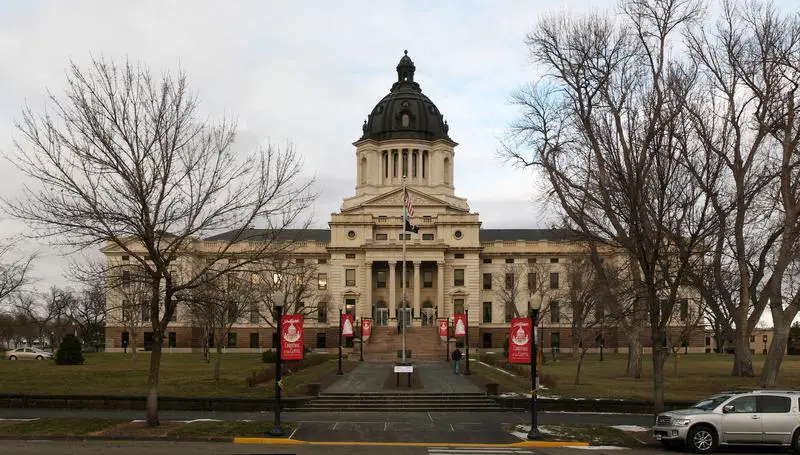 Rank Last Year: 3 (Down 2)
Living Wage: $50,166
Housing: $8,936
Child Care: $5,459
More On South Dakota: Photos | Rent
We're gonna ride the rails all the way up to our next cheapest state, South Dakota. In South Dakota, a family can get by pretty comfortably on about $4,200 a month in income. Housing and food will cost you about $1,300 a month total. Not too bad at all. But the real kicker is there's no income taxes in South Dakota. This means South Dakota has the lowest taxes in America. Sure beats New York, where people spend about a thousand bucks a month in taxes alone.
Yuck.
Of course, it IS South Dakota. But with all your extra savings here, you can go out and buy up all of the Bierocks and and pheasants and walleye and chislic? You want? What is this stuff? This is what South Dakotans eat?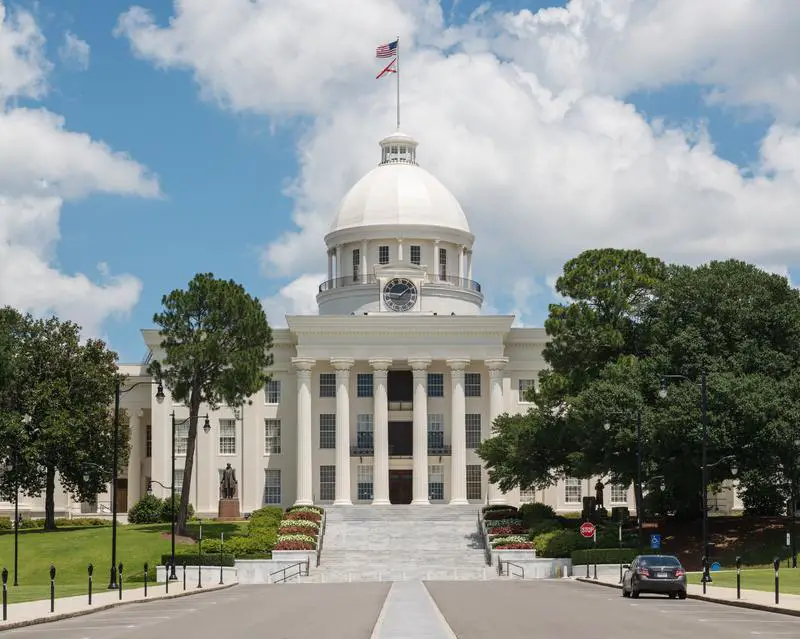 Rank Last Year: 6 (No Change)
Living Wage: $50,585
Housing: $9,086
Child Care: $5,163
More On Alabama: Photos | Rent
The Alabama tide rolls into the sixth cheapest state spot for 2020. Relatively high taxes and medical care for the South prevented the state from appearing higher on our list. Here in Alabama, the living wage is about $50,000, or about $25 an hour. And if both people work, than you each only really need minimum wage jobs to live a decent life in the Heart of Dixie.
If it wasn't for the higher than average taxes here, and above average healthcare costs, Alabama would be in the top 5 for sure.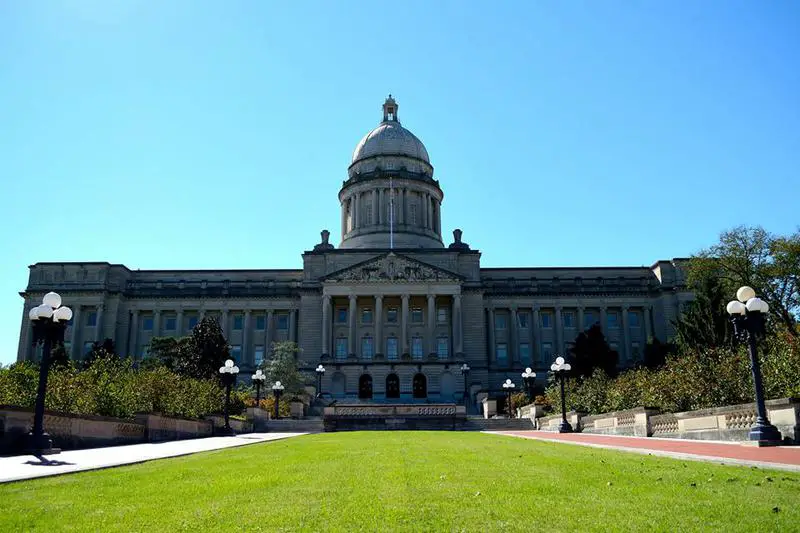 Rank Last Year: 9 (Up 2)
Living Wage: $51,925
Housing: $8,872
Child Care: $6,280
More On Kentucky: Photos | Rent
Our next cheapest place to live isn't too far away, as we take a spin in Kentucky. I have a feeling we're going to be in the south a lot for this trip.
Here in Kentucky, housing costs are actually the third lowest in the entire nation behind Arkansas and West Virginia. It's relatively more expensive for food than other states on this list, and for some reason, child care costs in Kentucky are a little more expensive – at about 523 dollars a month.
Life is slow in Kentucky – so if you want cheap and a whole lotta rolling hills, then this is your place. You can probably get a trailer and get a job down at Ramsey's. Sounds like a great life to me. Of course, the dating scene down in Kentucky is challenging.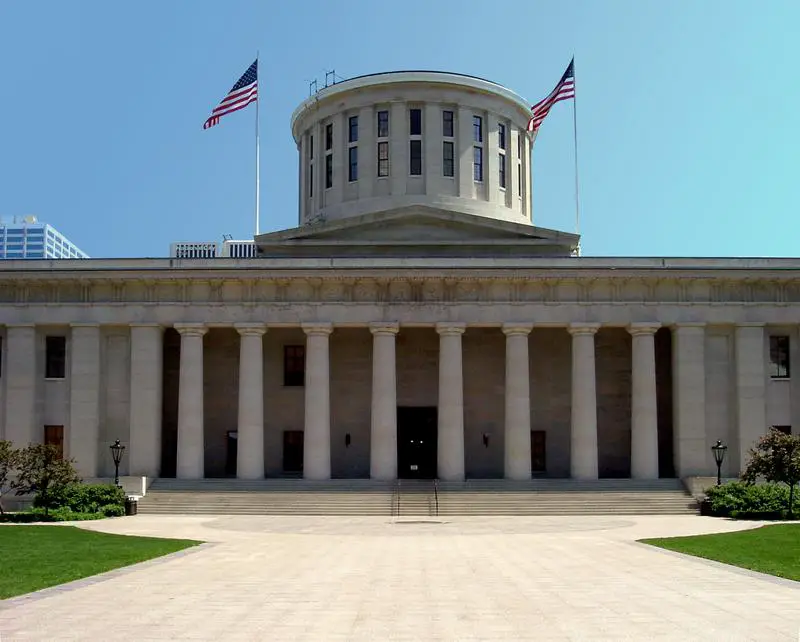 Rank Last Year: 7 (Down 1)
Living Wage: $52,013
Housing: $9,450
Child Care: $7,037
More On Ohio: Photos | Rent
Here in Ohio, housing costs are the eighth lowest in America, where, for about *787* dollars a month you can own a fine home in Dayton. In comparison, our most expensive state in which to own or rent is Hawaii, where you need about $22,000 a year – or about $1,800 a month – just for a roof over your head. A real big difference.
What does the average American family need to live comfortably these days? About $28.50 an hour, or $55,000 a year. That's for the whole house. What's the average American housing cost each month? About $11,300 a year – or $950 a month.
Of course, again, this IS Ohio, where you probably really enjoy living there. Ask someone from Ohio Ohio has some of the cheapest medical care available in the States. It's just that food and necessities cost here aren't what they are in the deep south..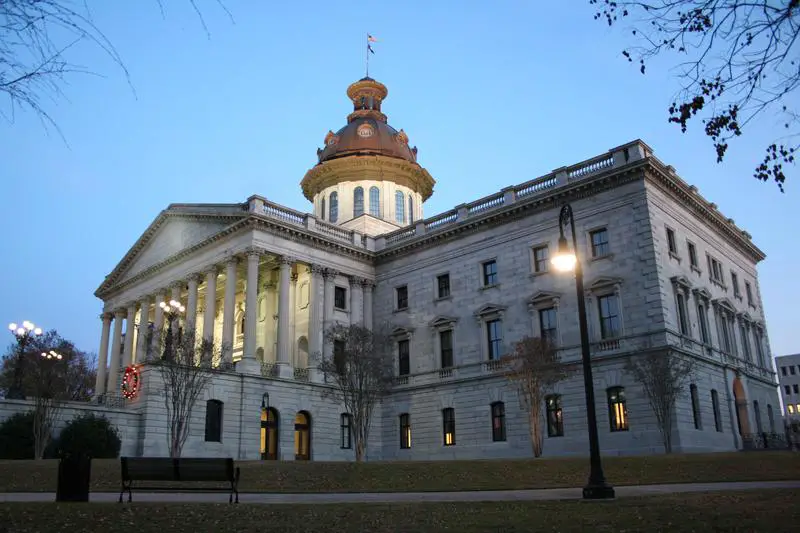 Source: Public domain
Rank Last Year: 8 (Down 1)
Living Wage: $52,038
Housing: $10,168
Child Care: $4,621
More On South Carolina: Photos | Rent
Buckle up, because we're heading to South Carolina. Here in the Palmetto State, the cost of living is really inexpensive – cheap child care and food makes things doable. However, the South Carolina is the 16th cheapest when it comes to housing costs. In fact, housing costs are the highest for any other state on this list. Part of that is because the awesome coastline skews the numbers. South Carolina has perhaps the best coastline in the nation. But the rest of the state? Not very stimulating.
In South Carolina, the average home sells for about $250,000. Not too shabby. Now, if you lived in say, Egypt, where it's only $27,000 for a house. Or, in Antartica, where a house is – free. Did you know in Hong Kong, you spend half your money on housing? You spend 49% of your income on a place to live in China and Taiwan.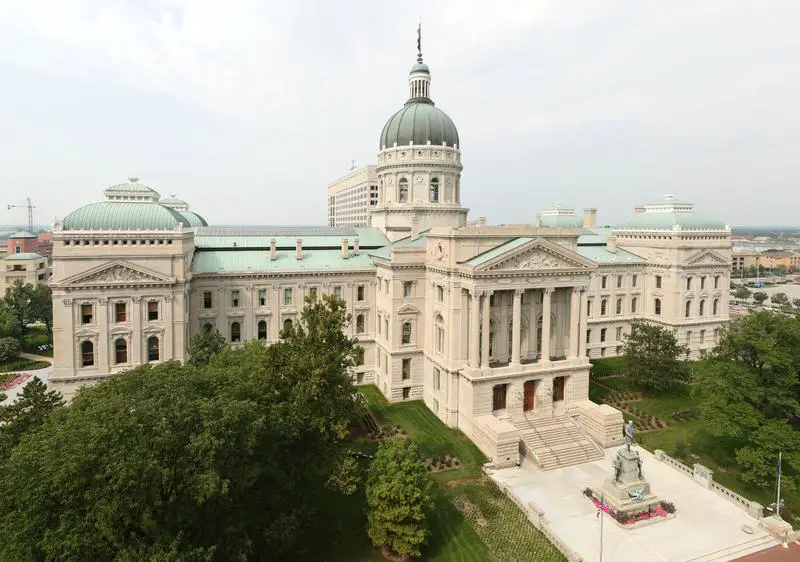 Rank Last Year: 10 (No Change)
Living Wage: $52,207
Housing: $9,641
Child Care: $6,463
More On Indiana: Photos | Rent
Here in Indiana, the living wage is about $52,000 a year. That means that if you make this amount of money each year – as a household – you can live comfortable enough. Sure, you'll have to work until you're 70 and you probably won't have a big ole boat, but at least you won't be on welfare. And, the housing costs in Indiana are about $9,600 a year. That means your mortgage or rent payments will be about 800 bucks a month. Not too shabby if you ask me.
In comparison, in our most expensive state to live, California, you need to make about $68k a year to live a decent life. And believe you me, that's nowhere near enough. Try living in San Francisco on $68k a year and you'll be renting a bedroom in the tenderloin district with a window that looks out on a sidewalk with poop on it. The living wage for the city of San Francisco is $89,000. That's just to get by without struggling. That's the most expensive place you can live in the US.
How We Determined The Cheapest States In America For 2020
When we at HomeSnacks normally measure how affordable a place to live is we check in on whats called a cost of living index. That analyzes the costs of goods in basket of things like housing, milk, utilities, and gas across the country.
But for this analysis we had an even better source — MIT's Living Wage data.
The team at MIT compiles the best set of geographical data on what a family of various sizes can realistically expect to spend to live a decent life each year. Not super comfy, but not in poverty.
In particular they look at the cost of the following items:
Food
Child Care
Medical
Housing
Transportation
Other Personal Necessities
Taxes
They just updated their data with the beginning of 2020.
We took their average required wage for two adults and one child and ranked them from lowest to highest. The lowest state, Mississippi, was crowned the cheapest state to live in America for 2020. You can download the data here.
There You Have It — The Cheapest States In America To Live For 2020
Okay, so that's it. Our cheapest states in America. After all the dust settled and the analysis was over, we crowned Mississippi as the cheapest place to live in America for 2020.
While it's good news for Mississippi that a dollar goes further there any other place in the country, the downside might be the reason behind it. People are willing to pay more to live in nicer places — that whole supply and demand thing. Remember, there's nothing wrong with living a cheap life, and being content with the way things are. If your car runs, you have heat on, and you can go out every now and then, then you have it better than like 70% of the rest of the world.
So even though it might be cheap to live in Mississippi, Mississippi still might be a better place to call home if you can afford it.
If you're curious, here are the most expensive states you can live in America. If you live in one of these expensive places, and you're thinking about moving away and starting over – somewhere cheap, and where your ex wife can't find you, we gave you a good list to start looking into more. Here's a quick look at the most expensive states in America:
California
New York
Massachusetts
For more reading, check out:
Detailed List Of The Cheapest States In America For 2020
| Rank | State | Living Wage |
| --- | --- | --- |
| 1 | Mississippi | $48,537 |
| 2 | Arkansas | $49,970 |
| 3 | West Virginia | $50,068 |
| 4 | Tennessee | $50,152 |
| 5 | South Dakota | $50,166 |
| 6 | Alabama | $50,585 |
| 7 | Kentucky | $51,925 |
| 8 | Ohio | $52,013 |
| 9 | South Carolina | $52,038 |
| 10 | Indiana | $52,207 |
| 11 | Oklahoma | $52,805 |
| 12 | North Dakota | $53,161 |
| 13 | Kansas | $53,201 |
| 14 | Texas | $53,219 |
| 15 | Michigan | $53,281 |
| 16 | Louisiana | $53,501 |
| 17 | Iowa | $53,502 |
| 18 | Missouri | $53,654 |
| 19 | Pennsylvania | $53,884 |
| 20 | Wyoming | $54,316 |
| 21 | Nebraska | $54,332 |
| 22 | North Carolina | $54,429 |
| 23 | Utah | $54,627 |
| 24 | Idaho | $54,631 |
| 25 | Georgia | $54,964 |
| 26 | Maine | $55,665 |
| 27 | Arizona | $56,189 |
| 28 | New Mexico | $56,228 |
| 29 | Wisconsin | $56,231 |
| 30 | Nevada | $56,277 |
| 31 | Montana | $56,410 |
| 32 | Florida | $57,029 |
| 33 | New Hampshire | $58,161 |
| 34 | Minnesota | $58,289 |
| 35 | Vermont | $58,841 |
| 36 | Delaware | $58,886 |
| 37 | Rhode Island | $59,221 |
| 38 | Oregon | $59,237 |
| 39 | Illinois | $59,498 |
| 40 | Washington | $61,988 |
| 41 | Alaska | $62,102 |
| 42 | Hawaii | $62,413 |
| 43 | Virginia | $62,598 |
| 44 | Colorado | $62,950 |
| 45 | New Jersey | $64,436 |
| 46 | Connecticut | $64,668 |
| 47 | Maryland | $66,150 |
| 48 | Massachusetts | $66,376 |
| 49 | New York | $67,419 |
| 50 | California | $68,190 |