How'd we figure out the best college towns in America?
To crunch our data on America's best college towns, we had to first decide which qualities (or rankings) make sense to use in the data, and then crunch the numbers for our rankings. Now, we had to make some assumptions here, so bear with us as we explain the methodology, and ultimately, how we came up with our rankings.
First off, we firmly decided that only cities with a Division 1 basketball program should make the cut. That's because a college town just isn't the same without a strong sports vibe.
You might be surprised to hear that there are more than 300 Division 1 basketball programs in America, so we didn't leave out very many cities.
We also decided the basketball team had to be good, and that it had to be well supported. Because how good could a college town be with crummy sports teams that no one watches, right?
Beyond sourcing the NCAA Basketball statistical database, we also used OpenStreetMaps, the College Scorecard, the U.S. Census, and FBI reporting data to include the following factors:
College-specific Factors

Graduation rate
Tuition Cost
Student Body Diversity

Quality Sports

Basketball Games
Basketball Team Win %
Average Basketball Game Attendance

Town Characteristics

Students Make Up Large % of the Population
Safety
Affordability
Income and Employment Opportunities

Things to Do

Bars
Museums & Libraries
Population Density
And, finally, if a city had more than one Division 1 basketball program, we combined both (or all of) their sports categories into one average score. Phew!
We ranked each city across each of the criteria, with one being the best.
We then took the average rank across each category, with the city posting the lowest overall score being crowned the winner of the title "Best College Town In America".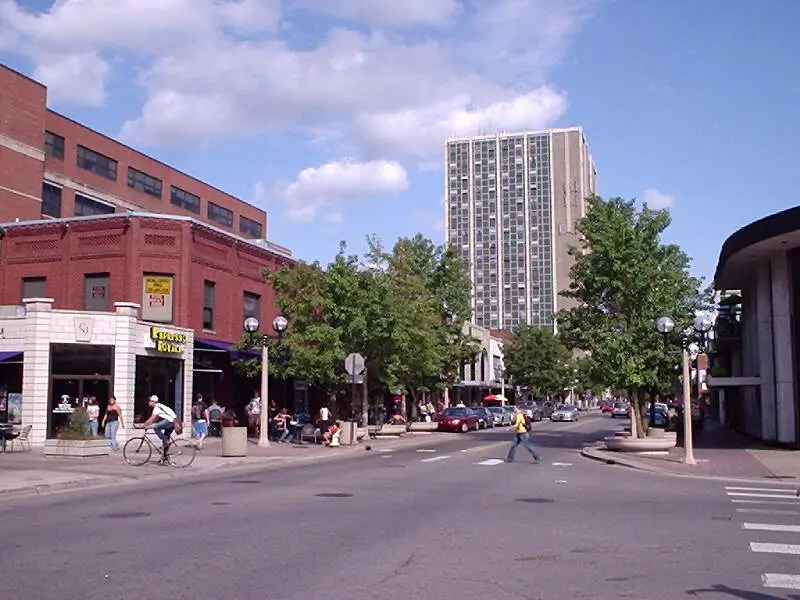 If you live in Michigan, there's a choice. Michigan or Michigan State.
While these two teams will continue to battle one another on the court or the field for a long time down the road, when it comes to bragging rights off the court, Michigan earned it, big time.
The Michigan men's basketball team is one of the best teams in the nation, as you very well know. A good basketball team has a way of making an entire community a better place.
But it's not just the sporting tradition that makes Ann Arbor shine. It's the 15th safest college town in America we measured, and Ann Arbor is in the top 5% when it comes to entertainment options per capita, too.
Nice job, Maize and Blue.
Colleges: University of Michigan-Ann Arbor, Washtenaw Community College, Concordia University-Ann Arbor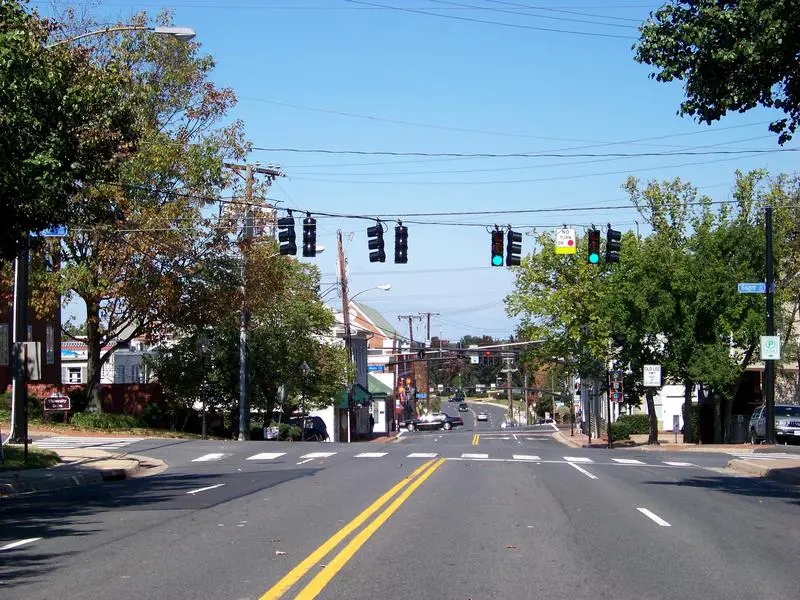 Would you have thought that the home of George Mason University, Columbia College and VIU would be the second best college town in America? Us either?
And by the way, VIU stands for Virginia International University.
Fairfax has it goin on when it comes to the actual university grade: the cost to attend, graduation rate, and quality of the universities in Fairfax.
Plus, there are more museums per capita in Fairfax than any other college town in America, and plenty of bars, too. Fairfax ranks 4th in the country for our 'entertainment score'.
So, while the sports teams struggle, the quality of life on and around campus more than makes up for it.
Colleges: George Mason University, Stratford University, Columbia College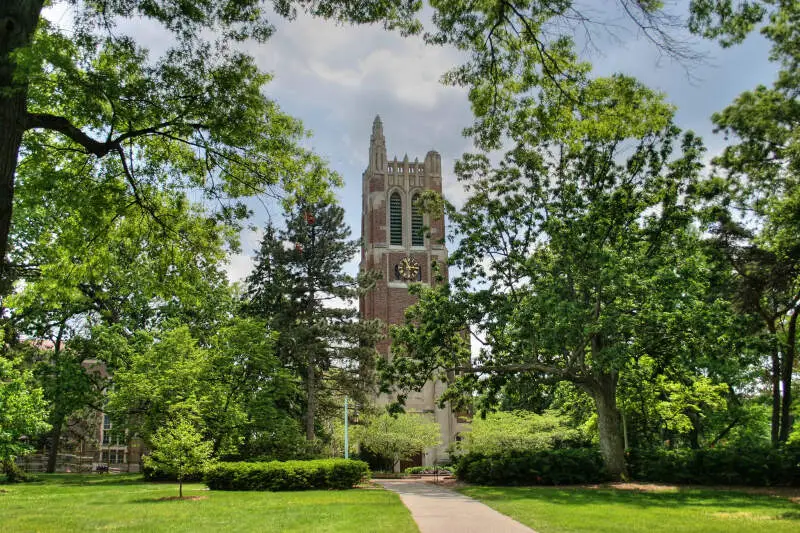 While Michigan took top honors, it's rival down the road isn't too far behind. While Michigan has the 3rd best ranked sports program according to our metrics, MSU is 10th. (It has the 2nd highest winning percentage in the last 5 years.)
Michigan State ranks 8th in the country for graduation rate, and has a really low unemployment rate too, meaning lots of students stick around once they graduate. East Lansing is also the 10th safest college town in America, too.
The downside? MSU is far above average when it comes to tuition cost. Does that make a college town less 'awesome?' Maybe just a teeny bit.
Colleges: Michigan State University, Douglas J Aveda Institute, Michigan State University-College of Law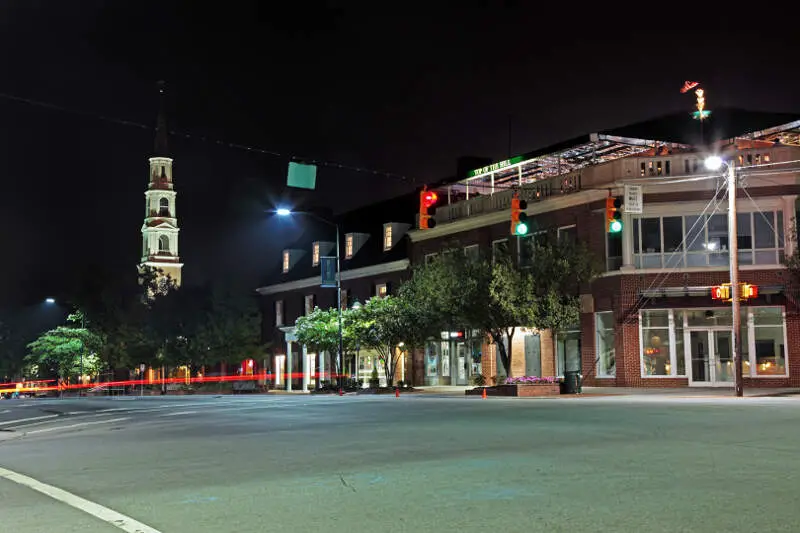 Having spent nearly four years living in Chapel Hill, the author of this post can attest to the quality of life in Chapel Hill. Not only is the basketball team the best in the nation (and very well supported), the quality of life on and around campus is amazing.
Franklin Street has bars on top of bars (literally), and plenty of places to eat and mingle. It's not a very diverse place, nor is it very affordable.
But in terms of charm, safety and lovability, Chapel Hill is pretty much the best college town you could call home.
It's A Great Day To Be A Tar Heel!
Colleges: University of North Carolina at Chapel Hill, Aveda Institute-Chapel Hill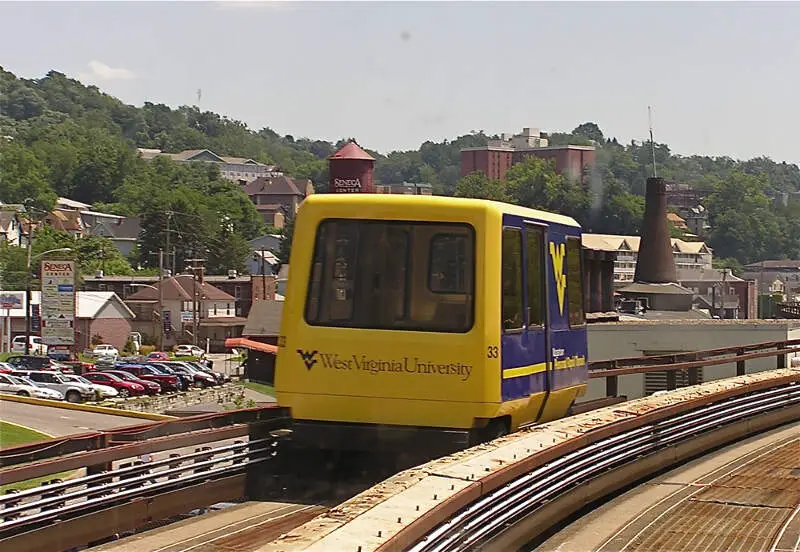 Source: Public domain
If you've ever been to Morgantown, you already know it - this place is an island in the middle of nowhere. Perhaps that's why there's so much jam packed in such a small area.
When it comes to quality of basketball and the attendance for games, UWV students have it made; the university ranks 8th in the nation for our sports score.
Other factors: An entertainment score that puts Morgantown in the top 15%.
Factors that bring Morgantown down - a lack of diversity, and a higher than average unemployment rate. But hey - it's cheap to live here!
Colleges: West Virginia University, West Virginia Junior College-Morgantown, Monongalia County Technical Education Center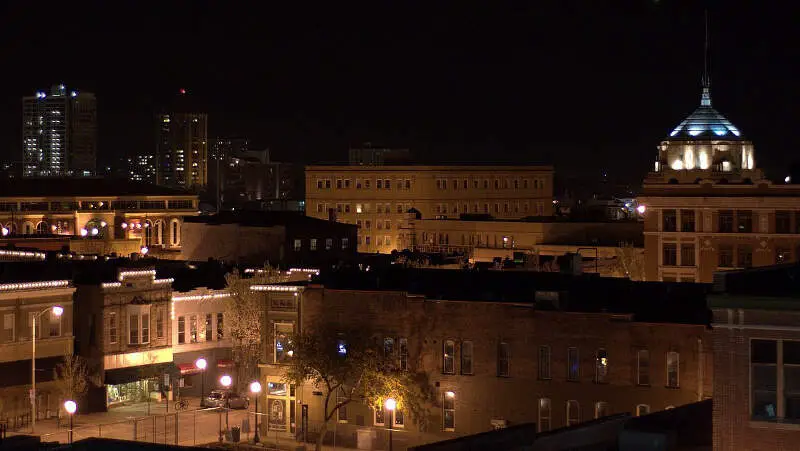 Colleges: University of Illinois at Urbana-Champaign, Parkland College, Regency Beauty Institute-Champaign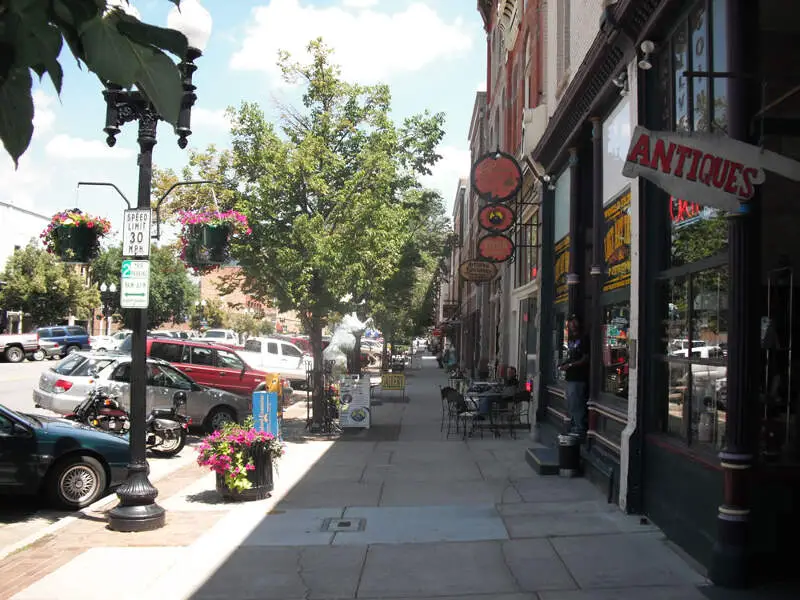 Source: Public domain
Colleges: Weber State University, Ogden-Weber Applied Technology College, Nightingale College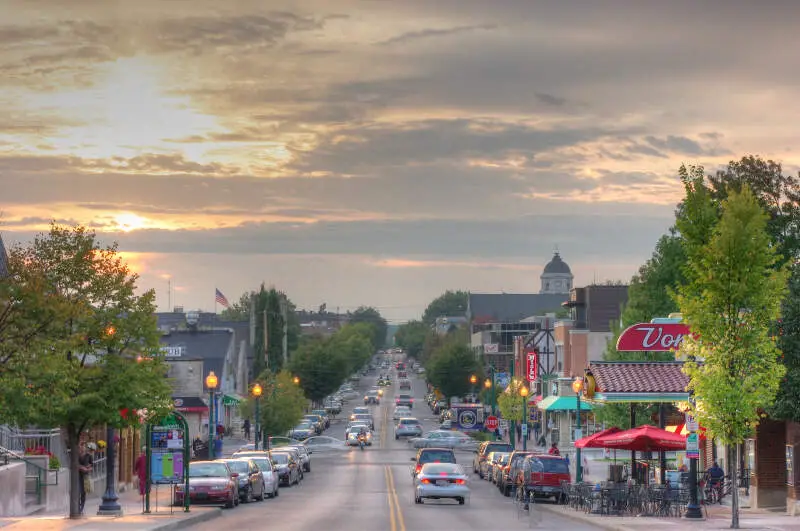 There's two main reasons why Bloomington makes the top ten. Basketball and beer.
Game days are a huge deal in these parts, and practically everyone in town is at the game or has the game on. Now, when it comes to drinking, Bloomington is a real party town, too. There are only 10 other college towns in America with more kegs per student than right here in south central Indiana.
It's a relatively expensive degree, but just about everyone graduates.
Colleges: Indiana University-Bloomington, Tricoci University of Beauty Cuture LLC-Bloomington, Ivy Tech Community College-Bloomington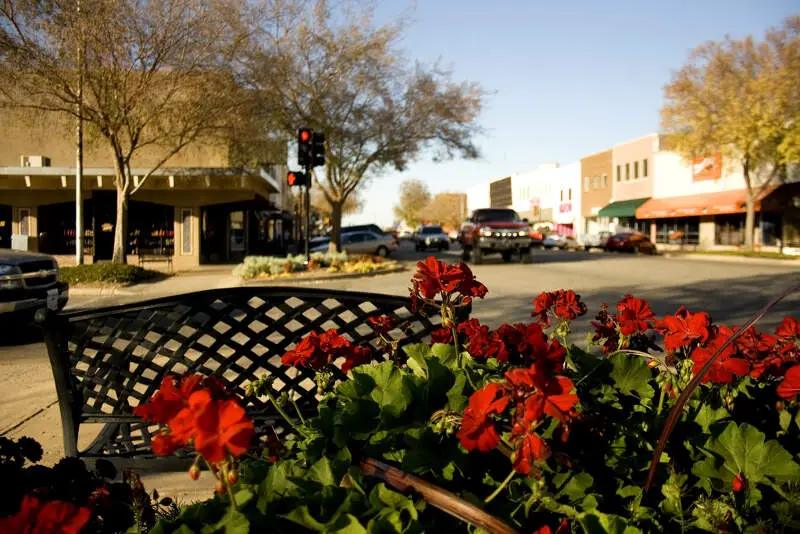 Colleges: Oklahoma State University-Main Campus, Meridian Technology Center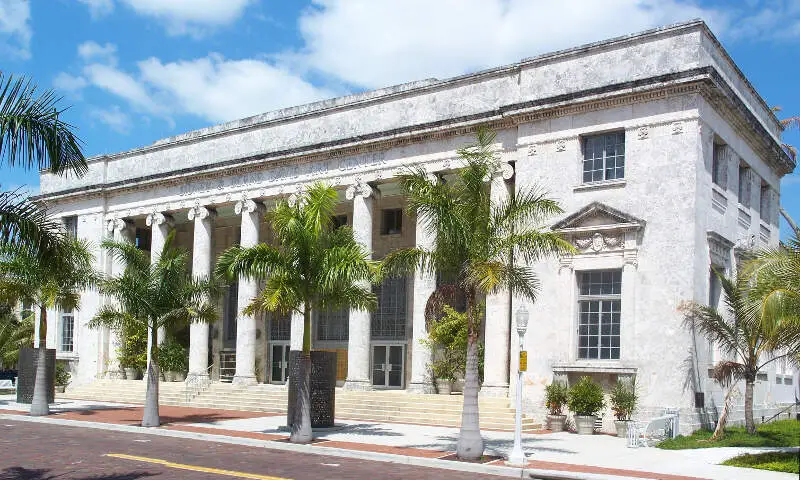 Colleges: Florida SouthWestern State College, Florida Gulf Coast University, Southern Technical College
There You Have It -- The Best College Towns In The US
If you're looking for the best college towns in America, you came to the right place. These places all have great college sports programs, tons of stuff to do, and are great places to raise a family.
If you're curious, these are the worst college towns in America, starting with the absolute worst, Bakersfield:
Bakersfield, California - home of Cal State Bakersfield
Jackson, Mississippi - home of Jackson State University
Clarksville, Tennessee - home of Austin Peay University
Santonio, Texas - home of UT - San Antonio
Riverside, California - home of UC Riverside
Chattanooga, Tennessee - home of UT - Chattanooga
Indianapolis, Indiana - home of Butler University
Littlee Rock, Arkansas - home of UA Little Rock
Newark, NJ - home of Rutgers University
Akron, Ohio - home of the University of AkronLittl
For more reading, check out:
| Rank | City | Population |
| --- | --- | --- |
| 1 | Ann Arbor, MI | 121,093 |
| 2 | Fairfax, VA | 23,312 |
| 3 | East Lansing, MI | 48,437 |
| 4 | Chapel Hill, NC | 61,912 |
| 5 | Morgantown, WV | 30,953 |
| 6 | Champaign, IL | 88,288 |
| 7 | Ogden, UT | 87,175 |
| 8 | Bloomington, IN | 84,691 |
| 9 | Stillwater, OK | 50,183 |
| 10 | Fort Myers, FL | 83,505 |
| 11 | Iowa City, IA | 75,849 |
| 12 | New Brunswick, NJ | 55,992 |
| 13 | Seattle, WA | 741,251 |
| 14 | Laramie, WY | 32,515 |
| 15 | Manhattan, KS | 55,045 |
| 16 | Buffalo, NY | 255,805 |
| 17 | Towson, MD | 57,542 |
| 18 | Williamsburg, VA | 15,034 |
| 19 | Santa Barbara, CA | 90,911 |
| 20 | Omaha, NE | 479,529 |
| 21 | Albany, NY | 96,860 |
| 22 | Moscow, ID | 25,652 |
| 23 | Tempe, AZ | 191,607 |
| 24 | Lincoln, NE | 286,388 |
| 25 | Madison, WI | 258,366 |
| 26 | Logan, UT | 51,266 |
| 27 | Tampa, FL | 395,912 |
| 28 | Ruston, LA | 21,987 |
| 29 | Evanston, IL | 73,979 |
| 30 | Provo, UT | 116,886 |
| 31 | Atlanta, GA | 497,642 |
| 32 | Providence, RI | 179,472 |
| 33 | Berkeley, CA | 123,065 |
| 34 | Murray, KY | 19,254 |
| 35 | Cincinnati, OH | 302,687 |
| 36 | Lawrence, KS | 97,348 |
| 37 | Pittsburgh, PA | 301,286 |
| 38 | Fayetteville, AR | 86,622 |
| 39 | Harrisonburg, VA | 53,558 |
| 40 | Ithaca, NY | 30,715 |
| 41 | Tucson, AZ | 545,340 |
| 42 | Boston, MA | 689,326 |
| 43 | Normal, IL | 54,699 |
| 44 | Salt Lake City, UT | 200,133 |
| 45 | Corvallis, OR | 58,612 |
| 46 | Reno, NV | 250,903 |
| 47 | Columbia, MO | 122,659 |
| 48 | Washington, DC | 701,974 |
| 49 | Bowling Green, OH | 31,638 |
| 50 | Vermillion, SD | 10,852 |
| 52 | Radford, VA | 17,833 |
| 53 | Las Cruces, NM | 102,950 |
| 54 | Wichita, KS | 390,566 |
| 55 | Tallahassee, FL | 192,885 |
| 56 | San Diego, CA | 1,414,545 |
| 57 | Syracuse, NY | 142,553 |
| 58 | Dayton, OH | 140,444 |
| 59 | Las Vegas, NV | 644,594 |
| 60 | Fullerton, CA | 141,061 |
| 61 | Orlando, FL | 284,817 |
| 62 | Brookings, SD | 24,479 |
| 63 | Green Bay, WI | 104,508 |
| 64 | Boulder, CO | 108,777 |
| 65 | Kent, OH | 29,698 |
| 66 | San Luis Obispo, CA | 47,402 |
| 67 | Fresno, CA | 526,147 |
| 68 | Nacogdoches, TX | 32,912 |
| 69 | Norfolk, VA | 244,300 |
| 70 | Boca Raton, FL | 98,776 |
| 71 | Lynchburg, VA | 80,970 |
| 72 | Norman, OK | 124,086 |
| 73 | Lubbock, TX | 257,013 |
| 74 | Macomb, IL | 17,658 |
| 75 | Carbondale, IL | 25,400 |
| 76 | San Marcos, TX | 64,053 |
| 77 | Ames, IA | 66,361 |
| 78 | Huntington, WV | 46,139 |
| 79 | Durham, NH | 12,016 |
| 80 | Arlington, TX | 397,269 |
| 81 | Charleston, SC | 137,041 |
| 82 | Philadelphia, PA | 1,581,531 |
| 83 | Ypsilanti, MI | 20,792 |
| 84 | Poughkeepsie, NY | 30,341 |
| 85 | Columbus, OH | 889,079 |
| 86 | Milwaukee, WI | 592,649 |
| 87 | Santa Clara, CA | 126,723 |
| 88 | Lafayette, LA | 126,674 |
| 89 | Spokane, WA | 219,185 |
| 90 | Portland, OR | 650,380 |
| 91 | Durham, NC | 276,341 |
| 92 | Eugene, OR | 170,457 |
| 93 | Denton, TX | 139,734 |
| 94 | Tuscaloosa, AL | 100,633 |
| 95 | Thibodaux, LA | 14,565 |
| 96 | Albuquerque, NM | 560,447 |
| 97 | New Haven, CT | 130,381 |
| 98 | Missoula, MT | 74,994 |
| 99 | Baton Rouge, LA | 222,191 |
| 100 | Fort Collins, CO | 166,069 |
| 101 | Knoxville, TN | 187,487 |