Average water bill by state research summary. Water bills vary across states due to geographic and political factors. States with easy access to freshwater typically have lower prices for water bills, while states that are geographically removed from water sources have higher prices. Local infrastructure and taxes also affect a state's average monthly water bill. Here are the key takeaways from our analysis of water bill prices across the United States.
The state with the highest water bill is West Virginia with an average water bill of 108.0 per month.

The state with the lowest water bill is South Carolina with an average Imonthly water bill of 16.0.

The average water bill in the United States is $72.93 per month for a family of four.

The difference between the state with the highest water bill and the state with the lowest water bill is $92.00 per month.
Map Of Monthly Water Bill Prices By State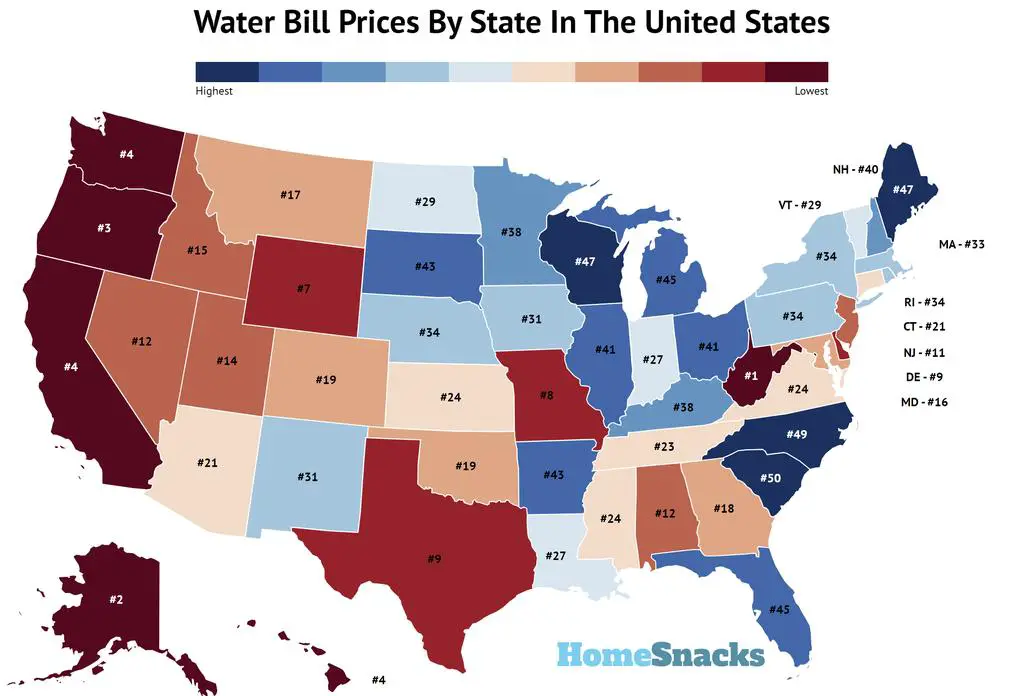 Click to enlarge
The average water bill in the United States is $72.93. This figure varies across states due to geographic location, climate conditions, availability of water resources, population density, local infrastructure, and government policies.
States with higher average water bills, such as West Virginia, Alaska, and Oregon, may experience more significant challenges in securing and maintaining clean water sources, especially in areas with water scarcity or regions prone to drought. These states invest more in advanced water treatment technologies and distribution systems to ensure water quality and availability.
On the other hand, states with lower average water bills, like South Carolina and North Carolina, could benefit from abundant freshwater resources, efficient infrastructure, and lower demand for water services. Additionally, states with relatively low population densities may find managing and maintaining water systems easier.
States With The Highest Average Water Bill
As we analyze water bill expenses across the United States, certain states stand out due to their relatively higher water bill rates. These states offer varying perspectives on the factors contributing to water price fluctuations.
From geographical peculiarities to population density and infrastructure, these states vividly depict the complex interplay between resources, demographics, and economics. Here are the ten states with the highest water bills; let's turn on the faucet to our analysis.
States With The Lowest Average Water Bill
Turning our attention to the opposite end of the spectrum, our examination of water bill expenses in the United States shows a distinct group of states marked by notably lower water bill rates. These states present intriguing insights into the contrasting dynamics contributing to more affordable water pricing.
From resource abundance to efficient infrastructure and demographic patterns, these states offer a fascinating glimpse into how various elements converge to shape the financial aspect of water utilization. Join us as we delve into the ten states with the lowest water bills, delving into the intricacies that position them as front-runners in this facet of utility cost management.
Monthly Water Bill Prices By State
Conclusion
Examining the monthly water bill prices across different states offers valuable insights into the intricate web of factors influencing these variations. This analysis underscores the significance of local infrastructure, geographic location, population density, and economic conditions in shaping water costs. Due to reduced supply pressures, states with freshwater resources tend to exhibit lower monthly water bills. Conversely, regions grappling with water scarcity often face higher costs as they invest in innovative technologies and infrastructure to ensure a sustainable water supply.
Furthermore, the socio-economic landscape of each state plays a pivotal role in determining the affordability of water bills for residents. States with stronger economies and higher income levels find it easier to allocate resources for maintaining and upgrading water systems, leading to more reasonable costs for consumers. States with economic challenges need help to balance the need for reliable water infrastructure and the financial burden placed on households.