This article is an opinion based on facts and is meant as infotainment. Don't freak out.
Swipe left for slideshow. Article continues below.
Note: We also wrote about the 10 Worst Midwest Cities To Live.
The last time we visited the midwest region, we created a stir when we outed several Ohio cities as being the worst in the midwest. Some felt it was unfair, and others called us bullies.
We're just using data to create a conversation based on things people indicate they care about.
But this story will be different. We're going to talk about the opposite of that. It's all sunshine and rainbows with this bad boy.
Where are the best places in the midwest? They are the places that have awesome economies. They're the places where people have the best jobs, and where residents are happily married, and where the sun shines the most.
And certainly, if crime is really low, no one wants to be there at all.
We looked at the 100 most populated cities in the midwest for this study. The cities at the top are places where things are going swimmingly right now, at least according to data, which measures the good things that people say they want in a city.
There might be some surprises on this list, but when you look at the unbiased data, it's hard to argue against. We had more than 10 million people read our worst cities in a state series, which was featured in hundreds of media outlets, including an NPR feature.
So we know what we're talking about.
Here are the 10 Best Midwest Cities:
Lee'S Summit, MO
What's interesting is that only a few midwest states are represented here. And that three of the top 4 are in the greater Kansas City area.
Cities in Iowa, Wisconsin, Michigan, Ohio, Nebraska, and North Dakota are missing from the top 10.
We understand there's a lot of good in every place. However, according to data (which doesn't measure things like beauty, 'friendly people' and community involvement), these are the best options in the midwest for making a place home.
The worst city to live in the midwest? Cleveland, Ohio. More on that later.
And if this has you feeling good, feel free to check out the best states in the country. Or, if you're into negative (and humorous), you can check out our report on the 10 Worst States to Live in America.
How do you decide if a place is amazeballs or not?
In order to rank America's best midwest cities, we had to determine what criteria people like or dislike about a place. It isn't a stretch to assume that people like low crime, good weather, things to do and a stable economy.
So we scraped the internet for those criteria, and it spit out the answer. Like magic.
How we crunched the numbers
We threw a lot of criteria at this one in order to get the best, most complete results possible. Using FBI crime data, the government census, Bureau of Labor Statistics and Sperling's Best Places, this is the criteria we used:
Lots of college graduates
Low unemployment rates
High incomes
High home prices
Lots of sunny days a year
Low crime
Low commute times
Low poverty levels
Low cost of living
High marriage rates
If you'd like to see the complete list of cities, scroll to the bottom of this post to see a link to the entire data set.
Note: We get the crime numbers from the FBI, which gets its crime numbers from the cities themselves. This list is based on data, and is entirely unbiased.
1. Overland Park, KS
Grade: A+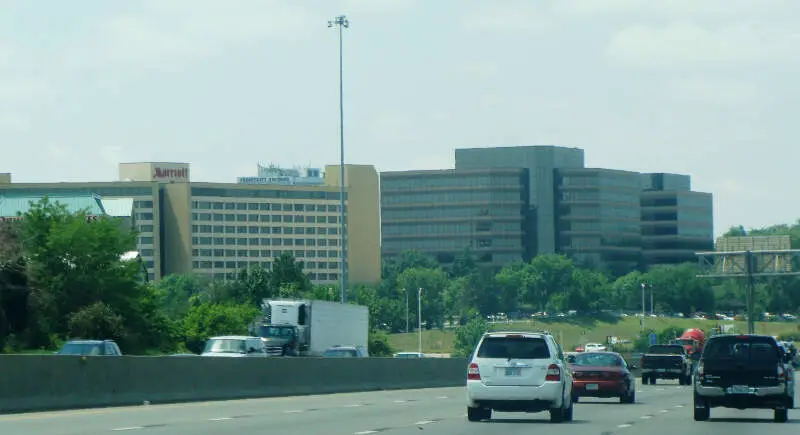 Population: 174,504
Poverty rate: 5th lowest
College degrees: 4th most
Unemployment rate: 7th lowest
Overland Park's city motto is, "Above And Beyond. By Design." Whoever is behind the scenes pulling the strings in this Kansas City, Kansas suburb has done an exceptional job.
The economy here is just about as strong as you'll see in the midwest. Only 5% of the population lives in poverty. In comparison, in Flint, Michigan, 40% of the population can barely make ends meet.
And when you look at the numbers, the people here are happy, too. 58% are married (the 8th highest number in the midwest), and Overland Park gets 213 sunny days a year, which is the 10th highest.
The only knock? It's the 4th most expensive place to live in the midwest. But you pay for what you get, right?
2. Olathe, KS
Grade: A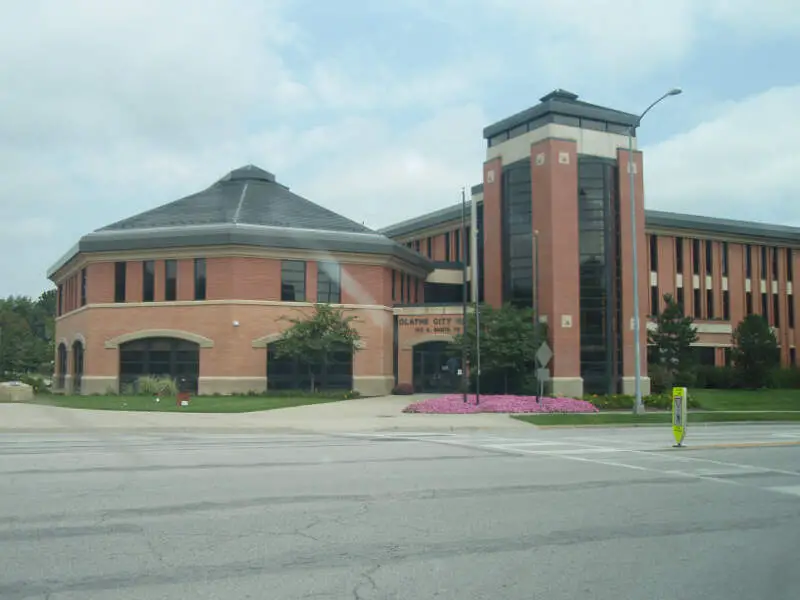 Population: 126,902
Married rate: 4th highest
Sunny days: 5th most
Incomes: 8th highest
Hurray for the Kansas City, KS metro area. The top two best places to live in the entire midwest are right here in this general area.
Olathe has several similarities that Overland Park enjoys. Lots of sunny days (217 to be exact), and lots of wealthy, married people. Almost 2 in 3 adults is married, which is really high for the entire country. And they can enjoy the finer things, here too. Families average $76,000 a year, which is way up there for the midwest.
Plus, it's safe, even on the roads. A 2015 study said Olathe has the 14th safest drivers in the nation.
3. Carmel, Indiana
Grade: A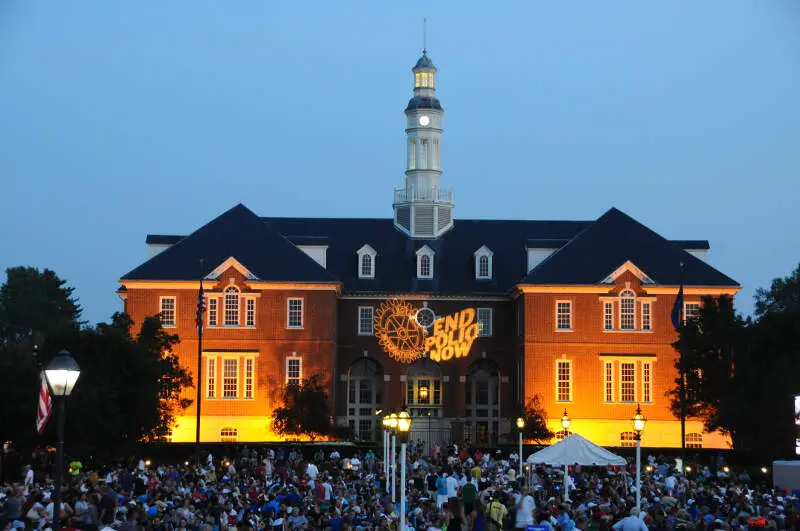 Population: 125,404
Married rate: Highest
Poverty rate: 2nd lowest
College degrees: Highest
Carmel and Fishers Indiana (lower on this list) are just about as close to la-la land as you can get, not only in the midwest, but in the entire nation. It's almost as if someone threw a bunch of pixie dust down in these northern Indianapolis suburbs and then built a big bubble around them.
Carmel residents are the smartest and most married of anyone else in a 14 state region. If that doesn't make you happy…well then you need some medication.
And these people are wealthy, too. Average families bring in more than $107,000 a year. We're not saying money buys happiness, but it does buy you peace of mind and the freedom to do things you enjoy.
4. Lee's Summit, MO
Grade: A

Population: 90,544
Sunny days: 3rd most
Crime: 10th lowest
Unemployment rate: 10th lowest
This one came as quite a surprise. If you've never heard of Lee's Summit, Missouri, you have now. This is another city in the greater Kansas City area.
We all know how dreary it can be for long stretches in the midwest, weather wise. Lee's Summit gets just about as many sunny days as anyone else. That goes a long way from November through March.
Crime is the 10th lowest of all large midwest cities here, and only 4% of the population is out of work.
CNN Money Magazine called this the 27th best place to live in the nation, and this city seems to move up the list every time they issue a new one.
5. Fishers, IN
Grade:A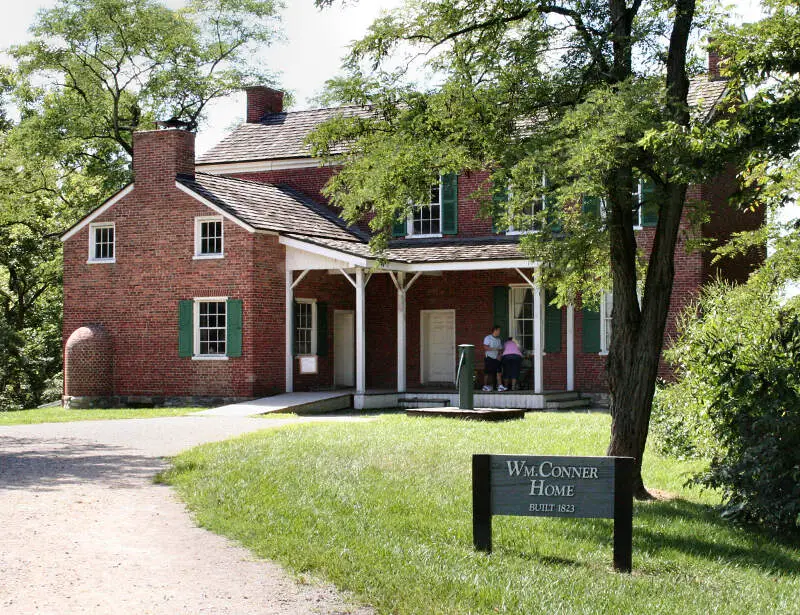 Population: 76,934
Poverty level: Lowest
Crime: Lowest
Married rate: 2nd Lowest
Fishers is basically a twin of Carmel, except it's actually a bit safer and a lot cheaper to live there. You could make a case that Fishers should actually outrank Carmel because the cost of living is so much lower.
Only 2.7% of the folks in Fishers lives at the poverty level (we're surprised it's even that high, having been there numerous times.) And you won't find a safer place in a 14-state region than here.
The commute time into Indianapolis would be the only negative here. Folks spend a high number of hours each week sitting in traffic. But it sounds like there are lots of smiling faces to come home to every evening.
6. Eagan, MN
Grade: A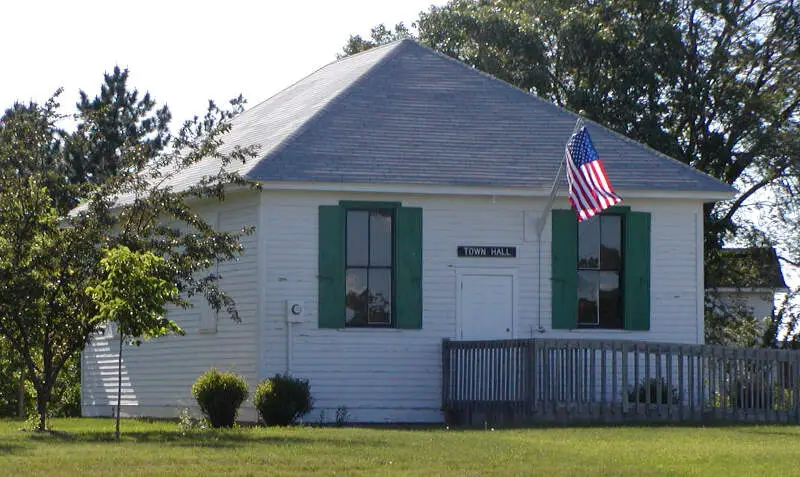 Population: 64,594
Income: 5th highest
College degrees: 7th most
Home prices: 8th highest
Eagan, Minnesota is another under-the-radar city that most people in the midwest (outside of Minnesota) haven't heard of. It's on the southern edge of the Minneapolis-St. Paul metro area, and it was ranked as the 14th best place to live in the U.S. by Money Magazine in 2012.
The folks who work/commute into the Twin Cities have lots to be proud of. They are high earners (families average about $80,000 a year), and it's a very safe place to live. However, it appears that residents here have to spend extra time commuting back and forth to be able to afford to live here. It's the 5th most expensive place to live, relative to cost of living.
Some people in the smaller communities of the midwest might give an understanding nod to that stat. Some people just like living the simple life.
7. Rochester, MN
Grade: A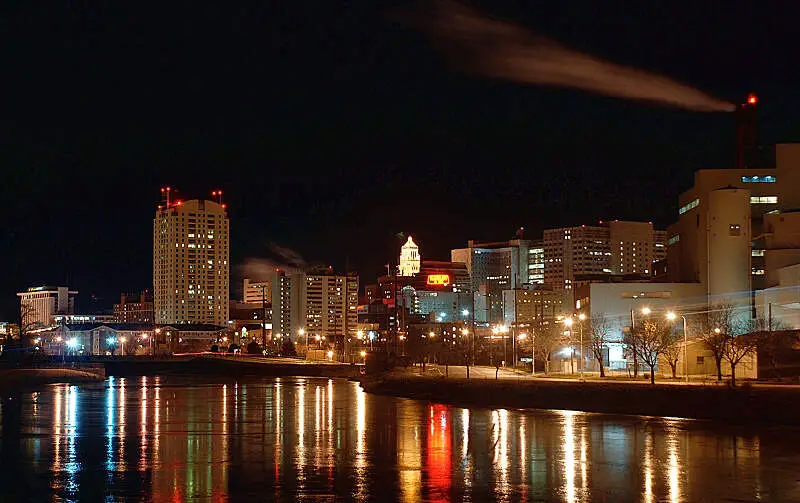 Population: 106,903
Unemployment rate: Lowest
Crime: 8th safest
Commute time: 8th shortest
Rochester isn't too far from Eagan – perhaps an hour drive south of the Minneapolis suburbs. But it appears as if most residents here don't make the commute to the Twin Cities, as there must be a lot of jobs in the Rochester area, judging by the short commute time (16 minutes each way).
That means lots of extra time with the wife and kids.
Practically everyone who wants a job in Rochester has one. The unemployment rate is 3.1%, which is not only the lowest in the entire midwest, but one of the lowest rates in the USA.
8. Sioux Falls, SD
Grade: A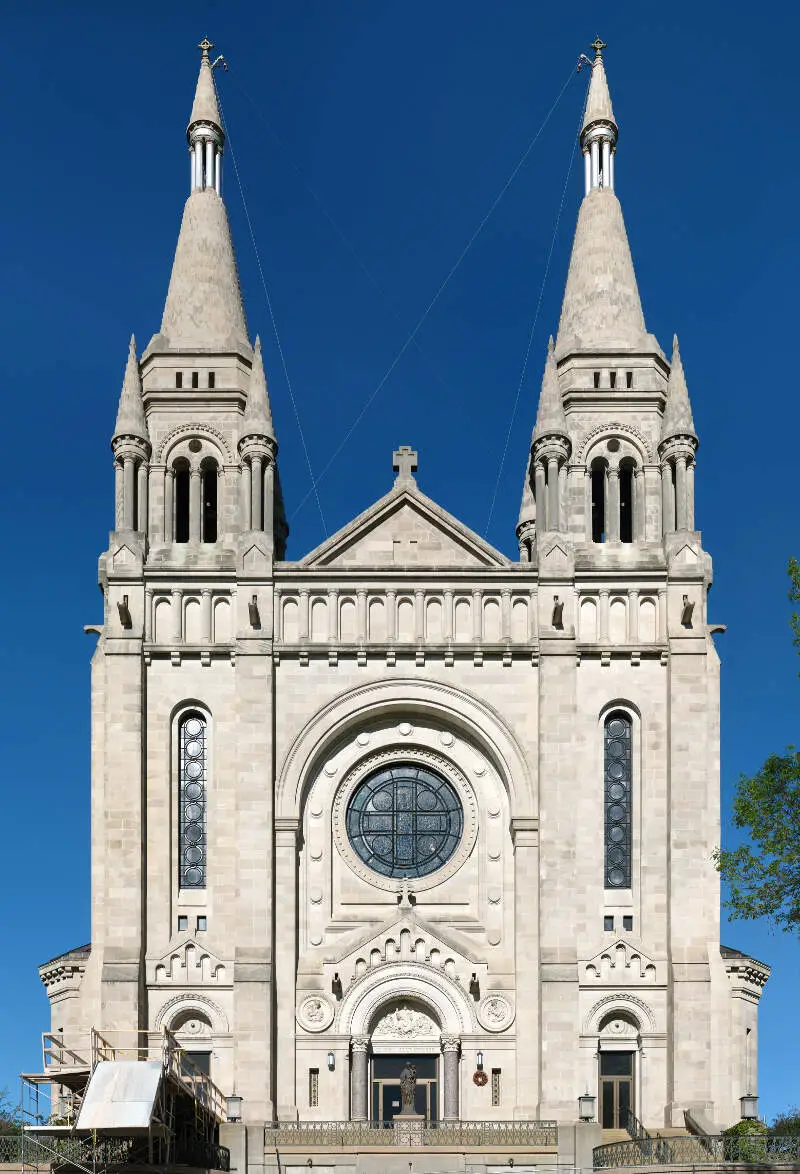 Population: 154,384
Unemployment rate: 2nd lowest
Commute time: 9th shortest
Sunny days: 14th most
Hey there, South Dakota. We thought you might pop up on this list at some point.
Sure, there's not a lot to do in South Dakota for fun, but if you want to live in South Dakota, there is no better place than Sioux Falls. There are a ton of jobs here, little traffic, and if sunshine on your shoulders makes you happy, then you'd be smiling all year long here.
There's a reason (many actually) it was voted as the 2nd most secure places to live in America.
9. Naperville, IL
Grade: A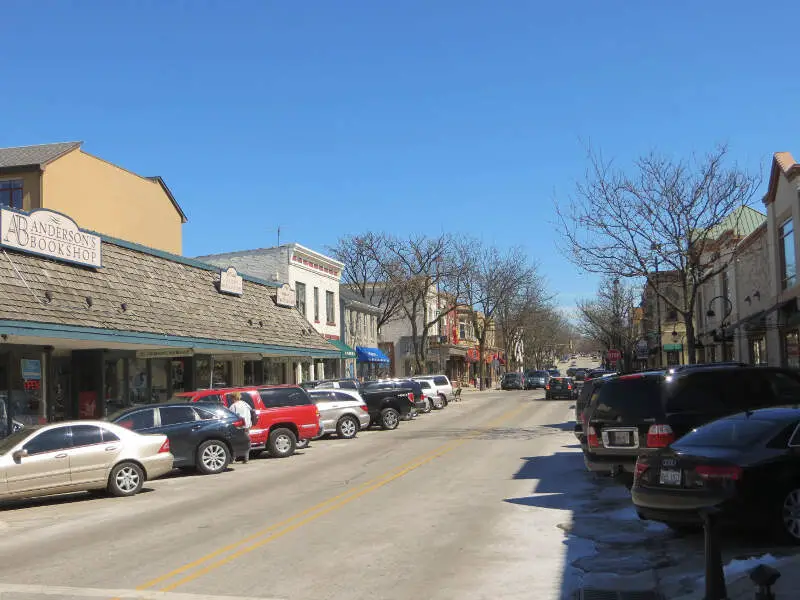 Population: 142,393
Income: Highest
Home prices: Highest
Cost of living: Highest
Looks like we're going to round out our list in some posh Chicago burbs. Naperville ranking 9th probably won't surprise many in the Chicago area.
Sure, it's a really safe place. But the cost of living is the highest in the midwest, and the commute time is the longest. So, you might be running around to try and keep up with the Joneses here.
But hey, being around lots of smart, married people is worth it to most people.
10. Arlington Heights, IL
Grade: A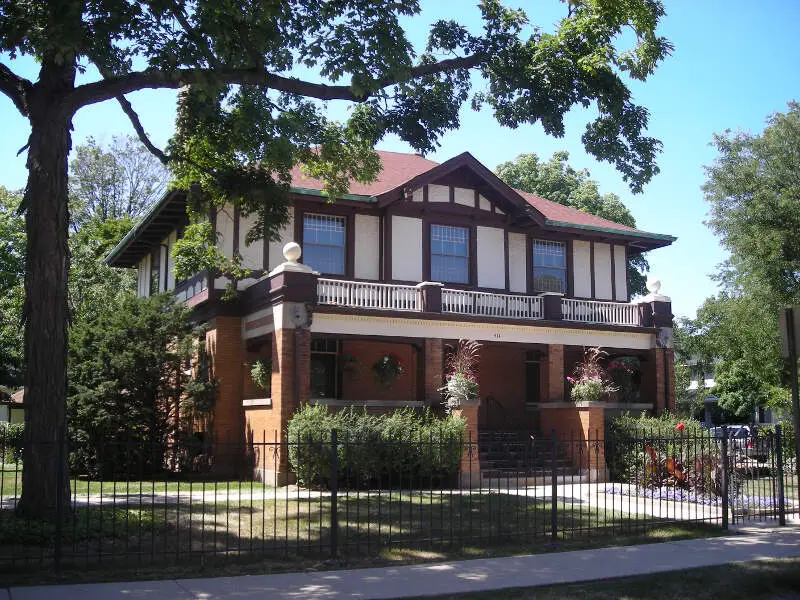 Population: 75,494
Poverty rate: 3rd lowest
Crime: 3rd safest
Married rate: 5th highest
Arlington Heights is basically a smaller version of Naperville, when you look at all of the data.
It's a little less expensive, the commute time is a little shorter, and it's slightly safer. You could probably swap either of these two cities, and no one would argue one bit.
The next 10
Here are the grades for the next 10 cities on the list. The complete scoring chart is at the bottom.
11. Plymouth, MN Grade: A-
12. Troy, MI Grade: A-
13. Bloomington, IN Grade: A-
14. Cedar Rapids, IA Grade: A-
15. Farmington Hills, MI Grade: A-
16. Bloomington, IL Grade: A-
17. Schaumburg, IL Grade: A-
18. Fargo, ND Grade: A-
19. St. Charles, MO Grade: A-
20. Waukesha, WII Grade:A-
There You Have It
If you're looking at the largest cities in the midwest. where crime is low, people are wealthy, and the sun shines, this is an accurate list.
Mobile users: Here's a link to the complete data chart.
If you're also curious enough, here are the worst midwest cities to live, according to science.
Cleveland
Detroit
Flint, MI
Gary, IN
Youngstown, OH
We also wrote about the 10 Worst Midwest Cities To Live.
Disclaimer: This article is an opinion based on data. It should not be taken as fact.
Desktop users: Below is a chart of the best midwest cities, from 1-100.
| City | Population | Rank |
| --- | --- | --- |
| Overland_Park | 174503 | 1 |
| Olathe | 125902 | 2 |
| Carmel | 80060 | 3 |
| Lee's_Summit | 90544 | 4 |
| Fishers | 76835 | 5 |
| Eagan | 64538 | 6 |
| Rochester | 106903 | 7 |
| Sioux_Falls | 154526 | 8 |
| Naperville | 142143 | 9 |
| Arlington_Heights | 75221 | 10 |
| Plymouth | 70895 | 11 |
| Troy | 81307 | 12 |
| BloomingtoN | 83658 | 12 |
| Cedar_Rapids | 126921 | 14 |
| Farmington_Hills | 80131 | 15 |
| Bloomington | 76527 | 16 |
| Schaumburg | 74276 | 17 |
| Fargo | 106005 | 18 |
| St._Charles | 65927 | 18 |
| Lincoln | 259218 | 20 |
| Waukesha | 70593 | 21 |
| PalatinE | 68338 | 22 |
| Rochester_Hills | 71251 | 23 |
| Appleton, | 72575 | 24 |
| Rapid_City | 68060 | 25 |
| Livonia | 96632 | 26 |
| Skokie | 64588 | 27 |
| Omaha | 412689 | 28 |
| Evanston | 74619 | 29 |
| Sioux_City | 82529 | 30 |
| Eau_Claire | 65860 | 31 |
| Iowa_City | 68364 | 32 |
| Wichita | 381176 | 33 |
| Madison | 234586 | 34 |
| Davenport | 99781 | 35 |
| Des_Moines | 204362 | 36 |
| Brooklyn_Park | 75843 | 37 |
| Ann_Arbor | 114725 | 38 |
| Champaign | 81083 | 39 |
| Aurora | 196569 | 40 |
| Lawrence | 87963 | 40 |
| St._Joseph | 76729 | 42 |
| Columbia | 109008 | 43 |
| Parma | 81299 | 44 |
| Sterling_Heights | 129887 | 45 |
| Springfield | 115982 | 46 |
| Springfield | 115982 | 47 |
| Elgin | 109513 | 48 |
| Council_Bluffs | 61986 | 49 |
| Waterloo | 68248 | 50 |
| Joliet | 147098 | 51 |
| Kenosha | 99297 | 52 |
| Topeka | 127312 | 53 |
| St._Cloud | 65787 | 54 |
| Independence | 116513 | 55 |
| Peoria | 114754 | 55 |
| Green_Bay | 104226 | 57 |
| Oshkosh | 66046 | 58 |
| Fort_Wayne | 253617 | 59 |
| Duluth | 86239 | 60 |
| Evansville | 119226 | 61 |
| LafayettE | 67302 | 61 |
| Dearborn | 97509 | 63 |
| Decatur | 76091 | 64 |
| Kansas_City | 459772 | 65 |
| Bloomington | 80440 | 66 |
| Southfield | 72280 | 67 |
| Wyoming | 72408 | 68 |
| Minneapolis | 385023 | 69 |
| St._Paul | 286171 | 70 |
| Columbus | 790168 | 71 |
| Waukegan | 88982 | 72 |
| Racine | 78878 | 73 |
| Cicero | 83756 | 74 |
| Westland | 83770 | 75 |
| Warren | 134550 | 76 |
| Indianapolis | 822006 | 77 |
| Chicago | 2702471 | 78 |
| Kansas_City | 145605 | 79 |
| Muncie | 70033 | 80 |
| Rockford | 152948 | 81 |
| Taylor | 62916 | 81 |
| Milwaukee | 594328 | 83 |
| St._Louis | 318527 | 84 |
| Grand_Rapids | 189340 | 85 |
| Kalamazoo | 74494 | 86 |
| Hamilton | 62429 | 87 |
| Lansing | 114537 | 88 |
| Cincinnati | 297314 | 89 |
| Toledo | 287487 | 90 |
| South_Bend | 101282 | 91 |
| Hammond | 80658 | 92 |
| Akron | 199955 | 93 |
| Lorain | 64313 | 94 |
| Canton | 73318 | 95 |
| Dayton | 142670 | 96 |
| Youngstown | 67093 | 97 |
| Gary | 81153 | 98 |
| Flint | 103263 | 99 |
| Detroit | 721459 | 100 |
| Cleveland | 397972 | 101 |