Source:
Wikipedia User en:User:Jleon (Transfered by MSClaudiu/Original uploaded by Jleon)
|
CC BY-SA 3.0
Do you want to know where it's always sunny in Philadelphia? Homesnacks knows that answer and we've published the list here.
That's right, The City of Brotherly Love is known for the Liberty Bell, the Philadelphia Eagles, and, yes, some pretty cool neighborhoods. And because HomeSnacks does not want you to waste any time with Philly's worst neighborhoods, we've created a list of the best neighborhoods in Philadelphia for 2023 and listed them below.
But before you hit your down arrow, you should probably know a little bit about how we ranked these Philadelphia gems. In order to determine the best, we had to give each neighborhood an actual concrete score: We call this a neighborhood's overall 'SnackAbility'. To get this score, we looked at the latest census data on income levels, unemployment rates, crime, and home prices for 56 Philadelphia neighborhoods with over 2,000 residents. Incidentally, this is our tenth time ranking Philadelphia's best neighborhoods, so trust us when we say that these are the best of the best.
And, surprisingly, you won't have to blow your entire bank account if you choose one of Philly's best neighborhoods because not one of these neighborhoods comes with a $100,000 median income price tag. More importantly, if you're into living in one of Philadelphia's quintessential old row houses, Chesnut Hill is your best bet, if safety is your number one priority, you won't go wrong with Bustleton, and if you're not worried about a budget, definitely give City Center East a look.
So, want to know what Philadelphia neighborhoods have the wealthiest neighbors, the best jobs, and the least amount of crime? Keep reading.
The Best Neighborhoods In Philadelphia For 2023
If you choose to live in one of Philadelphia's best neighborhoods, you could be strolling the classical pieces at the Philadelphia Museum of Art in the Fairmount neighborhood and/or rubbing elbows with a Philadelphia Eagles player at Roxborough's next Roxtoberfest. And if you play your cards right, you could just become a permanent resident of Philly's number one, best neighborhood.
So, what's the best neighborhood in Philadelphia for 2023? The best neighborhood in Philadelphia would be Wharton-Hawthorne-Bella Vista according to the most recent data.
To see how your favorite Philadelphia neighborhoods compared, take a look at the list below; and if you don't see it there, head to the bottom.
For more Pennsylvania reading, check out:
---
Table Of Contents: Top Ten | Methodology | Summary | Table
---
The 10 Best Neighborhoods To Live In Philadelphia
Want to be part of the exclusive club that gets to call Philadelphia's best neighborhood, Wharton-Hawthorne-Bella Vista home? Well, you're going to have to have a job that pays close to $56,818 and be able to drop some cash on a home that will cost you close to $268,021.
Also, don't come here thinking that you're going to cause trouble. Wharton-Hawthorne-Bella Vista is ranked eighth for both violent and property crime.
And word on the street, you can rub elbows with Bella Vista's finest at the Independence National Historical Park.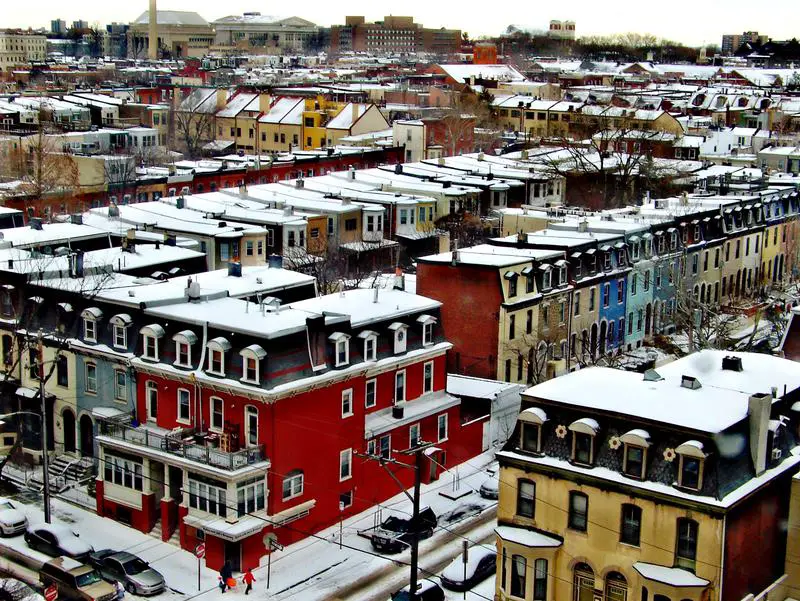 Philly's second best neighborhood, Fairmount-Spring Garden, is the second neighborhood on our list to take up real estate along the Schuylkill River.
But what sets Fairmount-Spring Garden apart from the rest is that it shares a property line with
the famous Fairmount Park. This is probably why the homes here cost close to $320,109 and that the population is close to 23,809.
So, if you're looking for a piece of Philadelphia with tree lined streets and down-to-earth neighbors, look no further than Fairmount-Spring Garden.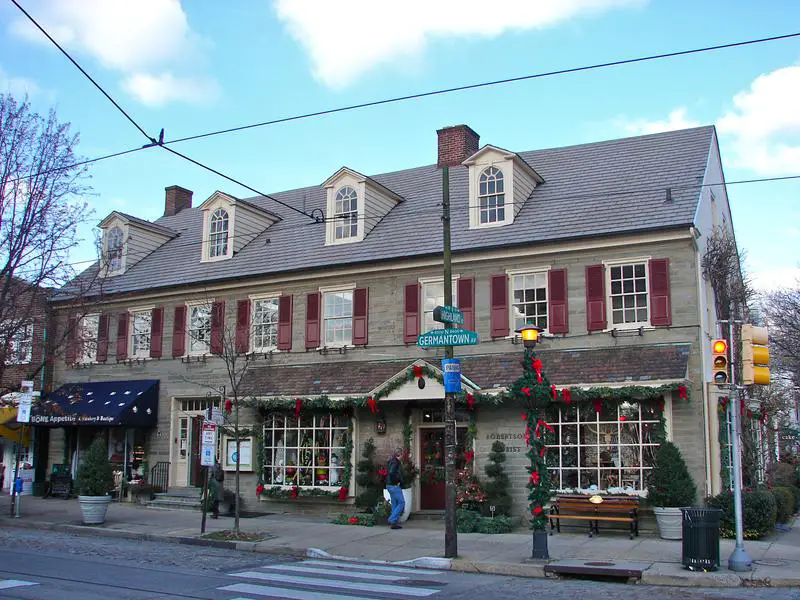 Source: Public domain
If you're looking for that quintessential Philadelphia neighborhood that looks like it jumped out of a Norman Rockwell painting, look no further than Philly's third best neighborhood, Chestnut Hill.
So we were not shocked to discover that Chestnut Hill is Philadelphia's second safest neighborhood only recording 258.0 violent crimes per 100k and 1305.0 property crimes per 100k at the time of this report.
There's a ton of stuff to do in the Chestnut Hill neighborhood, too. And if you don't want to take our word for it, read what other people are saying about Chestnut Hill here.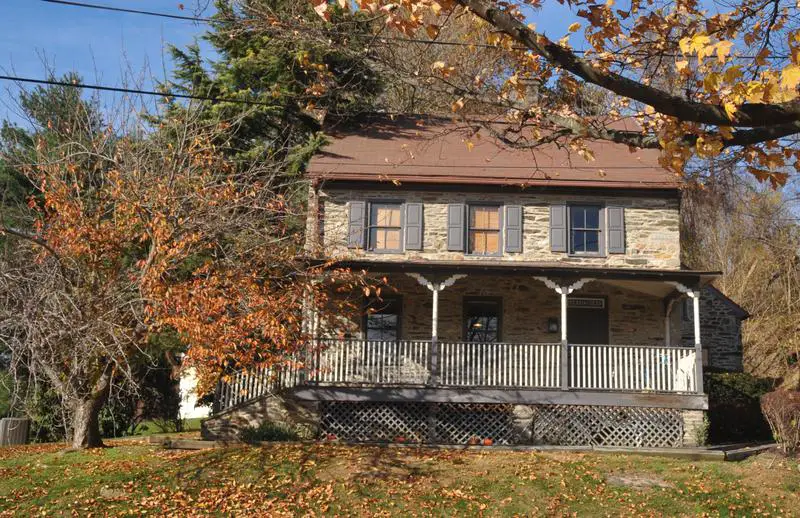 If Philadelphia's fourth best neighborhood, Roxborough, is a good enough nest for many of the Philadelphia Eagles players, then it should be good enough for you.
And because the Eagles players know that they can't defend their field, they put that energy into making sure that Roxborough is the tenth safest on our list. At least they're doing something right.
But that's not all that Roxborough's doing right. This neighborhood is the fifth best for average income and the 12th best for affordable homes.
So what makes 32,463 residents to want to live in Philadelphia's fifth best neighborhood, City Center West? We'll tell you.
It's cheaper to buy a home than rent in this neighborhood. City Center West recorded the highest rent on list coming in at $1,469.
This neighborhood is also ranked eighth for median income, third for home value, and first for the best philly cheesesteak. We hear Sonny's Famous Steaks is outstanding. But the best thing about the City Center West neighborhood, you get to live close to the Liberty Bell.
If you are thinking about moving to Philadelphia seventh best neighborhood for 2023, you better have a job because Schuylkill Southwest's unemployment rate is currently at 5.4 percent.
You might also want to think about making sure that job pays close to $71,943 if you want to keep up with the locals in this Southwest Philly neighborhood.
And, folks, Schuylkill Southwest recorded only 3,385 crimes this year, making it the 15th safest neighborhood on our list. So, yes, it's pretty safe too.
Not only is City Center East the tenth best neighborhood in Philadelphia, it is the largest neighborhood on our list.
The City Center East neighborhood has a lot to be proud of: they moved up three spots to clinch the tenth place rank and the average home price is $481,058. If you know anything about Philadelphia real estate, this is quite the victory.
Unfortunately, however, they are the 50th worst neighborhood on our list in terms of crime, so make sure that you do your research before making any life changing decisions.
Methodology: How We Determined The Best Philadelphia, PA Neighborhoods In 2023
To rank the best neighborhoods in Philadelphia, we had to determine what criteria define "best" and then apply Saturday Night Science to it.
Using FBI crime, Census, and extrapolated BLS data, we arrived at the following set of criteria:
High incomes
Low unemployment rates
Low crime
High home prices
High population densities (A proxy for things to do)
We then ranked each neighborhood with scores from 1 to 56 in each category, where 1 was the best.
Next, we averaged the rankings for each neighborhood to create a best neighborhood index.
And finally, we crowned the neighborhood with the lowest best neighborhood index, the "Best City Neighborhood In Philadelphia." We're lookin' at you, Wharton-Hawthorne-Bella Vista.
Read on below to learn more about what it's like to live in the best places Philadelphia, Pennsylvania has to offer. Or skip to the end to see the list of all the neighborhoods in the city, from best to worst.
We updated this article for 2023. This report is our tenth time ranking the best neighborhoods to live in Philadelphia.
Summary: Putting A Bow On Our Analysis Of The Best Neighborhoods In Philadelphia
If you're measuring the neighborhoods in Philadelphia where crime is low and everyone wants to live, this is an accurate list.
As mentioned earlier, the neighborhoods in Philadelphia aren't all good. Tioga-Nicetown takes the title of the worst neighborhood to live in Philadelphia.
We ranked the neighborhoods from best to worst in the chart below.
For more Pennsylvania reading, check out:
Best Neighborhoods To Live In Philadelphia For 2023 Detailed Data
| Rank | Neighborhood | Population |
| --- | --- | --- |
| 1 | Wharton-Hawthorne-Bella Vista | 29,357 |
| 2 | Fairmount-Spring Garden | 23,809 |
| 3 | Chestnut Hill | 10,783 |
| 4 | Roxborough | 14,698 |
| 5 | City Center West | 32,463 |
| 6 | Girard Estates | 11,869 |
| 7 | Schuylkill Southwest | 13,322 |
| 8 | Fishtown | 19,203 |
| 9 | Fox Chase | 20,117 |
| 10 | City Center East | 26,784 |
| 11 | Manayunk | 4,007 |
| 12 | East Falls | 9,937 |
| 13 | Bustleton | 34,562 |
| 14 | Somerton | 26,084 |
| 15 | Academy Gardens | 4,094 |
| 16 | Rhawnhurst | 28,304 |
| 17 | Point Breeze | 16,276 |
| 18 | South Philadelphia | 24,829 |
| 19 | Riverfront | 2,451 |
| 20 | Oxford Circle | 54,737 |
| 21 | Torresdale | 6,385 |
| 22 | Byberry | 16,442 |
| 23 | Wynnefield | 15,237 |
| 24 | Mount Airy | 32,467 |
| 25 | Cedar Brook | 26,401 |
| 26 | Summerdale | 6,756 |
| 27 | Pennsport-Whitman-Queen | 31,306 |
| 28 | Oak Lane | 42,412 |
| 29 | Eastwick | 6,841 |
| 30 | Marconi Plaza-Packer Park | 5,804 |
| 31 | Brewerytown | 9,470 |
| 32 | Richmond | 26,912 |
| 33 | Holmesburry-Torresdale | 25,247 |
| 34 | Cobbs Creek | 33,242 |
| 35 | Olney | 41,744 |
| 36 | Morris Park | 26,860 |
| 37 | Wissanoning | 27,190 |
| 38 | Grays Ferry | 15,927 |
| 39 | Mayfield | 32,474 |
| 40 | Poplar-Ludlow-Yorktowne | 18,907 |
| 41 | North Central | 14,299 |
| 42 | Juniata Park-Feltonville | 34,014 |
| 43 | Belmont | 3,931 |
| 44 | Frankford | 23,989 |
| 45 | Elmwood | 15,688 |
| 46 | Hartranft | 20,205 |
| 47 | Harrowgate | 16,098 |
| 48 | Logan-Fern Rock | 23,813 |
| 49 | Kensington | 24,869 |
| 50 | Germantown | 66,915 |
| 51 | Hunting Park | 17,642 |
| 52 | Haddington-Carroll Park | 35,068 |
| 53 | Fairhill | 4,405 |
| 54 | Alleghany West | 18,676 |
| 55 | Strawberry Mansion | 13,933 |
| 56 | Tioga-Nicetown | 17,382 |