The 10 Safest Cities In Pennsylvania For 2021
We used data and science to determine the places in Pennsylvania where everyone sleeps safe and sound.

Editor's Note: This article has been update for 2021. This is our sixth time rankings the
safest places to live in Pennsylvania
. All the data comes from the
FBI's Crime In The USA 2019 report.
Article Table Of Contents   
(Skip to section)
Love Philly Cheesesteaks?
The foundations of America's history?
The Liberty Bell and Declaration of Independence?
Then the safest place to live in Pennsylvania is the place for you to call home -- Collegeville.
We looked at the most recent FBI crime data for the places in Pennsylvania with more than 5,000 people and ranked them based on the number of property crimes and violent crimes per capita. In other words, we identified the places that live up to Philadelphia's nickname of the "City of Brotherly Love."
Whether you are a black and gold fan, or green and white, we know you'll be interested in finding out where the safest places to live in Pennsylvania are. And lucky for you, most of PA is super safe as it ranks as the 11th safest state in America this year according to our data.
So grab a cold Yuengling, settle down with your scrapple, and bunker down as HomeSnacks takes you on a tour of the places that are safe and sound around the Quaker State.
Here are the 10 safest cities to live in Pennsylvania for 2021:
What is the safest city in Pennsylvania to live? Of the 50 biggest cities in Pennsylvania to rank, Collegeville ranked #1 on our safest cities in Pennsylvania in 2021 based on FBI crime data.
As a suburb of Pittsburgh, this little town's got a lot to offer.
Keep reading to check out where your favorite city in PA ranked and to learn more how we crunched the numbers for this year's ranking.
For more reading on safe places to live in and around Pennsylvania, check out:
The 10 Safest Cities In Pennsylvania For 2021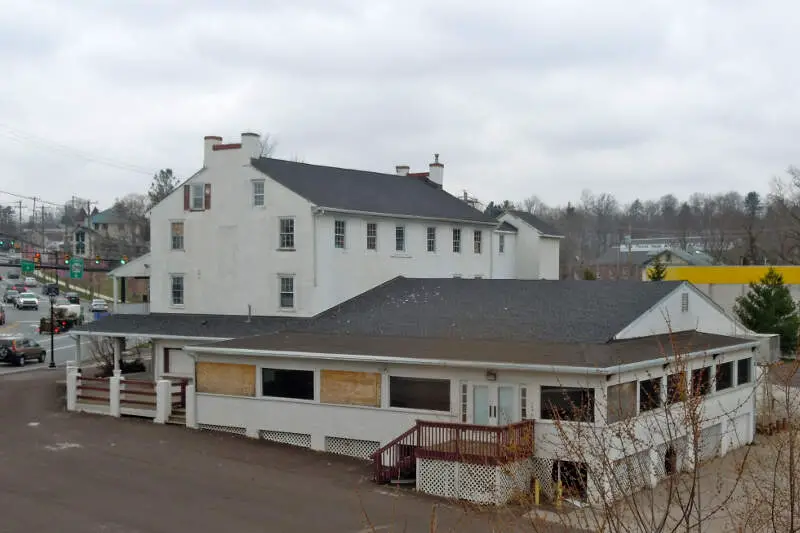 Welcome to Collegeville, a borough in Montgomery County that's much safer than your average college campus. Wanna go longboarding through Perkiomen Park? Be sure to wear a helmet, because falling is the only way you could get hurt here. With zero violent crimes reported in 2019, it certainly won't be a criminal that gets you. Collegeville wasn't even in the top twenty safest cities in Pennsylvania last year, so its new first ranking is quite the achievement.
And Collegeville is no stranger to the Homesnacks spotlight; the borough already ranked as the fifth best and second richestcity in Pennsylvania back in 2019. We just can't say enough good things about Collegeville.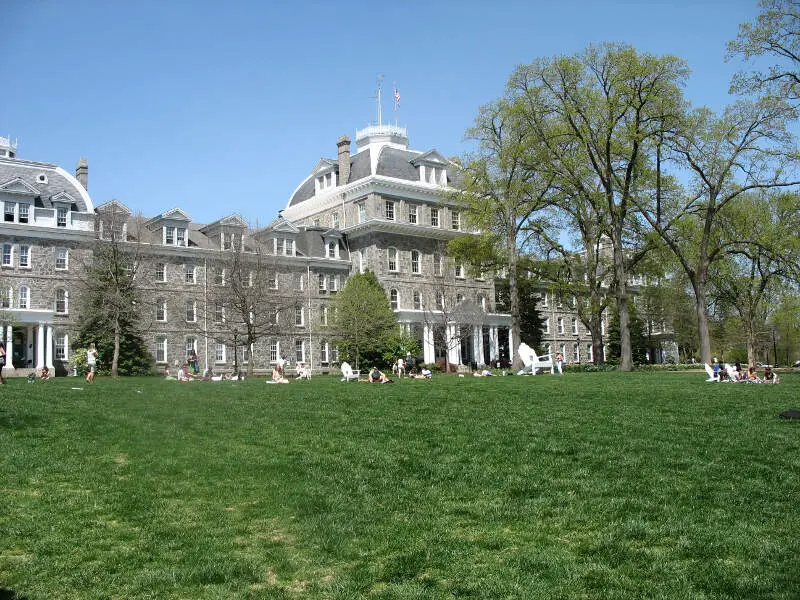 Source: Public domain
Situated just outside of Philadelphia, Swarthmore ranks as the second safest place to live in Pennsylvania.
Swarthmore is well-known for being home to Swarthmore College, a small liberal arts college with a hefty price tag. But you don't need to be enrolled to enjoy all the collegiate ameneties, like the Scott Arboretum.
Swarthmore had only 2 violent crimes over 2019, as well as the fifth safest lowest property crime rate statewide. Homes in Swarthmore sell for a median price of $415200, and a typical rental goes for $1021.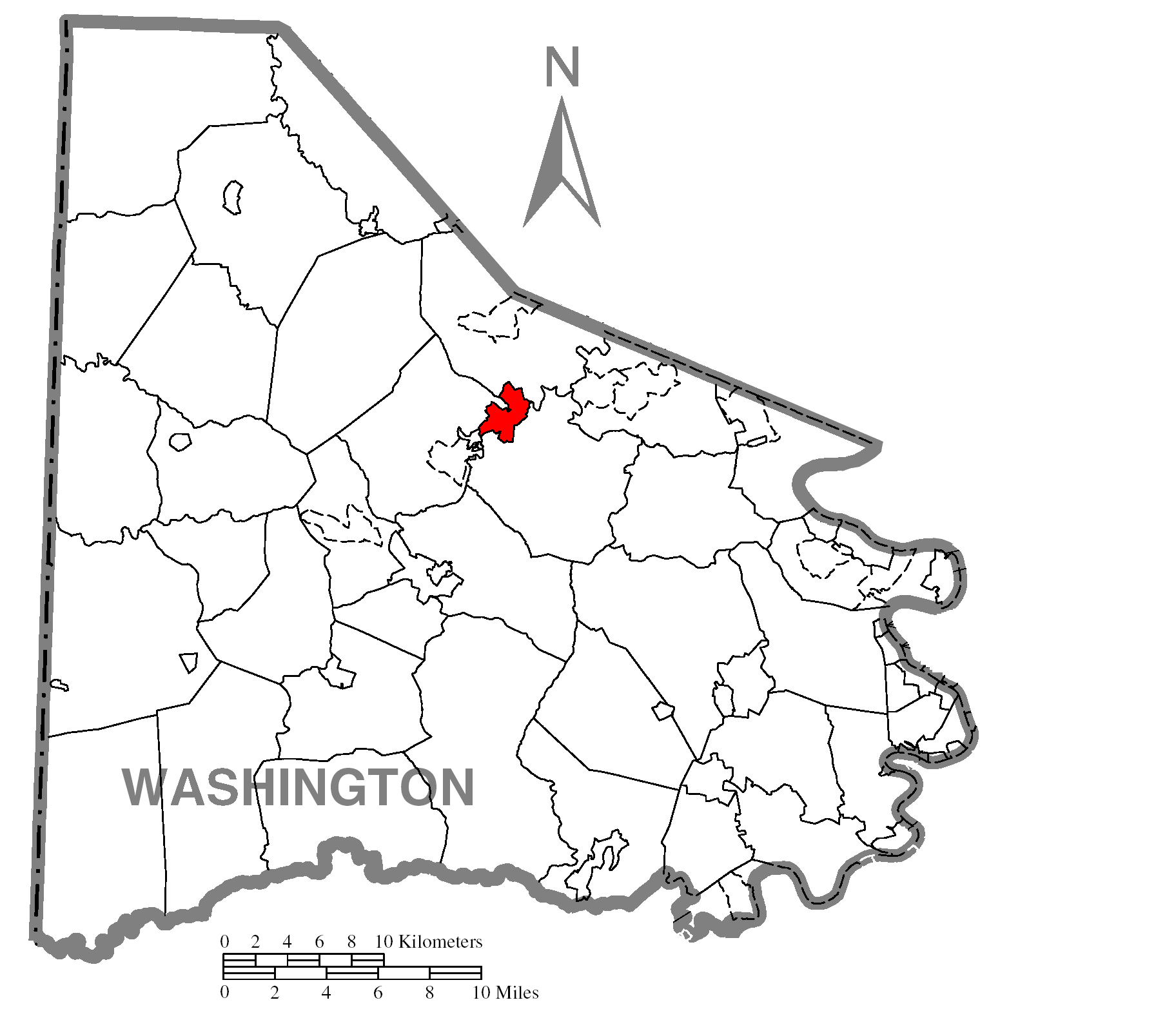 Source: Public domain
We're heading to the greater Pittsburgh area to reach Pennsylvania's third safest spot, Canonsburg.
Canonsburg's overall crime rate is about 67% below the national average, and property crime rate here ranks as the second safest lowest in Pennsylvania. On top of that, there was fewer than one violent crime per 1,000 residents over 2019,
You don't have to break the bank to live in such a safe place, either. The overall cost of living in Canonsburg is 7% cheaper than the national average, and your typical home sells for a very affordable $133900.
And the price of admission also grants access to great outdoors experiences, like fishing and hiking at Peters Lake Park.
Old Forge isn't just the fourth safest place to call home in Pennsylvania it's also the birthplace of Old Forge pizza, a rectangular pizza style that was once a staple food for local coal miners. Now you can find it in far-flung places like Florida and Colorado.
Old Forge ranked in the top five for both property crime and violent crime rates, with under 50 total crimes committed over 2019.
Unemployment in Old Forge is low at 3.99%, and the median household income is $57563. Old Forge is situated 15 minutes outside of Scranton.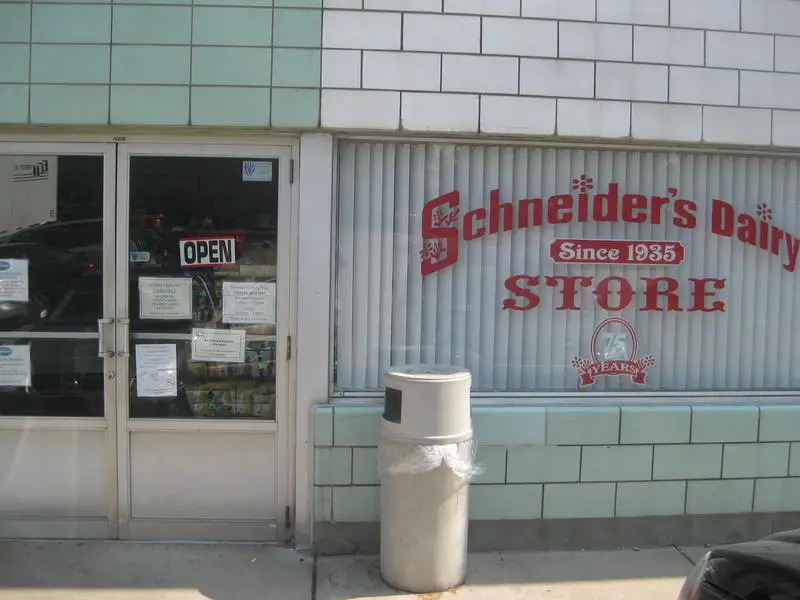 Baldwin is a part of the Pittsburgh Metro Area, but it's a whole lot safer than the big city itself. You don't have to fear for your safety when you're out enjoying one of Baldwin's parks, because the borough experiences very little crime.
In fact, there were only 18 violent crimes committed over 2019, and most property crimes in Baldwin are just larcenies.
Living in Baldwin also won't set you back too much the cost of living is basically on par with the rest of the state, homes sell for around $142041, and you can get a nice place to rent for just $844.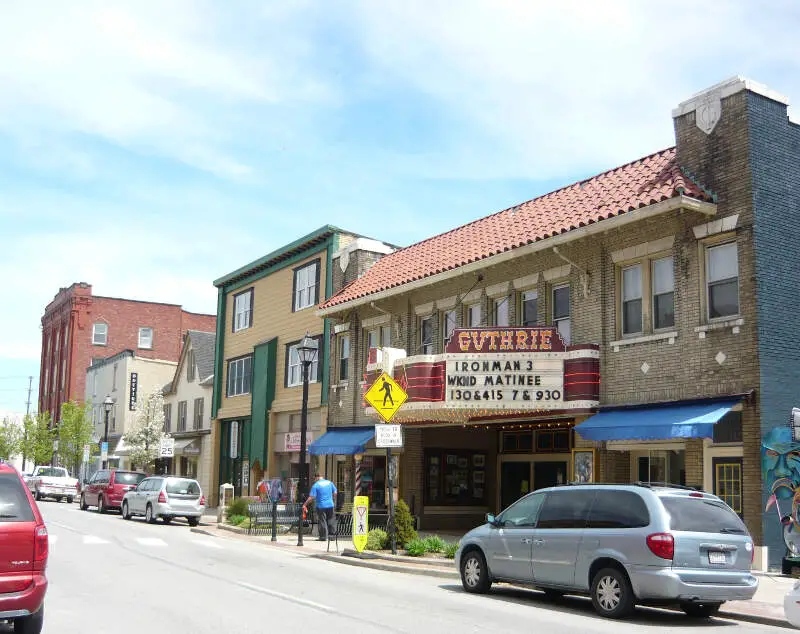 Another big jumper on our list this year was Grove City which climbed a solid number of positions to nab the sixth overall spot and its first ranking in the top ten for any of our Pennsylvania lists this year.
Why is it so safe here? It could be the high number of college educated adults or the sub 2.5% unemployment rate. It's hard to rob your neighbor when you're to busy reading books or working.
Grove City is North of Pittsburgh, but kinda out in the countryside a bit.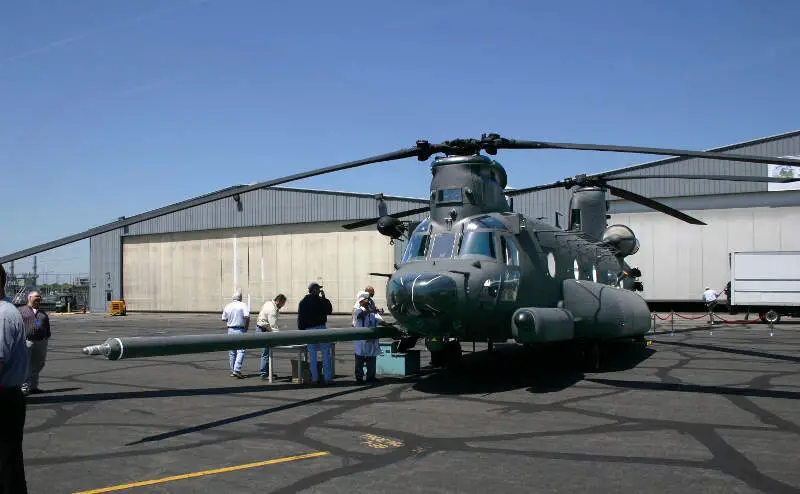 Source: Public domain
We already named Ridley Park among the best places to live in Pennsylvania, so being the place with the seventh least amount of crime statewide makes sense.
It's also close to Philadelphia, so you can enjoy all the big-city amenities when you want them without dealing with higher crime rates. Ridley Park itself is a peaceful place, with great schools and relaxing spots like Eastlake Park.
Ridley Park enjoys low unemployment, an above-average median income, affordable homes, and low crime, of course. What's not to love?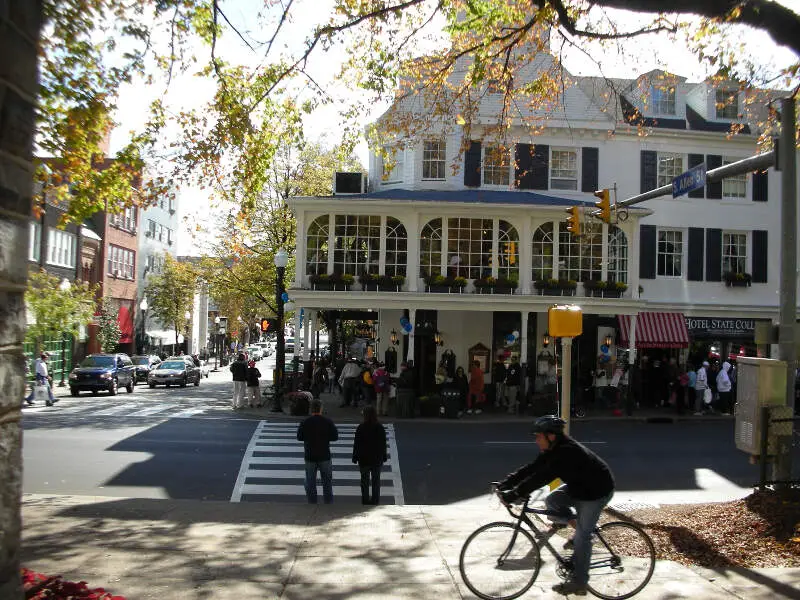 Source: Public domain
You don't get a nickname like Happy Valley for nothing, and that's just what State College has gone by since it managed to weather the Great Depression basically unscathed.
State College is a college town, and it turns out that Penn State students contribute to and get to enjoy the eighth safest community in Pennsylvania.
The violent crime in State College is the seventh safest lowest in the Keystone State, and hardly any serious property crime goes down. One thing to note is that the overall cost of living in State College is a little high, but you get what you pay for.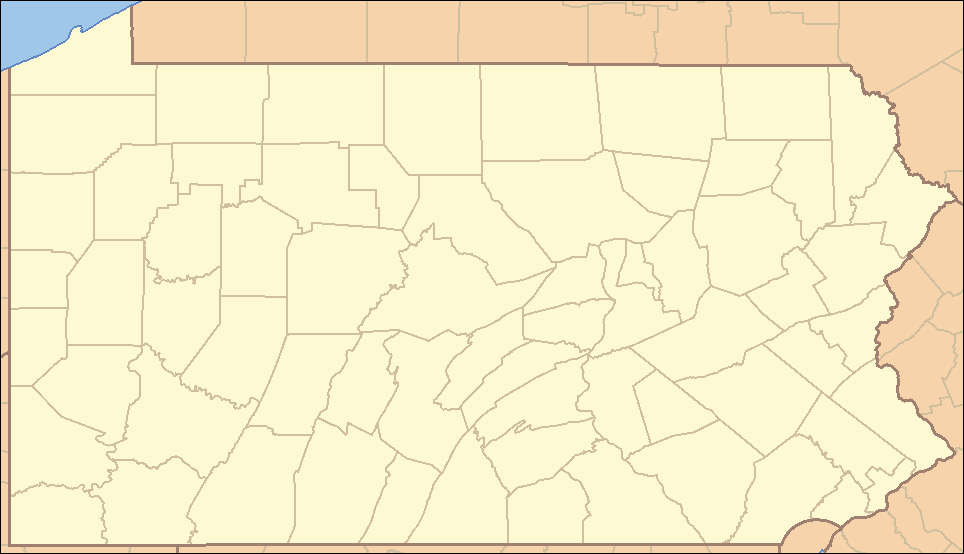 Nazareth isn't just where Jesus grew up it's also the ninth safest place to call home in Pennsylvania. With only 2 violent crimes committed over 2019, Nazareth had the third safest lowest rate of such crimes in the whole state.
Property crime is also exceedingly rare in Nazareth. Which is good because the folks at Martin Guitars would hate to see their handmade masterpieces get looted.
Nazareth is an affordable suburb of Allentown, where your average home sells for $194600. Besides being a haven for music-lovers, outdoorsmen and women of Nazareth also love having Jacobsburg State Park right in their backyard.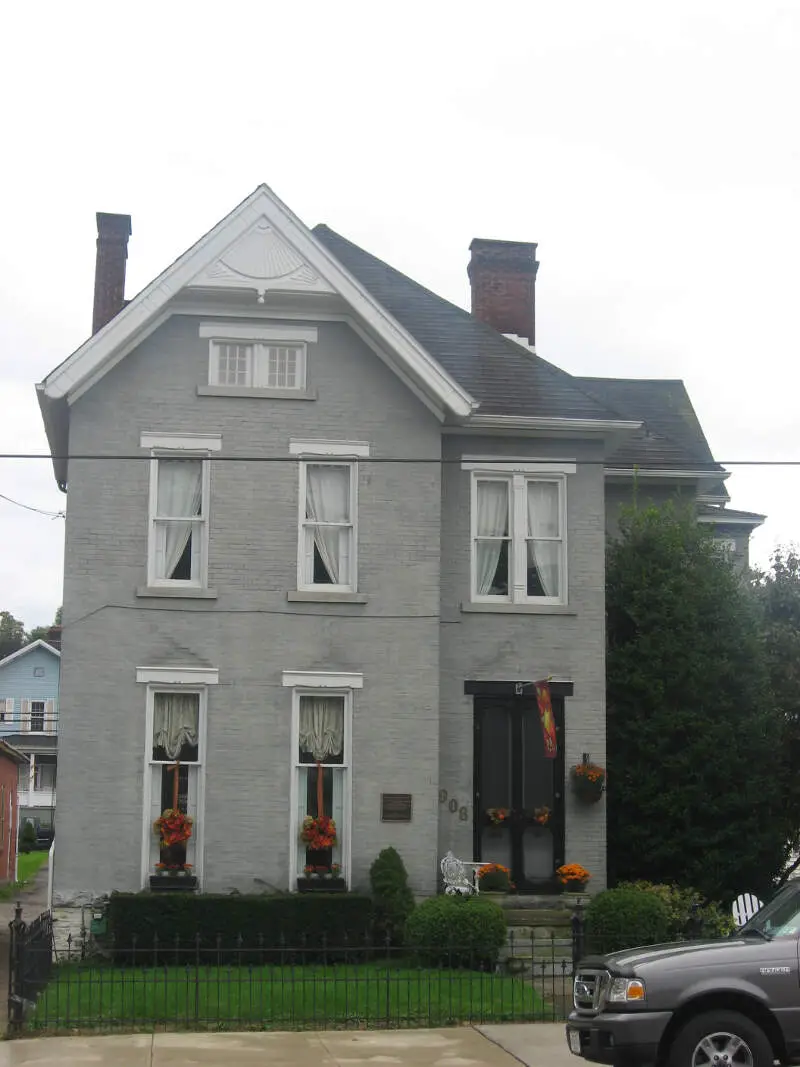 Source: Public domain
Monongahela may be a mouthful to say, but residents of Pennsylvania's tenth safest place have come up with a much simpler name: Mon City. Mon City is home to the first-of-its-kind Monongahela Aquatorium, a super-sized outdoor auditorium and the funnest spot around.
It turns out that rockin' tunes don't lead to crime, as Monongahela had hardly any violent crimes and averaged fewer than one property crime per 100 residents.
Unemployment in Mon City is below 3%, which is excellent. Even better, though? The median rent here is only $844, and you can find a lovely home for just $142041.
How we calculated the safest cities in Pennsylvania for 2021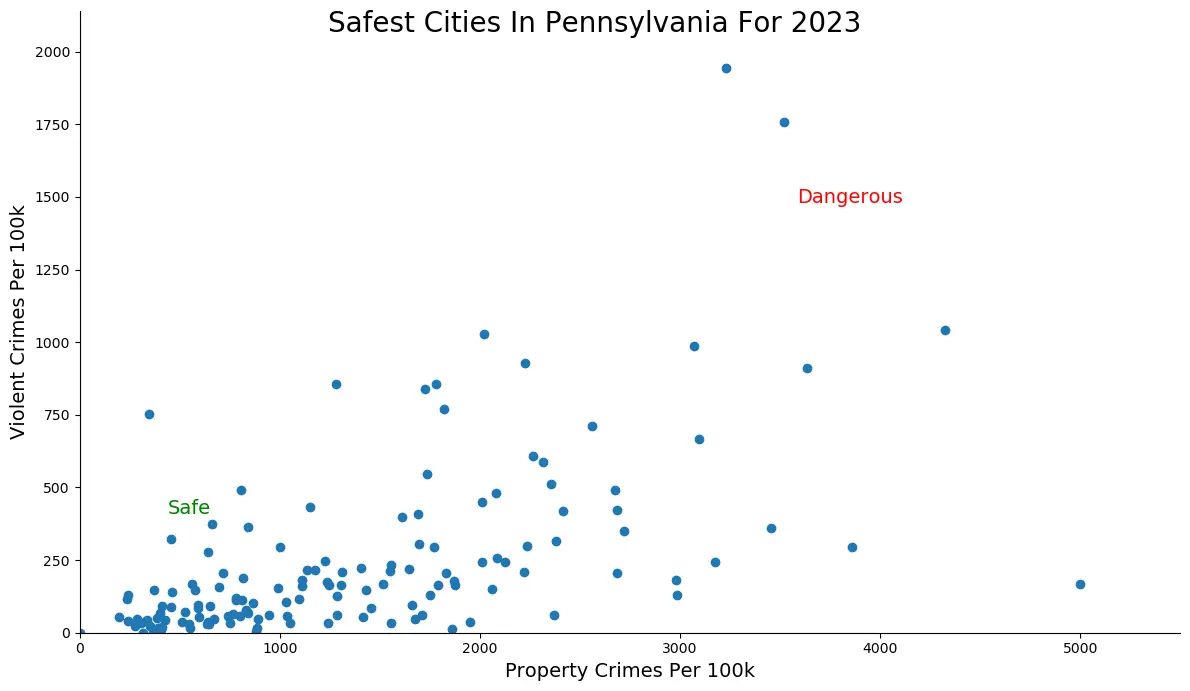 While there are surveys and public polls on what cities in a state are the safest, we didn't want to rely on speculation and opinion. Instead, we looked at the hard numbers from the FBI's most recent report of crime (Published Sept 2020) in Pennsylvania.
Specifically, we analyzed the
FBI's Uniform Crime Report
which summarizes the number of property crimes and violent crimes in each city per year. We used two criteria:
Violent crimes per capita (murders, assaults, rapes, armed robberies)
Property crimes per capita (thefts, burglaries, motor vehicle thefts)
For example, there were a total of 19 crimes committed in Collegeville which had a reported population of 5,115. That means the number of crimes per capita is 0.0037 which translates into a 1 in 269 chance of being the victim of a crime.
We only looked at cities that have populations of more than 5,000 people reported to the FBI in 2019, the last reporting year. This left us with a total of 50 of the biggest cities in Pennsylvania to rank.
We ranked each city for each criteria from 1 to 50 where 1 in any particular category is the safest.
Next, we averaged each places two criteria to create a Safety Index. We crowned the place with the lowest overall Safety Score "The Safest Place In Pennsylvania" with any ties going to the bigger city. You can download the data here.
The safest city in Pennsylvania, based on our criteria, is Collegeville. The most dangerous city in Pennsylvania? Mckeesport, where residents had a 1 in 23 chance of being the victim of a crime.
Note: This report is not an analysis of the effectiveness of local police departments, nor does it reflect the fact that people from out of town may come into a community and cause a crime. It simply looks at where crimes occurred most frequently, based on a city's population.
There You Have It - The Safest Cities In The Keystone State
Looking at the data, you can tell that Collegeville is as safe as they come, according to science and data.
But as most Pennsylvania residents would agree, almost every place here has its safe and not safe parts. So just make sure you're informed ahead of time.
Here's a look at the most dangerous cities in Pennsylvania according to the data:
Mckeesport
Chester
Pottstown
For more reading, check out:
Breaking Down Crime In The Safest And Most Dangerous Cities In Pennsylvania

Share on Facebook
Chris Kolmar has been in the real estate business for almost ten years now. He originally worked for Movoto Real Estate as the director of marketing before founding HomeSnacks.
He believes the key to finding the right place to live comes down to looking at the data, reading about things to do, and, most importantly, checking it out yourself before you move.
If you've been looking for a place to live in the past several years, you've probably stumbled upon his writing already.
You can find out more about him on LinkedIn.