Since living in large urban centers it the new "to do," cities that used to be affordable ten years ago are not putting significant strains on wallets that used to have little issues
So what are you to do? If you just graduated college or are looking to change careers, have a lot of school debt, and don't want to live paycheck to paycheck, what are your options? The obvious method is to lower the cost of living while increasing your salary. And what could be more affordable than Pennsylvania. The state may not be the first that comes to mind when you think cheap, but hey, there are a few gems!
Pennsylvania is a state full of American history, baseball, and chocolate. Yes, you read that right: chocolate. The chocolate capital of the United States, Hershey, is located in Pennsylvania and you can probably imagine what is manufactured in millions there. Millions upon millions of kisses, chocolate Hershey's kisses, to be exact. Pennsylvania is also home to major metro areas like Pittsburgh and Philadelphia. Who can resist a Philly Cheese-Steak or a good Pirates game?
So if you've ever wondered if you could pay mere pennies to live in Pennsylvania, this article is perfect for you.
The 10 Most Affordable Places To Live In Pennsylvania
What is the cheapest place to live in Pennsylvania? After taking several key factors into account, including home and rent prices compared to income, one city reigned cheapest over the rest: Greenville, PA.
What is so great about Greenville, other than its affordability? Greenville not only stays affordable (it also ranked first last year) but also is a small suburb of Pittsburgh. So you can live it up in the big city, but not spend all your money to live there.
Pottsville, a close neighbor of Schuylkill Haven, also ranks highly on our list and boasts the D.G. Yuengling and Son Brewing Complex. Does the name sound familiar? Yup, you can live for cheap in this town and get a great pint of Yuengling on draft.
Interested to see how we crunched the numbers? Read on to learn more about our methodology and why Pennsylvania is such a great state for affordable living.
And if you already knew these places were cheap, check out some more reading about Pennsylvania and the cheapest places in the country:
The 10 Cheapest Places To Live In Pennsylvania For 2022
Is it really super crazy green in Greenville? We're not 100 percent sure, but one thing we're sure about is that Greenville is our most affordable city in Pennsylvania for 2022.
This little Hershey Kiss is seventh when it comes to home price to income ratio. We're not surprised it's so affordable. And we definitely think it's because they have such a strong economy as a result of step ladders. Yes, step ladders. Greenville is home to the largest manufacturers of step ladders. Now if step ladder manufacturing isn't your shtick, but living in the oh so affordable Greenville is, we heard "'The Jewel of the Shenango River" is alway looking for river guides.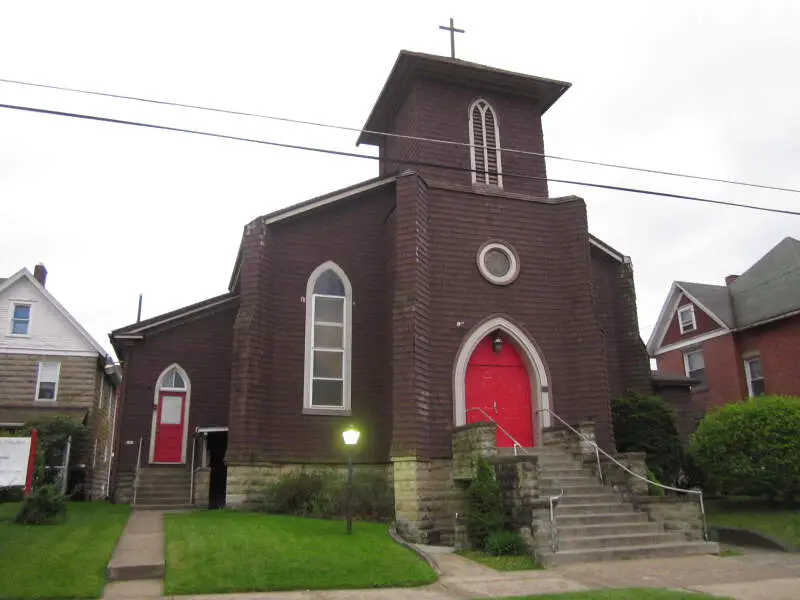 Monessen is a city in Westmoreland County, Pennsylvania, United States. The population was 7,720 at the 2010 census. In 1940, 20,257 people lived there. In 1990 the population was 13,026. Monessen is the most southwestern municipality of Westmoreland County. Steel-making was a prominent industry in Monessen, which was a Rust Belt borough in the "Mon Valley" of southwestern Pennsylvania that became a third-class city in 1921.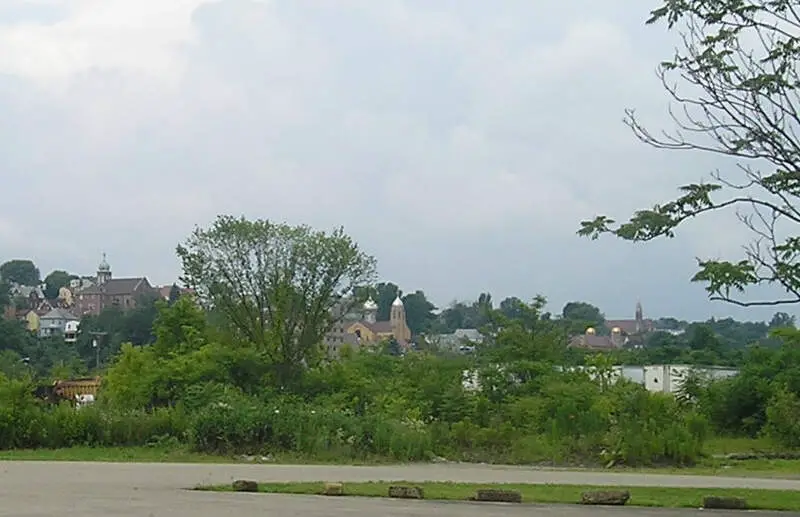 Titusville is a city in Crawford County, Pennsylvania, United States. The population was 5,601 at the 2010 census, and the city is part of the Meadville, PA Micropolitan Statistical Area and Erie-Meadville, PA Combined Statistical Area. Titusville is where the modern oil industry began.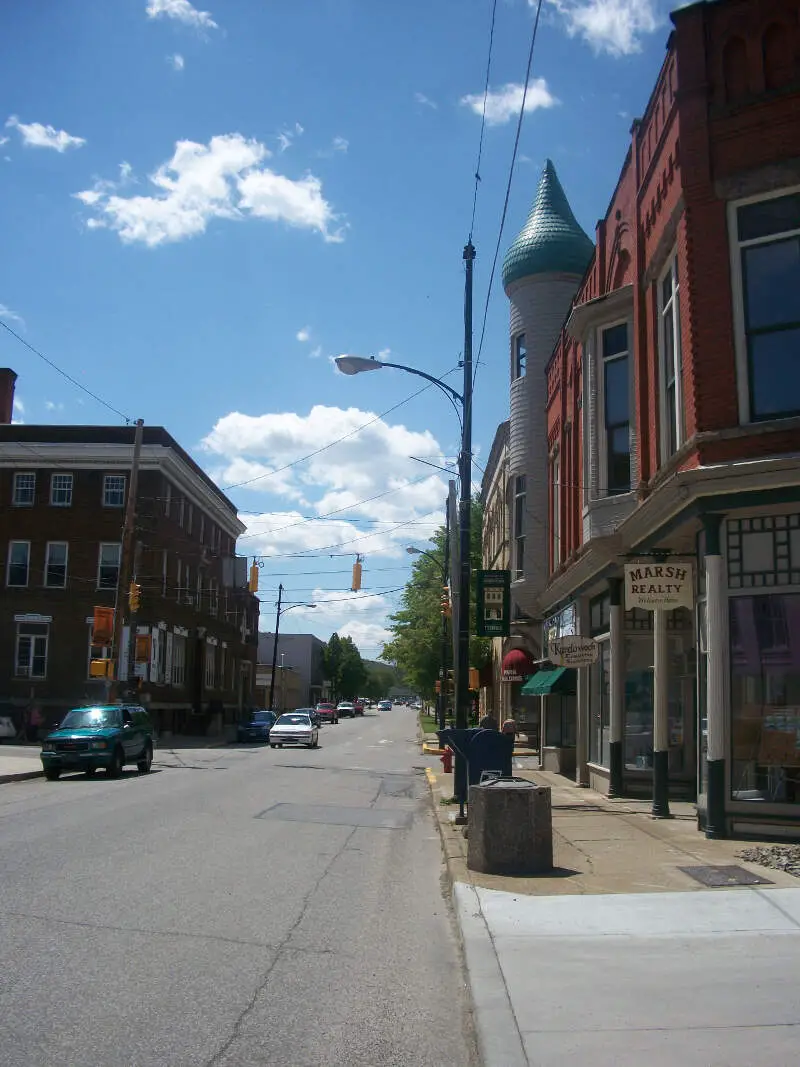 Source: Public domain
With the economy doing so well, people are moving now more than ever. Might we suggest Pennsylvania's fourth most affordable city for 2022: West Mifflin?
This city in Allegheny County, scored an eight on our snackability scale: one of the highest for any city in the top ten. According to our data, they should be Pennsylvania's poster city for affordability, housing, and safety.
This Pitttsburgh-burb also made our best cities to retire in Pennsylvania for 2022. West Mifflin's residents 'got it goin' on'. And you know what else West Mifflin's residents know? Apparently a good deal when they see it, because they are the 2most affordable city for home price to income ratio.
Source: Public domain
We're wrapping up our list of Pennsylvania's most affordable places with Clearfield, a borough of 5,878 in the central part of the state. Just because Clearfield is cheap doesn't mean there aren't plenty of opportunities to enjoy the finer things in life here.
For instance, you can attend events and sip on lovely local wine at Bee Kind Winery. If that's not your jam, then maybe getting a gander at all the classic vehicles at the Grice Antique Car Museum is more your speed.
The overall cost of living in Clearfield is about 14% lower than the national average, but in terms of housing, Clearfield is less than half as expensive as your typical American city.
The median home value in Clearfield is $83,100, while the median household income is $46,536. Income has been rising at a faster pace than property value, contributing to Clearfield's inclusion on our list this year. If you just want to get your toes wet and see how you like living in Clearfield, rent is also very affordable, with a median price of $625.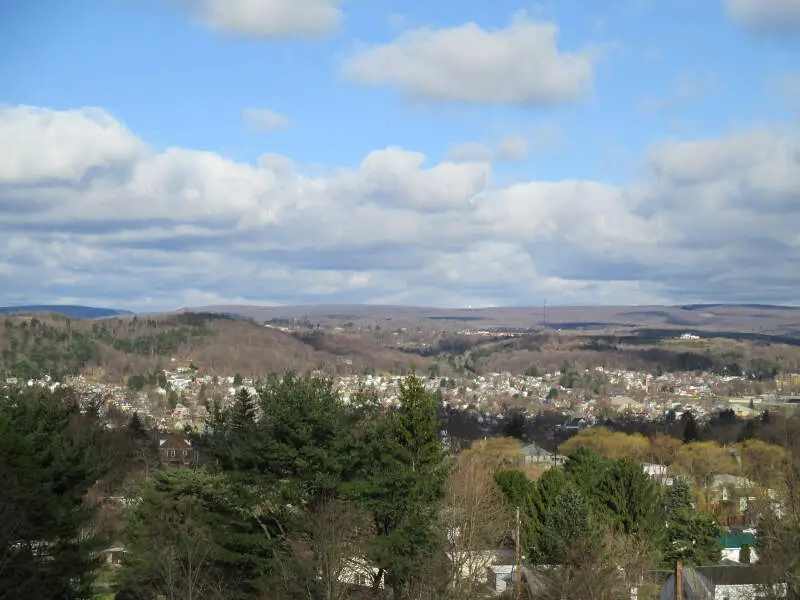 You don't have to live on ramen noodles and cereal to live in our sixth most affordable city in Pennsylvania for 2022: Oil City. Yes, Oil City's name says it all. Known for the start of the petroleum boom, this city is our fifth most affordable city in terms of home price to income ratio.
This city in Venango County, on the Ohio/Pennsylvania border, also scored an 8/10 for safety and an 8/10 for education. So if you are looking for an affordable Pennsylvania city with safe, small town charm and smart people, hurry on over to Oil City.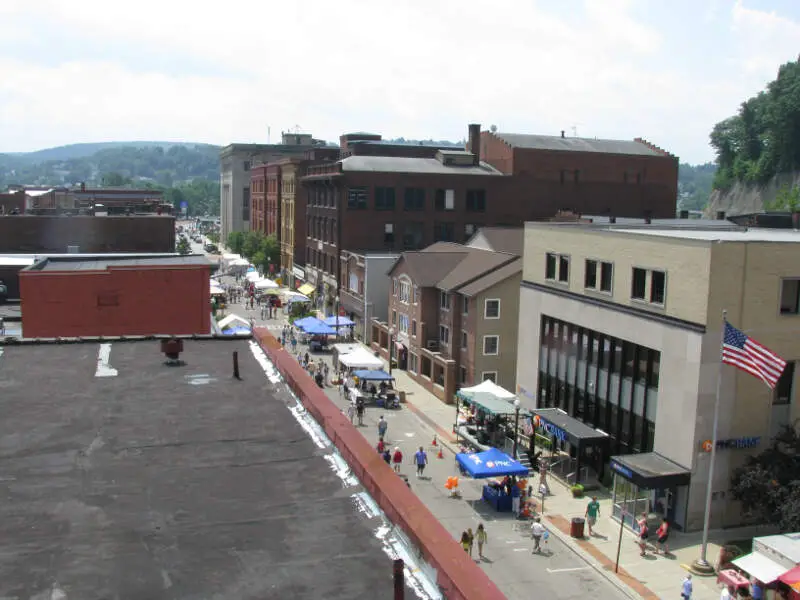 Located along the Allegheny River in northwestern Pennsylvania, Warren clocks in as the seventh least expensive place to live statewide. Compared to the national average cost of living score of 100, the overall cost of living score in Warren is 85.
Things like healthcare, groceries, and utilities are all cheaper in Warren, but what really sets it apart is its super affordable housing options. Homes in Warren sell for a median price of $80,500, and a median rent of $608 ranks as one of the cheapest in Pennsylvania. Folks in Warren earn a median household income of $43,117, so it's no trouble at all making ends meet here.
Outdoorsmen and women can rejoice about living in Warren because it's where the headquarters for the Allegheny National Forest is located.
That means you'll have plenty of free and awesome hikes around — we recommend Rimrock Overlook, a local favorite that affords an incredible vista of the Allegheny Reservoir and the surrounding hillsides.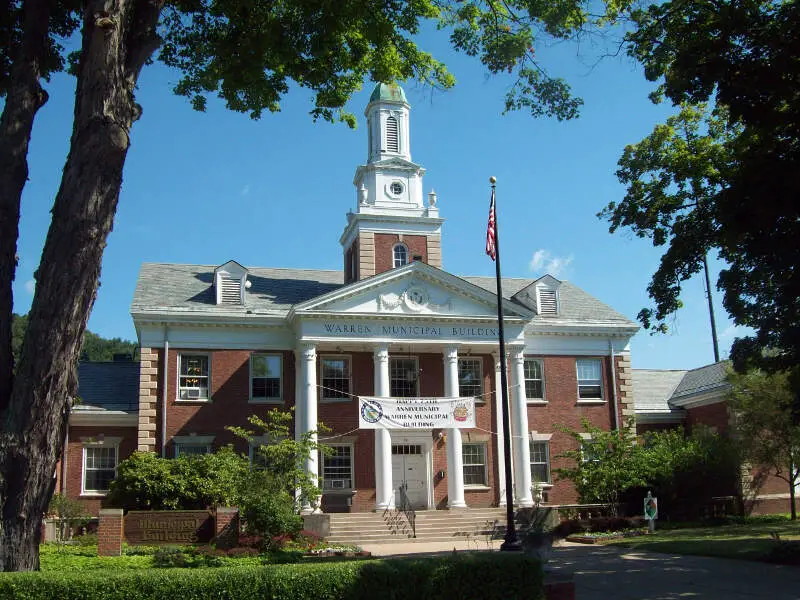 Source: Public domain
Nanticoke is a city in Luzerne County, Pennsylvania, United States. As of the 2010 census, the population was 10,465, making it the third largest city in Luzerne County. It occupies 3.5 square miles of land. The city can be divided into several sections: Honey Pot, Downtown, and Hanover Section. It was once an active coal mining community. Today, the 167-acre main campus of Luzerne County Community College is located within the city.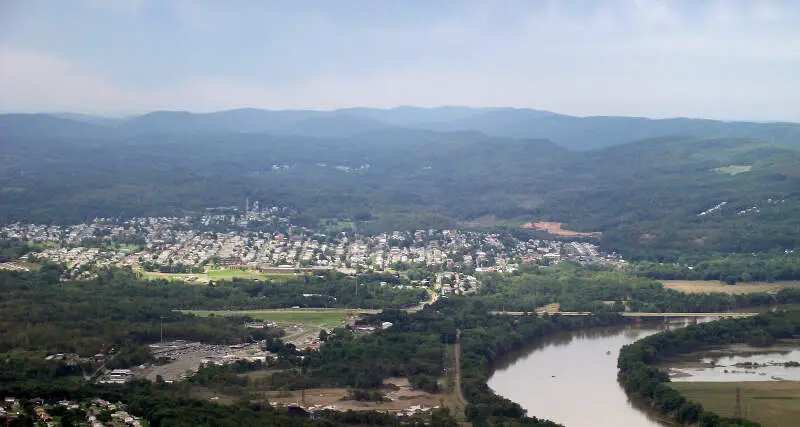 Palmerton is a borough in Carbon County, Pennsylvania, United States. It is located in the Coal Region of the state. It is a part of lower Carbon County, which is considered part of the Lehigh Valley. The borough's population was 5,414 at the 2010 census.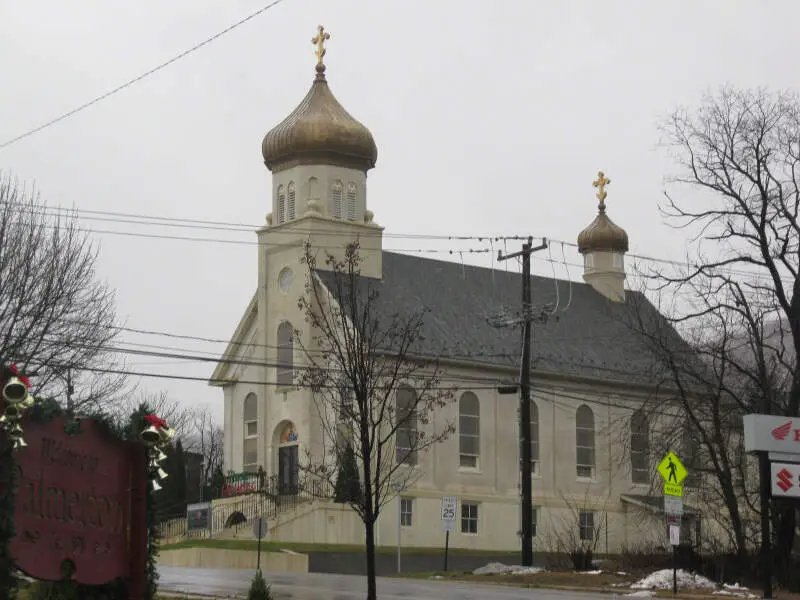 Just southeast of Pittsburgh, is our tenth most affordable Pennsylvania city for 2022: Brentwood. Brentwood, PA is nothing like Brentwood, CA. Brentwood, PA has great affordable neighborhoods, nice people, and it's safe.
This hub of Eastern PA is home to the greatest percentage of young folks concentrated into one city on our list. And if we've learned anything about Millenials, they know a good deal. Brentwood has a lot of great amenities like the Brentwood Arboretum, the Brentwood Park, and lots of great biking trails. Brentwood is a staycation waiting to happen.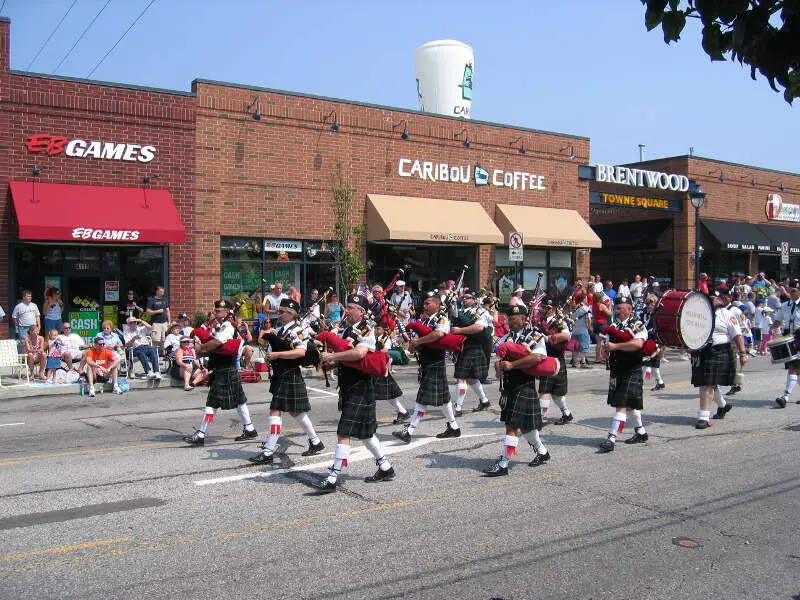 Cheapest Places To Live In Pennsylvania FAQs
The county in Pennsylvania with the lowest cost of living is Juniata County. The average living wage in Juniata County is $80,011 according to MIT data. Juniata County has the lowest cost of living because it has relatively less expensive childcare and housing costs compared to Pennsylvania as a whole. Childcare costs $11,398 a year in Juniata County for two children compared to the Pennsylvania average of $17,440. Housing costs, defined as a blend of the average rent and average mortgage payment, are $8,688 per year in Juniata County compared to $12,350 on average in Pennsylvania.
The cost of living in Pennsylvania is 1.5% higher than the US average. According to MIT, the required living wage for a family of four with two working parents in Pennsylvania is $91,069 vs the national average for a family of four with two working parents of $89,744. The median income of a Pennsylvania household is $63,627.
The cheapest housing market in Pennsylvania is Johnstown. The average home value in Johnstown is $37,000, the lowest in the state. The average home value in Pennsylvania is $187,500, almost 5.1 times higher than Johnstown.
Methodology: How We Determined The Most Affordable Places To Live In The Keystone State For 2022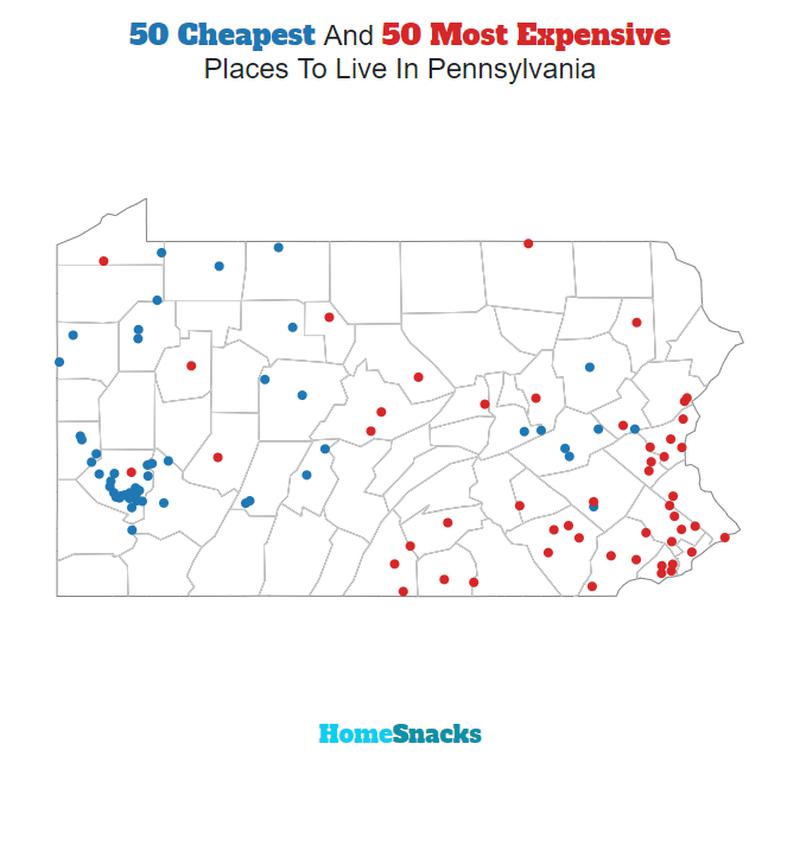 The two most important things to think about when it comes to being able to afford if you can live comes down to:
How much do money do I make?
How much do I have spend to live there?
You need to understand your costs in the context of how much money you make.
For example, if the median household earns $100,000 and spends $40,000 on housing it's actually cheaper to live there than a place with a median income of $50,000 and housing costs of $21,000. You might spend more on housing, but you have more money overall to play with.
With that example in mind, we derived several statistics from the latest Census American Community Survey 2016-2020 around incomes and costs. They are:
Median Home Price / Median Income (lower is better)
Median Income / Median Rent (Higher is better)
Median Home Price
We added simply median home price because high home prices generally correlate with higher expenses for all costs related to homes (heating, electricity, etc).
You can then compare these metrics in each of the places in Pennsylvania to figure out which is the least expensive.
What you are left with is a "Cost of Living Index" by taking the average rank of each of these metrics for each city.
So we used that cost of living index in order to rank all of the 185 places in Pennsylvania that have more than 5,000 people.
The place with the lowest cost of living in Pennsylvania according to the data is Greenville. You can download the data here.

Summary: There You Have It Mr. Or Mrs. Pennsylvania Cheapskate
If you're looking at the cost of living numbers in Pennsylvania, this is an accurate list of the most affordable places to live in Pennsylvania for 2022.
Here's a look at the most expensive cities in Pennsylvania according to the data:
State College
West Chester
Lewisburg
For more Pennsylvania reading, check out:
The Most Affordable Places To Live In Pennsylvania
Editor's Note: We updated this article for 2022. This is our ninth time ranking the cheapest places to live in Pennsylvania.