Editor's Note: We updated this article for 2020. This is our sixth time ranking the best neighborhoods to live in San Francisco.
Article Table Of Contents
(Skip to section)
San Francisco, you weren't able to clinch Super Bowl LIV, but you definitely win at having some of the best places to live in America. And, since HomeSnacks is our name and ranking places is OUR game, we know where those places are located, and we've conveniently listed the best neighborhoods in San Francisco for 2020 below.
If you've been to San Francisco, you know that this city is a cultural explosion of great food, cutting edge entertainment, and a mix of classic and progressive architecture--the views of the Bay Bridge and Golden Gate Bridge aren't so bad, either. We're also pretty sure that if you've experienced even half of what the Bay City has to offer, you've thought about moving to this Northern California gem. Then, you looked at San Francisco's price tag; and quite frankly, this city is not meant for the people who are barely scraping by--it's meant for people who make at least $101,982.5/year. Heck, there's a reason a place this great hasn't broken a million residents and that reason is San Francisco's high cost of living.
But, you're an optimist, so you get yourself a good job and you're going to live in San Francisco no matter the cost. So, whether you're looking to buy your forever home in San Fran or rent, take a look at our list because we've taken the guessing out of the equation by using the latest census data to rank San Francisco's 34 neighborhoods. To get the most accurate list, we looked at things like median income levels and median home prices; because honestly, if you are going to spend far above the national average for your living situation, you should expect the best: the safest communities, the best jobs, and the best amenities. Not surprising, San Francisco's best neighborhoods have all of this and then some.
So, if you want to know the San Francisco neighborhoods that are on everyone's wish list, keep reading.
Here are the best neighborhoods in San Francisco for 2020:
If you're looking for a great neighborhood next to the water, the Marina district has stellar homes and a place to park your yacht. If you're looking for a neighborhood that has cool corner coffee shops and eclectic record stores Haight Ashbury has been making the magic happen for years. And if you're looking for a neighborhood that provides a hill workout every time you walk out your front door, the Russian Hill neighborhood is great for the heart.
But, what neighborhood in San Francisco takes the number one best spot for 2020? According to the latest census and our SnackAbility algorithm, that would be Pacific Heights.
To see where the other San Francisco neighborhoods landed on the list, hit that down arrow. And if you don't find what you're looking for there, head to the bottom.
For more California reading, check out:
The 10 Best Neighborhoods To Live In San Francisco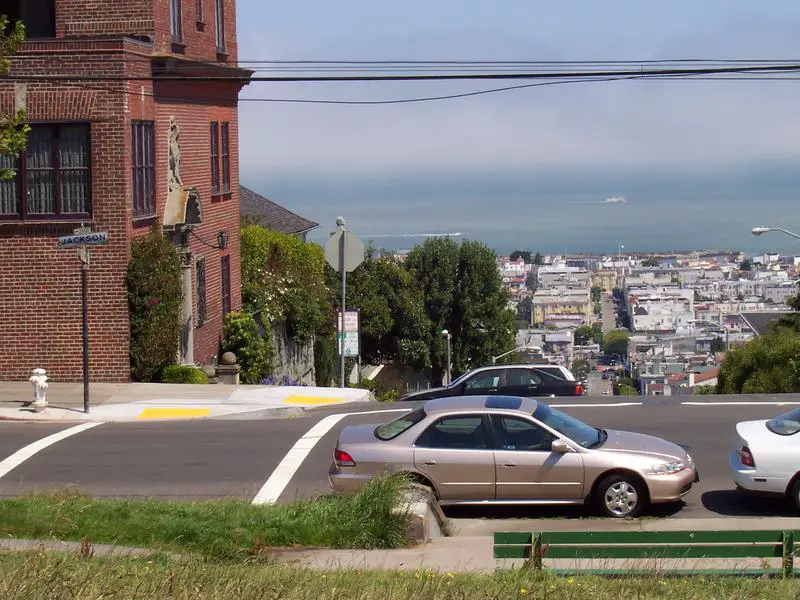 Source: Public domain
Pacific Heights is an affluent neighborhood of San Francisco, California, which is known for the notable people who reside in the area. It is located in one of the most scenic and park-like settings in northern California, offering panoramic views of the Golden Gate Bridge, San Francisco Bay, the Palace of Fine Arts, Alcatraz, and the Presidio. Its location provides a temperate micro-climate that is clearer, but not always warmer, than many other areas in San Francisco.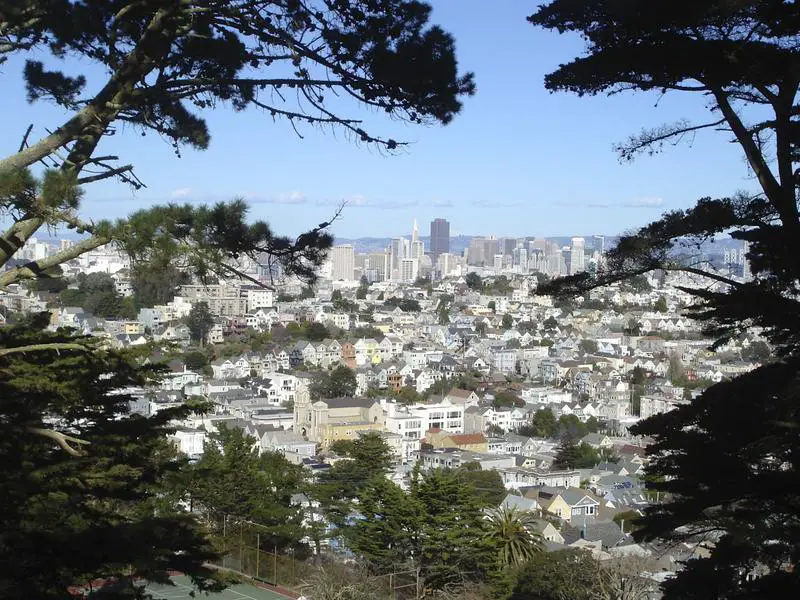 Noe Valley is an affluent neighborhood in the central part of San Francisco, California.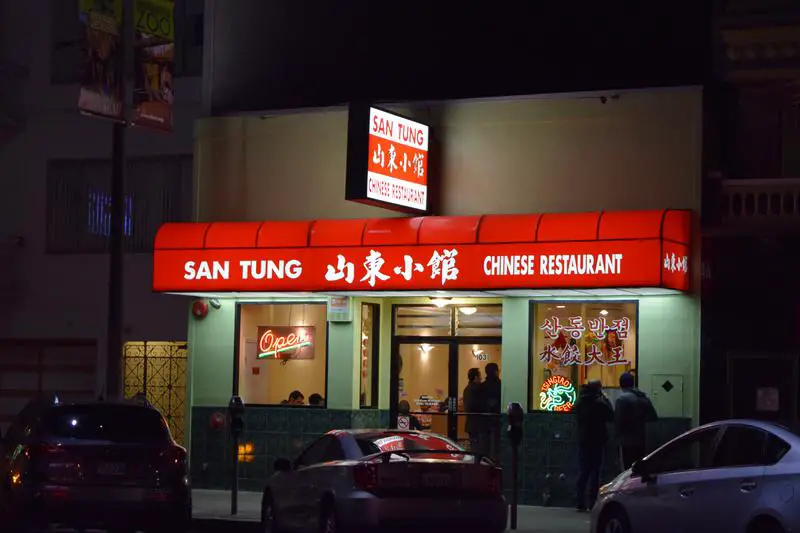 The Inner Sunset is bordered by Lincoln Way to the north, Arguello Boulevard to the east, Quintara Street to the south, and 22nd Avenue to the west. This far-east section of the Sunset is located just west of Mount Sutro. The main commercial area is along Irving Street from 5th Avenue to 12th Avenue, which is dotted with a variety of restaurants and shops.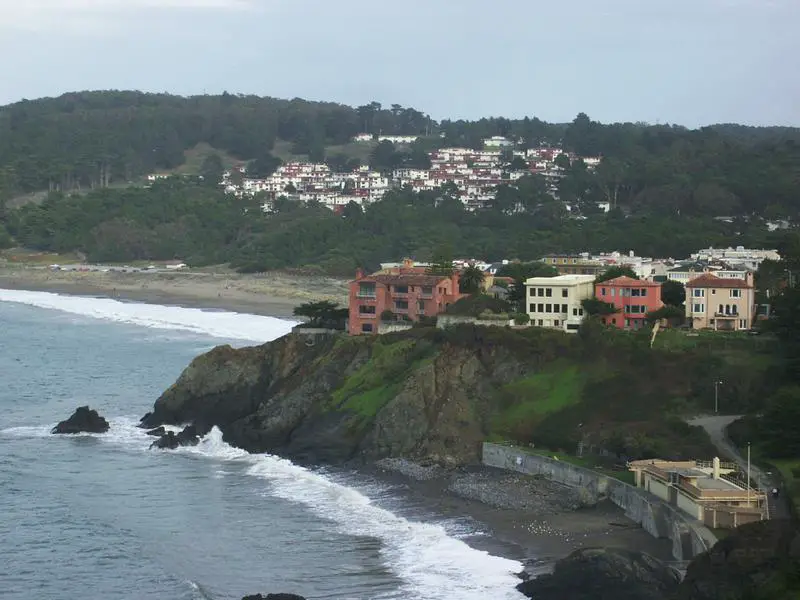 Sea Cliff is a neighborhood in northwestern San Francisco, California. It is known for its large houses and ocean views. Sea Cliff is one of eight master-planned residence parks in San Francisco; its master plan was developed by landscape architect Mark Daniels.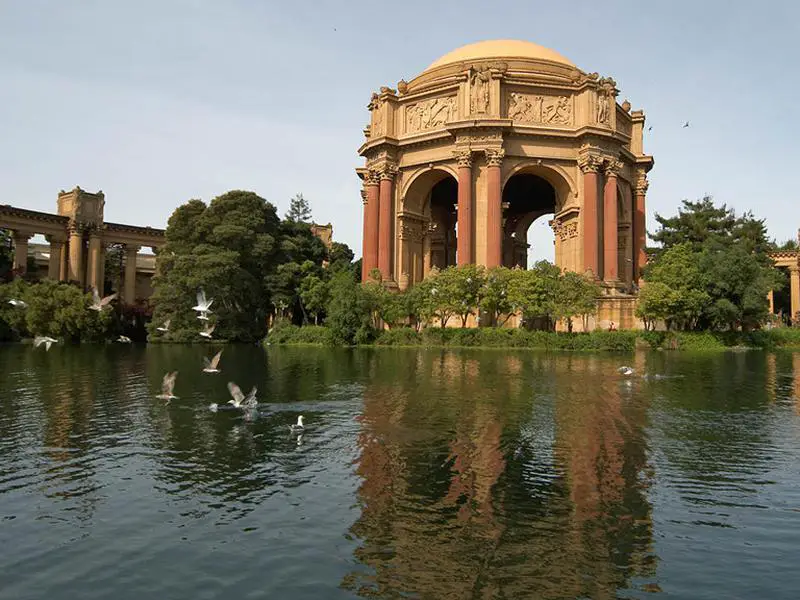 Source: Public domain
The Marina District is a neighborhood located in San Francisco, California. The neighborhood sits on the site of the 1915 PanamaPacific International Exposition, staged after the 1906 San Francisco earthquake to celebrate the reemergence of the city. Aside from the Palace of Fine Arts, all other buildings were demolished to make the current neighborhood. The Marina currently has the highest non-Hispanic white resident percentage of any recognized neighborhood in San Francisco.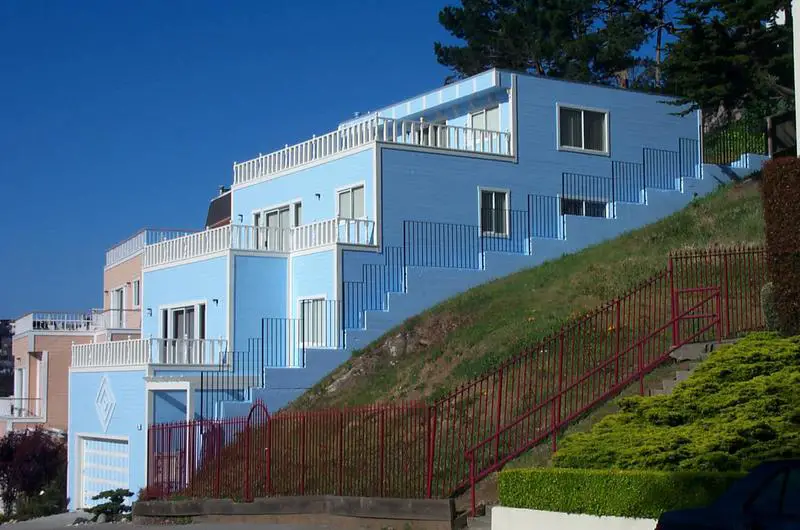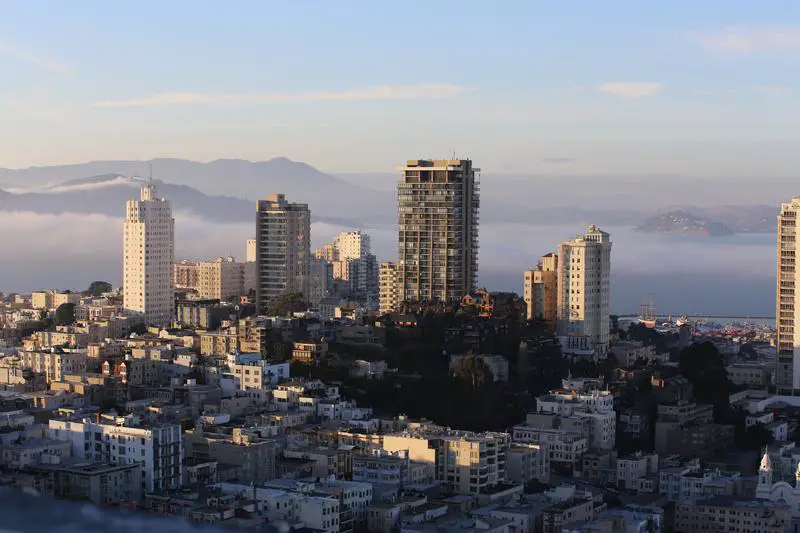 Russian Hill is a neighborhood of San Francisco, California, in the United States. It is named after one of San Francisco's 44 hills, and one of its original "Seven Hills".
How We Determined The Best San Francisco, CA Neighborhoods In 2020
In order to rank the best neighborhoods in San Francisco, we had to determine what criteria defines a "best".
Using crime, census, and extrapolated BLS data, we arrived at the following set of criteria:
High incomes
Low unemployment rates
Low crime
High home prices
High population densities (A proxy for things to do)
We then ranked each neighborhood with scores from 1 to 34 in each category, where 1 was the best.
Next, we averaged the rankings for each neighborhood to create a best neighborhood index.
And finally, we crowned the neighborhood with the lowest best neighborhood index the "Best City Neighborhood In San Francisco." We're lookin' at you, Pacific Heights.
Read on below to learn more about what it's like to live in the best places San Francisco, California has to offer. Or skip to the end to see the list of all the neighborhoods in the city from best to worst.
Putting A Bow On Our Analysis Of The Best Neighborhoods In San Francisco
If you're measuring the neighborhoods in San Francisco where crime is low and everyone wants to live, this is an accurate list.
As we mentioned earlier, the neighborhoods in San Francisco aren't all good. Bayview takes the title of the worst neighborhood to live in San Francisco.
We ranked the neighborhoods from best to worst in the chart below.
For more California reading, check out:
Detailed List Of The Best Neighborhoods To Live In San Francisco For 2020
| Rank | Neighborhood | Population |
| --- | --- | --- |
| 1 | Pacific Heights | 19,716 |
| 2 | Noe Valley | 21,074 |
| 3 | Inner Sunset | 27,720 |
| 4 | Seacliff | 1,429 |
| 5 | Marina | 22,358 |
| 6 | Outer Richmond | 36,055 |
| 7 | Haight-Ashbury | 23,717 |
| 8 | West Of Twin Peaks | 21,375 |
| 9 | Presidio Heights | 8,734 |
| 10 | Russian Hill | 17,133 |
| 11 | Nob Hill | 21,931 |
| 12 | Twin Peaks | 7,538 |
| 13 | Inner Richmond | 38,842 |
| 14 | Glen Park | 6,919 |
| 15 | Outer Sunset | 50,788 |
| 16 | Castro-Upper Market | 21,884 |
| 17 | Bernal Heights | 28,638 |
| 18 | North Beach | 11,601 |
| 19 | Western Addition | 52,616 |
| 20 | Ocean View | 30,618 |
| 21 | South Of Market | 35,386 |
| 22 | Diamond Heights | 2,239 |
| 23 | Financial District | 6,974 |
| 24 | Crocker Amazon | 11,751 |
| 25 | Parkside | 27,661 |
| 26 | Mission | 56,009 |
| 27 | Outer Mission | 29,799 |
| 28 | Excelsior | 37,796 |
| 29 | Potrero Hill | 13,448 |
| 30 | Chinatown | 10,136 |
| 31 | Downtown | 39,932 |
| 32 | Lakeshore | 22,014 |
| 33 | Visitacion Valley | 24,607 |
| 34 | Bayview | 35,739 |