Editor's Note: We updated this article for 2021. This is our seventh time ranking the best places to live in California.
Article Table Of Contents   
(Skip to section)
California is in its own league compared to other states. To give you an idea, if California were a country, it would have the sixth largest economy in the world. But being such a large state, there's a wide discrepancy in quality between the best and the worst places to live in California and we're here to talk about what makes the best places...well, the best.
People in Cali know they've got things pretty good, which is why they're nationally known for being maddeningly laid-back about everything. But when you're home to some of America's most prized sites of natural beauty (Big Sur, Yosemite, and Redwood National Forest, to name a few), you can't really be blamed for believing that life's too good to bother stressing over.
California undeniably plays a big role in shaping our world today. Between Hollywood dominating the international media game and tech giants like Facebook and Google acting as global leaders in the handling of data, you can't question California's cultural ascendancy.
Sure, California's great, but what does it take to earn a place in the state's upper eschelon? Well, we looked at a number of factors, but it turns out the best places in Cali all share one thing: wealth. With incomes well over the $100,000/year mark and home prices breaking $500,000, you'd better believe that the best of the best in California ain't cheap. By and large, the places that made the cut are located around San Francisco in Silicon Valley, so while housing certainly isn't cheap, big salaries keeps the overall cost of living at a reasonable level.
We don't mean to offend anyone from SoCal, but the data shows that it's hella better up north. And with better schools, safer streets, and stronger economies, it's no surprise that NoCal has the market cornered on quality cities. So break out your avocado toast, pour yourself a glass of Napa Valley wine, wax your surfboard, and keep reading to find out which places in The Golden State get gold medals for excellence.
The 10 Best Places To Live In California For 2021
What is the best place to live in California? Looks like the best place to live in California for 2021 goes to Los Altos. Right in the heart of Silicon Valley, this city combines all the great things of San Francisco, without all the negatives.
To be clear, the price of admission to these cities is steep -- with median home prices above $500,00 and median incomes over $100,000 -- but the reward is worth it.
Continue on for more on how we calculated the best places to live in the Golden State and for a detailed breakdown of the top ten. We also mapped out the location of each city so you figure out how long your commute will be.
If you're looking for something more national, check out the best states in America or the best places to live in America.
For more California reading, check out:
The 10 Best Places To Live In California For 2021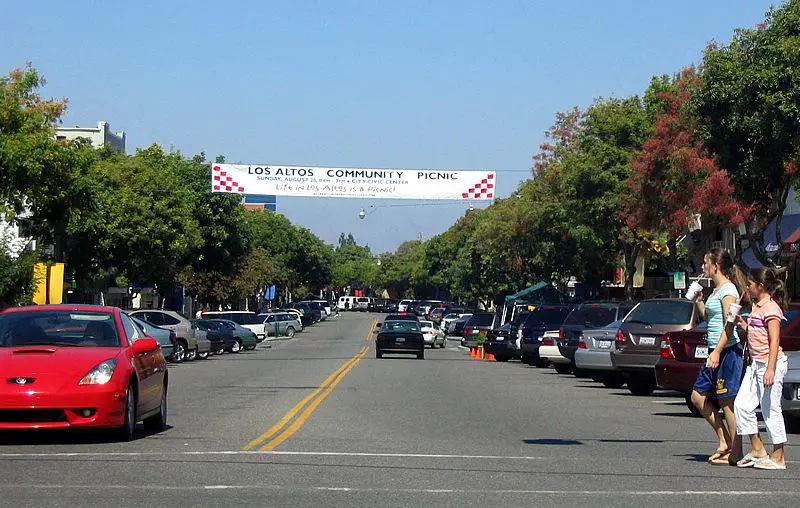 Kicking off our list of best places to live is Los Altos, the first of many Silicon Valley representatives to make the cut this year. Unsurprisingly, residents of Los Altos are highly educated, with over half of folks having a master's degree or higher. Bigger degrees lead to bigger paychecks, which leaves the residents of Los Altos in the comfortable position of earning around $235,278/year. So, while the $2,000,001 price tag on homes in Los Altos is quite expensive, the overall cost of living is actually quite reasonable.
If you want to settle down in Los Altos for good, you're in luck because the local schools scored an average of 9/10 on GreatSchools. On top of that, Los Altos has the 28th lowest rate of violent crime in California.
With all of these awesome features, it's unsurprising that the Los Altos Farmer's Market is one of the city's top attractions. If your shopping needs fall outside the purview of a farmer's market, Santana Row in San Jose is just a fifteen minute drive away.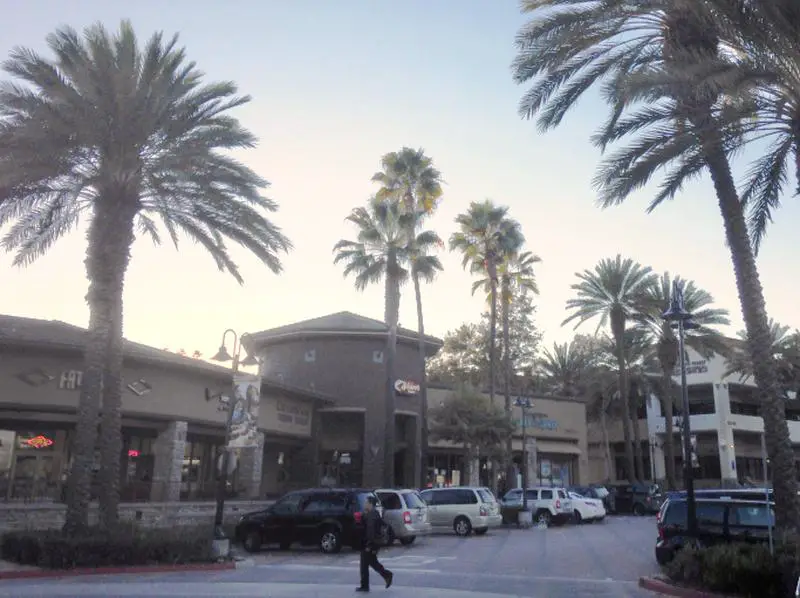 We're departing from Silicon Valley and heading towards Los Angeles' Orange County to arrive at Aliso Viejo, the 2nd best place to live in California. Aliso Viejo is a vibrant, youthful city where the median age is only 37. It's also the most densely populated city you'll see on this list, so if you crave constant activity, Aliso Viejo is probably your jam.
Aliso Viejo has the 157th best home price to income ratio. That low cost of living means you won't have to break the bank to enjoy yourself here. As a bonus, you won't have any trouble getting friends and family to come visit you in Aliso Viejo, because Disneyland is just a hop, skip, and jump away.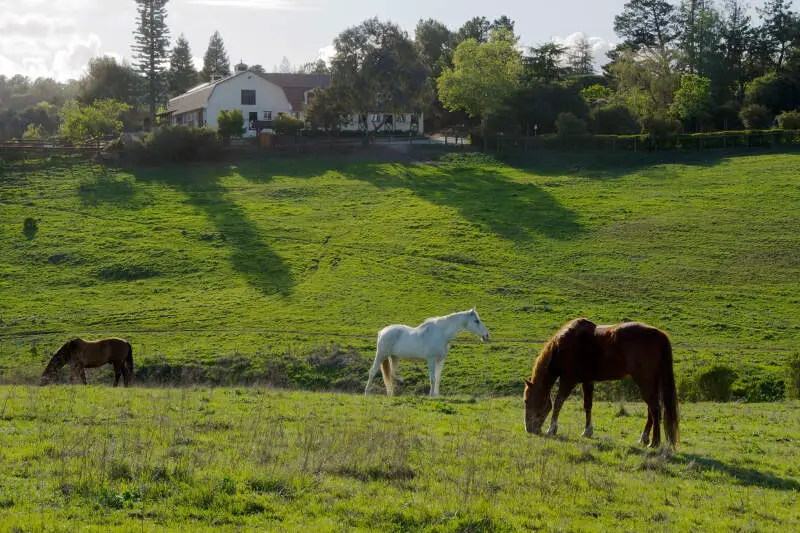 Source: Public domain
We don't to drive very far to arrive at California's 3rd best city to call home, Los Altos Hills. The unemployment rate in Los Altos Hills is a mere 3.2%, the 40th lowest of anywhere on this list. Which makes sense when you consider that a staggering 50%+ of Los Altos Hills' population has received AT LEAST a master's degree, seeing as you don't normally find a person with a Ph.D out of work. It also explains why folks in Los Altos Hills earn around $250,001/year, the 2nd highest in California.
Los Altos has the 14th lowest overall crime rate in the state, about 75% below the national average. So you can take full advantage of the 24 miles of trails available at Rancho San Antonio without fearing for your safety.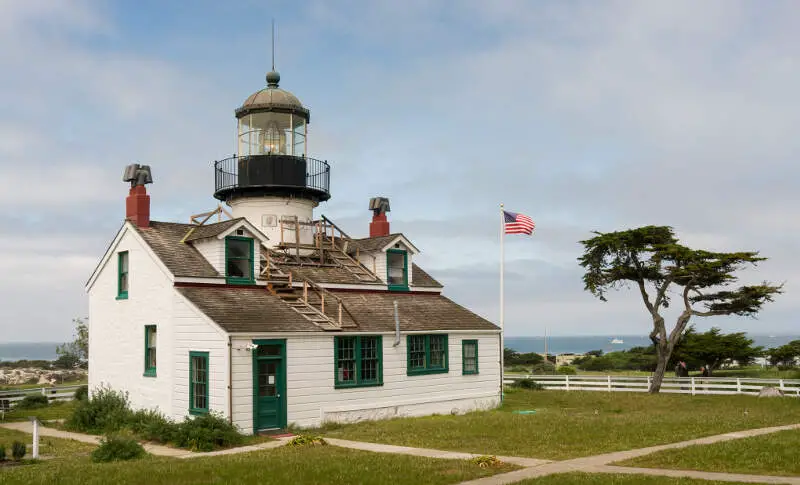 Located on Monterey Bay, Pacific Grove comes in as California's 4th best place to call home. Pacific Grove offers the best in coastal living, with Asilomar State Beach offering countless opportunities for scenic walks and ocean activities.
You can stop by Lover's Point Park for a day of recreation, knowing that you don't have to hurry home, seeing as crime in Pacific Grove is basically nonexistent. Additionally, Pacific Grove hosts an annual Butterfly Parade honoring the monarch's wintertime return.
The median home value in Pacific Grove is $857,900, while your typical household income sits around $88,250. Commute times are short, diversity is significant, and amenities abound in Pacific Grove. Not to mention you're only an hour and some change south of San Jose if you're craving some big-city action.
Don't be put off by the overall cost of living in Pacific Grove -- while it's much higher than the national average, it's not too bad relative to California and certainly lower than most of the other places listed here.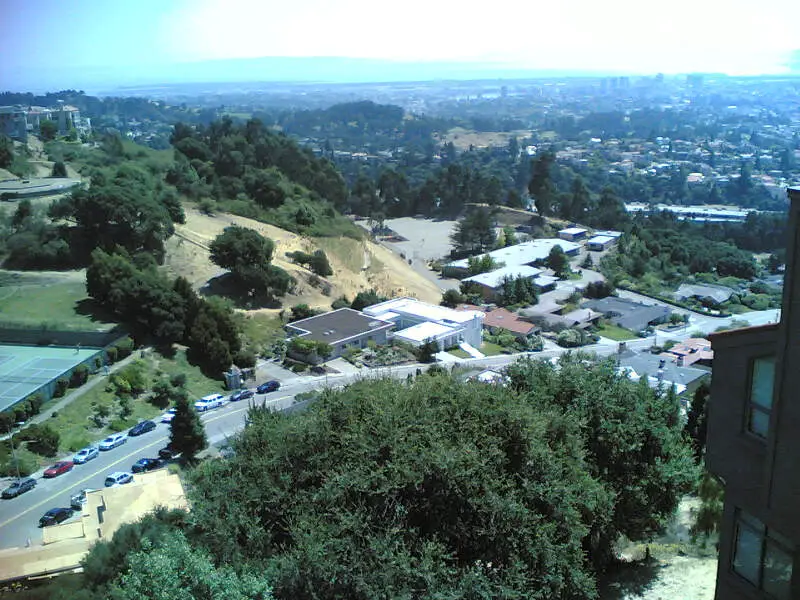 Want to experience the best parts of Oakland without having to deal with high rates of crime? Piedmont is the place for you. With sub-3% levels of unemployment and poverty, Piedmont makes sure that all its residents get a piece of the pie. That may also have something to do with the fact that Piedmont has the lowest rate of high school dropouts in California.
Homes in Piedmont are also slightly cheaper than elsewhere in this list's top five, so it might be somewhat easier to get yourself established here, especially on a salary of $224,659/year.
Piedmont is also fortunate to get some of the warmer weather that the east bay gets without the hot, dry climate in the Sacramento Valley. And if, even after this season, you're still a Golden State Warriors fan, you'll never have far to drive to catch a game.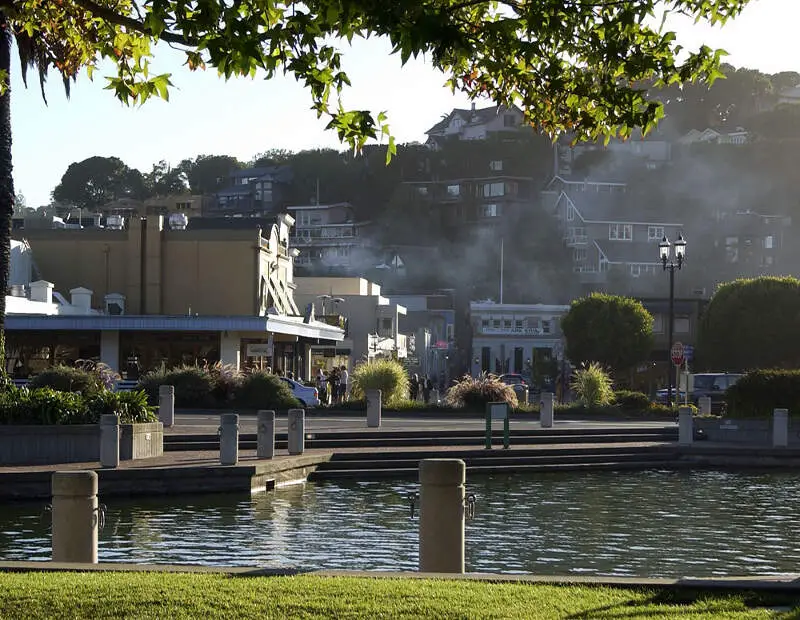 Source: Public domain
Located at the tip of the Tiburon Peninsula reaching into the San Francisco Bay, Tiburon ranks as the 6th best place to live in California. Tiburon's poverty level of 2.6% is the 4th lowest in the state, and the 2.7% unemployment rate is the 18th lowest. Which helps explain why 98.4% of Tiburon's residents have health insurance, the 19th highest rate of coverage in California.
Tiburon has the 2lowest rate of crime in California, so you probably won't need that health insurance to cover you for an assault. Tiburon is also a great jumping off point for getting to Angel Island for a 360 degree view of San Francisco Bay Area or the imposing Alcatraz Island for a history lesson.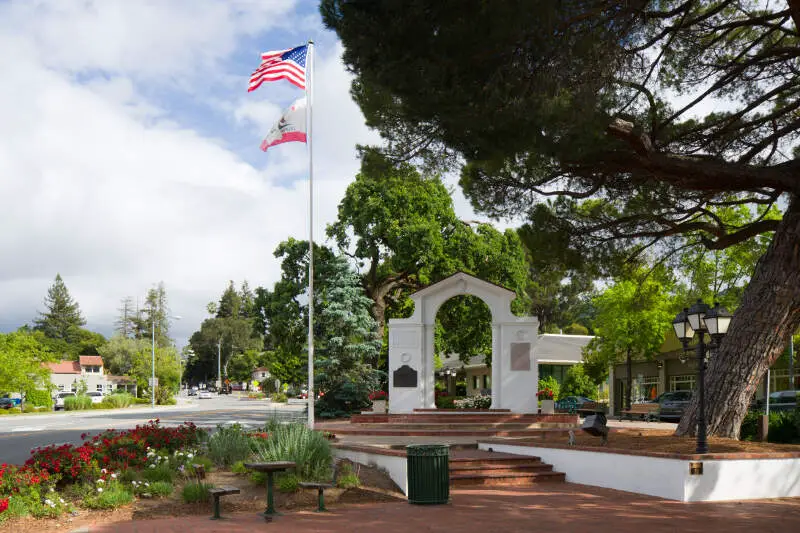 Source: Public domain
Saratoga is a city of 30,697 located on the western side of the Santa Clara Valley. Of all the San Jose suburbs, Saratoga is the closest to Big Basin Redwoods State Park, California's oldest state park and home to the largest stand of redwoods south of San Francisco. That oughta satisfy even the most voracious nature-lover.
Public schools is Saratoga received a 9/10+ on GreatSchools, so you know kids get off to a good start growing up here. Which obviously translates into greater success in later life, seeing as over 40% of residents have a master's degree or higher. One good thing leads to another, because residents of Saratoga earn a median household income of $191,677, the 9th highest in Cali.
Add to that the 15th lowest rate of crime statewide and the 3rd largest percentage of insured residents, and you've got a recipe for the 7th best place to call home in California.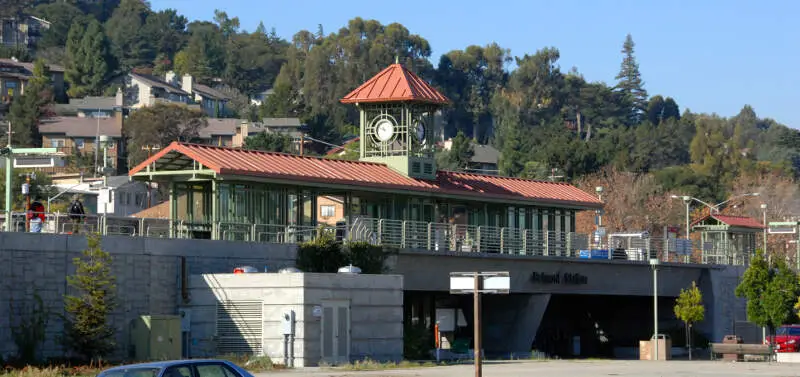 Belmont comes in as the 8th best city in California thanks to strong numbers across the board in education, amenities, safety, and solid markets for both jobs and housing. The median age in Belmont is below 40, highlighting the youthfulness that makes California such an exciting place to live.
It should come as no surprise that the largest employers for a city in this region are big-name tech companies like Oracle and Cengage. If working with computers is your dream, Belmont should have more than enough opportunities to keep you satisfied.
Belmont's also a city with some of the strictest smoking laws in the country, so all the city's residents are able to breathe a little more freely. It's also the closest we're going to get to San Francisco on this list, so if you want the option to get snap some photos of the Golden Gate Bridge in under an hour, Belmont is the perfect choice.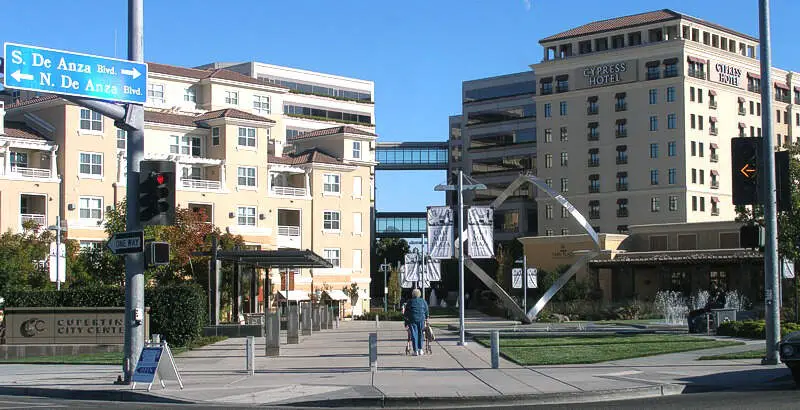 Ever wonder why Cupertino is the default option for weather on the iPhone? That's because, in addition to being the 9th best place to live in California, Cupertino is also the home of Apple's Headquarters. Being the hub of a tech behemoth like Apple, it's no surprise that Cupertino's population of 60,257 is hyper-educated, with more than 40% of residents having a master's, Ph.D, or professional degree.
All that extra time in school really pays off, because folks in Cupertino enjoy a median household income of $171,917/year, which you'll need to pay off the $1,711,300 mortgage. Only 1.4% of people are on SNAP and 2.2% of people are without health insurance, so you know the residents of Cupertino aren't struggling to get by.
We all know you can't really consider yourself a part of the elite unless you're a wine snob, so be sure to get in on the culture at one of the several vineyards in the Cupertino area.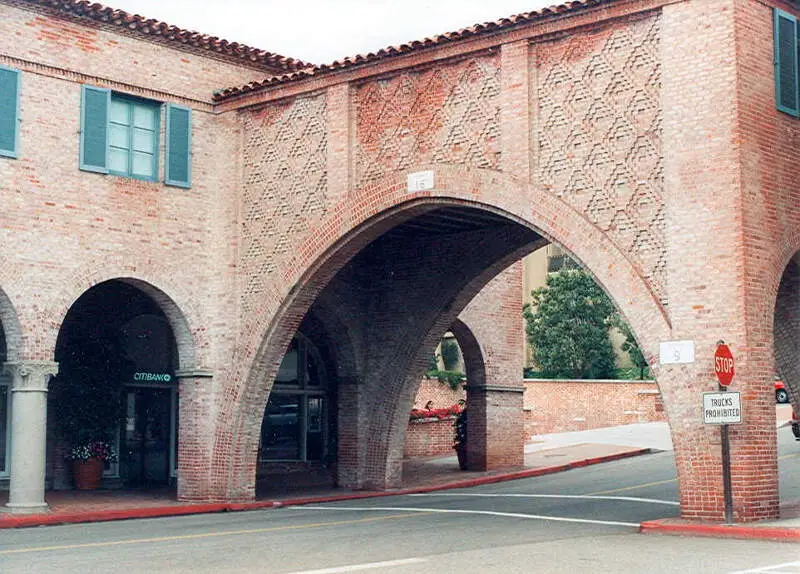 Nex on our list of the best places to live in California is Palos Verdes Estates, a city of 13,434 located just south of Los Angeles. For some, it'll be enough to mention that Disneyland is just a short drive away to convince them that moving to Palos Verdes Estates is a good course of action.
But if even if you're not into Mickey and the gang, there's plenty to love right in your neighborhood, like having the Palos Verdes Estates Shoreline Preserve Beach, a rocky beach and bluff, to visit year-round.
Palos Verdes is exceptionally safe, with the 4th lowest overall crime rate in California. That may have something to do with how educated residents are, considering that over 30% of people have a master's degree or higher.
More degrees lead to bigger paychecks, and Palos Verdes Estates residents prove that with a median household income of $194,543. Which is kind of essential when your typical Palos Verdes Estates home sells for $2,000,000. Unemployment is at rock-bottom levels thanks to low levels of high school dropouts. In fact, GreatSchools gave Palos Verdes Estates schools an average score of 8.5/10, so everyone is set up for success here.
Mapping The Best And Worst Places To Live in California
The Pressing Question: Size
Before we even started to collect data, we had to answer a tough question: Is it fair to pit Sacramento with a population of 500,930 against places with a population of 18?
We firmly decided no, that just isn't fair.
So to create our ranking, we broke places to live into three tiers:
Cities -- Populations over 5,000
Towns -- Populations between 1,000 and 5,000
Small Towns -- Populations below 1,000
This left us with 410 cities, 381 towns, and 265 small towns.
We then decided, no matter how much anyone loves their town, the best cities to live in California have more of everything and therefore you need to have over 5,000 people to truly be 'the best'.
Now we also realize that city living might not be your cup of tea, so we ran the following analysis on towns and then again for small towns.
You can see those two top tens at the bottom of the post.
How We Calculated The Best Cities To Live In California
Now that we had our set of cities, it was time to rank them.
We ranked each place in California across a number of criteria from one to 410, with one being the best.
We then took the average rank across all criteria, with the city posting the lowest overall score being crowned the winner of the title "Best Place To Live In California".
The criteria we looked at were:
Median Home Values
Median Income
Population Density (Higher better)
Unemployment Rate
Commute Time
Crime
Education Levels
Health Insurance Coverage
Poverty rates
Sources of criteria include the New Census Data and FBI Crime Data. You can download the data here.
After the dust settled, what was the best place to live in California? That would be Los Altos.
If your city or town isn't among the top 10, jump down to the bottom of the post to see a detailed chart of the best places in California.
Otherwise, buckle up for a ride down good living lane with Los Altos at the end of the cul-de-sac.

Wrapping Up The Best Places When It Comes To Living In California
If you're looking at areas in California with the best economic situations, where there's lower than average crime, and a lot to do, this is an accurate list.
Los Altos made a strong showing to take in the overall number one spot for the best place to live in California for 2021.
Best Towns To Live In California
Shell Ridge (Pop. 1,123)
Ladera (Pop. 1,514)
Loyola (Pop. 3,425)
West Menlo Park (Pop. 3,830)
Acalanes Ridge (Pop. 1,000)
Emerald Lake Hills (Pop. 4,716)
Mission Canyon (Pop. 2,769)
Monte Sereno (Pop. 3,514)
Highlands-Baywood Park (Pop. 4,261)
Los Ranchos (Pop. 1,630)
Best Small Towns To Live In California
Blacklake (Pop. 895)
Diablo (Pop. 807)
Alto (Pop. 649)
Tomales (Pop. 245)
Spreckels (Pop. 745)
Alhambra Valley (Pop. 501)
Silverado Resort (Pop. 988)
Los Olivos (Pop. 871)
Rolling Hills (Pop. 832)
Lake Almanor Country Club (Pop. 357)
If you're curious enough, here are the worst places to live in California according to the data:
Avenal (Pop. 12,961)
Adelanto (Pop. 33,660)
Clearlake (Pop. 15,349)
For more California reading, check out:
Where Are The Best Places To Live In California?
| Rank | City | Population |
| --- | --- | --- |
| 1 | Los Altos | 30,504 |
| 2 | Aliso Viejo | 50,663 |
| 3 | Los Altos Hills | 8,505 |
| 4 | Pacific Grove | 15,522 |
| 5 | Piedmont | 11,317 |
| 6 | Tiburon | 9,144 |
| 7 | Saratoga | 30,697 |
| 8 | Belmont | 27,097 |
| 9 | Cupertino | 60,257 |
| 10 | Palos Verdes Estates | 13,434 |