The 10 Safest Cities In California For 2023
The safest cities in California are Laguna Woods and Rancho Santa Margarita for 2023.

Behind the beautiful beaches, hip cities, and outrageous food, there are certain places in California that are safer than others.
But how exactly is one to tell where the safest places are to live in the Golden State?
Well, data, of course.
And that's where we come in -- we've broken down the safest cities in California based on the most recent FBI data. And at this point, we're quite the experts on ranking safe towns; it's the tenth time we've ranked the safest places in California.
From Los Angeles to San Francisco suburbs, California has much to offer if you're looking for a safe place to put down roots with a family. It's just checking general safety trends before picking a place to live.
Because California is the most populous state in the U.S., narrowing down the safest cities in the Golden State was quite the job. Let's take a look.
---
Table Of Contents:
Top Ten
|
Methodology
|
Table
|
References
---
Here are the 10 safest cities to live in California for 2023:
What city is the safest to live in California for 2023? According to the most recent FBI data, Laguna Woods is the safest place to live in California if you care about low rates of property crime, violent crime, and a high quality of life.
While not everyone can afford to live in California's safest city, Laguna Woods, many other cities in the Golden State are just as safe and comfortable, but that won't break your bank.
So, if you're looking to relocate to sunny California, read how we calculated the safest cities in California for 2023.
For more reading on safe places to live in and around California, check out:
The 10 Safest Cities In California For 2023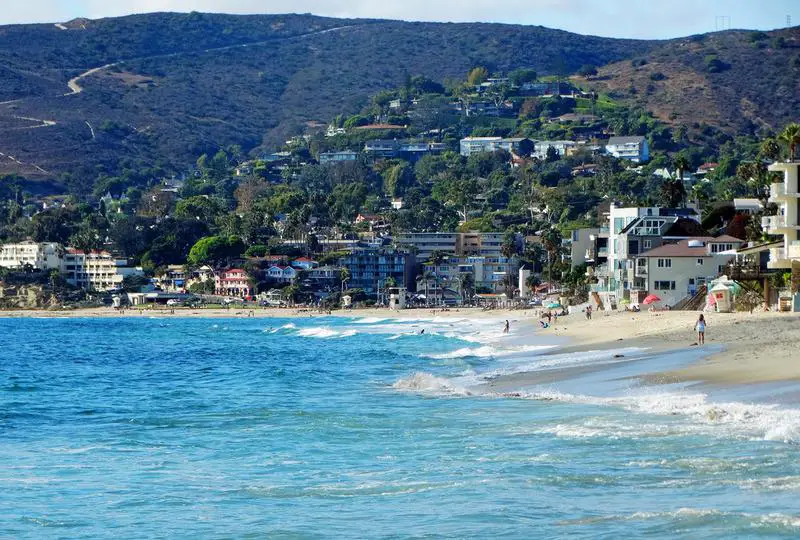 Well, based on that picture, I want to live here.
I guess it's hard to commit violent crimes when you hang out on the beach and stare into the general beauty around you.
But I have to wonder if it feels inferior to Laguna Beach seeing as it never had its own TV show.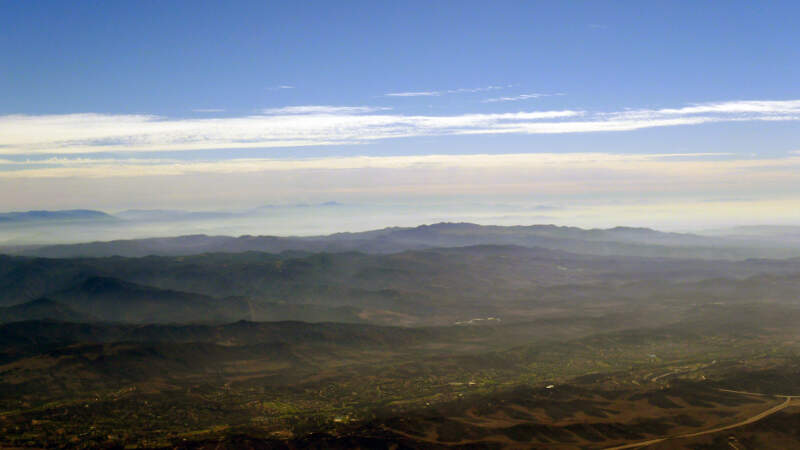 Grab the tequila as we take our next stop of our safe road trip in Rancho Santa Margarita -- the second safest city in California this year.
Besides being the city with the most letters in it, Rancho Santa Margarita has very few property crimes for a city of its size. It also offer affordable living for California and plenty to do for the whole family.
And in case you actually thought it was named for the drink, it is named for Rancho Santa Margarita y Las Flores.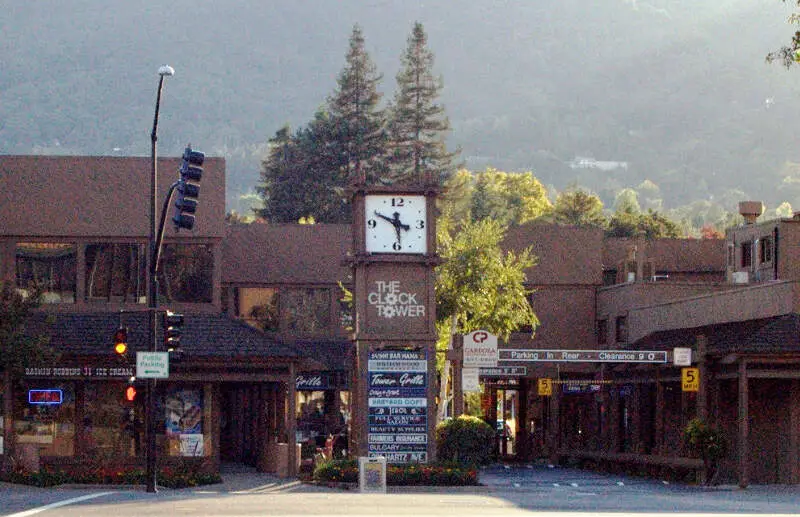 The Town of Danville is located in the San Ramon Valley in Contra Costa County and ranks as the third safest city for 2023 in CA.
A top ten ranking for violent crime per capita helped it earn this distinction.
And look at the mall in that picture -- doesn't it just ooze safety?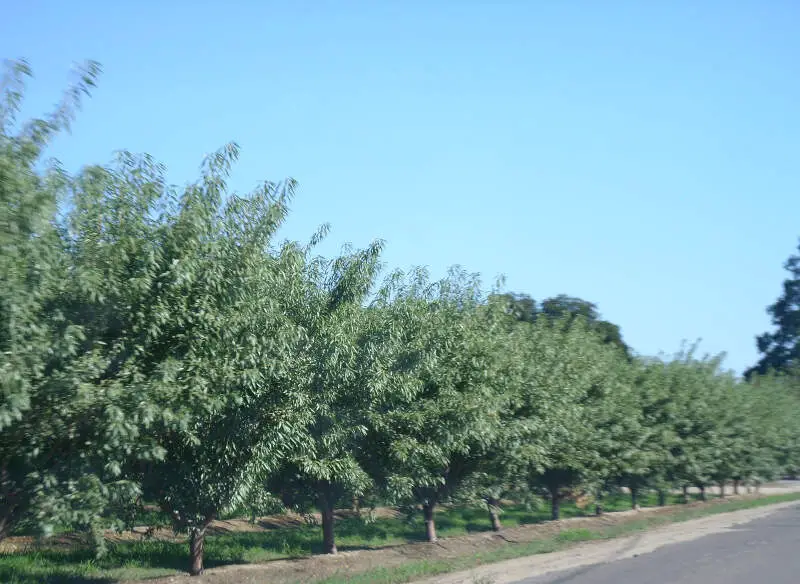 Source: Public domain
A part of the Modesto metro area, Hughson clocks in as California's fourth safest city. An agricultural community that focuses primarily on peaches and almonds, Hughson is a wholesome place with a big heart.
Residents don't have to worry about their belongings getting snatched when they're out at Rolland Starn Park, because the property crime rate in Hughson ranks as the 15th safest lowest in California.
Hughson's overall crime rate is the eighth safest lowest statewide, with about half as many crimes per capita as the national average.
While Hughson's violent crime rate isn't quite as impressive as its property crime rate, the city of 7,542 recorded just 2 violent crimes over 2022.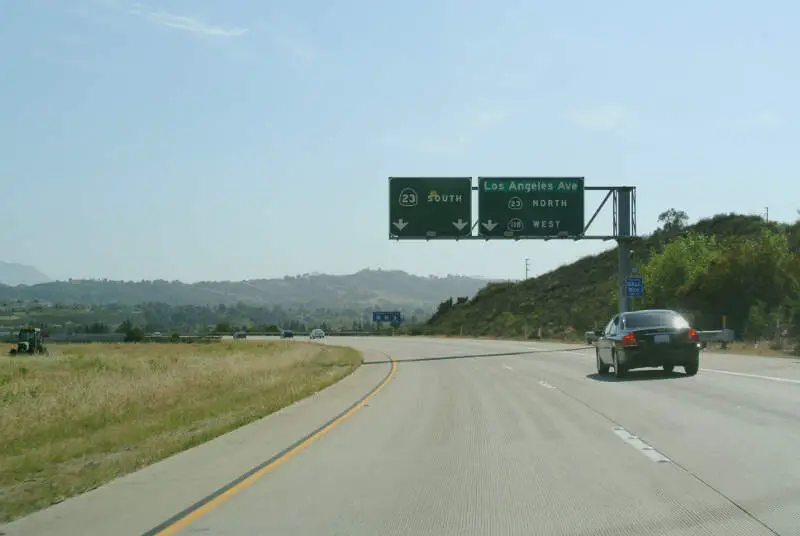 Located about 45 miles northwest of Los Angeles, Moorpark came in as the fifth safest place to call home in California.
Moorpark is home to loads of family-friendly activities, like the Moorpark Teaching Zoo and Underwood Family Farms.
This wholesome city recorded the eighth safest lowest property crime rate statewide for 2023. And the vast majority of property crimes committed were just larcenies, so it's not exactly devastating stuff.
Moorpark only recorded 17 violent crimes over 2022 -- quite impressive for a city of 35,692.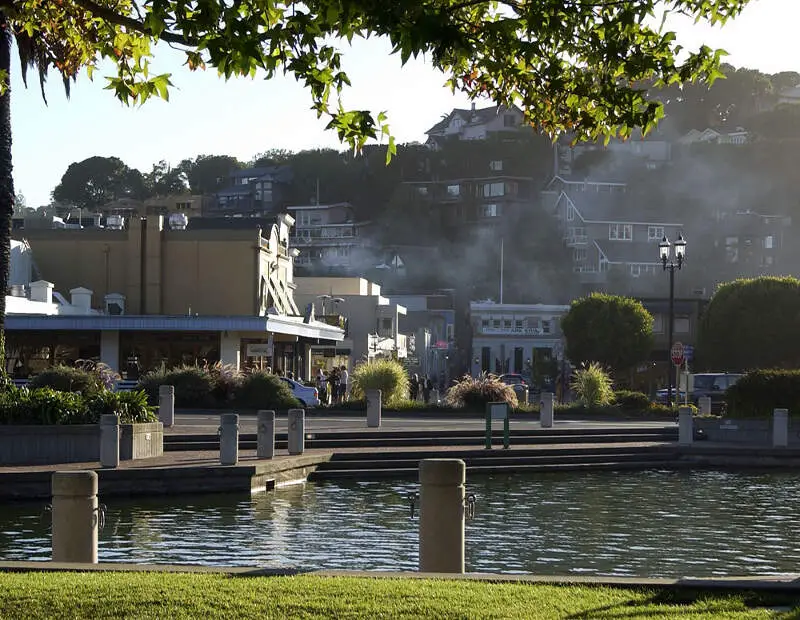 Source: Public domain
It's nearly impossible to beat Tiburon in terms of violent crime. The city of 8,997 recorded exactly 4 violent crimes over 2022.
Meaning you don't have to worry about being attacked when you make an outing to Angel Island, a truly idyllic spot in the San Francisco bay.
The property crime rate in Tiburon wasn't quite as impressive. Still, a 1 in 134 chance of having your stuff stolen or damaged over a year is considerably lower than the national average.
Overall, it's more likely that a seagull will snatch your stuff at Paradise Beach Park than a criminal.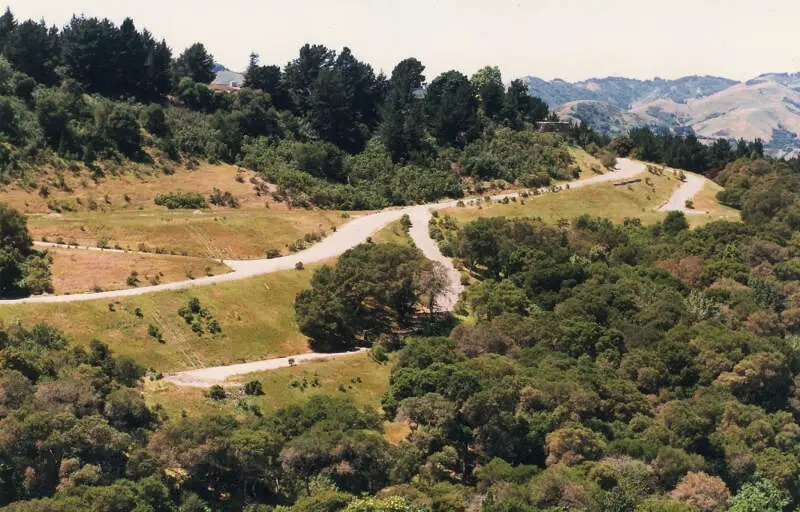 Our next stop on the safe freeway around California is Orinda.
But don't just take our expert word on it -- Orinda was ranked the second most friendly town in America by Forbes.
The city is located just east of the city of Berkeley and is home to many affluent suburban professionals who commute to downtown Oakland, San Francisco, and Walnut Creek.
Its location provides for a more rustic landscape, and Orinda's many parks and trails make it a destination for many Bay Area hikers and naturalists.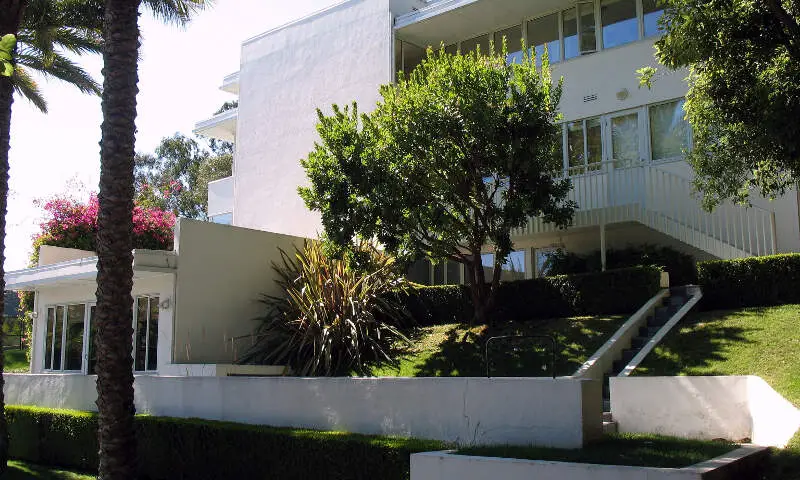 Situated just south of San Francisco, Hillsborough is a town of 10,678 with a penchant for safety. There were only a handful of violent crimes committed in Hillsborough over 2022, giving the town the 11th safest lowest violent crime rate in California.
In other words, you don't have to worry about assailants while you're moseying down the Sawyer Camp Trail, a favorite for local cyclists and hikers.
Additionally, the property crime rate in Hillsborough ranked as the 20th safest lowest statewide. That's fewer than 100 property crimes committed over 2022.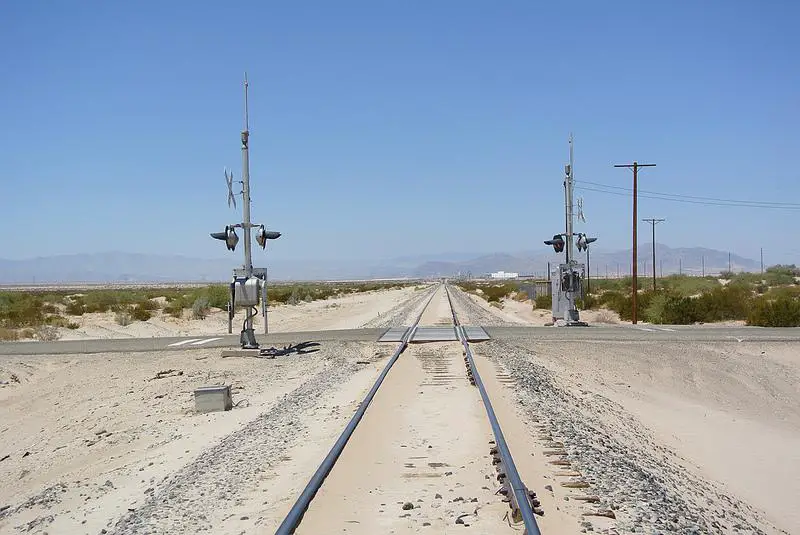 The second best place when it comes to property crime in California goes to Imperial.
Imperial rides that to an overall #1 ranking again this year.
Imperial is a city in Imperial County, California. Imperial is located 4 miles north of El Centro. This region is well known for its abundance of bird species such as dove, quail, ducks, pheasant and geese.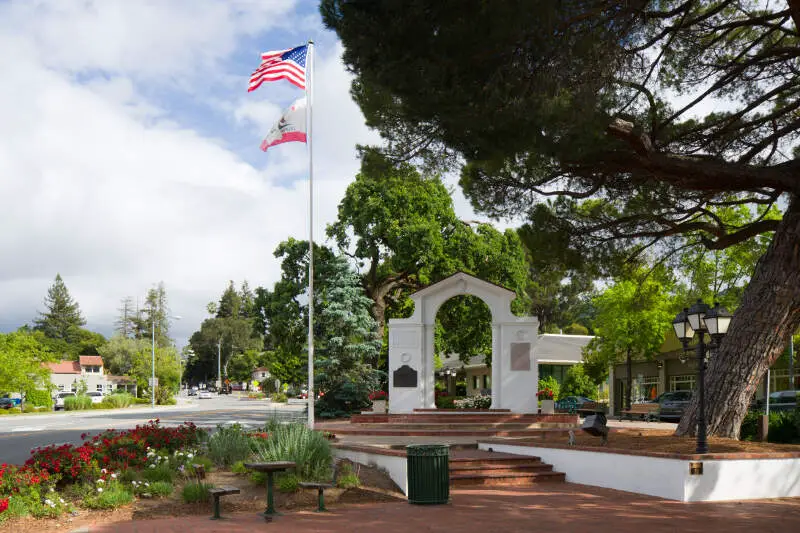 Source: Public domain
Located in Santa Clara County, Saratoga, an affluent community within Silicon Valley, boasts the status as the tenth safest city in California. Despite its modest 29,306, the city has a remarkably low 40/100k people violent crime per capita, with 12 instances of violent offenses such as rape, robbery, and aggravated assaults.
Saratoga's total crime rates are among the lowest in the state with a rate of 856/100k people. Its transformation from a 19th-century milling town to a prosperous part of Silicon Valley parallels its commitment to maintaining safety and security for residents and businesses.
Methodology: How we calculated the safest cities in California for 2023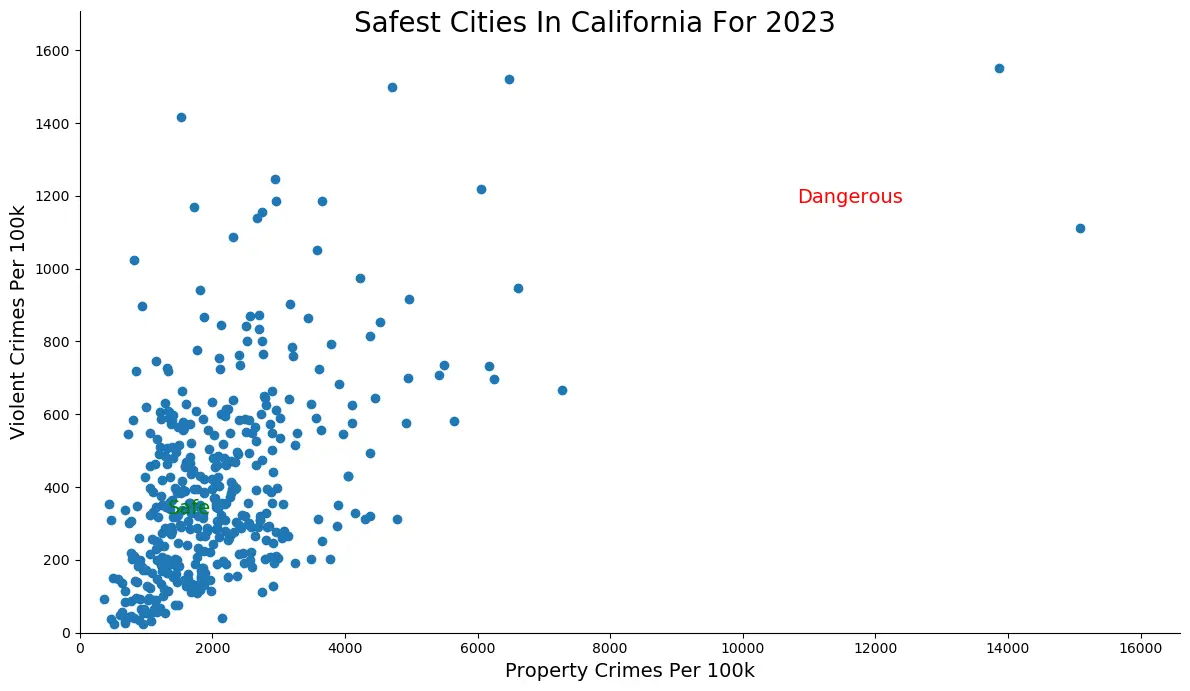 While there are surveys and public polls on what cities in California are the safest, we wanted to rely on something other than speculation and opinion. Instead, we looked at the hard numbers from the FBI's most recent crime report in California.
Specifically, we used Saturday Night Science to analyze the FBI's Uniform Crime Report, which summarizes the number of property and violent crimes in each city annually. We used two criteria:
Violent crimes per capita (murders, assaults, rapes, armed robberies)
Property crimes per capita (thefts, burglaries, motor vehicle thefts)
For example, there were 94 crimes committed in Laguna Woods, with a reported population of 17,249. That means the number of crimes per capita is 0.0054, which translates into a 1 in 183 chance of being the victim of a crime.
We only looked at California cities that have populations of more than 5,000. This filter left us with 421 of the biggest cities in California to rank.
We ranked each city for each criterion from 1 to 421 where 1 in any particular category is the safest.
Next, we averaged each place's two criteria to create a Safety Index. We crowned the place with the lowest overall Safety Score, "The Safest Place In California," with any ties going to the bigger city.
The safest city in California, based on our criteria, is Laguna Woods. The most dangerous city in California? Commerce, where residents had a 1 in 6 chance of being the victim of a crime.
This article has been update for 2023. This report marks our tenth time ranking the safest places to live in California. All the data comes from the FBI's Crime In The USA 2022 report.
Summary: The Safest Cities In The Golden State
Looking at the data, you can tell that Laguna Woods is as safe as they come in California, according to science and data.
But as most California residents would agree, almost every place here has its safe and not safe parts. So just make sure you're informed ahead of time.
Here's a look at the most dangerous cities in California according to the data:
Commerce
Oakland
Emeryville
For more reading, check out:
Breaking Down Crime In The Safest And Most Dangerous Cities In California
Share on Facebook
Chris Kolmar has been in the real estate business for almost ten years now. He originally worked for Movoto Real Estate as the director of marketing before founding HomeSnacks.
He believes the key to finding the right place to live comes down to looking at the data, reading about things to do, and, most importantly, checking it out yourself before you move.
If you've been looking for a place to live in the past several years, you've probably stumbled upon his writing already.
You can find out more about him on LinkedIn.