Article Table Of Contents   
(Skip to section)
What do 1.4 million Hawaii residents know that we don't? Well, besides surfing and hula dancing, Hawaiians know that the Aloha State has some of the best places to live in America.
And lucky for you, HomeSnacks has uncovered the top ten best places to live in Hawaii for 2022.
How'd we do this?
We looked at Hawaii places with 5,000 or more residents. We took into account home prices, household income, education, and safety. Our conclusion, Hawaii is the land of sunshine and rainbows; so any place you choose to call home, will definitely be five star. Not surprising, because we can thank some of Hawaii's best places for Kona Coffee, macadamia nuts, and Hawaiian Airlines. And we can thank the other half for higher education institutions like The University of Hawaii and Chaminade University for educating the future of Hawaii.
So, what does it take to live in Hawaii's best of the best places? We suggest a good job. And probably one of the jobs that are keeping median incomes high and Hawaii's best places to live safe and enjoyable. Those include jobs in the medical field and tourism. More importantly, these jobs are keeping Hawaii's unemployment rate at 2.3% as well as one of the least dangerous states in the country.
We suggest you grab some spam, head to your favorite beach, and read on as we uncover the best of the best places in Hawaii for 2022.
The 10 Best Places To Live In Hawaii For 2022
Picture a cool, urban, Oahu Island city with great parks, gold star schools, and amazing people, and you will know what it's like to live in Hawaii's number one best place.
So, where is the best place to live in Hawaii for 2022? Well, according to the most recent FBI and Census data, that would be Aiea.
To see Hawaii's other best places to live, take a look below. And if you don't find your favorite there, head to the bottom.
If you're looking for something more national, check out the best states in America or the best places to live in America.
For more Hawaii reading, check out:
The 10 Best Places To Live In Hawaii For 2022
Located on O'ahu's south shore 15 minutes northwest of Honolulu, Aiea is the best place to live in Hawaii. Besides being a favorite of consonant-haters, Aiea also has a lot to offer anyone who loves to shop or hike. Pearlridge Center is the second-largest shopping center in the state, and the Aiea Loop Trail supplies magnificent views of the sea and the Wai'anae Range.
Like East Honolulu, you'll want a nest egg or a lucrative job lined up before moving to Aiea, seeing as it's one of the most expensive places in Hawaii. The median rent of $2,193/month is super steep, and the median home price of $846,100 is the 6th highest in the state. Aiea is also the oldest spot on this list, with a median age of 40, so most residents probably do have some substantial savings. If you don't, no worries, because the median household income in Aiea is the 7th highest in Hawaii at $114,961/year.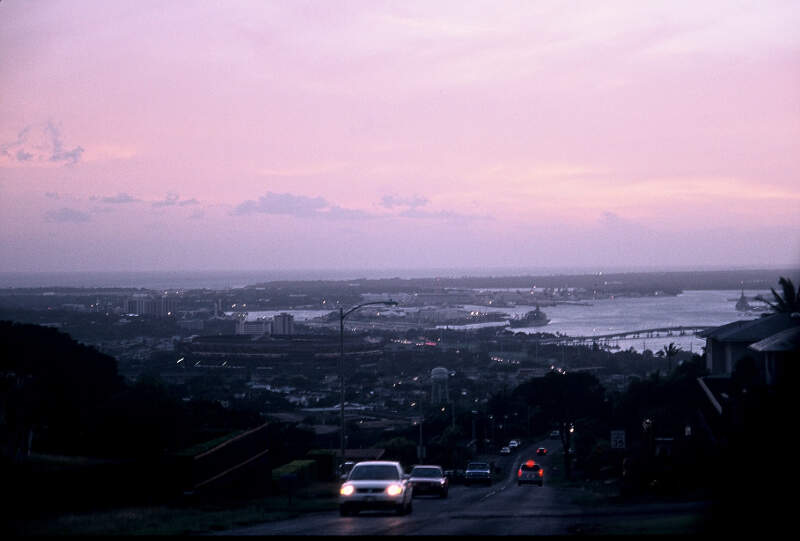 Aloha and welcome to Mililani Mauka, the 2nd best place to live in Hawaii for the second year running. Located smack dab in the center of O'ahu, Mililani Mauka doesn't need to rely on beaches to get the best out of island living. It's the only community in Hawaii to ever be named an All-American City. Folks here know the importance of fresh food; you can take a tour of Mari's Gardens, Hawaii's largest aquaponic and hydroponic farm, or pick up all the best locally-grown produce at the Mililani Farmer's Market.
GreatSchools gave schools in the area an average score of 8.5/10, so you know that students get all the resources they need here. A ridiculously low poverty rate of 2.1% ranks as the lowest in the state and the median household income of $115,551/year ranks as the 5th highest in Hawaii. Housing is kind of pricey, but that's pretty much a given in Hawaii. Homes sell for around $735,700 and a typical rental will set you back around $2,193/month.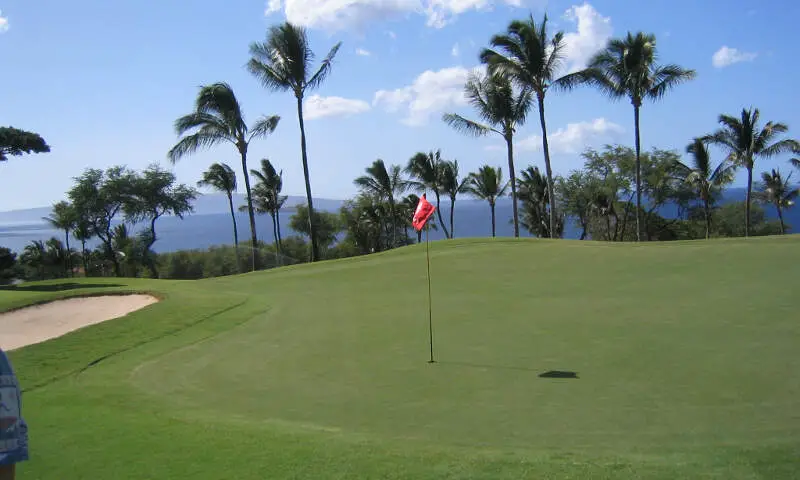 Source: Public domain
A census-designated place located in eastern (duh) Honolulu, East Honolulu is a place jam-packed with entertainment. Everyone who comes here hikes Diamond Head State Monument, a dormant volcano crater with epic coastal views. There's Hanauma Bay for the snorkelers and Pearl Harbor National Memorial for anyone who wants to learn more about the history of the event.
Word to the wise: East Honolulu is far from cheap. The cost of living here is twice as high as the national index, and housing is four times as high. Rent here is among the highest in the state at $2,690/month, and the median home price is the 3rd highest in Hawaii at $968,200. Luckily, East Honolulu is also one of Hawaii's richest cities, with a median household income of $139,487, the highest in the state. Those big paychecks are the result of big brains; over 65% of residents have a college degree, and 25% have a master's degree or higher. Poverty and unemployment rates hover at around 3%, so everyone gets a piece of the pie here. As a bonus, 98.4% of residents have health insurance, the 6th highest rate in Hawaii.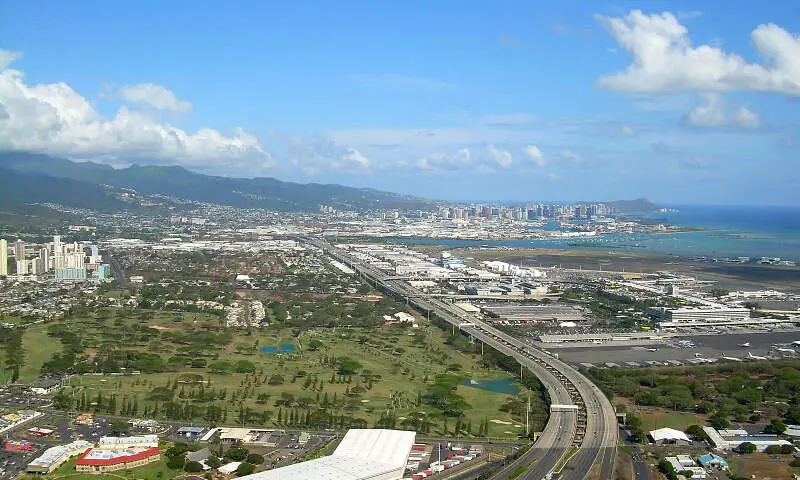 Source: Public domain
Just north of Kaneohe, you'll find the 4th best place to call home in Hawaii, Ahuimanu. High above Kaneohe Bay, you can visit Friendship Garden, a quiet corner of paradise. That's just the sort of thing you'd expect to find in the nicest place in Hawaii. Being the sort of place where neighbors have your back earned Ahuimanu that title.
Ahuimanu's poverty rate of 3.6% ranks as the 6th lowest in the state, and residents earn the 11th highest median household income at $109,750/year. The high school dropout rate in Ahuimanu is the lowest in Hawaii, so you know that the importance of education is instilled in the CDP's youth. While homes are quite pricey, you can find a place to rent in Ahuimanu for $2,132/month, 35% cheaper than the average rent in Hawaii.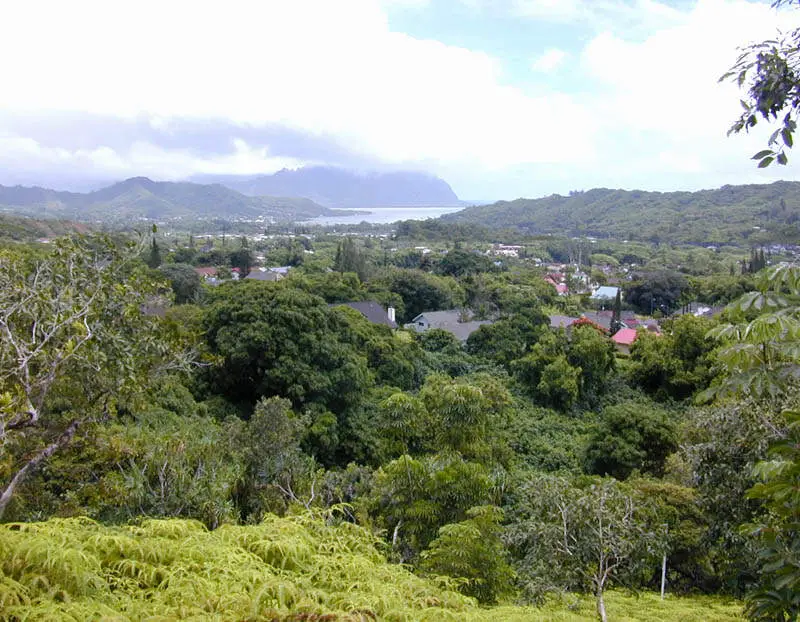 Yet another O'ahu island locale, Kaneohe comes in as the 5th best place to live in the Aloha State. An idyllic little slice of island living at its finest, Kaneohe packs plenty of action into a peaceful setting. Byodo-In Temple is a positively gorgeous and serene place at the foot of the Ko'olau Mountains. The Ho'omaluhia Botanical Gardens has tropical plants from around the world, but if you want to see purely natural beauty, spend some time at He'eia State Park. From there, you can pay a visit to Oahu's only barrier reef at Kaneohe Bay.
Homes in Kaneohe are the 8th priciest in the state at $805,700. Besides housing, though, the cost of living in Kaneohe is on par with the rest of Hawaii. Plus, locals enjoy the 3rd highest median household income in Hawaii at $116,118/year.
West Loch Estate is a CDP about 25 minutes northwest of Honolulu. If you're looking to get out into nature, head over to Kapapapuhi Point Park. And if you have an itch to hit the links, there's a gorgeous golf course in town.
West Loch Estate has an incredibly low poverty rate of 3.7%, which ranks as the 7th best in Hawaii. 99.2% of residents have health insurance, the highest rate statewide. Homes are fairly cheap (again, by Hawaii standards) at $631,000. West Loch Estate is also the 5th most densely populated place in Hawaii, so you'll never be far from the action. Safe streets and good schools are the finishing touches that make West Loch Estate a wonderful place to call home.
Waikele, a census-designated place in Waipahu, comes in as the 7th best place to live in Hawaii for 2022. This region of O'ahu has a rich history of sugar plantations, which you can learn more about at Hawaii Plantation Village. If that sounds boring, just leave whoever you're with and walk down the street to Waikele Premium Outlets, the only outlet center in the state and a shopaholics paradise.
Folks in Waikele are not to be trifled with when it comes time for a pub quiz; about half of the adult population has a college degree, and 15% of residents have a master's degree, PhD, or professional degree to boot. Waikele's poverty rate of 5.5% ranks as the 17th lowest in Hawaii and the unemployment rate here hovers around a measly 2%. Perhaps the best part of Waikele, though, is that it's affordable (by Hawaii standards, at least). While the cost of living is way higher than the national average, it's slightly cheaper than the statewide average. In any case, you won't find cheaper homes anywhere on this list then Waikele's $536,400.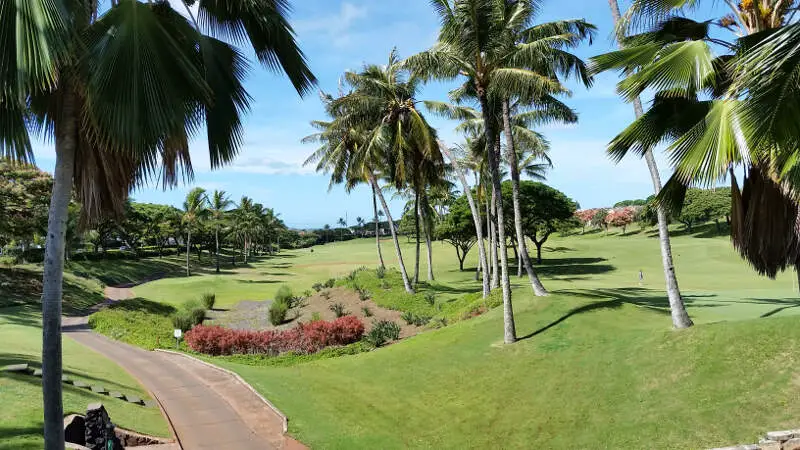 A neighbor of Ewa Gentry, Ocean Pointe comes in as the 8th best place to live in Hawaii. With a median age of 33, Ocean Pointe is the youngest place on our list. The young-uns must be doing something right, because Ocean Pointe is Hawaii's fastest-growing city, with the population exploding by 130% in the past decade. People are attracted by the safe environment, top-quality schools, and great employment opportunities. Poverty and unemployment hover around 4% and a typical household brings home around $118,264/year.
If that all sounds great, but you can't live without working on your golf swing, fear not; there's a great golf course in Ocean Pointe. If golf causes you more stress than it alleviates, you'll probably prefer spending time in the turquoise water at Oneula Beach Park.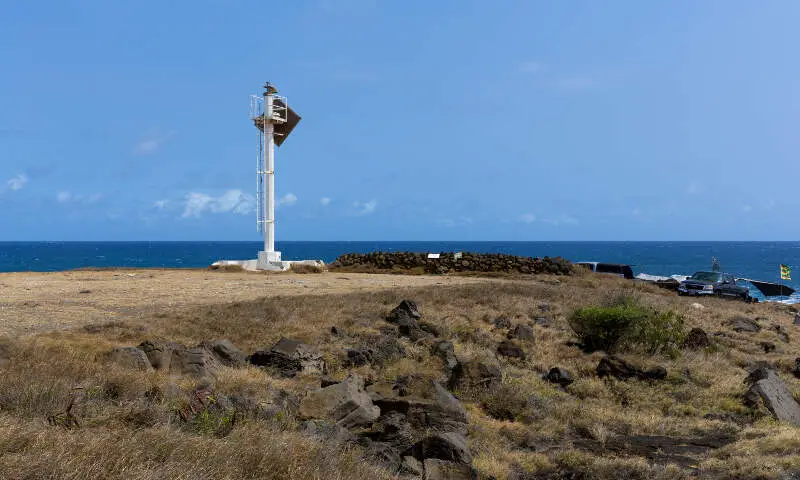 Halawa is located on Oahu about 10 miles northwest of Honolulu. It's also one of the best places to live in Hawaii for 2022.
There's plenty to do in Halawa. While the beach is an obvious choice, you will also find the University of Hawaii Warriors football stadium in town. The town borders Pearl Harbor which offers people that live here great views of the harbor and surrounding area. As a bit of history, the controversial H-3 Freeway that destroyed historical and sacred Kanaka Maoli sites runs through the middle of town.
On the stats side of things, the town ranks as the 7th best in Hawaii for home values, an indicator that people are willing to pay to live in Halawa. The town also ranks well on proxies for things to do — population and population density. And if you ever get bored on a weekend in Halawa you can simply drive down to Honolulu.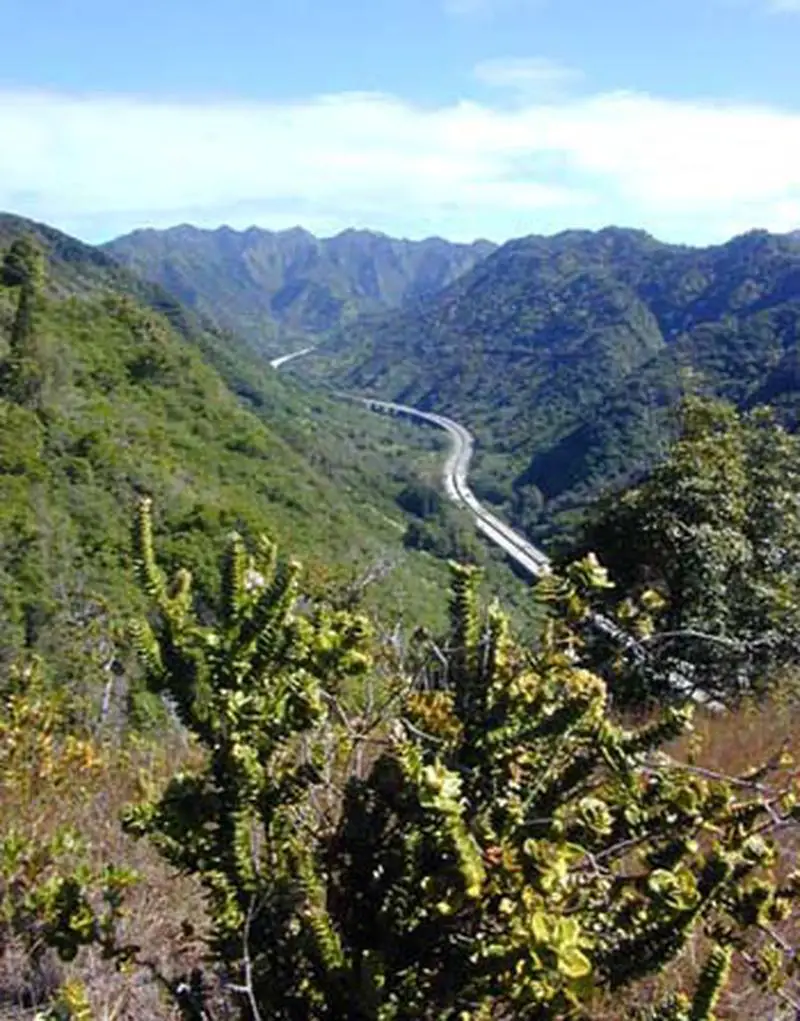 Waipio is another town located on the south-central part of Oahu island. And it's an absolute great place to live as it ranks 10th best in Hawaii.
The views from Waipi'o Valley Lookout are absolutely amazing. In addition to the views, the valley also provides excellent hikes and day trips to take the kids to. You can also take the kids to Kaluahine Falls for a day or simply to the Waipi'o Neighborhood Park.
LIke many of its neighbors on this list, Waipio earns its spot on this list because of a high demand for houses. The population has grown over the past decade and it reflects in home prices. Waipahu High School gets great reviews from parents and review sites alike. So Waipio has something for everyone.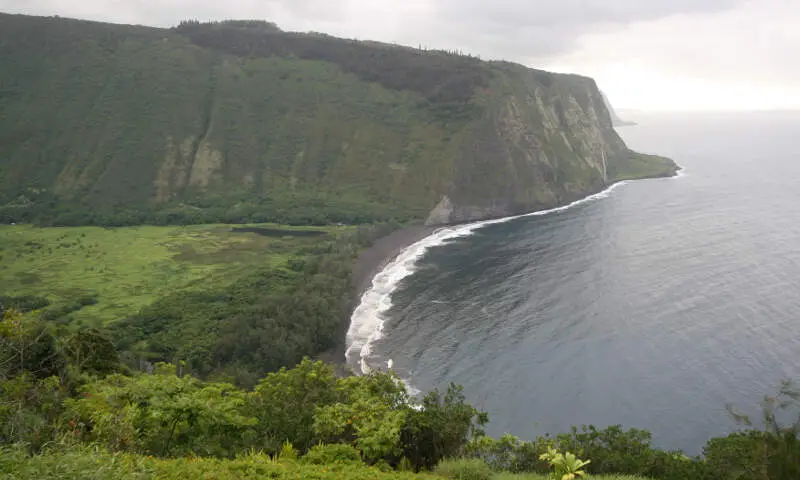 Mapping The Best And Worst Places To Live in Hawaii
The Pressing Question: Size
Before we even started to collect data, we had to answer a tough question: Is it fair to pit Urban Honolulu with a population of 347,181 against places with a population of 18?
We firmly decided no, that just isn't fair.
So to create our ranking, we broke places to live into three tiers:
Cities — Populations over 5,000
Towns — Populations between 1,000 and 5,000
Small Towns — Populations below 1,000
This left us with 45 cities, 62 towns, and 23 small towns.
We then decided, no matter how much anyone loves their town, the best cities to live in Hawaii have more of everything and therefore you need to have over 5,000 people to truly be 'the best'.
Now we also realize that city living might not be your cup of tea, so we ran the following analysis on towns and then again for small towns.
You can see those two top tens at the bottom of the post.
Methodology: How We Calculated The Best Cities To Live In Hawaii
Now that we had our set of cities, it was time to rank them.
We ranked each place in Hawaii across a number of criteria from one to 45, with one being the best.
We then took the average rank across all criteria, with the city posting the lowest overall score being crowned the winner of the title "Best Place To Live In Hawaii".
The criteria we looked at were:
Median Home Values
Median Income
Population Density (Higher better)
Unemployment Rate
Commute Time
Crime
Education Levels
Health Insurance Coverage
Poverty rates
Sources of criteria include the New Census Data and FBI Crime Data. You can download the data here.
After the dust settled, what was the best place to live in Hawaii? That would be Aiea.
If your city or town isn't among the top 10, jump down to the bottom of the post to see a detailed chart of the best places in Hawaii.
Otherwise, buckle up for a ride down good living lane with Aiea at the end of the cul-de-sac.

Summary: The Best Places When It Comes To Living In Hawaii
If you're looking at areas in Hawaii with the best economic situations, where there's lower than average crime, and a lot to do, this is an accurate list.
Aiea made a strong showing to take in the overall number one spot for the best place to live in Hawaii for 2022.
Best Towns To Live In Hawaii
Maunawili (Pop. 2,124)
Heeia (Pop. 4,536)
Puhi (Pop. 3,942)
Kaanapali (Pop. 1,068)
Ko Olina (Pop. 1,691)
Lawai (Pop. 2,152)
Pupukea (Pop. 4,998)
Hanapepe (Pop. 2,687)
Poipu (Pop. 1,057)
Waikapu (Pop. 3,266)
Best Small Towns To Live In Hawaii
Mahinahina (Pop. 902)
Launiupoko (Pop. 463)
Kapalua (Pop. 310)
Kalihiwai (Pop. 303)
Maalaea (Pop. 339)
Puako (Pop. 795)
Kawela Bay (Pop. 274)
Paukaa (Pop. 511)
Waikane (Pop. 621)
Honomu (Pop. 443)
If you're curious enough, here are the worst places to live in Hawaii according to the data:
Nanakuli (Pop. 11,379)
Waianae (Pop. 13,192)
Makaha (Pop. 10,087)
For more Hawaii reading, check out:
Where Are The Best Places To Live In Hawaii?
| Rank | City | Population |
| --- | --- | --- |
| 1 | Aiea | 9,730 |
| 2 | Mililani Mauka | 19,808 |
| 3 | East Honolulu | 47,132 |
| 4 | Ahuimanu | 8,254 |
| 5 | Kaneohe | 33,540 |
| 6 | West Loch Estate | 6,685 |
| 7 | Waikele | 7,246 |
| 8 | Ocean Pointe | 15,688 |
| 9 | Halawa | 13,953 |
| 10 | Waipio | 10,745 |
| 11 | Makawao | 7,989 |
| 12 | Ewa Gentry | 26,358 |
| 13 | Pukalani | 7,689 |
| 14 | Makakilo | 19,565 |
| 15 | Laie | 6,071 |
| 16 | Royal Kunia | 13,857 |
| 17 | Waipio Acres | 5,556 |
| 18 | Lihue | 9,036 |
| 19 | Kapolei | 21,541 |
| 20 | Wailua Homesteads | 6,301 |
| 21 | Kahaluu-Keauhou | 7,258 |
| 22 | Kalaheo | 5,333 |
| 23 | Napili-Honokowai | 6,870 |
| 24 | Urban Honolulu | 347,181 |
| 25 | Waihee-Waiehu | 10,771 |
| 26 | Waimalu | 13,714 |
| 27 | Wailea | 6,239 |
| 28 | Kapaa | 9,961 |
| 29 | Waimanalo | 5,599 |
| 30 | Kula | 6,687 |
| 31 | Ewa Beach | 13,803 |
| 32 | Kihei | 22,749 |
| 33 | Wailuku | 17,523 |
| 34 | Kahului | 29,993 |
| 35 | Haiku-Pauwela | 9,107 |
| 36 | Lahaina | 13,216 |
| 37 | Ewa Villages | 6,452 |
| 38 | Wahiawa | 16,442 |
| 39 | Waipahu | 38,276 |
| 40 | Hilo | 45,248 |
| 41 | Hawaiian Paradise Park | 10,921 |
| 42 | Maili | 12,591 |
| 43 | Nanakuli | 11,379 |
| 44 | Waianae | 13,192 |
| 45 | Makaha | 10,087 |
Editor's Note: We updated this article for 2022. This is our ninth time ranking the best places to live in Hawaii.