Article Table Of Contents   
(Skip to section)
If you've never hiked Newport's Cliff Walk, surfed Westerly's Misquamicut State Beach, or had a fresh plate of clam cakes in Narragansett, then you've not witnessed what the good people of Rhode Island already know; they have some of the best places in America to call home.
Lucky for you, HomeSnacks is handing you the ultimate Rhode Island life hack: we've created a list of the top ten best places to live in The Ocean State for 2022. You should definitely take a look below, there might be some places on this list that surprise you.
But what is not surprising is the gold star quality of life in Rhode Island; and that folks, comes with a price. If you want to live in one of Rhode Island's best places, you're going to have to find a good job. This shouldn't be too hard considering Rhode Island's unemployment rate is 3.3%. Coincidentally, Rhode Island is super safe. It's one of the least dangerous states in the country.
So, want to know where the best places in Rhode Island are to find a good job, the best neighborhood, affordable housing, and Blue Ribbon schools?
We suggest you grab an ice cold Del's Lemonade, find a quiet spot along the Black River in Valley Falls, and read on.
The 10 Best Places To Live In Rhode Island For 2022
Greene
Notables like Taylor Swift and Conan O'Brien have been singing Little Rhody's praises for years; and rightfully so, this New England state has some of the best landscapes, amazing seafood, and friendly people.
However, there can be only one number one best place to live in Rhode Island. What's the best place to live in Rhode Island for 2022? According to the most recent Census and FBI data, the best place to live in Rhode Island would be Kingston.
To see Rhode Island's other best places to live, take a look below. And if you don't find your favorite there, head to the bottom.
If you're looking for something more national, check out the best states in America or the best places to live in America.
For more Rhode Island reading, check out:
The 10 Best Places To Live In Rhode Island For 2022
We begin our tour of the best places to live in Rhode Island with Kingston, a village of 6,407 in the southern part of the state. Home to the University of Rhode Island, Kingston is the youngest city on this list by a wide margin, with a median age of 19. Also owing to URI, Kingston is one of the best-educated places in Rhode Island; over 60% of residents have a college degree, and 25% have a master's degree or higher. With such smart neighbors and stimulating conversation, it's easy to stop and smell the roses in Kingston…or the azaleas, if you head over to Kinney Azalea Gardens.
Workers in Kingston enjoy the 1st shortest average commute time in the state, with the average trip to and from work taking 17 minutes. Even better, residents have the highest median household income in Rhode Island at $112,344/year. Which is good, seeing as the cost of living in Kingston is 10% higher than the statewide average and housing is 30% pricier. Rent in Kingston goes for around $1,545/month and a typical home sells for $372,100.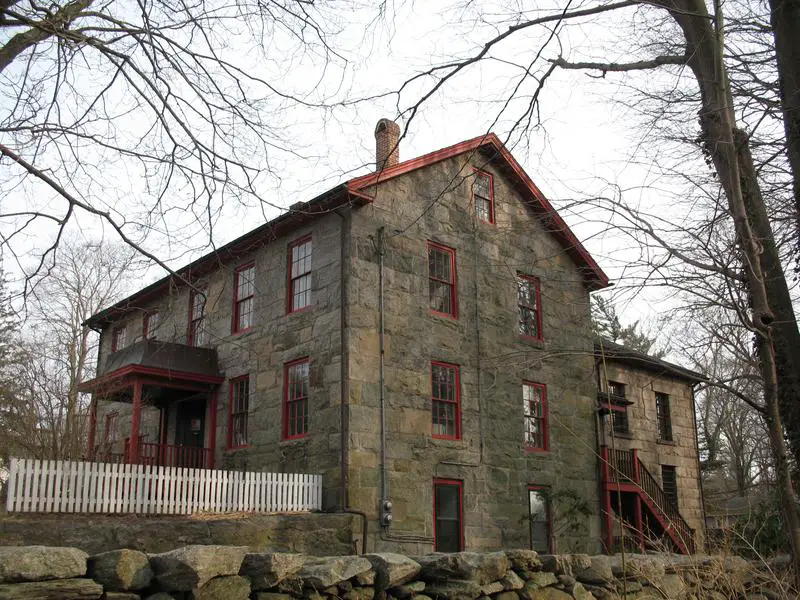 Located in the southeastern part of the state, Narragansett pier is a CDP of 3,487 residents. Known for its fabulous beaches, famous lighthouse, and excellent clamming and surfing, life in Narragansett Pier feels like a full-time vacation. If you're itching for a vacation from your vacation, there's always the option of taking the ferry to lovely Block Island. Of course, all this doesn't come cheap, and Narragansett Pier is the most expensive place in Rhode Island.
With a median age of 56, Narragansett Pier is the oldest place on our list. That doesn't mean residents don't take care of the upcoming generation, though; Narragansett Pier's school district consistently outperforms the statewide average in test scores and graduation rates by a wide margin, so you know you're getting your child off to the right start here. Homes in Narragansett Pier are the 1st priciest in the state at $543,700. If you want to join the roughly 45% of residents who rent, expect to pay around $1,284/month.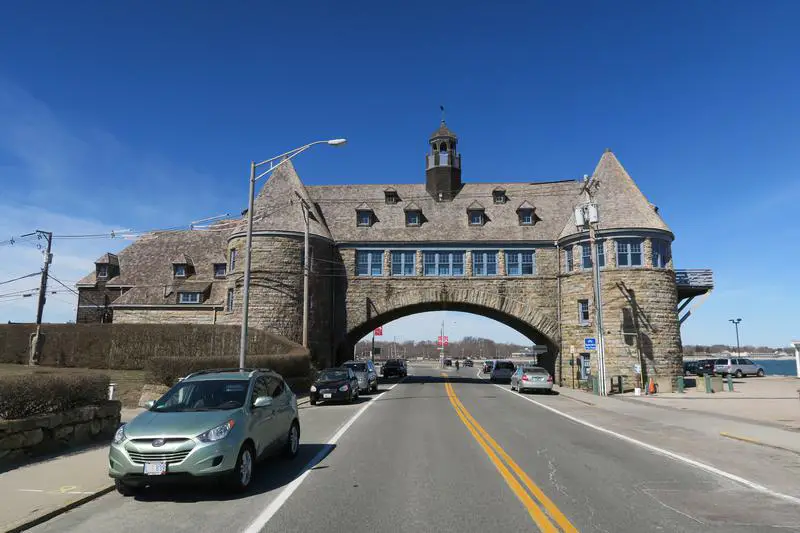 Located in southwestern Rhode Island on the Connecticut border, Ashaway comes in as the 3rd best place to live for the second year running. A small village of 1,444, Ashaway is a tight-knit community. To get out and enjoy nature, we recommend an afternoon at Briggs Memorial Park, but if you're willing to drive 15 minutes, Mystic Aquarium in Mystic, CT is the most entertaining place to visit in the area.
Ashaway is quite affluent; at $103,750/year, the village has the 2nd highest median household income in Rhode Island. That being said, a median home price of $241,200 is actually on the low end for places we'll be covering, so you should be able to pay the mortgage off in no time. When you consider that both property value and income in Ashaway rose by more than 10% in the last year, moving here seems like a safe investment. Don't think that the 1% are laughing it up while the rest of the village's residents struggle, though; Ashaway has an incredibly low unemployment rate of 0.0% and the poverty rate ranks as the lowest in Rhode Island at 1.6%.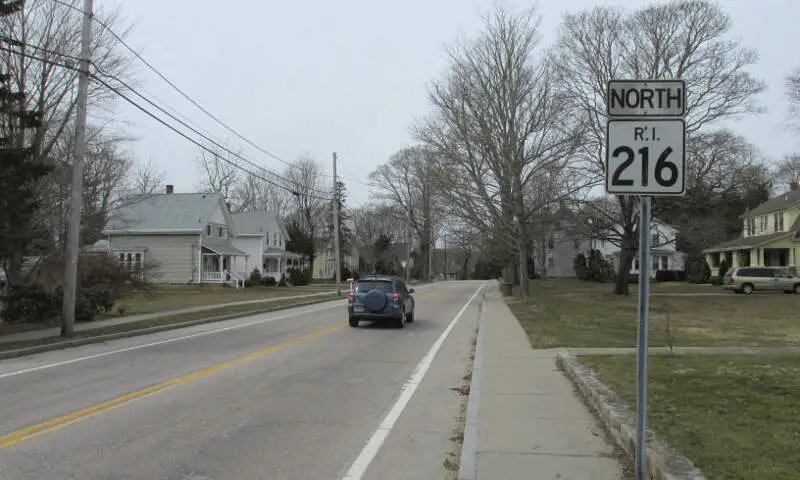 Cumberland Hill, a census-designated place about 20 minutes north of downtown Providence, is the 4th best place to live in Little Rhody. Cyclists appreciate being able to take the Blackstone River Bikeway from Woonsocket to Cumberland, complete with views of the river, marshes, waterfalls, and wildlife. If you're looking for the freshest food in town, look no further than Phantom Farms, where you can pick your own apples or pumpkins, depending on the season, and devour delicious baked goods year-round.
Cumberland Hill may top our list of Rhode Island's richest places, but don't let that scare you; the cost of living here is basically on par with the statewide average. You won't find cheaper rent on this list than Cumberland Hill, where you can find a place to rent for just $958/month, less than half the average rent in Rhode Island. Unemployment in Cumberland Hill sits at a crazy low 0.5%, the poverty rate of 6.4% ranks as the 5th lowest statewide, and 98.0% of residents have health insurance, the 6th highest rate in Rhode Island.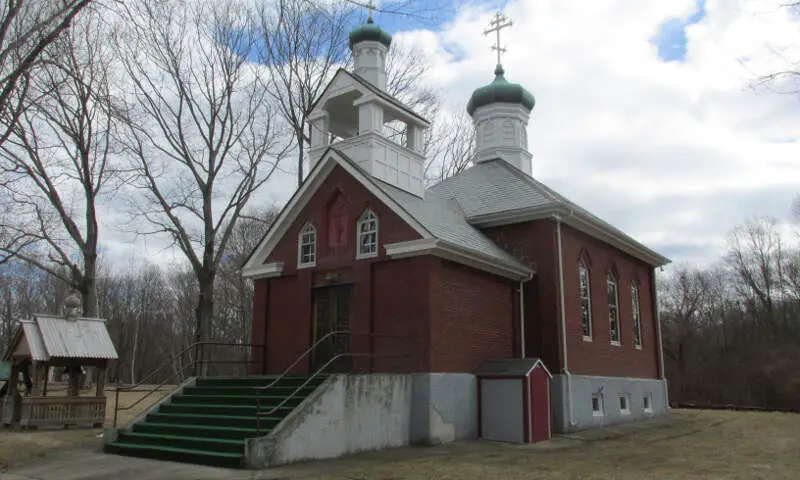 You could say life's a beach in Newport East. The suburban area offers residents more than just multiple ocean access points and proximity to the 50-plus acres of Newport Vineyards. Those perks only amplify the outstanding data that led to the community of 11,289 being ranked the 5th best place to live in Rhode Island.
The world of work is where residents may experience some of the best benefits that come with living in Newport East. The area has the 11th lowest levels of unemployment in Rhode Island, on top of the 3rd shortest commute in the state. Everyone loves less time on the clock and more time at home. However, employers certainly are compensating workers here well for their time given that the median household income is $75,036. And when your home comes with a price tag equivalent to the area's median home value of $356,000, you will want to enjoy every moment in it that you can.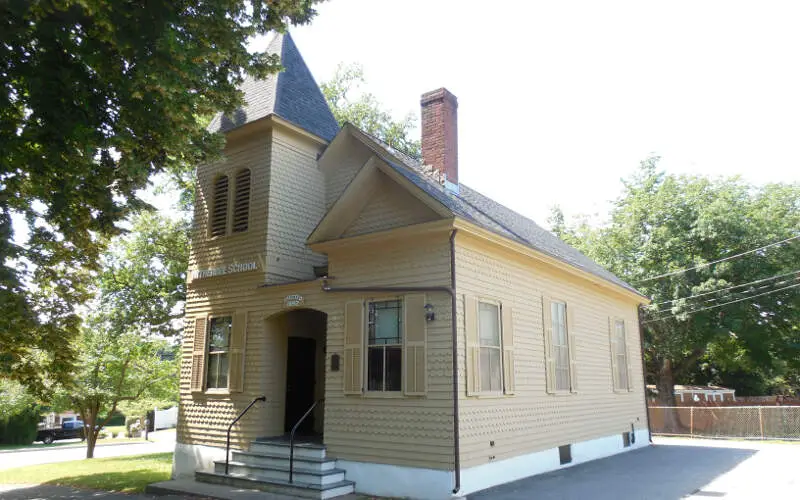 Located just south of Providence and Cranston, Warwick clocks in as the 6th best place to live in Rhode Island. With cultural centers and historical sites, Warwick is a great spot for anyone interested in local artistry or history. Catch some superb waterfront views from Harbor Lights Marina, get out into nature at Goddard State Park, or enjoy the nearly 40 miles of continuous coastline at one of Warwick's beaches. That's not even getting into one of New England's oldest villages, Pawtuxet Village, a coastal hotspot that's becoming a destination for foodies from all over.
You won't find a lower cost of living than Warwick on this list, which is why the city featured so highly on our coverage of the most affordable places in Rhode Island. Warwick's poverty rate of 7.2% ranks as the 9th lowest in the state and the violent crime rate is 75% below the national average.

Source: Public domain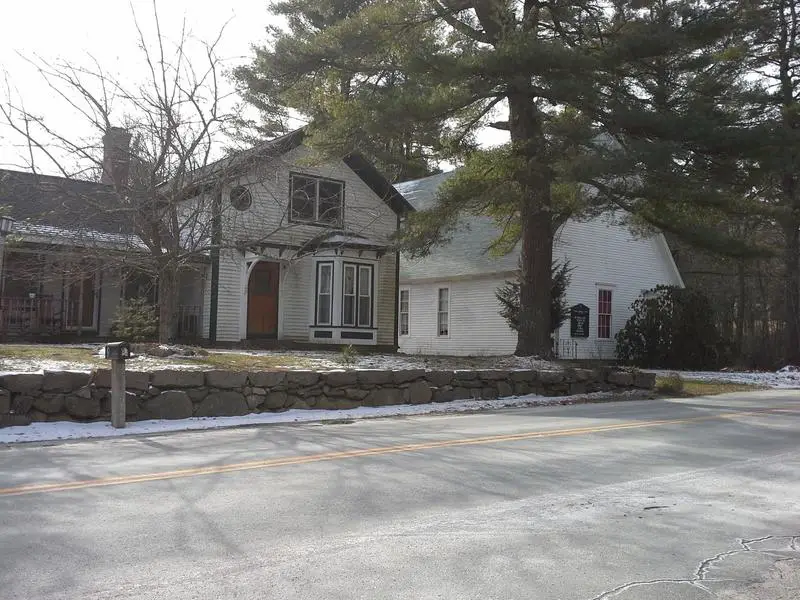 Rhode Island's 2nd biggest city and neighbor of Providence, Cranston ranks as the 8th best place to live in Rhode Island. Cranston already topped our list of the best places for families in Rhode Island, and a lot of those same factors come into play here. Being less than ten minutes from Roger Williams Park Zoo means it's never tough to decide how to spend the weekend with the kiddos, and Cranston's public schools are top-notch. Shopaholics will also find plenty to love at Garden City Center, home to over 60 shops and restaurants.
Cranston's crime rate ranks as the 2nd lowest in Rhode Island, so you don't need to freak out if you forget to lock your door here. Unemployment and poverty are low, and the average commute time of 23 minutes ranks as the 7th shortest statewide. The median household income in Cranston is $74,425/year and a typical home sells for about $257,400.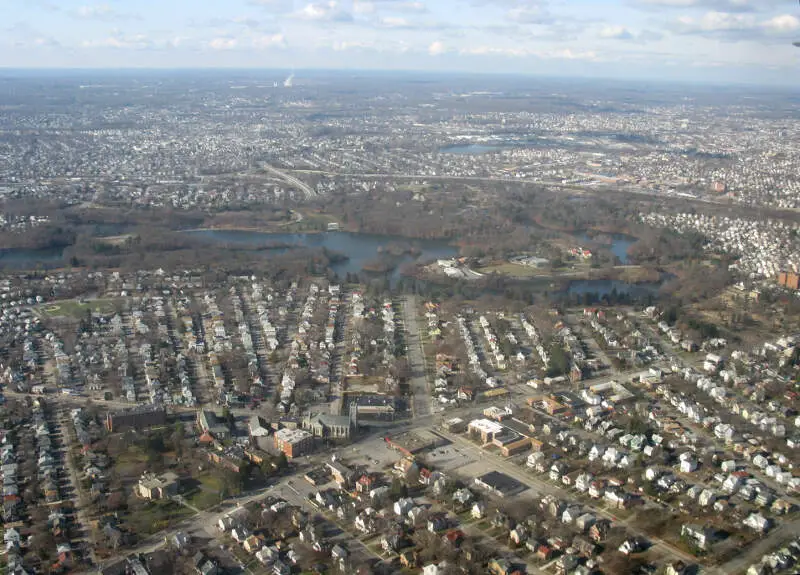 Home to awe-inspiring architecture, fantastic scenery, and a whole lot of charm, Newport is famous for a reason. Sure, it's known for its opulent mansions, but there's a whole lot more going on here than just relics of old money. Take the dramatic Ocean Drive around Newport's perimeter for some awesome views, or hop out of your car at Brenton Point State Park to breathe the ocean air. Newport's Cliff Walk gives enchanting views of the Atlantic and those looking to hit the town will find all the action on Thames Street. Its countless bars, shops, and restaurants contributed to HomeSnacks naming Newport Rhode Island's best city for singles.
Newport has the 2lowest unemployment rate and 2nd shortest average commute time in Rhode Island. On the bad side, while the median household income is one of the lowest on this list at $68,201/year, the cost of living here is about 15% higher than the statewide average. Housing costs outstrip Rhode Island's average by nearly 50%, with rent going for about $1,326/month and homes going for the 2nd highest price statewide at $495,000.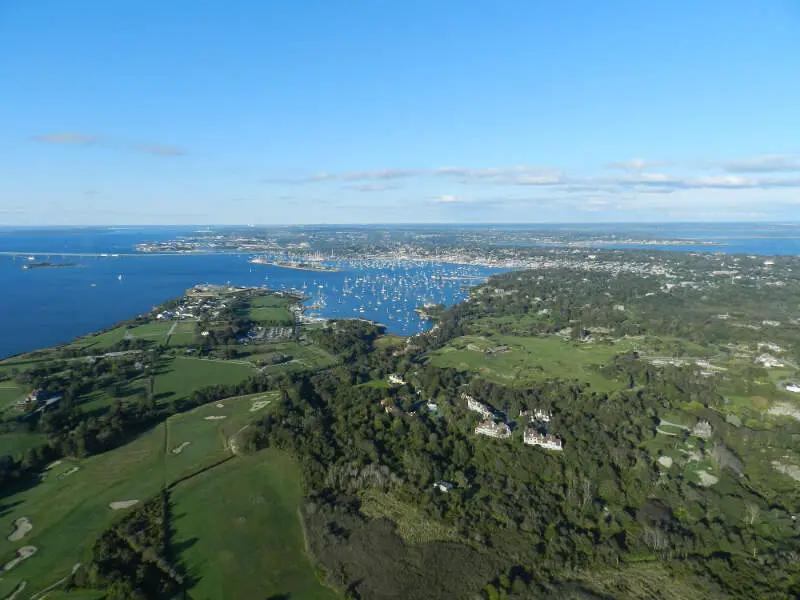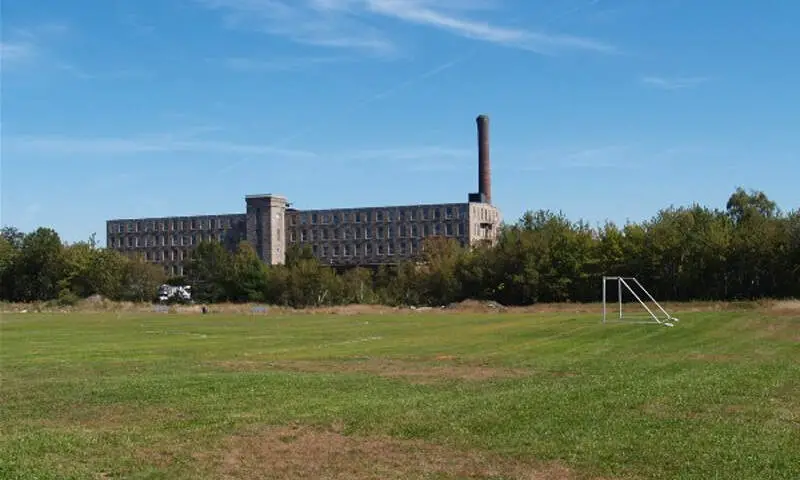 Source: Public domain
Mapping The Best And Worst Places To Live in Rhode Island
The Pressing Question: Size
Before we even started to collect data, we had to answer a tough question: Is it fair to pit Providence with a population of 179,472 against places with a population of 18?
We firmly decided no, that just isn't fair.
So to create our ranking, we broke places to live into three tiers:
Cities — Populations over 1,000
Towns — Populations between 1,000 and 1,000
Small Towns — Populations below 1,000
This left us with 24 cities, 0 towns, and 8 small towns.
We then decided, no matter how much anyone loves their town, the best cities to live in Rhode Island have more of everything and therefore you need to have over 1,000 people to truly be 'the best'.
Now we also realize that city living might not be your cup of tea, so we ran the following analysis on towns and then again for small towns.
You can see those two top tens at the bottom of the post.
Methodology: How We Calculated The Best Cities To Live In Rhode Island
Now that we had our set of cities, it was time to rank them.
We ranked each place in Rhode Island across a number of criteria from one to 24, with one being the best.
We then took the average rank across all criteria, with the city posting the lowest overall score being crowned the winner of the title "Best Place To Live In Rhode Island".
The criteria we looked at were:
Median Home Values
Median Income
Population Density (Higher better)
Unemployment Rate
Commute Time
Crime
Education Levels
Health Insurance Coverage
Poverty rates
Sources of criteria include the New Census Data and FBI Crime Data. You can download the data here.
After the dust settled, what was the best place to live in Rhode Island? That would be Kingston.
If your city or town isn't among the top 10, jump down to the bottom of the post to see a detailed chart of the best places in Rhode Island.
Otherwise, buckle up for a ride down good living lane with Kingston at the end of the cul-de-sac.

Summary: The Best Places When It Comes To Living In Rhode Island
If you're looking at areas in Rhode Island with the best economic situations, where there's lower than average crime, and a lot to do, this is an accurate list.
Kingston made a strong showing to take in the overall number one spot for the best place to live in Rhode Island for 2022.
Best Towns To Live In Rhode Island
Best Small Towns To Live In Rhode Island
Watch Hill (Pop. 167)
Weekapaug (Pop. 402)
Quonochontaug (Pop. 639)
Harmony (Pop. 909)
Carolina (Pop. 754)
Greene (Pop. 728)
Misquamicut (Pop. 416)
Hopkinton (Pop. 450)
If you're curious enough, here are the worst places to live in Rhode Island according to the data:
Providence (Pop. 179,472)
Central Falls (Pop. 19,437)
Woonsocket (Pop. 41,616)
For more Rhode Island reading, check out:
Where Are The Best Places To Live In Rhode Island?
| Rank | City | Population |
| --- | --- | --- |
| 1 | Kingston | 6,407 |
| 2 | Narragansett Pier | 3,487 |
| 3 | Ashaway | 1,444 |
| 4 | Cumberland Hill | 8,515 |
| 5 | Newport East | 11,289 |
| 6 | Warwick | 81,043 |
| 7 | Greene | 1,016 |
| 8 | Cranston | 81,252 |
| 9 | Newport | 24,697 |
| 10 | Tiverton | 7,996 |
| 11 | Westerly | 17,842 |
| 12 | Greenville | 9,114 |
| 13 | Valley Falls | 11,548 |
| 14 | East Providence | 47,442 |
| 15 | Harrisville | 1,284 |
| 16 | Chepachet | 1,673 |
| 17 | Hope Valley | 1,888 |
| 18 | Harmony | 1,195 |
| 19 | Bradford | 1,265 |
| 20 | Pascoag | 4,911 |
| 21 | Pawtucket | 71,821 |
| 22 | Providence | 179,472 |
| 23 | Central Falls | 19,437 |
| 24 | Woonsocket | 41,616 |
Editor's Note: We updated this article for 2022. This is our ninth time ranking the best places to live in Rhode Island.