This article is an opinion based on facts and is meant as infotainment. This is our seventh time ranking the best small places to live in Florida.
Article Table Of Contents   
(Skip to section)
You've seen these lists before: Best places to live in Florida, Most Beautiful Downtowns, etc., etc. But all of them focus on major cities and towns in the Sunshine State and no one pays attention to the little guy.
Well, that's all about to change as we put together a list of the best small towns in Florida based on numbers--not opinions or hearsay.
We'll dive right into our methodology in the next section; but first, we thought you might just want to know which places in Florida ranked the based--you know, based on science.
Before we get to the top 15, here's a look at the 10 Best Small Towns To Live in Florida for 2021.
The 10 Best Small Towns To Live In Florida For 2021
What's the best small town in Florida? Vineyards is the best small town in Florida based on the most recent Census data. If you live in one of these small towns like Vineyards, chances are, you're not surprised. After all, you know how great you have it.
But for the rest of you--keep reading and we'll get to just why these small towns made our list.
For more reading on the Sunshine State check out:
The 15 Best Small Towns In Florida For 2021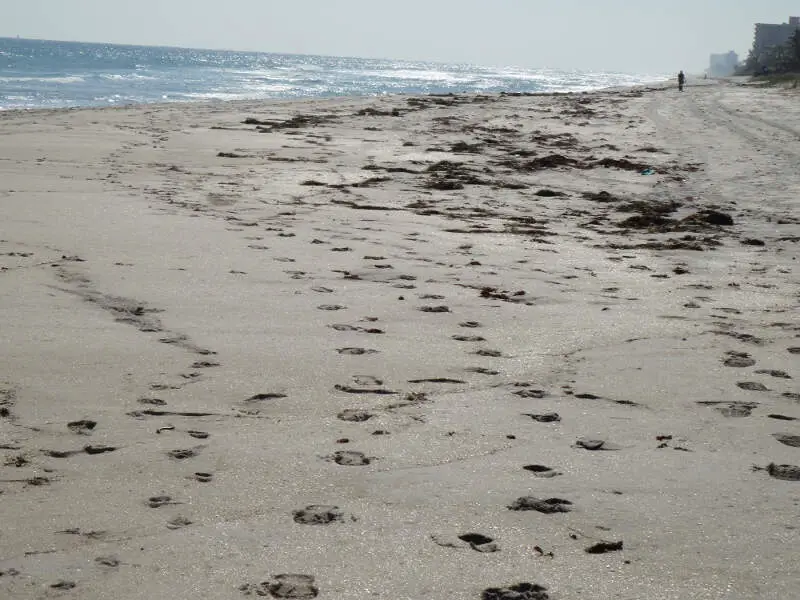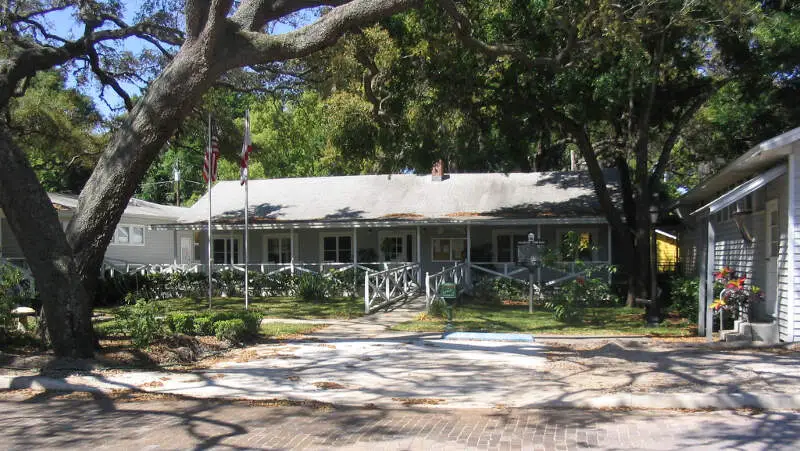 Source: Public domain

How We Determined The Coolest Towns In Florida
We threw a lot of criteria at this one in order to get the best, most complete results possible. Using the most recent data from the Census's 2015-2019 American Community Survey and the Bureau of Labor Statistics, this is the criteria we used:
Population Density (Higher is better)
Lowest Unemployment Rates
Housing costs (Higher is better. More demand.)
Adjusted Median Income (Higher is better)
Highly Educated Adults (Higher is better)
Insurance Rates (Higher is better)
Commute Times (Lower is better)
We looked at places with populations lower than 5,000 people and greater than 1,000, of which, there were a lot - 266 to be exact.
We then ranked each place in each category with scores from 1 to 266, averaged them out, and the lowest scores went to our Best Small Towns in Florida. Top of that list -- Vineyards. You can download the data here.
Keep reading to find out more about our top 15 best small towns in Florida.
Science Can Tackle Any Issue, Even Small Ones
We said it once and we'll say it again -- this list: it's just science. We did the research, we crunched the numbers, and it turns out, these 15 small towns in Florida are the best, in which to live.
And who can argue with that?
If you're curious, here are the worst small towns in Florida:
Inglis
Lacoochee
Montura
For more Florida reading, check out:
Detailed List Of The Best Small Towns In Florida
| Rank | City | Population |
| --- | --- | --- |
| 1 | Vineyards, FL | 3,891 |
| 2 | Bay Hill, FL | 4,909 |
| 3 | Wabasso Beach, FL | 1,775 |
| 4 | Gulf Stream, FL | 1,053 |
| 5 | Highland Beach, FL | 3,885 |
| 6 | Sewall's Point, FL | 2,099 |
| 7 | Indian River Shores, FL | 4,206 |
| 8 | Palm Beach Shores, FL | 1,136 |
| 9 | Melbourne Beach, FL | 3,247 |
| 10 | South Beach, FL | 3,429 |
| 11 | Juno Beach, FL | 3,586 |
| 12 | Windermere, FL | 3,430 |
| 13 | Tierra Verde, FL | 3,437 |
| 14 | Punta Rassa, FL | 1,697 |
| 15 | Belleair, FL | 4,146 |
| 16 | Ocean Ridge, FL | 1,579 |
| 17 | Villano Beach, FL | 2,564 |
| 18 | Redington Shores, FL | 2,176 |
| 19 | Holmes Beach, FL | 4,243 |
| 20 | The Meadows, FL | 4,430 |
| 21 | Atlantis, FL | 1,962 |
| 22 | Indian Shores, FL | 1,189 |
| 23 | Island Walk, FL | 3,112 |
| 24 | North Redington Beach, FL | 1,242 |
| 25 | Hypoluxo, FL | 2,781 |
| 26 | Gotha, FL | 2,041 |
| 27 | Indialantic, FL | 2,865 |
| 28 | Hillsboro Beach, FL | 1,752 |
| 29 | Tiger Point, FL | 3,360 |
| 30 | Three Oaks, FL | 4,281 |
| 31 | Pretty Bayou, FL | 3,293 |
| 32 | Ponce Inlet, FL | 3,230 |
| 33 | Redington Beach, FL | 1,293 |
| 34 | Lake Clarke Shores, FL | 3,600 |
| 35 | Feather Sound, FL | 3,671 |
| 36 | Burnt Store Marina, FL | 2,057 |
| 37 | Sawgrass, FL | 4,841 |
| 38 | Harbor Bluffs, FL | 2,866 |
| 39 | Orangetree, FL | 4,989 |
| 40 | Lely, FL | 3,675 |
| 41 | Belleair Beach, FL | 1,485 |
| 42 | South Palm Beach, FL | 1,296 |
| 43 | Verona Walk, FL | 2,612 |
| 44 | El Portal, FL | 1,969 |
| 45 | Charlotte Park, FL | 2,401 |
| 46 | Oriole Beach, FL | 1,815 |
| 47 | Butler Beach, FL | 4,716 |
| 48 | Bear Creek, FL | 1,709 |
| 49 | Lochmoor Waterway Estates, FL | 4,163 |
| 50 | Cabana Colony, FL | 2,914 |
| 51 | Lake Mary Jane, FL | 2,572 |
| 52 | Palm Shores, FL | 1,226 |
| 53 | Bay Pines, FL | 3,238 |
| 54 | Big Coppitt Key, FL | 2,825 |
| 55 | North River Shores, FL | 3,874 |
| 56 | Greenbriar, FL | 3,234 |
| 57 | Vamo, FL | 4,564 |
| 58 | Edgewood, FL | 2,899 |
| 59 | Mary Esther, FL | 4,309 |
| 60 | Manasota Key, FL | 1,282 |
| 61 | Oakland, FL | 3,014 |
| 62 | Laguna Beach, FL | 4,504 |
| 63 | Daytona Beach Shores, FL | 4,483 |
| 64 | Tavernier, FL | 2,132 |
| 65 | Indian Rocks Beach, FL | 4,243 |
| 66 | Desoto Lakes, FL | 4,061 |
| 67 | West Deland, FL | 3,970 |
| 68 | San Antonio, FL | 1,286 |
| 69 | Belleair Bluffs, FL | 2,329 |
| 70 | Bal Harbour, FL | 3,004 |
| 71 | Geneva, FL | 2,496 |
| 72 | Lake Belvedere Estates, FL | 4,046 |
| 73 | Lake Sarasota, FL | 4,749 |
| 74 | Mexico Beach, FL | 1,386 |
| 75 | West Bradenton, FL | 4,065 |
| 76 | Crescent Beach, FL | 1,118 |
| 77 | Malabar, FL | 3,061 |
| 78 | Buckingham, FL | 3,958 |
| 79 | Holden Heights, FL | 3,521 |
| 80 | Stock Island, FL | 4,416 |
| 81 | Silver Lake, FL | 1,954 |
| 82 | Mount Plymouth, FL | 4,757 |
| 83 | June Park, FL | 4,669 |
| 84 | Connerton, FL | 4,673 |
| 85 | Madeira Beach, FL | 4,300 |
| 86 | Montverde, FL | 1,633 |
| 87 | Port St. Joe, FL | 3,488 |
| 88 | Biscayne Park, FL | 3,124 |
| 89 | Glencoe, FL | 1,773 |
| 90 | Winter Beach, FL | 2,570 |
| 91 | Howey-In-The-Hills, FL | 1,597 |
| 92 | Chuluota, FL | 2,629 |
| 93 | Navarre Beach, FL | 1,150 |
| 94 | Virginia Gardens, FL | 2,311 |
| 95 | Keystone Heights, FL | 1,581 |
| 96 | Harbour Heights, FL | 3,752 |
| 97 | Alva, FL | 2,952 |
| 98 | Woodlawn Beach, FL | 2,977 |
| 99 | Heritage Pines, FL | 1,945 |
| 100 | Haverhill, FL | 2,319 |