Editor's Note: We updated this article for 2021. This is our seventh time ranking the best places to live in Wyoming.
Article Table Of Contents   
(Skip to section)
Wyoming is best known for its cowboys and cowgirls, the mountains in Jackson, the world's largest rodeo in Cheyenne, and some of the best places in the country to call home.
And lucky for you, HomeSnacks has done the research and created the ultimate guide for finding the best places in the Equality State for 2019.
How did we do it? We consulted the latest Census data on cost of living, median income, and safety, for places with 2,000 or more residents. We discovered that Wyoming has every type of city for every type of person. Big Wyoming has hip millennial cities like Laramie, cowboy/cowgirl cities like Casper, and mountain cities like Hoback are great places to find work, raise families, and just plain enjoy life.
And if that doesn't seal the deal, check out our best states to raise a family and safest states in the country stories: Wyoming crushes the competition. So, whether you're a Sheridan University Bruin fan, or a fan of Wyoming's State Rodeo in Douglas, or just a fan of conservative politics, there's a city in Wyoming for you.
How did we determine the best places to live in Wyoming? Grab a Wyoming Boilermaker and an elk burger in Gillette and read on.
The 10 Best Places To Live In Wyoming For 2021
Wyoming cities are known for their quirky, western culture, iconic rodeos, local flare, and farm to table restaurants. And, don't get us started on their gold star median household income and blue ribbon schools.
Needless to say, it was very difficult to narrow down 29 of Wyoming's best places to live to just ten.
What city is the best place to live in Wyoming for 2021? Well according to the US Census and FBI data we crunched, Cody is the best place to live in Wyoming if you care about home values, low crime, and a high quality of life.
If you're looking for something more national, check out the best states in America or the best places to live in America.
For more Wyoming reading, check out:
The 10 Best Places To Live In Wyoming For 2021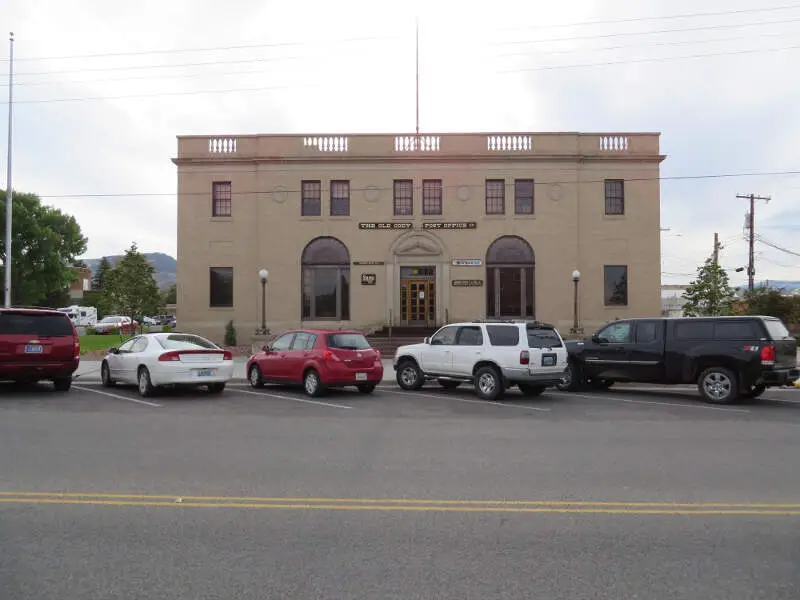 We move from the city where Buffalo Bill had an inn to the city that Buffalo Bill helped found, Cody. Known as the "Wild West way into Yellowstone," Cody is just 50 miles from the east entrance of Yellowstone National Park. If you're looking for a shorter day-trip out in nature, there's also Shoshone National Forest and Buffalo Bill State Park in the area. But if you want a blast from the past, head to Old Trail Town, an authentic frontier town with buildings from the 1890s.
Cody might have a rollicking, rough and tumble cowboy past, but today it's quite safe. The unemployment rate ranks as the 3rd lowest in Wyoming at 1.3%. The student-teacher ratio in Cody's schools is a solid 12:1, and test scores are much higher than the statewide average. The median age in Cody is 43, making it the oldest city on this list. Hate the drive to and from work? Well, at an average of 13 minutes, folks in Cody enjoy the 6th shortest commute time in Wyoming.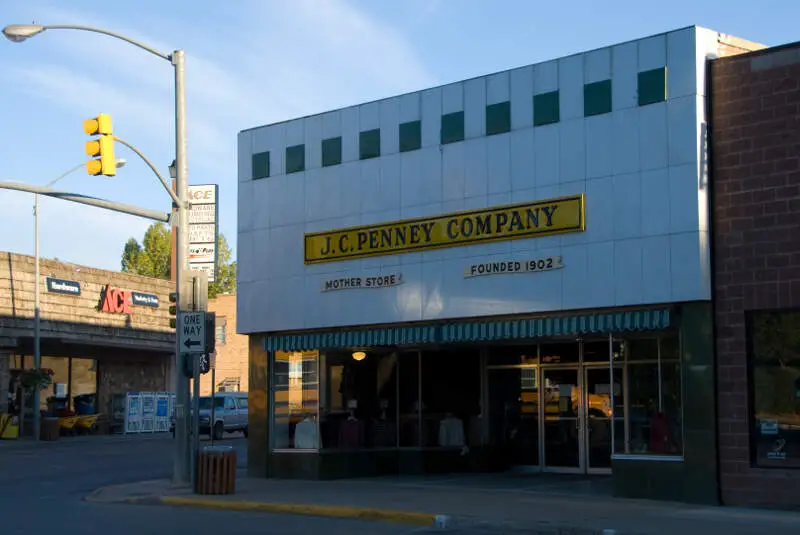 We begin our tour of the best places to live in Wyoming with Kemmerer, the hub of activity for southern Lincoln County. Known as "The Fossil Capital of the World," Kemmerer has loads of opportunities for the aspiring archaeologist, or just chances to hike through dead dino land at Fossil Butte National Monument. Kemmerer even has a festival dedicated to fossils. If you want an event dedicated to livelier pursuits, Kemmerer also hosts the Oyster Ridge Music Festival, Wyoming's largest free music festival.
With its dinosaurs galore, it's no wonder that Kemmerer topped our list of the best cities for families in Wyoming. It also helps that the crime rate in Kemmerer is roughly 75% below the national average and ranks as the 2nd in Wyoming. The economy in Kemmerer is also rock-solid, with a sub-1% unemployment rate and the 4th lowest poverty rate in the state at 6.3%. And while the median household income in Kemmerer is the 9th highest in Wyoming at $63,000/year, you won't find cheaper homes on this list than Kemmerer's $165,000.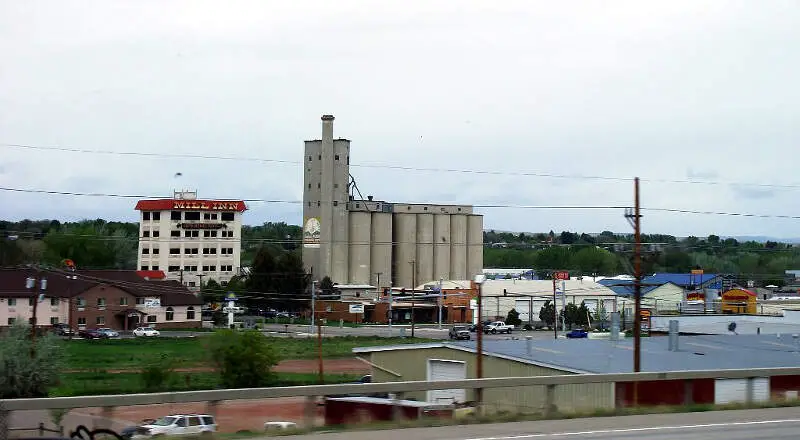 Sheridan is a city of 17,844 in north-central Wyoming with a strong rodeo culture. Anyone with a cowboy fascination will go nuts for King's Saddlery & Museum and their collection of Old West artifacts, and Buffalo Bill's inn is still running in Sheridan to this day. The landscape around Sheridan is simply incredible, with stunning mountainscape views that would make an artist blush. Those who want a closer look and a bit of a workout will find all of the above at Bighorn National Park to the west of Sheridan.
For those moving with a family, know that Sheridan has excellent public schools that trounce the statewide average in test scores and graduation rates. GreatSchools gave the district an average score of 7.5, and two local high schools received College Success Awards. Unemployment in Sheridan is crazy low, and the poverty rate here is the 6th lowest in the state. Homes in Sheridan are the 6th most expensive in Wyoming, but rent is quite affordable at around $821/month.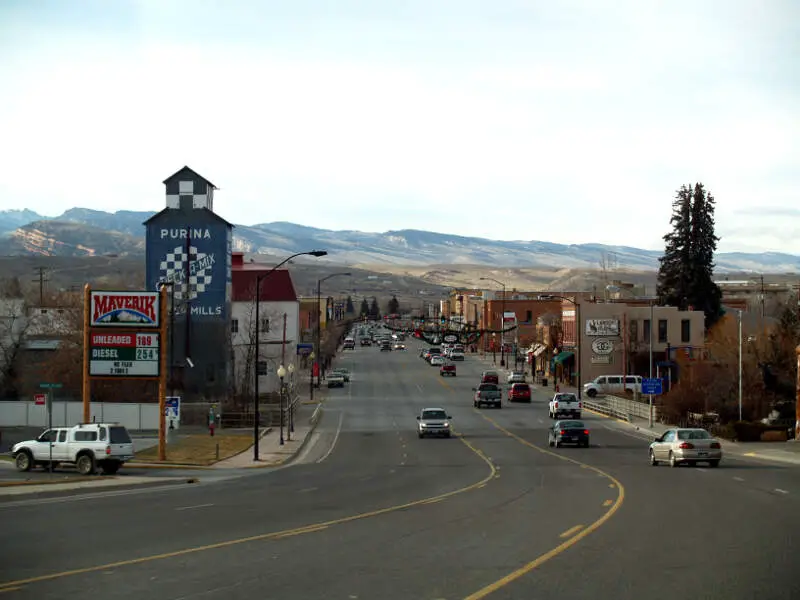 Located in Wind River Country in central Wyoming, Lander is our final stand-out city. Epic rock climbing, hiking, and fishing are all on offer at the city's pride and joy, Sinks Canyon State Park. We just hope you like to party, because between Lander Brewfest, a celebration of local craft brewers, and Riverfest, dedicated to local artists and musicians, there's never a dull moment in Lander. That's part of why Lander is considered one of Wyoming's best cities for singles.
Lander is a truly peaceful place; the city experienced exactly zero violent crimes in the last year of available data. Unemployment is sub-3%, the poverty rate is the 8th lowest in Wyoming, and schools are top-notch. If you want to give Lander a try, rent will set you back around $895/month, but if you want to settle down here for good, a typical home will cost around $215,900.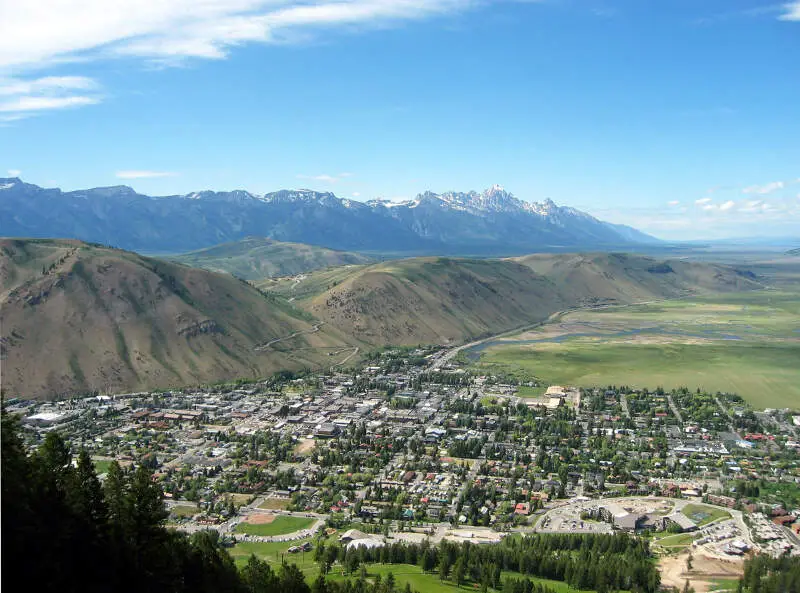 Source: Public domain
Located at the south end of Grand Teton National Park, Jackson is a thriving town with an absolute abundance of recreational opportunities. There's a museum dedicated to wildlife art, but if you'd prefer a closer, realer look at some regional animals, there's also the National Elk Refuge. Nearby Jackson Hole hosts regular rodeos for anyone trying to immerse themselves in cowboy culture. Rendevous Mountain provides some of the toughest skiing in the country, but those just looking to relax within the city limits will find plenty to love at and around Jackson's Town Square.
Before you move to Jackson, you should know that it topped both our list of Wyoming's richest and most expensive cities, so make sure you've got a lucrative job lined up before making the move. A typical household in Jackson brings back $73,411/year, the highest median income in the state. And there are clearly enough opportunities to go around because Jackson ranks among the fastest growing places in Wyoming. Living in Wyoming most densely populated place, having low unemployment and poverty rates, and fantastic local schools are all reasons why people are willing to live with Jackson's higher cost of living.
A northern suburb of Casper, Bar Nunn is the 6th best place to live in Wyoming. Being next to the big city comes with some perks, like having sweet museums nearby. There's the Tate Geological Museum for those interested in gaining mammoth amounts of information, while the National Historic Trails Interpretive Center is a must-visit for anyone who wants to learn how to avoid dying next time they play the Oregon Trail video game.
The median age in Bar Nunn is a young 29, so expect a lot of fresh ideas in this vibrant community. The poverty level in Bar Nunn is a measly 2.6%, the lowest in Wyoming. Bar Nunn's median household income of $95,529/year ranks as the highest statewide. Which is good, when you're paying the 2nd highest price for a home anywhere in Wyoming.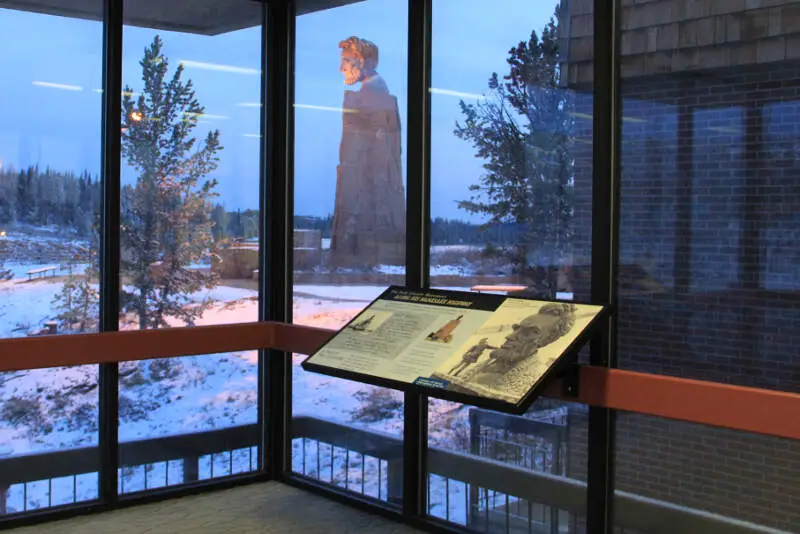 Source: Public domain
Located about 50 miles west of Cheyenne, Laramie comes in as the 7th best place to live in the Cowboy State. Laramie is the youngest city to make this list, with a median age of 25. That's because Laramie is the home of the University of Wyoming, which also explains why around half the population have a college degree and over 20% have a master's degree, PhD, or professional degree. Laramie's downtown is delightful mix of of sophisticated shops and restaurants alongside down-home dives that provides opportunities for endless exploration. Those more comfortable out of the big city lights will find the cure at nearby Medicine Bow National Forest.
Laramie's dedication to education isn't just about the university; the high school dropout rate in Laramie is the 8th lowest in Wyoming. Laramie workers enjoy the perk of having the 3rd shortest average commute time in the state at 11 minutes. And it's unlikely you'll get carjacked on your trip, because Laramie is one of Wyoming's safest cities, with a crime rate 50% below the national average.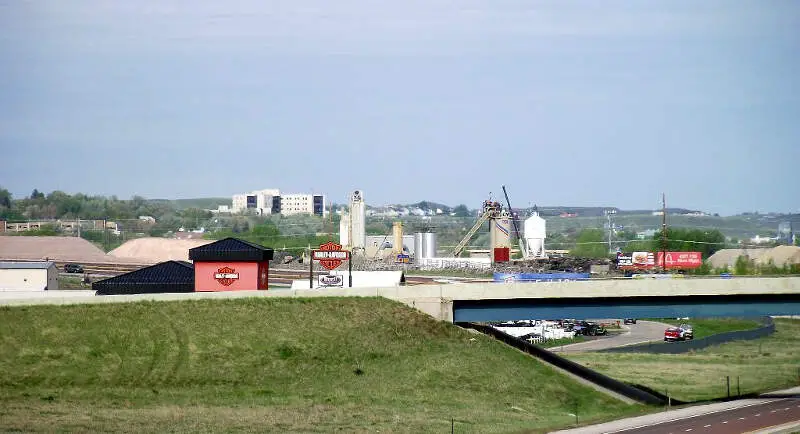 Gillette, Wyoming, has earned the name "Energy Capital of the Nation." It sits in the northeast section of the state, in the middle of one of the most productive coal and gas regions in the U.S. With this major industry to sustain it, Gillette also holds the distinction as the number 8 best place in Wyoming to put down roots.
At 32,857 residents, Gillette represents a major population center in Wyoming, the 3rd biggest city in the state. The booming energy sector props up the local economy. The median income in the area stands at $79,789, Wyoming's 3rd best figure. The median home value sits at $216,400 and the unemployment rate hovers at 3.3%.
The crime rate in Gillette is low and the cost of living is around the national average. The local schools have a rating of 7/10 from Great Schools.
Straddling I-90, a major travel corridor in the state, Gillette represents a key regional hub. It's also centrally located for some of eastern Wyoming's most beautiful natural splendors. If you're in town, you can head over to the Campbell County Rockpile Museum.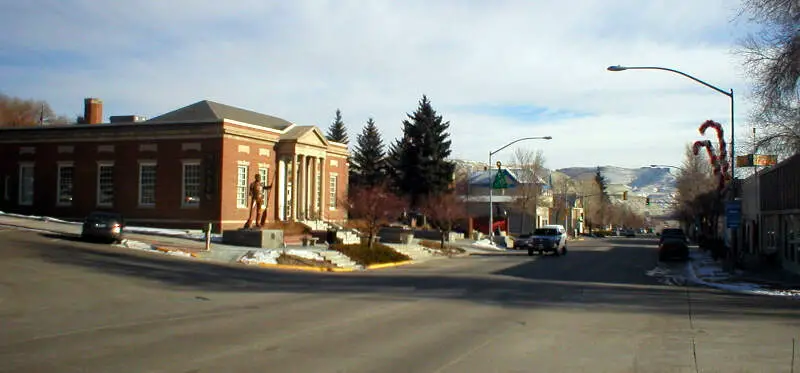 Outside of Wyoming, a town of 12,069 people would seem pretty small. But that population makes Green River the 7th biggest communities in the state. Thanks to a thriving mining industry and a prime location in the southwestern part of the state, the area also ranks as one of Wyoming's best places to live.
Founded as a railroad town in the 1860s, Green River's economy is now propped up by the mining industry. At the same time, it forms an important travel hub. I-80, which follows the path of the first transcontinental railroad, passes right through town.
Bolstered by these economic assets, residents of Green River have the 5th highest level of median income in Wyoming, with a figure of $75,087. The median home value comes in at $213,800.
If you're in Green River, prepare to be overwhelmed by the region's gorgeous geological formations, including the imposing Castle Rock. Rocks not your thing? Try Green River's Flaming Gorge Days, a music and sports festival that takes place every June.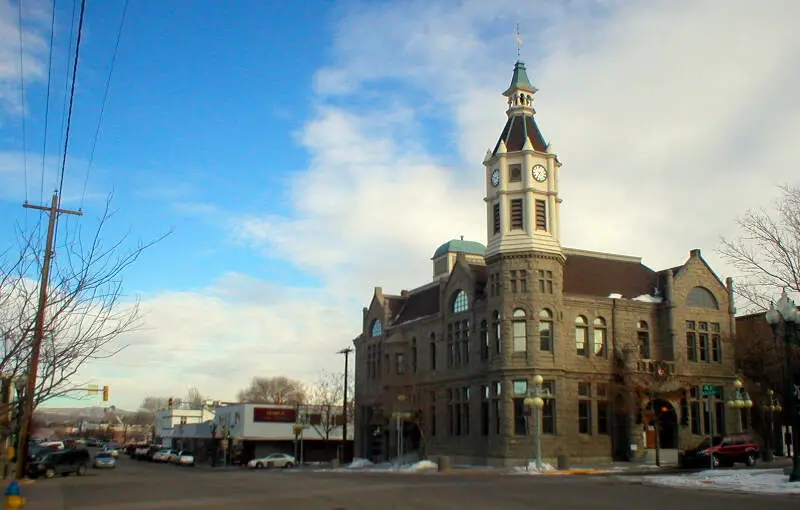 When you think of international cities, places like New York or San Francisco likely come to mind. How about Rock Springs, Wyoming? Well, this town of 23,319 people in southwest Wyoming is known as the Home of 56 Nationalities. It earned that name because of the wide array of people who came to settle in the region.
This diversity help makes Rock Springs the number 10 home town in the state.
The area gets a boost from its strong economy (the main reason all those 56 nationalities showed up in town in the first place). Bolstered by a strong energy industry, Rock Springs sports the 4th highest median income in Wyoming, with a figure reaching $76,722. The median home value sits at $211,800 and the unemployment rate hovers at 4.9%.
The schools in town are excellent, earning above-average scores from Great Schools. Crime is well below the typical U.S. rate and the cost of living sits right at the national average.
Want to learn more about that famous Rock Springs cultural diversity? Check out the local International Day celebration. Or for a change of pace, stick around for Wyoming's Big Show, a showcase for rodeo riders and carnival rides.
Mapping The Best And Worst Places To Live in Wyoming
The Pressing Question: Size
Before we even started to collect data, we had to answer a tough question: Is it fair to pit Cheyenne with a population of 63,607 against places with a population of 18?
We firmly decided no, that just isn't fair.
So to create our ranking, we broke places to live into three tiers:
Cities -- Populations over 2,000
Towns -- Populations between 1,000 and 2,000
Small Towns -- Populations below 1,000
This left us with 29 cities, 25 towns, and 75 small towns.
We then decided, no matter how much anyone loves their town, the best cities to live in Wyoming have more of everything and therefore you need to have over 2,000 people to truly be 'the best'.
Now we also realize that city living might not be your cup of tea, so we ran the following analysis on towns and then again for small towns.
You can see those two top tens at the bottom of the post.
How We Calculated The Best Cities To Live In Wyoming
Now that we had our set of cities, it was time to rank them.
We ranked each place in Wyoming across a number of criteria from one to 29, with one being the best.
We then took the average rank across all criteria, with the city posting the lowest overall score being crowned the winner of the title "Best Place To Live In Wyoming".
The criteria we looked at were:
Median Home Values
Median Income
Population Density (Higher better)
Unemployment Rate
Commute Time
Crime
Education Levels
Health Insurance Coverage
Poverty rates
Sources of criteria include the New Census Data and FBI Crime Data. You can download the data here.
After the dust settled, what was the best place to live in Wyoming? That would be Cody.
If your city or town isn't among the top 10, jump down to the bottom of the post to see a detailed chart of the best places in Wyoming.
Otherwise, buckle up for a ride down good living lane with Cody at the end of the cul-de-sac.

Wrapping Up The Best Places When It Comes To Living In Wyoming
If you're looking at areas in Wyoming with the best economic situations, where there's lower than average crime, and a lot to do, this is an accurate list.
Cody made a strong showing to take in the overall number one spot for the best place to live in Wyoming for 2021.
Best Towns To Live In Wyoming
Rafter J Ranch (Pop. 1,466)
South Park (Pop. 1,557)
Sleepy Hollow (Pop. 1,080)
Moose Wilson Road (Pop. 1,736)
Antelope Valley-Crestview (Pop. 1,498)
Vista West (Pop. 1,016)
Dayton (Pop. 1,008)
Marbleton (Pop. 1,357)
Mountain View (Pop. 1,333)
Sundance (Pop. 1,310)
Best Small Towns To Live In Wyoming
Taylor (Pop. 60)
Hyattville (Pop. 55)
Hill View Heights (Pop. 58)
Brookhurst (Pop. 183)
Grover (Pop. 283)
Fairview (Pop. 488)
Casper Mountain (Pop. 461)
Elk Mountain (Pop. 172)
Cokeville (Pop. 555)
Hartville (Pop. 74)
If you're curious enough, here are the worst places to live in Wyoming according to the data:
Mills (Pop. 3,919)
Evanston (Pop. 11,848)
Riverton (Pop. 10,891)
For more Wyoming reading, check out:
Where Are The Best Places To Live In Wyoming?
| Rank | City | Population |
| --- | --- | --- |
| 1 | Cody | 9,764 |
| 2 | Kemmerer | 2,747 |
| 3 | Sheridan | 17,844 |
| 4 | Lander | 7,555 |
| 5 | Jackson | 10,553 |
| 6 | Bar Nunn | 2,782 |
| 7 | Laramie | 32,381 |
| 8 | Gillette | 32,857 |
| 9 | Green River | 12,069 |
| 10 | Rock Springs | 23,319 |