Wyoming is home to the Frontier Days' Rodeo in Cheyenne, the Grand Tetons just outside of Jackson, and some pretty nice, pretty affordable places to live.
Ask any Wyomingite, and they will tell you, hands down, that their corner of Yellowstone Country is the best. And while that might be true for most, there are some pretty expensive places in the Cowboy State, and HomeSnacks is here to help you navigate the most affordable places in Wyoming for 2021.
How did we determine the most affordable places in Wyoming? We took a look at the US Census and the cost of living data for the state. We were especially interested in home and rental prices in places with more than 1,000 residents.
The competition was fierce to say the least. Many of Wyoming's most affordable places boast great home prices and safe neighborhoods. Any one of these places would be a great place to enjoy life while saving money. If you choose one of Wyoming's most affordable places, you're going to free up cash for the fun "Wyoming" things to do and see. Like, scoring tickets to the Wyoming State Fair in Douglas or taking a road trip to the Werner Wildlife Museum in Casper.
Want to know more? We suggest you crank some Righteous Vendetta, grab an elk burger in Rock Springs, and keep reading.
Are we surprised that some of Wyoming's most affordable cities are also Wyoming's 41 biggest cities? Not at all. We don't blame the good people of Wyoming for wanting to move to where their dollar goes the furthest.
So, where's the most affordable place to live in Wyoming for 2021? That would be Marbleton.
To see how your city compared, take a look at the list below. And if you don't see you're favorite there, head to the bottom.
And if you already knew these places were cheap, check out some more reading about Wyoming and the cheapest places in the country:
The 10 Cheapest Places To Live In Wyoming For 2021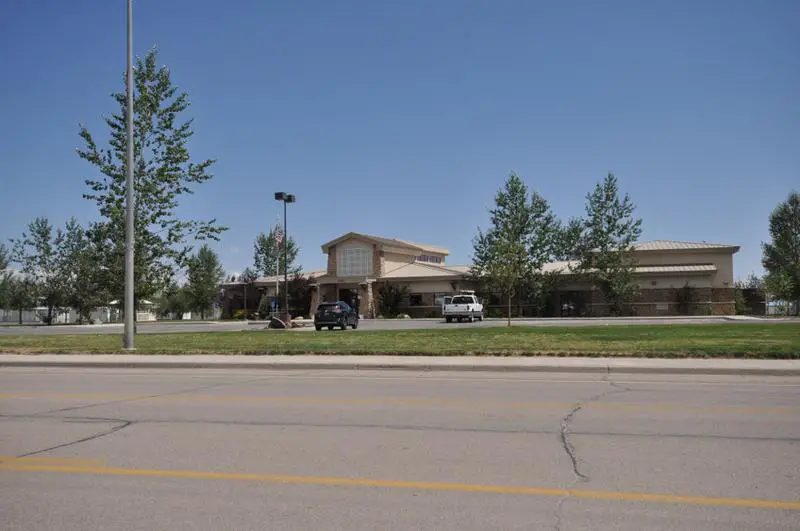 Folks in Marbleton should have no problem believing that they live in one of the states with the cheapest rent in America. That's because, with a median price of $752 and a median income of $73,542, Marbleton residents pay the second smallest portion of their salaries on homes statewide. Thanks to a median income 15% higher than the Wyoming average, Marbleton is also in the top ten for home price to income ratio, despite having some of the priciest homes on this list.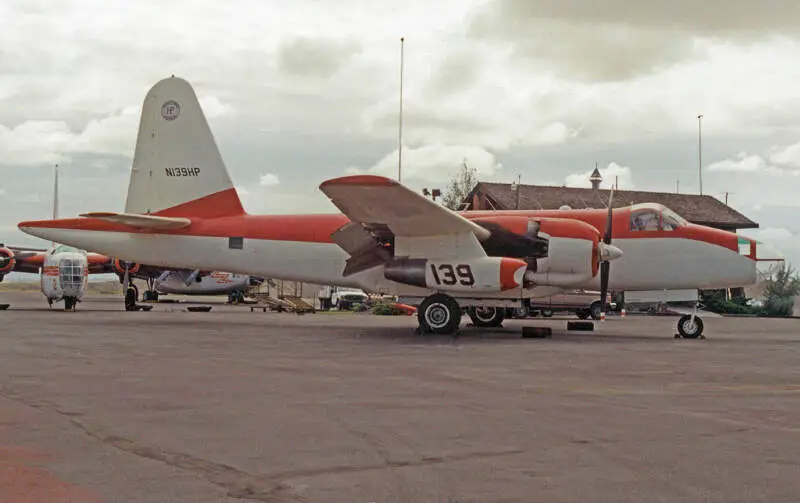 We've all heard that Red Bull gives you wings — well, Greybull gives you savings.
Greybull has the third least expensive homes in Wyoming, with a median price tag of $118,300. More importantly, residents of Greybull pay the third lowest percentage of their income on buying a home, which leaves plenty of money left over to do other things. Like devoting the day to following dinosaur tracks at the Red Gulch Dinosaur Tracksite. On the flip side, Greybull is one of the least economical places to rent on this list, so be sure you're ready to commit to a mortgage before making the move.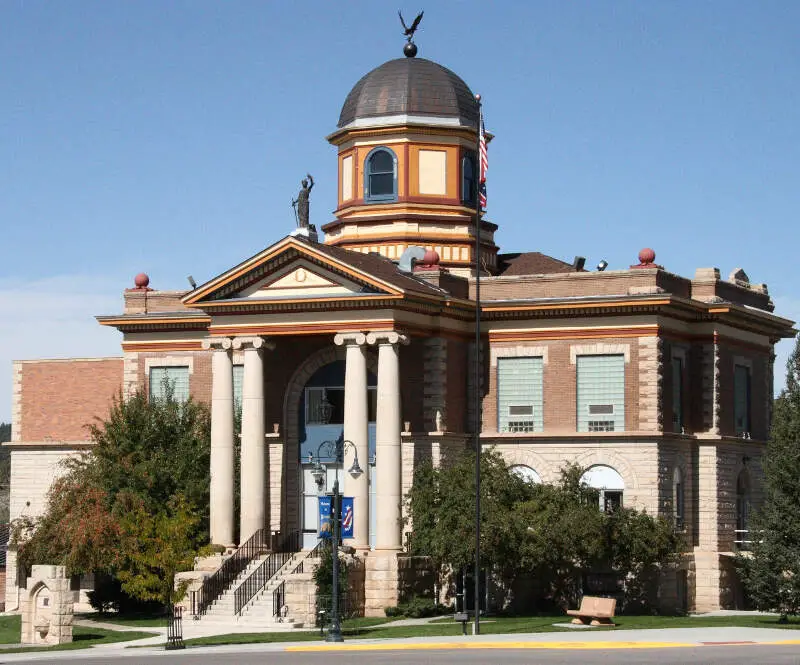 Newcastle ranks as the third least expensive place to live in Wyoming thanks to a combination of a high median income and a low median home price. You can snag a home in Newcastle for only $121,600, the fourth lowest in the state. On top of that, with a median income of $59,535, Newcastle has the second best home price to income ratio in Wyoming. Not to mention that, with some of the best hiking trails in east-central Wyoming, you'll never lack for free things to do in Newcastle.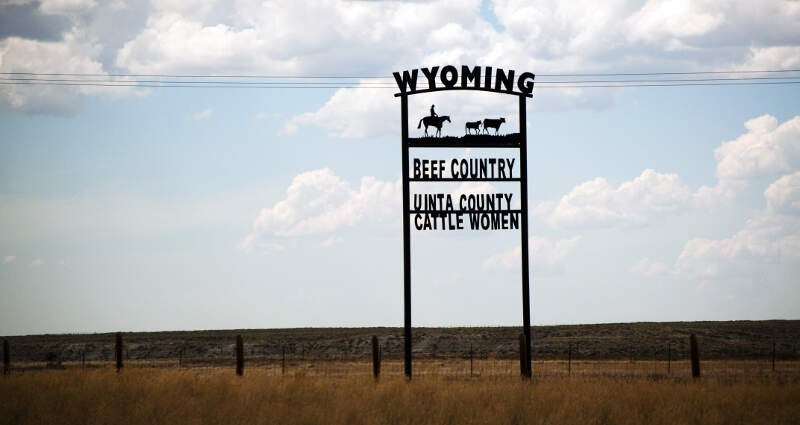 At first brush, you may be confused as to why Lyman scored the #4 ranking on the list of cheapest places to live in Wyoming. I mean, with the second highest median home price on this list, Lyman's not an obvious choice. But when you consider that Lyman is also among the richest places in Wyoming, with a median income of $82,083, things start to make sense. Thanks to the high income of residents, Lyman has the fourth best home price to income ratio and the third best rent to income ratio statewide.
Lyman is in southwestern Wyoming, near the Utah border.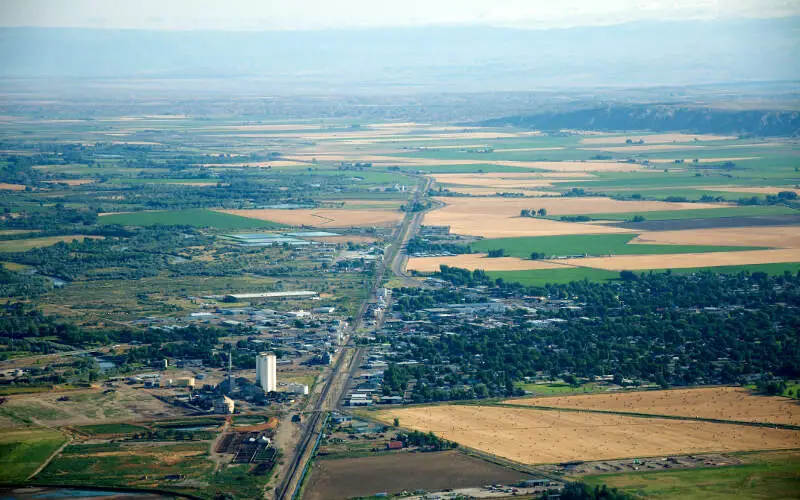 According to the 2021 data, Worland tops our charts for most affordable places to live in Wyoming. Worland has the eighth cheapest homes for sale in the state, with a median price of $145,900. What's more, with a median income of $52,598, Worland residents enjoy the 15th best home price to income ratio in Wyoming. And Worland's not a bad place to rent either; residents pay the tenth smallest percentage of their income on rent statewide. Don't be afraid to take advantage of awesome free things to do here, like hiking the Gooseberry Badlands Scenic Overlook Trail, because Worland is one of the safest places in Wyoming as well.
Worland is located within the Bighorn Basin in north-central Wyoming.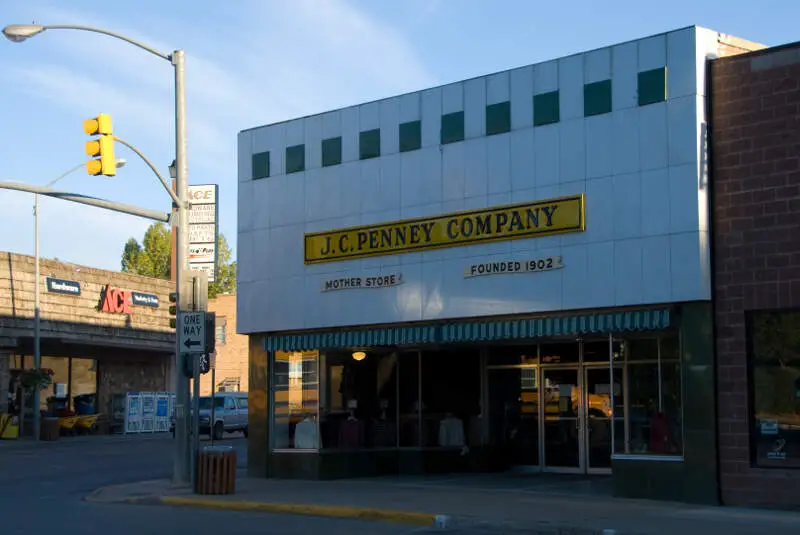 Kemmerer is no stranger to the Homesnacks spotlight; we already named it the best place to raise a family and the best place overall in Wyoming, so you know that this spot ticks all the boxes. The fact that you can get all that for the sixth lowest price in the state is just icing on the cake. If you're a paleontology nerd, you're in luck, because Kemmerer is home to Fossil Butte National Monument and other sites where you can dig for and keep any and all fossils you find.
The median home price in Kemmerer is $165,000 and the median rent is $809/month.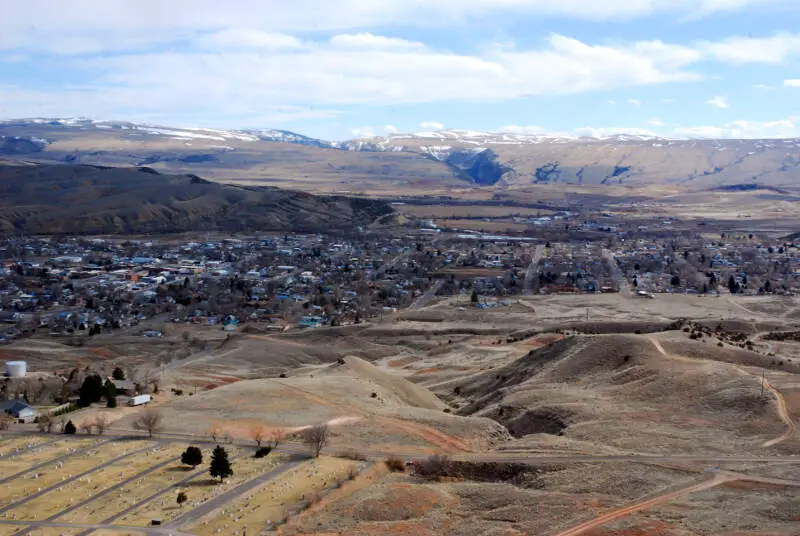 Rounding out our list of most affordable places to live in Wyoming is Thermopolis, a popular destination for locals and out-of-staters alike. Folks from all over come to take a free dip in the 104 degree waters at Hot Springs State Park and to have a look at the Wyoming bison herd as a bonus. That's not all though; for a town of only 2,703 people, trust me when I say there's tons to do in Thermopolis. If you do decide to settle down in Thermopolis, a home will set you back about $138,900, the sixth cheapest in the state. What's more, you'll have the eighth best home price to income ratio in Wyoming.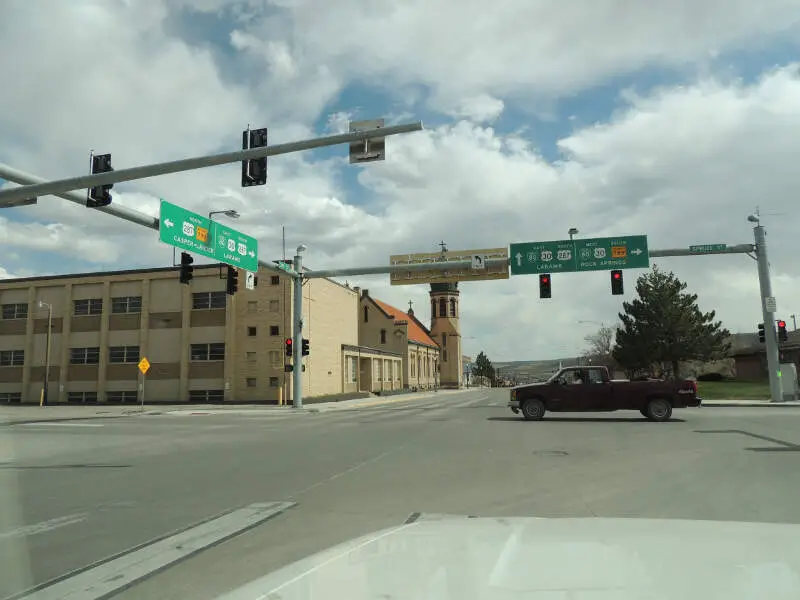 Rawlins comes in as the eighth cheapest place to call home in the Cowboy State for 2021. Rawlins is home to the Wyoming Frontier Prison, now a museum detailing the grizzly past of the old west. Those days are far behind Rawlins, though. Now it's just the place with the 11th best home price to income ratio in Wyoming. With more than a quarter of the population being Hispanic, Rawlins is also the most diverse city in Wyoming.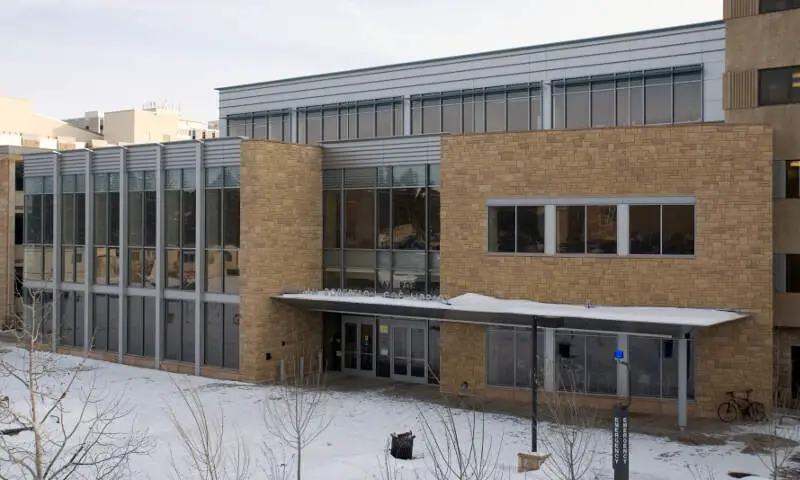 It's easy to make the right money moves in Wright, the ninth cheapest place in Wyoming. While Wright is the only city on this list to have a median rent over $1,000/month, a high median income of $80,083 keeps Wright's rent to income ratio pretty solid. Not to mention that Wright's unemployment rate is under 1%, so you should have no trouble getting in on the good times. The median price of a home in Wright is $187,500, which combined with the aforementioned high median income, gives Wright the fifth best home price to income ratio in the state. We just hope you're a Christmas person if you're moving to Wright, because the annual Festival of Lights celebration is the largest holiday lights festival in Wyoming.
Wright is 45 minutes south of Gilette.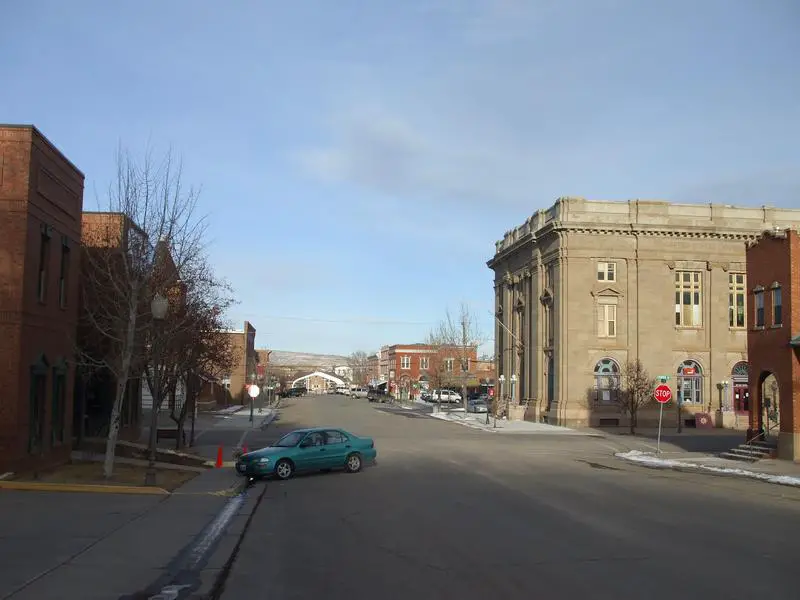 Evanston sits along I-80 in the far eastern part of Wyoming. Another hour and a half down the road and you'll get to Salt Lake City, Utah. Evanston provides more than a good place to stop for gas as you travel cross country. It also offers its 11,848 residents excellent value as the number 10 cheapest place to live in Wyoming.
In fact, Evanston boasts the 14th lowest median home price in the state, with a figure that hovers at $169,400. You'll get a good deal on an apartment as well. Median rents in the area come in at $676. Generally speaking, the cost of living is about 90% of the U.S. average.
Taking a look at other economic measures, the median income in town is $58,566. The unemployment rate stands at 7.51%. The crime rate is about 25% below the national standard.
How We Determined The Most Affordable Places To Live In The Equality State For 2021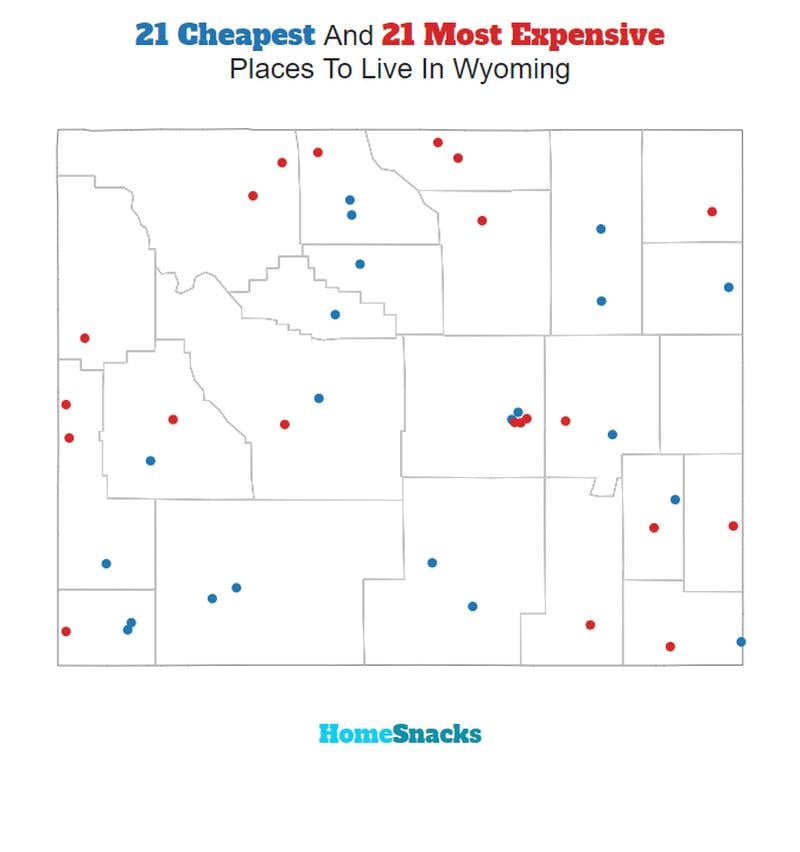 The two most important things to think about when it comes to being able to afford if you can live comes down to:
How much do money do I make?
How much do I have spend to live there?
You need to understand your costs in the context of how much money you make.
For example, if the median household earns $100,000 and spends $40,000 on housing it's actually cheaper to live there than a place with a median income of $50,000 and housing costs of $21,000. You might spend more on housing, but you have more money overall to play with.
With that example in mind, we derived several statistics from the latest Census American Community Survey 2015-2019 around incomes and costs. They are:
Median Home Price / Median Income (lower is better)
Median Income / Median Rent (Higher is better)
Median Home Price
We added simply median home price because high home prices generally correlate with higher expenses for all costs related to homes (heating, electricity, etc).
You can then compare these metrics in each of the places in Wyoming to figure out which is the least expensive.
What you are left with is a "Cost of Living Index" by taking the average rank of each of these metrics for each city.
So we used that cost of living index in order to rank all of the 41 places in Wyoming that have more than 1,000 people.
The place with the lowest cost of living in Wyoming according to the data is Marbleton. You can download the data here.

There You Have It Mr. Or Mrs. Wyoming Cheapskate
If you're looking at the cost of living numbers in Wyoming, this is an accurate list of the most affordable places to live in Wyoming for 2021.
Here's a look at the most expensive cities in Wyoming according to the data:
Jackson
Afton
Star Valley Ranch
For more Wyoming reading, check out:
The Most Affordable Places To Live In Wyoming
Editor's Note: We updated this article for 2021. This is our seventh time ranking the cheapest places to live in Wyoming.