Editor's Note: We updated this article for 2021. This is our seventh time ranking the best neighborhoods to live in Detroit.
Article Table Of Contents   
(Skip to section)
If you're thinking of moving to Michigan and you haven't experienced the magic of the Michigan mitten yet, you should definitely start your search in Detroit. The Motor City has some very cool, diverse neighborhoods that deserve your attention, and HomeSnacks is here to tell you the top ten best neighborhoods in Detroit for 2021.
To be eligible for our list, a Motown neighborhood had to be strong in areas like jobs, affordability, safety, and fun stuff to do. To get this data, we ran each neighborhood through our Snackability formula that looked for excellence in the same criteria. We also consulted the latest census data for median income levels and median home values.
The following is what we learned:
Many of Detroit's best neighborhoods are located on the city's northeast side along the Detroit River; and if you're lucky enough to call one of these gems home, you will have scenic views, accessible marinas, and pedestrian and bicycle friendly streets. Neighborhoods like Jeffries will put you in the middle of Detroit Lions' territory at the base of Ford Field; and of course, Downtown, will put you in the middle of everything Detroit.
And for all of you people who base every major life's decisions around good food, we can personally verify that Detroit's best neighborhoods are definitely not lacking in tasty treats. There are little corner spots like Mudgie's Deli in the West Side Industrial neighborhood that serve up some of the finest smoked meat sandwiches and Legends on Livernois St. in the Sherwood Forest neighborhood makes a pizza that rivals Chicago's deep dish.
Great food, great views, low crime, and affordability are qualities that can be found in Detroit's top ten best neighborhoods; but if you want to know what neighborhood has it all, keep reading.
The Best Neighborhoods In Detroit For 2021
Detroit's 85 neighborhoods are starting to see an influx of residents as many of these places are undergoing a sort of revitalization. Surprisingly, you can scoop up great homes in The Big D's best neighborhoods for $53,859. And in Detroit's number one neighborhood, you can be close to the riverfront.
So, what is Detroit's number one neighborhood? According to the latest data, that would be Indian Village.
To see how your favorite Detroit neighborhoods compared, take a look below.
For more Michigan reading, check out:
The 10 Best Neighborhoods To Live In Detroit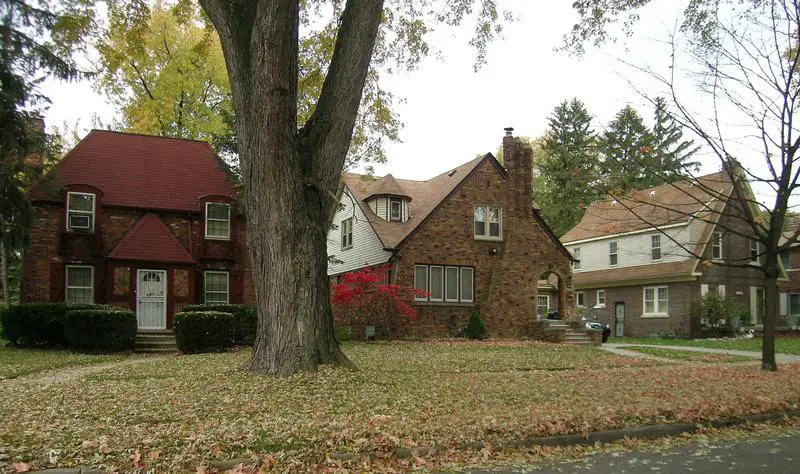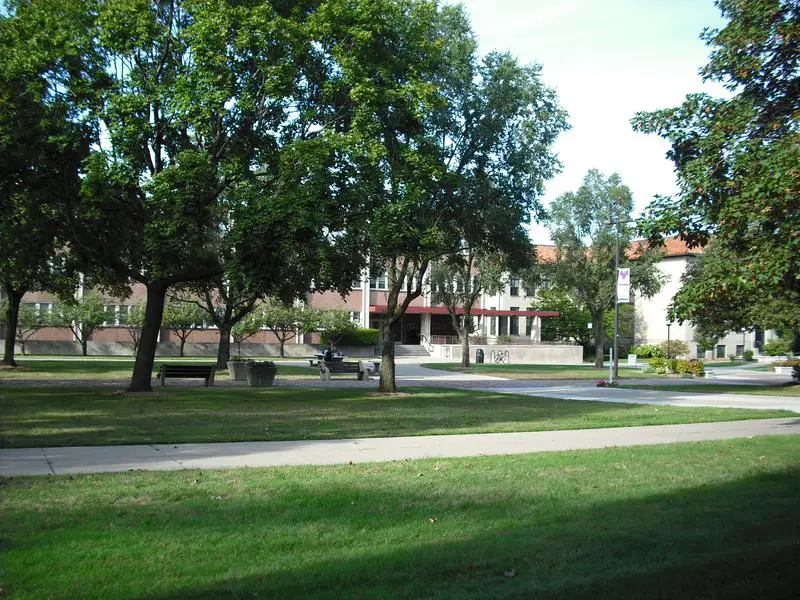 Source: Public domain
How We Determined The Best Detroit, MI Neighborhoods In 2021
In order to rank the best neighborhoods in Detroit, we had to determine what criteria defines a "best".
Using crime, census, and extrapolated BLS data, we arrived at the following set of criteria:
High incomes
Low unemployment rates
Low crime
High home prices
High population densities (A proxy for things to do)
We then ranked each neighborhood with scores from 1 to 85 in each category, where 1 was the best.
Next, we averaged the rankings for each neighborhood to create a best neighborhood index.
And finally, we crowned the neighborhood with the lowest best neighborhood index the "Best City Neighborhood In Detroit." We're lookin' at you, Indian Village.
Read on below to learn more about what it's like to live in the best places Detroit, Michigan has to offer. Or skip to the end to see the list of all the neighborhoods in the city from best to worst.
Putting A Bow On Our Analysis Of The Best Neighborhoods In Detroit
If you're measuring the neighborhoods in Detroit where crime is low and everyone wants to live, this is an accurate list.
As we mentioned earlier, the neighborhoods in Detroit aren't all good. Chaldean Town takes the title of the worst neighborhood to live in Detroit.
We ranked the neighborhoods from best to worst in the chart below.
For more Michigan reading, check out:
Detailed List Of The Best Neighborhoods To Live In Detroit For 2021
| Rank | Neighborhood | Population |
| --- | --- | --- |
| 1 | Indian Village | 1,672 |
| 2 | Downtown | 4,983 |
| 3 | North Rosedale Park | 4,839 |
| 4 | Midtown | 8,324 |
| 5 | University District | 2,702 |
| 6 | Belmont | 2,238 |
| 7 | Detroit Golf | 1,616 |
| 8 | Jefferies | 1,361 |
| 9 | Corktown | 592 |
| 10 | West Side Industrial | 399 |
| 11 | Marina District | 386 |
| 12 | Rosedale Park | 3,323 |
| 13 | Lafayette Park | 5,574 |
| 14 | Martin Park | 4,948 |
| 15 | Rivertown | 925 |
| 16 | Grandmont | 2,332 |
| 17 | Virginia Park | 2,005 |
| 18 | Aviation | 3,888 |
| 19 | Woodbridge | 2,266 |
| 20 | Millenium Village | 1,211 |
| 21 | West Village | 1,168 |
| 22 | Michigan-Martin | 1,002 |
| 23 | Morningside | 14,867 |
| 24 | Bagley | 11,792 |
| 25 | Brush Park | 1,746 |
| 26 | Jefferson Chalmers | 5,689 |
| 27 | Regent Park | 4,362 |
| 28 | Art Center | 1,841 |
| 29 | Southwest Detroit | 14,928 |
| 30 | Berg-Lasher | 4,511 |
| 31 | Springwells | 13,397 |
| 32 | Grandmont-Rosedale | 10,334 |
| 33 | Castle Rouge | 2,041 |
| 34 | Old Redford | 564 |
| 35 | Green Acres | 889 |
| 36 | Boynton | 6,897 |
| 37 | Joseph Barry | 445 |
| 38 | Park | 4,597 |
| 39 | Conner Creek Ind | 1,337 |
| 40 | Russell Woods | 2,983 |
| 41 | Eliza Howell | 839 |
| 42 | New Center | 1,038 |
| 43 | Chandler Park | 2,113 |
| 44 | Mohican Regent | 3,055 |
| 45 | Gold Coast | 294 |
| 46 | Elmwood Park | 6,871 |
| 47 | Grandale | 5,794 |
| 48 | Lasalle Gardens | 1,459 |
| 49 | East English Village | 4,473 |
| 50 | Islandview | 4,941 |
| 51 | Greensbriar | 2,531 |
| 52 | State Fair Grounds | 601 |
| 53 | Hubbard-Richard | 2,229 |
| 54 | Briggs | 1,635 |
| 55 | Ravendale | 2,166 |
| 56 | Mcdougall-Hunt | 895 |
| 57 | Pulaski | 4,741 |
| 58 | Lasalle College Park | 3,323 |
| 59 | Grixdale | 1,085 |
| 60 | Nw Goldberg | 1,265 |
| 61 | Eight Mile Wyoming | 2,835 |
| 62 | Westwood Park | 664 |
| 63 | Van Steuban | 6,379 |
| 64 | Franklin Park | 11,290 |
| 65 | Weatherby | 1,643 |
| 66 | Fishkorn | 3,443 |
| 67 | Fitzgerald | 5,670 |
| 68 | Barton-Mcfarland | 8,306 |
| 69 | Wayne State | 4,223 |
| 70 | Herman Gardens | 504 |
| 71 | Blackstone Park | 2,082 |
| 72 | Warrendale | 17,417 |
| 73 | The Eye | 3,437 |
| 74 | Kranz Woods | 4,297 |
| 75 | Core City | 3,511 |
| 76 | Five Points | 2,965 |
| 77 | Petosky-Otsego | 7,177 |
| 78 | Carbon Works | 615 |
| 79 | Conant Gardens | 1,080 |
| 80 | Riverdale | 5,084 |
| 81 | Brightmoor | 9,961 |
| 82 | Milwaukee Junction | 743 |
| 83 | Poletown East | 508 |
| 84 | Forest Park | 1,044 |
| 85 | Chaldean Town | 639 |