You don't have to win the Michigan lottery or make money by shoveling snow from a million rooftops to live in most cities in Michigan: it's extremely affordable.
Yes, learning the value of the dollar is important, but you don't want to stress about it daily when looking for a great place to live, good food, and low cost of living.
Well, you don't have to look any further if you choose a spot on the Michigan mitten to plant your roots. Pure Michigan is one of the most affordable in the country, and you can find ways to save money with every season.For example, Michigan's yearly snow apocalypse lets you save money by providing snow for ice cream, ice for ice fishing, and eco-friendly snowmobile trails. Snow for snowball fights and snow angels is just an added bonus.
While all this might be true for some Michigan cities, the Yoopers, the trolls under the bridge, and the city folk of this state would beg to differ. Michigan cities have a lot to offer to all income levels; and surprisingly, there are cities in the Wolverine State that won't break your bank.
But, to the economically savvy, to truly be the best, the state must have the nicest, most affordable places to call home.
So if you want to live where you can point to a spot on your hand to give people directions, read on.
This economic formula for affordability is no different for the good people of Michigan. Michigan takes pride in its automotive industry, forestry, agriculture, and tourism. Michigan cities have solid jobs that offer competitive salaries to offset their cost of living.
So, what does the most affordable place to live in Michigan look like? Well, after crunching data from the US Census in terms of median housing costs, median income, and overall cost of living for cities with over 5,000 residents, Ishpeming takes the cake.
If you care about home values, cost of living, and high quality of life, take a look at the list below to find the most affordable places in Michigan where your salary will let you live like royalty.
And if you already knew these places were cheap, check out some more reading about Michigan and the cheapest places in the country:
The 10 Cheapest Places To Live In Michigan For 2022
Located in the Upper Peninsula of Michigan, Ishpeming is the Great Lakes State's most affordable city for 2022. This little city in Marquette County crushed our HomeSnack's snackabiliy scale by earning a 9/10 for affordability. This first place could not have been accomplished without great jobs and a strong economy.
Word on the street is Ishpeming is popular with kayakers, hikers, and skiers. 'Old Ish' is home to the National Ski Hall of Fame. We think those activities are a great way to wind down after a long day of working to pay for Ishpeming's low cost of living.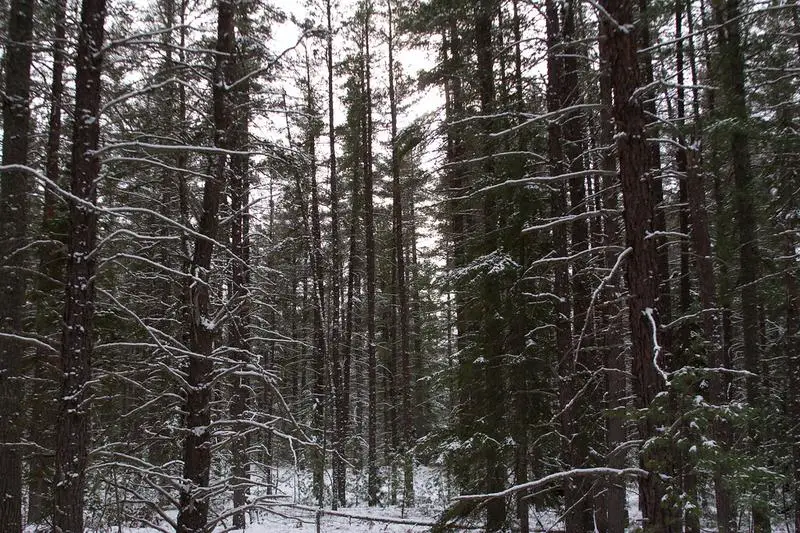 Dowagiac is a city in Cass County in the U.S. state of Michigan. The population was 5,879 at the 2010 census. It is part of the South Bend-Mishawaka, IN-MI, Metropolitan Statistical Area.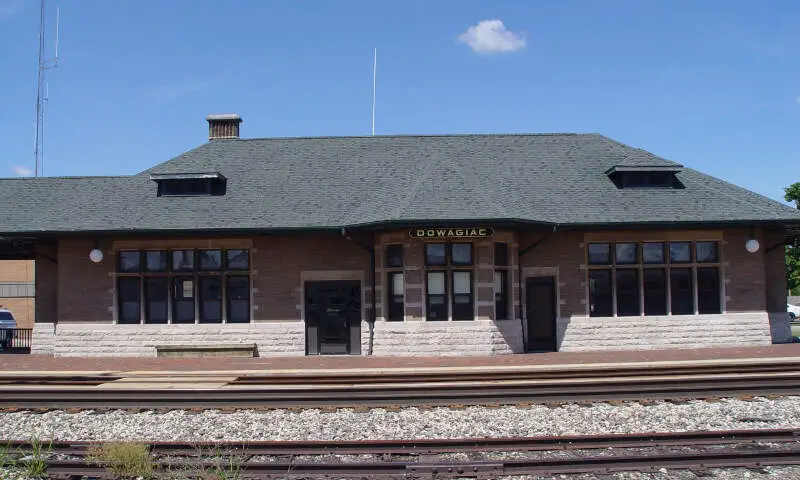 Source: Public domain
Charlotte is a city in the U.S. state of Michigan. As of the 2010 census, the city population was 9,074. It is the county seat of Eaton County.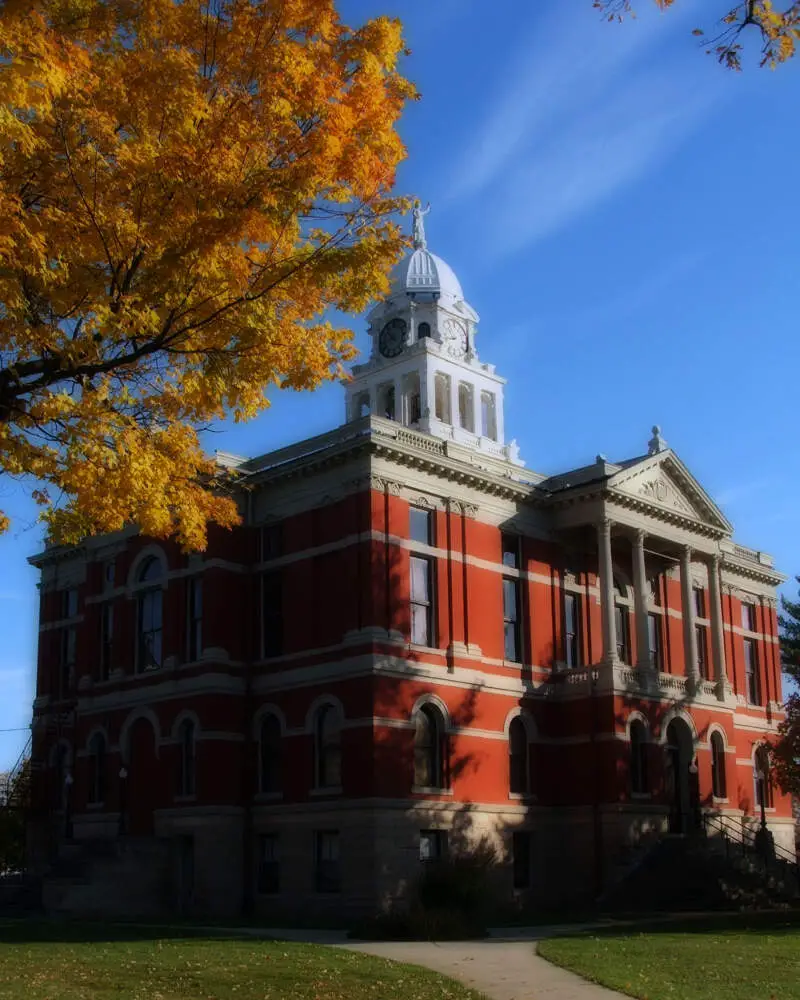 Just around the bend from Ishpeming, on the Upper Peninsula/Wisconsin border, is our fourth most affordable city in Michigan: Iron Mountain. The median income, here, is close to $46,000 with average home prices up around $48,086. So it's no surprise that Ishpeming scored off our charts in terms of snackability. They are the 24th most affordable city when we looked at home price to income ratio.
While Iron Mountain is known for it's pasties, Bocce Ball Tournaments, World Cup Ski Jumps, and Italian Cuisine, major employers in manufacturing, retail, and education have been keeping the economy in this Dickinson County city moving in the right direction.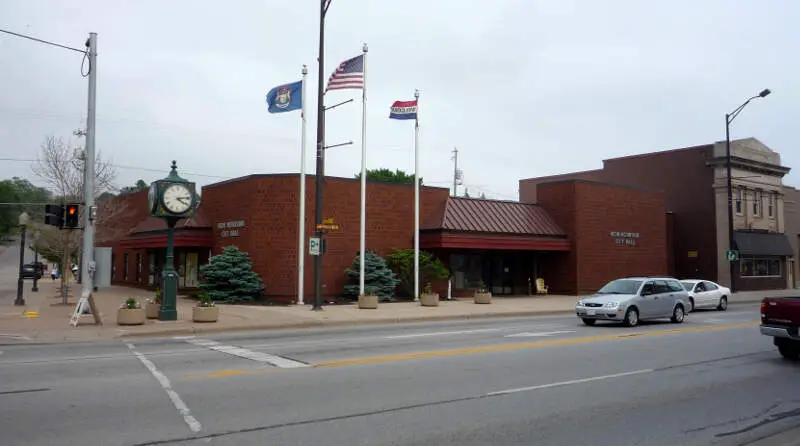 Where the UP meets Wisconsin on the Green Bay is our fifth most affordable city in The Wolverine State: Menominee.
This Yooper city is home to the greatest percentage of young folks concentrated into one city on our list. And if we've learned anything about Millenials, they know a good deal.
So what's drawing the 'youngins'? Probably outdoor recreation opportunities and fishing. In terms of what's bringing all the cheddar to make this Northern Michigan city so affordable, they can thank jobs in ship building, auto part and airplane manufacturing, and healthcare.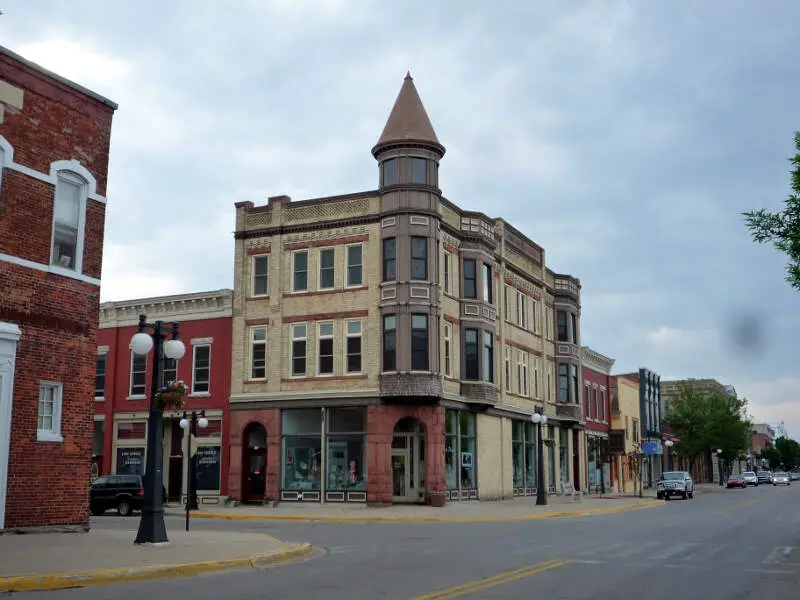 Where the thumb meets the hand on 'The Mitten,' is our sixth most affordable city in Michigan for 2022, Bay City.
You don't have to live on ramen noodles or the McDonald's dollar menu to be able to afford this little city in Bay County. Bay city is the 11th most affordable city in terms of home price to income ratio. Bay City's jobs in healthcare, manufacturing, and education are keeping the real estate agents, here, very happy. They are also keeping the city's median household income close to $38,014/year.
Kudos to to the affordable Bay City for keeping their residents employed and their economy strong.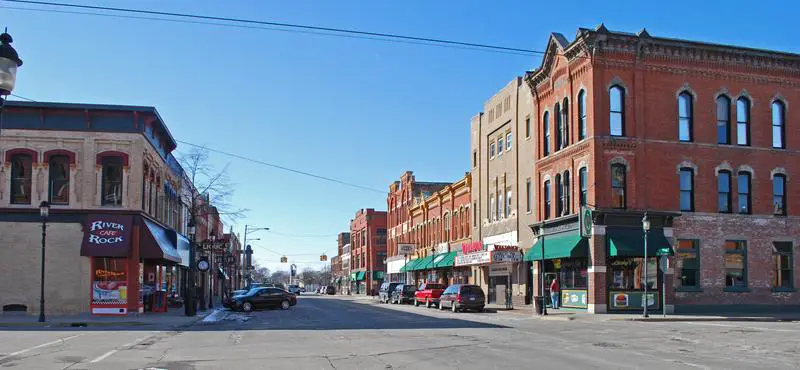 Located about 25 miles north of Lansing off of Route 127, St. Johns offers residents a great life at an affordable price. The town is known for the annual Mint Festival with over 75,000 people in attendance for arts and crafts, antiques, and family friendly activities. The rest of the year there many cider mills to visit and historic landmarks to see.
The cost of living in St. Johns is over 10% lower than the national average and real estate in particular scores well on the affordability scale. The city ranks 65th lowest in home values at $129,700 and rent is only $770 per month.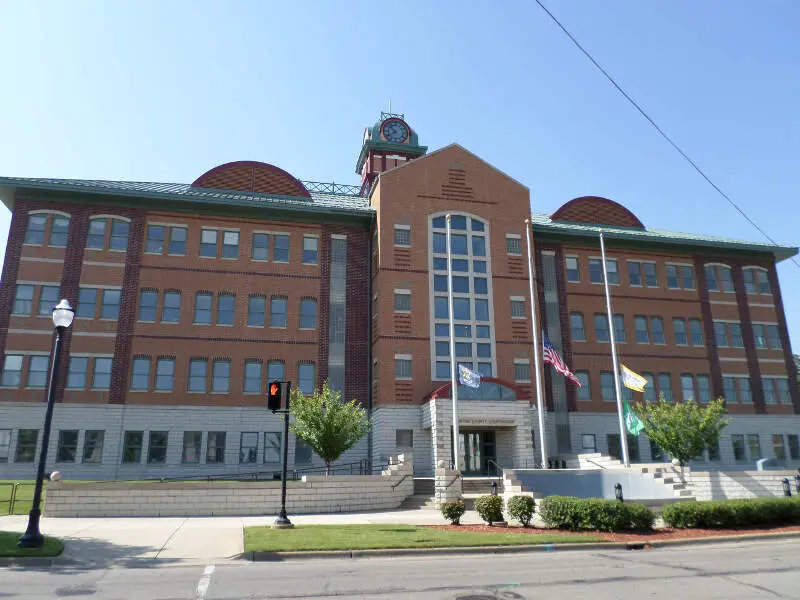 Flushing is a suburb of Flint, and it's hard to find a more affordable spot in Michigan. Note that you won't have to sacrifice your security for savings either, because Flushing's overall crime rate is 60% below the national average.
The cost of living in Flushing is about 10% lower than the national average, but in terms of housing, it's much cheaper. Homes in Flushing go for a median price of $131,700, a 5% increase from last year. Even better, the median household income in Flushing is up 10% to $63,750, making the city that much more affordable.
Another great thing about Flushing is that you can fill your schedule without spending a dime. There are loads of parks, but chief among them is Riverview Park, which hosts events like concerts, movies, and art in the park, as well as a slew of other festivals.
If you want to give Flushing a try, the median rent is an inexpensive $768.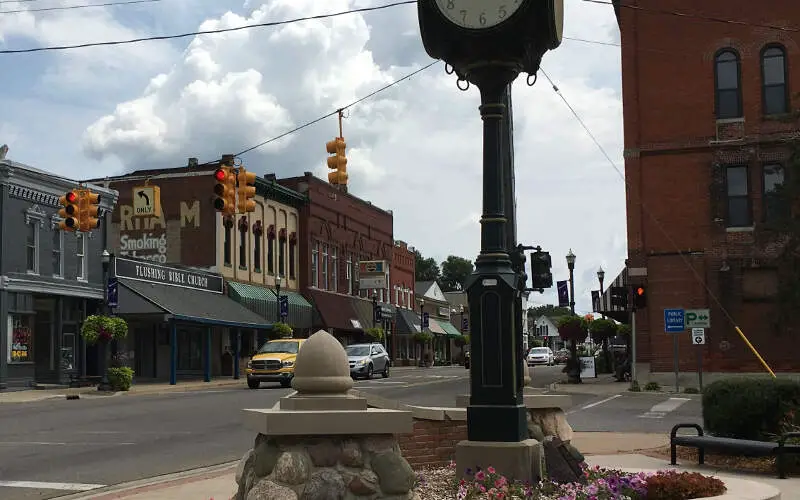 Alpena ranks as the ninth cheapest city in Michigan, thanks in no small part to the uber-affordability of rent. The median rent in Alpena is a measly $565. Unfortunately, the median income in Alpena is a bit lower than the statewide average, so the city only ranks #61.0 in terms of income to rent ratio. If you're outdoorsy, though, you'll hardly need cash to have a good time in Alpena. Your options include a wildlife sanctuary, a marine sanctuary, and a state park, so your entertainment budget could be close to zilch in Alpena.
Alpena is located in the Lower Peninsula area of northeastern Michigan.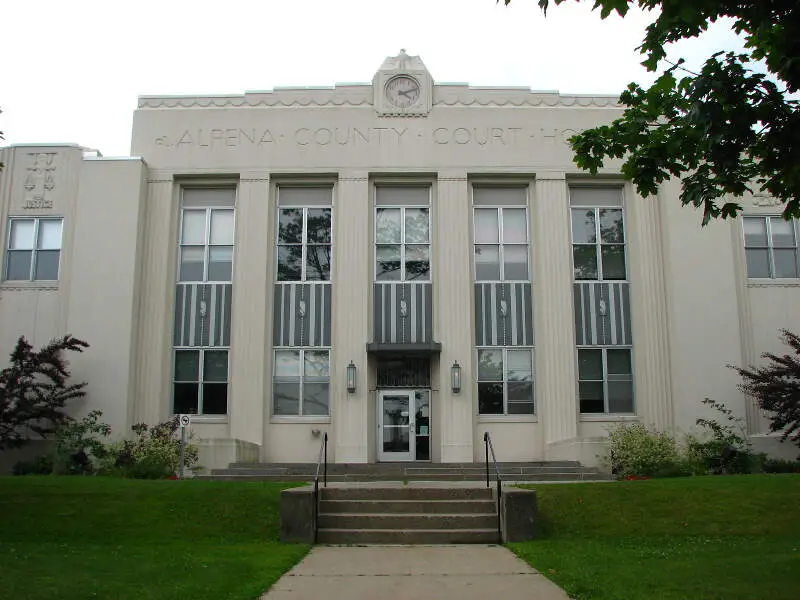 Romulus is a suburban city of Metro Detroit, located in Wayne County in the U.S. state of Michigan. The population was 23,989 at the 2010 census, an increase from 22,979 in 2000, making the city the 80th largest city in Michigan. Romulus is home to Detroit Metropolitan Airport and a General Motors plant that opened in 1976. The city is the westernmost community in the Downriver area in Wayne County.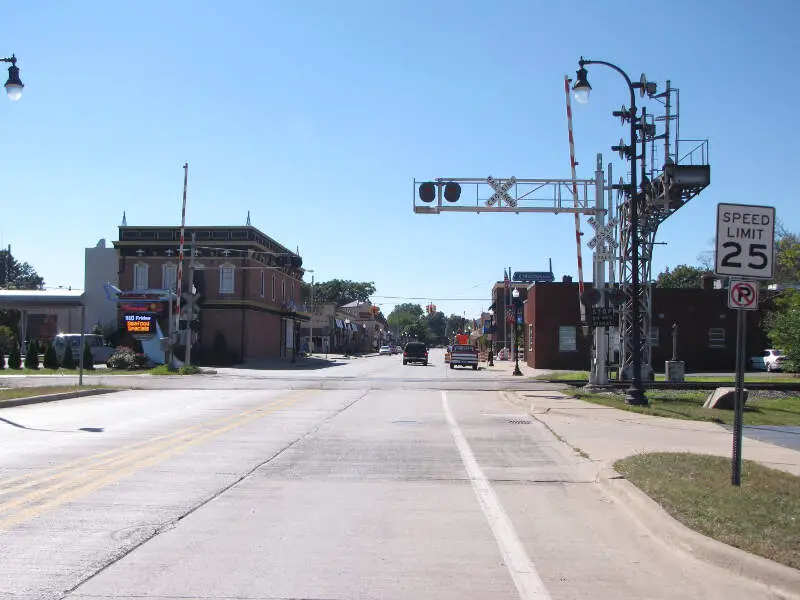 Cheapest Places To Live In Michigan FAQs
The county in Michigan with the lowest cost of living is Lapeer County. The average living wage in Lapeer County is $100,631 according to MIT data. Lapeer County has the lowest cost of living because it has relatively less expensive childcare and housing costs compared to Michigan as a whole. Childcare costs $26,186 a year in Lapeer County for two children compared to the Michigan average of $28,018. Housing costs, defined as a blend of the average rent and average mortgage payment, are $12,588 per year in Lapeer County compared to $11,412 on average in Michigan.
The cost of living in Michigan is 13.0% higher than the US average. According to MIT, the required living wage for a family of four with two working parents in Michigan is $101,378 vs the national average for a family of four with two working parents of $89,744. The median income of a Michigan household is $59,234.
The cheapest housing market in Michigan is Flint. The average home value in Flint is $31,700, the lowest in the state. The average home value in Michigan is $162,600, almost 5.1 times higher than Flint.
Methodology: How We Determined The Most Affordable Places To Live In The Wolverine State For 2022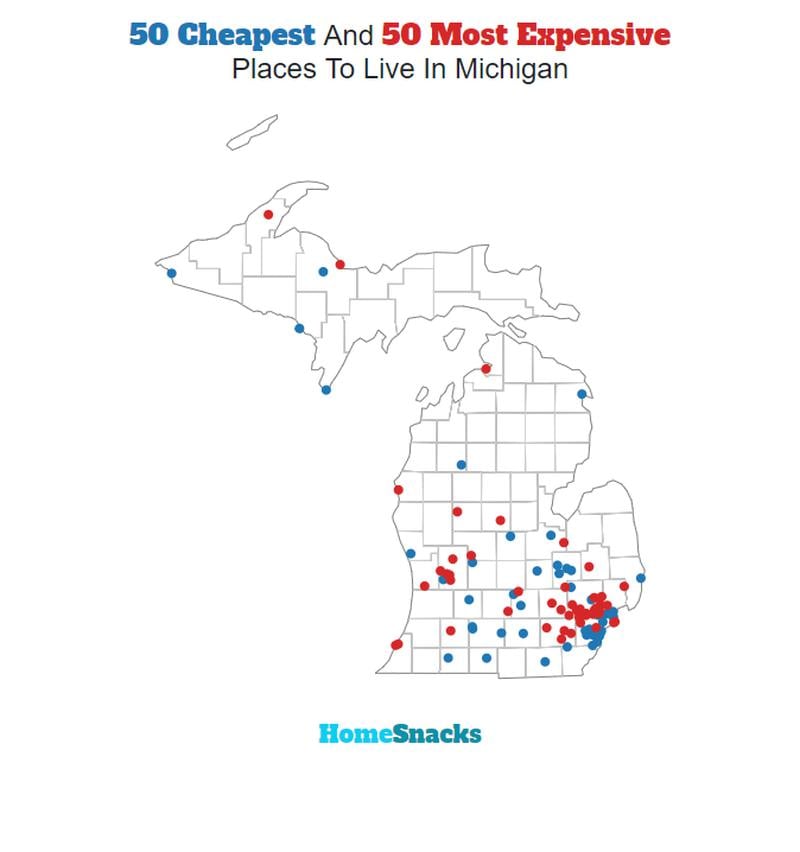 The two most important things to think about when it comes to being able to afford if you can live comes down to:
How much do money do I make?
How much do I have spend to live there?
You need to understand your costs in the context of how much money you make.
For example, if the median household earns $100,000 and spends $40,000 on housing it's actually cheaper to live there than a place with a median income of $50,000 and housing costs of $21,000. You might spend more on housing, but you have more money overall to play with.
With that example in mind, we derived several statistics from the latest Census American Community Survey 2016-2020 around incomes and costs. They are:
Median Home Price / Median Income (lower is better)
Median Income / Median Rent (Higher is better)
Median Home Price
We added simply median home price because high home prices generally correlate with higher expenses for all costs related to homes (heating, electricity, etc).
You can then compare these metrics in each of the places in Michigan to figure out which is the least expensive.
What you are left with is a "Cost of Living Index" by taking the average rank of each of these metrics for each city.
So we used that cost of living index in order to rank all of the 148 places in Michigan that have more than 5,000 people.
The place with the lowest cost of living in Michigan according to the data is Ishpeming. You can download the data here.

Summary: There You Have It Mr. Or Mrs. Michigan Cheapskate
If you're looking at the cost of living numbers in Michigan, this is an accurate list of the most affordable places to live in Michigan for 2022.
Here's a look at the most expensive cities in Michigan according to the data:
Ann Arbor
East Lansing
Houghton
For more Michigan reading, check out:
The Most Affordable Places To Live In Michigan
Editor's Note: We updated this article for 2022. This is our ninth time ranking the cheapest places to live in Michigan.