Editor's Note: We updated this article for 2020. This is our sixth time ranking the best neighborhoods to live in Henderson.
Article Table Of Contents
(Skip to section)
Do you like your neighborhood?
Is it friendly, and where everyone knows their neighbors?
No matter if you live in the sticks or in an apartment building in downtown Henderson, you have a little pocket that you can call home. And each neighborhood is different.
Smaller neighborhoods usually have obvious benefits -- less crime, a slower pace of life, and a lower cost of living. But not all Henderson neighborhoods are created equal. Some are better than others. But which ones?
Instead of relying on public opinion and speculation, we wanted to get the facts straight and find out which neighborhoods in Henderson are the best. If you're in one of the places we're about to highlight, odds are you know you've got it made. So, if you're thinking of moving to Nevada and Henderson is on the top of your list, check out our best neighborhoods to live in.
Here are the best neighborhoods in Henderson for 2020:
So what's the best neighborhood to live in Henderson for 2020? According to the most recent census data, Anthem looks to be the best Henderson neighborhood to live in.
Read on to see how we determined the places around Henderson that deserve a little bragging rights or maybe you're interested in the worst neighborhoods in Henderson.
Once you're done, you can look at the bottom of the story for a complete chart of every neighborhood we looked at from best to worst.
For more Nevada reading, check out:
The 10 Best Neighborhoods To Live In Henderson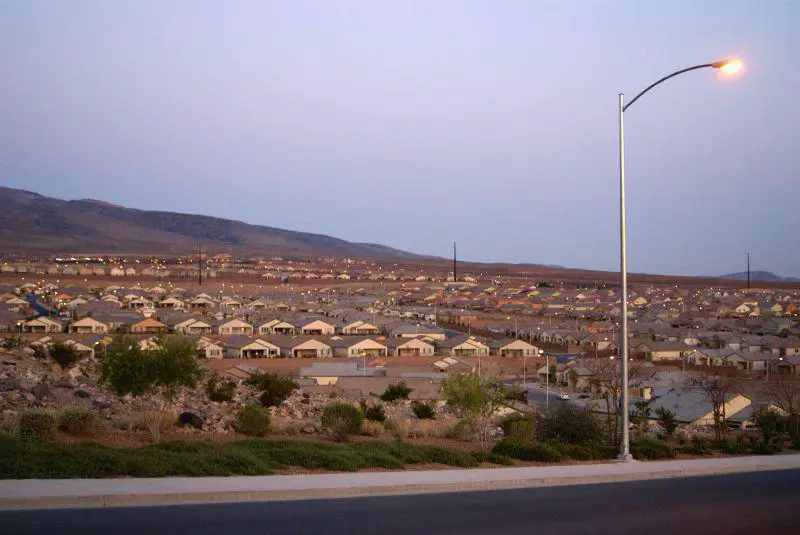 Anthem is an upscale and affluent neighborhood in Henderson, Nevada, as part of the Las Vegas Valley. It is among the most affluent neighborhoods in the state of Nevada with an average household income of $131,445.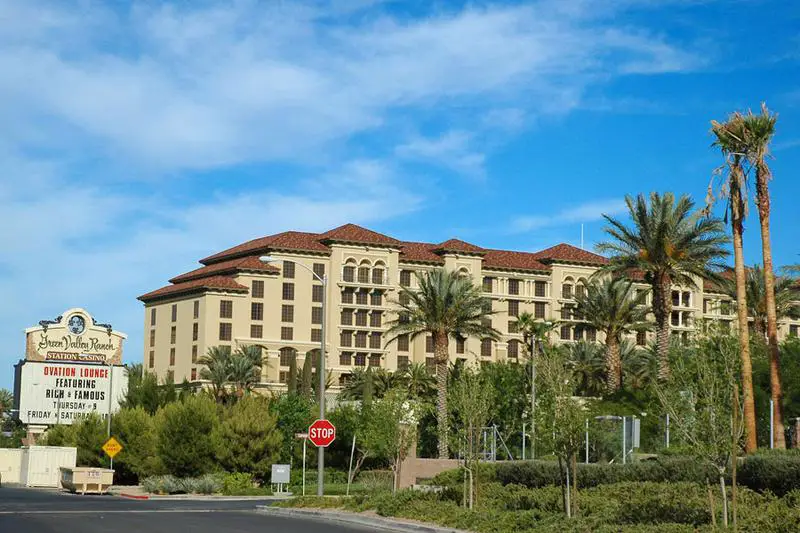 Source: Public domain
Green Valley Ranch is a hotel, casino, and spa located in the affluent master-planned eponymous community within Green Valley community in Henderson, Nevada. It is owned and operated by Station Casinos.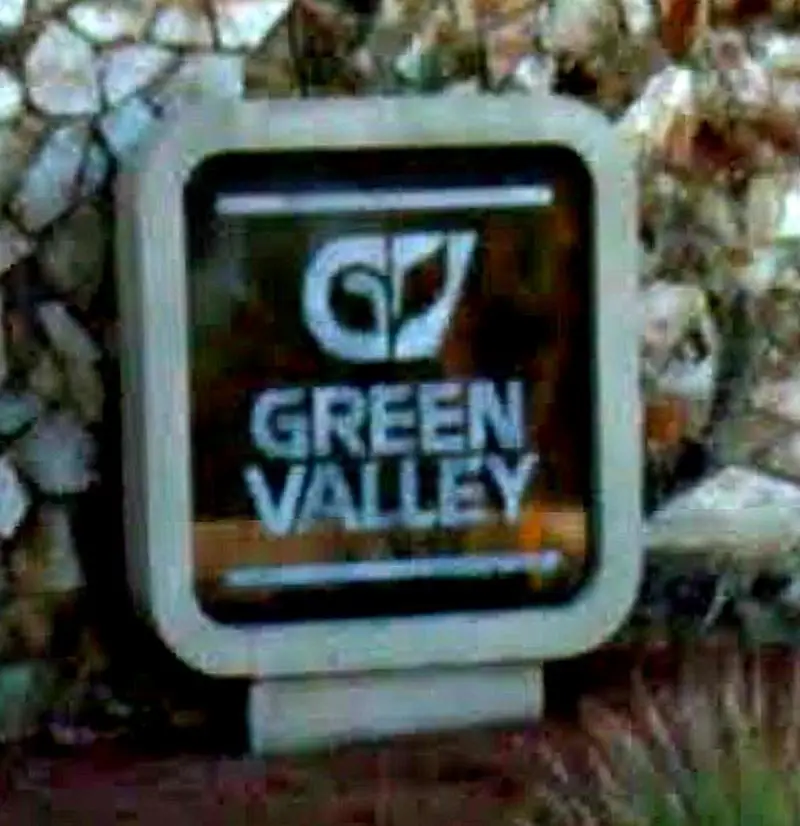 Green Valley is an upscale neighborhood of Henderson, Nevada. Green Valley is Southern Nevadas first master-planned community built before Summerlin. The Green Valley Master Community development was founded in 1978 by American Nevada Corporation in an area of 8,400 acres on the southeast part of the Las Vegas Valley. Smaller enclaves called Green Valley Ranch and Green Valley South in later years within the boundaries of the master community. Green Valley South began construction around 1985, while Green Valley Ranch began construction in 1994. It is an upscale community with many amenities. Shopping, bars, and restaurants reside at The District at Green Valley Ranch. Green Valley postal codes include: all of 89074, 89014, and 89012. Green Valley Ranch extends into the eastern areas of the zip code of 89052.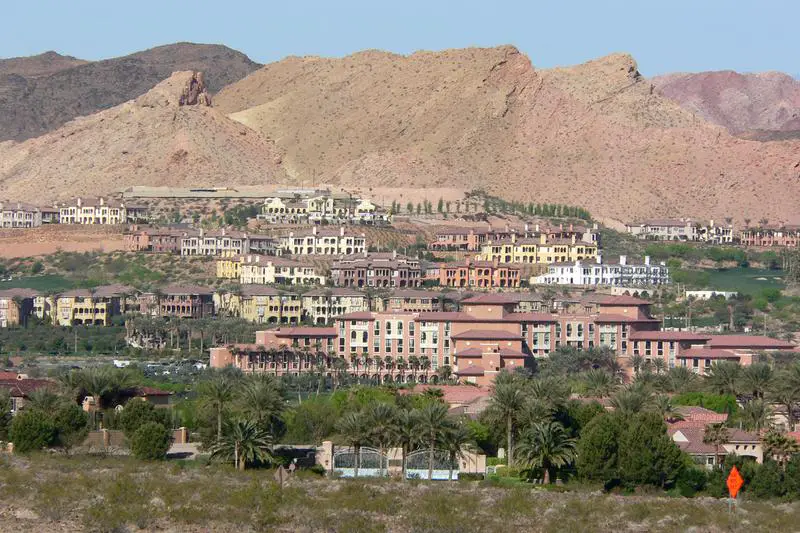 Lake Las Vegas in Henderson, Nevada, refers to a 320-acre artificial lake and the 3,592-acre developed area around the lake. The area is sometimes referred to as the Lake Las Vegas Resort. Lake Las Vegas is being developed by 5 companies including Lake at Las Vegas Joint Venture LLC.
How We Determined The Best Henderson, NV Neighborhoods In 2020
In order to rank the best neighborhoods in Henderson, we had to determine what criteria defines a "best".
Using crime, census, and extrapolated BLS data, we arrived at the following set of criteria:
High incomes
Low unemployment rates
Low crime
High home prices
High population densities (A proxy for things to do)
We then ranked each neighborhood with scores from 1 to 23 in each category, where 1 was the best.
Next, we averaged the rankings for each neighborhood to create a best neighborhood index.
And finally, we crowned the neighborhood with the lowest best neighborhood index the "Best City Neighborhood In Henderson." We're lookin' at you, Anthem.
Read on below to learn more about what it's like to live in the best places Henderson, Nevada has to offer. Or skip to the end to see the list of all the neighborhoods in the city from best to worst.
Putting A Bow On Our Analysis Of The Best Neighborhoods In Henderson
If you're measuring the neighborhoods in Henderson where crime is low and everyone wants to live, this is an accurate list.
As we mentioned earlier, the neighborhoods in Henderson aren't all good. Townsite takes the title of the worst neighborhood to live in Henderson.
We ranked the neighborhoods from best to worst in the chart below.
For more Nevada reading, check out:
Detailed List Of The Best Neighborhoods To Live In Henderson For 2020
| Rank | Neighborhood | Population |
| --- | --- | --- |
| 1 | Anthem | 22,790 |
| 2 | Paradise Hills | 11,447 |
| 3 | Green Valley Ranch | 17,011 |
| 4 | Westgate | 22,063 |
| 5 | Mccullough Hills | 15,093 |
| 6 | Macdonald Ranch | 13,069 |
| 7 | Green Valley South | 21,964 |
| 8 | Lake Las Vegas | 2,175 |
| 9 | Mission Hills | 4,896 |
| 10 | West Henderson | 8,137 |
| 11 | Highland Hills | 10,583 |
| 12 | Green Valley North | 39,727 |
| 13 | Calico Ridge | 1,582 |
| 14 | Black Mountain | 7,111 |
| 15 | Foothills | 6,296 |
| 16 | River Mountain | 11,625 |
| 17 | Gibson Springs | 13,650 |
| 18 | Pittman | 10,713 |
| 19 | Clark County | 796 |
| 20 | Midway | 2,833 |
| 21 | Whitney Ranch | 11,637 |
| 22 | Valley View | 14,843 |
| 23 | Townsite | 5,466 |