There's a reason millions of people flock to Burning Man in Black Rock City and the casinos in Las Vegas and end up staying, Nevada has some of the most affordable places in the country to live.
So, if you're reading this, you've definitely played your cards right today. HomeSnacks has researched where your slot machine winnings will go the furthest: we've created a list of the top ten most affordable places to live in Nevada for 2022.
How did we determine the most affordable places in Nevada? We took a look at the US Census and the cost of living data for the Silver State. We were especially interested in home and rental prices in places with more than 1,000 residents.
We discovered that whether it's hip millennial cities like Reno, family oriented cities like Sparks, or great places to retire to like Henderson, Nevada has plenty of affordable places to live for every stage of life and every budget. And that's a good thing, because the less you spend on your cost of living, the more you'll have to spend on the fun things to do and see in the Sagebrush State. Like, scoring a ticket to the Area 51 party in Groom Lake or spending a night at the Clown Motel in Tonopah.
So, want to know where you won't have to beat the blackjack dealer to live in one of the most affordable places in Nevada? Keep reading.
The 10 Most Affordable Places To Live In Nevada
Now, just because these places in Nevada are affordable, doesn't mean they're not nice. Many of the cities on Nevada's most affordable list are also on its safest list. It's not rocket science, folks. When you save money on your cost of living, you're usually in a better place to invest in your community.
So, what's the cheapest place to live in Nevada? The place where you can truly live like high roller on a blue collar budget would be Carlin, the cheapest place in Nevada..
To see how your city compared, take a look below.
And if you already knew these places were cheap, check out some more reading about Nevada and the cheapest places in the country:
The 10 Cheapest Places To Live In Nevada For 2022
Known as the place "where the train stops and the Gold Rush begins," Carlin is the most affordable place to live in Nevada. From ghost towns to nature areas replete with fishing, biking, and camping opportunities, you'll always have plenty to do in Carlin if you know where to look. While the rent is quite steep in Carlin at $910, the city has some of the cheapest homes on the market in Nevada at $153,200. Even more importantly, Carlin's residents are the best-paid populace on this list, with a median income of $70,000. That means folks pay the smallest proportion of their income on homes statewide, so the mortgage gets paid off in Carlin before the new paint has time to dry.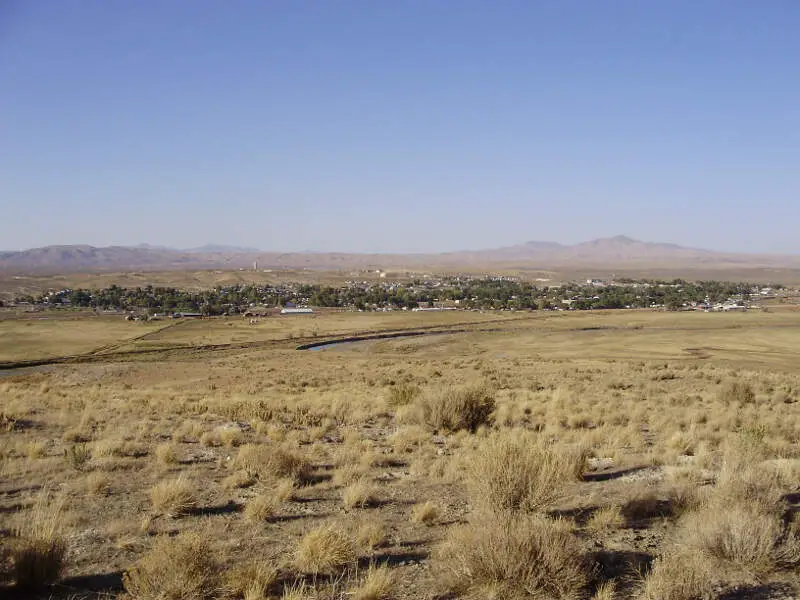 Located 90 miles northeast of Reno, Lovelock ranks as the second cheapest place in Nevada. Lovelock got its name from the tradition of securing locks to a chain to signify unending love, so kind of makes sense that we named it one of the best cities for singles in Nevada. If you find someone special in this super-affordable city, definitely add a lock to the collection at Lover's Lock Plaza. And when it's time to really settle down, know that Lovelock has the cheapest homes for sale in Nevada, so you and your lock-mate won't have to break the bank to buy a place together.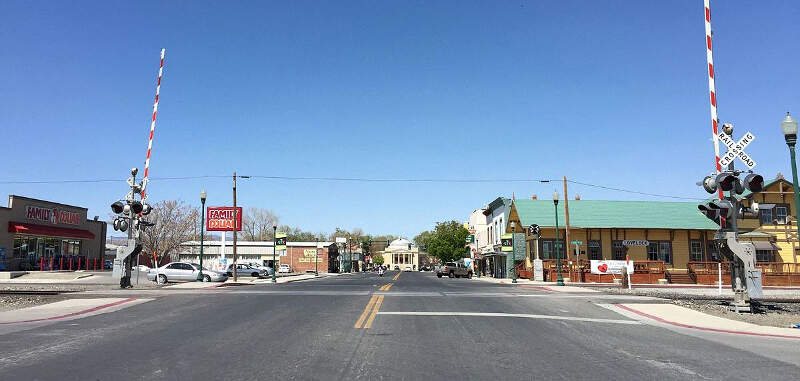 Located in east-central Nevada, Ely is far from any big cities. But don't let that fool you into thinking there's nothing to do here. Between a railway museum, a historic state park, a renaissance village, and a gambling hall, we're not exaggerating when we say there's something for everyone in Ely. And at rock-bottom prices, no less. The median rent in Ely is $788, the second lowest you'll see on this list. Combined with a median income of $60,927, and Ely has the third best rent to income ratio in Nevada.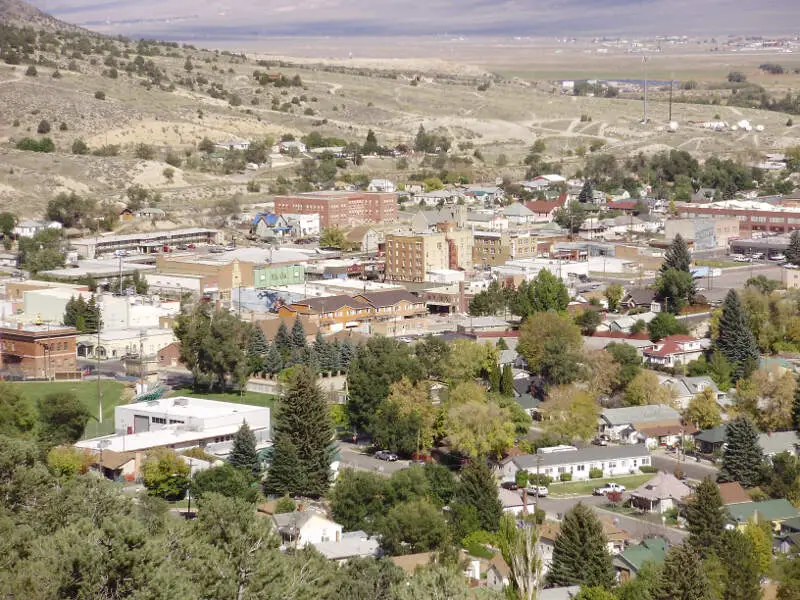 When you come to West Wendover, you'll immediately feel a sense of welcome. Maybe it's the friendly locals or the relaxed atmosphere…or maybe it's Wendover Will, the 63-foot tall neon cowboy that greets people entering the city. In any case, West Wendover has the sixth cheapest homes in Nevada, at a median price of $182,800. And with a median rent of $654, West Wendover is safely in the top 5 for housing to income ratios, regardless of if you're buying or renting.
West Wendover is located in northeastern Nevada, on the border of Utah.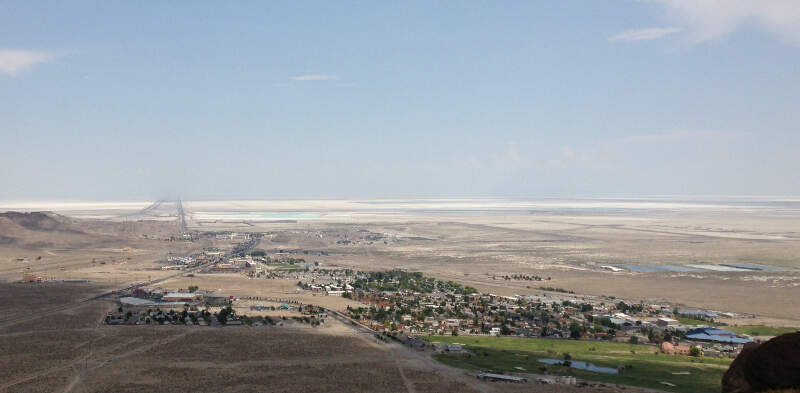 Winnemucca ranks as the fifth most affordable place to live in Nevada. Homes are a bit pricier in Winnemucca than the preceding cities on this list, with a median price tag of $238,500. However, because Winnemucca is the richest place in Nevada, with a median income of $67,574, residents have an easy time getting their mortgages paid. And for such an affluent place, the median rent of $754 is crazy cheap. In fact, Winnemucca enjoys the best rent to income ratio in Nevada. Winnemucca is home to the Winnemucca Sand Dunes, the largest dunes in Nevada and a prime spot for ATVing.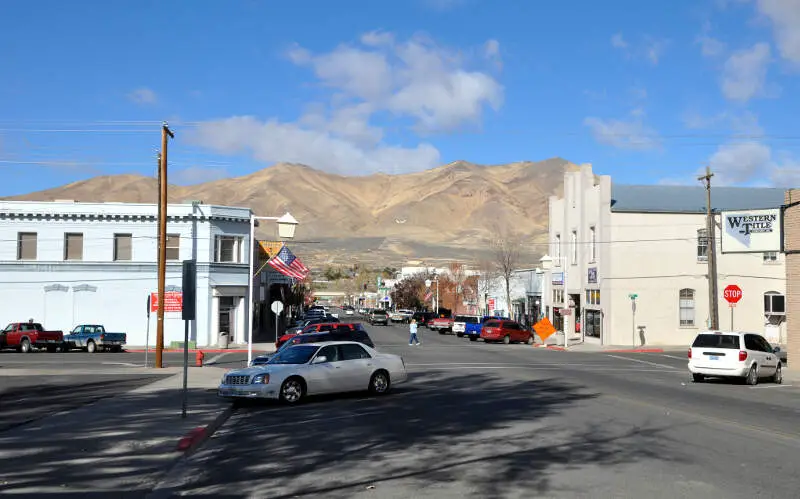 With a population of 20,396, Elko is the largest city to make this list. And with that size comes plenty to do on a budget; from learning about Western history at the California Trail Center or Northeastern Nevada Museum or experiencing the natural beauty at Humboldt National Forest, there's plenty to keep you occupied in Elko. Maybe that's why we named it the best place to raise a family in Nevada.
Elko's economy is heavily tied to gold mining, which means there's always a risk of getting caught in the wrong end of a boom/bust cycle living here. In any case, Elko stands out with as having the second best-paid population on this list, with a median income of $77,659. This contributes to Elko having the fifth most affordable rent in Nevada, even with a median rent over $1,000/month.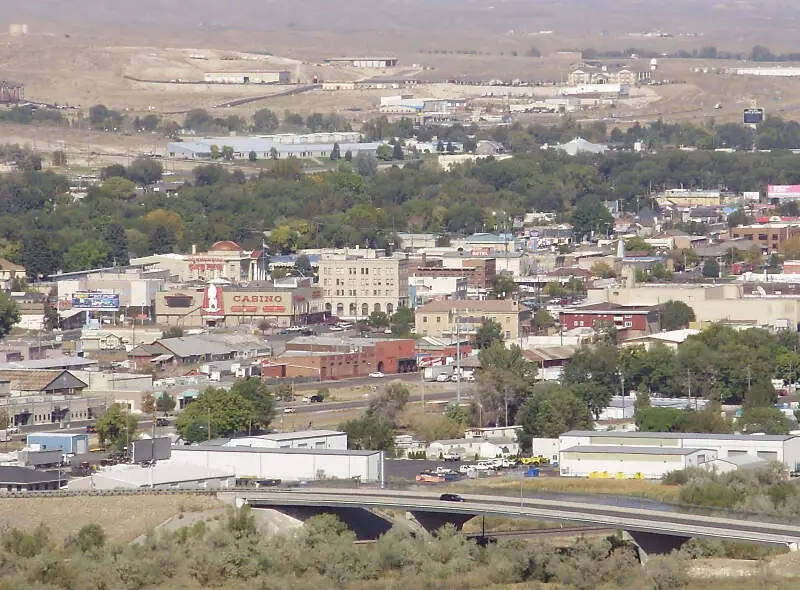 Located an hour and a half southeast of Reno, Yerington ranks as the seventh cheapest place to call home in Nevada. Yerington has the second least expensive homes for sale statewide, with a median price of $144,700. Yerington residents also pay the tenth smallest percentage of their salaries on homes statewide. Which leaves plenty of money left over to take advantage of all the charming things to do in Yerington. On the downside, Yerington is the least affordable place for renters on this list.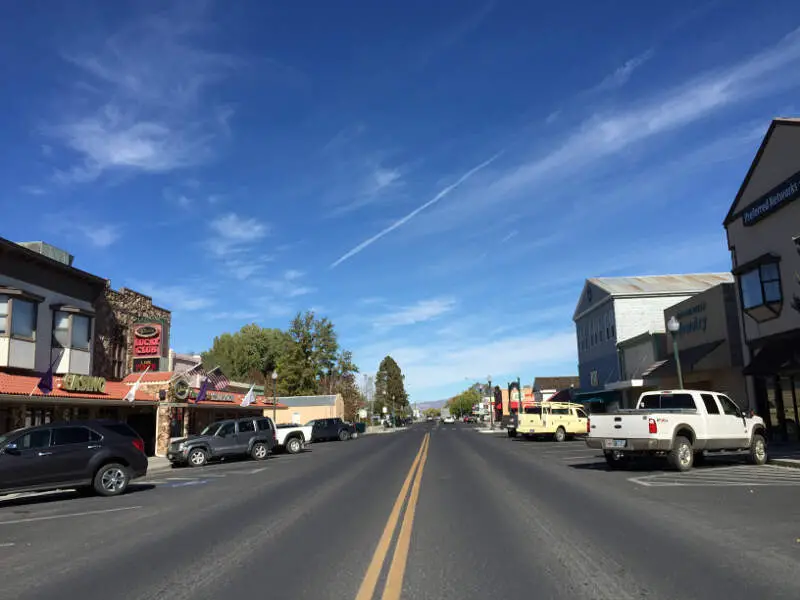 Rounding out our list of cheapest places to live in Nevada is Fernley, a city located a half hour east of Reno. Fernley has the most expensive median rent on this list at $1,181, but that's still well below the statewide average. And Fernley makes up for it by having the tenth cheapest homes in Nevada, with a median price tag of $256,200. And with countless casinos nearby, you'll never lack for entertainment options in Fernley.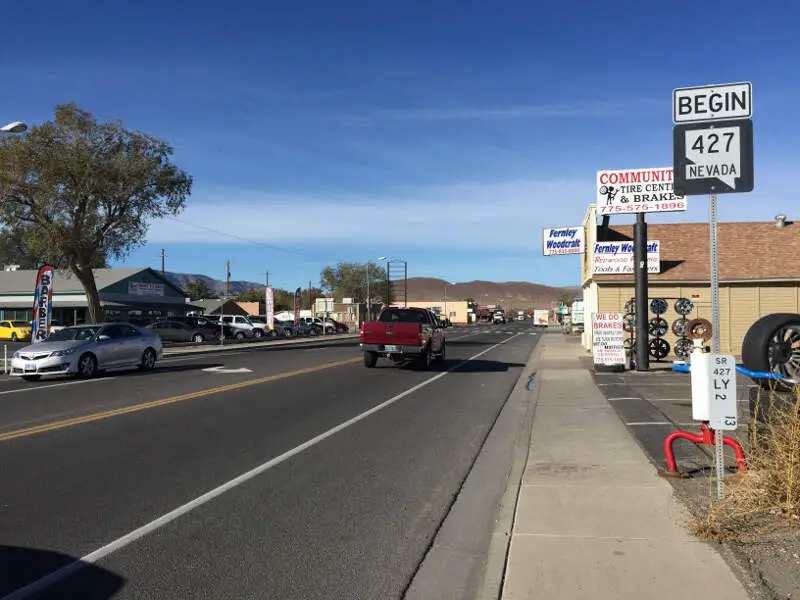 Mesquite is a show-off – it's among the safest, most family-friendly, and all around best places to live in Nevada. Fnding out that it's also one of the most affordable places in the state is just icing on the cake.
Mesquite offers gaming and nightlife that's more relaxed than Las Vegas, outdoor adventures for everyone, and several golf courses in and around the city.
Being able to achieve a high quality of life with a low cost of living is just one reason that Mesquite is the fastest growing city in Nevada.
Homes in Mesquite sell for a median price of $257,100, while the median household income is $59,206. Even better, both those numbers went up by more than 5% from last year, so expect Mesquite to keep on improving. And if you want to give a Mesquite a try to make sure we're not exaggerating, rent here is the ninth cheapest in Nevada at just $930.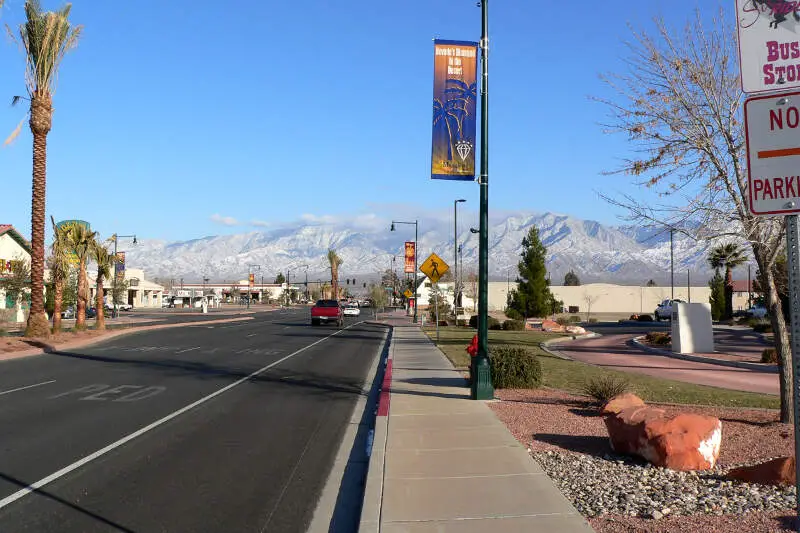 Fallon is a city in Churchill County, Nevada, United States. The population was 8,606 at time of the 2010 census. Fallon is the county seat of Churchill County and is located in the Lahontan Valley.
Fallon and Churchill County are mostly agricultural areas. Although the area is arid, approximately 50,000 acres of its pastureland are irrigated with water from the Truckee-Carson Irrigation District. The principal crop grown is alfalfa for livestock feed. The "Heart O' Gold" cantaloupes of Churchill County were once distributed across the United States, but are now grown mostly for consumption in Nevada.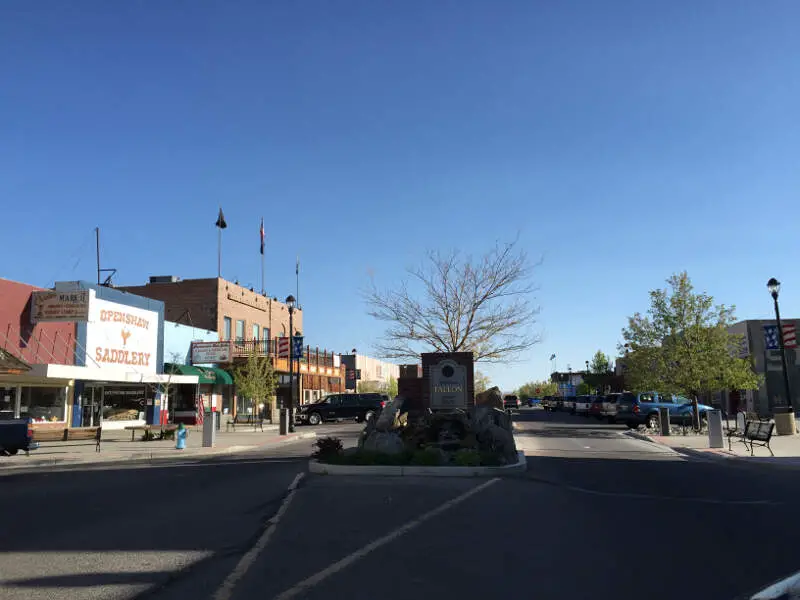 Cheapest Places To Live In Nevada FAQs
The county in Nevada with the lowest cost of living is Lander County. The average living wage in Lander County is $103,327 according to MIT data. Lander County has the lowest cost of living because it has relatively less expensive childcare and housing costs compared to Nevada as a whole. Childcare costs $30,118 a year in Lander County for two children compared to the Nevada average of $18,589. Housing costs, defined as a blend of the average rent and average mortgage payment, are $11,220 per year in Lander County compared to $13,548 on average in Nevada.
The cost of living in Nevada is 3.5% higher than the US average. According to MIT, the required living wage for a family of four with two working parents in Nevada is $92,843 vs the national average for a family of four with two working parents of $89,744. The median income of a Nevada household is $62,043.
The cheapest housing market in Nevada is Lovelock. The average home value in Lovelock is $118,100, the lowest in the state. The average home value in Nevada is $290,200, almost 2.5 times higher than Lovelock.
Methodology: How We Determined The Most Affordable Places To Live In The Silver State For 2022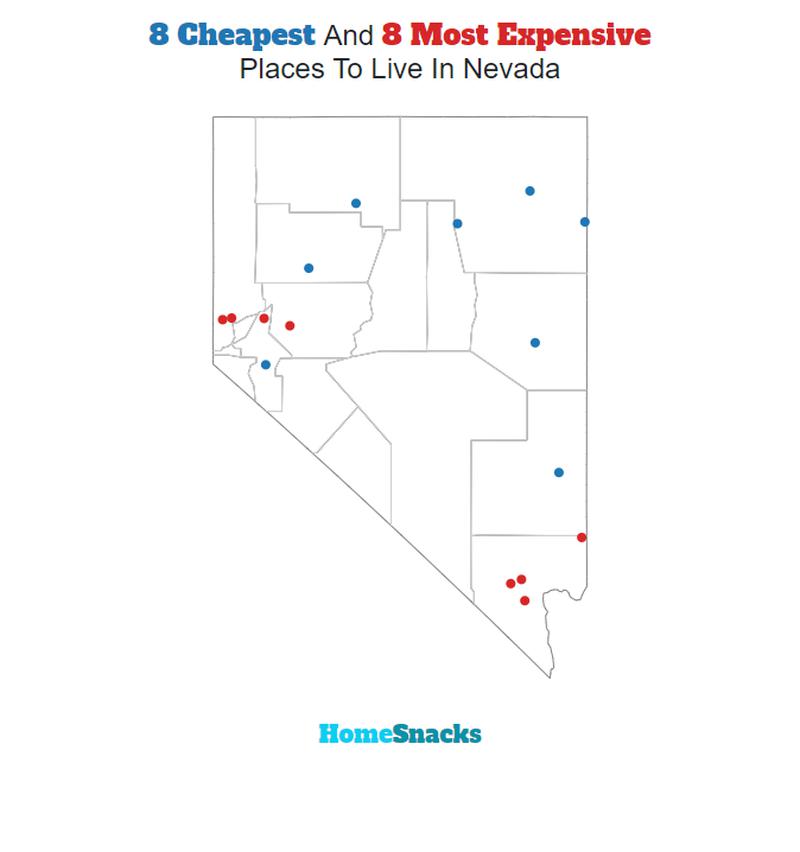 The two most important things to think about when it comes to being able to afford if you can live comes down to:
How much do money do I make?
How much do I have spend to live there?
You need to understand your costs in the context of how much money you make.
For example, if the median household earns $100,000 and spends $40,000 on housing it's actually cheaper to live there than a place with a median income of $50,000 and housing costs of $21,000. You might spend more on housing, but you have more money overall to play with.
With that example in mind, we derived several statistics from the latest Census American Community Survey 2016-2020 around incomes and costs. They are:
Median Home Price / Median Income (lower is better)
Median Income / Median Rent (Higher is better)
Median Home Price
We added simply median home price because high home prices generally correlate with higher expenses for all costs related to homes (heating, electricity, etc).
You can then compare these metrics in each of the places in Nevada to figure out which is the least expensive.
What you are left with is a "Cost of Living Index" by taking the average rank of each of these metrics for each city.
So we used that cost of living index in order to rank all of the 18 places in Nevada that have more than 1,000 people.
The place with the lowest cost of living in Nevada according to the data is Carlin. You can download the data here.

Summary: There You Have It Mr. Or Mrs. Nevada Cheapskate
If you're looking at the cost of living numbers in Nevada, this is an accurate list of the most affordable places to live in Nevada for 2022.
Here's a look at the most expensive cities in Nevada according to the data:
Reno
Sparks
Las Vegas
For more Nevada reading, check out:
The Most Affordable Places To Live In Nevada
Editor's Note: We updated this article for 2022. This is our ninth time ranking the cheapest places to live in Nevada.