Editor's Note: We updated this article for 2021. This is our seventh time ranking the best places to live in Nevada.
Article Table Of Contents   
(Skip to section)
Area 51, a weekend of gambling in Las Vegas, the Hoover Dam, and Burning Man, have nothing on the BEST places to live in Nevada for 2021.
And lucky for you, HomeSnacks has taken the guessing out of the gambling and calculated a list of the top ten best places to live in the Silver State for 2021.
How'd we do this?
Using scientific data, of course. We looked at Nevada places with 1,000 or more residents. We took into account home prices, household income, education, and safety. Our conclusion, Nevada has some pretty sweet deals on real estate in some super safe, super nice places.
For instance, Nevada has hip millennial cities like Winchester, fun college cities like Henderson, and crazy gambling cities like Reno. These are not only some of the Sagebrush State's fastest growing cities, but they also lead the charge in making Nevada the sixth fastest growing state in the country. So, how do you get your 'hot hands' on one of the best places to live in Nevada?
Well, you're going to have to get a good job. And the top Nevada jobs that are going to land you in one of the best places are in the medical field, engineering, and marketing.
But, if you want to find out the top ten best places to live in Nevada, you're going to have to keep reading.
The 10 Best Places To Live In Nevada For 2021
Where is the best place to live in Nevada for 2021? According to the most recent FBI and Census data, that would be Henderson.
At first glance, Henderson might give off that middle of nowhere Nevada vibe. We suggest, however, that you take a second look. Henderson has great people, affordable homes, and safety is a priority.
To see Nevada's other best of the best places, take a look below. And if you don't find it there, head to the bottom.
If you're looking for something more national, check out the best states in America or the best places to live in America.
For more Nevada reading, check out:
The 10 Best Places To Live In Nevada For 2021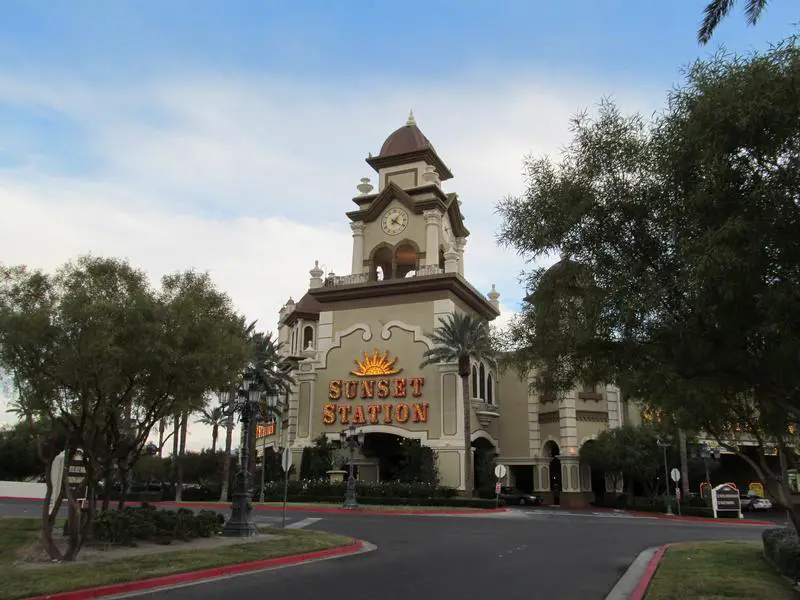 We've been ranking Nevada's best cities for awhile now, and Henderson just keeps topping the list. Located just southeast of Las Vegas, Henderson has all the action of Sin City plus a little extra quality of life. There's The M Resort for those looking to gamble, the Lion Habitat Ranch for animal-enthusiasts, Sloan Canyon for the outdoorsmen and women, and Cowabunga Bay Water Park for the kids and kids at heart.
Speaking of kids, Henderson has an excellent public school system, with GreatSchools awarding over 15 schools a 9/10 rating or higher. Henderson's high school dropout rate is the lowest in Nevada. The crime rate in Henderson is the 4th lowest statewide, and the poverty rate is the lowest. All these factors contribute to Henderson being one of the best places to retire in Nevada. The cost of living in Henderson is moderate, and the median household income here is $74,147/year. Henderson's grown by more than 15% in the last decade, with property values increasing by around 9% in the last year alone. Just make sure you don't move to one of Henderson's worst neighborhoods and everything should be peachy.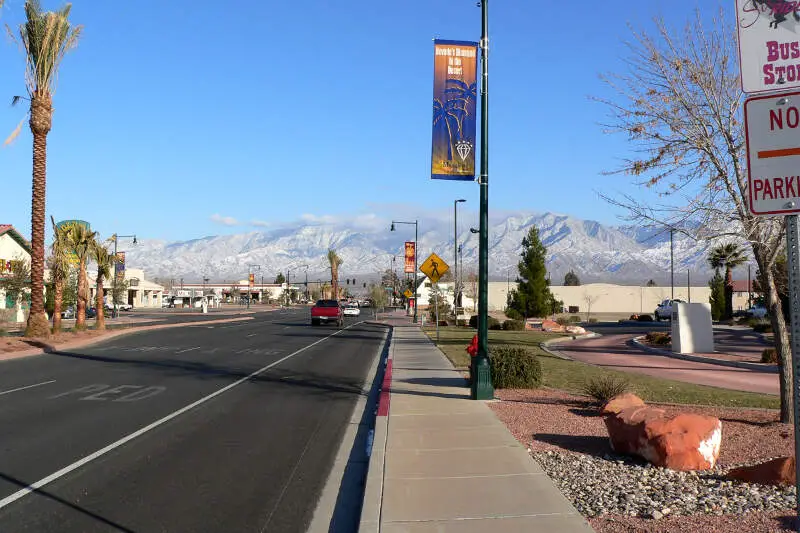 Located on the Arizona border 80 miles northeast of Vegas in the Virgin River Valley, Mesquite is a desert paradise that combines the best of small-town life with big-city attractions. Majestic mountains for a stunning backdrop for eye-popping sunsets, top-quality golf courses and casinos abound, and there are museums dedicated both to local history and local artistry. And, of course, plenty of outdoor hotspots nearby to make staying active a treat instead of a chore.
Mesquite is the oldest city on our list by a wide margin, with a median age of 60, thanks to a growing retirement community. The crime rate here is about 30% below the national average, making Mesquite one of Nevada's safest cities. The median household income in Mesquite is $55,542/year, the 12th highest statewide. All these awesome features help explain why Mesquite is Nevada's fastest growing city, with a population increase of over 20% since 2010.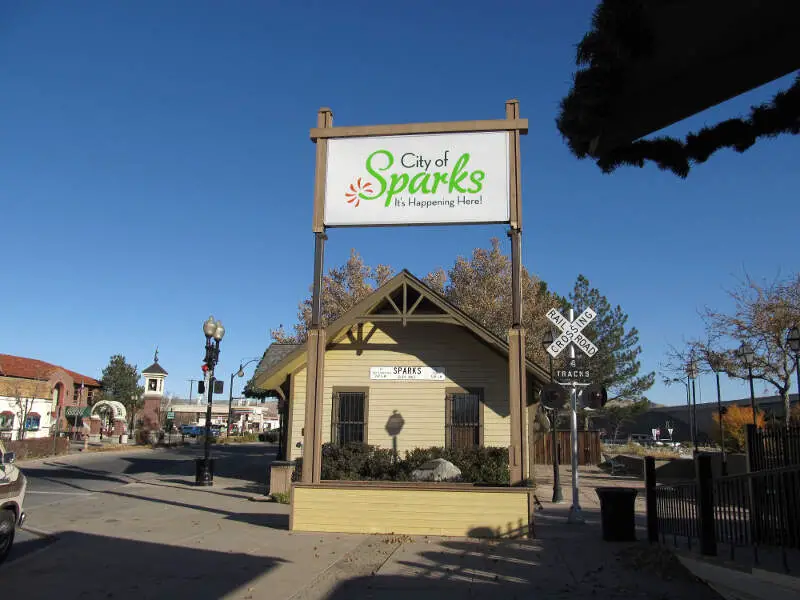 Located just east of Reno near the California border, Sparks comes in as the 3rd best place to live in Nevada. With a population of 100,589, Sparks is big enough to have all the amenities necessary for a high standard of living while retaining a sense of community. Marina Park is a favorite for locals looking to get out of the house, while ample outlet shopping will keep even the most ravenous of shopaholics satisfied. Sparks also hosts the Best in the West Nugget Rib Cook-Off, an annual event that's topped lists of the best BBQ festivals in the country.
Sparks has been growing at a rapid pace; not just the population, but employees, wages, and property values have all risen by a lot in recent years. Sparks has the 9th lowest levels of unemployment and poverty in Nevada, so you know everyone gets their fair share here. Sparks residents also enjoy the 5th highest median household income in Nevada at $64,645/year.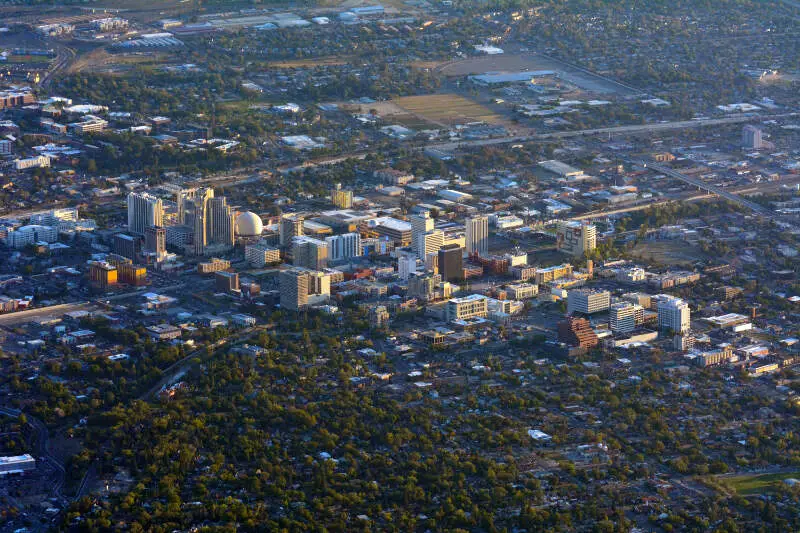 Reno, with its incredible Riverwalk District, dizzying array of events, and downtown whitewater kayak park, comes in as the 4th best place to call home in Nevada. Previously filled with nothing but casinos and kitschy shops, Reno's downtown has undergone a renaissance recently. The casinos are still prevalent, but now it's nicely rounded out by a thriving Arts District and top-notch museums. No wonder Reno featured big on our list of the best places for singles in Nevada.
Here's the rub: Reno is also Nevada's most expensive city, so it's best to come here with some savings or a lucrative job lined up. Reno's homes are the most expensive in the state at around $335,000 and the cost of living is higher than the statewide average. We think Reno's locals would argue that good schools, low poverty and unemployment, and a rollicking good time are worth every penny, though. Having a population that's grown by nearly 10% in the last decade means even outsiders tend to agree.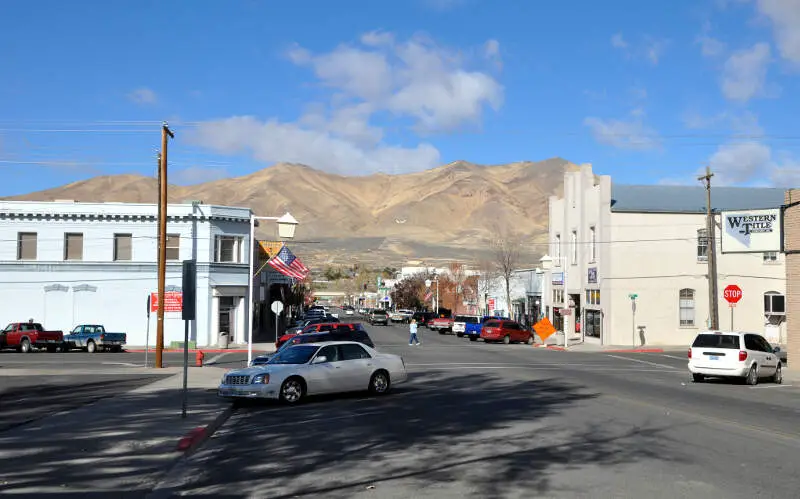 Located smack dab in the middle of north-central Nevada's cowboy country, Winnemucca is a place with a unique heritage and culture. You don't want to miss out on either of the cities two big annual events, the Ranch Hand Rodeo for all things cowboy and the Basque Festival, a feast for the eyes as well as the stomach. And if you're looking for some of the best ATVing opportunities in the country, you'll want to visit Nevada's largest sand dunes in Winnemucca.
Being the heart of buckaroo territory, you might not expect Winnemucca to be an enclave for the state's elite, but we named it the richest place in Nevada. The median household income in Winnemucca is the 4th highest in the state at $66,857/year and unemployment sits at 3.5%. Winnemucca also doesn't fit the rough and tumble cowboy stereotype completely, seeing as the crime rate here is the 7th lowest in Nevada and the violent crime rate ranks as the lowest. If you want to give Winnemucca a try, the median rent here is only $821/month, 40% lower than the statewide median.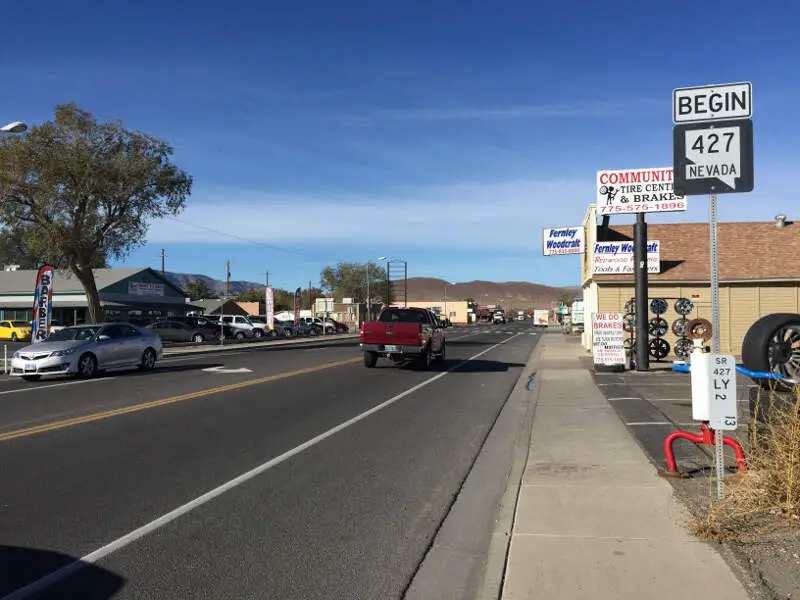 Coming in as Nevada's 6th best place to call home is Fernley, a city of 20,068 situated a half-hour west of Reno. Fernley was already featured on our list of the most affordable places in Nevada thanks to its low home price to income ratio, so finding out that it's also among the best places to live statewide is just icing on the cake.
The cost of living in Fernley is just about on par with the national average, so you don't have to break the bank for essentials here. Fernley also has the 3rd highest rate of health-insured residents, so unexpected medical issues are a bit less overwhelming here.
Fernley also has the 5th lowest poverty and 8th lowest unemployment rate statewide, so everyone gets a slice of the pie. Fernley residents enjoy the 7th highest median household income in Nevada at $62,929, and your typical Fernley home sells for around $221,200.
Now, if you're living in Fernley, you can turn to Reno's Riverwalk District for a bit of fun. But there's no need to make the drive to get your entertainment if you're trying to gamble because there are plenty of local spots, like the Silverado Casino, to get your fix.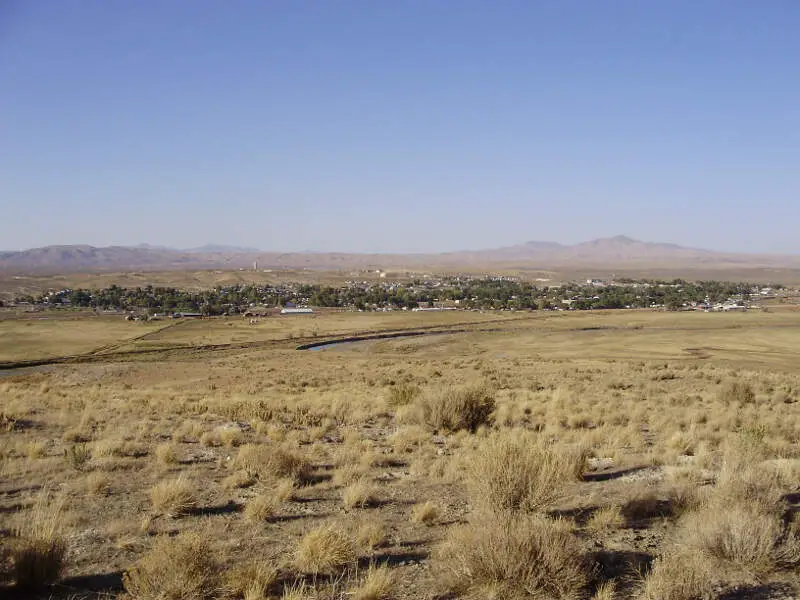 Carlin is a small city of 2,025 located 25 miles west of Elko along I-80. Known as the place "where the train stops and the Gold Rush begins," Carlin remains true to its gold mining past even to this day. The Carlin Trend, just northwest of the city, is one of the most productive gold mining areas in the country. Just outside of town, there's plenty of natural splendor to explore, even if you're not after a nugget of gold.
All that gold seems to be keeping Carlin quiet flush because residents here enjoy the 2nd highest median household income in Nevada at $78,929/year. Carlin also has great public schools that have achieved the 3rd lowest high school dropout rate in Nevada. As a bonus, Carlin's a place where unwelcome medical surprises are a little less scary since the city has the highest rate of residents with health insurance statewide.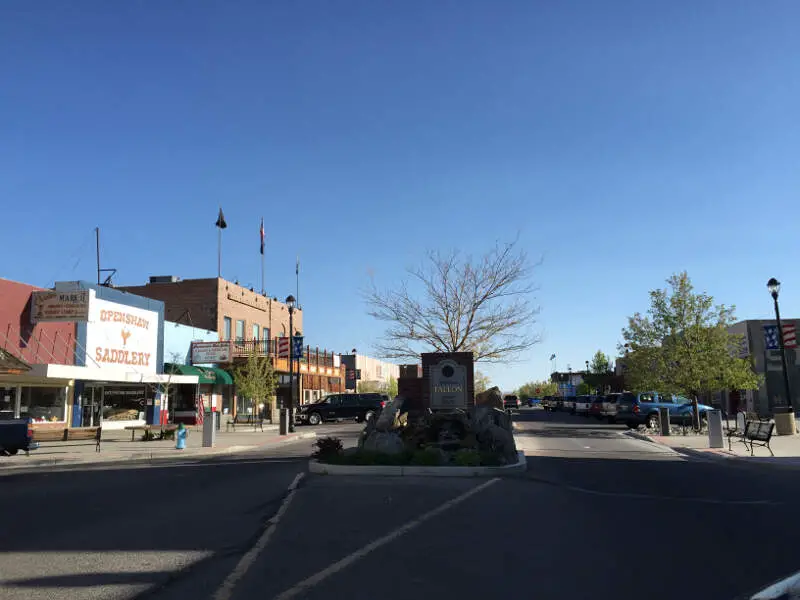 Billing itself as "The Oasis of Nevada," Fallon ranks as the 8th nicest spot to live statewide. Don't take our word for it when we say Fallon has excellent public schools -- the data proves it with the 2nd lowest high school dropout rate in Nevada.
Additionally, Fallon has safe streets, likely a result of an economic situation that works for everyone. That's because Fallon has the 6th lowest unemployment rate in Nevada. And you won't be huffing and puffing in traffic on your way to work, either -- Fallon also has the 7th shortest average commute time statewide.
If you're looking for action in Fallon, there's the ever-present casino scene (it is Nevada, after all) at Stockman's Casino. Whiskey-lovers will be thrilled to have the local Frey Ranch Distillery in their neighborhood.
But if you're not into all that jazz, there's still Grimes Point for lovers of nature and ancient history alike. And the whole community gets involved in the annual Fallon Cantaloupe Festival & Country Fair. In other words, you'll have to actively avoid fun if you want to be bored in Fallon.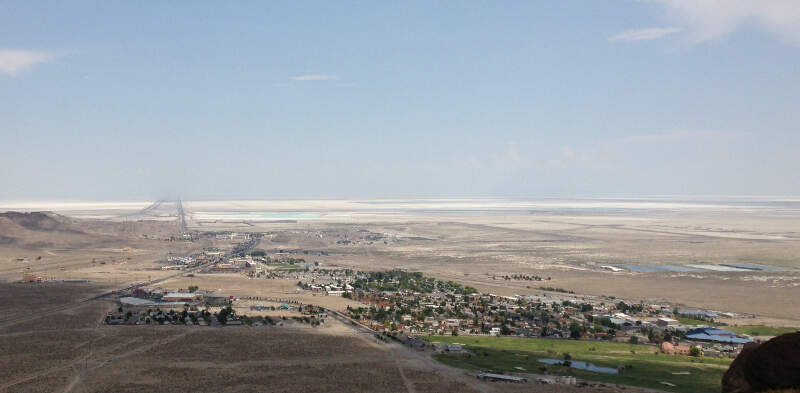 Located on the Utah border in northeastern Nevada, West Wendover ranks as the state's 9th best place. You're sure to spot Wendover Will, a 50-foot-tall neon cowboy that welcomes you to the city, as you rip through the Cowboy Corridor (I-80). Five casinos, a concert hall that regularly pulls big-name acts, and countless events make West Wendover an exciting place to live. With a median age of 32, it's also the youngest city to make this list.
The unemployment rate in West Wendover ranks as the lowest in Nevada at a measly 1.7%. And if you're part of the mega-majority of employed residents, you get the added perk of having the 1st shortest commute time in the state at just 7 minutes. You also don't have to worry about getting carjacked on the way to work, because West Wendover has the 11th lowest crime rate in Nevada.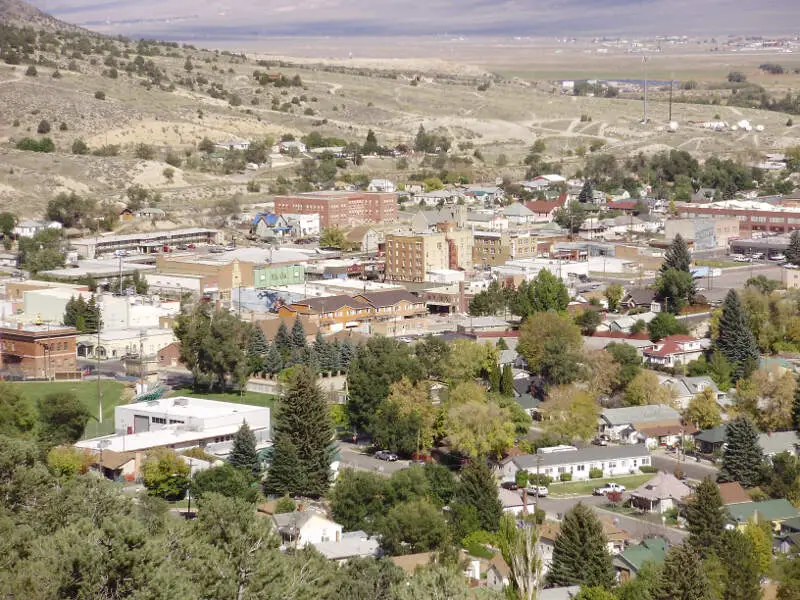 At the eastern end of U.S. Highway 50 you'll find the bustling town of Ely, the 10th best place in Nevada. Ely's history as a stagecoach station, mining town, and key railroad stop is documented in an impressive series of murals throughout the town. If you want to see how things looked back in the day, a visit to Ely's Renaissance Village is just the thing. Those who prefer their history with a side of picnicking or hiking might prefer to spend time at Ward Charcoal Ovens State Historic Park.
Homes in Ely are fairly cheap at around $134,800 and you won't find cheaper rent on this list than Ely's median rental price of $749/month, less than half the average rent in Nevada. Ely's unemployment is the 10th lowest in the state and workers enjoy the 2nd shortest average commute time in Nevada.
Mapping The Best And Worst Places To Live in Nevada
The Pressing Question: Size
Before we even started to collect data, we had to answer a tough question: Is it fair to pit cities with populations over 100,000 against places with a population of 18?
We firmly decided no, that just isn't fair.
So to create our ranking, we broke places to live into three tiers:
Cities -- Populations over 1,000
Towns -- Populations between 1,000 and 1,000
Small Towns -- Populations below 1,000
This left us with 16 cities, 32 towns, and 32 small towns.
We then decided, no matter how much anyone loves their town, the best cities to live in Nevada have more of everything and therefore you need to have over 1,000 people to truly be 'the best'.
Now we also realize that city living might not be your cup of tea, so we ran the following analysis on towns and then again for small towns.
You can see those two top tens at the bottom of the post.
How We Calculated The Best Cities To Live In Nevada
Now that we had our set of cities, it was time to rank them.
We ranked each place in Nevada across a number of criteria from one to 16, with one being the best.
We then took the average rank across all criteria, with the city posting the lowest overall score being crowned the winner of the title "Best Place To Live In Nevada".
The criteria we looked at were:
Median Home Values
Median Income
Population Density (Higher better)
Unemployment Rate
Commute Time
Crime
Education Levels
Health Insurance Coverage
Poverty rates
Sources of criteria include the New Census Data and FBI Crime Data. You can download the data here.
After the dust settled, what was the best place to live in Nevada? That would be Henderson.
If your city or town isn't among the top 10, jump down to the bottom of the post to see a detailed chart of the best places in Nevada.
Otherwise, buckle up for a ride down good living lane with Henderson at the end of the cul-de-sac.

Wrapping Up The Best Places When It Comes To Living In Nevada
If you're looking at areas in Nevada with the best economic situations, where there's lower than average crime, and a lot to do, this is an accurate list.
Henderson made a strong showing to take in the overall number one spot for the best place to live in Nevada for 2021.
Best Towns To Live In Nevada
Mogul (Pop. 1,683)
East Valley (Pop. 1,467)
Ruhenstroth (Pop. 1,163)
Golden Valley (Pop. 1,805)
Kingsbury (Pop. 2,242)
Washoe Valley (Pop. 2,950)
Verdi (Pop. 1,399)
Panaca (Pop. 1,170)
Battle Mountain (Pop. 3,227)
Minden (Pop. 3,359)
Best Small Towns To Live In Nevada
Crystal Bay (Pop. 155)
Glenbrook (Pop. 151)
Lakeridge (Pop. 258)
Skyland (Pop. 262)
Genoa (Pop. 983)
Silver Peak (Pop. 66)
Round Hill Village (Pop. 811)
Crescent Valley (Pop. 386)
Fish Springs (Pop. 747)
Virginia City (Pop. 711)
If you're curious enough, here are the worst places to live in Nevada according to the data:
Wells (Pop. 1,022)
North Las Vegas (Pop. 241,369)
Lovelock (Pop. 1,959)
For more Nevada reading, check out:
Where Are The Best Places To Live In Nevada?
| Rank | City | Population |
| --- | --- | --- |
| 1 | Henderson | 300,116 |
| 2 | Mesquite | 18,446 |
| 3 | Sparks | 100,589 |
| 4 | Reno | 246,500 |
| 5 | Winnemucca | 7,762 |
| 6 | Fernley | 20,068 |
| 7 | Carlin | 2,025 |
| 8 | Fallon | 8,430 |
| 9 | West Wendover | 4,285 |
| 10 | Ely | 4,035 |