Article Table Of Contents   
(Skip to section)
If you play your cards right, you, too, can live in one of Las Vegas, Nevada's best neighborhoods.
That's right, The Gambling Capital of the World is known for its larger than life casinos, electric entertainment, and, yes, some pretty cool neighborhoods. And because HomeSnacks does not want you to take a gamble with one of Sin City's' worst neighborhoods, we've created a list of the best neighborhoods in Las Vegas for 2022 and listed them below.
But before you hit your down arrow, you should probably know a little bit about how we ranked these Vegas gems. In order to determine the best, we had to give each neighborhood an actual concrete score: we call this a neighborhood's overall 'Snackability'. To get this score, we looked at the latest census data on income levels, unemployment rates, crime, and home prices for 26 Las Vegas neighborhoods with over 3,000 residents. Incidentally, this is our ninth time ranking Las Vegas' best neighborhoods, so trust us when we say that these are the best of the best.
And, surprisingly, you won't have to blow your entire bankroll if you choose one of Las Vegas' best neighborhoods because not one of these neighborhoods comes with a $100,000 median income price tag. More importantly, if you're into the whole outdoor hiking thing, Summerlin North is your best bet, if you're looking for the quiet, middle of nowhere desert vibe, the odds will be in your favor if you choose North Cheyenne, and if you're a high roller, definitely give Tule Springs a look.
So, want to know what Las Vegas neighborhoods you should double down on before it's too late? Keep reading.
The Best Neighborhoods In Las Vegas For 2022
HomeSnacks is also happy to report that Las Vegas' best neighborhoods have great schools, parks, and programs to keep its residents happy, healthy, and you guessed it, safe.
So, what's the best neighborhood in Las Vegas for 2022: the one that will make you feel like you've won the jackpot? That would be, The Lakes.
If you want to know where you won't have to play roulette with your living situation, take a look below at our list of the best neighborhoods in Las Vegas. If you don't see your favorite there, head to the bottom.
For more Nevada reading, check out:
The 10 Best Neighborhoods To Live In Las Vegas
How did Las Vegas' first neighborhood for 2022, The Lakes, get its name? If you guessed that it's because is has a lot of lakes, you guessed right.
But that's not all The Lakes neighborhood has working in its favor. If you're into hiking, the Spring Mountains are in this neighborhood backyard, and if you're into shopping and dining out, The Lakes has some of the best.
The Lakes is also one of Las Vegas' richest neighborhoods, so make sure you're making at least a cool $75,000/year before you double down on a house here.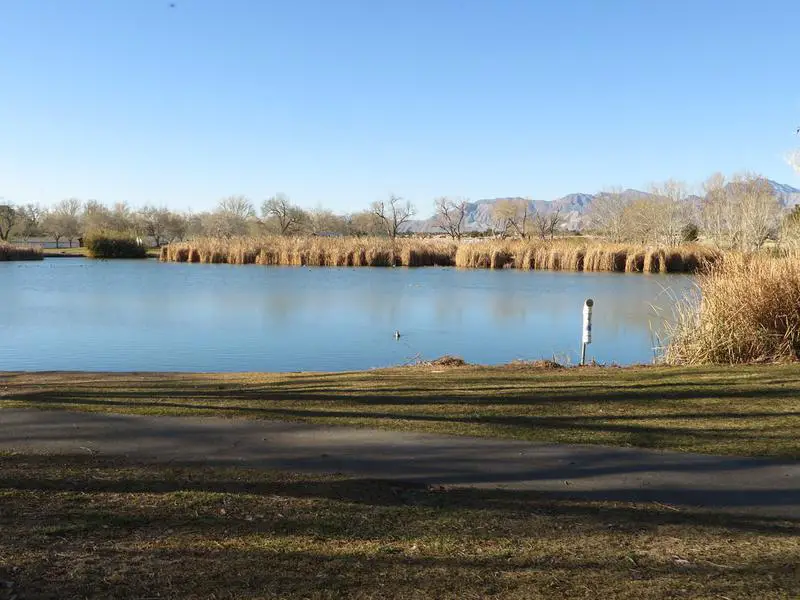 Let Tule Springs be your oasis in the desert because this neighborhood has earned it. Not only is it Las Vegas' second neighborhood, but Tule Springs has the third safest violent crime rate on our list. This means that you probably have a better chance of scoring the jackpot on a slot machine than getting mugged.
And if you don't want to miss out on any of the events at Tule Springs' local park, Floyd Lamb Park, we recommend you check out Vegas gem.
You won't be alone on Lone Mountain because there are currently 50,163 residents that inhabit Las Vegas' third best neighborhood.
If HomeSnacks could give one piece of advice, you should probably have a good job prior to calling this Las Vegas' neighborhood home.
So, go get that job and get on over to Lone Mountain so you, too, can experience what it's like to live in Las Vegas' #6.0 least violent neighborhood on our list.
What do 14,557 Kyle Canyon locals know that we don't? Well, besides that this neighborhood has some of the coolest tree lined streets and super awesome residents, this neighborhood is the fourth safest in terms of violent crime.
Kyle Canyon scored off the charts on our snackability scale with an emphasis on education and employment. So, if you're looking for a safe place to send your kids to school, walk your dog, and/or go to work, definitely give Las Vegas' fourth best neighborhood, Kyle Canyon, a second look.
The sun really does shine in the Sun City neighborhood on average 293 days per year. And that, folks, is because this Las Vegas neighborhood is crushing lists left and right.
That's right, Las Vegas' fifth best neighborhood is the first in terms of unemployment on our list and the first in terms of crime.
This is good news for all of you people trying to get granny and pa to move to one of Vegas' best neighborhoods to retire.
Las Vegas' sixth best neighborhood, Sheep Mountain, is one of the smallest neighborhoods that made the top ten list with a whopping 17,572 residents.
So, what's the draw? We'll tell you. Sheep Mountain locals are getting the most bang for their buck in terms of income to affordable housing. This neighborhood has the third best score for median income and the fourth.
Word on the street, the Sheep Mountain neighborhood is one of the best kept secrets in Nevada.
If you're thinking about renting in Las Vegas' seventh best neighborhood, Summerlin North, don't. This neighborhood is the second worst for renting. But, don't fret, Summerlin North is the best neighborhood if you're looking to purchase a home.
And because Summerlin North is the best in terms of median income, affording a house in northwest Las Vegas should not be a problem. Just make sure your bankroll is stacked.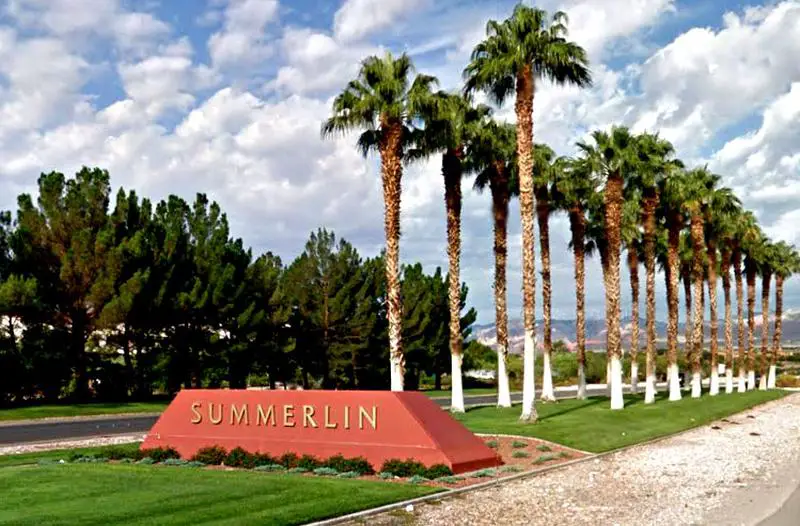 It may not be Beverly Hills, but Las Vegas' eighth best neighborhood, Centennial Hills, is just as great.
How great? Well, this neighborhood located in the extreme northwest corner of Sin City is the fifth best in terms of income and they only recorded 1,600 violent crimes this year.
So, if you're looking for a Vegas win, look no further than Centennial Hills.
Want to be part of the exclusive club that gets to call Las Vegas' ninth best neighborhood home? Well, you're going to have to have a great job and be able to drop some cash on a home because Buffalo is our tenth best in terms of income and third best for affordable housing.
And if that doesn't seal the deal, the Buffalo neighborhood has great schools, three huge parks to explore, and some great shopping and restaurants.
You would be doing yourself a disservice if you don't take time to check out Buffalo.
Methodology: How We Determined The Best Las Vegas, NV Neighborhoods In 2022
In order to rank the best neighborhoods in Las Vegas, we had to determine what criteria defines a "best".
Using crime, census, and extrapolated BLS data, we arrived at the following set of criteria:
High incomes
Low unemployment rates
Low crime
High home prices
High population densities (A proxy for things to do)
We then ranked each neighborhood with scores from 1 to 26 in each category, where 1 was the best.
Next, we averaged the rankings for each neighborhood to create a best neighborhood index.
And finally, we crowned the neighborhood with the lowest best neighborhood index the "Best City Neighborhood In Las Vegas." We're lookin' at you, The Lakes.
Read on below to learn more about what it's like to live in the best places Las Vegas, Nevada has to offer. Or skip to the end to see the list of all the neighborhoods in the city from best to worst.
Summary: Putting A Bow On Our Analysis Of The Best Neighborhoods In Las Vegas
If you're measuring the neighborhoods in Las Vegas where crime is low and everyone wants to live, this is an accurate list.
As we mentioned earlier, the neighborhoods in Las Vegas aren't all good. West Las Vegas takes the title of the worst neighborhood to live in Las Vegas.
We ranked the neighborhoods from best to worst in the chart below.
For more Nevada reading, check out:
Best Neighborhoods To Live In Las Vegas For 2022 Detailed Data
| Rank | Neighborhood | Population |
| --- | --- | --- |
| 1 | The Lakes | 29,173 |
| 2 | Tule Springs | 19,044 |
| 3 | Lone Mountain | 50,163 |
| 4 | Kyle Canyon | 14,557 |
| 5 | Sun City Summerlin | 12,542 |
| 6 | Sheep Mountain | 17,572 |
| 7 | Summerlin North | 48,606 |
| 8 | Centennial Hills | 45,680 |
| 9 | Buffalo | 15,013 |
| 10 | Desert Shores | 17,179 |
| 11 | North Cheyenne | 40,202 |
| 12 | Angel Park Lindell | 13,653 |
| 13 | Pioneer Park | 14,970 |
| 14 | Twin Lakes | 12,178 |
| 15 | Huntridge | 16,115 |
| 16 | Charleston Heights | 38,504 |
| 17 | Sunrise | 19,066 |
| 18 | Rancho Charleston | 28,767 |
| 19 | Downtown | 10,896 |
| 20 | East Las Vegas | 34,490 |
| 21 | Michael Way | 51,496 |
| 22 | Meadows Village | 3,097 |
| 23 | Umc | 3,994 |
| 24 | Downtown East | 7,843 |
| 25 | Cultural Corridor | 12,643 |
| 26 | West Las Vegas | 20,217 |
Editor's Note: We updated this article for 2022. This is our ninth time ranking the best neighborhoods to live in Las Vegas.